SweetSpot:

Patrick Corbin
March, 26, 2014
Mar 26
1:45
PM ET


Have there been more injuries than usual this spring? I don't know. We probably say that every year. Eric and myself discuss the five most critical injuries of spring training and how they could affect the pennant races. In one case, it's led Eric to picking a different division winner than he otherwise would have.
July, 16, 2013
7/16/13
11:37
PM ET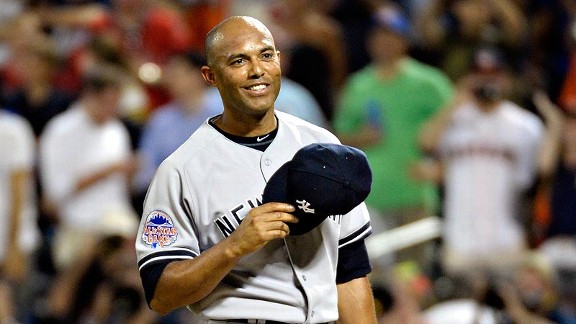 Robert Deutsch/USA TODAY SportsMariano Rivera was the man in the spotlight for Tuesday's All-Star Game.
NEW YORK -- Here's a fun piece of All-Star trivia: At 24,
Matt Harvey
is the youngest pitcher to start an All-Star Game since Dwight Gooden, also of the Mets, who was 23 in 1988.
How Harvey will fare in front of the home fans is one of the big story lines heading into the game. Let's hope he does better than the last pitcher to start at his home ballpark;
Roger Clemens
of the
Houston Astros
started in 2004 and allowed six runs in the top of the first inning, including home runs to
Manny Ramirez
and
Alfonso Soriano
.
Harvey, 7-2 with a 2.35 ERA, will face off against
Detroit Tigers
' right-hander
Max Scherzer
, 13-1 with a 3.19 ERA. As far as historical All-Star matchups go, this one is hard to call considering Harvey's youth. I'd give it a solid A for entertainment value, however, as both are two of the most exciting pitchers to watch, with upper-90s heat.
Pregame introductions
Mets fans don't disappoint, booing loudly when all Braves, Phillies and Cardinals players are introduced, although they do give a nice round of applause to former Met
Carlos Beltran
. Not that they've forgiven that strikeout to end Game 7 of the 2006 NLCS. Many players are wearing bright glow-in-the-dark orange shoes, including
Adam Jones
and
David Wright
, leading my colleague Matt Meyers to quip that the Mets should make them their regular shoe color. Why not?
First inning
Top:
The AL lineup is pretty lethal, arguably one of the best All-Star starting nines we've seen in years:
Mike Trout
,
Robinson Cano
,
Miguel Cabrera
,
Chris Davis
,
Jose Bautista
,
David Ortiz
, Adam Jones,
Joe Mauer
and
J.J. Hardy
. Maybe not quite what the AL rolled out in 1934 -- eight future Hall of Famers -- but pretty impressive.
Trout leads with a double just inside the first-base bag. In case you've forgotten, Trout is good.
Harvey hits Cano on the kneecap with a 96 mph fastball. Yankees fans just realized their season could get worse. Harvey recovers to strike out Cabrera on a 92 mph slider, but
Dustin Pedroia
now enters to run for Cano. Can
Derek Jeter
play second base? Davis pops out to center. Fun factoid No. 2: He bats fourth in this lineup but fifth on his own team. I believe Buck Showalter may be overthinking that one. Anyway, Bautista fans on another slider. Good job by Harvey to escape what could have been a nightmare top of the first.
Also, the conspiracy theorists point out that Harvey is a Scott Boras client and Cano just dropped Boras as his client.
Bottom:
The NL lineup has an obvious flaw in that Bruce Bochy decided to hit his worst hitter leadoff, but, hey, the game only determines home-field advantage for the World Series, something Bochy should know a little something about:
Brandon Phillips
, Carlos Beltran,
Joey Votto
, David Wright,
Carlos Gonzalez
,
Yadier Molina
,
Troy Tulowitzki
,
Michael Cuddyer
,
Bryce Harper
. That's right, the Rockies have three players in the starting lineup. They're 46-50.
Scherzer has a 1-2-3 inning. Bochy's secret genius idea to hit Phillips leadoff fails to work.
Second inning
Top:
Harvey has a 1-2-3 second inning, including a strikeout of Jones on 98 mph high heat. He leaves to a nice ovation from Mets fans. Job well done, Matt. Now back to your day job -- working for "Late Night with Jimmy Fallon."
Bottom:
Well,
Chris Sale
is on for the AL. Looks like we're going to be treated to a long list of AL relievers later in the game.
Brett Cecil
!
Glen Perkins
!
Steve Delabar
!
Greg Holland
! What, that doesn't get you excited to watch All-Star baseball? To be fair to Jim Leyland, it's a strategy that could work. Sale mows down the National Leaguers with a nine-pitch inning.
Third inning
Top:
Clayton Kershaw
on for the NL. He's pretty good, too. He goes 1-2-3. Kershaw or Koufax? I guess Kershaw still has to do it in the World Series. Maybe he will. This year.
Bottom:
Sale back in for a second inning! That crafty old fox Leyland! Sale strikes out Tulo, Cuddyer bounces back to the mound and Harper lines out sharply to Cabrera. Twenty-four pitches for Sale, 17 strikes. Nine up, nine down overall. I think you can make an argument that Sale is the best pitcher in the AL. And, no, the White Sox are not going to trade him.
X-rays on Cano a negative. He meets the media outside the AL clubhouse wrapped in 88 pounds of tape and
Alex Rodriguez
's contract.
Fourth inning
Top:
Patrick Corbin
of the Diamondbacks enters. All he has to do is face Cabrera, Davis and Bautista. Unfortunately, we don't get to see Kershaw versus Cabrera, which, apologies to Corbin and his family, is what an All-Star Game is
supposed
to be about. I'll predict this is the inning the AL breaks this 0-0 tie.
Cabrera drills a 1-2 slider to deep right-center for a leadoff double. Davis singles hard off the top of Votto's glove to move Miggy to third and then Bautista delivers the sac fly. Corbin escapes further damages with a 6-3 double play. He's a nice young pitcher and I wasn't trying to be rough on him, but Bochy probably should have called on a right-hander to start the inning with Cabrera leading off.
Bottom:
Here comes the King!
Felix Hernandez
in for the AL and he's very happy that
Raul Ibanez
and Mike Morse aren't in the outfield behind him.
After leadoff hero Phillips grounds out, Beltran singles past a diving Hardy for the NL's first baserunner. Perfect game foiled.
Andrew McCutchen
in to pinch run for Beltran. And steals second! Never underestimate Bochy! Votto bounces out so it's up to hometown hero Wright and his magic orange cleats. Wright tops it to third, with Miggy making a nice play to show off his baseball athleticism. I mean, let's not get carried away, that's a play major league third basemen are supposed to make, but it was a nice play.
Fifth inning
Top:
Paul Goldschmidt
replaces Votto at first base. This is why I thought Goldschmidt should have started at DH. He and Votto have been two of the best hitters in the NL this year. Bochy could have gotten six plate appearances from the two, but now he'll get two from Votto, maybe one from Goldschmidt and maybe one for
Allen Craig
if he wants to get
him
in the game as well. Of course, I'm overthinking all this; the managers just want to get everyone in the game, which is understandable.
The AL pushes across another run against
Cliff Lee
. Adam Jones' orange shoes double to left, Mauer singles on a play Tulowitzki should have/could have made and Hardy's fielder's choice scores the run. At least we won't have the second 1-0 All-Star Game in history (not shockingly, coming in 1968, the Year of the Pitcher).
Bottom:
Matt Moore
with a quick 1-2-3 bottom of the inning. I think the only ball the NL has hit hard was Harper's lineout to Miggy at third base.
Sixth inning
Top:
Glad to see
Jose Fernandez
of the Marlins get an inning. He's absolutely the real deal, a kid who will start one of these games in the future. He strikes out Pedroia and Davis around a Cabrera pop fly. Impressive. Note that Leyland left in Cabrera and Davis for a third plate appearances. Absolutely the right move considering they've been the two best hitters in the majors. Think somebody wants home-field advantage ... you know, just in case a certain team gets there.
Seventh inning
Top:
David Wright still in the game. Starters aren't allowed to play seven innings! Bochy obviously wants to get him a third at-bat, but it also makes sense from a strategic standpoint.
Pedro Alvarez
is the backup third baseman and if Bochy brings him in, it would give Leyland a nice matchup of using lefties Glen Perkins or Brett Cecil to face Alvarez and
Domonic Brown
(now batting fifth), neither of whom hit lefties very well.
Bottom:
Manny Machado
with a nice play off a tricky hop to throw out Paul Goldschmidt from foul territory. Then the fun starts. David Wright singles off Greg Holland, so Leyland brings in Cecil to face Brown. If Bochy had some guts here, he'd pinch hit Allen Craig, but that kind of move doesn't happen in an All-Star Game. Brown whiffs.
Leyland brings in Steve Delabar to face
Buster Posey
. Delabar was homer-prone last year (12) -- a reason the Mariners traded him to the Blue Jays -- but he has allowed just one this season. He fans Posey on a 2-2 slider. Good job, Leyland. If you have 13 pitchers, may as well use them. He still has
Justin Masterson
and
Chris Tillman
in reserve if the game goes extra innings, plus relievers
Joe Nathan
, Glen Perkins and
Mariano Rivera
.
Eighth inning
Top:
Tweet of the day from Sam Mellinger: Salvador Perez's hit was the first by a Royal in the All-Star Game since Bo Jackson in 1989 (although not his home run; that came in the first inning and he singled in the fourth).
Jason Kipnis
then doubles in Perez and it's 3-0 AL.
Bottom:
Rivera in for the bottom of the eighth. Apparently, Leyland is worried that if the other relievers blow the lead this inning, Rivera wouldn't get in the game. And a goosebump moment as the AL All-Stars remain off the field as Rivera begins his warm-ups; the most universally respected and beloved player in the game. Rivera gets a little weepy as the crowd gives him a big ovation and he doffs his cap.
By the way …
Torii Hunter
replaces Trout in center. He's played one game there since 2010. Questionable move. Would Hunter really be crushed if he didn't get into this game?
Anyway, beautiful pitching from Rivera, that effortless delivery that we'll remember long after his retirement. He gets hugs from the entire AL team as he heads to the dugout. As J.J. Hardy said yesterday, "It's great just to share a locker room with him for one day. It's something I'll tell my grandchildren about."
Ninth inning
Top:
Prince Fielder
leads off with a triple, but is stranded at third. (Yes, a triple.)
Bottom:
Joe Nathan on for the save, the AL still up 3-0. No matter what happens, I'm pretty sure the most discussed aspect of the game will be Leyland's decision to use Rivera in the eighth instead of the ninth. Me? I'll just remember him warming up, a singular man in the middle of a baseball field, throwing a baseball.
(Nathan got the save and Rivera was named MVP. The AL wins with a three-hit shutout. Home-field advantage to the Tigers … or the A's … or the Red Sox … or maybe, miracle of all miracles, the Yankees and Rivera.)
June, 17, 2013
6/17/13
11:53
PM ET
I still like pitcher wins, warts and blemishes and gaping scars and all. Are pitcher wins perfect? Of course not. Should they be the first recourse in evaluating a pitcher's performance? Of course not. Should they be discarded into the trash bin of ill-advised statistics, like the game-winning RBI? Of course not.
So I think it's pretty cool that
Max Scherzer
is now 10-0, the first pitcher to win his first 10 decisions to begin a season since
Roger Clemens
started 11-0 for the Blue Jays in 1997. Does it take some good luck and run support to go 10-0? Sure it does; only 12 pitchers before Scherzer since 1916 have started 10-0 or better (Clemens did it twice, also going 14-0 in 1986), so it takes good pitching and good fortune, and Scherzer has certainly done the former and received the latter.
Monday's performance was a little of both, as Scherzer handcuffed the high-scoring Orioles other than a
Chris Davis
home run in the
Tigers' 5-1 victory
. But he ran up his pitch count and made it through just six innings, needing the bullpen to hold on, which it did; or rather,
Drew Smyly
did, retiring the final nine batters. So Scherzer improved to 10-0 with a 3.08 ERA, racking up 10 more strikeouts to move into second in the majors behind
Yu Darvish
with 116. Only Darvish has allowed a lower opponents' batting average.
Scherzer isn't the only pitcher on a historic run of wins. Diamondbacks lefty
Patrick Corbin
also started Monday night with a chance to improve to 10-0 and Red Sox starter
Clay Buchholz
, currently sidelined with a neck injury, is also 9-0. Corbin ended up getting a no-decision, despite allowing just two hits over eight innings against the Marlins. With the score 2-2 in the bottom of the eighth, and Arizona relievers warming up in the bullpen, Diamondbacks fans groaned loudly when
Didi Gregorius
grounded out sharply with two runners on to end the inning, meaning Corbin wouldn't get the win. They certainly cared about seeing their guy go 10-0.
Scherzer has always flashed the ability to become one of the game's dominant starters, with his electric stuff and ability to throw strikes, but at this point last year he was 5-4 with a 5.76 ERA, having allowed 83 hits and 13 home runs in 70.1 innings, and everyone was wondering what was going wrong. He was striking batters out, but hits kept falling in (he had a .383 average on balls in play) and opponents were hitting .366 with runners on base.
In baseball, a turnaround can come out of nowhere. One year ago, on June 17, Scherzer pitched eight shutout innings against the Rockies, striking out 12. He sat through a 53-minute rain delay in the fourth inning but wasn't about to leave the game. "This was extremely important for me," Scherzer said afterward. "It was especially big to go eight, because we've got a lot of tired arms in our bullpen."
Since then, he's locked in his release point,
leading to more consistent mechanics and command
, as well as mixing in a curveball he throws about eight to 10 times a game with his fastball, slider and changeup. He was also able to remain focused -- on the mound, at least -- after the death of his brother,
who committed suicide three days after the win against Colorado
.
From that start to the end of the season, Scherzer went 11-3 with a 2.53 ERA, cutting his home runs to 10 in 117.1 innings and doing a better job pitching out of jams. Over a calendar year he has gone 21-3 in 33 starts with a 2.78 ERA and 259 strikeouts in 213.1 innings.
Justin Verlander
is still the ace of the Tigers, but Scherzer has turned into ace 1A.
If there's a scary thing about Scherzer -- at least for Tigers opponents -- it's that there's still room for him to get better. He has held batters to a .162 average with the bases empty, but that jumps to .255 with runners on base. That figure has improved from last year.
So, yes, go ahead and ignore Scherzer's 10-0 record if you wish. I'm going to keep watching until he loses. And when he finally does -- and he will -- I'll still watch because this guy has become one of the game's best.
June, 10, 2013
6/10/13
1:00
AM ET
By
Dave Schoenfield
| ESPN.com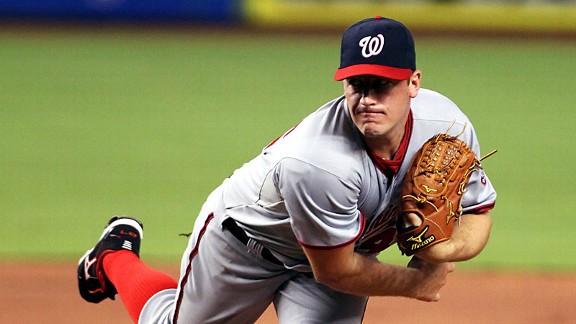 Marc Serota/Getty ImagesJordan Zimmermann is averaging just one walk per game and could be the National League's All-Star starter.
We're about a month out from the All-Star Game at Citi Field in New York, so it's a good time to take stock of how the All-Star rosters might be shaping up -- after all, the debate of
who goes
to the game is usually much more interesting than the game itself.
The most heated discussion in the National League might be at starting pitcher.
New York Mets
fans will undoubtedly be vociferous about hometown hero
Matt Harvey
deserving the start, but, as Bill Baer
outlined here a couple days ago
, the Cy Young race is crowded, which means the All-Star assignment is a crowded field. With apologies to Harvey and rookies
Shelby Miller
and
Patrick Corbin
, I think the starting pitcher should have a little longer track record than a couple good months. Harvey does have 23 career starts with a 2.35 ERA going back to his 2012 call-up, although we've seen some dents of late with 31 hits allowed in 26 innings over his past four starts.
With further apologies to
Clayton Kershaw
and
Adam Wainwright
, right now I'd give the nod to Nationals right-hander
Jordan Zimmermann
, who pitched
seven scoreless innings against the Twins
on Sunday to improve to 9-3 with a 2.00 ERA. Some remain skeptical of Zimmermann's success because his strikeout rate -- 5.8 per nine innings -- doesn't match the elite starters in the league. But Zimmermann is a master of movement, location, command and deception. He doesn't second-guess his stuff; his fastball has averaged 93.7 mph, and the great sinking and cutting action he gets on it induces a lot of ground balls.
As ESPN Stats & Information's Mark Simon points out, Zimmermann limits hits not by generating strikeouts but
by generating weak contact
. His line-drive rate allowed ranks eighth among qualified starters, and batters have hit just .207 off that fastball, even though they often know it's coming.
He's also the master of efficiency, ranking third in the NL in innings even though he's topped 100 pitches just five times this season -- his 111 on Sunday was his season high. You hate to compare anybody to
Greg Maddux
, but Zimmermann is the most Maddux-like in the game today: He's walked just 13 batters in 13 starts and has allowed more than two runs just twice in those starts. He's consistent and very, very good. Don't be surprised if he's on the mound at Citi Field next month.
Here's how the rest of the roster is looking right now. All-Star rosters consist of 34 players, with the eight position starters voted in by the fans, eight backups chosen by the players and the first eight pitchers (five starters, three relievers) also chosen by player balloting. For the purpose of this run-through, I'll use the fan starters but ignore player voting, which is usually the part that messes things up the most (like voting in
Bryan LaHair
last year at first base because he had 70 hot plate appearances in April). My own personal philosophy is to factor in some combination of 2013 stats with previous track record; you need to weigh both.
Catcher
Fans: 1.
Buster Posey
; 2.
Yadier Molina
; 3.
John Buck
Should start: Molina.
Automatic: Posey.
If you want to argue that Posey should start, I'm not going to put up a strong debate. They're close in hitting value, although they've done it in different ways, with Molina relying on a high batting average and Posey hitting more home runs and drawing more walks. But Molina's masterful handling of the St. Louis pitching staff has to be recognized.
First base
Fans: 1.
Joey Votto
; 2.
Paul Goldschmidt
; 3.
Brandon Belt
.
Should start: Votto.
Automatic: Goldschmidt.
Like the debate at catcher, this can swing either way. Goldschmidt has the huge edge in RBIs -- 58 to 29 -- and he
has
hit .431 with runners in scoring position (Votto has hit .333), so if you want to say Goldschmidt deserves the start, I'm not going to fight. But if the statistical record is close, I like to go with the guy with the longer track record, and that's Votto.
Don't fret, Diamondbacks fans, as Goldschmidt would get my starting nod at the designated hitter slot (which is now used in NL parks as well).
Second base
Fans: 1.
Brandon Phillips
; 2.
Marco Scutaro
; 3.
Matt Carpenter
.
Should start: Phillips.
Automatic: Carpenter.
Carpenter leads Phillips in Wins Above Replacement (WAR), but this is another track-record vote. But Carpenter has played so well -- including with the glove after playing little second base before this season -- that he should garner an automatic bid.
Third base
Fans: 1.
Pablo Sandoval
; 2.
David Wright
; 3.
David Freese
.
Should start: Wright.
Automatic: None.
Wright should be the obvious starter in another weird season at third base in the NL. Sandoval's numbers are mediocre, as are 2012 RBI champ
Chase Headley
's. Freese and
Ryan Zimmerman
have missed time with injuries, and
Martin Prado
hasn't hit.
Todd Frazier
is actually second in WAR, and he's hitting .250 with six home runs. If Sandoval holds on to his lead in the vote, it will probably be just him and Wright on the squad.
Shortstop
Fans: 1.
Troy Tulowitzki
; 2.
Brandon Crawford
; 3.
Jean Segura
.
Should be: Tulowitzki.
Automatic: Segura,
Everth Cabrera
.
Segura is a rookie, but he's been so good that he earns the backup slot. Cabrera is also a deserving All-Star, hitting .298 with a .374 OBP, leading the NL with 29 steals and playing solid defense. He's among NL leaders in WAR at any position. He might be the only Padres All-Star, but he's not a token rep.
Outfield
Fans: 1.
Justin Upton
2.
Bryce Harper
3.
Carlos Beltran
4.
Ryan Braun
5.
Shin-Soo Choo
6.
Hunter Pence
Should be:
Carlos Gonzalez
,
Andrew McCutchen
, Braun.
Automatic:
Carlos Gomez
.
Upton and Harper lead the fan voting due to their hot starts, but neither is a deserving starter at this time. Harper is on the DL with a knee injury, and Upton is hitting .206 with just two home runs in 36 games since April 28. I would go with Gonzalez, McCutchen and Braun as my starters -- three proven stars who rank second, seventh and eighth among NL outfielders in FanGraphs WAR. Gomez is the one must-be-there outfielder with his power/speed/defense combo giving him the top WAR among NL position players via both FanGraphs and Baseball-Reference.
Considering my three starters are different from the fan starters, and combined with the inclusion of Gomez, that's seven outfielders.

Starting pitchers
Starter: Zimmermann.
Automatics: Kershaw, Harvey, Wainwright,
Shelby Miller
,
Patrick Corbin
,
Mike Minor
,
Cliff Lee
.
Considering there are currently 17 starters in the NL with sub-3.00 ERAs, somebody is going to get the shaft. But the above guys have combined their low ERAs with low batting averages allowed and excellent strikeout-to-walk ratios.
Relief pitchers
Automatics:
Jason Grilli
,
Craig Kimbrel
,
Aroldis Chapman
.
The rules state the players' vote will include the top three relievers. I'd go with the above three, and I'm guessing they'll win the player vote as well.
* * * *
Where does that leave us? With fan starters added to my should-be starters and other automatic selections, we're at 29 players.
We're going to need at least two more pitchers, since rosters usually include at least 13 pitchers; we also need reps from the Marlins and Cubs. But the first guy I want to add is
Domonic Brown
, who might be riding a hot streak, but what a streak. He leads the NL in home runs and ranks fourth in RBIs. Of the top six leaders in slugging percentage, he's the only one who doesn't get to play his home games in a hitter's paradise in Colorado, Milwaukee or Arizona.
We better do the Marlins and Cubs reps. With
Giancarlo Stanton
injured -- and as much as I would like to try, I couldn't really justify his inclusion since he hasn't played much -- the Marlins lack a good candidate. Their only two players with a 1.0 or greater WAR on Baseball-Reference.com are rookie outfielder
Marcell Ozuna
and starter
Ricky Nolasco
. We'll give the nod to Nolasco, although you could probably make a case for rookie
Jose Fernandez
being the team's best starter. For the Cubs, it's either
Travis Wood
or
Jeff Samardzija
. Wood is 5-4 with a 2.65 ERA while Samardzija is 3-7, 3.18 ERA with more strikeouts and a better K/BB ratio. Samardzija is my choice -- he was very good last season -- but if you want Wood, that's fine.
That leaves two spots to fill. Based on consistency of WAR across both FanGraphs and Baseball-Reference, the top guys are probably Pirates catcher
Russell Martin
and Pence. Works for me -- especially Martin -- who also earns raves for the leadership he's brought to Pittsburgh. Relievers
Edward Mujica
and
Sergio Romo
have cases but get squeezed out. I'd love to add defensive whiz
Andrelton Simmons
, but it's tough finding room for four shortstops.
So, as of now, my 34-man roster would look like this:
C Buster Posey, Giants*
C Yadier Molina, Cardinals
C Russell Martin, Pirates
1B Joey Votto, Reds*
1B Paul Goldschmidt, Diamondbacks
2B Brandon Phillips, Reds*
2B Matt Carpenter, Cardinals
3B Pablo Sandoval, Giants*
3B David Wright, Mets
SS Troy Tulowitzki, Rockies
SS Jean Segura, Brewers
SS Everth Cabrera, Padres
OF Justin Upton, Braves*
OF Bryce Harper, Nationals*
OF Carlos Beltran, Cardinals
OF Carlos Gonzalez, Rockies
OF Andrew McCutchen, Pirates
OF Ryan Braun, Brewers
OF Carlos Gomez, Brewers
OF Domonic Brown, Phillies
OF Hunter Pence, Giants
SP Jordan Zimmermann, Nationals*
SP Clayton Kershaw, Dodgers
SP Matt Harvey, Mets
SP Adam Wainwright, Cardinals
SP Shelby Miller, Cardinals
SP Mike Minor, Braves
SP Patrick Corbin, Diamondbacks
SP Cliff Lee, Phillies
SP Jeff Samardzija, Cubs
SP Ricky Nolasco, Marlins
RP Jason Grilli, Pirates
RP Craig Kimbrel, Braves
RP Aroldis Chapman, Reds
Disagree? Debate below and then check back tomorrow for the American League.
April, 18, 2013
4/18/13
11:52
PM ET
The
Arizona Diamondbacks
took a beating in the offseason from the pundits.
Prospect hounds criticized them for trading away former first-round pick
Trevor Bauer
, a deal made in part because of Bauer's iconoclastic approach to his craft that rubbed the Diamondbacks the wrong way.
Statheads mocked them for apparently focusing on acquiring players with that undefinable attribute known as grit, in the mold of manager Kirk Gibson, who had grit running through his veins in his playing days.
Traditional front-office types and ex-players ripped general manager Kevin Towers for publicly putting talented right fielder
Justin Upton
on the block, and then not trading him when it became clear he had to be dealt, and then not getting enough in return when they did finally trade him.
The message the Diamondbacks sent was clear: They didn't like Bauer, they didn't like Upton, and they probably didn't like
Chris Young
, dealt for scrappy overachiever
Cliff Pennington
. As Jeff Passan of Yahoo
wrote in January
:
As much as any baseball team in recent memory, the Diamondbacks on Thursday publicly embraced the idea of grittiness and guts, of the inherent and unquantifiable. And in doing so, they finished a two-trade whammy over the last six weeks that has seen them ship out their two most talented players in an effort to better embody this belief. ... The result is a fascinating experiment: a team stressing culture over talent. The Diamondbacks might say otherwise -- (Martin) Prado is an All-Star and in both deals they got young and talented shortstops, one of the toughest things to find -- but a consensus of scouts and sabermetric wonks agree: In both trades, Arizona sacrificed one for the other.
Towers didn't hide behind what the Diamondbacks were trying to do. "Different clubs like to look for certain intangibles," he said. "We like that gritty, grinder type. Hard-nosed. I'm not saying Justin isn't that type of guy."
I thought the Diamondbacks were criticized too heavily for their offseason deals; not that I'm a believer in gritty grinders, but because the other side of the talent issue was that Bauer has had trouble throwing enough strikes, Upton wasn't that great in 2012, and maybe -- let's give Towers a little credit here -- the players Arizona got in return will help them win in 2013 and beyond.
Of course, we're two-plus weeks into the season and Upton has already hit nine home runs -- more than half the 17 he hit last season -- so his hot start has sealed the perception that Arizona got snookered in that trade with Atlanta.
It's way too early to make any judgments on that, but on Thursday we saw both of Arizona's primary trade acquisitions make contributions in Arizona's
6-2 win over the Yankees
, as
Didi Gregorius
, acquired in the Bauer trade, played his first game for Arizona and homered in the third inning, and
Martin Prado
homered in the sixth. For Gregorius, it was his first major league home run -- on the first pitch he saw with the D-backs, a 92 mph fastball from
Phil Hughes
launched to right-center and prompting a big smile as he rounded third base.
Prado is a career .295 hitter who hit .301/.359/.438 last season with the Braves, but it's his ability to play superb defense at multiple positions that Arizona liked as well. He's already started games at third base, left field and second base. Check out this trio of plays made at third base against the Yankees:
This one
on Thursday,
this one
on Wednesday, and
another one
from Wednesday.
Gregorius comes with a strong defensive rep at shortstop; the question is whether he'll hit. After batting .265/.324/.393 between Double-A and Triple-A in 2012, he was off to a great start at Triple-A Reno, hitting .387 with two homers and only one strikeout in 33 plate appearances. Sure, it's Reno, but maybe Towers saw more potential in his bat than others did.
Those home runs gave the D-backs a 2-1 lead heading into the bottom of the ninth inning --
Patrick Corbin
allowed just two hits in seven innings -- which
J.J. Putz
gave away, but Arizona rallied with four runs in the 12th off
David Phelps
.
The impressive aspect of Arizona's 9-6 start is they've done so while being banged up -- maybe not quite to the extent the Yankees are banged up, but enough so that even grit and guts have been sidelined. Projected starting center fielder and leadoff hitter
Adam Eaton
is out with an elbow strain;
Aaron Hill
, who hit 26 home runs last season, was off to a good start before breaking his hand;
Cody Ross
just returned but fellow outfielder
Jason Kubel
is on the DL with a strained quad; supersub
Willie Bloomquist
is also on the DL with an oblique strain.
That meant Arizona played Thursday's game, for example, without three of its projected starters in Eaton, Hill and Kubel. But that was a main reason I liked Arizona to win the NL West: I liked their depth more than any other club in their division. They can still plug in
Gerardo Parra
and
A.J. Pollock
in the outfield; Gregorius shows their depth at shortstop behind Pennington and Bloomquist; veteran
Eric Chavez
is around to play some third base or come off the bench. Corbin, the second-year No. 5 starter who beat out prized rookie
Tyler Skaggs
in spring training, shows that the rotation is five-deep.
Yes, the Diamondbacks will be a punching bag all season on Twitter and in blogs as people make jokes about their latest gritty effort. But don't be surprised if they do some punching back of their own where it counts: in the win column.
August, 1, 2012
8/01/12
11:40
PM ET
Dodgers, Giants, Giants, Dodgers. Hanley! Hunter!
And ... on the outside ... don't forget about the
Arizona Diamondbacks
. Remember them? Last year's National League West division champions. Had that monster second half. Won 16 of 18 games in late August and early September to blow open the division.
Remember them? Well, here they are again. They were as many as 11.5 games out in late May.
Daniel Hudson
, a 16-game winner in 2011, went down for the season.
Justin Upton
was being shopped around. Kirk Gibson didn't seem so scrappy and tough when his team was six games under .500.
Here they are. They
blanked the Dodgers 4-0
on Wednesday afternoon to complete an impressive three-game sweep, outscoring the Dodgers 19-4.
Patrick Corbin
, recalled from the minors to make his first start since May 21, combined with three relievers on the two-hitter.
Paul Goldschmidt
continued his torrid hitting with a 3-for-3 day. With 10 wins in their past 13 games, the Diamondbacks now are 1.5 games behind the Dodgers for second in the division, and 2.5 behind the Giants. The Dodgers and first-place Giants added reinforcements at the deadline because they needed help; the Diamondbacks didn't do much because they didn't have to.
There's pressure for general managers to make moves at the deadline -- from fans, sometimes from ownership, sometimes even from players on the major league roster. The D-backs quietly acquired third baseman
Chris Johnson
from the Astros a few days before the deadline, an under-the-radar move that plugged the one problem position for the team. While Johnson wasn't a headline acquisition, his season wOBA (weighted on-base average) is .336 while
Hanley Ramirez
's is .328.
Otherwise, like last season, the Diamondbacks decided to put faith in what they already had, to believe in their young players. They could have traded Upton; instead they made the smart choice to say he's probably better than what they could get for him right now. A year ago, instead of trading for a mediocre veteran first baseman such as
Derrek Lee
, they gave the job to Goldschmidt, skipping him past Double-A. He responded by hitting a solid .250/.333/.474 (BA/OBP/SLG) in 48 games. As the deadline approached the past couple of days, there were rumors the D-backs were in on a starting pitcher, maybe
Ryan Dempster
or
Matt Garza
. Instead, they'll once again stick with their own guys.
Corbin began the season in Double-A before making five starts for Arizona in April and May. After some time in Reno, a couple of weeks in the major league bullpen and then more time in Reno, the left-hander was called up to replace
Josh Collmenter
in the rotation.
"I feel a lot more comfortable now and I feel like I should be up here," Corbin said after Wednesday's game.
"That's the biggest difference -- feeling comfortable and going out there knowing you can pitch against these guys. ... My breaking ball was a good pitch for me coming up through the minor leagues, and I didn't have it my first time up here," he added. "But I gained it back when I was in the bullpen and then continued with it in Reno. Today I was throwing it for strikes, getting ahead of guys and then finishing them with it."
Corbin joins rookie All-Star
Wade Miley
in the rotation. Rookie
Trevor Bauer
, now back at Reno, made four starts earlier. Don't be surprised if hard-throwing lefty Tyler Skaggs -- 8-5 with a 2.59 ERA between Double-A and Triple-A -- makes an appearance in the rotation at some point.
Dodgers manager Don Mattingly had called this a "trap series" before the first game. "This series scared me from the beginning," he said. "They hurt us with the long ball all three games, and we weren't hitting the ball."
He should be scared. For starters, look at the season run differential for the three NL West leaders after Wednesday's action: Giants plus-5, Dodgers plus-7, Diamondbacks plus-44. No, that hasn't helped Arizona to a better record right now, but it is a good sign of overall team strength moving forward. As for those reinforcements, consider that heading into Wednesday's games:
Diamondbacks third basemen had been outhit by Dodgers third basemen; the Dodgers have a .687 OPS from third base, the Diamondbacks .644. So Johnson upgrades third base arguably as much as Ramirez does for the Dodgers.

Giants right fielders are hitting .268/.349/.432. Hunter Pence is hitting .271/.336/.447. Factor in that Pence was plying his trade in Philadelphia and now has to go to a tougher hitters' park, it's possible the Giants won't be getting better production from right field, especially when you factor in that Pence is a defensive downgrade from Gregor Blanco and Nate Schierholtz. Now, that doesn't mean Pence won't help the Giants. It's possible the Giants weren't going to continue getting that kind of production from right field. Or they can slide Blanco over to center to spell Angel Pagan. The larger point is that Pence mostly just maintains what the Giants have received so far from right field.

Shane Victorino looks like a bigger upgrade for the Dodgers. He's hitting .261/.324/.401, which isn't great but is better than the Dodgers' current left-field line of .256/.326/.345. Plus, he should be a big defensive upgrade over Bobby Abreu and Juan Rivera.

But ... can't Arizona expect the same kind of increased production from Upton in right field the rest of the way?
ESPN Insider Dan Szymborski ran the
deadline trades through his ZiPS projection system
and how the trades increased each team's playoff chances. He has the Dodgers' chances improving 15.4 percent, the Giants' chances dropping 0.7 percent and the D-backs' chances dropping 6.5 percent.
That doesn't necessarily mean the Dodgers are the team to beat. They still have a gaping hole at first base named
James Loney
. They don't have a fifth starter.
Chris Capuano
got hit hard in July (5.14 ERA). The Dodgers and Giants also rank 15th and 16th in the NL in home runs.
It's August 1. Right now, I expect the NL West to be a three-team race down to the wire. And I'm going with the Diamondbacks to pull it out.
PHOTO OF THE DAY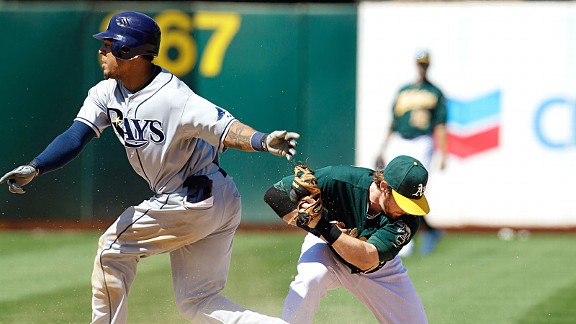 AP Photo/Jeff ChiuDesmond Jennings pops up from his slide with so much flash that Eric Sogard has to look away.
June, 29, 2012
6/29/12
11:55
PM ET
It's amazing how quickly storylines can change over the course of just a couple of months.
When the season began, most people had the
Arizona Diamondbacks
pegged as the favorites to win the National League West. Of course, they got off to a brutal start, became somewhat of an afterthought, and the
Los Angeles Dodgers
were everyone's flavor of the month. Then the Dodgers cooled off and the
San Francisco Giants
got going and suddenly
Matt Cain
& Co. were the talk of baseball. Well, the D-backs haven't caught up just yet, but they're making it clear they should not be written off.
On Friday, Arizona second baseman
Aaron Hill
made history by becoming just the
second player of the modern era to hit for the cycle twice in a season
, and the D-backs thrashed the
Milwaukee Brewers
by a score of
9-3
.
Unlike their counterparts in Los Angeles and San Francisco, the D-backs have yet to really hit their stride this year. Sure, Hill (.849 OPS) and left-hander
Wade Miley
(2.19 ERA) are probably playing a bit over their heads, but a lot more has gone wrong than right for Arizona this year, which bodes well for a resurgence. For example:
1.
Stephen Drew
didn't play until this week.
2.
Ian Kennedy
hasn't been himself.
3.
Justin Upton
hasn't hit his stride.
4.
Daniel Hudson
is going to have elbow surgery.
Now, it would be easy to point to Hudson's injury as evidence that the D-backs can't win the NL West, but the one thing this club has is pitching.
Trevor Bauer
made his debut Thursday, and while it was rocky, there is plenty of reason to believe he can be a factor. And if not him, Arizona also has
Patrick Corbin
and Tyler Skaggs ready to step into the rotation. Also, as the Cardinals proved last season when they won the World Series in a year in which
Adam Wainwright
didn't pitch an inning, no pitcher is completely indispensable, and I think we can all agree that Wainwright is better than Hudson.
Now that the likes of Hill and Miley have done their part to keep Arizona alive, it's up to Upton, Kennedy and Drew to pick up the slack. Upton, who was bothered by a thumb injury earlier in the year, has been hitting about .500 over the past 10 days, which is a great sign for Arizona fans. Kennedy has an ERA of 4.20 and a
FIP
of 3.82, which suggests he's actually pitched a lot better than his traditional stats indicate. As for Drew, he'll almost certainly be an upgrade over
Willie Bloomquist
, who has actually been pretty good, but whose career .660 OPS suggests his current line of .297/.327/.407 is unsustainable.
Arizona is just four games behind San Francisco in the loss column, and considering all that has gone wrong thus far, that's a pretty good place to be.
July, 23, 2011
7/23/11
3:00
PM ET
By
Charlie Saponara
| ESPN.com
With trade rumors hitting us in full force as the deadline approaches, let's take a look back at some of what happened at the 2010 trade deadline and see how many of those players are making an impact for their new teams.
Cliff Lee traded to the Rangers; Mariners acquired Justin Smoak, Blake Beavan, Matthew Lawson and Josh Lueke
Despite a solid BB/K rate, Smoak continues to struggle with consistency at the big league level. He's still only 24, so there is time for him to improve, but he's not the instant impact bat that the Mariners were hoping for. Both Beavan and Lueke have pitched in spots for the Mariners this season. The Rangers rode Lee's contributions to the World Series and have since moved on from Smoak seamlessly, relying instead on the likes of postseason hero
Mitch Moreland
,
Michael Young
and
Mike Napoli
.
[+] Enlarge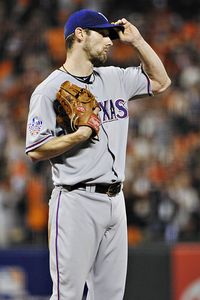 Scott Rovak/US PresswireThe Rangers acquired Cliff Lee in a 2010 deadline deal and rode his arm to a World Series appearance.
Dan Haren traded to the Angels; Diamondbacks received Joe Saunders, Tyler Skaggs, Patrick Corbin and Rafael Rodriguez
Haren has thrived for the Angels this season, and Saunders has held his own with the surprise contenders in Arizona. However, the big score for the D-Back may not arrive until late next season or 2013, as Skaggs has continued to impress all those who have seen him pitch. Recently, he earned a promotion to Double-A after posting a 3.22 ERA, 2.65
FIP
and 3.7 K/BB rate at High-A Visalia in the hitter-friendly California League. Corbin has had his struggles at Double-A, but he has posted an impressive 4.5 K/BB rate and should see the big leagues one day.
Edwin Jackson traded to the White Sox; Diamondbacks received Daniel Hudson and David Holmberg
This move was sort of a head-scratcher at the time, and the way Hudson has pitched for the D'backs ever since confirms that confusion. The Snakes have Hudson under team control through 2016 while Jackson will hit the free-agent market this winter.
Roy Oswalt traded to the Phillies; Astros acquired J.A. Happ, Anthony Gose and Jonathan Villar
Oswalt pitched brilliantly for the Phils in the 2010 postseason. However, career-long back problems may have finally caught up to him. On the Astros' side, Happ was plugged right into the rotation, but his struggles with command and allowing the long ball have led to an ERA nearing six. Gose never played a game in the Astros' system as he was flipped to the Blue Jays for first baseman
Brett Wallace
; the 24-year-old Wallace has been unimpressive in his young major league career, though he does sport an above-average OBP. Villar continues to struggle with strikeouts in the minor leagues.
Lance Berkman traded to the Yankees; Astros received Mark Melancon and Jimmy Paredes
While Berkman is in the midst of a late-career renaissance with the Cardinals, Melancon has taken over as the Astros' closer with a 2.91 ERA, 3.33 FIP and ground-ball rate of 60 percent. Jimmy Paredes is now in Double-A and continues to steal bases, but he also continues to struggle with his lack of plate discipline.
Matt Capps traded to the Twins; Nationals received Wilson Ramos and Joe Testa
Capps pitched well for the Twins down the stretch in 2010, but his huge regression in strikeout rate has hurt him big-time this season. In the meantime, despite some ups and downs in his first full big-league season, Ramos has established himself as the Nationals' catcher of the now and the immediate future.
Jhonny Peralta traded to the Tigers; Indians received Giovanni Soto
Peralta re-signed with the Tigers last offseason and has been worth every penny of the $5.25M he is making this season. Over the past two seasons, Peralta has improved his contact rate, which has helped to lower his strikeout rate. Meanwhile, the 20-year-old Soto continues to show good strikeout ability at the lower minor-league levels of the Indians' organization.
Ted Lilly and Ryan Theriot traded to the Dodgers; Cubs received Blake DeWitt, Brett Wallach and Kyle Smit
Lilly pitched well for the Dodgers down the stretch in 2010, but his issues with the gopher-ball have hurt him this season. With the Dodger's financial situation in shambles, the three-year $33 million deal Lilly signed last offseason only makes things worse. Overall, this deal has helped no one, though the Dodgers did at least acquire league-average reliever
Blake Hawksworth
in exchange for Theriot this past offseason.
Octavio Dotel traded to the Dodgers; Pirates acquired James McDonald and Andrew Lambo
After being acquired by Los Angeles, Dotel appeared in 19 games, allowed seven earned runs and was then traded to the Rockies in September. The Pirates landed the high-upside, inconsistent McDonald, who has been once again inconsistent. However, his 4.15 ERA (4.57 FIP) have at least contributed as a back-end rotation piece to the surprising Pirates. Lambo was once a top-end prospect with the Dodgers, but his prospect status is all but gone now. He's hitting .206/.278/.326 between Double- and Triple-A this season.
Kyle Farnsworth and Rick Ankiel traded to the Braves; Royals received Tim Collins, Jesse Chavez and Gregor Blanco
Both Farnsworth and Ankiel moved on from the Braves in the offseason, and Blanco was traded to the Nationals this past May. Collins made the Royals out of spring training and has continued to prove that he can miss bats (24.3 percent whiff rate), but his control has really tailed off at the big-league level. Collins is only 21 years old, so his future may still be as a consistent late-inning reliever someday.
Charlie Saponara writes for SweetSpot blog, "Fire Brand of the AL." You can find all of his writing adventures by following on Twitter.