April, 6, 2014
Apr 6
10:22
PM ET
1.
Back in spring training,
Texas Rangers
ace
Yu Darvish
admitted he was working on a few minor tweaks on his mechanics in an attempt to avoid a recurrence of the nerve problem in his lower back and buttocks area that arose last September. Whether that had anything to do with the stiff neck that had sidelined him since March 16 and forced him to miss his Opening Day assignment remains unknown, considering the dubious nature of the original rationale for the neck issue ("I slept on it wrong," Darvish said).
In the end, he missed just one start, which was still enough of a setback to put Rangers fans in a minor state of panic considering the opening week rotation was already without
Derek Holland
and
Matt Harrison
.
Darvish returned Sunday after not having pitched in three weeks and looked a lot like the guy many predicted will win the Cy Young Award, undoubtedly calming at least a few nerves in the Rangers fan base and front office. He pitched seven innings of no-run baseball in a 3-0 win over the Rays, an efficient 89-pitch effort that included just one walk. He threw 65 of his 89 pitches for strikes and held the Rays to an 0-for-10 mark with runners in scoring position.
He wasn't necessarily overpowering, averaging 91.7 mph on his fastball while maxing out at 95.1 mph, but maybe this is the new, strike-throwing Darvish, one looking to be a little more economical in his pitch counts to avoid walks and pitch consistently deeper into games.
"It seems like they are very aggressive, so I tried not to overthrow and be very careful with my command," Darvish said. "That was the key to my success. I was aggressive throwing strikes. I felt like I was pitching in spring training or any other game. I didn't feel anything unusual."
While Darvish recorded just six strikeouts, he showed what makes him so tough to hit -- the six K's came on two fastballs, two curveballs, a slider and a changeup to
Wil Myers
. It's that changeup that could be a new weapon for him: He threw 90 changeups all of last year, recording just four strikeouts. Just what batters want to hear, knowing it's hard enough already with two strikes gearing up for a curveball or slider.
The Rangers' rotation remains a little unsettled --
Colby Lewis
may be close to returning and they may use six starters this week. The good news is the Rangers are 3-3 despite the makeshift rotation and having hit just one home run. They play the Red Sox and Astros this week but will need the rotation to come together sooner rather than later as they play the Mariners seven times and the A's six before the end of the month.
Darvish joked that he'd pitch great every time if he had three weeks between starts. The Rangers are hoping he'll pitch great every fifth day.
2.
The most impressive result of the weekend was the Brewers going into Boston and sweeping the Red Sox by scores of 6-2, 7-6 (in 11 innings) and 4-0 on Sunday. The Red Sox were swept just once all last season -- in a three-game series in Texas -- and shut out just three times at Fenway Park in the regular season.
Yovani Gallardo
struck out only three in 6 2/3 innings but issued no walks and got 11 ground balls outs compared to four in the air. He hasn't allowed a run in his first two starts. Gallardo struggled last year and while his velocity isn't up from last year at least he's throwing strikes early on.
[+] Enlarge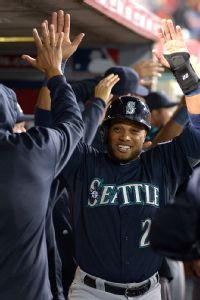 Kirby Lee/USA TODAY SportsCano seems to be embracing his role as a leader in Seattle.
The bad news for the Brewers, of course, is Ryan Braun's thumb injury, which he now says hasn't completely healed from last year when the injury sapped his power and eventually forced him to the disabled list (before his suspension). He had two singles on Sunday to raise his average to .150 but he doesn't have an extra-base hit in (the small sample size of) 21 plate appearances. Remember, when Braun was putting up monster numbers in 2012 the Brewers led the National League in runs scored. If they're going to contend for a playoff spot, they better hope this thumb issue doesn't linger.
3.
I watched a lot of Mariners this week and there were a lot of positives to draw upon as they went 4-2 on the road: Two dominant starts from
Felix Hernandez
, one from
James Paxton
, good hitting from
Justin Smoak
and
Dustin Ackley
.
Robinson Cano
hit a quiet .391/.500/.478 as he's still looking for his first home run. He has drawn three intentional walks already as the Angels and A's elected to go after Smoak.
All three walks came in conventional IBB situations: Two outs, runners on second or second and third. Smoak went 1-for-3 with a bases-clearing double. Still, for now, it appears opponents will avoid Cano whenever possible. The biggest positive with Cano may have been his hustle double on Sunday when he singled to center and took advantage of
Coco Crisp
jogging after the ball. That's a Cano that New York writers like to say doesn't exist. It's one play, but perhaps a sign that Cano will embrace being a leader on the Mariners.
4.
Mark Trumbo
homered for the fourth straight game Sunday in the Diamondbacks' 5-3 win over the Rockies, just their second victory in nine games as they currently sit with the majors' worst record. Even though Trumbo has five home runs and 13 RBIs and
Paul Goldschmidt
is mashing, the Arizona offense has mostly struggled, averaging fewer than four runs per game.
The Rockies intentionally walked Trumbo with a runner on third base and one out on Sunday to pitch to
Miguel Montero
, who promptly grounded into a double play against
Brett Anderson
. Montero's OPS fell from .820 and .829 in 2011 and 2012 to .662 in 2013. He and
Gerardo Parra
are the only regular lefties in the D-backs' lineup, and they need the old Montero not the 2013 version.
5.
I watched the last few innings of Chris Tillman's gem to beat the Tigers, and he looked really good, allowing one run again as he did in his Opening Day start. He couldn't quite finish it off, getting one out in the ninth before being pulled for
Tommy Hunter
, but he challenged the Tigers -- 74 of his 113 pitches were fastballs -- and did a good job of moving the fastball around against left-handed batters (he pitches mostly to the outside corner with the fastball against righties).
Without sounding overdramatic here, it was a big win for the Orioles as 2-4 just sounds a lot better than 1-5. The Orioles have one of the toughest April schedules in the majors as just six of their first 27 games are against teams that finished under .500 last year and those six are against Toronto, no pushover, so they need to make sure they don't get buried before May.
6.
This wasn't from Sunday, but I hope you didn't miss Giancarlo Stanton's
mammoth home run
on Friday off
Eric Stults
. The
ESPN Home Run Tracker
estimated the moon shot at 484 feet, 31 feet longer than the second-longest home run so far. The longest home run last year was Evan Gattis'
486-foot blast
for the Braves on Sept. 8 off
Cole Hamels
.
The Marlins lost on Sunday, but they're off to a 5-2 start. Stanton is hitting .345/.406/.655, and for all those fears that he wouldn't get pitched to, he hasn't drawn an intentional walk
[+] Enlarge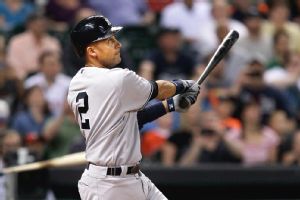 Bob Levey/Getty ImagesDerek Jeter is now No. 8 on the all-time hits list, but the Yanks need power.
7.
Derek Jeter
passed Paul Molitor for the eighth place on the all-time hits list. In many ways, the two are identical matches as hitters, with short, compact swings and both loved to go to the opposite field. Jeter has a career line of .312/.381/.446 with 256 home runs while Molitor hit .306/.369/.448 with 234 home runs. Molitor's adjusted OPS is slightly higher, at 122 versus Jeter's 117. Molitor struck out 10.2 percent of the time against a league average of 14.7 percent during his career; Jeter has fanned 14.7 percent of the time against a league average of 17.4 percent.
Jeter has his most hits off
Tim Wakefield
(36) and among pitchers he faced at least 40 times, has the highest average against
Bruce Chen
(.429). (He also hit an impressive .413 against
Johan Santana
. Molitor got 33 hits off both Jack Morris and
Roger Clemens
(and hit above .300 against both) and killed Erik Hanson (.482) and Walt Terrell (.477).
8.
The Yankees have one home run in six games, hit by
Brett Gardner
on Sunday's win over the Blue Jays. Could power actually be an issue for the Yankees?
Mark Teixeira
landed on the DL over the weekend, which means they're really going to have to rely on 38-year-old
Alfonso Soriano
and 37-year-old
Carlos Beltran
for some pop. Leading the team in extra-base hits?
Yangervis Solarte
. Of course.
9.
B.J. Upton
: Hey, at least he didn't strike out in Sunday's 2-1 loss to the Nationals. But he did go 0-for-4 and is off to a .120/.120/.140 start with 11 strikeouts in 25 plate appearances. So far, Fredi Gonzalez has hit him second in all six games. It's way too early to panic, but tell that to Braves fans.
10.
Speaking of worrying, should the Angels be worried about
Jered Weaver
? In two starts, batters are slugging .600 against him and the Astros pounded four home runs off him on Sunday. The four home runs came on four different pitches:
Jason Castro
off a 3-1 changeup,
Matt Dominguez
off a 3-2 slider,
Jesus Guzman
on an 0-1 fastball and
Alex Presley
on an 0-1 curveball. His fastball velocity, such as it is, has averaged 86.0 mph, about the same as last year's 86.5.
As with all these first-week results, don't overreact, but if Weaver isn't a strong rotation anchor, the Angels are in trouble. They're 2-4, hoping to avoid the terrible April starts of the past two seasons.
August, 13, 2012
8/13/12
5:46
PM ET
Before the Olympics began,
Kobe Bryant
suggested this year's Olympic basketball team would defeat the fabled 1992 Dream Team that featured Michael Jordan, Magic Johnson, Charles Barkley and Larry Bird. Bryant later adjusted his thoughts, saying the Dream Team was better but that the 2012 squad could beat them.
Bryant and company cruised throughout the tournament until Sunday's gold-medal game against Spain,
prevailing 107-100
after leading by just one point heading into the fourth quarter.
Anyway, that's a lead-in to this: What would baseball's dream team from 1992 look like? Let's turn back the clock and imagine we're in the summer of 1992. Let's pick a 25-man team -- 15 position players, seven starting pitchers and three relievers. Just like the '92 hoops Dream Team, legend status should come into play a bit. Since we're imagining an Olympic-type scenario, we're going with U.S. players only.
The Starters
1. 2B Ryne Sandberg, Cubs
(.304/.371/.510, 26 HR, 7.6 WAR)
Made his ninth consecutive All-Star appearance in '92.
2. CF Kirby Puckett, Twins
(.329/.374/.490, 19 HR, 6.8 WAR)
Had led the Twins to a World Series title in 1991; finished second in '92 American League MVP vote.
[+] Enlarge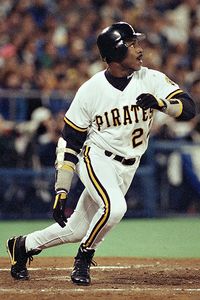 AP Photo/John SwartBarry Bonds led the Pirates to the NLCS in 1992.
3. LF Barry Bonds, Pirates
(.311/.456/.624, 34 HR, 8.9 WAR)
The best player in the game; won his second MVP award in '92.
4. DH Frank Thomas, White Sox
(.323/.439/.536, 24 HR, 6.7 WAR)
In his second full season, but the most feared hitter in the AL. Led the league in OBP and OPS for the second consecutive season.
5. 1B Mark McGwire, A's
(.268/.385/.585, 42 HR, 6.2 WAR)
Had rebounded from a poor 1991 to lead the AL in slugging percentage and the A's to the AL West title.
6. RF Ken Griffey Jr., Mariners
(.308/.361/.535, 27 HR, 5.5 WAR)
At 22 years old, already one of the game's best all-around players. We'll move him to right field with Kirby in center.
7. 3B Terry Pendleton, Braves
(.311/.345/.473, 21 HR, 4.8 WAR)
People remember his 1991 MVP season, but he finished second to Bonds in the '92 vote.
8. C Darren Daulton, Phillies
(.270/.385/.524, 27 HR, 6.7 WAR)
It was a weak year for catchers, but Daulton had a monster season with the fourth-highest WAR among position players.
9. SS Cal Ripken, Orioles
(.251/.323/.366, 14 HR, 3.8 WAR)
Not a good season but a baseball dream team wouldn't have been complete without Ripken.
The Bench
OF Rickey Henderson, A's
(.283/.426/.457, 15 HR, 5.4 WAR)
The best leadoff hitter in the game compiled 5.4 WAR despite playing just 117 games.
OF Andy Van Slyke, Pirates
(.324/.381/.505, 14 HR, 5.9 WAR)
Led the NL in doubles and hits, fourth in the MVP vote, Gold Glove center fielder. His window was small, but a terrific player for a few years.
OF Dave Winfield, Blue Jays
(.290/.377/.491, 26 HR, 3.8 WAR)
Others with a higher WAR, but Winfield gets credit for legend status and helping the Blue Jays win the World Series.
SS Ozzie Smith, Cardinals
(.205/.367/.342, 0 HR, 5.0 WAR)
Tough call here:
Barry Larkin
(.304/.377/.452, 5.5 WAR) or the 37-year-old Ozzie? The Wizard could still pick it and had 43 steals.
3B Gary Sheffield, Padres
(.330/.385/.580, 33 HR, 6.0 WAR)
Challenged for the Triple Crown much of the year before finishing first in batting, third in homers and fifth in RBIs.
C Terry Steinbach, A's
(.279/.345/.411, 3.8 WAR)
Gets the nod over Mickey Tettleton as the backup catcher for his good defense and leadership.
Pitching Staff
Tom Glavine, Braves
(20-8, 2.76 ERA, 3.6 WAR)
The only lefty on our 10-man staff, finished second in the Cy Young vote after winning it the year before.
[+] Enlarge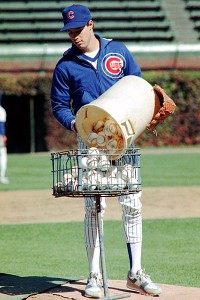 AP Photo/Bill WaughGreg Maddux would win four consecutive Cy Youngs beginning with the 1992 season.
Greg Maddux, Cubs
(20-11, 2.18 ERA, 8.9 WAR)
Won the first of his four consecutive Cy Young Awards.
Roger Clemens, Red Sox
(18-11, 2.41 ERA, 8.4 WAR)
Led the AL in ERA, shutouts, WHIP and SO/BB ratio, but finished just third in Cy Young vote.
Doug Drabek, Pirates
(15-11, 2.77 ERA, 5.1 WAR)
Career went downhill after signing with the Astros in '93, but regarded as one of the toughest competitors in the game at the time.
Jack Morris, Blue Jays
(21-6, 4.04 ERA, 2.5 WAR)
Morris absolutely would have been on a '92 dream team despite the high ERA. He'd just won back-to-back World Series titles and had the 21 wins.
Jack McDowell, White Sox
(20-10, 3.18 ERA, 4.9 WAR)
Kevin Appier
and
Mike Mussina
had better ERAs, but Black Jack had the image at the time. And the league-leading 13 complete games.
Nolan Ryan, Rangers
(5-9, 3.72 ERA, 1.8 WAR)
The numbers don't merit inclusion, but by '92 Ryan was the biggest icon in the game, a 45-year-old flame-throwing legend. Much like Bird, you wouldn't leave him off.
Dennis Eckersley, A's
(7-1, 1.91 ERA, 51 saves, 2.8 WAR)
The last AL reliever to win the Cy Young, Eck also walked away with the MVP trophy. OK, it was a bad vote, but Eck seemed unbeatable back then.
Rob Dibble, Reds
(3-5, 3.07 ERA, 25 saves, 0.9 WAR)
At the time, Dibble had four of the five highest K/9 rates in major league history (minimum 50 innings).
Jeff Montgomery, Royals
(1-6, 2.18 ERA, 39 saves, 3.0 WAR)
From '89 to '93, Montgomery fashioned a 2.22 ERA with 159 saves. What, you expected Mitch Williams?
So, who got Isiah'd? We mentioned Barry Larkin.
Tony Gwynn
was in a bit of a down spell (for him), so he loses out as well. We can't find room for NL home run leader
Fred McGriff
, Will Clark or Paul Molitor. For pitchers, some of the better statistical options would have included the aforementioned Mussina (7.9 WAR) and Appier (7.7 WAR) as well as Frank Viola, Sid Fernandez, Bob Tewksbury and
David Cone
, plus some up-and-coming guys like
John Smoltz
and
Curt Schilling
.
How does this team compare to a 2012 dream team? I'll let you debate who would be on such a 2012 team in the comments section.
December, 12, 2011
12/12/11
12:17
PM ET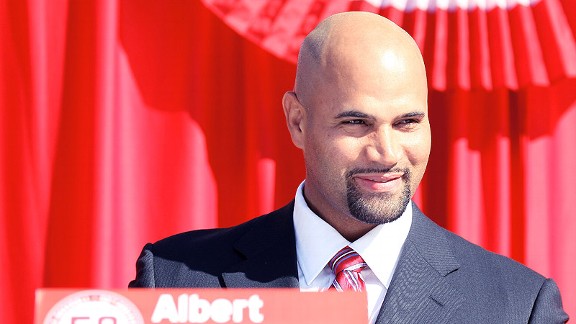 Stephen Dunn/Getty ImagesWill Albert Pujols' on-field value increase over the course of his 10-year contract?
Let's be honest: I don't think Arte Moreno cares too much about 2017 or 2018, let alone 2021, when
Albert Pujols
will be 41 years old and finishing up the final season of his 10-year, $254 million contract with the
Los Angeles Angels
.
Last week, ESPN Insider Dan Szymborski
projected Pujols' numbers over the next 10 years
. Szymborski's system predicts a fairly rapid decline for Pujols after the first four seasons. The Pujols defenders will rightly point out, however, that there have been few players like him in the history of baseball, that he doesn't drink and eats his vegetables and all that, and thus any projection system concerning Pujols will have a wide range of error.
So let's do this. Let's look at the most valuable first baseman or designated hitter since 1969 at each age, from 32 to 41, using Baseball-Reference's Wins Above Replacement system. I'm using designated hitters for two reasons: Pujols will inevitably end up there at some point, and as you'll see, many of the "best" players at these ages have been DHs, not first basemen. Simply put: First basemen, even great ones, do not age well. At the end, we'll compare the total WAR of this method to Szymborski's ZiPS system.
Age 32: Lance Berkman, 2008 Astros -- 6.7 WAR (.312/.420/.567)
Actually,
Edgar Martinez
of the '95 Mariners was higher with 7.7 WAR, but he was primarily a DH that year. Martinez hit .356/.479/.628. It's perhaps interesting to note that Berkman and Martinez (you'll see his name a lot on this list) have higher career walk rates than Pujols. Berkman is at 15.5 percent for his career, Pujols at 13.1 percent. Martinez finished at 14.8 percent. If you factor in only unintentional walks, the difference is even greater. Pujols' walk rate declined in 2011 to a career-low 9.4 percent. Some of that was due to a big drop in intentional walks, but he was also more aggressive at the plate -- he averaged 3.65 pitches per plate appearance, his lowest average since 2004 and the second-lowest average of his career. Was it an anomaly, or the sign of a hitter with declining bat speed looking to "speed up" his bat by cheating a bit? One of the keys to Martinez being so successful late into his 30s was his extraordinary plate discipline. Pujols doesn't strike out much, but if he's cheating, that means he'll chase more bad pitches. And remember, walks create value in the form of on-base percentage. Pujols' .366 OBP in 2011 was 60 points below his career mark entering the season.
Next five: Willie McCovey (6.4), Jim Thome (5.9), Cecil Cooper (5.9), Keith Hernandez (5.6), Jeff Bagwell (5.5).
Age 33: Rafael Palmeiro, 1998 Orioles -- 6.2 WAR (.296/.379/.565)
From 1995 through 2003 (when he was 38), Palmeiro averaged 41 home runs per season. His average WAR over that span was 4.1. The potential edge Pujols has over Palmeiro is batting average -- Palmeiro hit .285/.380/.556 and was helped by playing five seasons in Texas. On the other hand, Palmeiro had 90-plus walks in a season five times over that 1995-03 span. Pujols walked 61 times in 2011.
Next five: Edgar Martinez (6.2), Jeff Bagwell (5.3), John Olerud (5.1), Todd Helton (5.0), Mark McGwire (4.9)
Age 34: Mark McGwire, 1998 Cardinals -- 7.2 WAR (.299/.470/.752)
Well, needless to say this one comes with a big asterisk. Look below and you will see the overall values of the best first basemen are starting to tail off quite rapidly.
Next five: Edgar Martinez (6.2), Eddie Murray (5.6), Carlos Delgado (3.8), Jeff Bagwell (3.8), Don Baylor (3.7)
Age 35: Mark McGwire, 1999 Cardinals -- 5.5 WAR (.278/.424/.697)
Thome makes the next five list below. He's one of the best hitters of the past 25 years, but from age 32 on, Thome had just two seasons with an offensive WAR of 4.0 or greater (ages 32 and 35). He's a different kind of hitter than Pujols, of course -- lower average, more strikeouts, more walks. But through age 31, he was hitting .287/.414/.567. From age 32 onward, he's hit .264/.388/.542. Thome is actually a kind of a best-case scenario: He has maintained much of his value as a hitter, although he's had issues remaining completely healthy.
Next five: Edgar Martinez (5.0), Jim Thome (4.6), Al Oliver (4.3), Todd Helton (4.2), Wally Joyner (4.2)
Age 36: Paul Molitor, 1993 Blue Jays -- 5.7 WAR (.332/.402/.509)
We're starting to see more designated hitters now. Molitor, Martinez and Hal McRae were all DHs.
Next five: Edgar Martinez (4.6), Rod Carew (4.4), Will Clark (4.1), Hal McRae (4.0), Jeff Bagwell (3.5)
Age 37: Edgar Martinez, 2000 Mariners -- 5.7 WAR (.324/.423/.579)
Now it's getting even more extreme: Only
Andres Galarraga
played first base of the top six guys here. The point is: Pujols will have to continue to hit like Martinez and continue to play first base to maintain his WAR above 5.0. Martinez hit .324 at 37. Pujols' batting averages the past four seasons: .357, .327, .312, .299.
Next five: Andres Galarraga (5.4), Frank Robinson (4.7), Ellis Burks (4.0), Paul Molitor (3.3), Brian Downing (3.1)
Age 38: Edgar Martinez, 2001 Mariners -- 5.5 WAR (.306/.423/.543)
Again ... a bunch of DHs, other than Willie Stargell, who had a nice late-career push at ages 38 and 39 (hitting a combined .287/.367/.559 over those two years, although offering little on the bases or in the field).
Next five: Frank Robinson (3.7), Willie Stargell (3.4), Frank Thomas (3.3), Gary Sheffield (3.1), Rico Carty (3.0)
Age 39: Paul Molitor, 1996 Twins -- 3.4 WAR (.341/.390/.468)
Molitor had an amazing late peak: From ages 34 through 40, he hit .320. Again, a totally different type of hitter and athlete than Pujols -- smaller, faster, much more athletic in the traditional sense of speed and agility.
Next five: Edgar Martinez (2.8), Willie Stargell (2.3), Brian Downing (2.1), Frank Thomas (2.0), Dave Parker (1.9)
Age 40: Edgar Martinez, 2003 Mariners -- 3.5 WAR (.294/.406/.489)
Look how low the WAR totals are getting. These aren't players who offer much value at this point in their careers.
Next five: Brian Downing (2.5), Harold Baines (2.3), Paul Molitor (1.4), Pete Rose (1.4), Reggie Jackson (1.3)
Age 41: Brian Downing, 1992 Rangers -- 2.5 WAR (.278/.407/.428)
If Pujols is still playing in the final year of his deal, he'll have to defy the odds of Father Time to remain an asset for the Angels (and by asset, we mean you'll have to ignore his salary). Downing is the only first baseman/DH to produce a WAR above 0.1 at age 41 since 1969.
OK, the final tally:
Szymborski's ZiPS: 32.4 WAR -- 32 wins above replacement level
Best players at each age: 51.9 WAR -- 52 wins above replacement level
What's interesting is that currently a win on the free-agent market is worth about $5 million. Take $254 million and divide by $5 million, and you get ... 50.8 wins.
So, if Pujols matches the production of the best player at each age since 1969 for the next 10 seasons, his on-field value will actually match the contract Moreno gave him. As great as Pujols is, I don't see that happening, especially considering the signs of decline the past four seasons (his on-base percentage has also fallen from .462 to .443 to .414 to .366). Also consider that -- to put this delicately -- at least a couple players on these lists had some unusual aging patters to their careers in the midst of the steroids era.
If Pujols helps deliver the Angels a World Series title or two in the next few years, Moreno will be happy. And yes, Pujols provides value in more ways than just wins on the field -- the Angels reportedly sold 1,000 season-ticket packages after the Pujols and C.J. Wilson signings were announced. No doubt Pujols jerseys and T-shirts will be extremely popular in Orange County this summer. But you can't deny it remains extremely likely that the back end of the deal will be a major albatross for the Angels.
August, 10, 2011
8/10/11
1:00
PM ET
Michael Young
just passed 2,000 career hits and a reader asked me in my chat yesterday if Young had a shot at 3,000 hits. Jeff Caplan of ESPNDallas.com also
addressed the issue
. (And speaking of Young, Rob Neyer had a post about a
minor Young-related controversy
yesterday.)
Anyway, I'll be honest: I hadn't ever thought of Young as a 3,000-hit candidate, so I thought I'd check it out.
Young is 34 years old and has 2,002 career hits. First off, let's check the ages of the last 12 players to reach 3,000 hits and their hit totals through their age-34 season.
Derek Jeter: 37 years old; 2,535 hits through age 34.
Craig Biggio: 41 years old; 1,969 hits through age 34.
Rafael Palmeiro: 40 years old; 2,158 hits through age 34.
Rickey Henderson: 42 years old; 2,139 hits through age 34.
Cal Ripken: 39 years old; 2,371 hits through age 34.
Wade Boggs: 41 years old; 2,098 hits through age 34.
Tony Gwynn: 39 years old; 2,204 hits through age 34.
Paul Molitor: 39 years old; 2,086 hits through age 34.
Eddie Murray: 39 years old; 2,352 hits through age 34.
Dave Winfield: 41 years old; 2,083 hits through age 34.
George Brett: 39 years old; 2,219 hits through age 34.
Robin Yount: 36 years old; 2,747 hits through age 34.
At his current pace -- Young is hitting a career-best .333 -- he'll finish with about 213 hits this season. I don't think he'll hit .333 the rest of the way, so let's give him about 200 hits on the season. That leaves him at about 2,050 hits through his age-34 season ... or less than 11 of the 12 players, although within spitting distance of three others on the list.
The most interesting comparisons are Molitor and Biggio, similar types of hitters as Young -- right-handed, line-drive, moderate power types of guys. Molitor aged remarkably well, hitting .314 from age 35 to the end of his career at 41 and rapped out 211 hits at 36 and 225 hits at 39. Now, Young doesn't have to be as good as Molitor, who finished with more than 3,300 hits.
Biggio was less impressive, hitting .265 from 35 through 41, but his key was durability, as he averaged 150 games per season over those final seven years.
Young has been amazingly durable over his career, playing 155-plus games every season except 2009, when he missed most of the final month with a hamstring pull. He's sat just two games this year. Add it all up and I give Young about a 10 percent chance of reaching 3,000 hits.
And with that comes the inevitable Hall of Fame discussion. Who knew?
Follow David Schoenfield on Twitter @dschoenfield.
July, 22, 2011
7/22/11
12:54
PM ET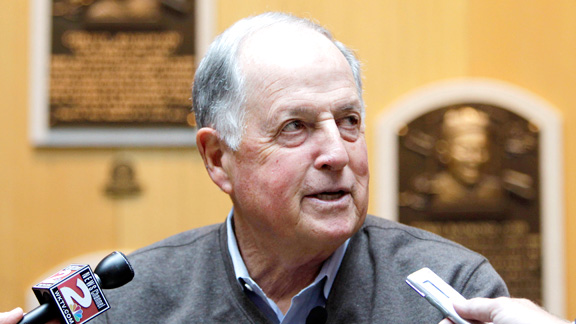 AP Photo/Mike GrollHall of Fame baseball executive Pat Gillick helped build playoff teams in several cities.
You can debate the merits of an executive getting elected to the Hall of Fame; personally, I find it a bit ridiculous that Pat Gillick got elected and will be enshrined this year while deserving players like
Barry Larkin
, Tim Raines, Alan Trammell and others were snubbed yet again by the voters (yes, Gillick was elected via a special expansion era committee).
Gillick was the general manager of the Blue Jays from 1978 through 1994, building them from an expansion franchise into a two-time World Series champion. He ran the Orioles from 1996 to 1998, making the playoffs his first two seasons. He took over the Mariners for the 2000 season, and his first big move was to trade a disgruntled Ken Griffey Jr. The Mariners made the playoffs anyway and then won a record 116 games the following season. He took over the Phillies in 2006 and retired after they won the World Series in 2008 (he remains an advisor).
His ability to build winners is undeniable, although Gillick also had good timing with his various retirements. After winning two World Series, the 1994 Blue Jays had become an aging, past-its-prime ballclub, finishing 55-60. Gillick wasn't around when the Jays stumbled to the worst record in the AL in 1995. He took over a solid Orioles club in 1996, added a few veterans to get them over the playoff hump, but left after the team fell under .500 in 1998. The Orioles haven't seen a winning record since. The Mariners won 93 games in 2003, but were an old club with a bad farm system, depleted in part because Gillick had forfeited draft picks to sign veteran free agents. He stepped down before the team lost 99 games in 2004. Only the Phillies have maintained success after Gillick left, either a testament to his genius or a testament to knowing when to quit.
Here are 10 moves that got him into the Hall of Fame, in chronological order.
1. Selecting George Bell in the Rule 5 draft.
Bell had missed most of the 1980 season while in the Phillies' system, but the Blue Jays were astute enough to select the outfielder. He didn't become a regular until 1984, but over seven full seasons with the Jays hit .288 while averaging 24 home runs and 102 RBIs, winning the 1987 AL MVP when he hit 47 home runs and led the league with 134 RBIs.
2. Acquired Fred McGriff for Dale Murray.
McGriff had hit .272 AVG/.413 OBP/.456 SLG as an 18-year-old in rookie ball with the Yankees when Gillick got him as a throw-in for a deal that brought Dave Collins and
Mike Morgan
to the Blue Jays. Collins had been a high-priced free-agent bust for the Yankees in 1982, and George Steinbrenner eagerly dumped him for Murray, a middling middle reliever who was nearly done. McGriff would hit 125 home runs for the Blue Jays, helping them win the '89 AL East crown.
3. Drafted Tom Henke from the Rangers.
Teams that lost a free agent used to be able to draft an unprotected player off another team. In 1985, Gillick selected Henke, a hard-throwing but wild right-hander who had posted a 6.35 ERA for the Rangers in 1984. Henke turned into one of the best closers in the league, had a 2.48 ERA and 217 saves over eight seasons in Toronto, and was the closer on the 1992 World Series champion.
4. Drafting John Olerud ... and then signing him as a free agent.
Olerud had been one of the best college players in the nation as a sophomore at Washington State, hitting .464 while going 15-0 as a pitcher. But he suffered a brain aneurysm before his junior season and played sparingly. Most teams were scared off, but the Jays drafted him in the third round in 1989 and he went straight to the majors. Later, in Seattle, Gillick signed Olerud as a free agent and he posted a .392 OBP from 2000 to 2003.
5. Acquired Devon White from the Angels for Junior Felix and Luis Sojo.
Felix had played well for the Blue Jays in 1990 as a 22-year-old while White had hit .217 for the Angels. But the Jays needed better defense in center (34-year-old Mookie Wilson had been the team's primary center fielder in '90) and White was one of the game's supreme fly chasers. White not only won three Gold Gloves as the Jays won three straight AL East titles from '91-93, but he hit well and averaged 108 runs per season over those three years.
6. Trading McGriff and Tony Fernandez to the Padres for Roberto Alomar and Joe Carter.
A few days later, Gillick made a good old-fashioned challenge trade, the likes of which you don't see much anymore. Fernandez had been a three-time All-Star with the Jays, but Alomar was younger and on the rise. McGriff was a better player than Carter, but the Jays had Olerud ready to play first base. In five seasons with the Jays, Alomar became one of the best all-around players in baseball, making the All-Star team all five seasons. He also hit .373 in five postseason series while with Toronto, driving in 18 runs and stealing 18 bases in 29 games. When Gillick went to the Orioles, one of his first moves was to sign Alomar as a free agent.
7. Signing Jack Morris, Dave Winfield and Paul Molitor as free agents.
By 1992, the Jays were drawing 4 million fans per season and had become one of baseball's richest franchises. Gillick had money to work with; the Jays had the third-highest payroll in 1992 and the highest in 1993. In '92, he signed veterans Morris and Winfield. Morris went 21-6 while Winfield hit .290 with 108 RBIs as the team's DH. The next season, Molitor replaced Winfield and was even better, hitting .332, driving in 111 runs, scoring 121 and finishing second in the AL MVP vote.
8. Signing Ichiro Suzuki.
Many American scouts and executives believed Ichiro was too thin and frail to succeed in the U.S. The Mariners won negotiating rights with a $13 million bid and soon signed Ichiro to a three-year, $14 million contract entering the 2001 season. All he did as a rookie was hit .350, score 127 runs, steal 56 bases, win AL MVP honors and lead the Mariners to 116 wins.
9. Signing Bret Boone as a free agent.
As good as Ichiro was in 2001, Boone might have been even better. He had one of the greatest seasons ever for a second baseman, hitting .331 with 37 home runs, leading the AL with 141 RBIs and winning a Gold Glove. All for $3.25 million.
10. Trading for Jamie Moyer.
Notice a trend? Gillick has a history of bringing back his former players. He had Moyer in Seattle and picked him up for nothing in 2006. In truth, all the key parts of the Phillies' 2008 World Series were already in place when Gillick arrived --
Ryan Howard
,
Chase Utley
,
Jimmy Rollins
and
Cole Hamels
had been drafted by the previous regime, and
Shane Victorino
had been acquired in the Rule 5 draft. Gillick's big moves were trading for Moyer, who would go 56-40 for the Phillies and was the team's No. 2 starter in 2008, and signing
Jayson Werth
before the 2008 season, after he had missed all of 2007 with a wrist injury.
Follow David Schoenfield on Twitter @dschoenfield.
May, 21, 2011
5/21/11
12:00
PM ET
By
Christina Kahrl
| ESPN.com
Yes, this is another article about the sorry state of offense in 2011. Scoring is down a fifth of a run per team from 2010, a "year of the pitcher." It's down four-tenths of a run from 2009, six-tenths of a run if you want to reach back to 2006. We've also heard about how power is a big part of this "problem," as MLB-wide isolated power is down 20-25 points from 2006. But we're not talking about something else that seems to have gone missing: leadoff hitters who are quality table-setters.
[+] Enlarge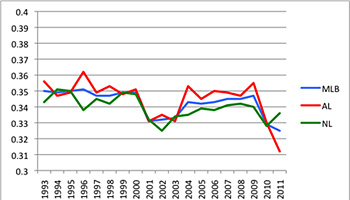 Courtesy of Baseball-Reference.comOn-base percentages for leadoff men.
We'll get into the data up front and then start seeing if we can parse what it might mean. First, there's the simple fact that OBPs for leadoff hitters are down. Last year's MLB-wide leadoff man OBP of .329 was the lowest we've seen in a full season since 1982, when it was also .329. It hadn't been lower than .329 since 1978, when the leadoff OBP was .323. From 1993-2010, the American League's leadoff OBP of .330 was its worst, the NL's .328 its second-worst. Keep in mind, leadoff OBP didn't disappear in a puff of PED ban enforcement. As the first chart reflects, leadoff OBPs weren't just stable after 2006,
they went up
. The AL's 2009 leadoff OBP of .355 was its highest since 1996. On-base percentage for leadoff men was back up where it had been in the offensive onslaught of the late '90s… until last year.
So, a low-water mark was set in 2010, the worst leadoff OBP in 32 seasons … until this spring's action. In 2011, leadoff hitters have managed to get on base at a .325 clip. It's especially bad in the American League, where leadoff men were eking out a .312 OBP through Thursday's action. More than a quarter of the way in, we're still waiting for both leagues to flip the ignition, but without any ignitors, let alone the original Paul Molitor, how is that supposed to happen?
[+] Enlarge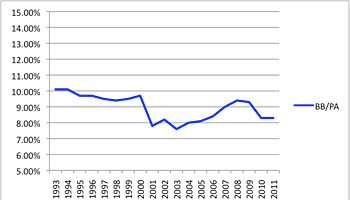 Courtesy of Baseball-Reference.comBase on balls percentages for leadoff men.
Naturally, the first question to ask is
why?
Looking at walk rates for leadoff hitters in the second table, we've obviously lost some of what we took for granted -- hitters aren't managing that walk once every 10 times up, a pace you might once have accepted as the basic standard. We're not at the bottom of a trough, but the rate is back down where things were earlier in the Aughties, and that's sub-good.
Some of that is a matter of the selection of leadoff likelies available to their teams:
Jacoby Ellsbury
is not a big-time walking man, for example, and wishing he was won't make it so, but it doesn't make him ineffective. However, in a league and time where Rickey Henderson is still retired, finding people who can draw ball four hasn't exactly been easy, which is probably why
Juan Pierre
or even
Scott Podsednik
keep getting opportunities. Some of it can also be institutional -- last year, the Rays came up with a perfectly functional creative adaptation, moving
John Jaso
and
B.J. Upton
into and out of the role as Joe Maddon played matchups. But this year they got carried away with the
Sam Fuld
phenomenon, only to learn what they already knew from his projections, which is that for a leadoff hitter he makes a heck of a defensive replacement.
Admittedly, when we think about leadoff hitters, it's easy to stick with happier memories, of the guys who are or were truly great at it: Rickey and Tim Raines in the '80s for example, or Ichiro for the past decade. You can take things down a notch and think fondly of
Ray Durham
or Tony Phillips, or from the current generation of players get sentimental about guys like
Brian Roberts
and
Chone Figgins
. And from any of these guys, you generally knew what to expect: OBPs that were .350 or higher, plenty of walks, and stolen-base totals in the 20-50 range.
But even then, there were always the other guys, the way the other half lived with their leadoff options, which pulled leadoff OBPs down around .333 year after year. If you were around in 1981, you had a rare opportunity to see one of the worst leadoff hitters of all time in action, achieving what would be, even by his standards, a career lowlight. Alfredo Griffin posted a .236 OBP leading off for the Blue Jays for the bulk of a season that was blighted by a strike. It's a mark for single-season leadoff putrescence that hasn't been underwhelmed in the 30 years since.
We can get into origin myths if you like, and ask where the great leadoff men came from and now, where they went, and whether or not we're bereft of truly elite leadoff men in this particular generation of players -- beyond admirable dinosaurs like Ichiro, of course. I wonder if we aren't just stuck in the
Michael Bourn
generation. That might not seem entirely fair to Bourn, because he's one of the better leadoff hitters by today's standards. He has posted OBPs better than league average in 2009 and 2010, after all. He's off to a slow start this season, but at least he's reliably within spitting distance of walking once every ten times and he runs well. That might represent a new, lower standard of what will do, but perhaps this isn't a burden to be Bourn, but a reflection of a changed game. Bourn makes an appropriate symbol for a time when teams are getting used to living with less offense.
Christina Kahrl covers baseball for ESPN.com. You can follow her on Twitter.
March, 5, 2011
3/05/11
11:30
AM ET
One of my baptismal moments as a baseball fan came when I was about 9 or so, and I had a new baseball card that was one of those historical tributes, this one to Walter Johnson. Riding in the back of our '76 Plymouth van, I quizzed my dad on how many career strikeouts the Big Train had, thinking there was no way he would get the exact four-digit number. When Dad said "3,509," I was flabbergasted. How could he possibly have known?
[+] Enlarge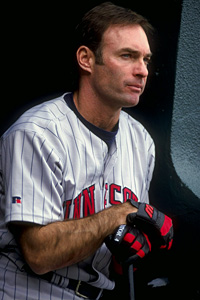 Doug Pensinger /AllsportHall of Famer Paul Molitor, who retired in 1998, is the last player to crack the top 10 in all-time hits.
Soon enough, I learned the joy of losing myself in baseball's career stat leaders. In that long-before-the-Internet era, you would pore over the Baseball Encyclopedia or the Street and Smith's annual preview. We never saw Johnson or Ty Cobb play, but through those numbers (which later proved to be subject to correction by baseball researchers), they began to gain a purpose. They began to gain an identity.
Things change. Johnson, who was No. 1 in career strikeouts when I was a boy (in fact, was the tops from 1921 through 1983), is No. 9 today. Steve Carlton passed him first, then Nolan Ryan leapfrogged Carlton and obliterated the mark, finishing with 5,714. Besides Johnson, just one pre-World War II pitcher is left in the top 20. That's Cy Young, resting in 20th place with 2,803.
With marriage and three children, I'm forced to live much more in the present than maybe I'd like to, especially from a baseball standpoint. It's been years since I've luxuriated in the career tables like I did in the past -- one of life's simple pleasures lost to a much more complex existence. And so when I turned my attention to the career strikeout leaders today, it didn't surprise me much that so much change had occurred.
But when I looked over at the career hit leaders, I was taken aback -- by the utter stability of it all. It was as if it were frozen in time, but the truth is, that top-10 list is a boulder that would not be moved.
It was just as I left it as a single man. The most recent player to break into the top 10 was Paul Molitor, whose major league career began before my 11th birthday and ended back in 1998. Carl Yastrzemski was the only other top-10er to play into my teen years.
I mean, I don't know what I was expecting -- and those of you with healthier attention spans will think me a fool for being the least bit surprised, so forgive me -- but how wonderful, how glorious, how … viscerally energizing it was to see these names hold up over time. Rose and Cobb and their angry, cantankerous 4,000-plus hit careers. The classy Hammerin' Hank and Stan the Man holding strong in third and fourth. The classic old-timers -- Speaker, Cap Anson, Honus Wagner -- in the meat of the lineup at 5-7. At eight and nine, Yaz and Molitor, young whippersnappers even as they court the AARP demographic.
And then … this was my favorite. No. 10, with 3,315 hits: Eddie Collins. To my utter shame, I haven't given Eddie Collins a nanosecond of thought in years. My mind has been too polluted by extraneous, worthless details like work and family to give Collins the time of day -- and yet there he sits, steady as granite. Mays couldn't catch him. Murray and Ripken couldn't catch him. Yount and Gwynn, Winfield and Biggio, Henderson and Carew, Brock and Palmeiro and Boggs … all playing in the 162-game era, many with the designated hitter rule in their right pocket, and none could touch Collins, born in 1887, christened in 1906, retired by 1930. When he passed away in 1951, he was fifth all-time in hits. Sixty years later, he's lost only five spots.
Soon, Collins might finally face his top-10 eviction notice.
Derek Jeter
has 2,926 career hits, more than any ballplayer at age 36 since Yount, two decades ago. By July, Jeter will probably break 3,000 and (with all the subtle media coverage of a moon landing) become the 28th man to reach that milestone, leaving him perhaps no more than two years away from Collins. Behind Jeter looms
Alex Rodriguez
, barely 600 hits from Collins and Molitor at age 34.
After that? Maybe 36-year-old
Ichiro Suzuki
has more than 1,000 hits left in him to catch Yastrzemski. Quite possibly, 30-year-old
Albert Pujols
, who has 1,900 hits in his first decade, picks up close to the same in his second, knocking out Wagner.
And so maybe that stability on the all-time hits list is headed by the wayside. Hours ago, I wouldn't have known what I missed. But now I wonder … I miss Walter Johnson in that No. 1 spot. Is it that crazy that I might miss Eddie Collins at No. 10?
If it is, all I can say is that's the same kind of crazy that made me the baseball fan I am today.
Jon Weisman writes about the Dodgers at Dodger Thoughts for ESPNLosAngeles.com. Follow him on Twitter.