June, 5, 2014
Jun 5
1:35
PM ET
By
Domenic Lanza
| ESPN.com
Four weeks ago, the Yankees announced that Tino Martinez and Paul O'Neill would be joining the "hallowed ground" that is Monument Park. Truth be told, I would prefer to use air quotes around hallowed ground -- but such a gesture does not come through too well in print; but I digress. Both Martinez and O'Neill were on the Yankees for their historic run of four World Series championships in five years between 1996 and 2000, and both were quite good along the way. I am not sure that either was ever the best, second-best, or even third-best Yankee in any of those four championship seasons -- but such is life on a team with first-ballot Hall of Famers in Derek Jeter and Mariano Rivera, and surefire "Hall of Very Good-ers" in Andy Pettitte and Jorge Posada. It seems inane to suggest that not being as talented and productive as an all-time great is a mark against a player.
On Wednesday, however,
Sweeny Murti
and
Craig Calcaterra
broached the issue of Martinez and O'Neill lowering the standards of Monument Park (in so few words). At face value, this is an intriguing topic. Neither Martinez nor O'Neill won any awards, nor did they set any records. The two combined for all of five All-Star Games in pinstripes, and very little ink was spilled over their exclusion from the midsummer classic.
With this in mind, Murti suggests that Willie Randolph and Graig Nettles should be next in line for Monument Park. They were integral parts of some excellent Yankees teams in the 1970s and '80s, winning World Series titles in '77 and '78 -- not quite on par with Messrs Martinez and O'Neill, to be sure, but few can boast as many rings as that duo. Of course, that sort of comparison may not be fair, either. Randolph (1694) and Nettles (1535) played more games in pinstripes than Martinez (1054) and O'Neill (1254), and both were arguably better, to boot. Per 650 PA, O'Neill averaged 3.7 bWAR as a Yankee, and Martinez averaged 3.0. Now, compare that to Randolph's 5.2 and Nettles' 5.1 marks, and you begin to see that neither is intended as a snarky response -- they were legitimately superior players.
Randolph and Nettles were underappreciated in their time, due to much of their value coming from defense and on-base skills, and they have only recently begun to get their due. And I agree that the enshrinements of Martinez and O'Neill can and should open the door for players of their ilk ... though, that should not have been necessary, given their legitimate excellence.
The greatest issue I see with any of the uproar surrounding Martinez and O'Neill garnering a monument, coming full circle, is the suggestion that Monument Park is hallowed ground. Only Miller Huggins, Babe Ruth, Joe DiMaggio, Lou Gehrig, Mickey Mantle and George Steinbrenner have actual monuments -- this does not infringe upon that. Rather, the only effect on Monument Park this will have is adding two good-not-great names to those that have been honored with plaques -- a list that includes Roger Maris, Elston Howard and Allie Reynolds, as other good-not-great Yankees. Surely O'Neill and Martinez fit well alongside those three, right?
Regardless, I do not think that there is any reason to be upset with the addition of a couple of legitimate contributors to the Yankees' late '90s dynasty. If there are better Yankees out there, we should push for them to receive a plaque, or some other honor. There is not a finite amount of praise to be given to the greats that have taken our breath away in the Bronx -- and I, for one, adore the team's recognition of its history, as well as its fans.
Now, then -- let's get Bernie Williams in there, shall we?
Domenic Lanza writes for It's About The Money, a New York Yankees blog on the ESPN SweetSpot Network. You can follow him on Twitter @domeniclanza.
February, 25, 2014
Feb 25
9:49
PM ET
Another day with two Hall of Famers: Monte Irvin and Ron Santo. Plus a guy who
looked
like a sure bet for the Hall of Fame in his early 20s, a guy who kicked a water cooler or two and a guy who starred for the last Cubs team to play in a World Series.
Monte Irvin: Born 1919
Irvin was born in Haleburg, Alabama, in 1919, although he grew up in New Jersey, where he was a four-sport star in high school. Here's something that may blow you away: Irvin was born the same year as Jackie Robinson (Branch Rickey had wanted to sign Irvin along with Robinson when Irvin got out of the service in World War II but Irvin elected to play in the Negro Leagues before eventually signing a few years later with the New York Giants). This is the blow-you-away part: Irvin is still alive, 95 years old; Robinson, sadly, has been deceased 41 years.
How good was Irvin? He was 30 before he reached the major leagues, 31 in his first full season. From 1950 to 1953, when he was 31 to 34 years old, he hit .314/.403/.511 -- ranking eighth in the majors in OPS over that span. Considering he was probably already slightly past his peak, that tells you what kind of hitter he was before reaching the major leagues. He also mentored Willie Mays when Mays was called up in 1951. The Giants, of course, rallied to beat the Dodgers to win the pennant and Irvin led the league in RBIs and finished third in the MVP voting.
In 1973, Irvin became the fourth Negro Leagues player elected to Cooperstown, following Satchel Paige, Josh Gibson and Buck Leonard. Was he the fourth-greatest Negro Leagues player? No, he wasn't. Oscar Charleston was certainly the better all-around player, a center fielder many compared to Willie Mays (Buck O'Neil said Charleston was better). Pop Lloyd was a shortstop Connie Mack said was the equal of Honus Wagner. A few others. But Irvin was clearly highly regarded, although I'm guessing it helped that he played a few years in the majors for a prominent franchise and remained in the game (he was working for the commissioner's office when elected).
Here's a
video clip
with a few highlights of Irvin playing for the Giants.
Andy Pafko: Born 1921
Pafko just passed away last October at the age of 92, so maybe Feb. 25 is a good day to be born to live a long life. Pafko had a 17-year career and played in four World Series with three different franchises. He was a good player with two outstanding peak seasons in 1948 (6.2 WAR) and 1950 (6.6 WAR) and finished with 36.7 career WAR. His SABR bio points out that he played in the last World Series the Cubs reached in 1945, was in left field for the Dodgers when Bobby Thomson's home run soared into the stands over his head and returned to his home state of Wisconsin to play for the Braves when they moved from Boston (he was the right fielder before Henry Aaron). Known for his strong arm, Pafko hit as many as 36 home runs in a season and three times hit .300.
In many ways, Pafko was a symbol of his generation of Americans. His parents immigrated from Czechoslovakia (two older sibling were born there) to Wisconsin, where they owned a 200-acre diary farm. Pafko grew up milking cows ... and playing baseball. He started out playing in local amateur leagues before signing with Eau Claire of the Northern League in 1940 and eventually getting purchased by the Cubs. After nine years with the Cubs, fans were crushed when he was traded to the Dodgers.
Ron Santo: Born 1940
I'm sure you know the Santo story. Long a controversial Hall of Fame candidate -- arguably the best player not in the Hall of Fame for many years, until he was finally elected a year after he passed away in 2010.
Here's what
Nick Pietruszkiewicz wrote on the SweetSpot blog when Santo was finally elected.
Cesar Cedeno: Born 1951
Most Wins Above Replacement through age-23, position players: Ty Cobb, Ted Williams, Mel Ott, Ken Griffey Jr., Mickey Mantle, Alex Rodriguez, Al Kaline, Arky Vaughan, Rogers Hornsby, Andruw Jones, Eddie Mathews, Jimmie Foxx, Cesar Cedeno.
Paul O'Neill: Born 1956
A good player for the Reds, the Yankees got him for Roberto Kelly in what was essentially a challenge trade. With the Yankees, O'Neill quit trying to hit everything out of the park (Lou Piniella wanted him to hit home runs) and settled into being a line-drive hitter with 20-homer power. A .259 hitter with the Reds, O'Neill hit .300 his first six years with the Yankees, including a .359 mark in 1994 to win the batting title. Here's a trivia question: How many players set their career high in stolen bases in their final season? O'Neill stole 22 bases in 2001, when he was 38.
(I don't if anyone else did it. Where's ESPN Stats & Info when you need those guys?)
April, 6, 2011
4/06/11
4:38
PM ET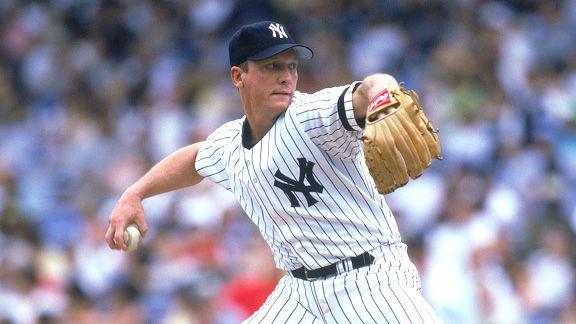 Jamie Squire/Getty ImagesDavid Cone pitched with the Yankees from 1995 through 2000 and won 64 games.
Last week, ESPNNewYork.com ran its list of the
50 greatest Yankees of all time
. It was a fun project and I was lucky enough to be one of the voters on the panel.
I was actually crazy enough to write nearly 4,000 words on the topic. I didn't post last week since there was so much going on with the season starting, and so on, but I hate to waste all that work. So here's my list, starting with No. 50. I considered only a player's time with the Yankees, focusing mostly on his regular-season value while also factoring in postseason heroics and maybe an intangible or two. I'm not a Yankees fan, so I didn't consider this a list of most beloved Yankees, as some may have.
Here we go. We'll post in chunks throughout the week. The overall ranking from the panel is included in parenthesis.
50. Catfish Hunter, P (46)
Hunter was great his first season with the Yankees (23-14, 2.58), not so great after that (although he did have a big win in the 1978 World Series), but earns mention for being the first high-priced free agent to sign with New York. A true trailblazer who set the tone for the next 35 years of baseball in the Bronx.
49. Eddie Lopat, P (41)
The Yankees acquired Lopat after he had gone 29-26 with a 2.77 ERA for the White Sox in 1946-47. The White Sox acquired Aaron Robinson, a 32-year-old catcher who could hit a little (he had been an All-Star in '47), but who the Yankees hardly needed with Yogi Berra ready. Lopat went 113-59 with the Yankees and proved to be a clutch World Series performer (4-1, 2.60). That said, the deal actually turned out OK for the White Sox. Robinson was flipped after one season to Detroit for Billy Pierce, who became one of the AL's best pitchers of the 1950s.
48. Wally Pipp, 1B (not ranked)
He was a solid player for a decade with the Yankees, rapping out over 1,500 hits from 1915 to 1924. But you may remember him for something else.
47. Rickey Henderson, OF (40)
Don't blame Rickey for the Yankees' failures to win a division title in the mid-'80s. During his four-plus seasons with New York, he hit .288/.395/.455 and scored 513 runs in 596 games and arguably should have won the '85 MVP Award over teammate Don Mattingly. OK, not arguably. He
should
have won (with apologies to George Brett, who had a monster season for the Royals). From
Baseball-Reference.com
, Rickey had a 10.0 WAR (wins above replacement) that year, one of only two 10-plus seasons from a hitter in the '80s (Robin Yount's 1982 was the other).
46. Spud Chandler, P (34)
Chandler was 109-43 in his career (all with the Yankees), for a .717 winning percentage. No pitcher with at least 100 victories has a better percentage. A football and baseball player at the University of Georgia, Chandler spent five years in the minors and didn't reach the majors until he was 29, making him one of the least likely MVP winners ever (he won in 1943 with a 20-4, 1.64 season).
45. Herb Pennock, P (27)
A crafty left-hander for the Yanks from 1923-33 who survived on a variety of overhand and sidearm curveballs, it was once written of him, "His biceps is conspicuous by its absence." He also had a great nickname: The Knight of Kennett Square. (He was from Kennett Square, Pa.) Pennock was one of many 1920s Yankees acquired from the Red Sox, moves that helped create the first New York dynasty. He later made the Hall of Fame, although he's one of its weakest members.
44. Robinson Cano, 2B (not ranked)
If he has more seasons like 2010, he'll start to climb much higher.
43. Bobby Murcer, OF (35)
Like Mickey Mantle he was from Oklahoma and a shortstop in the minor leagues. Burdened by the unfair Mantle comparisons, he was never fully appreciated and his best seasons came in the low-offense environment of the early '70s, obscuring that he was one of the best players in the league for a few years.
42. Joe Gordon, 2B (38)
A slugging second baseman for seven seasons (missing two years due to World War II), Gordon was an All-Star six of those seasons and the 1942 AL MVP when he hit .322 with 103 RBIs.
41. Bill Skowron, 1B (not ranked)
Nicknamed "Moose," although he actually wasn't as big as the moniker suggested (5-foot-11, 195 pounds). A five-time All-Star in the '50s, he hit .300 five times and was a great World Series performer, hitting .293 with 29 RBIs in 39 career games.
40. David Cone, P (45)
I was sure I rated Cone lower than most of the voters, but he actually ended up just 45th on the final list. It seems like Cone pitched forever for the Yankees -- that's the impression a lot of postseason games can leave on you -- but he won just 64 games in pinstripes. He started 12 playoff games and went 6-1 with a 3.86 ERA including a crucial win in Game 3 of the 1996 World Series when the Yankees were down 2 games to 0.
39. Roger Clemens, P (not ranked)
Clemens over Cone? I don't see how you rank them the other way. Clemens was 83-42 with a 4.01 ERA with the Yankees, good for a 114 ERA+; Cone was 64-40 with a 3.91 ERA, good for a 119 ERA+. Clemens pitched nearly 200 more innings, and his postseason résumé was actually stronger than Cone's: 7-5, 3.42 ERA. As far as big postseason games, he had the 15-strikeout one-hitter in Game 4 of the 2000 ALCS against Seattle (arguably the most dominant postseason game ever pitched) and people forget the Piazza Game featured Clemens pitching eight shutout innings of two-hit baseball.
[+] Enlarge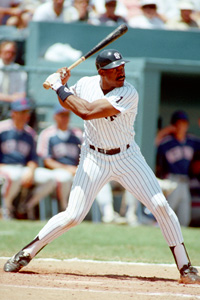 US PresswireDave Winfield was an eight-time All Star with the Yankees.
38. Dave Winfield, OF (28)
An All-Star all eight of his seasons in the Bronx, Winfield won five Gold Gloves with the Yankees, including one as a 35-year-old right fielder. Really? A big, tall, old, lumbering right fielder was one of the three best outfielders in the American League in 1987? Winfield famously went 1-for-22 in the 1981 World Series and the Yankees never made it back to the playoffs that decade, somewhat obscuring that he was a great run producer for a lot of years.
37. Elston Howard, C (24)
The first African-American to play for the Yankees, Howard didn't get 400 plate appearances in a season until he was 29, as he served in a utility role until finally winning regular catching duties from Yogi Berra. Despite the late start to his career, he made nine straight All-Star teams and won the 1963 AL MVP award.
36. Earle Combs, OF (23)
The leadoff hitter and center fielder on the famed '27 Murderer's Row lineup, Combs may be a questionable Hall of Famer (primarily due to a short career), but averaged 125 runs a season during his eight years as a regular thanks to a .325 career average, good speed (he hit 20-plus triples three times) and good on-base skills.
35. Mike Mussina, P (50)
I think no pitcher has been as unappreciated over the past 20 years as Mike Mussina. He should be a Hall of Famer but will struggle to get in, at least initially. He had the bad timing of joining the Yankees the year after they won the World Series and retiring the year before they won again. He won 123 games with the Yankees.
Mike Mussina in the postseason: 23 G, 21 GS, 7-8, 3.42 ERA, .676 OPS
Andy Pettitte in the postseason: 42 G, 42 GS, 19-10, 3.83 ERA, .739 OPS
The big difference? Pettitte received an average of 4.39 runs per game of support while Mussina averaged just 3.07 runs of support.
34. Paul O'Neill, OF (30)
The Yankees acquired O'Neill from the Reds in the sort of trade you never see anymore: an old-fashioned challenge trade. O'Neill was turning 30, coming off a year in which he'd hit .246 and dropped from 28 home runs to 14. Roberto Kelly was 18 months younger, played center field, and had been an All-Star in 1992, although he'd slumped in the second half to finish at .272 with 10 home runs. On first glance, you would say the Reds made the smarter deal. What did the Yankees see? How did a guy with a .259 career average top .300 the next six seasons? Retrospective reports have said that Lou Piniella drove O'Neill too hard in Cincinnati, tried to turn him into a home run hitter. It's one of those stories that sounds good after the fact, but doesn't always match the truth. Michael Key has joked with O'Neill on Yankee broadcasts about his relationship with Piniella, which O'Neill artfully dodges.
But you know what? When you check the records, it rings true. In his final three seasons with the Reds, 18 percent of O'Neill's flyballs were infield popups. Over his Yankee career, only 9 percent of his flyballs were infield popups. Also, he started hitting more groundballs and more line drives. He was no longer trying to hammer home runs every swing.
33. Tommy Henrich, OF (37)
Broadcaster Mel Allen nicknamed him "Old Reliable" for his ability to get the big hit. Henrich actually grew up playing softball in high school and didn't sign with the Indians until he was 20. After a few years in their system he was declared a minor league free agent and signed with the Yankees, where he played on seven World Series champions. He hit the first walkoff home run in World Series history, a bottom-of-the-ninth shot off Don Newcombe that gave the Yankees a 1-0 win the 1949 opener.
32. Waite Hoyt, P (32)
Originally signed by the New York Giants out of high school in Brooklyn, Hoyt later went to the Red Sox and then the Yankees, where he became a Hall of Famer for the 1920s powerhouses, winning 157 games in pinstripes plus six more in the World Series. Hoyt apparently coined the phrase, "It's great to be young and a Yankee," performed vaudeville in the offseason, worked as a mortician, became known for his Babe Ruth stories and was the popular longtime broadcaster for the Reds.
31. Orlando Hernandez (not ranked)
Not even in the top 50? More evidence that El Duque gets a short shrift when it comes to his proper place in Yankee mythology. Sure, he was a pedestrian 61-40 in the regular season, but when the Yankees won three straight World Series from 1998-2000, Hernandez was
the
key postseason performer, going 8-1 with a 2.20 ERA in 10 starts. During those years he was a more important playoff performer than Jeter, more important than Rivera, more important than Pettitte or Bernie. Those guys became legends in large part to help from Hernandez.
Follow David Schoenfield on Twitter at @dschoenfield. Follow the SweetSpot blog at @espn_sweet_spot.