September, 7, 2013
9/07/13
12:59
AM ET
Back in my former life, I worked as a writer/editor at Baseball America. And in 2005, I was responsible for ranking the top 10 prospects in the Mets' organization for a November issue.
The Mets' farm system was pretty underwhelming at the time, and there was one prospect who no one could seem to figure out:
Yusmeiro Petit
.
See, if you looked at a stat sheet, Petit was as dominant as any pitcher in the minors, striking out 200 batters in 139 1/3 innings across three levels in 2004. But if you talked to scouts, they always said: "I don't know how he does it."
And if you watched Petit come
within one out of a perfect game on Friday night against the Diamondbacks
, you probably thought to yourself at some point: "I don't know how he's doing this."
Similar to his repertoire in 2005, Petit's fastball topped out at about 88 mph on Friday night. That's fast enough to get the flux capacitor to work, but usually not anywhere close to a velocity that will strike fear in the opposition. He has a respectable slider and changeup, but nothing that is going to buckle any hitter's knees.
You hear scouts talk a lot about "profiles," and Petit's profile is that of the classic tweener: the right-hander who isn't particularly tall and who doesn't throw particularly hard, but who commands his fastball well enough to dominate minor league hitters. Only once in a generation does that pitcher turns into
Greg Maddux
, but he usually turns into, well, Yusmeiro Petit.
The D-backs were clearly fooled by the 28-year-old on Friday, as he was right around the zone with everything, needing just 95 pitches to get through nine innings while striking out seven. Those in the Mets' organization who used to believe Petit could become a dominant pitcher probably once dreamed of nights like this.
Of course, Petit never got the chance to prove himself in New York, as right after I ranked him right behind Lastings Milledge (remember him?) as the No. 2 prospect in the Mets' system in that 2005 issue, he was the centerpiece of the trade with the Marlins that brought
Carlos Delgado
to Flushing. (Fun fact:
Philip Humber
, who threw the most unlikely perfect game in history in 2012, was No. 5 on that prospect list.)
Turned out the Mets were wise to sell high on Petit, as his stuff was an illusion after all. Whatever it was that worked on hitters in the minors -- one scout theorized that his gut allowed him to hide the ball better -- did not work in the majors. Since that trade, Petit bounced around from the Marlins to the D-backs to the Mariners and then to the Giants, with a stop in the Mexican league in 2011 before he got to San Francisco. He had a 5.37 ERA in 251 1/3 major league innings before tonight.
Most likely, Friday will probably be the high point of Petit's career. But he is in the midst of a very good year. He now has a 2.05 ERA in 26 1/3 innings, with 30 strikeouts and four walks, which doesn't look out of place next to his 2004 stat line. So maybe he has figured something out, or maybe his gut is fooling batters again. Who knows.
But if this turns out to be just a small-sample-size blip, he'll always have this near-perfect game, and those years he spent befuddling evaluators across MLB.
Here's a little more background on just how unlikely Petit's near perfect game was:
Just a reminder that the Giants DFA's Petit on July 28 to make room for Guillermo Moscoso.

— Wendy Thurm (@hangingsliders) September 7, 2013
I saw Petit pitch this spring in Scottsdale. He gave up 8 runs and got 5 outs against a Royals lineup with two legitimate regulars.

— keithlaw (@keithlaw) September 7, 2013
August, 15, 2012
8/15/12
6:30
PM ET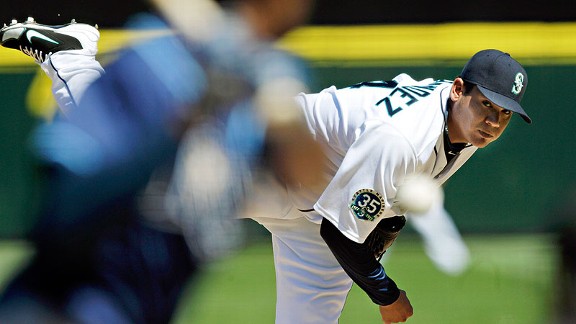 AP Photo/Ted S. WarrenSeattle Mariners pitcher Felix Hernandez has made good on the promise he showed as a rookie, throwing his first perfect game.
If you're someone who reads a lot of dorky baseball blogs (as I do), you may be familiar with the acronym TINSTAAPP. It stands for "There Is No Such Thing As A Pitching Prospect." It's a tongue-in-cheek axiom based on the idea that pitchers, and particularly pitching prospects, are incredibly fickle, and there is no sense getting excited about them.
But every so often, there comes along a pitching prospect who not only lives up the expectations he set for himself at an early age, but far exceeds them, and makes that snarky acronym look silly. And there is no better example of this phenomenon than
Felix Hernandez
, who threw just about the most effortless perfect game you will ever see on Wednesday afternoon against the
Tampa Bay Rays
, striking out 12.
Even before Hernandez made his major league debut, he was dubbed "King Felix," which seems sort of ludicrous in retrospect when you consider the way guys like Ryan Anderson, Matt Riley and Brien Taylor have let us down. But that just gives you a sense of how dominant Hernandez was in the minors. Maybe this is just revisionist history, but it almost seemed like Hernandez wouldn't let us down -- and he has lived up to that moniker almost from the day he debuted.
He made his first big league start on Aug. 5, 2005, in Detroit, at the age of 19, allowing two runs in five innings. Five days later, he threw eight shutout innings against the
Minnesota Twins
and five days after that (seven years ago today) he whiffed 11 Royals over eight innings while allowing just three hits and one run. King Felix, indeed.
While he had some ups and downs in his first two full seasons, Felix has been a bona fide ace for the last four years, and had the full repertoire on display on Thursday. His fastball was touching 95 mph into the ninth inning, but more impressive was his off-speed stuff, as he deftly mixed in a hard slider, swooping curve and diving changeup. You almost felt bad for the Rays. (Well, as bad as you can feel for people who are paid millions to play baseball.)
Although Felix won the AL Cy Young Award in 2010 (and finished second in 2009), his dominance sometimes gets overlooked because the Mariners have been one of the worst teams in baseball over the last few years. There have been rumors of him being possibly traded, but no deal has ever come close to materializing. While I wouldn't wish a Felix departure on Seattle fans, who cherish Hernandez in a way few fan bases celebrate a player, it would be nice to see Felix pitching in the postseason (or at least in a tight pennant race), as he is now on the short list of baseball's best pitchers, a guy who combines strikeout stuff, command and durability.
But that's a conversation for another day. Today, we should all be celebrating King Felix, the kind of talent who makes it fun to be a baseball fan and proves that there is such a thing as a pitching prospect after all.
Author's note
The reason you don't see David Schoenfield, a die-hard Mariners fan, writing this piece is because he left for a summer vacation today, and there is a good chance he is on an airplane right now and missed Felix's perfect game. I feel for him, but I can certainly relate. On June 1, I was on a plane to Las Vegas when I saw on my JetBlue TV monitor that
Johan Santana
had a no-hitter through eight innings. You see, I love the Mets as much as Dave loves the Mariners, and I could not believe I was about to miss the first no-hitter in team history because I was sitting 30,000 feet in the air. Here's hoping Dave found a TV in time to catch the end of Felix's magical performance.