November, 16, 2013
11/16/13
8:01
AM ET
By
Christina Kahrl
| ESPN.com
Defending a pennant and with money to spend, the Cardinals, you'd think, have it made. They're the model organization, a reliable contender, well-stocked with young talent -- and they really need to come up with an alternative to
Pete Kozma
at shortstop. Between his .548 OPS and defense that isn't game-alteringly excellent, he's hard to warm up to as anything better than an injury replacement to your regular. And after doing just that last season, filling in for oft-injured
Rafael Furcal
, it's time to find a better answer.
So let's say the slate is clean. What are the Cardinals' options at shortstop?
Sign me up!
: The free-agent market isn't replete with great choices.
Jhonny Peralta
is the class of the field after putting up an .815 OPS for the Tigers around his PED suspension, but after a year afield which Baseball Info Solutions' Plus-Minus graded him at zero and UZR rated him just slightly positive, we're talking about a guy who might not be a perfect fit over the length of the three-year deal he's looking for. Add in the expectation that he'll run you eight figures per annum.
[+] Enlarge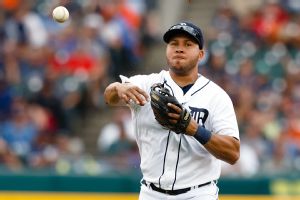 Rick Osentoski/USA TODAY SportsSuspended 50 games for PEDs last season, Jhonny Peralta batted .303 in 107 games for Detroit and was named an All-Star.
Is Peralta in reach? Absolutely, if the Cardinals decide he's to their taste, yes. Between
Chris Carpenter
's retirement and having multiple free agents, GM John Mozeliak has almost $28 million back in the till relative to the Cards' 2013 payroll, with just
David Freese
likely to take a noteworthy bite out of that via arbitration. So spending money with a talented young pitching staff already in place seems doable. The opportunity cost of signing Peralta is that it would probably preclude re-signing or replacing
Carlos Beltran
. Even that seems doable --
Allen Craig
moves over to right field full time (at least until top prospect Oscar Taveras arrives), leaving
Matt Adams
alone at first base for the time being. But is that really where Mozeliak wants to go?
More cheaply, if Kozma's Game 1 fielding snafu in the World Series is still on your mind, defensive upgrades are out there:
Clint Barmes
in particular, and arguably
Brendan Ryan
(if he doesn't simply re-sign with the Yankees). But they're even less likely to contribute an OPS above .600 than Kozma is, and barely merit the investment beyond providing a spring training alternative.
Which really leaves only two noteworthy potential market solutions:
Stephen Drew
, returning to free agency after his one-year, $9.5 million deal with the Red Sox, and old friend Rafael Furcal, back on the market after missing the second season of his two-year, $14 million deal with the Cardinals with an elbow injury.
Drew is apparently already receiving multiyear offers but should still cost less than $10 million per year, which would leave the Cardinals with money to spend on Beltran (or not). Between last year's .777 OPS and adequate defense (his postseason heroics afield aside, Plus-Minus and UZR don't peg him as a significant positive), He'd be a worthwhile and fairly safe solution.
[+] Enlarge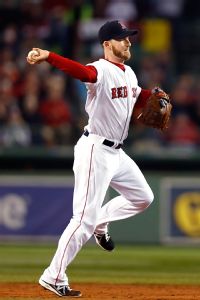 Greg M. Cooper/USA TODAY SportsStephen Drew's defense was stellar during the Red Sox's championship run.
What about Furcal? He'd have to be a fairly late selection, since he's going to have to prove that his elbow is sound in winter ball in the Caribbean. Until that happens, Mozeliak would be better off exploring alternatives. But between their familiarity with Furcal, his past value on both sides of the ball, and his comeback campaign, he'd cost less than Drew while providing a better index of risk versus reward.
Let's make a deal
: Surely there are teams with veteran shortstops nearing the end of their contracts, or with kids on the way up that might make their current placeholders at short expendable. Talking to the Rangers about
Jurickson Profar
or
Elvis Andrus
is the obvious fantasy scenario that excites everybody. A Taveras-for-Profar deal in an exchange for top prospects is one of those tantalizing notions that sounds great on the back of an envelope. It's probably also about as likely to happen as your landing a date with whichever half of Brangelina you fancy.
Asdrubal Cabrera
of the Indians would be a great fit: He's a free agent after next year, and the Tribe has top shortstop prospect Francisco Lindor on the way up. But Lindor only just had a sniff of Double-A, and it would be an especially bold -- unlikely, actually -- move for GM Chris Antonetti to swap Cabrera after the Indians' 90-win season anticipating Lindor's arrival before the tail end of 2014. Similarly, the Rays might be eventually willing to talk about
Yunel Escobar
after having picked up his option, but they'd first need to see how prospect
Hak-Ju Lee
is healing from his season-ending knee injury.
Another cheaper option would be talking to the Diamondbacks about
Didi Gregorius
. Considering Arizona just received Gregorius in a deal after the 2012 season, that might sound like a surprise, but homegrown
Chris Owings
could take the job from the former Reds farmhand in the spring. That solution, however, may not exist until after that job fight resolves itself.
More likely, if Mozeliak wanted to go this route, we're talking about someone like
Alexei Ramirez
of the White Sox, who is locked up for $20.5 million for the next two years, or $29.5 million over the next three with a club option. A lot of his slugging is U.S. Cellular Field-powered and he's already heading into his age-32 season, but he's durable. Yeah, I'm not too excited about this idea either.
Stick with in-house solutions
: Nobody should love this choice, but it isn't like the Cardinals lack for alternatives to Kozma. A little more than a year ago,
Ryan Jackson
was the guy who looked to be the franchise's first call-up if (or when) something happened to the fragile Furcal. He had been graded a better defender than Kozma, and he has a career walk rate of 9 percent after more than 2,400 minor league plate appearances. On the other hand, Jackson's power dipped in 2013; maybe that's a matter of not adjusting well to being shunted into a utility role, and maybe he's just not that big an upgrade from Kozma.
Which leaves me thinking that, barring a fantasy-fulfilling conversation with the Rangers about either of their shortstops, the idea I like best is using this winter's budget surplus to go get Drew for two or three years (or a two-plus-option deal). If that fails, settling for an incentive-laden return engagement for Furcal if Mozeliak gets to mid-January and no other solution has presented itself.
October, 23, 2013
10/23/13
11:26
PM ET
Thoughts on a Game 1 of the World Series that was over early and ended up 8-1, Red Sox over Cardinals ...
Hero:
Jon Lester
. The line score says it all: 7 2/3 innings, five hits, no extra-base hits, no runs, one walk, eight strikeouts. He tied his season high with five strikeouts on his cutter. Get this: Lester is the third southpaw to start Game 1 of a World Series for Boston. Babe Ruth pitched a shutout in 1918. Bruce Hurst pitched eight scoreless innings in a 1-0 win in 1986. And now Lester.
Goat:
Cardinals shortstop
Pete Kozma
made two costly errors, arguably leading to five runs (although only two of the five were charged as unearned). He dropped the relay throw on what should have been an easy inning-ending double play on
David Ortiz
's grounder in the first and then booted
Shane Victorino
's grounder in the hole in the second. Really, though, you can blame the entire Cardinals defense.
Shane Robinson
bobbled
Mike Napoli
's double that followed Kozma's error in the first, removing any shot of throwing out Ortiz at home.
Adam Wainwright
and
Yadier Molina
miscommunicated on
Stephen Drew
's popup leading off the second. And
David Freese
showcased his limited range when
Dustin Pedroia
's RBI single scooted under his glove later in that inning. Wainwright wasn't sharp but he could have easily escaped with no runs allowed.
Turning point:
Second-base umpire Dana DeMuth originally and inexplicably missed the call on Kozma's first-inning error, even though Kozma clearly never caught the ball. Red Sox manager John Farrell went out to argue the call, the umpires gathered and correctly changed the call. Napoli followed with a bases-clearing double, lining a 2-0 cutter into left-center.
At-bat of the night:
Has to be Napoli's double. How often does Wainwright fall behind 2-0? Including the playoffs, he'd thrown only 103 pitches with a 2-0 count, so that means just 103 batters out of 1039 batters faced -- just under 10 percent of the time. Even though Wainwright has that great curveball, he only threw it nine times out of those 103, usually throwing his fastball or cutter. Napoli was sitting on something hard, Wainwright caught too much of the plate and it was 3-0 in the first inning.
Revealing statistic:
The first Boston batter to swing at the first pitch was leadoff hitter
Jacoby Ellsbury
-- his second time up, the 10th Boston batter of the game. No team works the count like the Red Sox and Wainwright threw 31 pitches in the first (just the third start this season he threw 30-plus pitches in the first inning) and 60 through two innings. He had just four outs after 52 pitches.
Injury of the night:
Carlos Beltran
, playing in his first World Series game, robbed Ortiz of a grand slam but slammed into the low right-field fence in the process, exiting the game with a rib contusion and departing to the hospital for X-rays. Needless to say, if he can't go in Game 2 or beyond it's a devastating injury for the Cardinals.
Debate of the night:
There was some debate on Twitter on whether
Mike Matheny
should have removed Wainwright after two innings, either to save him for a possible Game 4 start or just to get him out of there considering he's thrown more innings than any pitcher in baseball. The Cardinals have 12 pitches on their roster, including starter
Shelby Miller
available in relief, so Matheny has more pitchers than he can use.
Arizona Diamondbacks
pitcher -- and smart guy --
Brandon McCarthy
argued for leaving in Wainwright, that his pitch count was high enough that Matheny would be unlikely to start him in Game 4 anyway and he's your ace, so leave him in and give your team a chance to come back. Another argument for taking him out, however: In postseason history, the team that led by five-plus runs after two innings was 45-0. A comeback was extremely unlikely regardless (not that Matheny would have known that data, of course).
One swing and the Cardinals could have been back in it:
They loaded the bases in the fourth with one out and Freese up. Lester induced a 1-2-3 double play. Since hitting .397 in the 2011 postseason, Freese is hitting .239 with two home runs in 25 games. So ... maybe he's not clutch and just happened to have a postseason for the ages?
Keep this one in your back pocket:
Ortiz crushed a two-run homer (off a first-pitch fastball) in the seventh off rookie lefty
Kevin Siegrist
, who hadn't allowed a home run to any of the 84 left-handed batters he'd faced. This is a matchup we could see again, in a more crucial situation.
It's just one game, but ...
The team that won Game 1 has won 21 of the past 25 World Series.
May, 27, 2013
5/27/13
12:45
AM ET
This whole closer thing is a tough business. Perfection isn't just expected; it's demanded. Slip up once and it's a headline; slip up twice and fans are ready to trade you to Topeka. Slip up three times and your manager usually starts questioning your intestinal fortitude. As the late, great Dan Quisenberry once said, "A manager uses a relief pitcher like a six-shooter: He fires until it's empty then takes the gun and throws it at the villain."
The trouble with closers, and the decisions managers have to make when they start to struggle: When do you know if the chamber is empty?
Three playoff contenders suffered wrenching defeats this weekend when their closers blew multirun leads. Blown saves in one-run games are bad enough; blowing leads of two or three runs is generally unacceptable. The victims, or saboteurs if you prefer:
Jim Johnson
of the
Baltimore Orioles
,
Chris Perez
of the
Cleveland Indians
, and
Fernando Rodney
of the
Tampa Bay Rays
.
Here's what happened:
The Orioles led the Blue Jays 5-2 on Sunday entering the bottom of the ninth, but Edwin Encarnacion doubled, Adam Lind grounded a single up the middle and J.P. Arencibia lined a base hit to right. A fly out, walk and fielder's choice made it 5-4 with runners at the corners and two outs. Light-hitting Munenori Kawasaki was at the plate. Johnson threw Kawasaki six consecutive fastballs -- six of his signature mid-90s sinker -- but the sixth one didn't sink much. The pitch hung out over the middle of the plate, and Kawasaki lined it into left center for a game-winning two-run double. The Orioles lost just one game last season they led heading into the ninth inning; they already have five such defeats in 2013. Johnson has lost three of those, and he has two other defeats, as well.
The Indians also led 5-2 entering the bottom of the ninth, ready to salvage a split of a four-game series at Fenway Park. Dustin Pedroia walked to lead off, and, as you can probably guess, bad things happen when you walk the leadoff batter with a three-run lead. David Ortiz doubled. A groundout scored a run, Ortiz stole third and then another groundout made it 5-4. But now the bases were empty and Perez had two outs. He walked Jonny Gomes, who is hitting .200 without a homer against right-handed pitchers; Stephen Drew lined a base hit to right; and Perez walked light-hitting Jose Iglesias. Terry Francona had finally had enough and brought in Joe Smith to face Jacoby Ellsbury, who won it with a double to left center. It was the first game Cleveland lost entering the ninth inning and just the second loss for the bullpen, but Perez has been shaky of late. Last week, he blew a two-run lead in the ninth to Seattle only to get the win, and two days later, he gave up the go-ahead run in the ninth only to be rescued again as Cleveland won in extra innings. That's seven runs his past three outings.
Rodney blew his fifth save on Saturday night, a 3-1 lead against the Yankees, who won in 11 innings. The Rays have now lost three games they led entering the ninth (and five they led entering the eighth). Last season, when Rodney allowed just nine runs all season and the entire pen was stellar, those figures were two and three.
So that's the play-by-play of disaster. That all three are struggling isn't necessarily a big surprise. Their Proven Closer labels were a little dubious entering the season, especially for Johnson and Rodney, who each had just one full season as a closer under the belt. In fact, it's time we take the magic out of the whole "closer mystique" nonsense that everybody likes to pretend exists. The fact that guys like
Jason Grilli
of the Pirates and
Edward Mujica
of the Cardinals are doing just fine is another indication that closers are often lucked into, not made.
There are few great ones --
Mariano Rivera
, of course, and
Craig Kimbrel
(although even he has three blown saves) -- but the truth is that for most of these guys there's a slender margin between invincibility and Tom Niedenfuer. That's exactly what we're seeing with Johnson, Rodney and Perez this season.
Johnson is a pitch-to-contact closer whom sabermetric analysts predicted would be hard-pressed to match his big 2012 campaign when he saved 51 games. His strikeout rate is up, but that's because he's throwing more pitches up in the zone; a sinker up in the zone is a bad pitch. Last season, Johnson's ground ball rate was 62 percent; this season, it's 42 percent. Thus, he's getting hit more.
Perez was an All-Star the past two seasons, but his 3.45 ERA during that span is hardly elite material for a closer. He's always been a guy who lives on the edge, a decent reliever who got the ninth-inning role. His heat map shows a lot more pitches up in the zone this season, as well -- he's already allowed five doubles, four home runs and 10 walks in 16⅔ innings.
Rodney's implosion is probably the least surprising of the three. From 2007 to 2011, his ERA was more than 4.00 each season. Last season, he suddenly developed the perfect feel for his changeup to go along with fastball command, and batters hit .071 off it with 55 Ks and five walks. This season, the fastball command hasn't been there, and neither has the dominance on the changeup. He's already walked 18 batters (including 10 on changeups) after walking 15 all of last season. After giving up four extra-base hits in 2012, that total is already at nine. In other words, instead of getting Dennis Eckersley in his prime, the Rays are back to getting Fernando Rodney.
The managers of these clubs have some difficult decisions. Because all three have the Proven Closer label, how many chances do they get? And just shuffling them into the eighth-inning role and promoting the setup guy to closer doesn't necessarily solve anything; they can blow games just as easily in the eighth as in the ninth. Orioles manager Buck Showalter has the best options, as relievers
Tommy Hunter
,
Darren O'Day
and
Brian Matusz
have all pitched well.
"We should be getting on the plane with three wins here, but I can't hang my head too long," Johnson said after the game. "It's going to hurt for a little bit, and it should."
For now, it appears Johnson will keep his job despite four blown saves in his past five appearances. But no matter what happens the rest of the season, the ninth inning has already been a disaster for the Orioles. Last season, the average team lost 3.7 games it lead heading into the ninth. As mentioned, that's already five such defeats for the O's this season. And each one has hurt a little bit.
REST OF THE WEEKEND

Three stars
1. Anibal Sanchez, Tigers.
Sanchez lost his no-hit bid on Friday when
Joe Mauer
singled with one out in the ninth. After Detroit acquired Sanchez from the Marlins last season, his strong performance in the playoffs led the Tigers to sign him to an $80 million contract that seemed a little ambitious considering his 3.65 career ERA and the fact that he'd never pitched 200 innings in a season. So far, however, Sanchez has been much better than a midrotation starter, as he's increased his strikeout rate from 20.4 percent a season ago to 30.6 percent now. While he's getting more strikeouts with all four of his pitches, the biggest increase has been with his fastball, which had a strikeout rate of 13.8 percent on plate appearances ending with the pitch in 2012 but 28 percent this season. The command of his fastball -- especially on the outside corner to righties -- has made his other pitches even more effective.
2. Stephen Strasburg, Nationals.
For a guy who is "struggling," Strasburg has looked pretty good of late. He allowed just one run in eight innings against the Phillies on Sunday. In his past three starts, he's allowed four runs and just 13 hits in 23 innings. He's recorded 39 groundouts and 15 fly outs over those three starts. He's still seeking his first double-digit strikeout game of the season but still has 71 Ks in 72⅓ innings. While his ERA of 2.49 is a little misleading -- he's allowed nine unearned runs -- his recent outings should alleviate the minor concerns about his early performance.
3. Pete Kozma, Cardinals.
How to beat
Clayton Kershaw
? The Cardinals shortstop went 4-for-4 on Sunday with three doubles; three of those hits came off Kershaw, including a three-run double and rally-starting two-base hit, as the Cardinals won 5-3.
Clutch performance of the weekend
Of our many walk-off heroes, how about
Chris Young
of the A's? The A's trailed the Astros 5-3 on Friday.
Jose Veras
walked
John Jaso
and
Coco Crisp
on 3-2 pitches, setting the stage for Young with two outs.
Young did this
on a 1-1 curveball. The A's are now five games over .500 -- thanks in large part to a 9-0 record against the Astros, who they've outscored 68 to 31. Hey, if they go 19-0 against the Astros, it's going to be hard to deny them another trip to the playoffs.
Best game
The Giants fell behind 4-0 to the Rockies on Saturday but chipped away and tied the game in the seventh. Manager Bruce Bochy got ejected in the eighth when
Marco Scutaro
was thrown out at third base, and the Giants escaped a two-on, nobody-out jam in the ninth.
Troy Tulowitzki
homered off a
Sergio Romo
slider
in the 10th. But then, after the usually steady
Rafael Betancourt
walked
Brandon Crawford
,
Angel Pagan
lofted a deep fly to right center that kicked off the wall … and, well,
Pagan ran 360 feet around the bases
, helped a bit by a lazy relay throw from Rockies center fielder
Dexter Fowler
.
Hitter on the rise: Matt Dominguez, Astros
When the Astros acquired Dominguez last season from the Marlins for
Carlos Lee
, everyone knew he had a major league caliber glove at third base. After going homerless in his first 33 games, doubts began increasing about his bat. Dominguez, however, has now popped seven homers in his past 13 games. His season line still needs some work, especially in the on-base department (.279), but he's starting to look like a positive in this dismal Astros season.
Pitcher on the rise: Jason Vargas, Angels
Don't look now, but the Angels have won eight in a row and are a respectable 23-27. Did they start too late, just like last season? Vargas is 4-0 with a 2.25 ERA in May, allowing nine runs in five starts. The Angels' next 10 games are against the Dodgers, Astros and Cubs. If they're a couple games over .500 at the end of those 10 games, they'll be back in the wild-card race.
Team on the rise: White Sox
Besides the Angels and Pirates (last week's team on the rise), the hottest club is the White Sox. We keep wanting to count out the South Siders, but, somehow, they find a way to hang in there. They don't score much, but they've won nine of 12 the old-fashioned way: with starting pitching. The starters have a 3.25 ERA over those 12 games, and that despite ace
Chris Sale
missing his last start with mild tendinitis in his shoulder. He's scheduled to start Tuesday against the Cubs.
Team on the fall: Mariners
They pulled out an extra-inning victory over the Rangers on Sunday, but that ended an eight-game losing streak. Starters not named Hernandez or Iwakuma have combined for a 6.78 ERA, which essentially means three-fifths of the Seattle rotation is below replacement level. The
Jesus Montero
catching experiment was finally, mercifully, brought to an end as he was demoted to Triple-A to see if he can rediscover the supposed hitting prowess that once made him a top-10 prospect (and play some first base).
Dustin Ackley
continues to be awful and
Michael Saunders
is three for his past 37. Things are so bad that Mariners fans are excited about
Justin Smoak
and his .698 OPS.
May, 13, 2013
5/13/13
11:00
AM ET
By
Christina Kahrl
| ESPN.com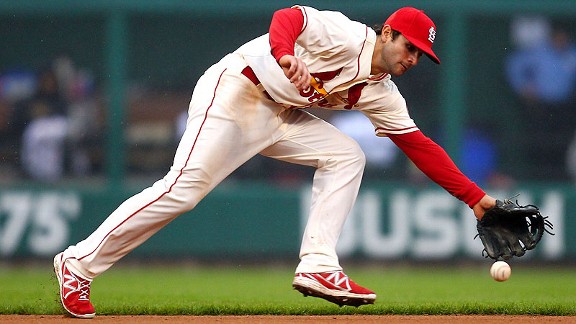 Dilip Vishwanat/Getty ImagesWith Rafael Furcal injured, Pete Kozma has proven to be a worthwhile investment for the Cardinals.
CHICAGO -- We're in draft season, so it's easy to get excited about who your team could pick. After the draft, all 30 teams' selections will be graded and assessed and opined over, and you'll be hearing about Mark Appel for years, perhaps having already heard about him for years. But there are many guys you won't hear from again, and some guys you'll want to quickly forget before moving on to the next new crop to obsess over.
But sometimes, years later a guy you might have forgotten shows up and provides you with a reminder that he was picked for a reason. Not because he was a slam-dunk obvious great, not because he was an easy pick, but simply because he can play. Case in point:
Pete Kozma
of the Cardinals.
The Cardinals' first-round pick in 2007, Kozma has already been seen as everything from a safe pick to a flop to a success. Just within the 2012 season, he went from a farmhand being prepped for a utility role and someone in danger of slipping off the 40-man roster to a stretch hero at shortstop for the defending world champs. Kozma helped power St. Louis' return to October action with his bat and glove, belting 10 extra-base hits and slugging .569. But after what he'd done beforehand, slugging 200 points lower than that would have been considered a success.
Now Kozma is settling in as the Cardinals' shortstop of the present after the latest
Rafael Furcal
injury. Maybe that constitutes a successful first-round pick, but at different points Kozma has been both a failure and a success. And because of that, he's a good example of the danger of judging a player too quickly, or too simply.
As the 18th overall selection of the 2007 draft, Kozma was picked before such highly touted talents as
Rick Porcello
and
Ben Revere
, as well as high-upside arms such as
Aaron Poreda
and
Andrew Brackman
. He was picked before
Todd Frazier
. Of course, you can play this game with almost any draft, to try to make one team look smart or less so, and it's not reliably fair. The Cardinals wanted a shortstop, and Kozma was the best on the board in 2007 after starring for Owasso High School in Oklahoma. It was a defensible, sensible pick, tabbing the best talent at the toughest position, but it wasn't a choice with a ton of upside possibilities. Kozma was seen as a defense-minded pick, a kid who would earn his playing time through his glove work.
Could he hit, though? Thinking back, Kozma observed that hitting was one of the two biggest challenges he had to deal with. "Definitely the hitting; pro ball is just a huge jump from high school. And literally playing every day is just a huge adjustment, both on offense and defense," Kozma said last week at Wrigley Field, when the Cards swung through Chicago.
It can be easy to forget that high school and college teams don't face the grueling multimonth daily grind that pro players endure. Going pro isn't simply an opportunity to show off your signature skills, it's a test of your ability to use them daily for seven or eight months, going up against the best competition you've ever faced.
At any rate, it wasn't long before picking Kozma looked like a poor choice, even as he was being pushed up the rungs of the farm system fairly aggressively. He spent very little time at high Class A before reaching Double-A in 2009, for example -- less than two years after leaving high school. He wasn't ready to hit there, putting up a .600 OPS; repeating the level in 2010 got him up to .702. Moved to Triple-A in 2011, he struggled again (.569 OPS), contributing to the Cardinals' decision early in 2012 to shunt him to second, making room to test farmhand
Ryan Jackson
regularly at short in his place. Kozma again improved at the plate while repeating a level, but not by a lot (.647 OPS). He was 24 years old, and already being written off.
Rather than sulk over being asked to move around, Kozma took it as an opportunity to remind the organization that he had value, in any way they wanted to put it to work for them. "I looked at it as a challenge because of my versatility, proof that I can do it," Kozma said. "If I can play short, I can play anywhere on the field. Second base took a little bit of an adjustment period, but I got used to it after a month or so. The more versatile you are, the better."
That, and he could still play short, which is why Kozma is a nifty fallback for a Cardinals team that needed one after risking big money on the fragile Furcal. Kozma's been on quite a roller-coaster ride, so it's understandable he doesn't want to spend too much time reflecting on his journey now that he's finally settled in this season.
"It feels good, looking back on last year. I mean, yeah, I did it, but I've got a lot to do in the next five months. It's definitely different. Some guys are obviously pitching me differently than they did last September. I'm making an adjustment; everyone goes through it," Kozma said.
Kozma turned 25 last month, young enough to improve, and an example of somebody who has improved after consistent exposure. At the same time, he now has more than just the advantage of an opportunity and his skills going for him. "There are a lot more tools I use here, a lot more video on pitchers and hitters. It's easier to do homework here," Kozma said.
With an OPS just over .600 right now -- right around where Baseball Prospectus projected him to be -- and solid marks on defense from scouts and advanced metrics, he has a wins above replacement almost smack-dab on zero.
Maybe for some that means he's a real-world illustration of replacement level. Or of why replacement level is a fairly arbitrary standard, because what Kozma does on the field and at the plate isn't without value. More than a few teams would love to have him at short right now, because there may not be 30 better big league shortstops on the planet right now. Then again, Kozma's opportunity is a product not of some rational distribution of shortstop talent. It's equal parts the product of his own ability and what he does control, but also of chance and what he does not, like Furcal's injury.
And also because the Cardinals invested a pick in him that might have seemed wasted a year ago, or three. But was it ever really a bad pick?
As one MLB team official noted about first-rounders in particular and prospects in general, "I think it's easy for us to get lost at times in star chasing. Even the best teams have five or six stars, and 19 other roster spots. How you fill those is incredibly important, and we lose sight at times at how valuable those players -- like a Kozma -- can be. There are players in any system who are going to be big leaguers. Guys worth a 25-man roster spot despite the fact that they will not be stars."
Is that really what you're supposed to get with a first-round pick, though? Are people inside or outside the game so much in love with upside risk and the built-in expectation that those risks pay off -- even when upside arms like Poreda and Brackman clearly have not -- that they might lose sight of the value of a "solid" pick?
As the team official notes, "Sure, I think early in the [first round], you have to draft stars. But at 18, how many stars have been drafted 18th overall? That's gotta be a tiny group. It may sound crazy, but if you get a big leaguer at No. 18, you're doing well."
The man has a point: From the past 30 years, only two players picked 18th overall have generated double-digit WAR totals on their careers, Joe Magrane ('85) and
R.A. Dickey
('94) -- and Dickey only got that far by reinventing himself as a knuckleballer, something no talent evaluator might have foreseen. The best No. 18 of more recent vintage is
Ike Davis
of the Mets ('08), followed by
Aaron Heilman
('01). By this statistical standard, Kozma is already the fourth-best No. 18 pick of the past 20 years, thanks almost entirely to one great September. Which is goofy, but there again, you can play that game with particular draft picks almost every year.
In the meantime, Kozma has an opportunity, having already made an impression. His value, as a regular, as a shortstop, as a first-round pick and as a ballplayer, can be many things. But whatever WAR might say, the numbers don't really just add up to zero, not when there are players worth literally nothing, not in a world in which you can't conjure up a Kozma on command when you lose a star at shortstop. It's the Cardinals' good fortune to have Kozma on hand when they've needed him.
May, 9, 2013
5/09/13
12:15
PM ET
Daniel Shirey/USA Today SportsAndrelton Simmons makes both the good play and the great play.
The most common complaint we run into when discussing advanced defensive metrics is that there isn't a full grasp of how these ratings are computed.
With the help of Baseball Info Solutions, we're going to write a few articles that attempt to go "under the hood" when it comes to looking at advanced defensive metrics.
In other words, why does a player rate as well or as poorly as he rates?
We're going to begin with a look at the amazing stats compiled by Atlanta Braves shortstop Andrelton Simmons.
Simmons is a player for whom there is agreement between the scouts and the advanced stats. Scouts describe him as an amazing defender. The numbers show that to be true.
Entering Wednesday, Simmons had played 680 innings in his major league career and the Baseball Info Solutions (BIS) numbers have him with 30 defensive runs saved. He had 19 in 426 innings last season and already has a major-league best 11 in 254 innings in 2013.
For a little perspective, that's an
incredible
number for what amounts to less than half a season's worth of play. No shortstop has had 30 defensive runs saved in a full season since
Troy Tulowitzki
had 31 in 2007.
So how do you accumulate so many defensive runs saved so quickly?
It helps when you can make plays like
this
and
this
.
But it also helps when you almost
always
make the play you should make.
The defensive runs saved stat relies heavily on a measure of how often a player turns a batted ball into an out. BIS video-trackers chart every batted ball from every game, labeling where the ball was hit and how fast it was traveling. They can thus assign every ball a value, of how often it was turned into an out.
If a fielder makes a play on a ball in which players at his position made an out 75 percent of the time, he receives a credit of 0.25 (1.00 minus 0.75, to account for being better than 25 percent of fielders ). If he fails to get the out, he is debited 0.75 points (losing value because 75 percent
were
able to make the play.
We're regularly wowed by Simmons' ability to make the great play. Those plays we linked to are balls that are hits 70 percent and 92 percent of the time, respectively.
But a separator for him is how often he makes the good-to-routine play. BIS looked at every opportunity a fielder had to make a play on a ball in which others at his position recorded an out at least half the time. Since the start of last season, Simmons got outs on 230 of those 244 balls -- a 94 percent conversion rating.
The next-best among the top 50 shortstops in chances was Pete Kozma at 91 percent, which for Simmons makes him about eight plays better than the next-best player. The average shortstop among the top 50 had a conversion rate of 86.5 percent, meaning they would have gotten about 19 fewer outs than Simmons.
Then there's the shortstop the Braves started last season with -- Tyler Pastornicky. His conversion rate was only 73.1 percent -- the worst of any of the 50 checked. A player with a 73 percent conversion rate on 244 chances would get 178 outs. That's 52 fewer than Simmons!
Here's one other stat to consider with regard to Simmons' difference-making abilities.
Last season, in Atlanta's first 32 games, opposing hitters had a .321 "reached-base" percentage (hits plus errors divided by at-bats) when they hit a groundball to the left of the second-base bag. This season, in the first 32 games, their reached-base percentage on grounders to the left of the second-base bag was only .206.
Point being: These metrics don't just pull numbers out of thin air. There are reasons each player has the value he does. We look forward to sharing more of this with you as the season progresses.
Scott Spratt from Baseball Info Solutions contributed research for this article.
March, 7, 2013
3/07/13
8:10
PM ET
I did a phoner with Michele Steele talking about the Cardinals' shortstop situation now that
Rafael Furcal
needs
season-ending Tommy John surgery
.
A quick point:
Pete Kozma
and
Ryan Jackson
shared shortstop duties at Triple-A Memphis last year. Actually, that's not quite right. Jackson played 102 games at short and Kozma played 45, which tells you who the Cardinals thought was the better shortstop. The numbers back up the belief that Jackson is the superior fielder, as he made 4.18 plays per game at Memphis, Kozma 3.02. Jackson had a better fielding percentage and turned a higher percentage of double plays. Jackson even hit better -- .272/.334/.396 versus Kozma's .232/.292/.355. In fact, Kozma played poorly enough at Memphis that the Cardinals have admitted they nearly removed him from the 40-man roster last summer.
Of course, Kozma got the call when Furcal was injured last September and hit surprisingly well (.333/.383/.569). He then delivered a couple big hits in the postseason, although if you remember his defense was very shaky, and not just on that infield fly pop-up to shallow left against the Braves in the wild-card game.
Look, Jackson is the better player. Kozma isn't anything close to a .300 hitter and I don't see the evidence that he has the ability to play shortstop in the big leagues on a regular basis. He may win the job out of spring training based on September's performance, but I think Jackson eventually takes over.
October, 15, 2012
10/15/12
12:27
AM ET
Consider this: From 2002 to 2011, the
St. Louis Cardinals
appeared in more World Series than the New York Yankees. They won more championships than the Yankees. Over those 10 seasons, the Cardinals appeared in more league championship series than the Yankees.
So, maybe the Cardinals should be considered baseball's Evil Empire?
OK, OK ... the Yankees spent about $1.87 billion on payroll over that decade -- more than twice the Cardinals' $900 million.
But it is interesting to note that the team taking advantage of the addition of a second wild-card team is one of the National League's powerhouse franchises.
Two days after their stirring, never-seen-before comeback from a six-run deficit to shock the Nationals in Game 5 of the National League Division Series, Cardinals hitters picked up right where they left off, pummeling Giants starter
Madison Bumgarner
for eight hits and six runs in 3.2 innings, taking a 6-0 lead and holding on for a
6-4 victory
. The Cardinals are difficult enough to beat when
Carlos Beltran
and
Matt Holliday
and
Yadier Molina
are hitting; but when
Daniel Descalso
and
Pete Kozma
start contributing key hits, they're pretty much unbeatable.
The two middle infielders, the seventh and eighth hitters in the St. Louis lineup, had the big hits against the Nationals. Leading 2-0 in the fourth against the Giants after
David Freese
's two-run bomb in the second, those two got things going with one-out doubles.
Jon Jay
later added an RBI single and Beltran then hit his 14th home run in 29 career postseason games to knock out Bumgarner.
Descalso said they expected Bumgarner to come right after them. "We knew he was going to attack, he has the fastball and that cutter," he said. Indeed, Descalso's double came on an 0-1 fastball; Kozma hit a first-pitch slider. Bumgarner, usually in the 90-92-mph range with his two-seamer, didn't have his good fastball on this night. Descalso hit an 89-mph fastball, Jay singled on an 0-2 89-mph fastball and Beltran saw four sliders in a row, the fourth one deposited in the left-field stands.
Against the Cardinals, if you don't bring your good stuff, forget about it.
* * * *
The good news for the Giants is their bullpen was outstanding, delivering 5.1 hitless innings.
Tim Lincecum
pitched two of those, and has allowed one run in 8.1 innings of relief in the postseason. You have to think he's now in line to start Game 4 over
Barry Zito
. The Giants have won the past 12 Zito starts but you can't run a left-hander out there against this St. Louis lineup. Plus, Zito struggled in his start against Cincinnati and allowed a .468 slugging percentage against right-handers during the regular season. We probably won't see Zito in this series unless in a mop-up role or if he's needed in extra innings.
* * * *
Mike Matheny
nearly let the game get away from him with a slow hook on starter
Lance Lynn
in the fourth inning. Lynn pitched in relief in the Nationals series, appearing three times, including a 50-pitch effort in Game 3 while replacing the injured
Jaime Garcia
. The 18-game winner returned to the rotation in place of Garcia, three days after he served up the game-losing home run to
Jayson Werth
in Game 4.
Lynn didn't allow a hit through the first three innings, but tired in the fourth, in particular unable to get the ball inside to the left-handed batters. With two outs and a runner on,
Hunter Pence
singled,
Brandon Belt
dumped a soft single into center,
Gregor Blanco
lined a triple into the right-center gap and
Brandon Crawford
lined a hard double down the right-field line. After pinch-hitter
Aubrey Huff
walked, Matheny finally went to the pen and
Joe Kelly
got
Angel Pagan
to ground out to second baseman Descalso, who made a diving stop and flip for the force at second.
The Cardinals have eight relievers, and they're all good. This series may hinge on how Matheny employs them. Last year, Tony La Russa went with the game plan to yank his starters early and trust his deep arsenal of relievers. If you're going to carry eight relievers, don't be shy about using them. Six of them appeared in this game and combined for two hits allowed in 5.1 innings.
* * * *
One of those relievers is rookie
Trevor Rosenthal
, who impressed once again with his upper-90s gas. He's below
Edward Mujica
,
Mitchell Boggs
and
Jason Motte
in the pecking order, but what a weapon for Matheny to turn to. Baseball America's No. 11 Cardinals prospect heading into the season, the former 21st-round draft pick from Cowley County Community College in Kansas started in the minor leagues but has pitched out of the pen in his brief stint in the big leagues, which plays up his fastball as he airs it out in these short stints.
Rosenthal is an example of why the Cardinals compete year after year: great draft picks, many unheralded, especially since they never select high in the draft. Descalso was a third-round pick out of UC Davis. Kozma was the 18th overall pick out of an Oklahoma high school in 2007. Lynn was the 39th pick in 2008 out of the University of Mississippi. Boggs, a fifth-rounder out of the University of Georgia. Jay, a second-rounder out of the University of Miami. Kelly, another rookie, was a third-rounder out of UC Riverside. If you notice a trend, you're right: The Cardinals historically love college players, which means less projection required and often quicker paths to the majors.
Mix in a few free agents signings to plug in holes -- Holliday, Beltran,
Kyle Lohse
-- and you have a winning approach.
October, 13, 2012
10/13/12
1:38
AM ET
We just witnessed one of the most amazing games in postseason history. Whether this game will eventually earn itself a place alongside other legendary games remains to be seen -- after all, Cardinals-Nationals doesn't quite have the same buzz to it as Red Sox-Yankees or Dodgers-Giants -- but I can assure you this: None of us has ever seen this before.
No team had ever rallied from more than four runs down to win a sudden-death postseason game, and only two teams had done that -- the
Pittsburgh Pirates
in Game 7 of the 1925 World Series against the, yes, Washington Senators, and the
New York Yankees
in Game 7 of the 2003 American League Championship Series.
The
St. Louis Cardinals
made history in remarkable fashion.
Of course, that means, with the
9-7 loss
, the
Washington Nationals
made history in the most heartbreaking fashion possible.
I had an entire post written, telling Nationals fans that winning in the postseason isn't easy, that even holding a six-run lead is never easy, that playoff baseball makes your stomach churn and all that.
I wrote that assuming they would hold on to the lead. Even after
Gio Gonzalez
once again lost the ability to throw a ball over home plate and the Cardinals scored three runs. Even after
Edwin Jackson
was for some reason summoned from the bullpen to pitch an inning and allowed a run. Even after
Daniel Descalso
homered in the eighth off
Tyler Clippard
to make the score 6-5. But when the Nationals added an insurance run in eighth, it felt like Nationals fans could finally breathe.
[+] Enlarge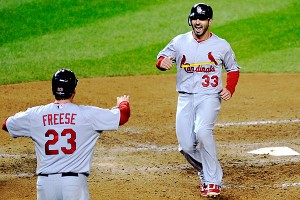 AP Photo/Nick WassDaniel Descalso, right, drove home the tying runs, then scored the final one of the Cards' comeback.
On the other hand, as Cardinals shortstop
Pete Kozma
-- a man apparently of few words -- said after delivering the go-ahead two-run single: "Never give up."
Damn.
* * * *
Friend of mine after the game, not a Cardinals fan or Nationals fan: "If the Mariners ever lost a game like this, I'd be in a hospital."
Postseason baseball is the most exhilarating ride in sports.
Postseason baseball is the cruelest of sports.
* * * *
Carlos Beltran
is awesome. He singled in the first, walked and scored in the fourth, walked in the fifth when the Cardinals scored twice off Gonzalez, doubled in the seventh to move
Jon Jay
to third (Jay would score), doubled to deep right-center off
Drew Storen
leading off the ninth. What a game. Five plate appearances, five times on base. One of the great sudden-death game performances a hitter has had.
* * * *
Calvin Schiraldi, Bill Buckner, Donnie Moore, Grady Little and company, Jose Mesa, the guy pitching in the Francisco Cabrera game (actually it was two, Doug Drabek and Stan Belinda), David Cone and Black Jack McDowell … and, yes, even
Mariano Rivera
. And now Drew Storen.
* * * *
Yadier Molina
had a terrific at-bat in the ninth inning with two outs and Beltran on second. He was 2-for-18 in the series when he stepped in and had left the bases loaded in the fifth, flying out to right field on a 2-0 fastball from Gonzalez. The pitch sequence:
Slider low.
Fastball fouled back. (Fans standing, cheering, mustering strength to wave their red towels, two strikes away!)
Fastball outside.
A 96-mph fastball fouled away. (One strike away!)
A slider that dipped low. I don't know how Molina held up. Tremendous pitch awareness and bat control.
Fastball high.
From the moment that
Allen Craig
struck out, Storen threw 12 pitches, any of which could have ended the game. Six pitches to Molina. Six more to
David Freese
, who also walked. The 13th pitch was a 94 mph fastball that Descalso ripped hard up the middle, off the glove of
Ian Desmond
, the ball bounding far enough into center field to easily score pinch runner
Adron Chambers
with the tying run.
* * * *
Kozma, a guy who hit .232 in Triple-A, playing only because of the September injury to starting shortstop
Rafael Furcal
, then lined a 2-2 fastball into right field to score two more runs. (Descalso had smartly stolen second base).
Washington manager Davey Johnson could have walked Kozma once Descalso stole second base. Cardinals closer
Jason Motte
, who had pitched the eighth inning, was due up next, although Cardinals manager Mike Matheny had sent backup catcher
Tony Cruz
, the last player left on the bench, to the on-deck circle as a decoy. He'd be entering the game anyway for Molina, who had been run for. Kozma has been pretty hot, hitting .333 for the Cardinals during his September call-up and homering earlier in this season.
Johnson could have put Kozma on and pitched to Cruz, which would have served two purposes: Force Matheny to bat Cruz, a guy who hit .254/.267/.365 in 126 at-bats, but also a guy without an at-bat in nine days. More importantly, it would have likely forced Matheny to pull Motte. Matheny already used
Joe Kelly
,
Trevor Rosenthal
,
Edward Mujica
and
Mitchell Boggs
, so that would have meant the Cardinals would be using, at best, their fifth-best reliever in the ninth.
Huge mistake by Johnson and I can only guess he was in such a state of shock he didn't have time to think the situation through properly.
* * * *
Yes, the Nationals could have used
Stephen Strasburg
. That's obvious. Whether that lost the series for them is debatable. But I'm pretty sure he would have helped somewhere along the line.
October, 10, 2012
10/10/12
5:15
PM ET
The first postseason game in our nation's capital since 1933 proved an ugly disaster for the home fans. The Cardinals scored one run in the first off
Edwin Jackson
, and then unlikely postseason hero
Pete Kozma
-- doing his best impersonation of Bucky Dent or Brian Doyle or
Cody Ross
-- slugged a three-run homer in the second to give the Cardinals a 4-0 lead.
From there,
Chris Carpenter
and the Cardinals' bullpen cruised to an
8-0 victory
to take a 2-1 series lead.
Jayson Stark summed up the 37-year-old in his opening sentence in his story
leading into the game
: "On Wednesday afternoon in Nationals Park, a man will take the mound who has no business being there."
Carpenter, who missed most of the season recovering from shoulder surgery, didn't exactly carve up the Nationals, allowing seven hits and striking out only two batters, but in typical Carpenter fashion, he gutted it through 5 2/3 innings and got the big outs with runners on base, most notably striking out
Mike Morse
with two runners on in the first and retiring Morse again on a fly to right with the bases loaded to end the fifth.
[+] Enlarge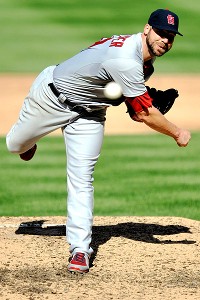 Joy R. Absalon/US PRESSWIREChris Carpenter, who didn't record a win during the regular season, held the Nationals scoreless in 5 2/3 innings Wednesday.
The score was still 4-0 at that point, and Carpenter had been careful with the previous batter,
Adam LaRoche
, walking him on seven pitches despite getting ahead in the count 0-2. But the righty-righty matchup against the free-swinging Morse is a better matchup for Carpenter. Morse swung and missed at a curve, took another curve in the dirt for a ball, and then Carpenter jammed Morse just enough on a 92 mph cutter. It was a perfect example of the savvy approach of a veteran who knows what he's doing: First, see whether Morse will chase something; then, knowing you can't let Morse extend his arms, go inside. Beautiful.
In his postgame on-field interview, Carpenter said LaRoche had put some good at-bats on him in the past. "In no way was I going to let him hurt me. If he walks he walks," he said of that situation.
Carpenter's postseason legacy is starting to build. In 16 career playoff starts, he's 10-2 with a 2.88 ERA. He's been the ace on two World Series champions. His best postseason outings include eight shutout innings against the Tigers in Game 3 of the 2006 World Series, a memorable 1-0 complete-game win over
Roy Halladay
in Game 5 of last year's NL Division Series, his gutsy effort on three days' rest in Game 7 of the last year's World Series and now this game, performing at a high level when he wasn't even expected to be here a couple of months ago.
"It was just a constant grind," Carpenter said. "I made pitches when I had to. When you get to this situation in the postseason, you just give it all you got and go as long as you can and turn it over to the bullpen."
A fun stat that sums up Carpenter's outing: He became just the second pitcher to start and win a postseason game after not winning a game during the regular season, joining Virgil Trucks of the 1945 Tigers, who returned from military service, started once in the regular season and then twice in the World Series.
Other thoughts:
Davey Johnson has to be a little worried about his bullpen, which got battered for a second straight game. Lefty Ross Detwiler will start Game 4 on Thursday, and the expectation has to be that Detwiler won't go deep into the game. First, the Cardinals roll out all those right-handed hitters in the middle of their order, and Detwiler had a sizable platoon split during the regular season (.734 OPS versus right-handed batters, .513 versus lefties). Also, Detwiler isn't a guy Johnson uses deep into games; he had more five-inning outings than seven-inning outings this season. So there's a good chance Johnson will once again have to call on Craig Stammen and/or Ryan Mattheus, and neither has been effective so far in this series.

Bryce Harper continues to struggle at 1-for-15 with six strikeouts (no strikeouts in this game). He's been battling strep throat and has been taking antibiotics, not that he's about to use that as an excuse. I wouldn't chalk it up to the postseason jitters of a 19-year-old; he just hasn't hit. Case in point: In the fifth with a runner on, he took a curveball for a called strike and then popped out to shorstop on a pretty meaty 92 mph fastball. I'm sure he'll be back in the No. 2 spot on Thursday.

It looks as though the Cardinals have yet another bullpen weapon in Trevor Rosenthal, who was pumping upper-90s gas for the second straight game. A 21st-round draft pick in 2009 out of a Kansas community college, Rosenthal has been a starter in the minors. (He posted a 2.97 ERA in 20 minor league starts before his promotion to the big leagues, where he had a 2.78 ERA with 25 K's in 22 2/3 innings as a reliever.) With Rosenthal joining the Edward Mujica-Mitchell Boggs-Jason Motte mix, the Cards' bullpen looks deep even if they have to move Lance Lynn to the rotation if they advance to the NLCS.

The legend of Pete Kozma. Discuss. Between his play on the infield fly in the wild-card game, his crucial error in Game 1 and now this big home run, Kozma is becoming one of the central figures of this postseason. You just never know, do you?

There will now be a lot of talk about Stephen Strasburg, and there should be. Yes, he did struggle a bit down the stretch. And maybe the drop-off from him to Detwiler isn't that large, but in this specific matchup against the righty-heavy Cardinals, I think you'd still have wanted Strasburg out there.
October, 8, 2012
10/08/12
4:00
PM ET
It began when
Josh Hamilton
dropped that routine fly ball in the final game of the regular season and has carried over into the postseason: We haven't exactly seen a lot of elegant baseball so far.
Consider some of what we've seen:
The Braves making three throwing errors in their loss to the Cardinals.
The controversial infield pop fly in the same game.
Coco Crisp dropping a routine fly ball in Sunday's game that allowed two runs to score.
The A's and Tigers both wild pitching in runs in the same game.
Cardinals shortstop Pete Kozma's error leading to the winning two (unearned) runs for the Nationals).
Gio Gonzalez walking seven batters in that game.
The Cardinals getting a bases-loaded, no-out situation. Two pitches later, the Nationals had escaped the inning.
The Nationals winning despite two errors.
Orioles closer Jim Johnson entering in a tie game and surrendering five runs.
Even Derek Jeter booted a fairly routine grounder, although it didn't hurt the Yankees.
To be fair, we have seen some good defense as well. The Reds made several outstanding plays in their Game 1 victory over the Giants. Tigers right fielder
Avisail Garcia
made a nice throw to gun down Crisp at home plate on Sunday. Orioles right fielder
Chris Davis
made a nice throw to nail
Mark Teixeira
at second base and later a nice catch on a foul fly in the corner. Often in October, bad weather can have an affect on the fielders, but that hasn't been a viable excuse so far. I suspect we'll see better baseball moving forward.
Some links to check out:
October, 5, 2012
10/05/12
9:19
PM ET
Well, that was insane.
Fans of the new system will say this is exactly the kind of excitement baseball needs.
Critics will suggest this game sums up everything that's wrong with a one-game playoff series. One bad throw (or three), one mental error, one ... umm, one bad umpiring call shouldn't knock you out of the postseason.
Did I say bad call? Atrocious? Abominable? Disgraceful? How do you properly sum up what happened in the bottom of the eighth inning when umpire Sam Holbrook raised his right arm and all hell broke loose?
If you watched the game, you know what happened: The Braves trailed the Cardinals 6-3 and had runners on first and second when
Andrelton Simmons
popped out to shallow left field. Shortstop
Pete Kozma
drifted about 70 feet beyond the infield dirt ... and suddenly peeled off, the ball plunking harmlessly onto the grass in front of
Matt Holliday
. The Braves had the bases loaded and the Ted was rocking with noise.
Except ... say it ain't so. Holbrook called an infield fly rule, raising his arm right about the time Kozma peeled off. That meant Simmons was out, and
Jason Motte
would eventually escape the inning when he blew a 98-mph fastball past
Michael Bourn
with the bases loaded. The Braves got two more runners on in the ninth but Motte retired
Dan Uggla
to finish off
the 6-3 victory
.
But the whole complexion of the game changes if the Braves have the bases loaded with one out and
Brian McCann
up. Maybe the whole complexion of the postseason changes. Braves manager Fredi Gonzalez protested the game, but the infield fly rule is a judgment call, even when the judgment is terrible.
Rule 2.00
refers to a ball that "could ordinarily have been handled by an infielder." It doesn't mean the ball has to be in the infield. The rule is in place so an infielder can't trick baserunners by purposely dropping a pop fly to turn a double play. In this case, Kozma was so far out in the outfield, a trick double play would have been an impossible and absurd feat to attempt.
[+] Enlarge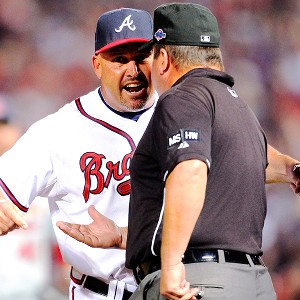 AP Photo/Todd KirklandFredi Gonzalez and the Braves played under protest after the infield-fly call by Sam Holbrook, right.
So Holbrook's name will now go down in history alongside Don Denkinger and Richie Garcia, the umps on the Jorge Orta play in the 1985 World Series and the Jeffrey Maier/
Derek Jeter
home run in the 1996 American League Championship Series, respectively.
That play will tarnish the result of this game. Braves fans tarnished the game by littering the field with garbage, forcing a long delay as the Cardinals had to temporarily leave the field. And the wild-card round began its history with a game that will be long remembered.
* * * *
Controversy aside, the Braves played about as bad a game of baseball as you can play: Physical errors, mental errors, terrible managerial decisions. It was typical Bad News Braves in the playoffs; the franchise is now 9-20 in the postseason going back to the 2001 National League Championship Series and losers of seven consecutive playoff series if you include this one-game affair.
Sadly, with the big "10" carved into the outfield grass and the thunderous ovations he received each time he came to bat,
Chipper Jones
' final game of his career will also be remembered for his crucial throwing error in the fourth inning.
Carlos Beltran
had singled to lead off the inning, the first hit off
Kris Medlen
(whose streak of the Braves winning 23 consecutive games he started would end). Holliday drilled a one-hopper that Chipper snared -- an easy double-play ball. Except Chipper chucked the ball into right field.
Allen Craig
followed with an RBI double over
Martin Prado
's head in left field. After an RBI groundout and sac fly, the Cardinals had three runs and a 3-2 lead instead of zero runs and a 2-0 deficit.
After a Holliday home run made it 4-2, the Braves fell apart again in the seventh inning. Uggla bobbled and then threw away
David Freese
's routine grounder, putting Freese on second base.
Mike Matheny
pinch-ran speedster
Adron Chambers
, a key maneuver that would pay dividends moments later. A sac bunt moved Chambers to third.
Now, consider the situation if you're the Braves: You're down 4-2, with a runner on third with one out.
Your season is on the line.
You can't afford to give up any more runs. What's the best way to escape the jam? You need a strikeout. Do the Braves have a reliever like that? Anybody you can think of? Anybody who struck out 50 percent of the batters he faced this season, the highest rate in the history of major league baseball?
Did Gonzalez call on
Craig Kimbrel
? Nope. He brought on
Chad Durbin
, a pitcher who struck out 19 percent of the batters he faced. Durbin did induce Kozma to hit a grounder to Simmons at shortstop, but the rookie bobbled the ball and rushed his throw home (with the speedy Chambers running, he didn't really have much of a chance once he bobbled the play), throwing wildly to let Kozma reach second. If Freese had been running, maybe Simmons doesn't hurry the throw. That made it 5-2 and
Matt Carpenter
's infield single scored Kozma. After committing the fewest errors in the league during the season, the Braves made three in this game.
Another head-scratching move came in the bottom of the fourth when the Braves had runners at the corners with one out and Simmons -- the No. 8 hitter -- up. Gonzalez apparently called a safety squeeze. Simmons bunted in front of the plate -- slow-footed
Freddie Freeman
either missed the play (which is what the TBS broadcasters said Gonzalez told them) or decided not to run since the bunt was too close to the plate. On the resulting throw to first, Simmons ran too far inside the baseline and was ruled out for interference when the throw bounced off his head (it was clearly the correct call). Medlen struck out to end the threat.
This game goes down as the Holbrook Affair. Braves fans will forever blame the umps. In truth, the Braves have nobody to blame but themselves.
September, 16, 2012
9/16/12
1:26
AM ET
By
Christina Kahrl
| ESPN.com
If there's one takeaway where the defending world champs are concerned, it's this: Even wounded, these Cardinals could still fly. Most teams, you scratch a No. 1 starter, a leadoff man and a cleanup hitter, and you might expect them to be long since dead in the water. But even without
Chris Carpenter
, without
Rafael Furcal
, without
Lance Berkman
-- all of that in the post-Pujols era -- no matter how many blows the Cards take, they aren't dead, not by a long shot.
The big question, though, isn't why they're still going, but why they're not ahead just the same. With a record that is
games worse than expected
, they're supposed to be able to lose games like Saturday night's --
a 4-3 defeat
in Los Angeles -- and not break a sweat. But that's not where they are. Instead, they've fallen into a tie with the Dodgers for the National League's last slot.
It isn't supposed to have worked out this way.
Allen Craig
plated every run the Cardinals scored, a Pujolsian feat that also reflects a creeping problem for the Cards' offense: The league-leading attack that had been scoring 5 runs per game before the All-Star break has dropped off to score 4.4 runs per game since. They were allowing 4.2 runs before the break, and they're at 4.0 runs allowed per nine after, but because of the offense's drop-off, the margins they get to work with have narrowed.
The first-half question over why the Cardinals weren't doing as well as they should has become more persistent in the second half, and after a swing game like Saturday's, the uncomfortable questions are unavoidable.
Is it the manager? Rookie manager Mike Matheny's under fire, but he was tasked with the impossible task of following in Tony La Russa's footsteps as the old mast heads down the road to Cooperstown. It's easy to single out the Cardinals' record in one-run games -- now 18-25 -- and assert that some better manager to be named later would do better than that.
But that's looking for a fall guy, and Matheny may not really deserve that, save as a matter of expectations as the first-year skipper managing a defending world champ. Any suggestion that La Russa might be the Cardinals' missing man most missed might have needed one particular proof this night: Would the bullpen deliver? Love it or hate it, that's the gold standard by which most managers get judged by many commentators and fans, because 'pen management is the one task that's transparent to the public.
After getting a good game from
Jaime Garcia
, without getting too clever playing matchup games Matheny ran through his crew in straightforward style:
Edward Mujica
to
Mitchell Boggs
to
Jason Motte
... and Motte blew it, giving up a two-out double in the ninth to
Luis Cruz
for the tie, then gave up the game-losing single to
Juan Rivera
.
There was no special brand of genius involved, just a scripted set-up gone wrong: Closer tasked with closing, leaves the door open, then sees it blown off its hinges. If Matheny's to be judged, it's by exactly the same standard that Casey Stengel suggested back in the day, in happier circumstances after
winning the 1958 World Series
: "I couldna dunnit without the players."
To Matheny's credit, he managed other elective tasks just fine on Saturday night. Swapping around in the middle infield midgame is the Cardinals' lot. Early on they paid the penalty of making
Daniel Descalso
a shortstop as a matter of need: His first error in the first inning created the Dodgers' first score. With second baseman Descalso playing short and converted outfielder
Skip Schumaker
starting at second, the Cards have been sacrificing defense to put their best available players in the lineup. Is that on Matheny? No more than the subsequently regretted decision to dump key utilityman
Tyler Greene
on the Astros.
With a lead six frames into the game, out came Schumaker, in came good-glove
Pete Kozma
at shortstop, and Descalso slid back to his natural position. Lineup management isn't particle physics. Inveterate tinkerer La Russa may be history in every sense of the word, but this sort of lineup tinkering can still go on without him as Matheny tries to compensate for losing Furcal.
Given the Cardinals' increasingly narrow margins, watching every run, every opportunity, forces Matheny to make tough calls. You can't really blame him for the choices he made, given the options he had. No less than the bullpen blowing the game, you can't blame him too badly for having Descalso at short. The agony for the Cardinals right now is that it's adding up to just enough to lose.
PHOTO OF THE DAY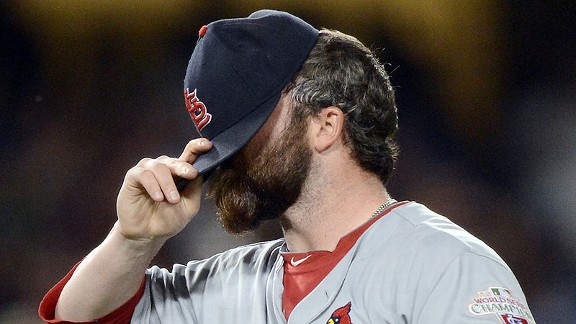 Harry How/Getty ImagesWell that Jason Motte might cover his face after blowing the save on Saturday night.
Christina Kahrl covers baseball for ESPN.com. You can follow her on Twitter.