March, 10, 2013
Mar 10
7:53
PM ET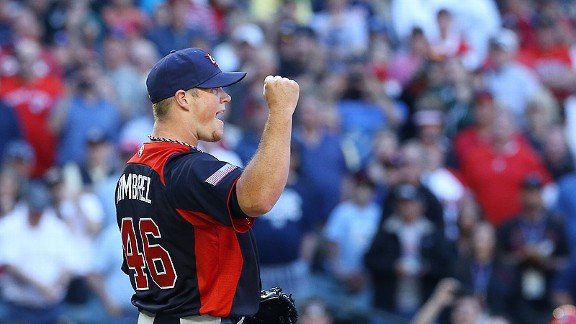 Mark J. Rebilas/USA TODAY SportsCraig Kimbrel worked a one-two-three ninth to secure the win over Team Canada.
They call this the World Baseball Classic and Sunday's United States-Canada game certainly qualifies as a classic, with a David-versus-Goliath storyline, several questionable lineup and managerial decisions made by Joe Torre, a late-inning rally and maybe some respect earned for this tournament.
The final score read
9-4 in favor of the United States
, and the U.S. moves on to the second round next weekend in Miami. But the game was much more tense than the score indicated. Some quick thoughts:
Let's begin with Torre's lineup. He inserted Shane Victorino into left field and Ben Zobrist into right field, moving Ryan Braun to the DH spot, Joe Mauer to catcher and benching Giancarlo Stanton. While that added two switch-hitters to the Team USA lineup against Canadian right-hander Jameson Taillon, it meant sitting one of the game's premier sluggers for Victorino, who isn't the same presence in the lineup. I understand that Torre wanted to get Victorino into a game, but this isn't tee ball; there are no trophies and cookies handed out to the losing team for trying your best.

Torre then had a strange sacrifice bunt attempt in the second inning with two runners on and no outs after David Wright doubled and Canada third baseman Taylor Green dropped an infield pop-up. Instead of going for a big inning against a 21-year-old who has pitched three games above Class A, Torre had Adam Jones bunt. It made no sense to play little ball there instead of trying to blow the game open against a pitcher who didn't exactly dominate the Florida State League in 2012. The bunt worked but Taillon worked out of the jam without a run. Play for one, get none.

The U.S. fell behind when Mariners outfielder Michael Saunders continued his hot WBC streak with a two-run home run to right, yanking a terrible hanging slider from Derek Holland. Saunders had shown bunt on the first pitch, a ball in the dirt, then swung away. That's what can happen when you don't bunt.

Down 2-0 in the fourth, Torre then bunted again with two on and no outs. The bunt "worked" when Green hesitated on Zobrist's bunt down the third-base line and Zobrist beat the throw to first. How rare is a bunt when trailing by two runs? Torre managed the Yankees from 1996 to 2007 and the Yankees had 13 sacrifice bunts when down two runs -- one by a pitcher, three by Miguel Cairo and the others by weak hitters other than two by Derek Jeter in 2004. In other words, Torre almost never bunted in that situation. It's like Torre was watching all the small ball played by the Asian teams and forgot he has the best lineup in the tournament. If Green makes the play, the U.S. scores only one run that inning instead of two. Good outcome, but the wrong call.

In the eighth inning, after Jones delivered a big go-ahead double to give the U.S. the lead, Torre turned to Diamondbacks righty David Hernandez even though the heart of the Canada lineup -- Joey Votto, Justin Morneau and Saunders, all left-handed hitters -- was due up. I can't quibble too much with that decision, even though lefty Jeremy Affeldt was available. I would have used Affeldt, as all three players had sizable platoon splits last year, but Hernandez was one of the game's best relievers in 2012 (although he held righties to a .145 average and lefties to a .240 mark). After Votto reached on an infield, Morneau struck out and Saunders laid down a perfect bunt single. Chris Robinson then singled to load the bases and Adam Loewen grounded out to make the score 5-4. Torre then brought in Marlins reliever Steve Cishek (of course, using Craig Kimbrel, the most dominant reliever in baseball with your tournament on the line was apparently out of the question) and had him intentionally walk Pete Orr (!) to load the bases. I never like that move, which gives a pitcher no room for error. Canadian manager Ernie Whitt also pinch-hit lefty Tim Smith to face the sidearmer. The intentional walk also guaranteed Votto would bat in the bottom of the ninth. Anyway, Cishek got Smith to ground out to second in what turned out to be the game's crucial at-bat.

The U.S. broke it open in the ninth, with Whitt waiting too long to bring in Brewers closer John Axford, who served up a three-run double to Eric Hosmer. In the end, the U.S. bullpen depth proved key, as many expected it would before the game.

One thing that needs to stop is the guarantees made to general managers that if their guy is selected to a squad, he needs to play. I'm not sure if Torre used Hernandez because he hadn't pitched in the previous two games -- and again, it wasn't that strange of a move, not like the two bunts -- and needed to get him some work. Same thing with Cishek. Or maybe Torre just wanted to get them into a game. But this isn't exactly an All-Star Game. It's not an easy job, but I'd like the U.S. managers to treat this a little more seriously and not guarantee playing time. It's easy enough for a reliever to throw on the side after a game and Victorino's season isn't going to be ruined by not playing for three days.

Part of the fun of the World Baseball Classic is rooting for guys from your team, no matter which country they're playing for. As a Mariners fan, it was exciting to see Saunders have another big game. It was a rough day for Brewers fans, however. Green went 0-for-5 and his two miscues in the field led to at least two U.S. runs, Jim Henderson couldn't hold the 4-3 lead in the eighth, and then Axford let the game get away in the ninth. Even Braun went a quiet 1-for-5.
March, 10, 2013
Mar 10
1:09
AM ET
We've had a brawl, we've had upsets, we've had dramatic late-inning rallies and, thanks to one big swing from
David Wright
, we now get a monumental showdown between bitter enemies Canada and the United States to stay alive in the World Baseball Classic.
OK, maybe it's not quite Sidney Crosby and the Canadians taking on Ryan Miller and the Americans in the 2010 gold-medal hockey game at the Vancouver Olympics, and maybe Canada and the U.S. aren't exactly enemies on the diamond, but Sunday's game at Chase Field in Phoenix is probably the biggest baseball game for Canadians since the Blue Jays won their second straight World Series in 1993.
Baseball fans in the U.S. are still warming up to the whole idea of this tournament, and while a major goal is to help increase popularity of the sport in countries such as Brazil and China and Italy and the Netherlands, don't be fooled: The organizers want U.S. fans to get as passionate about the World Baseball Classic as those in Japan and Latin America. In large part because second-round games will be held in Miami, with the semifinals and finals in San Francisco, and the organizers want sold-out ballparks -- something more likely to happen if the U.S. keeps advancing.
With that possibly in mind, the U.S. was given a soft pool. While the Dominican Republic, Venezuela and Puerto Rico were all placed together in Pool C, the U.S. drew lighter-weights Mexico, Canada and Italy. But when Italy beat Mexico and Canada, and then Mexico upset the U.S. on Friday night, it suddenly put pressure on the U.S. to win its final two games of pool play. Joe Torre's squad was actually helped when Canada beat Mexico earlier Saturday -- a game that featured a bench-clearing brawl in the ninth inning -- meaning the Americans now controlled their destiny.
That destiny took a turn for the worse when the surprising Italians took a 2-0 lead against
Ryan Vogelsong
, who didn't have his usual excellent fastball command. Most of the Italian players are from the U.S., including big leaguers
Anthony Rizzo
,
Chris Denorfia
and
Nick Punto
, but cleanup hitter
Alex Liddi
of the Mariners was born and raised in Italy and 23-year-old starting pitcher Luca Panerati is an Italian who played a few years in the Reds system, topping out in A-ball. Panerati nevertheless shut down the U.S. with his 86 mph fastball and offspeed pitches, leaving after three scoreless innings; he can tell his grandkids someday about the time he shut down a lineup of major league All-Stars. But the U.S. rallied with five runs in the fifth inning, capped by Wright's two-out grand slam off Matt Torra, an American who pitched in Triple-A for Tampa Bay's organization last year.
[+] Enlarge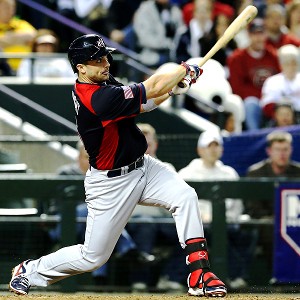 Mark J. Rebilas-USA TODAY SportsDavid Wright turned one around from Italy's Matt Torra for the key fifth-inning grand slam.
That
6-2 win
means U.S. versus Canada, winners move on to Miami, losers go home (or back to spring training). Considering the way this tournament has gone -- Italy advancing, Venezuela out after losing its first two games, 2009 runner-up South Korea failing to advance out of the first round, the Netherlands beating Cuba in a second-round game -- don't count out the Canadians.
First, their lineup has some guys you've heard of: Former MVPs
Joey Votto
and
Justin Morneau
. Mariners outfielder
Michael Saunders
went 4-for-4 in the
10-3 win
over Mexico. The lineup was hurt by
Brett Lawrie
's injury in spring training and we'll have to see if
Pete Orr
and
Rene Tosoni
, ejected after the brawl, will be suspended or not; the pitching is thin without guys such as
Ryan Dempster
,
Scott Diamond
and
Erik Bedard
participating. Still, Pirates prospect Jameson Taillon will start against the U.S., and while he hasn't reached the major leagues yet (he pitched in Double-A last year), he has major league stuff, ranking as Keith Law No. 20 preseason prospect. He's certainly capable of shutting down the U.S. lineup for his 65-pitch limit. After that, however, Canada's pitching thins out in a hurry, with Brewers closer
John Axford
and Phillies reliever
Phillippe Aumont
the two biggest names in the bullpen.
The U.S. will start
Derek Holland
, a good strategic move by Torre to get the lefty Holland in there to try to neutralize Votto, Morneau and Saunders. With
Ross Detwiler
throwing four scoreless innings of relief against Italy, that means the U.S. bullpen is well-rested. Look for Torre to use lefties
Jeremy Affeldt
and
Glen Perkins
against the middle of the lineup in the middle innings, and he still has
Craig Kimbrel
waiting to get some action.
The U.S. will be heavy favorite to advance. To use another Olympic hockey analogy, the Americans are the Soviets. Do the Canadians have a miracle in store? I'll be watching to find out. After all, it's about time we settle this border war with Canada.