June, 8, 2011
6/08/11
2:22
PM ET
Wednesday's Baseball Today

was one to remember for me, as Hall of Fame third baseman Mike Schmidt was the special guest in studio. Needless to say, this was not a short interview. Then again, I was also joined by SweetSpot editor/writer David Schoenfield. Wow, two Hall of Famers on one show! Here's why you should listen:

Schmidt
1. When Mr. Schmidt talks, perk up your ears. We talked about the current state of the game, the Hall of Famers that probably will not be joining him in Cooperstown, the kids that don't always listen and, of course, booing. Don't miss it.
2. The Dodgers unveiled a few future stars in Philly on Tuesday -- or will they be
superstars
? -- and Dave and I discuss Dee Gordon and
Rubby De La Rosa
... as well as a fading
Roy Oswalt
.
3. Was Tuesday night the beginning of the end for the Yankees'
Freddy Garcia
? It's amazing how one outing can change opinions so quickly. On the positive side, the best is yet to come for a Boston pitcher.
4. The state of the Cubs is not a positive one. A beleaguered emailer searches for hope in a world that doesn't offer much for Cubs faithful. Though we did try.
5. Wednesday's ESPN game pits survivors
Tim Wakefield
versus
A.J. Burnett
, and each looks legitimate. However, tune in to see what we picked as the night's top pitching matchup, and whether there will be a bit of Bryce Harper-like retribution.
Plus: Excellent emails,
Chipper Jones
criticizes
Jason Heyward
, attendance problems,
Vin Mazzaro
, why hitting in the NL East is just awful, why
Alex Avila
is a stud, more stars versus superstars debate with a Jack Nicholson theme and really, so much more. Listen to Wednesday's Baseball Today!
May, 26, 2011
5/26/11
4:10
PM ET
Here are the top five reasons why Thursday's Coffee Talk, um,
Baseball Today podcast

with myself and Keith Law had all the emotions, from serious to silly and all between, and why you should listen:
1. It's a shame
Buster Posey
's season ended Wednesday night, but would there be calls to change the rules if it was someone else? We attack all angles of this situation.
2
Wilson Valdez
saves the Phillies in the 19th inning! We discuss a very long game, the good, bad and unfortunate.
3. How can we avoid the Brewers being on fire? Well, we have reasons, but we deal with them today.
4. European baseball players and the "Big Whack": discuss. No, I can't discuss but this is right up Law's alley, and I learned something.
5. There will be much fun at Coors Field today. There generally is when
Micah Owings
is pitching ... and hitting!
Plus: Excellent emails, Oakland's offensive help in the minors, taking advantage of defensive shifts (or not) and even a little Mets talk in a Yankees-free but still crazy and wild Baseball Today podcast for Thursday!
April, 26, 2011
4/26/11
1:05
AM ET
Baseball is kind of like "Star Wars." As Luke Skywalker said to Darth Vader during their first big light-saber battle: "You'll find I'm full of surprises."
Philip Humber
played the Luke Skywalker role on Monday, taking a no-hitter into the seventh inning against the New York Yankees before
Alex Rodriguez
grounded a one-out single up the middle. It may be the season's most unlikely no-hit bid as Humber -- a guy released twice in the offseason, first by the Royals and then by the A's -- shut down a team that entered the game scoring more runs per game than any club since the 1999 Cleveland Indians.
On the Yankees' postgame show, Suzyn Waldman reported that
Derek Jeter
said Humber didn't throw a straight pitch all night. Yankees manager Joe Girardi raved about his changeup, saying his players were in front of his pitches all game. Chicago White Sox catcher
A.J. Pierzynski
said Humber just needs to believe in himself.
Humber had a bittersweet quote after the game, a quote that reminds me of the often overlooked cruel nature of baseball, of the fine line between success and failure, that line between having a career and making millions, or returning to your small hometown in Texas that once held a day in your honor, explaining to everyone why you never made it.
"When I was young I had big dreams. I thought I was going to go out there and dominate every time," Humber said. "It hasn't worked out that way to this point."
If that quote doesn't make you root for Philip Humber, then you have a heart of coal.
Humber was part of the one greatest college pitching staffs ever assembled, the 2003 Rice team that also included
Jeff Niemann
and Wade Townsend. Humber pitched the championship game of the 2003 College World Series, beating Stanford 14-2, and the following June all three were selected in the top eight picks of the draft, with Humber going No. 3 overall to the Mets.
All three pitchers had been worked heavily at Rice and -- coincidence or not -- suffered arm injuries in the pros. Niemann would have shoulder surgery; Townsend and Humber would both have Tommy John surgery. Townsend never made it to the majors. Humber made his first big league start for the Mets in late September of 2007, right as the Mets were reeling and blowing a big division lead to the Phillies. Humber pitched poorly and the Mets lost the game.
The Mets traded him to the Twins that offseason and he made 21 appearances the next three seasons, including one start with the Royals last year. It wasn't enough to impress the Royals. They released him -- a team that lost 95 games and had a 4.97 ERA decided it had better options. The A's picked him up but released him before spring training began. The White Sox gave him a chance.
* * * *
Like Humber,
Jered Weaver
was a first-round pick in that 2004 draft. After a dominating season at Long Beach State, many thought Weaver was the best talent in the draft, but his status as a Scott Boras client scared teams off and he slid to the 12th pick, selected by his hometown Angels.
He was in the majors by 2006, posting a 2.56 ERA as a rookie. He started playoff games the next three seasons. He's making $7.3 million this year and when he becomes a free agent after the 2012 season, he'll sign a lucrative deal that will make generations of Weavers very wealthy.
Weaver makes pitching look easy, with that slingshot delivery that seems absolutely effortless. He's never suffered a major injury and he's one of those guys who can throw strikes with his eyes closed. He's California cool with the long hair and relaxed demeanor and he's on a roll right now that we rarely see; with his 5-0 shutout over the A's -- his sixth win of the month -- he became just the fourth pitcher since 1990 with six wins by his team's 23rd game (joining Dave Stewart of the 1990 A's, Bob Tewksbury of the 1994 Cardinals and
Randy Johnson
of the 2002 Diamondbacks).
Weaver may never have another month like this one, but he has plenty of great months in his future.
Philip Humber's future is less clear. He's in the White Sox rotation for now, but when
Jake Peavy
returns from the DL, Humber may lose his slot. He may never have a season like Jered Weaver, but for one night he dreamed of no-hitting the Yankees and dominating like he once imagined.
Big dreams. I don't know if Philip Humber will ever have another day like this in the major leagues. I hope he does. I do know that he made Carthage, Texas, proud.
PHOTO OF THE DAY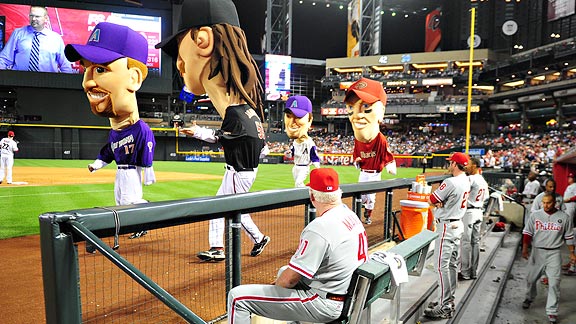 Mark J. Rebilas/US PresswireHopefully the Phillies were amused by this. Not much else was fun for them in Arizona on Monday.