SweetSpot:

Rafael Betancourt
July, 29, 2013
7/29/13
11:03
AM ET
Throughout July, we're presenting 30 deals in 30 days: the best trade-deadline deal ever made by each team. We wrap up with the NL West.
THE TEAM:
Colorado Rockies
THE YEAR:
2009

THE SITUATION:
The Rockies rarely do much at the trade deadline -- in part because they haven't been in contention all that often in their history, in part because the organization hasn't been willing to take on salary.
On July 23, 2009, the Rockies were nine games behind the Dodgers in the NL West but leading the wild-card race by 1.5 games over the Giants. Outside of closer Huston Street, however, the bullpen was shaky.
THE TRADE:
The Rockies acquired Rafael Betancourt from the Indians for minor league pitcher Connor Graham.
THE AFTERMATH:
Betancourt gave the Rockies a reliable setup guy in front of Street and he went 3-1 with 1.78 ERA in 25.1 innings down the stretch as the Rockies held on to win the wild card. They'd lose in four games to the Phillies in the Division Series as Street lost two games, including blowing a 4-2 lead in the ninth inning of Game 4.
Betancourt re-signed with the Rockies after the season and has a career 2.97 ERA with Colorado. His 7.4 WAR since 2009 ranks tied for 10th among relief pitchers.
Graham never reached the majors.
April, 9, 2013
4/09/13
12:06
AM ET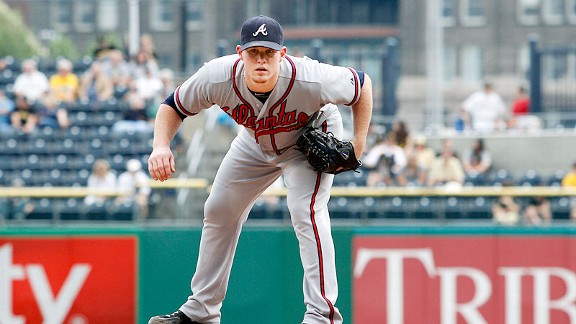 Justin K. Aller/Getty ImagesCraig Kimbrel led the NL in saves last season and is considered the most dominant closer in baseball.
The Tigers need one. The Brewers thought they had one. The Cubs already have a new one. Some teams probably wish they had a different one. Closers are already melting down in rapid fashion.
On Monday afternoon, with closer
Jason Motte
sidelined with a sore elbow (he'll get a new MRI on Tuesday), the Cardinals' bullpen imploded in a
13-4 loss
to the Reds, led by
Mitchell Boggs
giving up seven runs in the ninth inning. Now they might have closer issues as well. Rookie
Trevor Rosenthal
blew a 4-3 lead in the eighth, his second blown "save" of the young season, so he's not necessarily the answer if manager Mike Matheny has lost faith in Boggs.
The Tigers will apparently give
Joaquin Benoit
their next save opportunity, but many think they need to make a trade for a Proven Closer (tm). The problem ... well, there aren't really that many Proven Closers out there. And the truth is, most closers weren't preordained to be closers anyway, many arriving at the role only after failing as starters or finally getting the opportunity in their late 20s. Let's rank all 30 closers and you'll see what I mean.
Proven Closers
These are guys who have done the job for more than one season, thus earning the coveted title of Proven Closer.
1. Craig Kimbrel, Braves
The best ninth-inning guy in the business, coming off maybe the most dominant relief season ever -- he fanned over half the batters he faced -- in the modern era, or what Goose Gossage likes to refer to as "After I retired."
Before becoming a closer:
Groomed as a closer, he's never started a game in pro ball and became Atlanta's closer as a rookie in 2011.
2. Aroldis Chapman, Reds
I'm actually breaking my own rule here since Chapman has only been a closer for less than one season. But unless his control suddenly abandons him, he's obviously the real deal after striking out 122 in 71.2 innings last season.
Before becoming a closer:
Lacked the secondary pitches and stamina to make it as a starter.
3. Mariano Rivera, Yankees
He's old, he basically has one pitch and he's coming off a torn anterior cruciate ligament. Anyone want to bet against him?
Before becoming a closer:
Failed starting pitcher prospect.
4. Jonathan Papelbon, Phillies
Starting his eighth year as a closer, which is entering elevated territory. (Hall of Famer Bruce Sutter, for example, only had seven dominant seasons as a closer.) Papelbon had some not-so-clutch moments last season, however, finishing with four blown saves and six losses.
Before becoming a closer:
Forty-eight of his 58 appearances in the minors and his first three major league appearances came as a starter, but Red Sox converted him to relief.
5. Joe Nathan, Rangers
Not quite the Rivera-like force he was during his Twins days, but still pretty good. Picked up his 300th career save Monday, becoming the 23rd reliever to hit that mark.
Before becoming a closer:
Had a 4.70 ERA in two seasons as a part-time starter for the Giants in 1999-2000, had a 7.29 ERA in the minors in 2001 (5.60 in 2002), made it back, traded to the Twins, then became a closer at age 29.
6. Rafael Soriano, Nationals
Has three seasons as a closer with three different teams, so this will be his fourth year as a closer with his fourth different teams, making him the best example of Proven Closer, Will Travel.
Before becoming a closer:
Spent parts of seven seasons in the majors (starting as a rookie with Seattle), many parts of which were spent on the disabled list.
7. Huston Street, Padres
Now entering his ninth season as a closer, Street has recorded 30-plus saves just twice, as he's often hurt and hasn't pitched 60 innings since 2009.
Before becoming a closer:
Groomed as a closer since Oakland made him the 40th pick in the 2004 draft out of Texas.
8. Chris Perez, Indians
Now entering his fourth season as Cleveland's closer, he's been an All-Star the past two seasons despite a less-than-awe-inspiring 3.45 ERA and 4-11 record.
Before becoming a closer:
Mediocre middle reliever with St. Louis and Cleveland for two years. Fell into the closer role in 2010 because
Kerry Wood
was injured at the start of the season.
9. J.J. Putz, Diamondbacks
He's had four seasons of 30-plus saves, although he spent three years in between closer jobs. He's another guy who isn't the most durable pitcher around and hasn't pitched 60 innings since 2007.
Before becoming a closer:
Started for three years in the minors for Seattle, moved to the bullpen, spent two years as a mediocre middle guy, but learned the splitter and became a closer at age 29 after Proven Closer
Eddie Guardado
imploded early in 2006.
10. Joel Hanrahan, Red Sox
All-Star closer with the Pirates the past two seasons, but he walked 36 and allowed eight home runs in 59.2 innings last year. Could easily lose the job to former Proven Closer
Andrew Bailey
.
Before becoming a closer:
Didn't make it as a starter with the Dodgers, traded to the Nationals and then to the Pirates. Spent three years as a middle reliever.
One-year wonders
These guys became closers last year, and several of them had dominant seasons. But beware the
John Axford
lesson: One season does not make you a Proven Closer. Do it again and we'll start believing.
11. Fernando Rodney, Rays
After years as basically a bad reliever (22-38 career record., 4.29 ERA), he signed with Tampa Bay and lucked into getting a save in the season's second game as the fourth reliever of the ninth inning in a game against the Yankees. Went on to have one of the greatest relief seasons ever, with a 0.60 ERA and five earned runs allowed. He's already allowed three earned runs in 2013. Was last year a fluke?
Before becoming a closer:
See above. Did save 37 games (with a 4.40 ERA) for the Tigers in 2009.
[+] Enlarge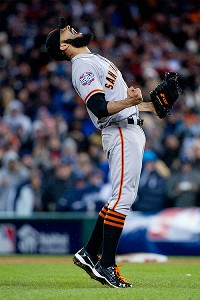 Ron Vesely/MLB Photos/Getty Images)After many seasons as a middle reliever, Sergio Romo finally got the chance to close and got the last out in the 2012 World Series.
12. Sergio Romo, Giants
The slider specialist replaced
Santiago Casilla
, who had replaced the injured
Brian Wilson
. Saved 14 games and then allowed one run in 10.2 postseason innings.
Before becoming a closer:
Not much of a prospect as a 28th-round pick who didn't throw hard, but Romo was an excellent middle guy for four seasons.
13. Ernesto Frieri, Angels
The hard-throwing righty came over after an early-season trade with the Padres, got the closer job after
Jordan Walden
struggled and had a terrific season. Might lose his job anyway if former Journeyman Made Good
Ryan Madson
gets healthy.
Before becoming a closer:
Moved to the bullpen after posting a 3.59 ERA in Double-A in 2009.
14. Jason Motte, Cardinals
Took over the closer role late in 2011 and helped the Cards win the World Series. Saved 42 games with 2.75 ERA last year. Currently injured.
Before becoming a closer:
Spent first three pro seasons as a catcher.
15. Jim Johnson, Orioles
In his first full year as closer he saved 51 games. Rare among closers, he's a ground ball specialist who doesn't register many whiffs (41 in 68.2 innings in 2012).
Before becoming a closer:
A not-very-good minor league starter.
16. Tom Wilhelmsen, Mariners
In his first full year in the majors, he replaced a struggling
Brandon League
. Did just fine with his mid-90s fastball and hammer curve.
Before becoming a closer:
Was bartending.
No, seriously
.
17. Addison Reed, White Sox
Saved 29 games as a rookie, although his 4.75 ERA wasn't exactly Rivera-ish.
Before becoming a closer:
Drafted in the third round out of San Diego State in 2010, he had a dominant relief season in the minors in 2011 (1.26 ERA) that pushed him quickly to the majors.
18. Greg Holland, Royals
Had 16 saves last season, but his job could be in jeopardy after four walks in his first two innings of 2013. Aaron Crow saved Monday's win for the Royals.
Before becoming a closer:
Came out of nowhere to post a 1.80 ERA with the Royals in 2011.
19. Steve Cishek, Marlins
Saved 15 games after expensive Proven Closer
Heath Bell
gakked up several memorable save opportunities.
Before becoming a closer:
The sidearmer was never on prospect radar lists because sidearmers are never on prospect radar lists.
20. Brandon League, Dodgers
Saved 37 games for Seattle in 2011, but lost his job early last season due to general lack of impressiveness. Throws a hard sinker so he gets ground balls but not many K's. Pitched better in 27 innings for the Dodgers last season so they gave him a bunch of money. Control was fine in 2011, not so fine last year.
Before becoming a closer:
Didn't make it as a starter in the minors despite high-90s fastball.
Journeymen Made Good
These guys became closers essentially because their teams didn't have anyone else. Perseverance pays off!
21. Grant Balfour, A's
Hard-throwing Aussie became a closer last year for the first time at age 34.
Before becoming a closer:
Played Australian rules football. OK, not really. Went from Twins to Reds to Brewers before finally having some good years with Tampa Bay.
22. Glen Perkins, Twins
The rare lefty closer had 16 saves a year ago.
Before becoming a closer:
Career 5.06 ERA as a starter in 44 games before moving to the bullpen.
23. Rafael Betancourt, Rockies
At 37 years old, he became a closer for the first time and saved 31 games for Rockies in 2012.
Before becoming a closer:
Has a career 3.13 ERA, so he'd been a good reliever for a lot of years.
24. Jason Grilli, Pirates
The veteran reliever had a career year last year at age 35 with 90 K's in 58.2 innings and took over the closer role when Hanrahan was traded.
Before becoming a closer:
Played for five major league teams before Pittsburgh.
25. Casey Janssen, Blue Jays
Another late bloomer, he got the ninth-inning job after
Sergio Santos
was injured last year.
Before becoming a closer:
The former starter didn't really have a wipeout pitch so he got pushed to the pen.
26. Bobby Parnell, Mets
He's long been heralded as a closer candidate due to his high-octane fastball. Now he'll finally get the opportunity.
Before becoming a closer:
One-time minor league starter has spent past four seasons in the Mets' bullpen.
The Import
27. Kyuji Fujikawa, Cubs
The new Cubs' closer could be good, bad or something in-between. I think he'll be pretty good.
Looking for help
28. Tigers.
The problem with
Phil Coke
as a closer is that Phil Coke just isn't a very good reliever.
Al Alburquerque
and
Brayan Villarreal
have better stuff but not much experience.
29. Brewers.
Axford was signed out of independent ball and had a monster 46-save season for the Brewers in 2011. He's allowed four home runs in 2.2 innings this season and the Brewers may sign Rollie Fingers.
Might not get a save opportunity until May
30. Jose Veras, Astros.
Now 32, he's pitched for the Yankees, Indians, Marlins, Pirates and Brewers and has five career saves.
Before becoming a closer:
The Brewers had the worst bullpen in the majors last year and even they didn't want him back.
August, 12, 2012
8/12/12
11:59
PM ET
You have to love August baseball. This is when the grind of the long season settles in, when depth becomes even more important, when pitchers have to pitch through fatigue and soreness and maybe a little pain. It's when we find out if the pretenders are contenders and whether the favorites really do have the firepower.
August is time for scoreboard-watching. August is time for your ace to go on a five-win hot streak. August is time for the MVP candidates to shine. August is time for big wins, like the one the Giants had on Sunday at home, when
they scored five runs in the bottom of the eighth
to defeat the
Colorado Rockies
. Trade-deadline acquisition
Hunter Pence
had the decisive blow, a three-run home run, his first since joining the Giants. Pence is hitting just .137 with the Giants, but his homer off
Rafael Betancourt
capped a rally started when
Brandon Crawford
's leadoff pop fly fell for a single.
Beginning with the Giants, here are 10 important things you need to know as August rolls on.
1. The Giants have an offense.
Since the All-Star break, the Giants are second in the National League in runs scored to the Nationals, hitting .270 with a .339 on-base percentage, also second in the league.
Buster Posey
, of course, has been on fire, hitting .443 with nine home runs and 32 RBIs since the break. Only Boston's
Adrian Gonzalez
has more post-break RBIs (35).
Melky Cabrera
hasn't slowed down either; his .918 second-half OPS matches his .910 of the first half. If Pence can get going to provide another power threat, the Giants' offense looks even better.
2. Remember Jayson Werth.
Ryan Zimmerman
,
Adam LaRoche
and
Mike Morse
have combined for 23 home runs since the break to power the Nationals, who had their eight-game winning streak snapped Sunday, but Werth provides something the offense has needed all season: A leadoff hitter. Since his return from a broken wrist, Werth has hit .400 with a .500 OBP. On the season, Nationals leadoff hitters rank just 13th in the National League in OBP. "I am totally surprised how my wrist is doing, how I've recovered," Werth
told the Washington Post
a couple days ago. "When I look down at my wrist and I see that scar, it almost reminds me. Like, 'Oh, yeah.' I almost forget about it until I see the hatchet wound." Werth won't ever live up to the $126 million contract, but he's a a huge key as the Nats push for a division title.
3. Who will step up for the Angels behind Jered Weaver?
Can we stop declaring that the Angels are guaranteed to secure one of the AL wild cards? They're 3-8 over the past 11 games after
Jason Vargas
outdueled Weaver on Sunday and have slipped 8 games behind the Rangers in the West, and to fifth in the wild-card race behind the Rays, Orioles, A's and Tigers.
Dan Haren
has allowed at least one home run in nine consecutive starts,
Ervin Santana
continues to pitch like a ticking time bomb and has allowed the most home runs in the majors,
Zack Greinke
has been terrible in two of his three starts with the Angels, including the fifth five-plus walk game of his career, and even
C.J. Wilson
has allowed 27 runs in 29.2 innings over his past five starts. With the starters getting knocked early, the overtaxed Angels bullpen has also been an issue. For all the
Mike Trout
love, the Angels have a good chance of becoming the season's most disappointing -- yes, even more disappointing than the Red Sox.
4. The Rays are scorching hot on the mound.
If pitchers feed off each other, the Rays are like a pack of hungry wolves right now. Tampa Bay owns a 2.33 ERA since the All-Star break and has held opponents to a .200 average in going 17-11. The Rays swept the Twins by
scoring four runs in the top of the 10th
and have won eight of 11 to surge into the wild-card lead with the Orioles. Next up on this road: Trips to Seattle and Anaheim. That four-game series against the Angels looms large and
David Price
and
James Shields
will start the first two games.
5. Jim Leyland is right ... sort of.
The Tigers manager started a minor firestorm when he referred to Mike Trout as "Wonderboy" in suggesting his own
Miguel Cabrera
is deserving of the AL MVP Award so far. Leyland's comments really weren't derogatory, as he was simply referring to the potential of voters getting caught up in Trout's storyline. Hey, he's right in that regard; voters do love a good storyline. It's why
Ichiro Suzuki
won in 2001 over
Jason Giambi
and teammate Bret Boone. Or why
Miguel Tejada
won over
Alex Rodriguez
in 2002. Interestingly, the last "Wonderboy" to challenge for an MVP trophy was A-Rod in 1996, and he finished second to Juan Gonzalez in one of the worst MVP votes of all time.
That's because what MVP voters
really
like is a player who makes the playoffs. It's why
Ryan Braun
beat out
Matt Kemp
in 2011 or why
Joey Votto
collected 31 of 32 first-place over
Albert Pujols
in 2010 despite basically identical numbers. Of the 34 MVP trophies handed out during the wild-card era, only six have gone to players whose teams didn't reach the playoffs: Pujols (2008),
Ryan Howard
(2006), Barry Bonds (2004 and 2001), A-Rod (2003) and Larry Walker (1997). So maybe Trout is the MVP favorite right now, but that all changes if the Angels don't reach the playoffs (the same, of course, can be said for Cabrera).
6. The Cardinals have the same record through 115 games as 2011.
Just like a season ago, the Cardinals are 62-53. However, in 2011 they were just 3 games behind the Brewers and 4 behind wild-card leader Atlanta. While they're 7 behind the Reds in the National League Central, they trail the Braves and Pirates by just 2.5. Like a year ago, the bullpen is struggling -- on Sunday, St. Louis blew a three-run lead in the eighth to the Phillies and
lost in 11 innings
. Of course, we know the bullpen buttoned down last year.
7. The best trade deadline pickup may have been ... Paul Maholm?
Maybe the Braves got the best Cubs pitcher being shopped around. Maholm's record since June 29: Eight starts, eight runs allowed. He's pitched in obscurity for years in Pittsburgh, often with some terrible defensive teams behind him. He doesn't light up the radar gun but his strikeout rate has ticked up a notch this year, perhaps because he's throwing his slider with greater frequency. Oh, another note:
Mike Minor
, much-maligned by Braves fans in the first half, has a 1.99 ERA over his past five starts.
8. Manny Machado is here to stay.
Can a rookie lead the Orioles to the first playoff berth since 1997? In four games since his surprise call-up from Double-A, all the 20-year-old rookie has done is hit three home runs, a double and a triple, scored five runs and knocked in seven. Maybe we have a second Wonderboy.
9. The Yankees are 26-22 since June 18. A-Rod is on the DL. CC Sabathia is again on the DL ...
Since reeling off that 10-game winning streak in mid-June, the Yankees have played just above .500 baseball. They're actually 14-14 over the past 28 games.
Phil Hughes
, having looked better, has returned to being Phil Hughes his past two starts.
Ivan Nova
lives and dies on whether his curveball and slider have enough bite on any given start. Sabathia has a tender elbow.
Andy Pettitte
had a setback. And then there's the offense.
Curtis Granderson
is turning into an extreme all-or-nothing hitter. He has seven homers since the break, but is hitting .218 with a 39/9 SO/BB ratio. Ichiro Suzuki has a sub-.300 OBP since joining the Yankees. And ... the Yankees are still up 5 games in the East.
10. We don't know anything.
Nine teams in the AL are within 5.5 games of a playoff spot. Seven teams are within 5 games of a playoff spot in the NL. That means more than half the teams have legitimate playoff hopes. There is no clear-cut No. 1 team in baseball. We have parity, we have excitement, we have fans filling ballparks (well, at least some of them) and we have a crazy, unpredictable finish ahead of us. Why is that important? Because it gives all of us reason to do plenty of scoreboard-watching.
February, 12, 2011
2/12/11
11:10
AM ET
By
Drew Fairservice
| ESPN.com
Your view of
Colorado Rockies
GM Dan O'Dowd's offseason moves depends on your perspective. If you work in the Rockies' accounting department, you are acutely aware of the large trucks full of money delivered to both
Troy Tulowitzki
and
Carlos Gonzalez
; ensuring two core pieces will breathe mountain air for many years to come. The Rockies also re-signed free-agent rotation mainstay
Jorge De La Rosa
and bullpen anchors
Rafael Betancourt
and
Matt Lindstrom
.
The biggest splash the Rockies made on the open market this winter was a move that wasn't. The Rockies' long-rumored interest in Rangers third baseman
Michael Young
hit a fever pitch when the Rangers "slugger" announced his desire for a trade. The Rockies and Rangers couldn't get a deal together, and both sides stopped just short of pronouncing the deal dead this week. Instead, the Rockies opted for minor moves like acquiring
Jose Lopez
and
Ty Wigginton
. The important question remains: Are they any closer to challenging for the N.L. West crown?
In a word: Yes. The 2010 Rockies won 83 games, finishing 9 games behind the Giants after a wild month of September. Entering the month trailing the division leading Padres (!) by 7 games, the Rockies lost two one-run games to the Giants before rattling off 10 straight wins -- powered solely by Tulowitzki's
hair and good looks
. (Also his home runs: Tulo hit eight in that 10-game span.) Suddenly, the Rockies sat only 2.5 games out of the division lead. Unfortunately for Colorado, that was as close as it got. The Rockies slumped to the finish, eventually losing 15 of their 19 remaining games.
The Rockies proved they have the talent to take a run at the playoffs in 2010 and, by solidifying the core of their team, they're able to add fringe pieces with potential like Lopez and Wigginton. Lopez wore out his welcome in Seattle with a (perceived) bad work ethic and poor plate discipline. Lopez was terrible at the plate in 2010 but can supply some pop -- especially after moving from spacious, right-handed-hitter killing Safeco to Coors Field. Not to mention his excellent defense across nearly all advanced metrics in his first full season at third base.
Wigginton posted equally dire numbers to Lopez at the plate in 2010, without the benefit of superlative defense. Serving as a right-handed utility bat to spell creaky first basemen
Todd Helton
and
Jason Giambi
would be the best option for Wigginton.
Getting full seasons from both
Chris Iannetta
and
Jhoulys Chacin
should only prove the Rockies have one of the best young cores in all of baseball. Adding veteran pieces to address specific concerns is the mark of a good GM. O'Dowd's moves this winter might not be sexy, but his team is a solid pick to take down the Giants in 2011.
Drew Fairservice writes the Blue Jays blog Ghostrunner on First. Follow him on Twitter.