SweetSpot:

Rafael Soriano
July, 29, 2014
Jul 29
12:53
AM ET
By
Christina Kahrl
| ESPN.com
The Marlins' comeback to walk off against the Nationals on Monday was one of those happy reminders that you really do have to play the games. With a Miami win expectation that
FanGraphs pegged at one or two percent
with the Nats up 6-0 after six innings, this is a game the Nationals have to deliver on if they're ever going to put the Braves away in the NL East race. Instead, sometimes the "better" team winds up demonstrating it really isn't that much better than everyone else. In football, they'll talk about the notion of what can happen any given Sunday, but in baseball every day is gameday, and everything -- every move and every outcome -- matters.
Let's start with
Jayson Werth
getting thrown out needlessly challenging
Giancarlo Stanton
's arm on a leadoff single in the seventh -- again, with his team up 6-0 -- and getting injured on the play. Not too many months ago, Nationals manager
Matt Williams
was being hailed for old-school wisdom for pulling
Bryce Harper
out of a game for not hustling. Whatever you make of that, if the side benefit of old-school virtue is having a notoriously fragile regular like Werth hurt himself, maybe the Nats need less, not more of it -- especially if it helps keep their already injury-hampered lineup strong for the stretch.
OK, so maybe Werth's injury doesn't have to be the end of the world, because it's 6-0. Well, sure, except that right field probably isn't
Nate McLouth
's best position, not that he's much of a center fielder these days, either; his six starts in right for Washington this year are more than he's made in the previous five seasons combined. But he is the Nationals' notional fourth outfielder, so in he went. We can probably really only blame him for
Garrett Jones
' seventh-inning triple with two outs -- McLouth dove and didn't even get a glove on the ball. But hey, they were up 6-0, and he hustled, right? Except that scored the Marlins' first run from first base, then created a second two-out run when
Marcell Ozuna
's infield dribbler clanged off
Ian Desmond
's glove.
[+] Enlarge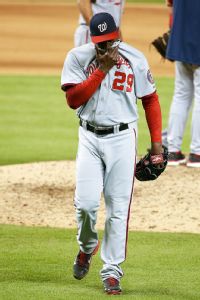 AP Photo/Lynne SladkyIt wasn't Rafael Soriano's night, but he wasn't the only National with a game to forget.
So let's go to the ninth inning: Nats still up by three, save situation, closer in -- all very playbook, all very much as it should be.
Rafael Soriano
had pitched Sunday, but it wasn't like he's been terribly overworked of late. But he simply didn't have it Monday night, generating just one swing-and-miss strike in 26 pitches, and creating trouble at the outset by walking
Casey McGehee
on four pitches. Wrapped around a lone out, Jones pulls Sori for a double to right, Ozuna plates a run on an opposite-field hit (to right),
Jarrod Saltalamacchia
pulls a fly ball for a sac fly (to right), and
Adeiny Hechavarria
triples to right to tie the game. It's enough to give some of you former Little League right fielders flashbacks to your worst day ever.
Anyway, after a hit batsman, that's it for Soriano. First and third, lefty
Chris Yelich
at bat, Williams sensibly brings in lefty
Jerry Blevins
to get the matchup, and wins it with a strikeout. And then skips the last page of the La Russa playbook by leaving Blevins in to face
Jeff Baker
. And if you love Jeff Baker for what he is, this is it, this is all he's for: to face a lefty now and again, and play five or six positions on demand. He has an .858 career OPS versus lefties, .645 against righties. The Marlins had no lefty bat left on the bench; the righty-batting Stanton and McGehee were on deck. This isn't particle physics, certainly not if you or I get it. This is where you're supposed to bore the excited few in Marlins Stadium, pause the action (again) and bring in a righty to keep the game alive.
Craig Stammen
hasn't pitched in almost a week; what's the point of carrying seven relievers if you don't use them?
Williams lets it ride with Blevins, giving Baker his best possible chance to be a hero. Baker executes. Game over, win. Or for the Nats, loss.
Now, sure, we may caution ourselves not to read too much into any one outcome, but sometimes a game in detail can make you wonder, not because it's "just" one loss. Monday's loss for the Nationals in one of those games that should have been won. They were supposed to win because they had six runs on the board and
Jordan Zimmermann
was awesome, because he's pretty reliable that way -- giving up just two runs on five baserunners in seven innings.
But maybe a night like this goes some way toward explaining why the Nationals aren't performing as well as their expected record, which is
four wins better than their current 57
, and five wins ahead of the Braves' expected record. There were things they had in their control that they failed to do. If the devil's in the details, it's interesting to mull these things, especially now when the Nats can't afford any mistakes heading into what looks like a dogfight with the Braves all the way through the next two months. If they aren't using their full roster to their best advantage, they need to start. Maybe they do need to be held accountable for doing dumb things on the bases, but perhaps not the same things Williams has voiced his disapproval about publicly. And perhaps they shouldn't have given a 30-something like McLouth almost $11 million guaranteed for two years after his first good year in five.
It's certainly more interesting to ponder than the pre-fabricated Nats narratives to explain their failures, like noting
Ryan Zimmerman
is hurt (again), that Harper hasn't hit 60 home runs yet/ever/yesterday, or that
Stephen Strasburg
hasn't already put Nolan Ryan in the shade. But if the Nationals fall short of making it into October's action, or have to settle for the one-game play-in, you can bet they'll have more people to hold accountable than just those usual suspects. And they'll need to remember games like this one.
April, 10, 2013
4/10/13
9:00
AM ET
Quick thoughts on Tuesday's games …
April, 9, 2013
4/09/13
12:06
AM ET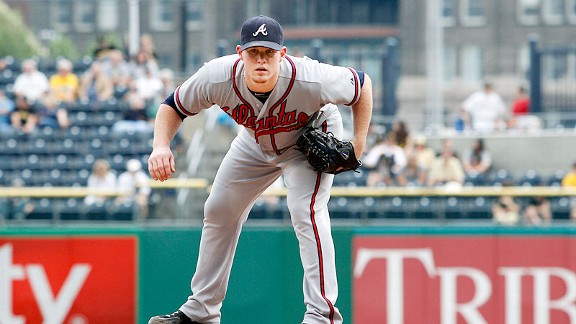 Justin K. Aller/Getty ImagesCraig Kimbrel led the NL in saves last season and is considered the most dominant closer in baseball.
The Tigers need one. The Brewers thought they had one. The Cubs already have a new one. Some teams probably wish they had a different one. Closers are already melting down in rapid fashion.
On Monday afternoon, with closer
Jason Motte
sidelined with a sore elbow (he'll get a new MRI on Tuesday), the Cardinals' bullpen imploded in a
13-4 loss
to the Reds, led by
Mitchell Boggs
giving up seven runs in the ninth inning. Now they might have closer issues as well. Rookie
Trevor Rosenthal
blew a 4-3 lead in the eighth, his second blown "save" of the young season, so he's not necessarily the answer if manager Mike Matheny has lost faith in Boggs.
The Tigers will apparently give
Joaquin Benoit
their next save opportunity, but many think they need to make a trade for a Proven Closer (tm). The problem ... well, there aren't really that many Proven Closers out there. And the truth is, most closers weren't preordained to be closers anyway, many arriving at the role only after failing as starters or finally getting the opportunity in their late 20s. Let's rank all 30 closers and you'll see what I mean.
Proven Closers
These are guys who have done the job for more than one season, thus earning the coveted title of Proven Closer.
1. Craig Kimbrel, Braves
The best ninth-inning guy in the business, coming off maybe the most dominant relief season ever -- he fanned over half the batters he faced -- in the modern era, or what Goose Gossage likes to refer to as "After I retired."
Before becoming a closer:
Groomed as a closer, he's never started a game in pro ball and became Atlanta's closer as a rookie in 2011.
2. Aroldis Chapman, Reds
I'm actually breaking my own rule here since Chapman has only been a closer for less than one season. But unless his control suddenly abandons him, he's obviously the real deal after striking out 122 in 71.2 innings last season.
Before becoming a closer:
Lacked the secondary pitches and stamina to make it as a starter.
3. Mariano Rivera, Yankees
He's old, he basically has one pitch and he's coming off a torn anterior cruciate ligament. Anyone want to bet against him?
Before becoming a closer:
Failed starting pitcher prospect.
4. Jonathan Papelbon, Phillies
Starting his eighth year as a closer, which is entering elevated territory. (Hall of Famer Bruce Sutter, for example, only had seven dominant seasons as a closer.) Papelbon had some not-so-clutch moments last season, however, finishing with four blown saves and six losses.
Before becoming a closer:
Forty-eight of his 58 appearances in the minors and his first three major league appearances came as a starter, but Red Sox converted him to relief.
5. Joe Nathan, Rangers
Not quite the Rivera-like force he was during his Twins days, but still pretty good. Picked up his 300th career save Monday, becoming the 23rd reliever to hit that mark.
Before becoming a closer:
Had a 4.70 ERA in two seasons as a part-time starter for the Giants in 1999-2000, had a 7.29 ERA in the minors in 2001 (5.60 in 2002), made it back, traded to the Twins, then became a closer at age 29.
6. Rafael Soriano, Nationals
Has three seasons as a closer with three different teams, so this will be his fourth year as a closer with his fourth different teams, making him the best example of Proven Closer, Will Travel.
Before becoming a closer:
Spent parts of seven seasons in the majors (starting as a rookie with Seattle), many parts of which were spent on the disabled list.
7. Huston Street, Padres
Now entering his ninth season as a closer, Street has recorded 30-plus saves just twice, as he's often hurt and hasn't pitched 60 innings since 2009.
Before becoming a closer:
Groomed as a closer since Oakland made him the 40th pick in the 2004 draft out of Texas.
8. Chris Perez, Indians
Now entering his fourth season as Cleveland's closer, he's been an All-Star the past two seasons despite a less-than-awe-inspiring 3.45 ERA and 4-11 record.
Before becoming a closer:
Mediocre middle reliever with St. Louis and Cleveland for two years. Fell into the closer role in 2010 because
Kerry Wood
was injured at the start of the season.
9. J.J. Putz, Diamondbacks
He's had four seasons of 30-plus saves, although he spent three years in between closer jobs. He's another guy who isn't the most durable pitcher around and hasn't pitched 60 innings since 2007.
Before becoming a closer:
Started for three years in the minors for Seattle, moved to the bullpen, spent two years as a mediocre middle guy, but learned the splitter and became a closer at age 29 after Proven Closer
Eddie Guardado
imploded early in 2006.
10. Joel Hanrahan, Red Sox
All-Star closer with the Pirates the past two seasons, but he walked 36 and allowed eight home runs in 59.2 innings last year. Could easily lose the job to former Proven Closer
Andrew Bailey
.
Before becoming a closer:
Didn't make it as a starter with the Dodgers, traded to the Nationals and then to the Pirates. Spent three years as a middle reliever.
One-year wonders
These guys became closers last year, and several of them had dominant seasons. But beware the
John Axford
lesson: One season does not make you a Proven Closer. Do it again and we'll start believing.
11. Fernando Rodney, Rays
After years as basically a bad reliever (22-38 career record., 4.29 ERA), he signed with Tampa Bay and lucked into getting a save in the season's second game as the fourth reliever of the ninth inning in a game against the Yankees. Went on to have one of the greatest relief seasons ever, with a 0.60 ERA and five earned runs allowed. He's already allowed three earned runs in 2013. Was last year a fluke?
Before becoming a closer:
See above. Did save 37 games (with a 4.40 ERA) for the Tigers in 2009.
[+] Enlarge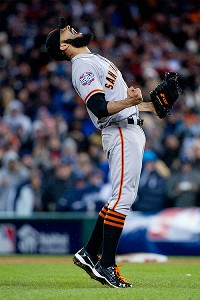 Ron Vesely/MLB Photos/Getty Images)After many seasons as a middle reliever, Sergio Romo finally got the chance to close and got the last out in the 2012 World Series.
12. Sergio Romo, Giants
The slider specialist replaced
Santiago Casilla
, who had replaced the injured
Brian Wilson
. Saved 14 games and then allowed one run in 10.2 postseason innings.
Before becoming a closer:
Not much of a prospect as a 28th-round pick who didn't throw hard, but Romo was an excellent middle guy for four seasons.
13. Ernesto Frieri, Angels
The hard-throwing righty came over after an early-season trade with the Padres, got the closer job after
Jordan Walden
struggled and had a terrific season. Might lose his job anyway if former Journeyman Made Good
Ryan Madson
gets healthy.
Before becoming a closer:
Moved to the bullpen after posting a 3.59 ERA in Double-A in 2009.
14. Jason Motte, Cardinals
Took over the closer role late in 2011 and helped the Cards win the World Series. Saved 42 games with 2.75 ERA last year. Currently injured.
Before becoming a closer:
Spent first three pro seasons as a catcher.
15. Jim Johnson, Orioles
In his first full year as closer he saved 51 games. Rare among closers, he's a ground ball specialist who doesn't register many whiffs (41 in 68.2 innings in 2012).
Before becoming a closer:
A not-very-good minor league starter.
16. Tom Wilhelmsen, Mariners
In his first full year in the majors, he replaced a struggling
Brandon League
. Did just fine with his mid-90s fastball and hammer curve.
Before becoming a closer:
Was bartending.
No, seriously
.
17. Addison Reed, White Sox
Saved 29 games as a rookie, although his 4.75 ERA wasn't exactly Rivera-ish.
Before becoming a closer:
Drafted in the third round out of San Diego State in 2010, he had a dominant relief season in the minors in 2011 (1.26 ERA) that pushed him quickly to the majors.
18. Greg Holland, Royals
Had 16 saves last season, but his job could be in jeopardy after four walks in his first two innings of 2013. Aaron Crow saved Monday's win for the Royals.
Before becoming a closer:
Came out of nowhere to post a 1.80 ERA with the Royals in 2011.
19. Steve Cishek, Marlins
Saved 15 games after expensive Proven Closer
Heath Bell
gakked up several memorable save opportunities.
Before becoming a closer:
The sidearmer was never on prospect radar lists because sidearmers are never on prospect radar lists.
20. Brandon League, Dodgers
Saved 37 games for Seattle in 2011, but lost his job early last season due to general lack of impressiveness. Throws a hard sinker so he gets ground balls but not many K's. Pitched better in 27 innings for the Dodgers last season so they gave him a bunch of money. Control was fine in 2011, not so fine last year.
Before becoming a closer:
Didn't make it as a starter in the minors despite high-90s fastball.
Journeymen Made Good
These guys became closers essentially because their teams didn't have anyone else. Perseverance pays off!
21. Grant Balfour, A's
Hard-throwing Aussie became a closer last year for the first time at age 34.
Before becoming a closer:
Played Australian rules football. OK, not really. Went from Twins to Reds to Brewers before finally having some good years with Tampa Bay.
22. Glen Perkins, Twins
The rare lefty closer had 16 saves a year ago.
Before becoming a closer:
Career 5.06 ERA as a starter in 44 games before moving to the bullpen.
23. Rafael Betancourt, Rockies
At 37 years old, he became a closer for the first time and saved 31 games for Rockies in 2012.
Before becoming a closer:
Has a career 3.13 ERA, so he'd been a good reliever for a lot of years.
24. Jason Grilli, Pirates
The veteran reliever had a career year last year at age 35 with 90 K's in 58.2 innings and took over the closer role when Hanrahan was traded.
Before becoming a closer:
Played for five major league teams before Pittsburgh.
25. Casey Janssen, Blue Jays
Another late bloomer, he got the ninth-inning job after
Sergio Santos
was injured last year.
Before becoming a closer:
The former starter didn't really have a wipeout pitch so he got pushed to the pen.
26. Bobby Parnell, Mets
He's long been heralded as a closer candidate due to his high-octane fastball. Now he'll finally get the opportunity.
Before becoming a closer:
One-time minor league starter has spent past four seasons in the Mets' bullpen.
The Import
27. Kyuji Fujikawa, Cubs
The new Cubs' closer could be good, bad or something in-between. I think he'll be pretty good.
Looking for help
28. Tigers.
The problem with
Phil Coke
as a closer is that Phil Coke just isn't a very good reliever.
Al Alburquerque
and
Brayan Villarreal
have better stuff but not much experience.
29. Brewers.
Axford was signed out of independent ball and had a monster 46-save season for the Brewers in 2011. He's allowed four home runs in 2.2 innings this season and the Brewers may sign Rollie Fingers.
Might not get a save opportunity until May
30. Jose Veras, Astros.
Now 32, he's pitched for the Yankees, Indians, Marlins, Pirates and Brewers and has five career saves.
Before becoming a closer:
The Brewers had the worst bullpen in the majors last year and even they didn't want him back.
February, 16, 2013
2/16/13
11:40
AM ET
By
Bill Baer
| Special to ESPN.com
When you think of the best bullpens, you likely think of the
Cincinnati Reds
and
Atlanta Braves
first and foremost. The two teams featured, by measure of ERA, the highest-quality bullpens in 2012 behind 24-year-old closers
Aroldis Chapman
and
Craig Kimbrel
. As you may expect, both teams did very little over the winter to bolster their bullpens: the Reds signed
Jonathan Broxton
to a three-year, $21 million deal while the Braves acquired
Jordan Walden
from the Angels in a trade for starter
Tommy Hanson
.
Other teams spent a lot of money fixing up their bullpens. In total, nearly $206 million was spent on major league deals for 31 relievers, an average of about $6.6 million per player.
While the Chapmans and Kimbrels of the baseball world are few and far between, many more teams should be following the youth model. Aside from their star closers, the Reds and Braves featured the following players in their bullpens during 2012:
The Reds learned first-hand the risk of spending money on older relievers. They guaranteed $8.5 million to 31-year-old
Ryan Madson
, but he missed all of 2012 with an elbow injury.
Nick Masset
, 30, also earned $2.4 million last season and spent the year on the sidelines with a shoulder injury. In total, the Reds spent $21 million of their $88 million payroll on the bullpen, but the aforementioned six earned just over $10 million. The Braves spent $7.2 million of their $93.5 million payroll on the bullpen, with the aforementioned six earning $5.5 million of that.
Even the
Washington Nationals
, who handed out the most money to a reliever this offseason (
Rafael Soriano
: two years, $28 million), will be utilizing a young and cheap bullpen with
Tyler Clippard
(28),
Drew Storen
(25) and
Ryan Mattheus
(29) among those eating up high-leverage innings. At present, the Nationals have $106.6 million committed, but less than $25 million is devoted to the bullpen.
Staying in the NL East but looking at it from the other side, the Phillies illustrate how superfluous veteran relievers are. The Phillies featured the sixth-best bullpen in baseball by defense-independent standards (that is, looking only at strikeouts, walks, and the rate of groundballs and flyballs). Philadelphia Daily News writer David Murphy pointed out on Twitter that three of their young left-handers --
Antonio Bastardo
,
Jeremy Horst
, and Jake Diekman -- ranked No. 2 through 4 behind Chapman in strikeout rate per nine innings among lefty relievers. Bastardo, who had commonly pitched in the eighth inning, was demoted when the Phillies added two veterans in
Mike Adams
and
Chad Durbin
over the winter, which also effectively pushed Horst and Diekman down a peg as well. Adams and Durbin posted strikeout rates well below the Phillies' three lefties last season.
While the Phillies aren't devoting as high a percentage of their payroll to relievers as some other teams, it is most of that money is very heavily weighted toward veteran relievers
Jonathan Papelbon
and Adams, meaning that they will be hoping they can stay healthy just like the Reds did with Madson and Masset -- gambling, more or less. In reality, the Phillies could have stood pat, invested no more money in their bullpen, and been in equal or better standing.
For one more example, look at the
Oakland Athletics
last year. They had the second-best bullpen ERA in the American League at 2.94. After 34-year-old
Grant Balfour
, the bullpen was comprised almost exclusively of players in their mid-20s. The only relievers they paid $1 million or more to were Balfour ($4 million) and 36-year-old
Brian Fuentes
($5 million), who was injured and ineffective. They acquired exactly zero free-agent relievers over the winter and should be expected to have one of the better bullpens in the league once again.
One need not find and cultivate a Kimbrel or Chapman in the minors to have an extremely effective yet young and cheap bullpen (although the Tigers are hoping
hard-throwing rookie
Bruce Rondon
turns
into a young and cheap closer). Teams can feature a revolving door by devoting low-leverage innings to younger players early on, then promoting them into more important situations later in the season as their performance merits. This is a much more cost-effective, less risky method than simply signing a veteran and handing him high-leverage innings no matter what, simply based on their experience. Remember, even Kimbrel had to be auditioned as he pitched in the seventh inning or earlier in seven of his 21 appearances in 2010, the year he made his debut.
Teams are looking for edges any way they can, however small or seemingly insignificant. The bullpen is one very obvious area where teams can become smarter and more efficient.
Bill Baer runs the Phillies blog Crashburn Alley. You can follow him on Twitter @CrashburnAlley.
January, 15, 2013
1/15/13
5:00
PM ET
You can call it an overreaction to one blown save ... but it was one big blown save.
Sources told ESPN.com's Jerry Crasnick
that the
Washington Nationals
signed free-agent closer
Rafael Soriano
to a two-year, $28 million contract, with a third-year vesting option. Soriano presumably replaces
Drew Storen
-- he of the ninth-inning meltdown against the Cardinals in Game 5 of the Division Series -- and takes over the closer role.
I like the move. You can argue that closers aren't worth $14 million, you can argue that Storen is a quality closer who just had one bad inning at the wrong moment and you can argue that Soriano isn't an upgrade, but from the Nationals' perspective, I see their thinking like this:
1. The goal isn't to build the best team on dollars spent per win but to build the best team possible. Soriano is a good pitcher (Saw this tweet: since 1920, he has the third-lowest WHIP among pitchers with at least 500 innings) and he helps the Nationals.
2. While Storen has a career 2.96 ERA and saved 43 games in 48 chances in 2011 (he was injured part of last season and saved just four games), when you have a championship-caliber team you would prefer to go into the season with certainty at closer. You don't want to spend all season wondering how Storen can handle a playoff game, when there is no margin for error. Plus, he's a guy with an injury history.
3. The Nationals needed depth in the pen anyway with the loss of
Sean Burnett
. Plus,
Tyler Clippard
, who closed until Storen returned last season, has carried a heavy workload the past three seasons, pitching 252 innings, the most of any major league reliever. He looked worn by the end of the season, when he allowed 21 hits in 13.1 innings in the final month. So this gives Davey Johnson a dynamite back end of the pen and allows him to spread the work around.
With
Craig Stammen
,
Ryan Mattheus
,
Christian Garcia
and
Henry Rodriguez
, the Nats have one of the best pens in the league (although Zach Duke is the lone lefty), meaning the club can also monitor the innings of starters
Stephen Strasburg
,
Jordan Zimmermann
and
Ross Detwiler
. It's a long season, and keeping your pitching staff strong and healthy into October is just as important as getting to October.
(The signing also means the Nats don't have to trade Mike Morse for a reliever, as has been speculated. They can keep and use him as depth/injury insurance for the outfield and first base.)
The Nationals will lose their first-round draft pick and the money allocated for that pick, but for a team that can win it all, it's a worthy gamble. Late first-round picks rarely pan out anyway. The Yankees will also gain an additional pick at the end of the first round.
And Scott Boras' own gamble paid off. Soriano turned down his option with the Yankees and ended up getting a contract bigger than many expected ... and a chance to be somebody's closer.
January, 3, 2013
1/03/13
10:00
AM ET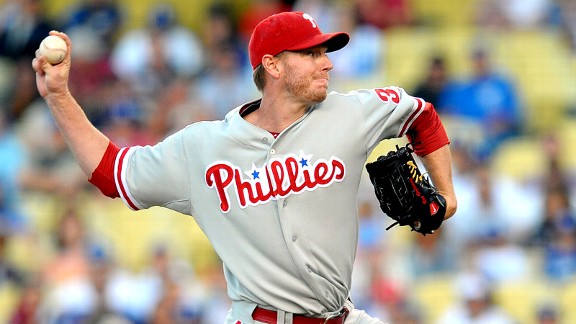 AP PhotosLanding a star like Roy Halladay in the second half of the first round is a rare happening.
One of the big stories of the offseason has been what has happened to the nine free agents who received qualifying offers. Teams had to decide whether to offer their free agents a one-year, $13.3 million contract in order to receive draft-pick compensation if the player signed with another team. The nine players extended such an offer were
Josh Hamilton
,
Zack Greinke
,
Hiroki Kuroda
,
David Ortiz
,
Nick Swisher
,
Michael Bourn
,
Kyle Lohse
,
Rafael Soriano
and
Adam LaRoche
.
Hamilton and Greinke were the top two free agents on the market, Kuroda and Ortiz re-signed with the Yankees and Red Sox, respectively, and Swisher signed with Cleveland, which since it owns a protected top-10 pick, had to forfeit its second-round pick instead of a first-rounder. The other four players remain unsigned, and there has been speculation it's because they're tied to a draft pick -- but not so good, as in the case of Hamilton and Greinke, to entice a big contract . Of course, three of those players are Scott Boras clients, so there are mitigating factors here.
Anyway, it raises the question: What is a draft pick worth? If you're the
Texas Rangers
and you're interested in signing Bourn but would have to give up the 24th pick in the draft, do you still make the plunge?
I went back to all drafts since 1990 to determine the value of each pick, 11 through 30. That's 23 drafts worth of first-rounders. The draft began in 1965, but rules have changed through the years, scouting has improved (high school players were overdrafted in the early years, for example) and by 1990, the college game was fully mature. So let's start there.
Using Baseball-Reference.com, we can add up the total Wins Above Replacement for each draft slot. I divided by 20 to get an average value per slot -- obviously, most players from the past three drafts have yet to reach the majors. Certainly, that average will go up as players accumulate value, but it does give us a decent estimate of what to expect from each slot.
11. Total WAR: 50.4 (2.5 per player)
Best picks:
Andrew McCutchen
,
Max Scherzer
, Shawn Estes,
Neil Walker
In the minors: George Springer
Until the Pirates tabbed McCutchen in 2005, journeyman lefty Estes had been the best player with the 11th pick, making this sort of the black hole of draft positions. Other than Scherzer, there is little else on the horizon, as recent picks like
Justin Smoak
and Tyler Matzek haven't developed.
12. Total WAR: 179.2 (9.0 per player)
Best picks: Nomar Garciaparra,
Jered Weaver
, Billy Wagner, Matt Morris,
Jay Bruce
In the minors: Taylor Jungmann
Some good depth here as well with guys like
Brett Myers
,
Joe Saunders
and Doug Glanville. Wagner, Garciaparra and Morris were taken in 1993-95, all college players.
13. Total WAR: 150.8 (7.5 per player)
Best picks: Manny Ramirez,
Paul Konerko
,
Aaron Hill
,
Chris Sale
In the minors: Brandon Nimmo
Manny accounts for 64.8 of that 150.8 WAR, or 43 percent.
14. Total WAR: 109.8 (5.5 per player)
Best picks: Derrek Lee, Cliff Floyd, Jason Varitek,
Jason Heyward
,
Billy Butler
In the minors: Jose Fernandez
Heyward will end up as the best player on the list.
15. Total WAR: 113.8 (5.7 per player)
Best picks:
Chase Utley
,
Chris Carpenter
, Scott Kazmir,
Stephen Drew
In the minors: Jed Bradley
It's a big drop after those top four players, as the fifth-most valuable has been spare outfielder
Gabe Gross
.
16. Total WAR: 120.8 (6.0 per player)
Best picks:
Lance Berkman
, Shawn Green, Nick Swisher,
Brett Lawrie
In the minors: Lucas Giolito
Lawrie was a Brewers draft pick, traded to the Blue Jays for
Shaun Marcum
.
17. Total WAR: 127.3 (6.4 per player)
Best picks:
Roy Halladay
,
Cole Hamels
, Jeromy Burnitz,
Brad Lidge
In the minors: C.J. Cron
One Hall of Famer, one potential Hall of Famer, a closer who had a couple great years and not much else.
18. Total WAR: 15.1 (0.8 per player)
Best picks:
R.A. Dickey
,
Ike Davis
, Aaron Heilman
In the minors: Kaleb Cowart
And Dickey's value came after he had been let go by four different organizations.
19. Total WAR: 67.7 (3.4 per player)
Best picks:
Alex Rios
, Shannon Stewart,
James Loney
In the minors:
Shelby Miller
This is how difficult it is to extract value from the draft: James Loney was a good first-round pick.
20. Total WAR: 238.7 (11.9 per player)
Best picks: Mike Mussina,
CC Sabathia
,
Torii Hunter
, Adam Kennedy,
Denard Span
In the minors: Tyler Anderson
Two future Hall of Fame pitchers makes this the highest-rated slot here. However, the slot hasn't seen much productivity since Span was selected in 2002.
21. Total WAR: 56.6 (2.8 per player)
Best picks: Jason Varitek (did not sign),
Jake Westbrook
,
Ian Kennedy
In the minors: Lucas Sims
We're counting Varitek in the above total, although the Twins failed to sign him.
22. Total WAR: 94.1 (4.7 per player)
Best picks:
Jayson Werth
, Rick Helling,
Jeremy Guthrie
, Gil Meche,
Matt Thornton
In the minors: Kolten Wong
If we go back before 1990, we get Craig Biggio (1987) and Rafael Palmeiro (1985).
23. Total WAR: 79.1 (4.0 per player)
Best picks:
Jason Kendall
, Aaron Sele,
Jacoby Ellsbury
,
Jeff Francoeur
,
Phil Hughes
In the minors: Christian Yelich
Whatever happened to Bubba Crosby?
24. Total WAR: 51.3 (2.6 per player)
Best picks: Rondell White,
Chad Billingsley
,
Joe Blanton
In the minors: Taylor Guerrieri
No. 4 on the list of best picks:
Brian Bogusevic
. As you can see, getting value is becoming far less likely the lower you go.
25. Total WAR: 58.4 (2.9 per player)
Best picks:
Matt Cain
,
Mike Trout
,
Matt Garza
, Bobby Crosby
In the minors: Joe Ross
Well, OK, then you have Cain and Trout. The odds are slim, but those two names are why teams are reluctant to give up any first-round pick, even one in the 20s, even knowing it's dumb luck as much as anything.
26. Total WAR: 8.7 (0.4 per player)
Best picks: Brent Gates, Jeremy Bonderman, Kelly Wunsch
In the minors: Blake Swihart
This might be the first and only time you'll see Kelly Wunsch's name appear in this blog.
27. Total WAR: 6.6 (0.3 per player)
Best picks:
Rick Porcello
,
Sergio Santos
,
Joey Devine
In the minors: Nick Franklin
Hey, back in 1967, the A's got Vida Blue here.
28. Total WAR: 54.9 (2.7 per player)
Best picks: Charles Johnson,
Colby Rasmus
,
Daric Barton
,
Ben Revere
In the minors: Gerrit Cole (did not sign)
Cole, now in the Pirates system after going first overall in 2011, was originally drafted by the Yankees.
29. Total WAR: 46.9 (2.3 per player)
Best picks:
Adam Wainwright
, Jay Payton,
Carlos Quentin
In the minors: Joe Panik
Wainwright is one of many recent first-rounders the Braves selected out of Georgia, but they traded him as a minor leaguer to the Cardinals for J.D. Drew.
30. Total WAR: 18.4 (0.9 per player)
Best picks: Noah Lowry, Jack Cust, Russ Johnson
In the minors:
Casey Kelly
Best 30th pick of all time: Mike Schmidt.
* * * *
What conclusions can we draw from all this? Since 1990, we're talking 459 players who have been drafted 11th to 30th (with Jason Varitek being drafted twice). The number of "star" players is about 30 -- or less than one in 10, even allowing for those yet to develop.
Most of these picks don't reach the majors or reach it only for a cup of coffee. Some have a a year or two of limited value. Some turn into decent journeyman-type players like Joe Saunders or Joe Blanton. But few accumulate even 10 career WAR. If you sign Michael Bourn to a 4-year or 5-year contract, you'll almost certainly receive that in value (while paying a premium for that value).
Certainly having a pick closer to 10th is more valuable than having a pick closer to 30th. This arguably points to an inequity with the current rules. The Mariners, for example, have the 12th pick in this year's draft. They could be interested in Bourn (and have money to spend), but losing the 12th pick is a lot different than the Rangers losing the 24th pick. Basically, the system helps the teams that are already good (a group that tends to lean towards teams with deeper pockets) since picks late in the first round rarely produce significant big league talent; the system also helps protect the bad teams since they won't lose their first-round pick.
Of course, there is no perfect system. But if I'm the Rangers and if paying Bourn isn't the ultimate issue, I wouldn't worry about losing that first-round pick. Odds are that player isn't Mike Trout or Matt Cain anyway.
May, 4, 2012
5/04/12
2:44
PM ET
By
Marty Bernoski
| ESPN.com
We needed two guests to fill Eric Karabell's shoes as pinch-hitters on Friday's
Baseball Today podcast
and found a pair that filled the void with insightful discussion.
Baseball Tonight's
Doug Glanville
joined me and talked about the impact of the injury to Yankees closer
Mariano Rivera
. Doug explains why he'd give
Rafael Soriano
the first shot at closing even though
David Robertson
may be better suited for the role.
Pablo Sandoval
goes down and we look at the impact of his injury to the offensively challenged Giants. Is there another hitter whose absence would be missed as much?
Breaking news: One of Doug's former teammates,
Bobby Abreu
, signs with the Dodgers. Doug explains the valuable role and the specific skills that Abreu will bring in helping someone like
Dee Gordon
become a better hitter.
Doug's defensive thought of the week is on the role of the warning track, and how it's not anywhere as useful as you might think. He has a lot to say on the subject.
Rays pitching coach Jim Hickey was our guest on the back end of the podcast. The Rays are the hottest team in baseball right now, with a large credit for that going to their bullpen. We run through the process and conversations that went into fixing
Fernando Rodney
.
Though we forgot
Jeff Niemann
, we went through the Rays' rotation starter-by-starter and looked at the keys to their success, and what their future may hold.
What role do the Rays' pitchers play in the team's defensive shifting? Jim explains. He also shared the most unusual strategic decision he's ever played a part in.
All that, and a two-minute-drill style run through four(!) Ridiculous Questions of the Day. Check it out
here
.
June, 9, 2011
6/09/11
9:00
PM ET
By
Christina Kahrl
| ESPN.com
The
glum news
that
Joba Chamberlain
is likely out for the year with a torn ligament in his elbow adds injury to insult in the bad-news Bombers' bullpen. They already had lost
Pedro Feliciano
until July and are still without
Rafael Soriano
for more than a month. As much as the latter signing drew fire for being a decision made against GM Brian Cashman's judgment, by the time July rolls around, with Chamberlain on the shelf, they now may well be glad to have him back.
Chamberlain had been extremely effective this season setting up
Mariano Rivera
. He generally got full frames in the seventh and eighth innings, and usually, but not always, pitched to protect a lead.
It was a structured role in which he was
not
coming into many messy situations with other people's runners on base. Consistent with last year's usage, Girardi sent him into a game to clean up somebody else's mess just six times this season. But even in those pressure situations, Chamberlain nevertheless delivered, stranding eight of 10 inherited runners, or coming out of those situations with zero runs four times out of six. Last year, Chamberlain put up zeroes in 17 of 23 inherited-runner situations.
With Chamberlain out of the picture and Soriano and Feliciano still on the DL, it will be interesting to see how Girardi runs his non-Mo relievers in the meantime. The team's relief fireman this year has been
David Robertson
, as he's come into 14 games already with men on base. He's generally been used in situations earlier than the seventh or eighth inning. Will Girardi want to push back Robertson and situational lefty
Boone Logan
into the later innings to cover for the DL trio? That might risk trusting those tough midgame assignments to the likes of
Luis Ayala
or
Lance Pendleton
or
Amauri Sanit
.
Do the Yankees have ready alternatives? Sure, Scranton's hard-throwing closer, Kevin Whelan, has 30 K's against 23 baserunners in 27 IP while notching 18 saves in 21 opportunities. But the additional complication is that they might be unwilling or unable to cram Whelan onto a 40-man roster that already has two players on the 15-day DL and a half-dozen men on the 60-day DL. When pitchers such as
Phil Hughes
and Feliciano eventually return from the 60-day DL, Cashman will be in a tough situation of either using or potentially losing to waivers the guys they have now.
Chamberlain might already be baseball's active leader in the biggest discrepancy between how much attention he gets compared to how much he's actually managed to pitch in the major leagues. Heading into the fifth year of his career and his first back-to-back seasons in the same role -- as a reliever -- it's worth noting that he is still just 25 years old. Spending the rest of 2011 and a good chunk of 2012 rehabbing from the Tommy John surgery he'll likely need might keep the expense of employing him down in his last two option years. Even then, he'll still potentially be an under-30 free agent looking for an opportunity to define himself as something other than a subject of Big Apple fascination. In the meantime, we can wish him well in his surgery and his recovery -- while recoveries from Tommy John surgery are relatively certain as these things go, no procedure delivers a 100 percent success rate.
Christina Kahrl covers baseball for ESPN.com. You can follow her on Twitter.
May, 17, 2011
5/17/11
1:16
AM ET
Every Monday should be like this. All 30 teams in action.
Cliff Lee
,
David Price
,
Josh Johnson
,
Tim Lincecum
,
Tommy Hanson
and
Brett Anderson
among the day's starting pitchers. The Yankees riding a five-game losing streak going in and facing clubhouse turmoil. Tony La Russa returning from treatment for shingles, wearing sunglasses and ... starting
Albert Pujols
at third base?
Indeed. Let's start there, in St. Louis, and watch a night of baseball in our trusty home office setup with our HDTV, MLB.TV and ESPN.com scoreboard operating simultaneously. By the end of the night, I'll feel a little like
Vin Mazzaro
, my head pounding from baseballs flying all around me.
Philadelphia at St. Louis:
The night begins with Pujols playing third base. According to Rick Hummel of the St. Louis Post-Dispatch, La Russa approached Pujols in the batting cage, and Pujols agreed to his first start at the hot corner since 2002. The move helped keep
Allen Craig
's bat in the lineup, but in right field instead of second base (where he started a game last week), with
Nick Punto
playing second and
Lance Berkman
moving to first as La Russa started eight right-handed bats against Lee. (He did, however, have pitcher
Jake Westbrook
batting ninth.) Pujols started 89 games at third his first two seasons, when he moved among third, first and the outfield, before moving permanently to first base in 2003 when the Cards acquired
Scott Rolen
. He actually rated as a good fielder there and would have been more than adequate if he had remained there. Still, a bit of a quirky move by La Russa. (Too soon for a shingles joke?)
Sure enough, in the top of the second, Pujols bobbles a potential double-play ball, getting just one out, which leads to
Ben Francisco
's RBI single. La Russa adjusts his sunglasses.
New York at Tampa Bay:
David Price is not whom you want to face when trying to end a five-game losing skid, but the Yankees score twice in the second and then take a 5-1 lead on
Curtis Granderson
's long three-run homer to right in the fifth. Price tried to fire a 97 mph fastball past the Grandy Man (sorry, John Sterling made me do it), but it was right down the middle and Granderson became the first left-handed hitter to homer off Price since
Chase Utley
in 2009. It was Granderson's 14th home run of 2011 and, amazingly, his seventh off a left-hander. Entering this season, he was a career .211 hitting against lefties, with 20 home runs in 777 at-bats. He has seven in 40 at-bats in 2011.
Meanwhile,
A.J. Burnett
looks good, and hopefully we can all move on from this
Jorge Posada
nonsense if the Yankees win.
Philadelphia at St. Louis:
Lee just walked
Matt Holliday
(looked like he got pinched by plate umpire Gerry Davis on an inside fastball) and Lance Berkman (fastball way outside) back to back for the second time in the game. Craig strikes out, but
Yadier Molina
reaches on an infield single, Punto bloops an RBI single into right and
Ryan Theriot
bloops another RBI single into right. It's not Lee's night. He'd end up walking a career-high six batters -- after entering with seven walks in 52 1/3 innings. Lee hasn't won since shutting out the Nationals on April 14. His other win came against the Astros, and the Phillies have won just four of his nine starts. It's been some bad luck, but his 3.84 ERA just isn't that impressive in 2011 -- that ranks 33rd among National League starters as I type this.
New York at Tampa Bay:
And just like that, Burnett blows up. I blame Posada.
Sam Fuld
, the pride of New Hampshire, belts a two-run homer in the sixth. Actually, "belts" isn't quite the right word, but Fuld got enough to clear the fence near the foul pole. Then with two outs,
Evan Longoria
reaches on an infield single, Burnett throws a wild pitch,
Matt Joyce
singles in Longoria, Burnett uncorks another wild pitch and then throws a junk curveball that
B.J. Upton
appropriately belts -- right word -- for another home run and a 6-5 Tampa Bay lead.
Cleveland at Kansas City:
Somewhere in here, I noticed the Indians are scoring a bunch of runs in the fourth inning. I figured, "Ahh, another bad start by
Kyle Davies
," but it turns out he left the game in the first inning with what the club called "anterior shoulder soreness." The victim was Vin Mazzaro, who turned in maybe the worst relief outing in major league history. I went back and watched his complete fourth inning, which went like this:
Matt LaPorta
: Soft liner into right field.
Jack Hannahan
: Bounces into a 4-6 force play.
Michael Brantley
: Walks on four pitches. Mazzaro walks off the mound, tugs his hat, spits, and I feel sorry for him knowing what's about to happen.
Asdrubal Cabrera
: Bloops an RBI single into left field.
Shin-Soo Choo
: Mazzaro falls behind two balls, and pitching coach Bob McClure visits the mound. The Royals announcers talk about Mazzaro (who entered in the third) needing to suck up the innings in place of Davies. Choo ends up flying out to deep center.
Carlos Santana
: The announcing crew mentions Mazzaro was scheduled to start Tuesday night and wonders whether the Royals knew Davies' health was a question mark. Santana falls behind 0-2 but ends up working a walk.
Travis Hafner
: Slices a double to left-center as
Melky Cabrera
takes a step in and then stumbles going after it. Let's just say
Andruw Jones
in his prime would have caught it.
Orlando Cabrera
: Slices a liner down the right-field line for an 8-0 lead.
Travis Buck
: Mazzaro reaches his 30th pitch of the inning. I think every breaking ball he's thrown has been low and in the dirt. Buck grounds a ball into the hole that
Alcides Escobar
circles ... but double-clutches on the throw, and Buck beats it out.
LaPorta: Drills a double down the left-field line.
Hannahan: Dribbles a single into right.
Brantley: Drills a 91 mph meatball over the fence for a 10-run inning and 13-0 lead.
A. Cabrera: Mercifully, strikes out.
Now, with a little luck, Mazzaro would have been out of the inning much earlier. But he has no knockout pitch, and I don't think he threw an off-speed pitch for a strike the entire inning. And it would get worse: He'd be responsible for four runs the next inning. His final line score: 2.1 IP, 11 H, 14 R, 14 ER, 3 BB, 2 SO, 1 HR. And one likely trip back to Triple-A.
Philadelphia at St. Louis:
Pujols turns a double play and makes a diving stop for an out on another play. La Russa adjusts his sunglasses.
New York at Tampa Bay:
Joel Peralta
throws two perfect innings, and
Kyle Farnsworth
closes it out with a 1-2-3 ninth, Longoria making a nice scoop on a slow chopper for the final out. There's a little irony in Farnsworth, scorned in New York during his years there and signed for $3.25 million by Tampa this offseason, effectively closing games while
Rafael Soriano
, Tampa's departed closer and now the Yankees' $35 million setup man, pitching poorly and battling a sore elbow. I blame Posada.
Philadelphia at St. Louis:
The Cards' bullpen has been shaky, but
Fernando Salas
breezes through a 1-2-3 ninth. Salas doesn't throw hard, but La Russa hasn't been afraid to use closers who don't light up the radar gun as long they throw strikes. I don't know whether he'll hold the job, but on this night, Salas struck out
Raul Ibanez
and got
Ryan Howard
on a medium-deep fly ball to center and
John Mayberry
on a routine fly to center. During this tough stretch that began last week, the Phillies have gone 1-2 against the Braves, 2-1 against the Marlins, 1-2 against the Braves and now 0-1 against the Cardinals. Chase Utley, you are needed.
San Francisco at Colorado:
I flip over to watch some of this one. Gotta watch Lincecum. I see
Nate Schierholtz
give the Giants a 4-2 lead with a one-handed home run off
Clayton Mortensen
. But then I see Timmy come apart in the bottom of the inning, as the Rockies score five, capped by
Carlos Gonzalez
belting -- correct word -- an outside fastball deep into the trees in right-center. The pitch was up, and CarGo seemed to be sitting dead red and yanked it with authority and had an animated home run trot around the bases. I wonder whether Lincecum took note.
Baltimore over at Boston:
Flip over to Fenway Park, where the Red Sox have rallied from a 6-0 deficit to make it 7-6 by the bottom of the ninth. The bespectacled
Kevin Gregg
is on for the save. He's not my favorite closer in the world.
Jacoby Ellsbury
walks with one out.
Dustin Pedroia
steps in, works the count to 2-2, takes a splitter in the dirt as Ellsbury steals second, fouls a liner down the left-field line, fouls off another pitch, and another one, then works a walk on the ninth pitch of the battle. The proverbial "great at-bat." With the red-hot
Adrian Gonzalez
stepping in, you can predict this ending. He doubles off the Monster on the first pitch. Red Sox win 8-7. Yankees fans blame Posada.
Vin Mazzaro postscript:
It turns out 11 relievers have allowed at least 14 runs (since 1919, via Baseball-Reference.com). But they all did it before 1945, and most were in long outings. The worst: Lefty O'Doul allowed 16 runs in a three-inning stint in a 27-3 loss for the Red Sox to the Indians.
But only three of the runs were earned!
The last reliever to give up as many as 11 runs was Mel Rojas, in
a 22-6 loss
for the Tigers to the Mariners in 1999. Rojas pitched just four more games in his major league career.
Florida at New York:
I thought I was done, but then I see the Marlins and Mets are in extra innings. Marlins reliever
Burke Badenhop
comes up in the 11th with two runners on and two outs. Marlins manager Edwin Rodriguez still has
Ozzie Martinez
left on the bench (he has only 13 position players) but leaves in Badenhop, who is 1-for-23 in his career with 12 strikeouts. Starter Josh Johnson lasted only five innings, so Badenhop is already the team's fifth reliever, but it still seems odd to leave him in with two outs. Sure enough,
Ryota Igarashi
throws a first-pitch curveball for a ball, falls behind 2-0 ... and then Badenhop hits a 3-2 fastball up the middle for an RBI single. In the bottom of the inning, the Mets are out of bench players (
David Wright
was unavailable), so pitcher
Jonathon Niese
pinch-hits with two outs ... and hits a triple off the glove off
Emilio Bonifacio
. That brings up
Jose Reyes
, and I'm pretty sure the night is going to go on forever.
Except Reyes strikes out.
And I think Mets fans blame Jorge Posada.
Meanwhile, out on the West Coast,
Michael Pineda
is throwing zeroes, the A's and Angels are tied at 0 ...
PHOTO OF THE DAY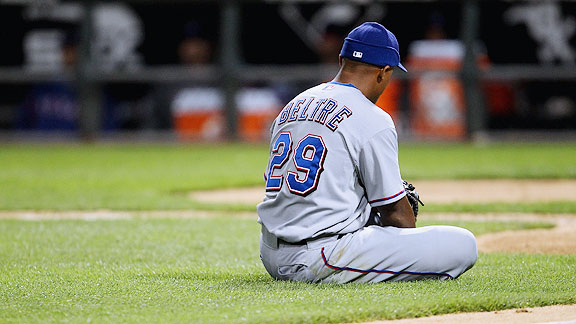 Jonathan Daniel/Getty ImagesPlease, don't disturb Adrian Beltre. He looks pretty comfortable there. Just give him a moment.
Follow Dave on Twitter: @dschoenfield.
May, 11, 2011
5/11/11
3:23
PM ET
Here are the top five reasons why you just can't miss Wednesday's awesome
Baseball Today podcast

with myself and Keith Law, giants in every sense of the word:
1. We look back at the pitcher's duel in South Florida, and wonder if the Marlins are even better than we thought.
2. Is
this
finally the year Reds right-hander Homer Bailey puts it all together? Keith says it wouldn't be such a surprise, and recalls Bailey's draft day value. Plus, who is Bailey's veteran comp?
3. Is it better to be a tall pitcher than a short one? Speaking as two tall baseball analysts, we've got the inside scoop!
4. Hmmm, Rafael Soriano needs an MRI on his elbow ... oh to be a fly on the wall when Brian Cashman discusses his feelings on the matter.
5. We finally get to an interesting email about lineup construction, the myths, the truths and the Ryan Theriots.
Plus: How Albert Pujols fell through the cracks, what should be done with struggling Aroldis Chapman and a comprehensive look at what's on tap for Wednesday's action, all on Baseball Today!
May, 10, 2011
5/10/11
1:05
AM ET
The Minnesota Twins and Boston Red Sox battled for 11 innings on Monday night, and in the end,
Carl Crawford
's double high off the Green Monster plated
Jose Iglesias
with the winning run in a 2-1 victory.
Twins manager Ron Gardenhire, apparently waiting to take the lead before using closer
Matt Capps
, and not wanting to use
Joe Nathan
on back-to-back days, was left with somebody named
Jim Hoey
on the mound. With one out, Hoey walked
Jed Lowrie
-- not necessarily a surprise since Hoey walked 34 in 52 2/3 innings in the minors last season. Iglesias came in as a pinch-runner and Crawford hit a 3-2 pitch off the wall.
We're going to see a lot of games like that this season: low-scoring affairs decided in the late innings. With scoring down, games will be tight, and with close games, late-inning bullpen work may be more important than ever. And if you're relying on Jim Hoey in tie games, chances are you may be 12-21.
Let's do a quick overview of the state of 'pens around baseball.
Three best bullpens on contenders
1. San Francisco Giants: The unheralded secret weapon of last year's champs, the bullpen has picked up where it left off, with
Javier Lopez
,
Sergio Romo
,
Ramon Ramirez
and
Guillermo Mota
throwing lights-out. Closer
Brian Wilson
blew his first save chance but has since converted 11 in a row, despite a little wildness. The team has lefty-righty balance, with lefties
Jeremy Affeldt
and
Dan Runzler
adding solid depth.
2. Florida Marlins: Several arms were added to the Marlins' 'pen after last season's shaky performance and so far they have a 2.59 relief ERA, second only to San Diego's. I believe in this group, although stellar setup man
Clay Hensley
was just placed on the DL with a bruised rib. Closer
Leo Nunez
appeared in 17 of the team's first 32 games, so watch his usage carefully.
3.
New York Yankees
: Yes,
Mariano Rivera
had that little burp, but he's back on track. Setup man
Rafael Soriano
has struggled, but I project he'll turn it around.
Joba Chamberlain
is throwing better than he has in years, and underrated
David Robertson
has one of the nastiest curves you'll see. The 'pen has allowed just five home runs in 95 innings. The big question is whether
Boone Logan
will prove to be a reliable lefty in the absence of
Pedro Feliciano
.
Bullpen doing it with smoke and mirrors right now
Tampa Bay Rays: The Rays have a 2.69 bullpen ERA, third-best in the majors, and have allowed opponents a .203 batting average. They've allowed just 61 hits in 87 innings despite a poor 51/34 strikeout/walk ratio. Some of that is attributable to their defense, but the low strikeout rate means that .203 average will be difficult to maintain. And maybe you believe in
Kyle Farnsworth
more than I do.
Three bullpens I'm worried about
1. Texas Rangers: The Rangers will be fine at closer once
Neftali Feliz
returns, but the rest of the 'pen looks shaky, as it has allowed 16 home runs in just 94 innings and has a poor 66/43 strikeout/walk ratio. Forty-somethings
Darren Oliver
and
Arthur Rhodes
are looking more their age and have surrendered three home runs apiece, and
Darren O'Day
is on the 60-day DL with a torn labrum in his hip.
2. Detroit Tigers: The team's best reliever has been
Al Alburquerque
, and with a name like that, he'd better be good, because we want him to last a long time. Closer
Jose Valverde
is always a tightrope, but the rest of the setup crew, including high-priced free agent
Joaquin Benoit
, has looked inconsistent.
3. Milwaukee Brewers: Brewers relievers already have nine defeats. They have a few good arms in closer
John Axford
and
Zach Braddock
and
Brandon Kintzler
, but control issues have been a problem so far and lack of depth could be an issue.
Two awesome bullpens if you only need two guys
1. Atlanta Braves:
Craig Kimbrel
and
Jonny Venters
are dominant (and
Eric O'Flaherty
provides a nice third guy). We'll have to see whether Venters holds up after pitching 79 games and 83 innings last year, but so far he's been even better than he was in 2010, with a 0.70 WHIP.
2. Boston Red Sox:
Daniel Bard
's raw numbers are great (well, except that 0-3 record, which is not exactly a non-important notation).
Jonathan Papelbon
is back with an 18/2 strikeout/walk ratio. But new acquisitions
Bobby Jenks
and
Dan Wheeler
have been disastrous, leaving a gaping hole after the top two.
Bullpen that may actually be OK
St. Louis Cardinals: The Cards are tied with the Brewers with nine bullpen losses, three by deposed closer
Ryan Franklin
. And while the team may not have a set closer (
Fernando Salas
has the role for now), there are some good arms here.
Jason Motte
,
Mitchell Boggs
and rookie
Eduardo Sanchez
all average more than 93 mph with their fastballs, and Salas throws strikes. Mix in LOOGYs
Trever Miller
and
Brian Tallet
, and I think Tony La Russa will figure out roles that turn this into one of the better 'pens in the NL.
PHOTO OF THE DAY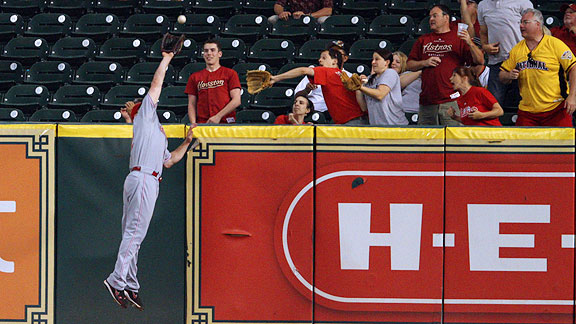 Thomas Campbell/US PresswireStretch! Jay Bruce reached as high as he could, but no dice. That one's gone.
February, 4, 2011
2/04/11
2:30
PM ET
By
Nick Nelson
| ESPN.com
OK, I'll come right out and say it: I don't like the Yankees.
That's probably a dangerous statement to utter on this platform, but hopefully the hordes of pinstripe-faithful will understand. As a Twins fan, the Yankees have been the bane of my existence over the past decade. In Ron Gardenhire's nine years at the helm, Minnesota has lost 54 of 72 regular-season contests against New York. They've also been bumped from the playoffs by the Yankees four times during that span (always in the first round, always without much of a fight).
With this being the case, it seems odd that I find myself in position to talk Yankees fans down off the ledge. But discontent has been building up in the Bronx this offseason, and it hit an apex Thursday when the surprising (at least to me) news came down that
Andy Pettitte
plans on calling it quits
.
Yes, the Yankees missed out on
Cliff Lee
. Yes, their biggest move of the offseason came in the form of a signing that for most clubs would be spectacularly bad. And losing Pettitte hurts. But rest easy, Gotham.
The Yankees will be fine.
For the most part, this is the same team that won 95 games in the treacherous AL East and swept a 94-win Twins team out of the playoffs last year.
It's true Pettitte is gone (at least for now), but injuries wiped out a sizable portion of his 2010 season, and they were fine.
Derek Jeter
and
Alex Rodriguez
might be getting older, but they still rank among the best in the league at their positions.
Mark Teixeira
is due for a rebound.
Robinson Cano
will be a trendy pick for MVP among preseason prognosticators.
The Yankees undoubtedly overpaid for
Rafael Soriano
. It's not hard to see why GM Brian Cashman, a savvy baseball mind, cringed at giving up two draft picks and $35 million for a setup man, whose impact will optimistically shake out to a couple extra wins this year.
But the money and the draft picks don't really matter for New York. They'll keep spending in free agency and above slot in the draft. Overpaying Soriano doesn't matter all that much, and doesn't change the fact that he'll likely combine with
Mariano Rivera
to form the most dominant back-end in baseball.
And of course, there's the trade deadline. The Yankees will have the cash and prospects to wheel-and-deal come July; teams like the Rangers, Phillies and Brewers have benefited hugely from adding a pitcher at the deadline in recent years.
If you're going to sit an offseason out, the Yankees picked the right one. The market was not at all buyer-friendly this winter, and the team carries over enough talent from last year's successful group that they can feel comfortable moving forward without a bunch of major additions.
They'll be fine.
Much to my chagrin.
-- Nick Nelson writes Nick's Twins blog, a blog about the Minnesota Twins.
December, 14, 2009
12/14/09
2:51
AM ET
With the Winter Meetings just a memory and Santa Season upon us, do you really have time to be reading about baseball? If not, please let me know so I can do some shopping ...
*
Are you like me? Do you wonder how
Rafael Soriano
can possibly be worth something like $8 million to a poor franchise like the Rays? It's all about
marginal value of a win
, my friends.
*
Why does Brian Cashman
seem so unconcerned
about who's going to replace
Hideki Matsui
in the lineup? Because of
Juan Miranda
, of course. And yes, Miranda might be good enough, particularly in a platoon.
*
Joe Posnanski's right: the signing of
Jason Kendall
won't make a material difference to the Royals. But as Posnanski writes, it sure does tell us
something large
about the men who
run
the Royals.
*
Everyone's wondering -- for example,
here
-- why the Pirates non-tendered
Matt Capps
. According to GM Neal Huntington, it's because of
that pesky media
.
*
Do No. 1 starters, over the course of the season, tend to face a disproportionate share of No. 1 starters?
For the hundredth time, no.
*
Three things I think we all adore: Baseball, movies, and on-line polls. And when you can combine
those adorable things
? Nirvana. (If you're interested in which three movies got my votes, check the comments here).
*
ESPN's Dan Shulman has picked up
a wonderful honor
. And I'm happy to report that in addition to being an outstanding broadcaster, Shulman is also a wonderfully nice man.
*
It won't be out for a while yet, but Keith Olbermann
really, really likes
reliever
Dirk Hayhurst
's upcoming memoir (for the record, so do I). More when the book is actually available.