December, 6, 2011
12/06/11
11:23
PM ET
DALLAS -- Unable to secure
Jose Reyes
, lacking the money to pursue a big name free agent, perhaps unwilling to trade
David Wright
and commit fully to a rebuilding project, the
New York Mets
instead turned to Plan D, or maybe Plan E or F, at the winter meetings:
Collect a bunch of right-handed relievers for the bullpen
.
In a flurry of moves over an hour or so, the Mets signed relievers
Frank Francisco
(2 years, $12 million) and
Jon Rauch
(1 year, $3.5 million), and reportedly traded center fielder
Angel Pagan
to the
San Francisco Giants
for reliever
Ramon Ramirez
and outfielder
Andres Torres
.
[+] Enlarge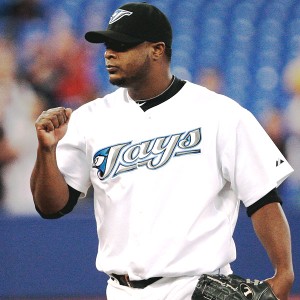 Abelimages/Getty ImagesFrank Francisco got a two-year, $12-million deal to be the Mets' new closer, one of several New York moves.
Certainly, bolstering the bullpen without blowing K-Rod money makes sense: In 2011, Mets' relievers posted a 4.33 ERA, 28th in the majors. Their .267 batting average allowed ranked 28th, their 24 blown saves ranked tied for 23rd (18 more than NL East rival Philadelphia) and their .344 on-base percentage allowed ranked 28th. They fared a little better in categories like strikeout rate and strikeout-to-walk ratio, but no matter how you slice it the pen wasn't good.
A quick capsule of the players they acquired:
Francisco: He'll assume the closer duties, relying on his 93- to 96-mph fastball and split-finger. He's solid if unspectacular and earned the coveted "closer" label primarily by lucking into the job with the 2009 Rangers. He was a flyball pitcher early in his career, but has increased his ground-ball percentage the past two seasons. The biggest concern is that he usually lands on the disabled list once or twice a season and hasn't pitched more than 52 innings in any of the past three years. So even if you make him the closer, you'll likely need a backup closer for 15-20 innings or so.

Rauch: Once named Baseball America's top prospect in the minor leagues (ahead of Albert Pujols), Rauch will be joining his fifth team in five seasons. He's a serviceable middle guy who has closed at times (58 career saves), but has been pretty hittable in recent seasons: 256 hits in 251 innings since 2008, with just 197 strikeouts. He's also been prone to the long ball at various times in his career, including allowing 11 with the Blue Jays in just 52 innings last season. Frankly, I don't see Rauch as any improvement over currents Mets relievers Bobby Parnell, Pedro Beato, Tim Byrdak or Manny Acosta. He's mediocre depth, which I guess isn't the worst thing but doesn't exactly have Mets forgetting Jose Reyes.

Ramirez and Torres: Pagan and Torres is an exchange of center fielders who played well in 2010, but poorly in 2011. Both were in danger of being non-tendered, although on Monday Mets manager Terry Collins had been talking about using Pagan as his leadoff hitter. The biggest issue with Pagan was that his defense notably slipped from 2010. Torres' bat is a question mark, but he'll draw walks and is a more consistent defender. Still, in the end he's nearly 34 with a career .244/.318/.403 line. He's not going to get better. Ramirez is a fastball/slider/changeup type with a career ERA of 3.16 over five-plus seasons. He was terrific in his year-plus with the Giants and there's no reason to necessarily assume it was home-park effect -- he dominated on the road in 2011, with a .157 average allowed.
So, yes, the Mets now have eight or nine relievers to choose from. The Mets were 67-6 when leading after eight innings and 60-10 when leading after seven innings. Those don't seem like high totals, but actually are worse than the league average, so even though there's nothing flashy in these three relievers, the bullpen should be a few wins better in 2012. Sorry, Mets fans: We mean 4-5 wins or so, not 10 or 12. That's an important improvement, sure, but only a small step if the Mets wish to contend in an NL East that could end up being much tougher in 2012.
While blowing fewer late-innings leads will certainly be less frustrating, the big question remains: How many late-inning leads will they have?
May, 10, 2011
5/10/11
1:05
AM ET
The Minnesota Twins and Boston Red Sox battled for 11 innings on Monday night, and in the end,
Carl Crawford
's double high off the Green Monster plated
Jose Iglesias
with the winning run in a 2-1 victory.
Twins manager Ron Gardenhire, apparently waiting to take the lead before using closer
Matt Capps
, and not wanting to use
Joe Nathan
on back-to-back days, was left with somebody named
Jim Hoey
on the mound. With one out, Hoey walked
Jed Lowrie
-- not necessarily a surprise since Hoey walked 34 in 52 2/3 innings in the minors last season. Iglesias came in as a pinch-runner and Crawford hit a 3-2 pitch off the wall.
We're going to see a lot of games like that this season: low-scoring affairs decided in the late innings. With scoring down, games will be tight, and with close games, late-inning bullpen work may be more important than ever. And if you're relying on Jim Hoey in tie games, chances are you may be 12-21.
Let's do a quick overview of the state of 'pens around baseball.
Three best bullpens on contenders
1. San Francisco Giants: The unheralded secret weapon of last year's champs, the bullpen has picked up where it left off, with
Javier Lopez
,
Sergio Romo
,
Ramon Ramirez
and
Guillermo Mota
throwing lights-out. Closer
Brian Wilson
blew his first save chance but has since converted 11 in a row, despite a little wildness. The team has lefty-righty balance, with lefties
Jeremy Affeldt
and
Dan Runzler
adding solid depth.
2. Florida Marlins: Several arms were added to the Marlins' 'pen after last season's shaky performance and so far they have a 2.59 relief ERA, second only to San Diego's. I believe in this group, although stellar setup man
Clay Hensley
was just placed on the DL with a bruised rib. Closer
Leo Nunez
appeared in 17 of the team's first 32 games, so watch his usage carefully.
3.
New York Yankees
: Yes,
Mariano Rivera
had that little burp, but he's back on track. Setup man
Rafael Soriano
has struggled, but I project he'll turn it around.
Joba Chamberlain
is throwing better than he has in years, and underrated
David Robertson
has one of the nastiest curves you'll see. The 'pen has allowed just five home runs in 95 innings. The big question is whether
Boone Logan
will prove to be a reliable lefty in the absence of
Pedro Feliciano
.
Bullpen doing it with smoke and mirrors right now
Tampa Bay Rays: The Rays have a 2.69 bullpen ERA, third-best in the majors, and have allowed opponents a .203 batting average. They've allowed just 61 hits in 87 innings despite a poor 51/34 strikeout/walk ratio. Some of that is attributable to their defense, but the low strikeout rate means that .203 average will be difficult to maintain. And maybe you believe in
Kyle Farnsworth
more than I do.
Three bullpens I'm worried about
1. Texas Rangers: The Rangers will be fine at closer once
Neftali Feliz
returns, but the rest of the 'pen looks shaky, as it has allowed 16 home runs in just 94 innings and has a poor 66/43 strikeout/walk ratio. Forty-somethings
Darren Oliver
and
Arthur Rhodes
are looking more their age and have surrendered three home runs apiece, and
Darren O'Day
is on the 60-day DL with a torn labrum in his hip.
2. Detroit Tigers: The team's best reliever has been
Al Alburquerque
, and with a name like that, he'd better be good, because we want him to last a long time. Closer
Jose Valverde
is always a tightrope, but the rest of the setup crew, including high-priced free agent
Joaquin Benoit
, has looked inconsistent.
3. Milwaukee Brewers: Brewers relievers already have nine defeats. They have a few good arms in closer
John Axford
and
Zach Braddock
and
Brandon Kintzler
, but control issues have been a problem so far and lack of depth could be an issue.
Two awesome bullpens if you only need two guys
1. Atlanta Braves:
Craig Kimbrel
and
Jonny Venters
are dominant (and
Eric O'Flaherty
provides a nice third guy). We'll have to see whether Venters holds up after pitching 79 games and 83 innings last year, but so far he's been even better than he was in 2010, with a 0.70 WHIP.
2. Boston Red Sox:
Daniel Bard
's raw numbers are great (well, except that 0-3 record, which is not exactly a non-important notation).
Jonathan Papelbon
is back with an 18/2 strikeout/walk ratio. But new acquisitions
Bobby Jenks
and
Dan Wheeler
have been disastrous, leaving a gaping hole after the top two.
Bullpen that may actually be OK
St. Louis Cardinals: The Cards are tied with the Brewers with nine bullpen losses, three by deposed closer
Ryan Franklin
. And while the team may not have a set closer (
Fernando Salas
has the role for now), there are some good arms here.
Jason Motte
,
Mitchell Boggs
and rookie
Eduardo Sanchez
all average more than 93 mph with their fastballs, and Salas throws strikes. Mix in LOOGYs
Trever Miller
and
Brian Tallet
, and I think Tony La Russa will figure out roles that turn this into one of the better 'pens in the NL.
PHOTO OF THE DAY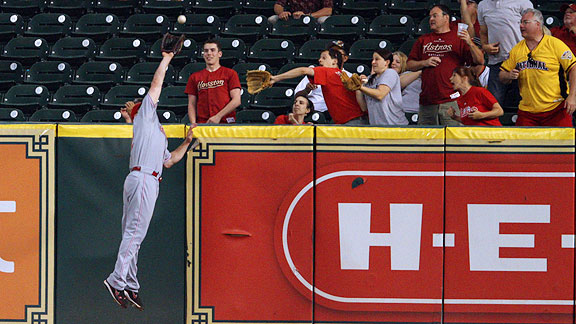 Thomas Campbell/US PresswireStretch! Jay Bruce reached as high as he could, but no dice. That one's gone.
March, 2, 2011
3/02/11
2:00
PM ET
By
Otis Anderson
| ESPN.com
I love pop flies. That's not a normal thing, even for a huge baseball fan to say. I know that. But I love watching good pitching, and inducing popups is good pitching.
Popups are nearly as good as strikeouts. They strand runners, and even the worst infield can turn them into outs. They have an average BABIP of .020.
So who is really good at inducing popups? Here are the leaders in pop-up rate over the past five years (2005-2010) for those pitchers who have faced more than 1,000 batters.
That's a lot of good relievers, DIPS defying Young, and … huh … Colon. But do these guys actually induce a lot of popups? Or do they just induce a lot of fly balls? Presumably a pitcher who generates a lot of fly balls can generate a lot of pop flies as a natural consequence of keeping the ball in the air all the time. Young, in particular, has the highest fly ball rate for that same group of pitchers. He is probably not so good at inducing popups as he is at inducing fly balls, a totally normal percentage of which stay over the infield.
I'm more impressed when a pitcher can manage to turn an abnormal amount of his fly balls into popups. Who are the leaders for the last half of the decade in popups per fly ball (IFFB/FB)?
Mariano Rivera: 50.35%
Cla Meredith: 49.38%
Hiroki Kuroda: 39.80%
Roy Halladay: 38.37%
Jon Lieber: 36.78%
Pedro Feliciano: 35.81%
Joe Nathan: 35.47%
Bartolo Colon: 35.33%
Hideki Okajima: 35.17%
Meredith might be on this list due to luck. He generates so few fly balls (less than 20 percent of all balls in play) that it wouldn't take many extra popups to thrust him into the league leaders. Rivera is not, though. Even though he only has a few hundred fly balls in this sample, extending it back to 2002 shows the same thing: about half of Rivera's fly balls are infield flies. No one else is really in the same neighborhood, except for Meredith's fluky looking rate. Halladay has induced more popups than anyone else on this list. So, that's something else that Halladay is amazing at. Above average strikeouts, groundballs, impeccable control and a little less than half of his flies stay over the dirt.
If you do the math, IFFB/FB looks something like a skill -- certainly more skillish than HR/FB, but considerably less of a skill than strikeout percentage. But the career averages for IFFB/FB are spread far enough apart that you have to think that there is some control that certain pitchers have over it. I don't have pitch selection in this particular data set, but this particular group of names makes me immediately think that having a good cutter is the best way to turn fly balls into popups.
Otis Anderson writes for Bay City Ball, which is part of the SweetSpot blog network.
October, 3, 2010
10/03/10
9:35
PM ET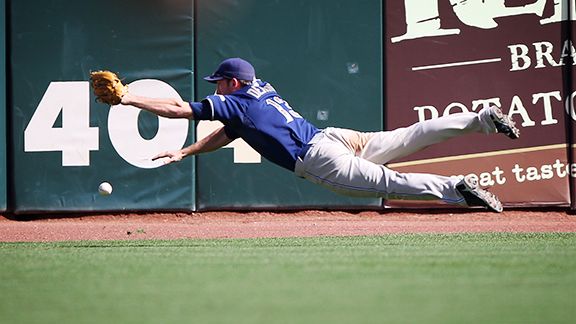 Jed Jacobsohn/MLB Photos/Getty ImagesOutfielder Chris Denorfia and the Padres fell just short on Sunday.
SAN FRANCISCO -- There are games you analyze, and there are games you watch.
The game that decided the National League West and
two
postseason berths was the sort of game you just watch.
After 161 games, what was Bud Black supposed to do? His team hasn't been scoring lately, but then his team really hasn't scored much all season (or last season, or the season before that). The front office worked hard all summer and did add
Ryan Ludwick
and
Miguel Tejada
to the lineup.
But Ludwick didn't hit much and Tejada won his MVP Award a long, long time ago. Black spent all season cobbling together lineups -- and especially outfields -- from a menagerie of spare parts and Triple-A guys and other teams' rejects. The Padres rarely scored, and when they did score without
Adrian Gonzalez
' help it was usually a minor miracle.
So they had to pitch. And when it came to the first through the sixth innings, they had to pitch mostly with guys you'd never heard of.
Jake Peavy
? Gone.
Chris Young
? Hurt. They pitched with guys named Latos and Richard and Stauffer and LeBlanc and Correia. Talented young men, to be sure. But nobody's idea, six months ago, of a pennant-winning rotation.
From the seventh through the ninth, it was quite a bit easier. Most games, Black literally had seven guys in the bullpen who were really, really, really good. It's actually sort of phenomenal, to have that many relief pitchers with strikeout-to-walk ratios so many pitchers would die for.
Edward Mujica
, who hit a little rough patch in September and didn't get to pitch against the Giants this weekend, struck out 72 hitters this season and walked
six
.
Ernesto Frieri
(who did pitch against the Giants, briefly) struck out 41 batters in 32 innings. And those were the relievers Bud Black did
not
particularly trust.
So they had to pitch, and they had to pray. When you're picked to finish in last place and you've got one of the lowest payrolls in the National League, you've got to pray a little.
For most of the season, that recipe -- Adrian Gonzalez, pitching, prayer -- worked really well.
Beginning on the 26th of August, it stopped working. The Padres lost 10 straight games, and their lead in the West went from six-and-a-half games to one game. They eventually lost their lead, but stayed exceptionally close to the Giants until losing three of four games to the Cubs last week, in San Diego. In the three losses, they scored two runs.
That left them needing a miracle this weekend.
They almost got it. They broke through with six runs Friday and four runs Saturday, a 10-run gusher that represented the most runs they'd scored in consecutive wins in nearly three weeks. The Braves lost two games against the Phillies, who weren't even really trying to win. Sunday, another Atlanta loss would guarantee the Padres at least one more game.
Granted, that wouldn't have been a miracle, exactly. What would have been a miracle, almost, was the Braves blowing a six-run lead against those non-trying Phillies ... and it very nearly happened.
Not quite, though.
They didn't need a
miracle
to beat the Giants, and play another day. But in the first inning, they did receive a minor miracle when third-base umpire Mike Everitt ruled that leadoff man
Andres Torres
' drive down the left-field line dropped foul when, as replays suggested, it probably hit the line. Everitt's call probably cost the Giants a run.
There wouldn't be any more minor miracles for the Padres, though. Let alone the full-blown, drop-to-your-knees-and-beg-for-salvation sort. They did get somewhat lucky, as starter
Mat Latos
gave up a bunch of rockets to the Giant hitters but most of them were caught.
If you want to do a little analyzing, you can analyze Bud Black's decision, on the 7th of September, to let Latos throw a season-high 113 pitches in a game against the Dodgers. Maybe if Latos had thrown 93 pitches, he wouldn't have 0-4 with a 10.13 ERA in his next four starts.
But that was a close game, and Latos had thrown
nearly
113 pitches a few times before, and maybe he would have been ineffective down the stretch regardless, considering that he'd never thrown even 125 innings before in one season. The Padres knew Latos might eventually tire, but given their situation they probably had to pitch him ... and pray.
And in Game No. 162, it really didn't matter how well Mat Latos pitched (and despite all those rockets, he gave up only two runs in six innings). Because the Padres didn't score.
Bud Black didn't use
Tony Gwynn
, Jr. He didn't use Jerry Hairston, Jr. He didn't use
Matt Stairs
, or
Oscar Salazar
, or
Aaron Cunningham
. He did (oddly) use
Luis Durango
. But I would challenge any of my brilliant friends to look at Bud Black's bench in Game 162 and come up with a combination of players that would have gotten him three or four runs against the Giants' bullpen.
You want to analyze the game? In the top of the seventh inning, Miguel Tejada batted against
Ramon Ramirez
, with two outs and two on base. Adrian Gonzalez lurked on deck. If Tejada could keep the rally alive, Gonzalez would have a chance to put a completely different spin on things.
Tejada struck out. Maybe Bud Black should have sent up a pinch-hitter for Tejada ... but you don't pinch-hit for your No. 3 hitter. Maybe you should, very occasionally. But you don't. Not in real baseball. Anyway, if Tejada had reached, Bruce Bochy would have gone to a left-hander to face Gonzalez. Which would have left the Padres hoping for another minor miracle.
The Padres just didn't play well enough to beat the Giants in this particular game, and it didn't have anything to do with the managers. The better team won the game, and the championship. In baseball, praying usually isn't enough.