June, 8, 2014
Jun 8
11:15
AM ET
By
Christina Kahrl
| ESPN.com
CHICAGO -- On May 9,
Jose Fernandez
took the ball for the last time in 2014. The Marlins lost the game, and a week later, Fernandez had Tommy John surgery on his elbow. The Fish were four games over .500 and tied for first place in the National League East. You would be forgiven if you were both a rare Marlins fan -- because there aren't a lot of you hardy souls -- and in despair of what the next four and a half months might bring you, absent the team's ace, one of the game's most exciting talents.
Fast-forward a month and the Marlins haven't lost much ground. They are two games over .500 and a game out of first. Perhaps just as important for you lonely Fish fans, they are still as entertaining a team as you might have asked for.
That's because, even without Fernandez, the Marlins still have two of the most entertaining hurlers in baseball: hard-throwing
Nathan Eovaldi
, whose changeup averages 88 mph, and ground-pounding sinkerballer
Henderson Alvarez
, as talented a claimant to the Luis Tiant crown for mound styling as the game might have going for it today. Both are just 24 years old, and both are guys who, perhaps in any other market or on any other team, would be commanding your attention every five days, just the same as their more famous teammate.
[+] Enlarge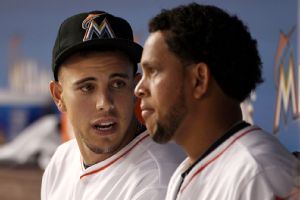 Marc Serota/Getty ImagesJose Fernandez will be back next year, rejoining a rotation Henderson Alvarez will meanwhile keep starring in.
"I've seen guys come up, but I've never before been fortunate enough to be with a group of pitchers this talented," said veteran third baseman
Casey McGehee
. "As bad as it was for us to lose Jose, maybe it was a blessing in disguise, because you see some of these guys taking on leadership in the rotation. And then, when we get Jose back, it's just going to be that much better."
Start with Sunday's starter, Alvarez, and let's look at
the first pitch of Alvarez's starts
: He goes into a deep front-leaning crouch, brings the ball up high, going into an exaggerated windup that looks like a farcical impersonation of Hideo Nomo, and then never does that again in-game.
"He's got the whole first pitch thing. … I'm not sure why he does it, and I don't even want to ask him why he does it. He's different," said Marlins manager
Mike Redmond
.
"Henderson, you never know what you're going to get out of him," Eovaldi said with a chuckle.
Later on, Alvarez will throw a curveball so slow you might mistake it for something knuckleballer
R.A. Dickey
floated to the plate, clocking in somewhere around highway speed limits of 65 mph.
"'The Henderson,'" said Redmond, laughing. "We named it. They asked me if there was a name for it, and that's the first thing I came up with, 'The Henderson.' I have no idea why he does that. He'll throw it maybe once a game, sometimes two times. I really only like to see it once. It scares me. [Laughs.] But he seems to do it at the right time or hasn't had a game where anybody's swung at it yet. I'm not sure why he does that or when he decides that that's going to be the right time for that pitch, but I know he has a plan."
Does the catcher knows it's coming? "I don't think so," Redmond said. "I don't think they have a sign for that. It's just a breaking ball, and he just flips it in there."
But set aside all the antics and you have a guy who has already thrown three complete-game shutouts this season, after Alvarez no-hit the Tigers on the final day of the 2013 season. Beyond all the in-game entertainment that Alvarez provides, he zips through his games with a precision that draws the best possible comparisons.
"He's in a category all his own. You look up in the fourth or fifth inning sometimes and he's at 50 pitches. That's so efficient. He finished that last game at, what 88 [pitches]? That's Maddux-type command and quick contact," Redmond said. "This is a guy, when he's on, he's as good as anybody. He generates a ton of ground balls. When he's down in the zone, he's very effective and gets a lot of quick outs. And that keeps his pitch count down, to generate a lot of ground balls, quick outs and quick contact."
Only in a rotation that boasted Fernandez's brand of magic and Alvarez's antics could Eovaldi wind up being relatively nondescript. All he does is
average
97 mph on his fastball, up a tick or two from his rookie season in 2012. Throwing that hard might obscure Eovaldi's development of a broader arsenal this season, as he works in more breaking pitches to set up his fastball that much more effectively.
But as so many pitchers will tell you, it all starts with fastball location.
[+] Enlarge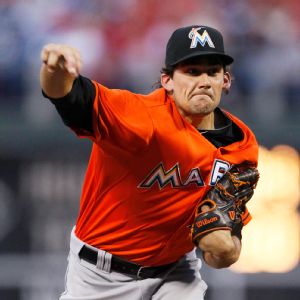 AP Photo/Tom MihalekNathan Eovaldi is just 24 and picking up even more velocity as he develops into an ace.
"I've been able to locate the fastball a lot better this year. I've had more control of it, and my other pitches work off of it," Eovaldi said. "That's been a big key for me. I've been working with [pitching coach] Chuck [Hernandez] a lot, working on the slider more and then using the curveball and the changeup a bit more.
"With the changeup, it's a good weapon to throw to the lefties, but more so the curveball, throwing it for strikes, not just at the beginning of counts and not just as a chase pitch. The curveball for me is a lot slower than everything else for me. Even my changeup is hard, but the curve's a lot slower and it changes batters' eye levels too, and then I can locate my fastball or slider off of that. If I can get a curveball inside on a guy and put them down 0-1, that sets me up to do more with my fastball."
That increasing breadth of weapons with which to attack batters has generated 10 quality starts in 13 turns for Eovaldi, tied for the fourth-best tally in the league with more famous hurlers like
Stephen Strasburg
,
Adam Wainwright
and
Jeff Samardzija
.
And it isn't like the rest of the Fernandez-free rotation is chopped liver. "We all feed off each other. That's the good thing about pitching. If somebody throws seven, eight, nine innings, everybody else feeds off that and makes everyone else better," Eovaldi said. "We haven't had many games when we're out of the game when the starter comes out of the game. If we can keep that up, great."
Tom Koehler
might have once been characterized as an organizational arm, but he throws 94 mph and has put up eight quality starts in 12 turns this year.
Jacob Turner
, the ninth overall selection of the 2009 draft, may seem like he's been around a while because he cracked the majors in 2011 with the Tigers, but he's still just 23 years old and perhaps only beginning to tap into the big sinker that might be his meal ticket. And there's
Randy Wolf
, the veteran southpaw tabbed to fill in for Fernandez as the fifth starter.
Even if having to turn to Wolf to replace Fernandez was an unwanted challenge, Redmond sees a silver lining: "I think it's important to have veteran guys, not just the position players we have but pitchers as well, to teach our guys. We are so young in our rotation; we needed a guy like that to help teach them."
Said McGehee: "Randy's a guy you love to play behind when he's on the mound. He's going to throw strikes; he's going to generate contact. He's very analytical. Just in the little time he's been here, he's had an impact on the younger guys."
What will the future hold? McGehee was willing to make a comparison to his time with the NL Central-winning Brewers of 2011 and the impact of adding an ace to put in front of
Yovani Gallardo
.
"The thing with that, as soon as we traded for
Zack Greinke
, all the pressure was off Yovani, the pressure was off Randy Wolf. We automatically knew how good we were," McGehee said. "I think the day Jose [Fernandez] comes back, it'll be like making the biggest trade you can make but without having to give anybody up. By that time, these guys will all have taken a step forward."
"It's unfortunate that we've lost Jose, but he'll be back next year," adds Eovaldi with the ready and understandable confidence of youth.
In the meantime, the Marlins may make some more noise without him while being as entertaining a team to watch as any you might ask for. In today's parity party, the Fish are tied for a wild-card slot. There's no reason to count them out, even down an ace. They may no longer have three of a kind, but in Alvarez and Eovaldi, it looks like they may still have a pair of aces.
Christina Kahrl writes about MLB for ESPN. You can follow her on Twitter.
March, 27, 2014
Mar 27
12:44
PM ET
We're getting closer ...
Watched the Baltimore-Tampa Bay game on Wednesday night since it featured Opening Day starters Chris Tillman and David Price. Considering the teams are division rivals, both starters may have held back just a bit and neither pitcher went five innings. I think Price has a huge season coming, one reason I'm picking the Rays to win the AL East. Yu Darvish was going to be my Cy Young pick until his current stiff neck issue means he's going to miss the first week of the season and raises at least a little doubt over his season. I may shift now to Price -- or Max Scherzer or Justin Verlander -- as he became a strike-throwing machine when he returned from his DL stint last season, walking just 13 batters over his final 18 starts. When you can command your stuff like that and throw 95+ mph, a lot of good things are going to happen.
The Angels cut Joe Blanton even though he's owed $8.5 million on his contract. Teams still have a hard time admitting mistakes so give Angels GM Jerry DiPoto credit here for cutting bait. It was a bad deal at the time -- Blanton predictably got hammered in the AL after straddling the line of mediocrity in the NL -- and his poor performance (2-14, 6.04 ERA) was a major reason the Angels finished under .500. Blanton was worth -2.0 WAR last year, so even replacement-level pitching from the fifth spot will be an improvement.
Strong final start from Rockies Opening Day starter Jorge De La Rosa, with six shutout innings against the Giants with one walk and seven strikeouts. The Rockies will need Jhoulys Chacin to come back strong in May but I'm starting to think the Rockies could be that sleeper team to watch -- a team that finished below .500 in 2013 that could make the playoffs. A lot of that depends on the health of some injury-prone players -- Carlos Gonzalez, Troy Tulowitzki, Brett Anderson -- but if the back of the rotation holds up the Rockies could crack .500 and surprise.
The Mets still haven't decided between defensive whiz Juan Lagares and stolen-base dude Eric Young Jr. for a starting outfield slot. The Mets know Lagares can play center -- his great range and 15 assists allowed him to post 26 Defensive Runs Saved in 2013, the sixth-highest total of any fielder -- but also know the .281 OBP he posted may not get any better. OK, I get that he can't hit. But EYJR, who led the NL with 46 steals, had a .310 OBP with the Mets last year. Young has been worth 0.3 WAR in his major league career, Lagares valued at 3.5 WAR a year ago. Lagares doesn't have to improve with the bat to be a more valuable player than Young. Even if his defense slips a little (he may not get as many assists, for example), he's still the better player.
The Pirates locked up Starling Marte to a six-year, $31 million extension, buying out at least one year of free agency and owning options on two more. Looks like a great deal for the Pirates, exactly the kind of below-market rate they need to sign their young players to, and once Gregory Polanco reaches the majors at some point this year, you're going to see what could be one of the best defensive outfields in recent memory with Marte in left, Andrew McCutchen in center and Polanco in right.
Tanner Scheppers was named Opening Day starter for the Rangers, in what will be his first career start. I wonder how many pitchers have made their first career start on Opening Day? If I did the search right on Baseball-Reference, it looks like just three (at least since 1914): Lefty Grove of the Philadelphia A's in 1925, Jim Bagby Jr. of the Red Sox in 1938 and Al Gerheauser of the Phillies in 1943. So who were those three guys? Grove had been a star for years for Baltimore in the International League when the A's purchased him. Bagby, son of a former major leaguer, had gone 21-8 in the Class A New York-Penn League in 1937, enough for the Red Sox to start him against the Yankees as a 21-year-old rookie. Boston had been 80-72 in 1937, so starting a rookie seems a little odd. Gerheauser was a 26-year-old minor league vet who had pitched for Yankees' Triple-A club in Newark in 1942. The Phillies had lost 109 games in 1942, so probably were hoping some Yankee magic would rub off on them. (Actually ... that list looks like pitchers who made their major league debut as an Opening Day starter. Fernando Valenzuela's first career start -- after 10 relief appearances in 1980 -- came on Opening Day of 1981. He pitched a shutout and then reeled off seven more starts in a row of nine innings (one wasn't a complete game). He allowed four runs in those eight starts and we had Fernandomania.
So Randy Wolf was told he had made the Mariners' Opening Day rotation. And then got released. So ... what? Apparently, the Mariners asked Wolf to sign a 45-day advanced-consent relief form, which would mean the Mariners could release Wolf within 45 days and not have to pay his full season's salary. I didn't know such a possible contract existed, and I don't know how common such requests are, but Wolf refused to sign it and became a free agent. (Ryan Divish of the Seattle Times has the story here.) It's understandable why the Mariners would make the request -- Wolf didn't pitch in the majors last year and was last effective in 2011 and it's possible he would simply be holding a spot for a few starts until Taijuan Walker is ready, but considering Wolf was set to make just $1 million, it makes the Mariners look petty and cheap. It's already hard enough to get players to come to Seattle; this isn't going to help.
March, 25, 2014
Mar 25
11:16
AM ET
September, 13, 2012
9/13/12
12:55
AM ET
The second wild card is a goofy, ridiculous idea that goes against everything baseball history stands for: That the regular season is the ultimate test of a team's ability, strength and toughness. To get to the playoffs, you have to prove yourself over 162 games; and to get there, baseball requires a higher standard of excellence than other sports.
Which is one reason I didn't like the second wild card; it lowers that bar. And once you're there after playing 162 games, you get one game, do-or-die, to remain alive?
I still have my doubts, but in 2012, I'll admit: The second wild card has added an extra layer of fun.
I'm pretty sure the
Milwaukee Brewers
would agree. I'm not exactly sure when the Brewers hit their low point. Maybe it was when
Rickie Weeks
swung at this pitch
, but more likely it was July 23, 24 and 25, when they lost three games in Philadelphia by identical 7-6 scores, all in the late innings. In the first game,
Francisco Rodriguez
allowed four runs in the bottom of the ninth. The next day, the Phillies scored six runs in the eighth inning. The day after that, the Brewers scored a run in the 10th but gave up two in the bottom of the inning. Two days later,
Zack Greinke
was traded.
And why not? The Brewers were 45-54, 10 games out of the second wild card, the magic of 2011's playoff run a distant memory.
Yet here we are, 44 games later, and the Brewers are three games behind the suddenly plummeting
St. Louis Cardinals
for that suddenly enticing second wild card. On Wednesday, the Brewers completed a three-game sweep of the
Atlanta Braves
thanks to an eight-run explosion in the fifth inning, all the runs in
Milwaukee's 8-2 victory
. The Brewers are 18-5 over their past 23 games, hitting .289 with 36 home runs and 32 stolen bases while averaging 6.1 runs per game. The pitching has been impressive, of course, with a 3.33 ERA and 220 strikeouts in 208 innings.
The fifth inning came from nowhere.
Paul Maholm
, who has been so solid for Atlanta since coming over from the Cubs, was sailing along with just three hits allowed through four innings. The inning began with a
Chipper Jones
fielding error,
Yovani Gallardo
's sacrifice and
Norichika Aoki
's infield single that Jones made a diving stop on but couldn't make a throw. Up stepped Weeks, the 2011 All-Star whose averaged had sunk to .158 on June 10 and remained under .200 through July 24. Since then, however, he's hit .308, slugged over .500 and he hit a 2-1 fastball from Maholm into the bullpen in right-center for his sixth home run of September.
The Brewers weren't done.
Ryan Braun
-- can we finally start talking about him as an MVP candidate? -- singled.
Aramis Ramirez
reached on another infield single that Jones couldn't handle,
Jonathan Lucroy
singled just past a diving
Paul Janish
at shortstop,
Logan Schafer
walked and
Travis Ishikawa
cleared the bases with a double over the head of
Jason Heyward
on a pretty good low-and-away slider from Maholm. That brought in
Cristhian Martinez
and Gallardo finished off the inning with an RBI double.
Hey, it was one of those innings -- two infield hits, a single just past Janish, a double just out of Heyward's reach. It's one of those innings that when they happen in September you start believing in things like luck, karma and chasing down the Cardinals.
Gallardo, in the absence of Greinke, has stepped up since that trade. Other than one bad seven-run outing against the Pirates, he's been terrific over nine starts, giving up two runs or fewer in seven of those starts and three in the eighth. The Brewers have won all nine of those games. And here's a stat that may surprise: Gallardo leads the majors with 24 quality starts, one more than
R.A. Dickey
and
Clayton Kershaw
. Does that make him a Cy Young candidate? No, but he's provided that one consistent presence from an Opening Day rotation that saw
Chris Narveson
go down after two starts,
Randy Wolf
pitch his way out of town with a 5.69 ERA,
Shaun Marcum
miss time and Greinke get traded. The Brewers even had their own less-publicized Operation Shutdown when rookie
Mark Rogers
, who went 3-1 with a 3.92 in seven starts after his recall from the minors, was shut down after his Aug. 31 start.
* * * *
OK, maybe this is where I admit I picked the Brewers to reach the World Series. It was an admittedly left-field prediction, but going out on a limb with at least one pick is part of the fun of spring-training prognosticating. But one reason I believed in them was I did think their offense would be fine, even minus
Prince Fielder
. Indeed, the Brewers have scored the most runs in the National League and one big reason has been Ramirez, who essentially replaced Fielder in the lineup. Compare their numbers:
Fielder, 2011: .299/.415/.566, 38 home runs, 36 doubles
Ramirez, 2012: .296/.361/.529, 23 home runs, 44 doubles
Pretty close, and considering Ramirez plays third base, you can actually argue that Ramirez has been
more
valuable than Fielder (Baseball-Reference Wins Above Replacement: Fielder 4.3 in 2011, Ramirez 4.7 so far.)
What I didn't account for was Wolf pitching so poorly and the bullpen duo of Rodriguez and
John Axford
developing severe cases of pyromania. The Brewers have blown 10 games they led entering the ninth inning. That's terrible beyond words: Entering Wednesday's games, all 30 MLB teams were a collective 1842-91 when leading after nine innings. That's an average of three such losses per team; the Brewers had 10 percent of those defeats all by themselves.
So the Brewers can score. They have an ace. Axford has shaved off his 1890s 'stache, reclaimed his closer role and allowed one hit over his past nine appearances that resulted in eight saves and a win.
Are the Brewers a great team? No, they're 72-71. But this goofy race for the second wild card makes them playoff contenders. Their next six games are against the Mets and slumping Pirates.
Like I said: I dislike the second wild card. And yet I love it.
Now, about those Phillies ...
PHOTO OF THE DAY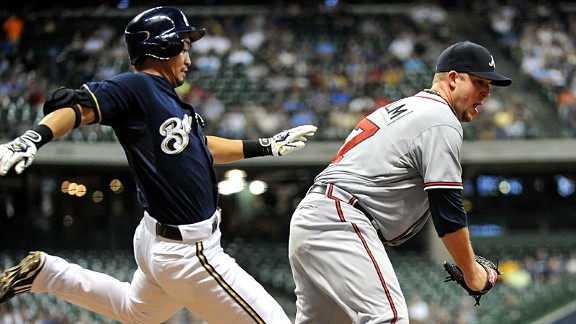 Benny Sieu/US PresswireNori Aoki's legging out an infield hit is the Brewers' case in point: They're not out yet.
June, 11, 2012
6/11/12
11:40
AM ET
First base: Braun and the boys.
I'm not ready yet to give up on the Brewers. Yes, they're 28-32,
Rickie Weeks
is hitting .158,
Nyjer Morgan
has two RBIs (both on solo home runs), they're only 16-17 at home after posting the best home record in the majors in 2011 and they've had injury problems all season. But in the NL Central, 28-32 means they're far from out of it. The fact that so much has gone wrong and the Brewers are just 4.5 games behind the Reds can be viewed as a positive sign.
The main problem has been the pitching: The Brewers are 14th in the NL in runs allowed.
Zack Greinke
, Yovani Gallardo and
Shaun Marcum
still have the potential to be a solid 1-2-3.
Gallardo beat the Padres on Sunday
to improve to 5-5, 4.21. While he's allowed three runs or fewer in 10 of his 13 starts, high pitch counts mean he's pitched more than seven innings just once. That's been an issue with the entire rotation as the Milwaukee has pitched the second-most innings in the NL. While more consistency is expected from Gallardo, the key is No. 4 starter
Randy Wolf
, who is 2-5, 5.45. Take out two starts against the Cubs and his ERA is 6.71. After taking four of six from the Cubs and Padres, the Brewers need to pull off similar results on this week's road trip to Kansas City and Minnesota.
As for
Ryan Braun
, after posting a .994 OPS during his 2011 MVP season, he's at .985 right now with 15 home runs. In other words, if the Brewers' pitching improves and they climb back over .500 and into the race, he's an MVP candidate once again.
Second base: Jason Kipnis is good.
The Cleveland second baseman hit a game-winning three-run homer off St. Louis closer
Jason Motte
in the ninth inning to
give the Indians a 4-1 victory
. According to ESPN Stats & Information, Kipnis turned on a 97.8 up-and-in fastball from Motte, only the third left-handed hitter in the last four seasons to homer on an up-and-in fastball of 97+ mph. Kipnis is hitting .285/.345/.460, ranks second in the AL in runs, eighth in RBIs, has 10 home runs and leads the league with 15 steals while getting caught just once.
Robinson Cano
is probably the deserving All-Star starter right now, but Ron Washington may need to find room for Kipnis on the squad.
Third base: Mariners can't hit at home.
The Mariners scored just six runs in their weekend series against the Dodgers although they managed to win on Friday thanks to the six-pitcher
combined no-hitter
. But after hitting .181 in the three games they're now hitting .192 at home. The Mariners have played 37 road games and just 25 at home; normally, that could be viewed as a good indicator moving forward, but necessarily not with the way Seattle hits at home. It's worth noting that while Seattle's offenses were historically terrible in 2010 and 2011, they did play much better at home those years -- 35-46 in 2010 (25-56 on the road) and 39-45 in 2011 (28-50 on the road). With help from that 21-run outburst in Texas, the Mariners actually rank sixth in the AL in road OPS. They've scored 21 runs over the past nine home games.
Home plate: Tweet of the day.
The Phillies have batted 117 times this season with a runner on third and less than outs. They've scored that run 45 times.
How bad is that 38 percent success rate?
Right now, Phillies are worst situational hitting team in at least 64 years. This will blow your mind: bit.ly/JX82PB



Right now, Phillies are worst situational hitting team in at least 64 years. This will blow your mind: bit.ly/JX82PB

— Matt Gelb (@magelb) June 11, 2012
April, 9, 2012
4/09/12
11:30
AM ET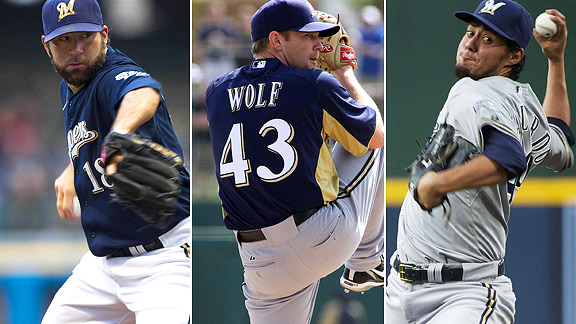 US PresswireShaun Marcum, Randy Wolf and Yovani Gallardo are three-fifths of Milwaukee's rotation.
The
Milwaukee Brewers
have returned all five rotation starters from 2011, a season that was almost certainly the best in franchise history other than 1982. It's a solid group that puts Milwaukee in position to reclaim its NL Central title. It is not, however, a rotation that should be considered elite or ranked among the 10 best in baseball. I put that out on Twitter last week and Brewers fans came attacking like badgers. Wisconsin badgers, I guess. So I called Tom Haudricourt, the Milwaukee Journal Sentinel's veteran Brewers beat writer and asked him for some perspective.
"They went so long without any starting pitching to speak of," Haudricourt said about Brewers fans, "and now they finally have some and they want some credit for it."
The Brewers' passionate fan base is rushing to fill Miller Park at a pace that has team officials expecting to exceed last season's franchise-record attendance mark of more than 3 million fans. Those fans vigorously defend reigning NL MVP
Ryan Braun
as if lab test results showing the presence of exogenous testosterone simply never existed. I realize watching
Prince Fielder
go 5-for-12 with two home runs to begin his Tigers career may send fans running and screaming into the streets of Sheboygan Falls but let's not bet the bratwurst that this 2012 rotation is a pass into the postseason.
Good versus great can be oddly subjective in baseball but a simple numbers crunch is a fair start. After the wave of Twitter outrage from Brewers fans, ESPN Stats & Information analyst Lee Singer ran some numbers and it turned out my suspicion was correct: Using 2011 Wins Above Replacement totals from Baseball-Reference.com for the five pitchers in each 2012 Opening Day rotation, Milwaukee's group does not rank among baseball's 10 best.
2012 starting rotations according to 2011 bWAR
1. Phillies, 22.5
2. Angels, 18.8
3. Tigers, 17.7
4. Yankees, 17.6
5. Diamondbacks, 16.5
6. Rays, 15.3
7. Red Sox, 14.8
8. Giants, 14.2
9. Dodgers, 13.5
10. Nationals, 12.9
11. White Sox, 11.9
12. Brewers, 11.7
"They're in the top group in the National League," Haudricourt said. "There might be other rotations that individually may rank better in across-the-board stats but this rotation just seems to work well in conjunction with their late-inning bullpen." After watching countless closers either land on the disabled list or implode to begin 2012, the Brewers' duo of
Francisco Rodriguez
and
John Axford
seems worth its weight in gold.
Jose Veras
, acquired from Pittsburgh for
Casey McGehee
last December, gives Milwaukee a third reliable reliever. "Ron Roenicke seems really comfortable pulling the starters and giving it to the bullpen," Haudricourt said. "Sometimes your rotation is just better than its stats because of what it does in conjunction with the bullpen. They're very protective in terms of pitch counts -- you won't see any staggering 125- or 130-pitch counts." Indeed, the reliability of that bullpen and Roenicke's willingness to use it is one reason why Milwaukee pitchers posted only one complete game in 2011 but all five Brewers rotation members started at least 28 games and Milwaukee used only six starting pitchers all season.
Last season,
Yovani Gallardo
allowed more than three earned runs only three times in his last 16 starts.
Zack Greinke
had a 2.61 ERA over his final 16 starts. Gallardo, however, can't beat the Cardinals, the Brewers' NL Central rival who have now won five of their past six games in Milwaukee. Following last Friday's Opening Day drubbing in which he allowed three homers in a four-batter span, Gallardo is now 1-9 in 13 starts against St. Louis with a 6.24 ERA, including last year's postseason.
Saturday, Greinke continued to be unbeatable in a Brewers uniform at Miller Park. He's 12-0, 2.91 at home for the Brewers in the regular season with 126 strikeouts in 102 innings. He was, however, just 5-6, 4.70 on the road last season. Rotation aces win on the road and they win critical games against big rivals. Greinke said last month that he's "very comfortable" in Milwaukee and called the organization "amazing" but he's a free agent after the season, just hired a new agent last week and if you don't think
Matt Cain
's new $127.5 million contract just shot Greinke's price through the roof you're kidding yourself.
Shaun Marcum
is also a free agent after this season. After going just 3-4 in 11 starts last August and September, Marcum turned in a 0-3, 14.90 postseason. Marcum was acquired from Toronto for top prospect
Brett Lawrie
, who may be headed toward superstardom with the Blue Jays. The deal could end up rivaling the 1992 trade that sent
Gary Sheffield
to the Padres for
Ricky Bones
, Matt Mieske and
Jose Valentin
as the worst in Brewers history. "When they traded for Marcum they had no idea they were going to be able to get Greinke and they didn't have enough starters," Haudricourt explained. "There's no question the trade is going to work out better in the long run for Toronto and the Brewers readily admit that. But they had close to an 'all-in' year, last year and they just decided to go for it. They knew it was going to bite them in the end."
Any organization which goes "all-in" deserves support from its fan base and kudos to the Brewers brass for not simply claiming tied hands. But if that gamble doesn't pay off tension can increase as the window narrows. Gallardo, Greinke, Marcum,
Randy Wolf
and
Chris Narveson
make up one of the National League's most competitive rotations, one certainly capable of bringing the postseason back to Milwaukee this year. Let's keep in mind, however, that it's a somewhat thin division in a league that fell another step behind the American League this winter.
Steve Berthiaume hosts "Baseball Tonight" on ESPN. Follow Steve on Twitter @SBerthiaumeESPN.
October, 14, 2011
10/14/11
3:36
PM ET
Mark Simon and myself joined forces on Friday's
Baseball Today
. Before you listen, however, take a few seconds to go to
podcastawards.com
and vote for Baseball Today as the best sports podcast -- we're one of 10 finalists. Now, things we discussed:
1. Another crazy game in the AL with a bunch of statistical quirks. Jim Leyland's plan worked out and
Justin Verlander
was good enough to get the win.
2. The NL game wasn't nearly as exciting, but
Randy Wolf
was excellent to get the Brewers even in the series.
4. Mark and I discuss the best League Championship Series ever. Not surprisingly, Mark prefers the 1986 NLCS, but which one do I rank No. 1?
5. We discuss a great email from a reader: Pitchers have struggled this postseason. Are they tired from pitching more in the regular season?
All that plus Simon Says, previewing the weekend action, the Cubs,
CC Sabathia
to the Rangers and more on Friday's Baseball Today. Enjoy the game and the weekend.
September, 22, 2011
9/22/11
12:46
PM ET
Today's postseason question: Who should be the Brewers' No. 1 starter?

Like the Philadelphia Phillies, the Milwaukee Brewers have the luxury of a deep rotation. While none of their top four starters quite match up statistically with the Phillies' three aces, they run four deep with Zack Greinke, Shaun Marcum, Randy Wolf and Yovani Gallardo. You can make a case that any of them deserve to be that guy drawing two starts -- if needed -- in the Division Series.

The Brewers haven't officially announced anything, but it appears they've set it up for Greinke to go in Game 1. He'll start Saturday, but isn't scheduled to start again during the regular season. Marcum starts Monday, followed by Wolf and Gallardo. Fifth starter Chris Narveson likely moves to the bullpen for the postseason.

Right now, the Brewers lead the Diamondbacks for the No. 2 position in the NL by one win. If that holds and the Braves win the wild card, the Brewers open against Atlanta. If Arizona passes Milwaukee and the Braves win the wild card, the Brewers open with the Phillies. If the Cardinals win the wild card, the Brewers will play the Diamondbacks.

Zack Greinke: 15-7, 3.75 ERA, leads NL with 10.7 strikeouts per nine innings, has 2.29 ERA and .222 average allowed in the second half. Greinke has allowed more than two runs just once in his past 12 starts and, as the K rate indicates, has the best stuff on the Milwaukee staff. Two issues: He has never pitched in the postseason and there are questions about how he'll handle the pressure. Also, he has pitched more than seven innings just twice all season, so he is unlikely to go deep into games. He doesn't walk many guys but runs up high pitch counts that can lead to early exits.

Shaun Marcum: 13-7, 3.31 ERA, .225 average allowed on the season, crushes right-handed batters (.192/.238/.321). Marcum has been consistent all season, although he has had two starts in September in which he allowed six runs (to the Rockies) and five runs (to the Phillies), both in Milwaukee. Marcum relies heavily on his cut fastball and it is excellent, but like Greinke, he has never appeared in the postseason.

Randy Wolf: 13-10, 3.61 ERA. When he's on, Wolf can be tough -- he has had 11 starts allowing zero runs or one run, as many as Marcum and four more than Greinke. As a left-hander, he could be the key guy if the Brewers face the Braves, who have the lowest average in the National League against left-handed pitching (.229). Wolf started twice for the Dodgers in the 2009 playoffs, allowing five runs over nine innings.

Yovani Gallardo: 17-10, 3.60 ERA. Gallardo's last two starts, against the Phillies and Reds, were dominant: 13 innings, five hits, three walks, 25 strikeouts. If you want the hot arm, he may be the guy. But he has allowed nine home runs in four starts in September. His curve and slider can make hitters like silly, but he can hang those pitches at times. It's also worth noting that he has a 1.75 ERA in 10 starts this season on five days' rest, but a 3.98 ERA on four days' rest, so he may be the starter to benefit the most with more rest between starts.

No matter how the Brewers line up their rotation, it's one of the things to like about them this postseason: You'd be confident with any of the four guys starting the first game of a series ... or pitching the final game of a series.
June, 19, 2011
6/19/11
12:50
AM ET
By
Susan Petrone
| ESPN.com
In Saturday's slate of interleague play, the Brewers-Red Sox game was intriguing not only for its matchup of two of baseball's best left-handed starters in
Jon Lester
and
Randy Wolf
, but also because it could be a preview of this year's World Series. The Red Sox own the American League's best record, while the Brewers have been one of baseball's hottest teams, going 26-13 in their past 39 games.
Boston won the series opener soundly Friday by a score of 10-4, but in the battle of the southpaws Saturday night, Wolf came out on top as the Brewers beat the Red Sox 4-2. It wasn't for lack of trying by the Red Sox, who pounded out nine hits but managed only two runs. Milwaukee's lineup managed to get the best of Lester early, with back-to-back home runs in the first inning belted by
Rickie Weeks
and
Corey Hart
, as well as another homer hit by former Sox
George Kottaras
in the third inning.
This matchup got me thinking more about left-handed players and the increasing reliance on them. For centuries, left-handedness was looked at as deviant -- the word "sinister" is derived from "sinistra," which means "left-handed" in Latin. Nowadays you're more likely to find a parent trying to teach a kid to be a switch-hitter rather than forcing him to write with his right hand.
Approximately 10 percent of the population is left-handed, but lefties are disproportionately represented in the major leagues. A number of clubs have lefty or switch-hitting-heavy batting orders. In the American League alone, Boston, Cleveland, Seattle and Minnesota all come to mind immediately. Some of the game's most dominant pitchers have been southpaws, both historically (Sandy Koufax,
Randy Johnson
, Warren Spahn) and currently (Lester,
David Price
,
Cliff Lee
,
CC Sabathia
).
In addition to the lefty-versus-lefty pitching matchup, another intriguing aspect to the game was the contrast of Boston's lefty-heavy lineup, versus the strong rightward lean in Milwaukee. Boston had four lefty or switch-hitting batters in their lineup, a strategy that usually works well against right-handed pitchers but is no guarantee of success against lefties. Lester was 9-2 with a 3.73 ERA going into Saturday night's game, but Milwaukee has done well against left-handed pitchers over the past several seasons. Whatever left-handed mojo Lester had working against AL teams didn't seem to faze the Brewers' lineup.
Boston got off to an infamously bad start this season, but has worked overtime to let all the Vegas bookies who gave them short odds to win it all this year know their predictions were not in vain. Meanwhile, perhaps the only thing standing between Milwaukee and their second pennant is the
Philadelphia Phillies
. The Brewers are 2-1 against the Phillies so far and won't play them again until the beginning of September, but with
Zack Greinke
back from the DL, the Brewers' chances of playing in October are looking better and better with every series.
Interleague play is sometimes looked at as a distraction, a chore, or a chance to play some games that your team doesn't "have" to win. From 1997 to 2002, each team played against teams from their counterpart division (e.g., AL Central versus NL Central). Now teams play against teams from any division. I have never been a huge fan of interleague play. Growing up in an American League city, I loved the terra incognita feel of seeing the National League team for perhaps the first time during the World Series. It was like hanging out with the foreign exchange student in high school: Can you speak English? I like your uniform. Wow, pitchers bat where you come from?
As I have gotten older, I have come to appreciate interleague play a little bit more. The chance to see two teams who could likely face each other in the World Series is one of the happy coincidences of the expanded interleague schedule. If we do have a Brewers-Red Sox World Series, it'll be fascinating to see how left-handed hitter
David Ortiz
fares against a team with two southpaws in its starting rotation. Over his career, Ortiz has been inconsistent in his performance against left-handed pitching. While he had the chance to see Wolf's stuff Saturday, going 1-for-3 with a walk, he hasn't faced southpaw
Chris Narveson
. In a seven-game series, he might have to face both of them.
I'm not sure if we could term the Red Sox sinistrophiles or not, but they did rely on their lefties up to the bitter end Saturday night, even sending in switch-hitting
Drew Sutton
-- batting lefty, of course -- as a pinch hitter in the bottom of the ninth with two outs. It didn't produce the heroic ending they might have hoped for: Sutton grounded out to
Prince Fielder
who, yes, is also left-handed. Features like that get me to thinking it could be a very gauche World Series, in a manner of speaking.
PHOTO OF THE DAY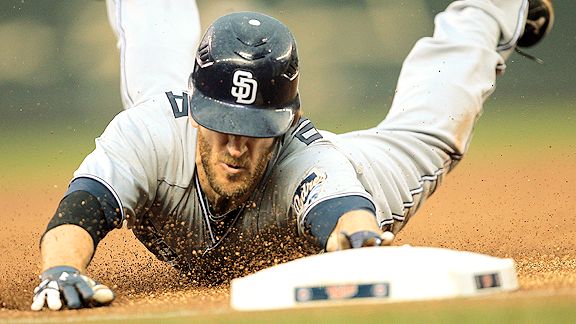 Jesse Johnson/US PresswireChris Denorfia says, "Mine," but third was as far as any Pad person got against Scott Baker.
Susan Petrone writes about the Cleveland Indians for the SweetSpot network at It's Pronounced 'Lajaway'. If you follow her on Twitter, she might say something that will amuse you.
February, 9, 2010
2/09/10
2:38
PM ET
Why didn't the Dodgers offer arbitration to
Randy Wolf
? Frank McCourt address this question and many, many more in Jon Weisman's
wide-ranging interview
.

"I think that the downside wouldn't have been horrible," McCourt said, "because he's a very good pitcher, and he pitched very well for us and he was a model citizen. From the area, really classy young man and so forth. But the judgment was made, and again, judgments are judgments. They're not perfect. No one has a crystal ball.

"I, by the way, can see both sides of this debate, very, very clearly. To me this is one really good baseball debate, in terms of 'Do you or don't you.' I think, like I was saying before, what would have happened (if we had offered arbitration), maybe Randy Wolf knows, but I don't. And I don't think the downside would have been bad for the organization, because he's a good pitcher and a good guy, but I think that the judgment was made that we (could) do even better for the club."

That decision will certainly be tested, as will the one with Hudson. The second baseman's signing last week of a one-year, $5 million contract with Minnesota might have vindicated the Dodgers' decision on him, since Hudson could potentially have earned twice that amount in salary arbitration, based on the typical raise awarded to an arbitration-eligible player who earned $8 million the year before.

The roughly $5 million the Dodgers saved can help make up for the lost draft picks had Hudson refused arbitration -- after all, the chances of a low first-round pick earning back the team's investment in him, plus $5 million, aren't all that high -- while the combination of Blake DeWitt, Jamey Carroll and Ronnie Belliard could come close to approximating Hudson's 2010 value, while saving another $2.5 million or so.

Arbitration for veteran players is a losing proposition for the club, because the player will be paid for what he's done (and earned) rather than what he'll do (and should earn). There was a time, not so long ago, when clubs would offer arbitration to essentially anybody who could play reasonably well, regardless of the ultimate cost.
Those days are gone.
If
Orlando Hudson
wound up getting $5 million but he'd have cost the Dodgers $10 million, doesn't that mean they would have overpaid by $5 million. Well, that depends on how you look at it. Maybe he'll actually be worth $8 million, in which case they would have been overpaying by only $10 million. Or he might actually be worth $10 million.
Wolf who presumably would have been in line for at least $8 million and probably more in arbitration, and wound up signing with the Brewers for three years and $30 million. The Dodgers probably miscalculated here, because if Wolf's agent knew a contract like that was out there, they probably wouldn't have accepted arbitration and the Dodgers would have picked up a couple of draft picks, essentially for free.
But that's what McCourt means by "judgments." In the case of Hudson the Dodgers' judgment was probably correct; in the case of Wolf it probably wasn't. The trick is to avoid a one-size-fits-all mindset, but could a group of reasonable people have known that Wolf would get 30 million and Hudson only five?
I don't know. I do look at the Dodgers' roster and see only a few question marks:
1. Will
James Loney
hit like a first baseman is supposed to?
2. Will Joe Torre find a gem among all those second base candidates?
3. Who will be the Dodgers' No. 5 starter?
Yes, there would be just one question mark if the Dodgers had ponied up for Wolf and Hudson, and the Dodgers would be the clear favorites to win the West (again). But if McCourt really is plowing all that Wolf/Hudson money into the future, the departure of those two short time Dodgers will be hardly remembered.
December, 11, 2009
12/11/09
6:07
PM ET
As Larry Stone writes, all those free-agent bargains that everyone was expecting
might not actually be there
:

I got a hint of that before the winter meetings when a couple of GMs complained privately about the Phillies' signing of third baseman Placido Polanco to a three-year, $18 million deal. They were dismayed that Polanco, who hadn't played third-base regularly since 2002, got three years.

Then the winter meetings started, producing more deals that were groaners for teams hoping to sneak in a bargain or two. The one that seems to be getting the most grief is Houston's three-year, $15 million contract for reliever Brandon Lyon. There were eyebrows raised over other deals given to non-closing relievers, who once upon time were a breed that teams could pick up cheaply on the free-agent market. But LaTroy Hawkins (two years, $7.5 million), Billy Wagner ($7 million guaranteed) and Lyon are making teams wonder about that. And when Brad Penny, coming off two lousy years, gets $7.5 million, and Rich Harden, who can never stay healthy, gets $6.5 million plus incentives, and Randy Wolf gets $29.75 over three, then it's looking like a definite seller's market.

I'm not so sure about that. There was some crazy stuff last year. Especially
Bobby Abreu
signing for $5 million guaranteed.
I mean, sure: the relievers have been getting too much. If there's one thing that GMs still haven't figured out well enough, it's that relief pitchers are highly fungible. That said, only the Lyon contract is patently ridiculous. Hawkins is solid, and Wagner isn't far removed from being one of the game's better relievers. Penny was hurt in 2008 and terribly unlucky in 2009 (until he joined the Giants, for whom he was incredibly lucky), but he's been a good pitcher for a long time.
Polanco? He's been worth about $40 million over the last three years; does $18 million over the next three years really seem out of line? No, he hasn't played third base lately. But he has played third base, and played it well.
Wolf? He's been worth $22 million over the last two years; does $30 million over the next three seem out of line? Yeah, a little bit. It's not crazy, though.
I'm not ready to draw any conclusions yet, except that baseball guys still overvalue relievers who throw hard. And we're not talking gigantic amounts of money here. There hasn't been a single contract given out this winter that ranks among the 20 worst free-agent deals of the last five years. Maybe we'll see one, still. But we haven't, yet. In the old days -- I mean, like two or three years ago -- the baseball teams wildly overspent. Last year, maybe they overcompensated a bit because of the economy. Now, everyone seems to discovered a natural balance. It's strange, all this sanity.
December, 9, 2009
12/09/09
2:04
PM ET
Along with news of today's big deal,
a bit of analysis
:

Another one bites the dust.

[+] Enlarge

AP Photo/Tom MihalekRandy Wolf reportedly inked a three-year deal worth just under $30 million with the Brewers.



An already weak crop of free agent starters just took another hit as left-hander Randy Wolf has reportedly inked a three-year deal deal worth just under $30 million with the Milwaukee Brewers.

--snip--

As a Type A free agent, it was believed that he might once again struggle to find a team willing to offer him a multi-year deal as the signing club would be forced to surrender draft pick compensation to Los Angeles.

There was even talk that Wolf might be better served to accept arbitration and return on yet another one-year deal.

The perennially short-sighted Dodgers, however, were worried Wolf would accept and didn't want to pay him the $8-10 million it was believed he could earn via arbitration.

As such, the club foolishly chose not to offer him arbitration and he immediately became one of the most desirable free agents on the market.

I don't know if the Dodgers are "perennially short-sighted," but this does seem an odd decision. Isn't giving up Wolf for nothing (except a bit of payroll relief) worse than the other two possibilities? Wouldn't a fairly reasonable one-year deal have been the best thing for a rich club like the Dodgers? Well, we'll see what their rotation looks like in a few months.
Meanwhile, the Dodgers' loss is not necessarily the Brewers' gain. Wolf's contract necessarily calls to mind
Jeff Suppan
's. Three years ago, he signed a four-year deal worth $42 million. Since then, he's 29-34 with a 4.93 ERA. He's gotten worse every season, with another yet to come. He was almost 32 when he signed the deal; Wolf is 33. Suppan was hailed for his ability to "eat innings"; Wolf is supposed to do the same (even though he's topped 200 innings only four times).
Wolf and Suppan are far from perfect comparables. Suppan's strikeout rates were low, and his strikeout-to-walk ratios unimpressive. Wolf's strikeout rates are fine, his ratios the same. We know that strikeout pitchers age better than finesse pitchers, generally.
The Suppan contract was simply foolish, a product of its times. We'll not see its like again, or at least not often. Is Wolf's contract the last of its kind, too? Probably not. Wolf's contract does suggest that the rich teams will
not
get all the good players. All or most of the great ones, sure. But it's not hard for a small-market team like the Brewers to justify overspending by just a million or two a year, and often that's all it takes to get a guy signed.
Wolf's contract also suggests something far more interesting about baseball's economics. But that something will have to wait for another post ...
(H/T: BTF's
Newsstand
)
October, 15, 2009
10/15/09
4:13
PM ET
Joe Torre has chosen
Vicente Padilla
as his Game 2 starter, and Dave Cameron
thinks that is one big mistake
:

Padilla has pitched better than anyone could have expected since joining the Dodgers, running a 3.40 FIP in seven starts, then shutting out the Cardinals in the first round. However, Padilla has a long track record of having significant problems against left-handed batters.

--snip--



This isn't some small sample fluke. Padilla will always struggle against LHBs with his repertoire. And, wouldn't you know, the Phillies have some pretty good left-handed hitters. Between Shane Victorino, Jimmy Rollins, Chase Utley, Ryan Howard, and Raul Ibanez, Padilla's going to be staring down one of the best collections of left-handed bats in the game.



I understand the desire to play the hot hand, and Padilla is throwing better in LA than he has in years, but this is still a really bad match-up for him. In this case, Torre's simply weighting recent performance far too heavily. Pitching well or not, he's still penciling in Vicente Padilla for two starts in the NLCS, and that's not a good decision.

I can't agree more. There's a tendency for managers, especially when he's got a new and suddenly successful player, to believe that somehow the player has changed. Perhaps due to better coaching, or perhaps due to the proverbial "change of scenery." But as Cameron notes, we're not talking about some kid here. Padilla has been around for a while. In his long and exactly average career, Padilla has struck out roughly six batters per nine innings. In his time with the Dodgers, though -- 46 innings, including his
seven zeroes against the Cardinals
last week -- he's struck out nearly nine per nine innings.


And that's not just because he switched from the American League to the National; Padilla's spent most of his career in the National League.


If the NLCS goes seven games, Padilla will get two starts and Randy Wolf just one. In his career, the left-handed Wolf has limited left-handed hitters to a .222/.293/.377 line. In the right-handed Padilla's career -- roughly the same length as Wolf's -- he's been knocked around by lefties pretty good: .297/.380/.479. Those numbers are dramatic. Against lefties, Padilla's batting average allowed is higher than Wolf's on-base average allowed, and his on-base average allowed higher than Wolf's slugging average.


The Dodgers would seem to have two big advantages in this series: they have many right-handed hitters to counter the Phillies' many left-handed starting pitchers; and they have many left-handed starting pitchers to counter the Phillies' many left-handed hitters. But Torre, based on the grand total of 46 innings, seems willing to give away, to some degree at least, one of those advantages.