SweetSpot:

Reggie Jackson
June, 6, 2013
6/06/13
4:00
PM ET
1965: Reds draft Johnny Bench
Back in the first draft, it was still possible to dig up a relatively unknown kid from rural Oklahoma. Bench wasn't selected until the second round -- the 36th player overall -- and seven other catchers went ahead of him. Jim McLaughlin, the Reds' farm director in 1965, in Kevin Kerrane's classic book on scouting, "Dollar Sign on the Muscle":
A friend of mine with another club said, "You better send someone down to Binger, Oklahoma, to look at this kid Bench. We're not gonna draft him because the general manager's seen another he likes up in New England." ... They took that New England catcher on the first round, and the kid never got above Double A. And we took Bench on the second round. It was kind of a poker game. Nobody else knew much about him; his team hadn't played many games, and our scout was usually the only one there, so we could wait. After the draft Bill DeWitt, my boss, said, "I've never heard of him." I said, "I know you haven't, but you will. And that's why you hired me -- to hear about kids like this one."
Does McLaughlin's story check out? Sort of. There was no catcher from New England drafted in the first round, but the Orioles did take a catcher from Dartmouth in the second round -- one pick ahead of Bench. As to the claim that nobody else knew about Bench, at least
one
other team saw him: the Dodgers drafted a high school teammate of Bench's in the seventh round, but passed twice on selecting Bench.
1966: Reggie Jackson falls into A's lap
In one of the more famous draft blunders, the Mets' had the No. 1 pick and passed on Arizona State outfielder Jackson to select a high school catcher named Steve Chilcott, who would battle injuries and never reach the majors. "It was a position pick," said Joe McDonald, a Mets executive at the time. "We did not feel we had an adequate catching prospect in the organization."
1966: Braves draft Tom Seaver
The Braves? Yep. Atlanta selected Seaver in the now non-existent January secondary phase of the draft (for players who had previously been drafted). Seaver, pitching at USC, had been drafted the previous June by the Dodgers, but didn't sign after the Dodgers turned down his $70,000 asking price. The Braves took him with the 20th pick of the January phase, setting off a weird chain of events. The Braves signed Seaver for $40,000, but commissioner Spike Eckert ruled Seaver was ineligible to sign because USC had already played two exhibition games (Seaver didn't pitch). But the NCAA then declared Seaver ineligible, because he had signed a pro contract. So Eckert ruled that any team willing to match the Braves' offer would enter a lottery. The Mets, Phillies and Indians matched, and the Mets won the lottery.
1971: George Brett and Mike Schmidt drafted back-to-back
Pretty cool that arguably the two greatest third basemen in history were drafted the same year with consecutive picks. The catch: They went in the second round, Brett and then Schmidt. The Royals' first-round pick was a pitcher named Roy Branch, who briefly reached the majors but never won a game; the Phillies' pick was Roy Thomas, who had a marginal eight-year career as a reliever, although never pitched in the majors for the Phillies.
1976: Trammell and Morris ... and Ozzie (sort of)
In 1976, the Tigers had one of the great drafts ever, selecting Steve Kemp in the January phase and then Alan Trammell (second round), Dan Petry (fourth round), and Jack Morris (fifth round). Trammell and Morris aren't in the Hall of Fame yet, but both could get there someday. No team has ever drafted (and signed) two future Hall of Famers in the same draft. The kicker: They also drafted Ozzie Smith in the seventh round, but he didn't sign, and the Padres selected him the following year.
1987: Mariners draft Ken Griffey Jr.
The Mariners owned the first overall pick, and penurious Mariners owner George Argyros wanted the club to draft college pitcher Mike Harkey, because he would be easier to sign and presumably quicker to reach the majors. Scouting director Roger Jongewaard won out in the end. (Harkey went fourth overall, to the Cubs.)
1988: Dodgers draft Mike Piazza ... in 62nd round
Maybe the most famous late-round pick, Piazza was the Dodgers' final pick that year -- the 1,390th pick overall out of 1,395.
1990: Braves land Chipper Jones
Hard-throwing high school right-hander Todd Van Poppel was the consensus top talent in the 1990 draft -- "the best pitching prospect ever" label had been slapped on him -- but his declaration that he didn't want to sign and instead attend the University of Texas scared teams off him. So the Braves took Jones, which worked out pretty well for them.
2000: Cardinals draft Yadier Molina
The 2000 draft as one of the worst ever -- after top pick
Adrian Gonzalez
(by the Marlins), the rest of the top 15 were Adam Johnson, Luis Montanez, Mike Stodolka, Justin Wayne, Rocco Baldelli, Matt Harrington, Matt Wheatland, Mark Phillips, Joe Torres, Dave Krynzel, Joe Borchard, Shaun Boyd, Beau Hale and
Chase Utley
(OK, finally one that panned out). Keep that list in mind when you get excited about your team's first-round pick this year. The only other first-round of note that year was
Adam Wainwright
(by the Braves). He would eventually get traded to St. Louis, where he would team with a young catcher from Puerto Rico also drafted in 2000.
2009: Nationals draft Stephen Strasburg
The story here is how the Mariners kicked away the No. 1 overall selection. The Nationals headed into the final weekend with a record of 59-99, having gone 3-11 over their previous 14 games. The Mariners were 58-101 and had lost 14 of 15. This was tanking at its best. All the Mariners had to do was lose one game to lock up the first pick. One loss. Easy, right? Instead the Mariners sweep the A's. The Nationals lose all three.
Josh Outman
's throwing error sets up
Yuniesky Betancourt
's two-run go-ahead in triple in the fifth inning of the season finale. In other words, if Outman doesn't throw the ball away, Strasburg might be in a Mariners uniform instead of a Nationals one. (With the second pick, the Mariners selected
Dustin Ackley
.)
June, 13, 2012
6/13/12
11:00
AM ET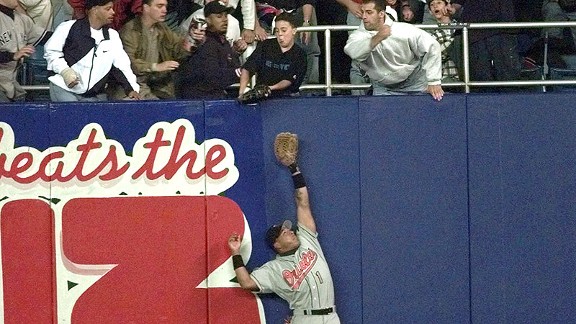 AP Photo/Mark LennihanDerek Jeter got an assist from 12-year-old fan Jeffrey Maier during Game 1 of the 1996 ALCS.
Umpires. Can't live with them, can't live without them. Well, maybe we could live without them, but I'm not quite ready to move to robotic umpires and computerized strike zones just yet.
Jerry Crasnick has a story
on the state of umpiring in the major leagues. It's always a good topic for debate, especially with instant replay now a part of the game and potentially getting bigger. Now, if you've been watching the NBA playoffs, I think you'll agree that major league umpires still have much less of an influence on a game's outcome than NBA refs. That's not to say that umpires don't miss calls. Of course they do. And sometimes those bad calls can affect not only a game but potentially an entire series. Here are what I rate as the five worst calls ever and what went wrong, as those calls perhaps changed the course of baseball history.
5. Mauer's foul ball: 2009 ALDS Game 2 -- Yankees 4, Twins 3
The Twins lost to the Yankees in the 2003, 2004, 2009 and 2010 AL Division Series. The Yankees won 12 of the 14 games. But if not for a terrible call on a
Joe Mauer
line drive, maybe this 2009 game and series would have turned out differently.
The scene:
The Yankees had won the series opener, but Game 2 was tied 3-3 when Mauer led off the top of the 11th inning.
What happened:
Mauer lofted a high fly down the left-field line that
Melky Cabrera
failed to haul in, but left-field ump Phil Cuzzi, just a few feet from the play, called it foul. As announcer Ron Darling
said on seeing the replay
: "Fair ball, not even close." Mauer eventually singled and would have scored when
Jason Kubel
and
Michael Cuddyer
followed with base hits. Instead, the bases were loaded, and Yankees reliever
David Robertson
then worked out of the three-on, no-outs jam.
Mark Teixeira
homered in the bottom of the inning to win the game.
The aftermath:
I offered up a list of possible worst calls to include in this piece to my pal Jim Caple, and he said this one was the second-worst. The call itself
was
clearly horrible, but did it really change history? Even if the Twins had won the game, the series would have been tied, and the Yankees were certainly the better team that year (103 wins to Minnesota's 87). A terrible call, but it's debatable whether it changed the ultimate result of the series.
[+] Enlarge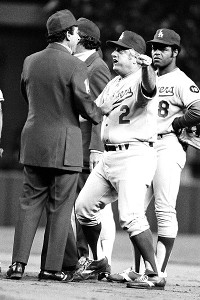 AP PhotoTommy Lasorda argued unsuccessfully that Reggie Jackson should have been called out.
4. Reggie's hip check: 1978 World Series Game 4 -- Yankees 4, Dodgers 3
After the Yankees beat the Dodgers in the 1977 World Series, the teams met again in 1978. He didn't hit three home runs in this game, but Mr. October somehow made himself the focal point.
The scene:
The Dodgers led 2 games to 1 and were leading Game 4 3-1 in the bottom of the sixth. With one out, the Yankees had Thurman Munson on second and Reggie Jackson on first with Lou Piniella up.
What happened:
Piniella hit a low liner to shortstop Bill Russell. The runners had to hold to see if Russell caught the ball, but he dropped it, stepped on second to force Jackson and threw to first to complete the inning-ending double play. But Jackson remained in the baseline and appeared to move his hip slightly as the ball came toward him. The ball glanced off him, allowing Munson to score. Dodgers manager Tommy Lasorda argued interference with first-base ump Frank Pulli, saying Piniella should have been ruled out, but to no avail. The run stood.
The aftermath:
The Yankees tied the game in the bottom of the eighth and won it in the 10th. (Jackson had a big single off Bob Welch in the winning rally.) As Thomas Boswell wrote in The Washington Post, "Someday, when folks read the history of Reggie Jackson's October shenanigans, they just aren't going to believe it. This guy can't even get hit between bases by a throw without becoming a hero. Sometimes the entire sport of baseball seems to rotate around him."
The Yankees won the next two games to take the World Series. "The interference issue with Reggie Jackson was the one that pulled the rug right out from under us, and that's still my biggest nightmare in baseball," Dodgers third baseman Ron Cey told MLB.com in 2007. "If the call is made properly and if they huddled together like they should have, we would have walked off the field with a 3-0 lead [actually, 3-1]. We end up losing that game. The next day we were flat, deflated. And so I feel legitimately that '78 was the one that got away, and it's still hard to talk about."
Was it the wrong call? Rule 7.09F says a baserunner cannot intentionally interfere with a thrown ball. Did Reggie simply hold his ground or flex his thigh muscle? Maybe it wasn't the easiest of calls, but if the Dodgers had won the game and taken a 3-1 lead, the course of that World Series likely would have changed.
3. Black Friday: 1977 NLCS Game 3 -- Dodgers 6, Phillies 5
For some reason, this game has been forgotten in playoff lore outside of Philadelphia, but you know things were bad when the
losing
team has a nickname for the game. Phillies fans refer to it as "Black Friday," and with good reason. Phillies reliever Gene Garber, the losing pitcher in the game, said in a 2007
story
on Lancasteronline.com that "I still wake up with nightmares from that game."
The scene:
It's Game 3 of the NLCS, series tied 1-1. Key historical note: The Phillies had never won a World Series at the time. Garber had entered in the seventh (remember when relievers pitched more than one inning?) and retired the first eight batters he faced. There were two outs in the ninth, the bases were empty, and the Phillies led 5-3. The Vet, packed with more than 63,000 fans, was rocking as fans chanted "Gen-o, Gen-o, Gen-o."
What happened:
Pinch hitter Vic Davalillo reached on a bunt single. Pinch hitter Manny Mota hit a deep fly to left in the direction of Greg Luzinski. If you're too young to remember Luzinski, imagine
Adam Dunn
playing left field, and I don't mean it in a "He's big, but he's a better fielder than he looks" kind of way. "Luzinski put his glove up, and the ball hit in his glove, and somehow it came out of his glove," Garber said. "I don't know if it hit the wall or what. Bull was a good fielder. He didn't have a lot of range, but he was a good fielder. I never saw him drop a ball or miss a ball that was in his glove, and this one did." To make matters worse, Luzinski's throw back to the infield hit a seam in the turf and bounced away, allowing Mota to reach third.
Still, the Phillies led 5-4 with Davey Lopes up. Then came the call. Lopes hit a hard grounder that bounced off Mike Schmidt's glove but bounded to shortstop Larry Bowa, who barehanded the ball and threw Lopes out at first. At least,
replays showed Lopes was out
(forward to the 1:25 mark). Umpire Bruce Froemming called Lopes safe. The game was tied. Lopes then advanced to second when first baseman Richie Hebner missed a pickoff throw, and Bill Russell singled in Lopes with the go-ahead run. "You ask yourself why those things happened," Garber recalled all those years later. "You just think, that's the way baseball is."
The aftermath:
The Phillies had Steve Carlton going in Game 4, but Dusty Baker hit a big two-run homer, and the Dodgers won 4-1 to clinch the series. Obviously, if Lopes had been called out, the series would have taken on an entirely different dimension. Maybe Carlton would have been held back to start Game 5 with an extra day of rest. Maybe the Phillies would have felt less pressure in Game 4. Maybe they would have gone on to face the Yankees in the World Series.
[+] Enlarge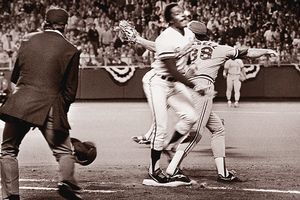 AP Photo/The Kansas City Star/Patrick SullivanThis play at first base in Game 6 of the 1985 World Series prompted death threats against umpire Don Denkinger.
2. Denkinger's debacle: 1985 World Series Game 6 -- Royals 2, Cardinals 1
Perhaps the most famous blown call in World Series history. But perhaps also the most overrated. Let me explain.
The scene:
The Cardinals led Game 6 1-0 heading into the bottom of the ninth, scoring an eighth-inning run to break up a pitcher's duel between Danny Cox and Charlie Leibrandt. They were three outs from the World Series title when rookie reliever Todd Worrell came on to close it out. The Cardinals were 91-0 on the season when they led heading into the ninth.
What happened:
Jorge Orta pinch-hit for the Royals to lead off and tapped a grounder wide of first base that Jack Clark fielded and tossed to Worrell. Umpire Don Denkinger ruled that Orta beat Worrell to the bag.
Replays showed otherwise
. From there, the inning unraveled for the Cardinals -- but mostly by their own undoing. Steve Balboni was up next and hit a foul pop that should have been caught but dropped between Clark and catcher Darrell Porter; Balboni then singled. Jim Sundberg bunted, but the Cardinals forced Orta out at third. But Porter's passed ball allowed the runners to move up. Hal McRae was intentionally walked, and Dane Iorg -- another pinch hitter -- then singled in two runs to win the game.
Cardinals manager Whitey Herzog went ballistic afterward. "The two best teams are supposed to be in the World Series,'' he said. ''They ought to have the best umpires in it, too. I think it's a disgrace. It's a joke. We haven't got one call from the three American League umpires in this thing. You want my opinion? It stinks."
"The whole inning was screwed up when he missed the call at first," Herzog said in his office after the game. "I went out and asked why he was safe, and the umpire said he beat the throw. I said how the hell could he be safe when he stepped on Worrell's foot going across the bag?"
Whitey wasn't done.
''When I went out, I thought it was a question of Worrell missing the bag. If he'd have said Worrell missed the bag, I'd have shut up. But he didn't. He said Orta beat the throw. But he didn't beat the throw. He was out by two steps. I'm not supposed to say anything about the umpires. But I sit here and manage this club, and I see what happens. We haven't got one call from those guys, and I mean the three from the American League."
Of course, it didn't matter that Kansas City's two previous wins were by 6-1 scores, so the umps clearly had little to do with those defeats. Or that if Clark had caught the foul pop or the passed ball hadn't happened, the Cardinals likely would have escaped the inning anyway. Blaming Denkinger was the easy thing to do.
The aftermath:
With Denkinger behind the plate in Game 7, Cardinals ace John Tudor got blasted,
Bret Saberhagen
pitched a masterpiece and the Royals won 11-0. Herzog got ejected and was still blaming Denkinger for his team's collapse. "I did say to him that we shouldn't be here tonight anyway," he said. "He blew the call at first base Saturday. If he calls him out, I guarantee you we stuff them. He knows he blew the call, and so do 200 million people."
1. The Jeffrey Maier affair: 1996 ALCS Game 1 -- Yankees 5, Orioles 4
This call was astronomically horrible and had far-reaching implications that possibly altered not only the future of baseball but also the space-time continuum.
The scene:
The Yankees, in the ALCS for the time first since 1981, trailed the Orioles 4-3 in the bottom of the eighth when rookie
Derek Jeter
stepped in to face hard-throwing reliever
Armando Benitez
.
What happened:
Jeter lofted a fly ball toward the short right-field fence
at Yankee Stadium. Orioles outfielder
Tony Tarasco
camped under the ball, reached up ... and the ball disappeared into the stands. Jeffrey Maier, a 12-year-old Yankees fan, reached several feet over the fence and pulled the ball into the bleachers. Umpire Rich Garcia, standing right by the play, somehow missed the obvious fan interference. Jeter's home run tied the game, which the Yankees won in extra innings.
The aftermath:
The Yankees eventually won the series in five games and went on to capture their first of four World Series championships in a five-year span. But what would have happened if Garcia had made the correct call? The Orioles would have won the game and, after winning Game 2, would have held a 2-0 series advantage. The Yankees likely would lose the series, George Steinbrenner probably would fire Joe Torre, Benitez and not
Mariano Rivera
would turn into the greatest closer of all time and the whole Yankees dynasty never would materialize. Wow. As
Andy Pettitte
says in the video link above, "You gotta have luck."
April, 7, 2012
4/07/12
8:35
PM ET
This is what will have American League pitchers and managers waking up in cold sweats all season long: Those stretches when
Miguel Cabrera
and
Prince Fielder
are both raking, eyes bulging as they pummel meaty fastballs over fences and into outfield seats.
Josh Beckett
become the first pitcher to experience these forces of nature in action, as both hit two home runs off him in Detroit's
10-0 victory
Saturday over Boston. Fielder hit one out to left field and a low, screaming bullet to right for his pair. Going the opposite way is nothing new for him; 11 of his 38 home runs in 2011 went to left or left-center. There were some concerns that Fielder would lose a few home runs moving from Miller Park to the more spacious environs of Comerica, so hitting one out to left is a good, early sign.
How dynamic is this pair? A season ago, Fielder hit .299/.415/.566 with 38 home runs; Cabrera hit .344/.448/.586 with 30 home runs. The last team with two players to hit 30 home runs with a .400 OBP? The 2006 Red Sox with
Manny Ramirez
and
David Ortiz
. Twelve teams since 2000 have had such a duo (or in the case of the 2004 Cardinals, three players):
[+] Enlarge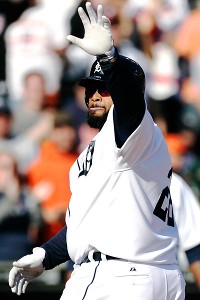 AP Photo/Duane BurlesonPrince Fielder waves after hitting the first of his two home runs off Boston's Josh Beckett.
2006 Red Sox: Ramirez, Ortiz
2005 Yankees:
Alex Rodriguez
,
Jason Giambi
2004 Cardinals:
Albert Pujols
,
Jim Edmonds
,
Scott Rolen
2003 Yankees: Giambi,
Jorge Posada
2002 Astros:
Jeff Bagwell
,
Lance Berkman
2001 Rockies:
Todd Helton
,
Larry Walker
2001 Cardinals: Pujols, Edmonds
2000 Cardinals: Edmonds,
Mark McGwire
2000 Angels:
Tim Salmon
,
Troy Glaus
2000 Astros: Bagwell,
Moises Alou
2000 Mariners: Rodriguez,
Edgar Martinez
2000 Giants:
Barry Bonds
,
Jeff Kent
Of course, all of those pairs or threesomes did this during the high-offense steroids period. Six other teammates did it between 1995 and 1999. But before that? That previous team to have two such players was the 1969 Oakland A's with Reggie Jackson and Sal Bando. Throughout baseball history there have been only 34 such pairs. Here's another way to do this. Let's add OPS+ (adjusted on-base plus slugging percentage) as a third measuring stick. OPS+ adjusts a player's offensive production for home park and era. In 2011, Cabrera's OPS+ was 181, second in the American League. Fielder's was 164, fourth in the National League. Let's set a minimum of 30 home runs, .400 OBP and 150 OPS+.
This takes away some of steroids-era pairs and leaves us with 24 such teammates in baseball history. And six of those 24 were Babe Ruth and Lou Gehrig.
And that, my readers, is the kind of company Cabrera and Fielder have the chance to join.
A few more notes from today's early games:
March, 15, 2012
3/15/12
2:55
PM ET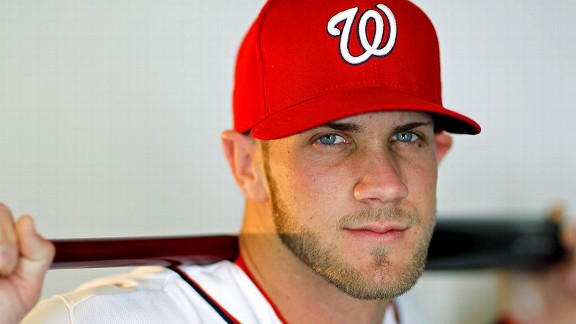 Mike Ehrmann/Getty ImagesJust 19 years old, Bryce Harper has a chance to open the season with the Nationals.
Courtesy of Craig Calcaterra at the Hardball Talk blog, a link to Will Leitch's
GQ interview with
Bryce Harper
. First, great photo of Harper. Second: If it's not already clear, it's becoming more obvious that Harper is going to be one of the game's most divisive figures over the next decade.
Baseball, by its nature, is a humbling sport. Hitters deal with failure a majority of their at-bats. Pitchers can make a perfect pitch and surrender home runs or pitch a gem and lose 2-1. The culture of the game almost demands players keep their cockiness to themselves; the long grind of the season means there will be times you slump and struggle no matter your ability. That tends to keep the chest thumping and displays of success rather muted. (The rare
Rickey Henderson
or Pascual Perez not withstanding.) Not that a little added confidence isn't a good thing. As Crash Davis tells Nuke LaLoosh in "Bull Durham," "You be cocky and arrogant, even when you're getting beat. That's the secret. You gotta play this game with fear and arrogance."
Right now, Harper doesn't have the fear, which is a refreshing change. He's still a brash young kid who believes he can become one of the best ever.
He's interesting.
We want to watch him and see what he does. As Craig
writes on his blog
, "If he lives up to the hype -- or even comes close to living up to it -- he's going to be one of the most astounding things the game has ever seen. Pete Rose meets Muhammad Ali, maybe."
I imagine
Alex Rodriguez
is maybe the most disliked player in the majors right now, which I've never understood. Sure, he makes a lot of money and admitted to using PEDs (many would consider that apology an admirable character trait), but the thing about Rodriguez is he's actually rather boring in a love/hate sense. He's an easy guy to take cheap shots at -- the muscular girlfriends, the shirtless photos and the like -- but those things don't make him
unlikeable
in my book. But for the most part, A-Rod plays baseball and doesn't really say anything interesting.
Harper seems like he'll be different. In fact, while Craig mentioned Pete Rose, Harper reminds me more of Reggie Jackson, the self-professed "straw that stirs the drink." The Jackson analogy even extends to the field. Like Reggie (who played football at Arizona State), Harper is an athletic right fielder who certainly doesn't get cheated on his swing. Like Reggie, the biggest issue with his game might be the strikeouts (Reggie is still the all-time leader).
One thing about Reggie, however: He did, believe it or not, have a small dosage of humility. "When you've played this game for 10 years and gone to bat 7000 times and gotten 2000 hits, do you know what that really means?" Reggie once said. "It means you've gone zero for 5000."
If he's to reach his potential, I believe that's something Harper will eventually learn.
Follow David Schoenfield on Twitter @dschoenfield.
December, 15, 2011
12/15/11
12:42
PM ET
October, 4, 2011
10/04/11
6:51
PM ET
Does
Adrian Beltre's three-homer game
rank as one of the top postseason hitting games of all time? After all, he belted three home runs in a slim 4-3 victory. One way to measure this is via something called WPA -- win probability added -- which takes into account the score and inning of the game to determine the change in win probability of the game based upon the outcome of each plate appearance. Under this method, the greatest WPA for one game is Kirk Gibson's two-out, two-run, bottom-of-the-ninth home run for the Dodgers in Game 1 of the 1988 World Series, which scored a WPA of .870.
Just for fun, here is the rest of the top 10 via that method, courtesy of
Baseball-Reference.com
:
2. Steve Garvey, Padres, 1984 NLCS Game 4 (.854 WPA): Went 4-for-5 with five RBIs in a 7-5 win over the Cubs, including a walk-off, two-run homer. The Padres retired Garvey's uniform number because of that game.
3. Charlie Keller, Yankees, 1941 World Series Game 4 (.826): This is the famous game in which Mickey Owen dropped the third strike, leading the Yankees to score four runs in the ninth to win 7-4. Keller hit a two-out, two-run go-ahead double in the ninth, and also had an RBI single in the first during a 4-for-5 game.
4. Cookie Lavagetto, Dodgers, 1947 World Series Game 4 (.822): Lavagetto's pinch-hit two-out, two-run double in the bottom of the ninth broke up Bill Bevens' no-hit bid and gave Brooklyn a 3-2 victory.
5. Michael Tucker, Braves, 1998 NLCS, Game 5 (.812): Don't remember this one? Me neither. Tucker went 3-for-5 with five RBIs, including a three-run homer in the eighth as Atlanta beat the Padres 7-5.
6. Brian Jordan, Braves, 1999 NLDS, Game 3 (.806): It's OK, all those Braves playoff games from the '90 runs together. The Braves won 5-3 with Jordan hitting a three-run homer in the sixth and a two-run, two-out double in the 12th.
7. Stan Hack, Cubs, 1945 World Series Game 6 (.806): The Cubs' leadoff hitter, Hack went 4-for-5 with two walks and three RBIs in a 12-inning 8-7 victory, including the winning double with two outs.
8. Jimmy Rollins, Phillies, 2009 NLCS Game 4 (.754): Rollins' line doesn't seem that impressive -- 2-for-5, double, two RBIs -- but that double came with two outs in the bottom of the ninth to score two runs and give the Phillies a 5-4 win.
9. Francisco Cabrera, Braves, 1992 NLCS Game 7 (.737): Reckon you might know about this one.
10. Gary Carter, Mets, 1988 NLCS Game 1 (.724): Orel Hershiser had finished the season with 59.1 scoreless innings. He took a 2-0 lead into the ninth, but Darryl Strawberry's RBI double knocked out Hershiser and Carter's two-out double off Jay Howell knocked in two runs for a 3-2 lead.
Now ... that's a great list, although probably not what you had in mind for best hitting performances. Those are all late-game clutch performances that snapped victory from the jaws of defeat. Here is another list of six performances that stand out to me for their all-around awesomeness, trying to avoid lines from blowout games
like this one
.
Reggie Jackson, Yankees, 1977 World Series Game 6: Three swings, three home runs. Reggie went 3-for-3 with a walk, four runs and five RBIs as the Yankees wrapped up the World Series with an 8-4 win.
George Brett, Royals, 1985 ALCS Game 3: With the Royals down 2-0 in the series, Brett hit a solo home run in the first; doubled and scored in the third; hit a two run-homer in the sixth to tie the game 5-5; singled to lead off the eighth and came around to score the winning run; 4-for-4, four runs, three RBIs in a 6-5 win. Wow.
Edgar Martinez, Mariners, 1995 ALDS Game 4: Trailing the Yankees 2 games to 1, Edgar hit a three-run homer in the third to cut a 5-0 deficit to 5-3, and then hit a grand slam off John Wetteland in the eighth when the game was tied. He finished 3-for-4 with a walk and postseason-record seven RBIs (also done by Mo Vaughn, Troy O'Leary and John Valentin).
Will Clark, Giants, 1989 NLCS, Game 1: The game turned into an 11-3 blowout over the Cubs, but Clark went 4-for-4 with a walk, two home runs, four runs and six RBIs.
Babe Ruth, Yankees, 1926 World Series 4: The Bambino goes 3-for-3 with three home runs, two walks, four runs and four RBIs in a 10-5 victory.
Kirby Puckett, Twins 1991 World Series 6: Down 3-2 in the series, Puckett hit an RBI triple and scored in the first; hit a sac fly in the fifth; singled in the eighth; hit a walk-off home run in the 11th. To top it off, he also robbed Ron Gant of a home run. (Puckett also went 4-for-4 with four runs in Game 6 of the 1987 World Series.)
Follow David Schoenfield on Twitter @dschoenfield.
July, 8, 2011
7/08/11
5:30
PM ET
By
Christina Kahrl
| ESPN.com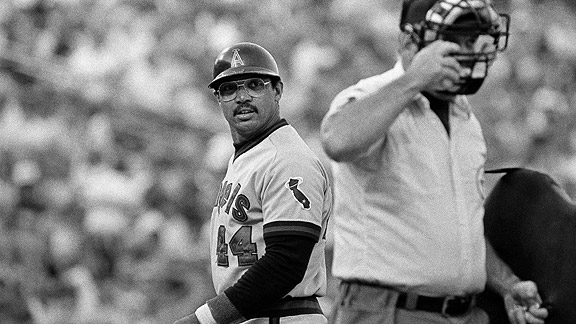 AP Photo/David BreslauerReggie Jackson's best days were behind him when he was named an AL All-Star in 1983.
Last Sunday the hue and cry went up, as it always does around this time of year. The subject? As ever, the topic was the All-Star Game's rosters, and as ever, they were cause for noisy complaint from people angry about the latest fading all-time great tacked onto the roster --
Chipper Jones
this time around -- but also those exasperated with the fans voting
Derek Jeter
onto the team. And the oversight of
Andrew McCutchen
? Ludicrous, obviously.
The thing is, every July there are people who are going to declaim that the All-Star roster is a travesty or a crime, a horror visited upon earnest fans, undeserving players, and the (usually spotty) history of the Midsummer Classic. But this year's selections also serve as a useful reminder that we've seen worse -- much, much worse -- among the ranks of All-Stars selected all time.
Figuring out the
worst
All-Stars of all time can involve a good amount of special pleading or special disdain, and it really depends on which elements of the selection process you want to call out, as well as who you want to slather your particular brand of grief upon. Maybe you want to make the point that fans are stupid, because they voted in Sandy Alomar Jr. in 1991 when he'd been injured a good chunk of the time, and he was hitting just .241/.287/.305 when he was healthy, but in fairness, Alomar was the Rookie of the Year in 1990, and catching was fairly thinly spread (Pudge Rodriguez had only just arrived on the scene).
At least Alomar had something going for him in terms of recent notoriety and position scarcity to help explain why he was voted in. But when you get to the selections made by the industry's working professionals, it isn't like their track record's all that admirable either. Sticking with catchers, what can you say about the inclusion of first-ever Padre All-Star Chris Cannizzaro, a 31-year-old journeyman, on the 1969 team? Cannizzaro hit .220/.290/.297 that year, and that wasn't out of character. But of course he wasn't the first and wouldn't be the last example of unhappy selections made because of the rule that you have to have somebody from every team.
Or say you want to complain about the frequently repeated gesture of including a great player on the way out. This usually doesn't seem
that
egregious to me, at least back in the time when the game was purely an exhibition. Luis Aparicio in 1971 or 1972, for example, or
Cal Ripken
Jr. in 2001 -- no, they didn't really belong on merit alone, getting in on career achievement.
Even so, it's fun to mull who the all-time worsts might have been. Usually, these take the shape of top 10 lists, but let's give a full lineup a shot, while leveling the field to include choices of every stripe, those made by fans or by baseball professionals:
C: While Alomar in '91 and
Jason Varitek
in 2008 represent low points in fan selection history, let's face it, catcher has a ton of alternatives to offer. For example, if you're A's fan you might remember that Jeff Newman was your team's token All-Star in 1979, although he did hit 22 home runs -- and .231/.267/.399 overall. But because I'm of a "pox on all your houses" frame of mind when it comes to pointing the finger at odious choices made by every method for selection, I think we have to go with
Chris Cannizzaro
of the '69 Padres here, as a great example for why the expectation that every team "must" have an All-Star can be something of a bad joke, and one made worse in expansion seasons, as 1969 was.
1B: While dishonorable mention can go to
Ron Coomer
of the '99 Twins or Pat Tabler of the '87 Indians, I think the worst possible choice from among first basemen might be
Ken Harvey
from the 2004 Royals. While he was the K.C. token (as Tabler was the token Indian and Coomer the token Twin in their seasons), what's disgraceful about Harvey's selection is that he was a terrible hitter for a first baseman, offering negligible power and patience, and immobile defense -- he was bulky singles hitter. His .305/.353/.452 line at the break might have seemed promising, but his lack of value at a hitter's position helped make sure his big-league career had just 225 plate appearances left in it. What made his choice especially egregious is that
Mike Sweeney
(.279/.335/.490) would have at least been defensible, since he'd been a Royals All-Star in each of the previous four seasons, and would be again in 2005.
2B: I'm going with
Carlos Garcia
of the 1994 Pirates, because hitting .267/.307/.332 at the break is hardly a line worthy of a purported All-Star. Garcia never did make a repeat appearance, even with the advantage of a token Pirate being a necessity -- something that would help
Tony Womack
a few short years later. But even from this edition of the Bucs, shortstop
Jay Bell
would have been a better middle-infield choice, having hit .260/.343/.448 at the break. There might still be folks outraged over fans voting in
Mark Loretta
over
Robinson Cano
in 2006 -- point taken, but at least Loretta was someone you could argue belonged in the game.
SS: Frankie Zak of the '44 Pirates usually gets mentioned on these sorts of lists, because of the, "Who?" factor, but I sort of look at that oddity as a product of war-time baseball -- the game was at Pittsburgh's Forbes Field that year, and although there were already other Pirates on the roster, using Zak as a reserve saved money at a time when everything was in short supply, including baseball talent. That leaves us with a choice. On the one hand, we have accidental All-Star
Alfredo Griffin
of the 1984 Blue Jays. The former Rookie of the Year of 1979 was apparently in San Francisco anyway, so when Alan Trammell came up with a bum arm, plugging Griffin in despite a .250 OBP was an easy solution. It was Griffin's only All-Star appearance. But then there's also
Cesar Izturis
' selection in 2005 -- his only appearance as well. Going with B-Ref's sOPS+ (or OPS adjusted for league's split), Griffin's 60 is lower than Izturis' 78, making this gun-to-your head choice easier: Griffin it is.
3B: Lots of choices, especially since this is usually a chance for people to wail about Scott Cooper from the '93 and '94 Red Sox, while Vance Law of the '88 Cubs -- on a team that featured Andre Dawson and Ryne Sandberg -- is also cause for disdain. But let's give anti-props to
Ken Reitz
of the 1980 Cardinals. Reitz was hitting .282/.311/.381 with four homers at the time, outstanding by his lights, and he came with a great rep as a fielder. But an All-Star? Even as a token for his team? C'mon, that's silly. Reitz was close to done, as well, since he was off the Cardinals in '81 (in a trade to the Cubs), and got little more than a whiff of java in '82 before disappearing.
Utility: I know, it isn't an official position, but people like to rail on
Omar Infante
or even
Ty Wigginton
from last year, which always reminds me of the ridiculous selection of Mike Sharperson as the token Dodger in 1992, when leadoff star Brett Butler was available. Maybe Butler wanted the days off, but at least he would have put the "star" in his selection as an All-Star.
OF: I'll make a point of picking a center fielder to give us one --
Jerry Mumphrey
of the 1984 Astros, because he wasn't much of a center fielder, and didn't have a lot of justification being on the team as the token Astro ahead of the Astrodome's most famous victim, the sweet-swinging Jose Cruz. For one outfield corner, I'll go with
Robert Fick
of the 2002 Tigers, an embarrassing enough selection, but one made worse by the fact that he wound up getting a couple of at-bats in the infamous tie game. Picking a token Tiger was no easy task, but would it have killed Joe Torre to have selected long-serving Tiger vet
Bobby Higginson
instead? Higginson was at least a good player on several bad Tiger teams, where Fick was a catcher who couldn't catch well enough to play there, or hit well enough to last in the outfield.
And for the last corner? Part of me would like to nominate
Reggie Jackson
from the '83 Angels, because Reggie had a bad first half that turned into an even worse second half, and the fans were voting for celebrity, not production, and shame on them being impressed by that. On the other hand, there's the semi-embarrassing spectacle of Willie Mays' inclusion on the 1973 All-Star team, when he was clearly done and on his way out of the game. That said, it
was
Willie Mays, and he'd literally been in every All-Star Game for a generation (1954-1972). Let's bang on Reggie a bit by picking him, noting that the fans should care a little bit about a player's actual performance in making their selection.
Which gets us down to the pitching, which I'll limit to two. For a starting pitcher, there are lots of options, from Roger Pavlik ('96 Rangers) with his 11-2 record despite a 4.82 ERA (5.16 when he was actually selected), thanks to a ton of run support, or the inexplicable choice of Steve Rogers in '74 (10-11, 4.63 ERA at the break). If ultimate anonymity is your preference, Jayson Dickson of the '97 Angels or Tyler Green of the '95 Phillies might do. But I think I'll go with
Mark Redman
of the 2006 Royals, because 6-4 with a 5.16 ERA at the break representing the
good
half of his season, and after a 5-15 season with a 4.90 ERA for the Pirates in 2005, it wasn't like Redman had recent achievement going for him. While you had to have a Royal, did picking a pitcher who wound up tied for sixth on the staff in WAR -- this from a team with a 5.65 team ERA -- make any kind of sense? This is the sort of choice that makes you wonder if the Royals couldn't have activated George Brett for a day, Minnie Minoso-style, to at least preserve some form of franchise dignity.
For relievers, again, with an easy "who and why" name in
Lance Carter
of the 2003 then-Devil Rays, but the real anti-hero of All-Stars all-time has to be
Mike Williams
of the 2003 Pirates. Williams was selected solely because of his saves tally (25), despite five blown saves, a 6.44 ERA, or 67 runners allowed in 36 1/3 IP. All-Star or not, the Pirates had had their fill of him, dumping him on the Phillies a few weeks later instead of keeping him around for a bobblehead day or whatever other fan-inspiring goodies are supposed to be part of having an All-Star player. The performance was no joke -- Williams was for all intents done, and never pitched in the majors again after this season, so at least he could state as a positive fact that he left the game as an All-Star. But rarely do you get to see so transparent an example of saves being mistaken for value as this.
Christina Kahrl covers baseball for ESPN.com. You can follow her on Twitter.
July, 7, 2011
7/07/11
6:15
PM ET
By
Christina Kahrl
| ESPN.com
The
news has broken
that Hall of Fame manager Dick Williams passed away today. He was 82 years old, and was one member of a generation of dugout greats, and with the loss of Sparky Anderson last November and Chuck Tanner in February, it's a generation whose ranks have taken a few too many hits in recent months.
[+] Enlarge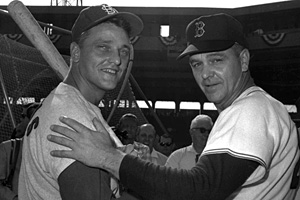 AP File PhotoFormer Red Sox manager Dick Williams, right, chats with St. Louis outfielder Roger Maris before Game 2 of the 1967 World Series. Williams made a career of rebuilding downtrodden teams.
Williams is perhaps best remembered as the manager of the "Impossible Dream" team in Boston in 1967, that Red Sox squad that took the Cardinals all the way to seven games in the World Series before coming up short. Williams set a precedent there for the kind of manager he would be, placing his faith in young talent; in Boston, he gave Reggie Smith and Sparky Lyle their first big breaks.
But the Red Sox would not be his last or best team, let alone mark his last visit to the World Series. Fired by Boston at the tail end of the '69 season -- in part for his authoritarian tendencies as a skipper -- Williams went to Oakland and took over as the firm hand perhaps perfectly suited to run the rowdies and rebels of the Big Green Machine dynasty of the early '70s. The A's won consecutive World Series on his watch in '72 and '73 before winning a third in a row under his replacement, Alvin Dark. After dealing with larger-than-life personalities like Reggie Jackson and Vida Blue on the field and team owner Charlie Finley off it, he finally resigned over team owner Finley's meddlesome, disgraceful attempt to humiliate and deactivate Mike Andrews for poor fielding during the course of the '73 Series.
Williams did not always have the magic touch -- there was nothing he could do in his next job to get the California Angels into contention in 1975 or '76 before he was fired in July, but he did break in long-term big-leaguers like Jerry Remy, Dave Collins, and Ed Figueroa. However, his setback in Anaheim freed him for the next signature gig in his career, his multi-year run managing the Montreal Expos from 1977 to 1981, helping drive them to second-place finishes in '79 and '80. He once again got fired in the middle of the '81 stretch run with his team in the race and 27 games left to play, an event as shocking then as Ned Yost's firing by the Brewers in the middle of the 2008 stretch run was in the recent past; Williams' hard hand running the club had worn thin again. But in Montreal, he was the manager with the good sense to get Gary Carter out of the outfield and back behind the plate as an everyday catcher, setting the Kid on his own Hall of Fame track. Moving Carter helped make space for future Hall of Famer Andre Dawson in the outfield, and in Williams' last season in Montreal he installed the eventually Hall-worthy Tim Raines alongside Dawson. Williams also oversaw the breakthroughs of an incredible batch of pitching talent: Scott Sanderson, Bill Gullickson, Charlie Lea and David Palmer, for starters.
A free agent again, Williams next landed in San Diego for the '82 season. In three years, he'd won another pennant, again by installing a crew of young pitchers (notably Eric Show, Dave Dravecky and Andy Hawkins), a speedy leadoff threat in Alan Wiggins, Kevin McReynolds in center and yet another Hall of Famer,
Tony Gwynn
, in right. Williams also got to supplement that squad with famous discards from more famous teams: Steve Garvey of the Dodgers, and Goose Gossage and Graig Nettles from the Yankees, but it only took one more season before Williams was forced out, reportedly by Jack McKeon and others in the front office.
Williams would finish his MLB career in the dugout unsuccessfully trying to turn around the Mariners -- but installing a future All-Star in Harold Reynolds at second base -- and then put in time in the Senior Professional Baseball Association, a league that operated in 1989-90 that was populated by former big-leaguers aged 35 and older. He "retired" to years spent as a special consultant to George Steinbrenner, one of many great baseball minds who the Boss has employed in that sort of gig over the years.
Williams' legacy for delivering winners, turning teams around, and breaking in young players is exceptional, and clearly places him among the front rank of baseball's best skippers. It came with the price of a man whose heavy-handed brand of leadership tended to make him unpopular within a few seasons, but it was a price teams were understandably willing to pay given Williams' ability to deliver.
At a time when some sabermetricians still favor the notion that managers don't matter, Williams serves as a great example of the reasons why and how they do, not simply via in-game tactics but more importantly in their ability to determine who plays and why. If you're interested in investing something more than just memory to Williams and his legacy as a manager, you could pick up a copy of Williams' biography,
No More Mister Nice Guy
(written with Bill Plaschke), which is well worth having on your shelf to understand where he was coming from, in Boston in '67 or in Seattle 20 years later, and at all points in between. For a fine take of his virtues as a skipper, you can also check out Chris Jaffe's
Evaluating Baseball Managers
.
Christina Kahrl covers baseball for ESPN.com. You can follow her on Twitter.
May, 12, 2011
5/12/11
6:02
PM ET
By now you've probably seen the
hug heard 'round the world
between Albert Pujols and Cubs general manager Jim Hendry. However, Major League Baseball has rules against tampering with free agents -- and also frowns upon fraternization between opposing clubs. Frankly, I don't quite get the uproar. After all, baseball has a long and storied history of hugging.
Albert Pujols and Barack Obama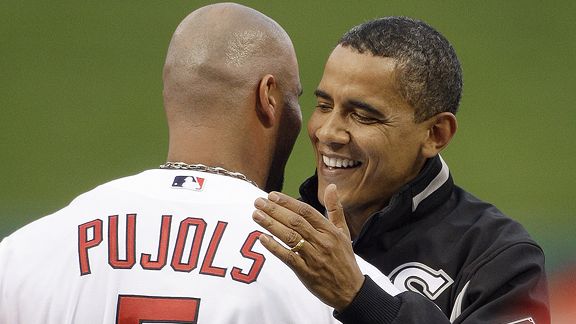 AP Photo/Morry GashSorry, Cubs fans, you really think Pujols wants to sign with the Cubs? Looks like he may be a White Sox fan to me.
Barry Bonds and Albert Pujols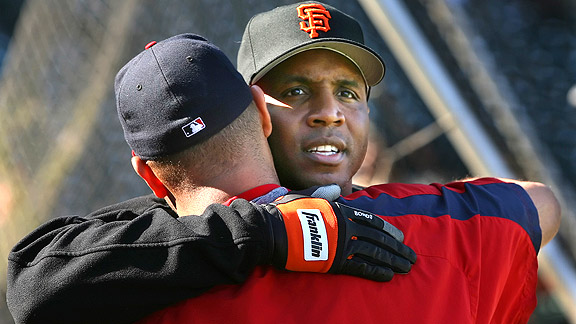 AP Photo/Dino VournasThat's Pujols and the all-time home run king embracing. Maybe Barry told him about the time he left small-market Pittsburgh for a bigger market in San Francisco. At least, let's hope that's all they talked about.
Derek Jeter and Alex Rodriguez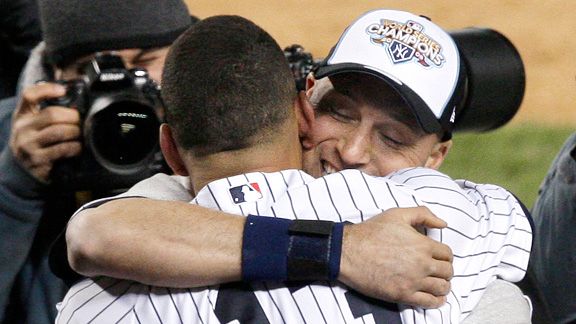 AP Photo/Julie JacobsonWho says The Captain and A-Rod don't get along? They look like best friends to me.
Joe Torre and Manny Ramirez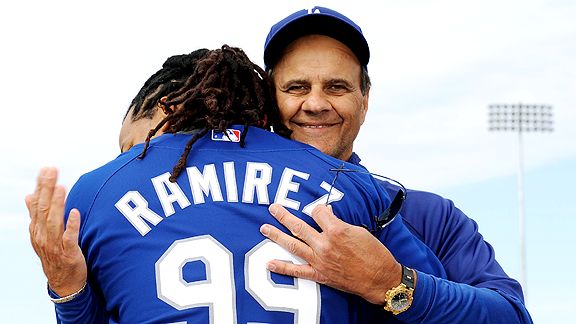 Kevork Djansezian/Getty ImagesTorre certainly symbolized the new breed of manager. Can you imagine Earl Weaver or Billy Martin hugging their players?
David Ortiz and Bernie Williams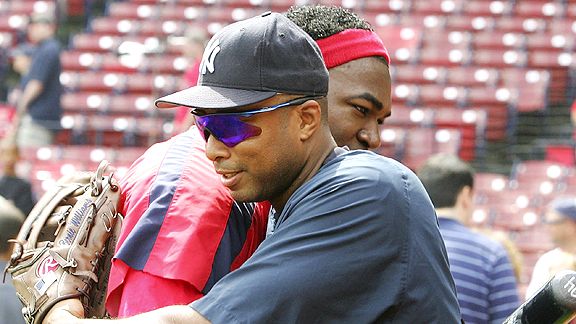 Jim McIsaac/Getty ImagesPersonally, I find the idea of Red Sox and Yankees hugging revolting. Why didn't MLB suspend both of these guys?
Marisa Miller and Lou Seal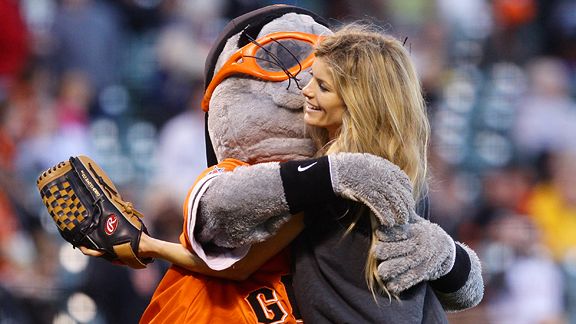 Ezra Shaw/Getty ImagesIf you ask me, the Giants' mascot got a little too close to the supermodel. Not that we blame him.
Mark McGwire and Sammy Sosa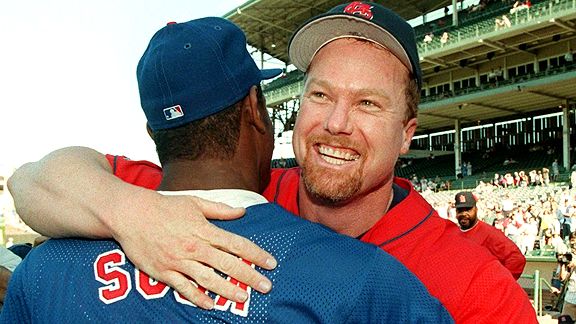 AFP/Getty ImagesWhatever happened to these guys?
Reggie Jackson and Billy Martin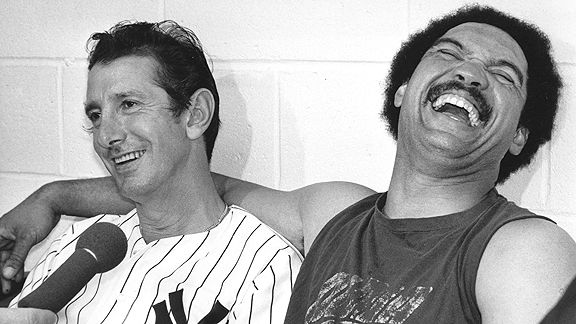 AP PhotoAlmost a hug. C'mon, Billy, you can do it. There you go, I see a little smile ...
Babe Ruth and Lou Gehrig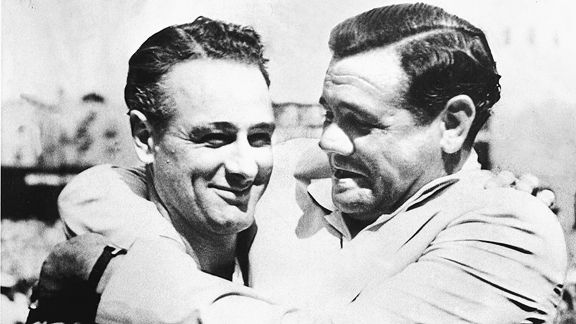 AP PhotoBefore Babe Ruth, there were no hugs. He invented the baseball hug. He had the biggest hugs of all time. Nobody hugged 'em like the Babe. He once called his own hug.
Anna Kournikova and Brian Giles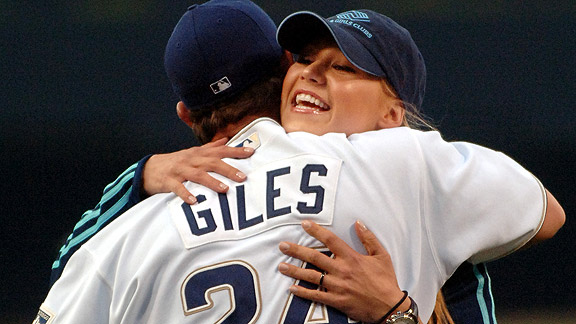 AP Photo/Denis PoroyThe highlight of Giles' career, other than playing with the Pirates.
Chicago Cubs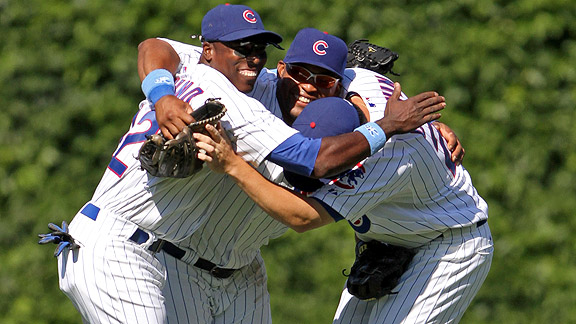 AP Photo/Charles CherneyHow are the Cubs ever going to win with an attitude like that? This is
serious
business, not a playground.
Hugs for everyone!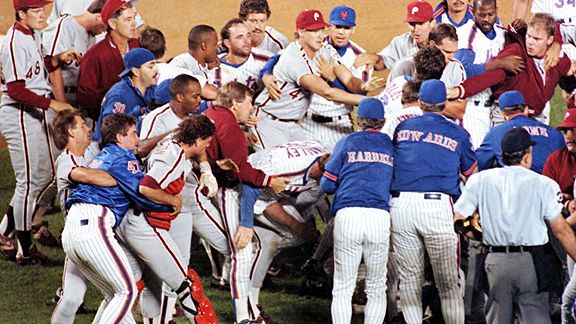 AP Photo/Ron FrehmThey don't call Philadelphia the City of Brotherly Love for nothing. They even love the Mets!
Follow David on Twitter: @dschoenfield. Follow the SweetSpot blog: @espn_sweet_spot.
April, 7, 2011
4/07/11
5:10
PM ET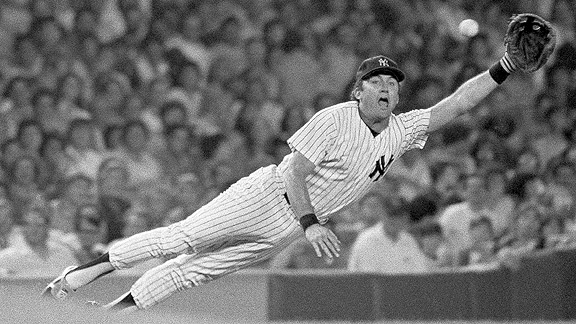 AP Photo/Ron FrehmFew third basemen could play the hot corner like Graig Nettles.
Last week, ESPNNewYork.com ran its list of the
50 greatest Yankees of all time
. I was part of the voting committee and ran
Nos. 50 through 31
on Wednesday. Here are Nos. 30 through 16. The overall panel ranking is in parenthesis.
30. Vic Raschi, P (39)
The ace of the Yankees staff along with Allie Reynolds when they won five straight World Series from 1949-53, Raschi was 120-50 with New York, annually placing among the league leaders in ERA, wins, innings, strikeouts and WHIP. He relied primarily on a high fastball, mixing in an occasional curve or change. He was at best in the World Series, posting a 2.24 ERA in 60 innings, including a two-hit shutout in Game 1 in 1950 and a three-hitter in Game 2 in 1952.
29. Roger Maris, OF (22)
His greatest play was one nobody talks about: In the bottom of the ninth of Game 7 of the World Series, Felipe Alou doubled into the right-field corner with two outs and Willie Mays on first. Maris somehow cut the ball off (Alou was a right-handed batter) before it reached the wall, holding Mays at third base. When Willie McCovey then lined out, the Yankees won 1-0.
28. Lefty Gomez, P (14)
It's really a shame we don't give guys nicknames like "Goofy" anymore. Gomez was spectacular in 1934 and 1937, years he led the AL in wins, ERA and strikeouts, and went 6-0, 2.86 in seven career World Series starts. He mixed in less impressive years but won 189 games in pinstripes.
27. Gil McDougald, IF (47)
A gifted infielder who played third, second and short -- basically, wherever Casey Stengel needed him -- and hit 10-15 home runs a season, got on base and played in eight World Series in his 10 seasons with the Yankees. Largely forgotten now, but he was a five-time All-Star, finished in the top 10 in the AL MVP voting three times, and if players were described as "glue" guys in the '50s, McDougald would have been described as the "ultimate glue guy."
26. Tony Lazzeri, 2B (18)
The Hall of Famer drove in 100 runs seven times -- only
Jeff Kent
with eight has more as a second baseman. Lazzeri had one of the great days in baseball history on May 24, 1936, when he hit three home runs, a triple and drove in 11 runs.
25. Mel Stottlemyre, P (31)
More famous now for being Joe Torre's pitching coach for many years, Stottlemyre went 164-139 in pinstripes and pitched 250-plus innings nine seasons in a row -- with a high of 303 in 1969 -- before his arm finally gave out. His rookie season was 1964, the last year of the dynasty, and thus his only World Series appearance.
24. Roy White, OF (44)
Spent his entire career with the Yankees. Vastly underrated while still active -- he had a broad-based range of skills that didn't stand out, plus most people at that time had no idea that drawing a lot of walks was a good thing -- Bill James has written how he was a better player than Jim Rice. (
Baseball-Reference agrees
, giving White a career WAR of 44.5 compared to Rice's 41.5.) His best seasons came during offensive doldrums of the late '60s and early '70s and B-R rates him as the best position player in the AL in 1971, when he hit .292/.388/.469, big numbers for the era. The MVP voters didn't agree: He didn't receive a single vote.
23. Charlie Keller, OF (36)
Had Hall of Fame numbers through age 29, combining power and 100-plus walks a year, but a ruptured disc in his back ruined the second half of his career.
22. Allie Reynolds, P (26)
"Superchief" (he was one-quarter Creek Indian) was Casey Stengel's secret weapon during the Yankees' five straight titles from 1949-53, starting and relieving as needed. He went 7-2 in his World Series career with a 2.79 ERA, posting five complete games and four saves. In 1952 against the Dodgers, he pitched a four-hit shutout in Game 4, saved Game 6, and pitched three innings of relief to win Game 7. He delivered 131 of his 182 career victories with the Yankees, after coming in a trade with Cleveland for Joe Gordon.
21. Graig Nettles, 3B (29)
One of the great heists in Yankee history was stealing Nettles from the Indians after the 1972 season for John Ellis, Jerry Kenney, Charlie Spikes and Rusty Torres; there's a reason you've never heard of any of those guys. A gifted fielder who remained a productive hitter with the Yankees into his late 30s, during the 1977-78 World Series years Nettles finished fifth and sixth in the AL MVP voting -- ahead of Reggie Jackson both seasons.
20. Phil Rizzuto, SS (20)
Would rate higher if you want to give extra credit for his announcing career.
[+] Enlarge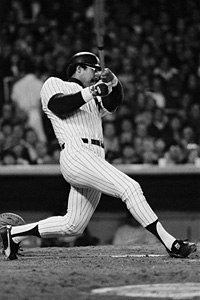 AP File PhotoReggie Jackson made an impact in his five seasons with the Yankees.
19. Reggie Jackson, OF (15)
Reggie was a Yankee for only five seasons, so it's difficult to place him much higher. While still a great hitter in the Bronx, his fielding became an issue and he was no longer one of the very best players in the league as he had been with the A's (Baseball-Reference has him as the AL's best player three seasons with Oakland). But he obviously was dynamic, memorable and his three-homer World Series game in 1977 gave the Yankees their first World Series title since 1962 and cemented his legend status.
18. Alex Rodriguez, 3B (13)
A-Rod has averaged 38 home runs, 120 RBIs, 107 runs and a .952 OPS with the Yankees. He's won two MVP awards. He won a World Series. His place as an all-time great Yankee is deserved and should be unquestioned by now. In fact, he even finally qualifies as a True Yankee.
17. Ron Guidry, P (17)
I can still remember sitting in the family station wagon and hearing the report on the radio that Rice had edged out Guidry for the 1978 AL MVP Award. Rice received 20 first-place votes, Guidry the other eight. I wasn't a Yankees fan, but I was angry that Guidry didn't win the award. I mean,
25-3
just sounded surreal. He never came close to that season again, of course, but he won 20 twice more and finished with 170 career wins.
16. Willie Randolph, 2B (33)
A tremendously underrated player (check his ranking from our panel) who did everything well except hit for power. Even then, he was one of the best offensive second baseman in baseball. Here are his annual rankings among all second basemen via Baseball Prospectus' VORP statistic (runs produced above a replacement-level second baseman): 5th, 7th, 3rd, 4th, 1st (1980), 12th, 8th, 13th, 6th, 9th, 5th, 2nd (1987), 27th, 12th (no longer with Yankees), 27th, 6th, 21st. Factor in that he was a very good glove man and a good baserunner who had more than 2,200 career hits, and you can make a Hall of Fame case for him.
Follow David Schoenfield on Twitter at @dschoenfield. Follow the SweetSpot blog at @espn_sweet_spot.
March, 6, 2011
3/06/11
2:30
PM ET
While we learned in grade school that fighting never solved anything, it is said that a good dugout donnybrook can actually be a positive for team morale. Sometimes we get past the ability to use words and our fists take over. The result can be the catalyst that sparks a team to the World Series.
[+] Enlarge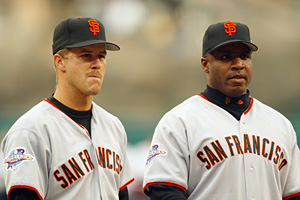 Donald Miralle/Getty ImagesJeff Kent, left, and Barry Bonds were never buddies, but that didn't keep the San Francisco Giants from reaching the World Series in 2002.
The first week of spring training saw yet another dugout meltdown by a Cubs pitcher. This time the feud involved two players in their contract year --
Carlos Silva
and
Aramis Ramirez
. In the first inning against the Brewers on Wednesday, Silva managed to serve up a pair of dingers as his fielders committed three errors. Following the inning, frustration reared its ugly head, comments were made and a fight started in the dugout.
Quoted in a recent Chicago Sun-Times article,
Todd Hollandsworth
, who played for eight teams in his 12-year career, had this to say about inter-team fighting …
"I can't think of a team it didn't happen to ... if it didn't happen, that team probably didn't care very much. If it didn't happen, that, to me, was a show of no team. They show up, put in the time and just get out of there.
"Guys typically care. It's virtually impossible to spend 16 hours a day, seven days a week for eight months without there being conflict. These things happen. It's just that the media is not privy to most of it.''
So, as a tribute to the Silva meltdown (and an effort at keeping hope alive for Cubs fans), here is a look back at a few of the more prominent dugout skirmishes resulting in a success for the team.
1977 - Reggie Jackson vs. Billy Martin
This wasn't the first or last time Billy Martin engaged himself in a disagreement with one of his players. This is, however, the most famous, likely because it involved the team's star player, Reggie Jackson. It didn't help that the game was on national television against the rival Red Sox at Fenway. Apparently, Billy got the feeling that Jackson was dogging it a little in the outfield. Martin benched Jackson, who immediately took exception to it, and the fracas began. After standing nose-to-nose, no punches were thrown and it ended with Martin being held back by a few of the players.
Result: The Yankees won 100 games en route to a World Series Championship over the Los Angeles Dodgers 4-2.
2002 – Jeff Kent vs. Barry Bonds
This one had been brewing for some time. Apparently
David Bell
was in the process of being verbally assaulted by Kent regarding a play that took place the previous inning. Bonds stepped up in defense of Bell, inserting himself between the two, and the shoving began. Kent, who was quoted a year before as saying Bonds was a selfish player, said this skirmish was nothing, and it basically happened all the time between the two of them. Sounds like great clubhouse chemistry, huh?
Result: 95 wins and finished second in the NL West. They faced the Angels in the World Series and lost 4-3.
2007 – Michael Barrett vs. Carlos Zambrano
Similar to Mike Quade and his situation, this was Lou Piniella's first year as manager for the Cubs. What better way to welcome a manager to an organization than with a fight in the dugout?
The Cubs were in the midst of a five-game slide in late May and the booing began at Wrigley early in the year. Zambrano was doing his typical implosion job on the mound, and runs were crossing the plate in abundance for Atlanta. After an inning featuring five runs on five hits and a play where the catcher, Barrett, was charged with a passed ball and a throwing error, the top blew off in the dugout. While Zambrano was able to land what looked like a few punches on Barrett, the real scrap supposedly happened in the club house.
Barrett suffered a cut lip and ended up in the hospital. The best part? It happened to be Zambrano's 26th birthday.
Result: Michael Barrett was traded to the Padres about two weeks after the fight. The Cubs finished first in the NL Central with 85 wins. They quickly were swept in the first round of the playoffs by the Arizona Diamondbacks.
Yes, it is sad that this is considered a positive outcome, but when the team hasn't won a World Series in more than 100 years, the postseason is a feat of its own.
Chet West writes for The View From the Bleachers blog, which is part of the SweetSpot network.
May, 4, 2009
5/04/09
7:11
PM ET
Posted by ESPN's Claire Smith
NEW YORK -- Terry Francona will not give up on David Ortiz.
The Boston Red Sox manager not only made that clear during an interview session with the media prior to his team's scheduled game at Yankee Stadium Monday, he also made a point of saying telling that exact same thing to the slumping designated hitter during a meeting earlier in the day.
"I spent the last five years patting him on the back," Francona said of the All-Star slugger who helped lead the Red Sox to a pair of World Series titles. "Now, when he needs a little help, I don't want to be the one to abandon him."
Francona said he won't lose patience and shrugs off suggestions that he drop Ortiz in the order. Yes, the DH had a horrible April (.230, zero home runs, 12 RBIs, 22 strikeouts).
"But giving up on him, running away from him is not the answer he needs," the manager said.
Ortiz was 0-for-3 Sunday in a loss at Tampa. He has gone 110 at-bats without a homer -- 96 this season -- his longest drought since a 128-at-bat stretch from April 17-July 6, 2002.
Hours before the game, Ortiz sat at his cubicle in the spacious visitors' clubhouse at the new stadium, ear buds in place, lost in his own thoughts. At least for that moment, he let his T-shirt do the speaking. In bold, black letters set against a Red Sox-red background, the back of his shirt read:
"It's how you finish."
Which way to the visitors' clubhouse?
Francona took a quick tour of the new ballpark, seeing as much as early-afternoon rains would allow.
His impressions? "It's beautiful," he said, "but we're all routine-oriented. I like to know where I am, where I am going."
On Day 1, he needed an escort to find the visitors' clubhouse, a far cry from the old ballpark, which he and most veterans of the game came to know like the backs of their gloves.
"We all get into that routine -- there's a comfort level there, I don't have that, yet, because we don't know where we're going," he said.
Setback for Kotsay
Mark Kotsay, on the disabled list since April 4 while recovering from back surgery, left a rehab start with Class AAA Pawtucket Sunday with mild tightness in his calf.
"He hit a ground ball in his second at-bat and, trying to shift into gear, he felt it," Francona said. "It's a setback. He's a little frustrated. He didn't do it like he did in Florida, which is good news."
Joba: Amenities hard to compute
Over in the home clubhouse, Joba Chamberlain sat at his cubicle contemplating just what took him by surprise the most in the $1.5 billion park.
"It has to be the laptops on the wall of your locker," he said. "I've seen a lot of things, but never a laptop on a wall like that."
The swimming pools (two) are a close second, Chamberlain admitted. "Pretty cool," he said -- and very useful, too, apparently.
"I get in there and have used the 'swim ex' thing, where you can work on your legs and full body strength," he said. "You can make the current as strong as you want when you work out."
Reggie's view
Hall of Famer Reggie Jackson, a special assistant to Yankees ownership, is also impressed with the new confines. But, he makes it clear, his perspective is a little different than that of youngster like Chamberlain.
Though he agrees that he was most taken aback by the laptops, too, he says, "I'm from a different era. I didn't come to the ballpark thinking about computers. I came thinking, 'How am I going to get some hits' ... 'who's the starting pitcher I have to face tonight?'
"I admit that it's wonderful, that everything here was done in first-class fashion. But I didn't have this, and I came out OK. This doesn't make you play better. Money doesn't make you play better. It allows you to live better. You play better because of you. And we want 'you,' not what you appear to be, not what you are in the weight room, the pool, the restaurant. It's about what you have on the field."
Pettitte: Joyless in Seattle
Andy Pettitte has seen them come, seen them go.
Ballparks, that is. "I think I've been in all the ones up and running, right now, except for the new Mets park," the lefthander said. "Hopefully I will get to see that this summer."
The stadium Pettitte misses the least might surprise.
"The Kingdome," he said, flatly. "I just have bad memories of that place. I had a couple bad games there, the lighting wasn't real good. And that's where we lost the playoffs in 1995."
Claire Smith is a news editor for ESPN whose primary responsibility is baseball, which she previously covered for the NY Times and Philadelphia Inquirer.