May, 20, 2011
5/20/11
7:04
PM ET
By "any cost," I mean that Theo Epstein's a general manager who's willing to add talent not only on the high end, but also by keeping an eye on who's available and might be able to break through with a change of scenery. The most recent example of Epstein's bargain hunting was when he traded a player to be named (or the always handy Stacks O'Cash) to the Rockies for live-armed lefty
Franklin Morales
on Thursday. It's the latest in a long list of low-end, low-risk acquisitions with upside that the Red Sox GM allows on his roster, active as well as 40-man, year after year.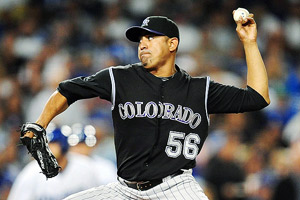 Gary A. Vasquez/US PresswireThe Red Sox acquired lefty Franklin Morales on Thursday.
Keep in mind, it wasn't so very long ago that Morales was a top commodity as prospects go. Before the 2008 season, the Venezuelan southpaw was rated by Baseball Prospectus' Kevin Goldstein among the top 15 prospects and by Baseball America among the top 10 prospects
in baseball
-- not just the Rockies' system, but the entire game. Then he struggled with control issues and shoulder woes and there was a good amount of uncertainty about his best role: Rotation regular? Closer? Set-up man? All this was going on while having to pitch in unforgiving places like Coors Field or Colorado Springs, and all before 25th birthday. And for all that, he's still a young left-hander throwing mid-90s heat.
Morales becomes just the latest variation on that left-handed theme for the Red Sox, however. Given a chance to pick up former top lefty prospects such as former Tiger
Andrew Miller
or former Cub
Rich Hill
, Epstein gets grabby. After re-signing as a minor-league free agent, Hill seems midway through transforming himself into a situational side-armer, although the temptation to keep his wicked overhand curve is there. Miller is being left alone in the PawSox rotation, and as wild as he's been (with 28 walks in 35.1 IP), he's enjoying his best success in years. Morales and Hill are a lot more intriguing as pen lefties go than recycling
Dennys Reyes
or enduring disappointment from
Hideki Okajima
.
Epstein hasn't been shy about going after low-cost right-handed talent either. Spending money on
Bobby Jenks
or
Dan Wheeler
is part of the playbook, sure, but so was salvaging journeyman
Matt Albers
after he didn't break through with the Astros or Orioles, and helping him switch from a curve to a slider as his main alternative to heat that touches the mid-90s. Sometimes the Sox miss, of course --
Scott Atchison
didn't turn into something special after they imported him back from Japan, and after getting
David Aardsma
in a little throwaway deal with the White Sox in 2008, they recycled him in an equally low-stakes exchange with the Mariners. Just the same, Aardsma cooks with gas, and that was worth checking out.
What might seem surprising about this is that it's the big-money Red Sox doing these sort of ticky-tack transactions. But whether they're tossing nine figures at free agents or a PTBNL to the Rockies, it's all about giving the Red Sox a chance to help themselves, and they do. Some of this is a matter of exploiting the fact that the Red Sox are a desirable team to be associated with -- Miller and Hill weren't going to sign minor-league deals with just any organization. But a big part of it is also the willingness of Epstein and his confederates to take a chance on talent, and promptly reap the benefits or discard the liabilities. Not every team sweats who their 24th or 25th man is this much, but they'd be better off if they did.
Christina Kahrl covers baseball for ESPN.com. You can follow her on Twitter.
February, 2, 2011
2/02/11
3:06
PM ET
A prospect is a prospect until proven worthy at the big league level.
As a Cubs fan, I have never been so happy to see prospects, promising ones at that, get traded in such a flurry. As a matter of fact, this is the first time in recent memory that I can remember my beloved Cubs trading away the future for the present.
Chris Archer … gone. Hak-Ju Whatever-Your-Name-Is … gone. Traded away for
Matt Garza
, a former Tampa Bay Rays starter with some youth left to boot! Did I mention he was good?
Before this move, the Cubs seemed determined to stick with their homegrown talent at any cost. Names like Rich Hill,
Felix Pie
,
Corey Patterson
were once prospects of gold! It appeared that championships were waiting to be picked off like a snoozing runner with a big lead at first. It was as if the Cubs' brass hoped one of those prospects could be the next Ernie Banks or Greg Maddux so it could end this century-long streak and do it with their own talent, discovered in-house, by their own people. For a period of time this seemed to be the game plan on Chicago's north side. Nobody wanted to give up the next Ernie Banks for, well, the next Ernie Broglio.
Insert the Matt Garza trade. He will get one of the top three spots in the Cubs' rotation for the coming season. Don't get me wrong, Wrigleyville. I'm not trying to predict greatness, but the move does give the Cubs a certain validity in the NL Central. The real question won't be what he does on the mound, but what he does for the rotation as a whole. Even a pedestrian effort could bear fruit in year one!
With Garza's acquisition, a certain amount of strain is removed from
Ryan Dempster
and
Carlos Zambrano
. Two above-average pitchers (on their good days) carrying a rotation is a stretch, and before the Garza trade, your Cubs rotation looked like a head case; an injury waiting to happen (the reason we have Dempster is because of his an injury-riddled past); and a guy (
Carlos Silva
) that another team couldn't wait to get rid of for
Milton Bradley
, followed by two doses of young, unproven talent. One word: Yuck!
With Garza, the clouds seemed to part. If he gives the Cubs 200 innings this year, which many believe he is capable of, then the gray skies become blue … Cubbie blue! Zambrano continues his form from his 8-0 effort in the second half last year, Dempster proves the injuries are in the distant past and keeps forging his path of consistent, not dominant, but consistent stuff, and Silva becomes a nice back-of-the-rotation starter.
If Garza can win 10 or more against the AL East, what can he do against the NL Central? Does anybody remember what
Ted Lilly
did when he came over to the division?
This leaves one spot for a new guy. A young gun in need of some nurturing, but one who has the stuff to be good. A "get your feet wet at the back of the rotation" guy. Who could it be? This is where it gets fun!
Now, if only
Carlos Pena
can hit above .250 …Chet West contributes to View from the Bleachers, a blog about the Chicago Cubs.
Chet West contributes to View from the Bleachers, a blog about the Chicago Cubs.
March, 24, 2010
3/24/10
9:09
PM ET
Another blog entry,
another rotation (unofficially) set
. Joe Strauss:
The Cardinals are expected to formalize their starting rotation after Rich Hill and Kyle McClellan appear this afternoon against the Baltimore Orioles. Today's action likely represents little more than a formality as heavy sentiment exists to install lefthander Jaime Garcia as the fifth starter.

Garcia apparently cinched his standing with a strong performance against the Houston Astros on Monday in Kissimmee. Garcia allowed one run on two hits while getting eight groundouts in four innings.

--snip--

Embracing Garcia as fifth starter allows La Russa and pitching coach Dave Duncan to return Kyle McClellan to the bullpen, where he may serve as righthanded set-up man for closer Ryan Franklin.

McClellan entered camp projected as the frontrunner for the fifth-starter role. McClellan has done little wrong, constructing a 2.57 ERA while allowing six hits in seven innings covering two A-game appearances. He also appeared in an intrasquad game following postponement of a March 12 game against the Boston Red Sox.

--snip--

Garcia, 23, would become the youngest starting pitcher to make the Cardinals' Opening Day rotation since Rick Ankiel made the 2000 club at 20.
(Something tells me that Tony La Russa doesn't spend a great deal of time worrying about
the Verducci Effect
.)
It's an odd trio of rotation candidates.
Rich Hill, who used to be one of my favorites, has walked more than he's struck out in the last two seasons. Now he's trying to change his delivery and maybe it'll work, but it's not the way to win a regular job with a contending club.
McClellan threw only 76 professional innings in 2008 and 67 in 2009, all of them as a reliever; he hasn't really been a starter since 2004, when he went 4-12 with a big ERA in Peoria.
Meanwhile, Garcia threw the grand total of 38 innings last year after recovering from Tommy John surgery in 2008. Those 38 innings went reasonably well, but as John Sickels notes, "his control is still inconsistent, and pushing him into the big-league rotation might be rushing things."
Garcia's 23, turns 24 this summer. Tony La Russa and Dave Duncan are famous for their work with veteran castoffs; their history with young starters is less an inspiring. But maybe Garcia, already having had a ligament transplanted into his young elbow, is now relatively safe.
He still has to throw strikes, though, and five walks in 12-2/3 innings this month doesn't constitute a great deal of proof that he's ready to do that.
August, 26, 2009
8/26/09
7:31
PM ET
Another Met bites the dust
:
Oliver Perez became the latest Mets injury casualty Wednesday when the team announced he will undergo season-ending surgery on his right knee. An MRI revealed that Perez has "patella tendon tendinosis," the Mets said in a statement.

--snip--

It's unclear how significant a role his injury played in Perez's poor performance this season.

"I would say his knee issue probably had an effect on maybe his conditioning," manager Jerry Manuel said. "Even though you try to do different things, a lot of times pitchers have to get out and hit this ground and get turned over and those types of things instead of doing things in the gym. ... Now, I can't say how much of an effect or how long it has hampered him to perform to the expectations we had for him."
Perez walked 58 hitters in 66 innings this season, or 7.91 per nine innings. That's the worst ratio since
Bobby Witt
walked 8.81 per nine innings in 1987 ... after having walked 8.16 per nine innings in 1986 ... and he would walk 7.51 per nine innings in 1991!*
* Witt enjoyed sort of an amazing career, when you really look at it. He did eventually tame his fastball to a point, and among pitchers with at least 500 career innings, his 5.02 walks per nine innings is just 12th worst. What's more, he pitched until he was 37 and won 142 games in the majors. Sure, he also lost 157. But for a guy who could well have just given up after his first few seasons, Witt enjoyed one fine career.
Oliver Perez isn't the only pitcher this season with big-time control problems, as Rich Hill (6.24 walks per nine innings) and Dontrelle Willis (7.5) also come immediately to mind. Those three had me wondering if there's been anything special about this season ... and as usual, there's not. I mean, we've seen already that Perez is special. But since 2000, 14 different pitchers -- including Perez and Kazuo Ishii, twice each -- have pitched at least 50 innings in a season and walked more than six batters per nine innings.
Sometimes they can even get away with it. In 2004, Victor Zambrano walked 6.46 per nine innings and still went 11-7 with a 4.37 ERA. In 2002, Ishii walked 6.19 per nine innings and still went 14-10 with a 4.27 ERA ... and the next year he walked 6.18 per nine and posted a 3.86 ERA!
It never works for long, though. Ishii last pitched in the majors in 2005, and Zambrano won only eight games in the majors after his big-walk season. It's just not the way game works.
Perez and Hill might not be unique. But if they don't stop throwing so many pitches so obviously outside the strike zone, they'll soon be non-unique in the non-major leagues.
July, 28, 2009
7/28/09
5:56
PM ET
Peter Schmuck on what might
or might not be
, a debilitating shoulder injury:
Of course you're skeptical about Rich Hill's sore shoulder. Who wouldn't be, after he admits to being sore right at the moment when it looks like he's going to be waived and possibly outrighted to the minor leagues?

Now, to be fair, maybe he has been pitching hurt the past few outings, but his track record indicates that his control problems are as much mental as physical. He's a decent fellow and I hope the Orioles find a way to straighten him out, but it's hard to project him ever being a truly dependable starting pitcher.
Hill's spot in the rotation became untenable during or immediately after
his last start
, in which he walked three Royals -- yes, you read that right: three
Royals
-- in just a few innings. After that glorious outing, Hill's ERA stood at a lovely 7.80, which wasn't acceptable even before the Steroid Era.
I don't know how bad Hill's shoulder is hurting, but either way he probably needs some time off. Totaling Hill's time in Triple-A and the majors over these last two seasons, he has pitched 117 innings and walked 96 men. Many of them big, strong men, yes. But mere men, nevertheless. It's pretty obvious that Hill just isn't right, and throwing him out there against major league hitters, or even Royals, isn't going to make him right.
Which might all seem rather inconsequential, except for some reason I've always sort of pulled for the guy, and it's not inconsequential to him and everybody who loves him. I hope he pitches again, but I hope he doesn't pitch again until he's ready to throw quality strikes.
June, 2, 2009
6/02/09
5:40
PM ET
Josh Q. Public notes the
resurgence of a certain curveballing southpaw
:
Public Service Announcement: Ok, here we go! Remember Rich Hill? Remember the guy who led some to speculate that he was taking over as the ace in the Cubs rotation while he assembled a streak of eighteen consecutive innings without an earned run? Remember the guy who called AJ Pierzynski gutless? The guy whose curveball Michael Barrett said, "is so electric that the first couple of times I caught him, I had a tendency to come up on the curve because it bites so much. You just don't see a left-handed curveball like that anymore. When he's good, it doesn't hang, and it's nearly unhittable." Well folks, he was almost unhittable again last night.

--snip--

Last night, Rich Hill allowed two hits over seven innings in the Orioles' 1-0 win at Seattle. Big deal you say? Who cares you say? I say it was the first time Hill held his opponent scoreless over the first seven innings since he did so five times over a period of nine starts in September 2006 and April 2007. I say in 2006, Hill's two complete games were the only CG's by the Cub's pitching staff in that season. After having problems finding the strike zone in '08, Rich was ultimately sent down to Single-A. His career appeared over.

Rich Hill has found new life with this O's team and he's making the most of it. Hill: "The opportunity that I'm getting is a second chance, and you've got to make the most of it. "To be able to come to the ballpark, to compete and be a Major League baseball player is something that you don't take for granted after the course of events that happened last year." This year, however, Rich Hill is good again.
Good? Maybe. I think "adequate" would be a satisfactory way-station at the moment, though. When Hill was good, with the Cubs, he walked 3.2 batters per nine innings and struck out 8.3. Those numbers work. When Hill was awful -- last year with the Cubs and in the minors -- he walked nearly as many batters as he struck out. Those numbers don't work.
And this year? He's somewhere in the middle. Before the Orioles called him up, he struck out 17 in 165 minor-league innings, but walked nine. In his four starts with the big club, he's struck out 22 in 22 innings, but walked 12. Granted, he was impressive last night against the Mariners, but that's just one game and the M's are last in the league in walks. Aside from the Mariners, Hill has started against the Royals, the Nationals, and the Blue Jays. Predictably enough, he pitched well against the Royals and the Nats but got manhandled by the Jays.
So, yeah: Rich Hill is back. I always figured he would make it. But that guy we saw in 2007? He's not back yet, and I'm not at all sure that he'll ever be.