SweetSpot:

Richard Hidalgo
June, 12, 2014
Jun 12
2:15
PM ET
You probably saw that Yoenis Cespedes
did it again
on Wednesday, misplaying a ball but recovering to show off his cannon and throw out Albert Pujols. That's nine assists on the season for Cespedes (four against the Angels), with eight coming in just the past 16 games, the first outfielder with that many assists in a 16-game span since Bernard Gilkey in 1997.
One thing you sometimes here is that outfielders with great arms don't rack up a lot of assists because runners never test them out. That simply isn't true. Look at some of the outfielders with a reputation for having a great arm:
Roberto Clemente led his league five times in outfield assists and ranked second four times.
Al Kaline led the AL three times and was second twice.
Dave Parker finished first, second or third in the NL each year between 1975 and 1980 (including 26 in 1977).
I mentioned Ellis Valentine in yesterday's post on great throws. He tied for the major league lead with 24 assists in 1978.
Jesse Barfield led the AL five times (three times reaching 20 or more assists) and was second twice.
Ichiro Suzuki twice led the league and three other times finished in the top three.
Royals left fielder Alex Gordon is known for his strong arm and he's ranked first, second and first in the majors the past three seasons.
Gordon's ex-teammate Jeff Francoeur has a cannon, and when he hit well enough to remain in the lineup he racked up 19 assists in 2007 (first in the majors), 16 in 2011 (second) and 19 in 2012 (first).
You get the idea. Here are the year-by-year
top 10 leaders
in outfield assists. Sometimes there are exceptions. Alfonso Soriano was never known for his great arm but he led the majors with 22 assists in 2006 and 19 in 2007. Maybe his arm was was better than it was given credit for or maybe he just had two great seasons in left field. (According to play-by-play data on Baseball-Reference.com, 23 of his assists over those two years falls into the "other" category of assists from those listed, which mostly means batters trying to stretch a base hit into a double.)
There are also some outfielders who can get high assist totals because they're good at charging balls. Barry Bonds fits this description as he didn't have a strong arm but led the NL in assists in 1990 and ranked in the top four five other times between 1987 and 1995. Tim Raines had a weak arm but had a 21-assist season. This is part of what made Ichiro such a good right fielder; I've always thought his actual arm strength was overrated a bit but he was so good at coming in on the ball he was effective at holding runners.
Still, assists aren't everything. Preventing a runner from advancing doesn't show up in the assist column but has value. Thanks to play-by-play data that goes back to the 1954, we can track this information and compare an outfielder's ability in preventing runner advancement to other outfielders. Baseball-Reference lists a category called Rof, which is Total Zone Outfield Arms Above Average -- the number of runs above or below average an outfielder saved based on baserunner kills and runner advancement. For example,
go here
for 2013 and go to the second table and click on the Rof column to sort by the leaders.
I went and looked at each season since 1954. A lot of the same names show up among the leaders year after year. I also noted all seasons where an outfielder saved at least seven runs above average or led the majors (if it was below seven). Using that definition, these players showed up most often:
Jesse Barfield: Six times
Dwight Evans: Five times
Roberto Clemente,, Andruw Jones, Raul Mondesi, Larry Walker: Four times
Bobby Abreu, Johnny Callison, Rocky Colavito, Jim Edmonds, Jeff Francoeur, Cesar Geronimo, Alex Gordon, Ken Griffey Jr.: Three times.
That's a pretty decent proxy list for "Best arms of the past 60 years."
One more thing we can do. We can look at the percentages of times a baserunner was "held." For right fielders, Baseball-Reference looks at five situations (single with runner on first, single with runner on second, double with runner on first, flyout with runner on third and flyout with runner on second) and then calculates the percentage of times the baserunner didn't advance, or hold percentage.
Here are how some right fielders fared in that area in their careers (numbers only while playing right):
Raul Mondesi: 52.7 percent
Alex Rios: 51.2 percent
Ichiro Suzuki: 50.8 percent
Jeff Francoeur: 50.7 percent
Bobby Abreu: 50.2 percent
Ellis Valentine: 49.4 percent
Larry Walker: 49.2 percent
Jesse Barfield: 49.0 percent
Vladimir Guerrero: 48.8 percent
Al Kaline: 48.3 percent
Roberto Clemente: 48.1 percent
Dwight Evans: 46.7 percent
Dave Winfield: 46.2 percent
Dave Parker: 44.7 percent (he was above 50 percent early in his career and then got fat and slow)
Anyway, that's not meant to be comprehensive, just some names I looked up. The MLB average has changed a little over time. For example, during Abreu's career, the average MLB hold percentage was 46 percent. For Barfield, it was 42.5 percent. During Clemente's career the hold percentage was 40.9 percent. So the hold percentage has
increased
through the years, which could be the result of various factors: Better arms, more athletic right fielders who can charge the ball, smaller ballparks compared to the multi-purpose Astroturf stadium of the '70s and '80s, slower or more cautious baserunners and so on.
Two more notes. The best season an outfielder had with his arm, at least according to Rof, is tie between Barfield in 1989 and Richard Hidalgo of the Astros in 2003, both 14 runs better than average. Barfield split that season between the Blue Jays and Yankees and racked up 20 assists with a hold percentage of 53 percent in right field (he also played a bit of center that year). Barfield didn't win the Gold Glove that year (he won just two) as the AL Gold Gloves went to Devon White, Kirby Puckett and Gary Pettis, three pretty good center fielders. Hidalgo, playing right field, had 22 assists and a hold rate of 56 percent.
Finally, maybe the most obscure name I came across was an outfielder for the expansion 1977 Blue Jays named Steve Bowling. Other than 14 games with the Brewers in 1976, that was his only season in the majors. He played 87 games in the outfield that year, but started just 58 of them and yet piled up 14 assists, second-most in the AL. Did he have a cannon for an arm? Who knows, but maybe the best arm of the past 60 years belongs to him and not Clemente or Barfield.
May, 17, 2011
5/17/11
6:15
PM ET
By
Dave Schoenfield
| ESPN.com
From 1979 through 2006, the
Houston Astros
were one of baseball's best and most consistent franchises. They suffered just six losing seasons and made the playoffs nine times. They finally reached their first World Series in 2005, but that was primarily an aging club at the end of a long run of success.
Jeff Bagwell
was done,
Craig Biggio
and
Roger Clemens
were old,
Andy Pettitte
would return to the Yankees and
Morgan Ensberg
never repeated his big season.
And the talent dried up. The Astros are on their way to their fourth losing season in five years and will likely lose more than 90 games for the first time since 1991. As Buster Olney
wrote in his blog today
, with Drayton McLane selling the team to Jim Crane, the new ownership group knows it has to pay more attention to player development.
[+] Enlarge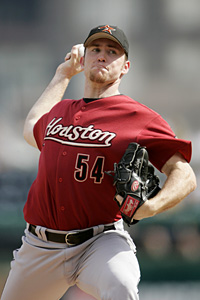 Photo by Craig Melvin/US PresswireThe Astros haven't had much luck in the first round of the draft since taking Brad Lidge in 1998.
1. A string of bad drafts. Former scouting director David Lakey nailed his first two first-round picks, drafting
Lance Berkman
in 1997 and
Brad Lidge
in 1998, but the Astros haven't drafted a first-rounder since who has developed into a solid major leaguer. (Time will tell, of course, on recent picks like Jordan Lyles and
Delino DeShields
Jr.) The Astros only had one top-10 pick from 1993 through 2007 (
Chris Burke
, 10th overall in 2001), which doesn't help, of course. The team also forfeited its first-round picks in 2003 (for signing
Jeff Kent
), 2004 (for signing Andy Pettitte) and 2007 (for signing
Carlos Lee
). It's hard to fault the Kent and Pettitte signings, but Lee has been both expensive and now unproductive.
Every team misfires in the draft but the Astros have had a long string of misfires. In 2005, under scouting director Paul Ricciarini, they were picking 24th and selected pitcher
Brian Bogusevic
, who was later converted to an outfielder.
Matt Garza
was the next pick and
Colby Rasmus
went later in the round. With the 23rd pick in 2006 they took high school catcher Max Sapp, who hit .224 in three seasons in the minors and then developed meningitis, which ended his career. Even before contracting meningitis, the Astros had shown their doubts about his future big-league status, drafting catcher
Jason Castro
in the first round in 2008. Two picks after Sapp, the Angels selected another high school catcher,
Hank Conger
, now playing well as a rookie. But the big blows were a string of drafts from 2000 onward that produced few big leaguers -- guys who should be in their primes right now.
2. McLane refused to spend on the draft, sticking to the MLB recommended slot bonuses. For example, the team failed to sign third-round pick
Drew Stubbs
in 2003; he later became a first-rounder of the Reds. Castro, drafted 10th overall in 2008, was taken one pick before
Justin Smoak
, whom most scouts rated much higher. Smoak signed for a bonus $1.5 million more than Castro.
McLane always operated the franchise like a mid-market team, instead of one playing in the sixth-largest metro market in the U.S. Under McLane, the Astros ranked in the top 10 in payroll in the majors just twice -- sixth in 2006 and eighth in 2009. Maybe there isn't quite enough fan interest in Houston to allow the Astros to play with the big boys -- even during their great run in the late '90s and early '00s, they reached a peak attendance level of fifth in the NL.
3. The Venezuelan pipeline shut down. Whether through deploying fewer resources, not spending money or just signing the wrong guys, a once fruitful operation in Venezuela -- arguably the best in the majors -- has returned little talent in recent years. Among the players Houston signed out of Venezuela:
Richard Hidalgo
,
Bobby Abreu
(although he was lost in the expansion draft),
Carlos Guillen
,
Johan Santana
(lost in the Rule 5 draft),
Freddy Garcia
and
Melvin Mora
.
4. Bad deals. The Carlos Lee -- six years for $100 million in 2007 -- was a bad deal at the time, an overrated RBI guy with mediocre OBPs who played poor defense. As predicted, it's become an albatross and he'll still be making $18.5 million in 2012. The team drafted
Ben Zobrist
and later traded him to Tampa Bay for
Aubrey Huff
. That's 68 games of Huff before he left as a free agent.
Crane will take over officially sometime this summer. He's got a lot of work ahead of him.
Follow David on Twitter: @dschoenfield. Follow the SweetSpot blog: @espn_sweet_spot. And follow the Astros blog here.