November, 18, 2012
11/18/12
10:30
AM ET
By
Christina Kahrl
| ESPN.com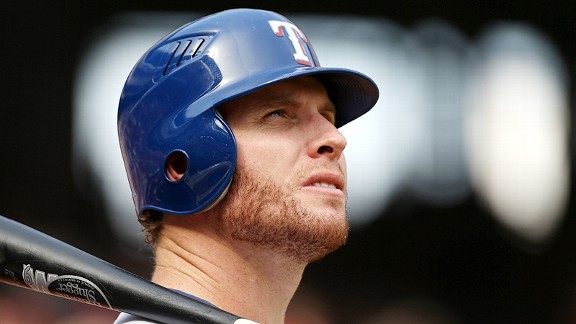 Matthew Emmons/US PresswireJosh Hamilton would provide Milwaukee with a much-needed left-handed power hitter.
It's the big question of the winter: Where will outfielder
Josh Hamilton
go? How much and for how long is sure to elicit squeals of outrage and satisfaction, of course. Rather than root for somebody's checkbook, I'm here to say why the winter's biggest free agent should head for baseball's smallest market in Milwaukee, with the hope that Brewers general manager Doug Melvin acts on it.
Point 1: Milwaukee is a place where Hamilton could thrive.
Face it, Hamilton is going to get his share of media attention just because we vultures in the Fourth Estate know he's news. If he breathes, opines, succeeds or fails, he's going to get attention. And given his past issues with addiction, he isn't exactly going to be every team's idea of a hero in cleats.
But in Milwaukee, the focus will be on baseball while playing in front of a friendly fan base, and he'll get the benefit of playing in a media market where the ink-stained lifers tend to be supportive. And he'll be joining a team where he won't be the primary focus of attention --
Ryan Braun
already owns that job.
Most importantly, the Brewers are an organization with plenty of experience in dealing with players who need a bit of extra consideration. Hitting coach Johnny Narron was Hamilton's off-field "accountability partner" for five years before taking his job with the Brewers in 2012. They don't just have somebody to help Hamilton on and off the field, they have perhaps
the guy
. And when it comes to handling media access for a player who might need special attention, the Brewers have their recent work with
Zack Greinke
to lean on.
So the environment in Milwaukee could be a great match for Hamilton, but what about what he'd do for them? Voila,
Point 2: The Brewers' lineup needs a lefty thumper.
[+] Enlarge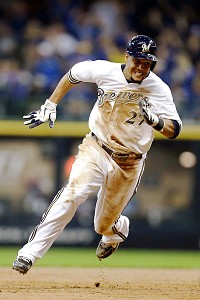 Mike McGinnis/Getty ImagesBy signing Josh Hamilton, the Brewers could trade Carlos Gomez for starting pitching.
Why? Well, ponder this: Braun,
Aramis Ramirez
,
Corey Hart
and
Rickie Weeks
, what do they have in common? They're all right-handed power hitters, and in the season after
Prince Fielder
left Brew City, the Brewers saw their homers hit by righties and lefties get to a huge 175-27 split. Isolated power (SLG minus batting average) just echoes the issue: Milwaukee's right-handed batters had a collective .194 ISO, against .127 for their lefties.
Now, look ahead to a 2013 season, when the Brewers will be competing against a Cardinals team fronting power righties
Adam Wainwright
and
Chris Carpenter
at the same time for the first time since 2010, while the Reds start an all-righty rotation that has
Johnny Cueto
and
Homer Bailey
coming into their own. To compete, the Brewers will need some balance against that stack of right-handed power hitters, and perhaps nobody in baseball could be a single-source solution as readily as Hamilton would be.
Beyond offense, there's the question of where Hamilton would play. As it stands, you'd expect him to play a lot of center or a lot of right field, pushing either
Carlos Gomez
or
Norichika Aoki
to the bench. That's not as bad as it sounds -- sitting Aoki against some lefties and Gomez against some righties already makes sense as is. But Hamilton's litany of nagging hurts suggests he might be good for 120 starts per year. Add in another 10 days off for Braun in left field, and you wind up with about 210 starts to hand out to Aoki and Gomez, plenty of regular playing time without also using them as pinch-hitters and double-switches.
Looking at that outfield and the rest of the organization brings us to the next reason why Hamilton works for them.
Point 3: Adding Hamilton gives Melvin players to trade to fix other problems.
Look at the talent they've got lying around at positions where they won't get to play:
Mat Gamel
is already blocked out by Hart at first base and is heading into his age-27 season. (Not to mention the Brewers also have Hunter Morris coming up behind him.) Third baseman
Taylor Green
is 26, and might have to wait another three years before Ramirez leaves. Gomez is sure to be in demand for his combo of glove work in center and power at the plate, even if he's just a year removed from free agency. That's a lot of ready-now talent with power at positions where this winter's market is weak and other teams have needs.
If the Brewers are going to acquire the help on the pitching staff that they need, their best bet at helping themselves is shopping this surplus of ready-now, cheap hitters with years of club control ahead of them. They can use it to acquire a starting pitcher (or two) and a couple of relievers that would be better than those available in this winter's market. Perhaps ideally, they'd hold on to Gomez and get what they need shopping Green and Gamel, but for the right starting pitcher, Melvin should be willing to talk about their center fielder.
The 2012 Brewers' lineup, weighted by playing time, was already the fourth-oldest in the league at 29.1 years old. Even with
Jean Segura
at shortstop, that number isn't going to go down. Which is brings me to my last point for why Hamilton in Milwaukee works:
Point 4: They should fully invest in winning now.
Considering their collective age, the Brewers' clock is ticking. Stars like Braun (29) and Rickie Weeks (30) are already at the tail end of a normal "peak" performance arc. Weeks and A-Ram could be here through 2015, Braun for another six years beyond that. In light of those kinds of commitments, the Brewers should be in the business not just of contending, but trying to win it all.
Add it up, and however much Hamilton might be a risky, high-stakes addition, because of the mutual potential, his decision to go to Milwaukee could be a win-win for ballplayer and ballclub alike.
Christina Kahrl covers baseball for ESPN.com. You can follow her on Twitter.
September, 13, 2012
9/13/12
12:55
AM ET
The second wild card is a goofy, ridiculous idea that goes against everything baseball history stands for: That the regular season is the ultimate test of a team's ability, strength and toughness. To get to the playoffs, you have to prove yourself over 162 games; and to get there, baseball requires a higher standard of excellence than other sports.
Which is one reason I didn't like the second wild card; it lowers that bar. And once you're there after playing 162 games, you get one game, do-or-die, to remain alive?
I still have my doubts, but in 2012, I'll admit: The second wild card has added an extra layer of fun.
I'm pretty sure the
Milwaukee Brewers
would agree. I'm not exactly sure when the Brewers hit their low point. Maybe it was when
Rickie Weeks
swung at this pitch
, but more likely it was July 23, 24 and 25, when they lost three games in Philadelphia by identical 7-6 scores, all in the late innings. In the first game,
Francisco Rodriguez
allowed four runs in the bottom of the ninth. The next day, the Phillies scored six runs in the eighth inning. The day after that, the Brewers scored a run in the 10th but gave up two in the bottom of the inning. Two days later,
Zack Greinke
was traded.
And why not? The Brewers were 45-54, 10 games out of the second wild card, the magic of 2011's playoff run a distant memory.
Yet here we are, 44 games later, and the Brewers are three games behind the suddenly plummeting
St. Louis Cardinals
for that suddenly enticing second wild card. On Wednesday, the Brewers completed a three-game sweep of the
Atlanta Braves
thanks to an eight-run explosion in the fifth inning, all the runs in
Milwaukee's 8-2 victory
. The Brewers are 18-5 over their past 23 games, hitting .289 with 36 home runs and 32 stolen bases while averaging 6.1 runs per game. The pitching has been impressive, of course, with a 3.33 ERA and 220 strikeouts in 208 innings.
The fifth inning came from nowhere.
Paul Maholm
, who has been so solid for Atlanta since coming over from the Cubs, was sailing along with just three hits allowed through four innings. The inning began with a
Chipper Jones
fielding error,
Yovani Gallardo
's sacrifice and
Norichika Aoki
's infield single that Jones made a diving stop on but couldn't make a throw. Up stepped Weeks, the 2011 All-Star whose averaged had sunk to .158 on June 10 and remained under .200 through July 24. Since then, however, he's hit .308, slugged over .500 and he hit a 2-1 fastball from Maholm into the bullpen in right-center for his sixth home run of September.
The Brewers weren't done.
Ryan Braun
-- can we finally start talking about him as an MVP candidate? -- singled.
Aramis Ramirez
reached on another infield single that Jones couldn't handle,
Jonathan Lucroy
singled just past a diving
Paul Janish
at shortstop,
Logan Schafer
walked and
Travis Ishikawa
cleared the bases with a double over the head of
Jason Heyward
on a pretty good low-and-away slider from Maholm. That brought in
Cristhian Martinez
and Gallardo finished off the inning with an RBI double.
Hey, it was one of those innings -- two infield hits, a single just past Janish, a double just out of Heyward's reach. It's one of those innings that when they happen in September you start believing in things like luck, karma and chasing down the Cardinals.
Gallardo, in the absence of Greinke, has stepped up since that trade. Other than one bad seven-run outing against the Pirates, he's been terrific over nine starts, giving up two runs or fewer in seven of those starts and three in the eighth. The Brewers have won all nine of those games. And here's a stat that may surprise: Gallardo leads the majors with 24 quality starts, one more than
R.A. Dickey
and
Clayton Kershaw
. Does that make him a Cy Young candidate? No, but he's provided that one consistent presence from an Opening Day rotation that saw
Chris Narveson
go down after two starts,
Randy Wolf
pitch his way out of town with a 5.69 ERA,
Shaun Marcum
miss time and Greinke get traded. The Brewers even had their own less-publicized Operation Shutdown when rookie
Mark Rogers
, who went 3-1 with a 3.92 in seven starts after his recall from the minors, was shut down after his Aug. 31 start.
* * * *
OK, maybe this is where I admit I picked the Brewers to reach the World Series. It was an admittedly left-field prediction, but going out on a limb with at least one pick is part of the fun of spring-training prognosticating. But one reason I believed in them was I did think their offense would be fine, even minus
Prince Fielder
. Indeed, the Brewers have scored the most runs in the National League and one big reason has been Ramirez, who essentially replaced Fielder in the lineup. Compare their numbers:
Fielder, 2011: .299/.415/.566, 38 home runs, 36 doubles
Ramirez, 2012: .296/.361/.529, 23 home runs, 44 doubles
Pretty close, and considering Ramirez plays third base, you can actually argue that Ramirez has been
more
valuable than Fielder (Baseball-Reference Wins Above Replacement: Fielder 4.3 in 2011, Ramirez 4.7 so far.)
What I didn't account for was Wolf pitching so poorly and the bullpen duo of Rodriguez and
John Axford
developing severe cases of pyromania. The Brewers have blown 10 games they led entering the ninth inning. That's terrible beyond words: Entering Wednesday's games, all 30 MLB teams were a collective 1842-91 when leading after nine innings. That's an average of three such losses per team; the Brewers had 10 percent of those defeats all by themselves.
So the Brewers can score. They have an ace. Axford has shaved off his 1890s 'stache, reclaimed his closer role and allowed one hit over his past nine appearances that resulted in eight saves and a win.
Are the Brewers a great team? No, they're 72-71. But this goofy race for the second wild card makes them playoff contenders. Their next six games are against the Mets and slumping Pirates.
Like I said: I dislike the second wild card. And yet I love it.
Now, about those Phillies ...
PHOTO OF THE DAY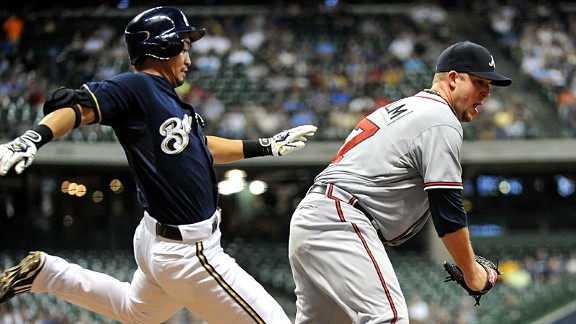 Benny Sieu/US PresswireNori Aoki's legging out an infield hit is the Brewers' case in point: They're not out yet.
May, 23, 2012
5/23/12
1:04
PM ET
Milwaukee Brewers
second baseman
Rickie Weeks
is turning into this year's version of
Adam Dunn
-- a good player having a historically awful season. He's batting .158/.285/.289 and has struck out 57 times in 179 plate appearances. While he's certainly been strikeout prone in the past (184 in 2010), he had cut his K rate down last season.
The other day, Weeks forgot how many outs there way, failing to turn a double play when he could have.
Kenton Wong and Mark Simon of ESPN Stats & Information passed along this at-bat from last night against
Sergio Romo
, which does a pretty good of summing up Weeks' issues at the plate. He took two strikes and then swung at a pitch about two feet off the plate: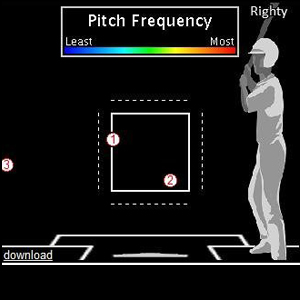 Here's an
overhead image
of how far outside that pitch was.
Weeks has been diving out over the plate, a problem Brewers manager Ron Roenicke
told MLB.com
last week is all mental: "He probably swings 50-100 times a day [in the batting cage] the right way. So why, when you get in a game, do you have a swing that's completely different than what you do in practice? Something changes up here [in the player's head]. You're thinking, 'Hey, this guy is going to pitch me away, I've got to go out and hit this ball.' The next thing you know, you're diving out over the plate."
As for the Brewers, they're 17-26 and not just because
Prince Fielder
is no longer in town. Weeks has been awful,
Nyjer Morgan
hasn't driven in a run in 116 plate appearances,
Aramis Ramirez
has a .299 OBP,
Randy Wolf
has been terrible and
Yovani Gallardo
inconsistent. It's a bad team right now, bad enough that Jim Bowden thinks
Zack Greinke
will be traded by the July 31 trade deadline.
February, 18, 2012
2/18/12
11:00
AM ET
By
You Can't Predict Baseball
| ESPN.com
Last year, You Can't Predict Baseball came up with
bold predictions
for the year. We had a lot of fun coming up with them, and then laughing at how hilariously wrong they were
at the end of the year
. This year, we're bringing these predictions to SweetSpot, along with explanations for some of them. Keep in mind, these predictions are supposed to be bold, but not insane -- even we know the Orioles aren't going to the playoffs in 2012.
Los Angeles Angels:
Kendrys Morales
stays healthy all year.
Houston Astros:
Bud Norris
is top five in K/9 in the NL.
We figured something good had to happen to the Astros, right? Norris actually has a pretty nice career K/9.
Oakland Athletics:
Yoenis Cespedes is their starting center fielder by Memorial Day.
Toronto Blue Jays:
Brandon Morrow
makes the jump to elite starting pitcher.
He's struck out more than 10 batters per 9 innings two years running, though his ERAs have remained ugly. We think this is the year his results finally match the stuff, especially considering his declining walk rate.
Atlanta Braves:
Julio Teheran
has more wins than
Tim Hudson
.
[+] Enlarge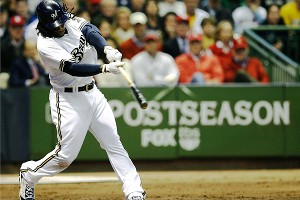 AP Photo/David J. PhillipWith Prince Fielder gone to Detroit and Ryan Braun facing possible disciplinary action, Rickie Weeks could lead the Milwaukee Brewers in home runs in 2012.
Milwaukee Brewers:
Rickie Weeks
leads the team in home runs.
He was fourth on the team last year, with 20. In front of him were Corey Hart with 26, Ryan Braun with 33, and Prince Fielder with 38. Fielder is gone, and for this prediction we'll assume Braun will miss a third of the year due to a suspension. It's not too bold to think Weeks could pass Hart in 2012.
St. Louis Cardinals:
Carlos Beltran
outproduces
Albert Pujols
from last year.
Albert Pujols was great last year, but not quite best-player-of-his-generation Albert Pujols. If healthy, it's not absurd to think of Beltran outproducing Pujols' 5.1 WAR in 2011.
Chicago Cubs:
Matt Garza
isn't their best pitcher.
It'll be Ryan Dempster, who had great peripherals but bad results last year.
Arizona Diamondbacks:
Aaron Hill
will be good again.
He was great with them in limited time, and Arizona's park is quite hitter-friendly.
Los Angeles Dodgers:
James Loney
will be a top-three first baseman in the National League.
Many thanks to Mike Scioscia's Tragic Illness for somewhat alerting us to this one. We just decided to take it semi-absurdly far.
San Francisco Giants:
Madison Bumgarner
is their best pitcher.
In terms of ERA, he already wasn't very far behind Matt Cain and Tim Lincecum, and his K/BB ratio eclipsed theirs by quite a bit.
Cleveland Indians:
They'll have the best pitching in the American League Central.
We're banking on Ubaldo Jimenez, making a major comeback to something closer to what he was in 2010, and the rest of the staff displaying the good that they did in 2011. We're also counting on the Tigers' starters not being very impressive behind Justin Verlander, which is bold but not quite insane, and the pitching of the White Sox, Twins and Royals not being able to keep up with Cleveland's.
Seattle Mariners:
Jesus Montero
catches 100-plus games.
The Mariners probably aren't going to compete, so why not try and play him where he'll accrue the most value?
Miami Marlins:
Despite all their new acquisitions and the hype, they still finish fourth in the NL East.
When you think about it, this one isn't so crazy. If Josh Johnson isn't healthy and maybe even if he is their pitching still trails that of Philadelphia, Washington, and Atlanta; even with Heath Bell, we don't think their bullpen is as good, either. Their offense might be better than some of those teams', but the Marlins were quite a bit below league average offensively last year and we're not sure how much Jose Reyes is going to make up for that.
New York Mets:
Mike Pelfrey
is the worst starter in the NL.
Pelfrey's been pretty terrible two of the past three years, and now they're moving the fences in at Citi Field. He was far better in his huge home stadium, but we're guessing with the moved-in walls he'll be significantly worse at Citi. Here at YCPB, we actually don't think the Mets are going to be quite as dire as many are saying, even if they do come in last place in the NL East - but Pelfrey won't be a bright spot.
Washington Nationals:
Stephen Strasburg
has a 17-strikeout game.
Baltimore Orioles:
Matt Wieters
is the best catcher in the AL.
A lot of people are so obsessed with Wieters not matching the hype that they didn't notice he became a plus offensive performer last year, to go along with very good defense. His taking the next step isn't that bold as predictions go, especially if Joe Mauer has to move off catcher.
San Diego Padres:
Luke Gregerson
is a top-three closer in the NL.
Philadelphia Phillies:
Cole Hamels
is their best starter.
And this isn't meant to be a slight to Roy Halladay or Cliff Lee, but considering their ages and the fact that Hamels is pretty darn good himself, plus a possible boost from a contract year...
Pittsburgh Pirates:
Charlie Morton
is their All-Star.
Texas Rangers:
Yu Darvish
isn't their best starter -- but he's still good.
And we think he'll be pretty good, we just think Derek Holland will become more consistently good, or Matt Harrison will put up numbers like his 2011.
Tampa Bay Rays:
James Shields
will have no complete games.
Predicting someone to have no complete games might not seem bold, but it is when it's a guy who was known as "Complete Game James" last season. Shields did have 11 complete games in 2011, an almost unheard-of number these days, but he had no complete games in 2009 or 2010.
[+] Enlarge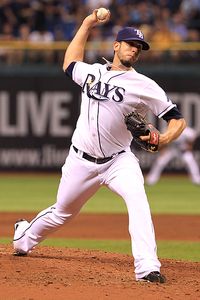 Kim Klement/US PresswireAfter none in either 2009 or 10, James Shields pitched 11 complete games for Tampa Bay in 2011.
Boston Red Sox:
No one hits 30 home runs.
This might seem crazy when you consider their great offensive numbers last year, but only one player on their team hit 30 home runs and it was Jacoby Ellsbury with 32.
Cincinnati Reds:
Brandon Phillips
is the best second baseman in the NL.
Colorado Rockies:
Jamie Moyer
will have the best HR/9 on the staff.
Kansas City Royals:
They reach .500.
While their pitching won't be great, their offense will take a big step forward this year. Combined with the rest of their division being the Tigers and some dumpster fires, it's not that difficult to see it happening.
Detroit Tigers:
They score fewer runs than they did in 2011.
Yes, that's even with Fielder. It's not improbable that Jhonny Peralta, Alex Avila and Delmon Young regress quite a bit from their numbers with Detroit last year, and that Prince Fielder's production "only" makes up for the offensive loss of Victor Martinez in 2012. They'll still have a very good offense, though.
Minnesota Twins:
Joe Mauer hits 15 home runs.
Chicago White Sox:
Robin Ventura gets ejected more times than Ozzie Guillen.
Look at the state of the White Sox. We'd get ejected too.
New York Yankees:
Hiroki Kuroda
leads the team in ERA.
You Can't Predict Baseball is an affiliate of the SweetSpot network.
January, 29, 2012
1/29/12
9:00
AM ET
By
Christina Kahrl
| ESPN.com
As we discussed in
the first installment yesterday
, performance at different positions invariably moves around a bit from year to year, but what about at the skill positions up the middle?
It seems as if not a winter goes by when you won't wind up reading stories about the shortage of good catching (followed by the arrival of
Koyie Hill
on your team's roster), or how landing people who can contribute at shortstop in the major leagues is difficult.
It's sort of nonsense, because when you get right down to it, the standards for offense at catcher are stronger now than they were when we had just 26 or 28 teams. The amount of offense you can expect from your shortstops relative to league offense is higher now than it was in the glory days of the shortstop trinity of the '90s, when
Nomar Garciaparra
,
Derek Jeter
and
Alex Rodriguez
seemed to redefine offense from a position where
Barry Larkin
and
Cal Ripken
had been the standard.
But at the same time, we're seeing players like
Robinson Cano
and
Dustin Pedroia
rank among the best players in baseball at second base, while
Jacoby Ellsbury
and
Matt Kemp
might have deserved their leagues' respective MVP awards for their seasons in center.
First, let's start with the performance levels from second base, shortstop, catcher and center field, from 1987-2011, using
Clay Davenport's Equivalent Average
as our rough year-to-year guide. As noted before, .260 is the single-season baseline for the major leagues.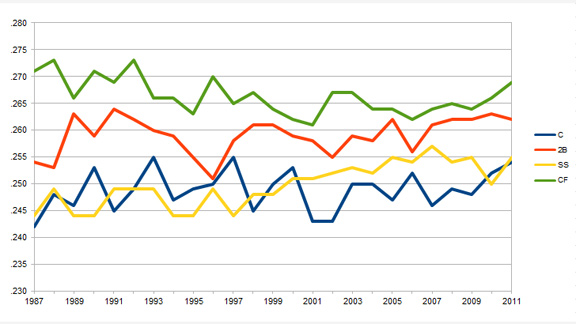 Christina Kahrl/ESPN.comUp the middle performance at the plate, 1987-2011
Straightaway, you can see how on one level the skill position versus corner position distinction comes across as a bit arbitrary, because it's clear that center field isn't like the other skill positions. Indeed, last year it ranked as the third-most productive position, behind first base and right field. With that in mind, what does this mean?
Center field is strong, but not that strong.
Historically, center fielders have always delivered more at the plate than all of the other up-the-middle slots, and also more than third basemen have in the past 25 years, averaging .269 over that time to the .267 teams have gotten from the hot corner.
What's unusual these days is that center fielders did more good on offense in 2011 than third basemen and left fielders, something fairly rare. The last time anything like that happened was in 1984 -- a year when center fielders led both leagues in homers,
Tony Armas
winning the AL crown outright with 43 bombs for Boston, while Dale Murphy tied Mike Schmidt with 36 in the NL. But that was also a season when both leagues boasted a half-dozen really good players in center.
However, the standards for excellence in center field were higher,
much higher
, in the late '60s and early '70s, and were of course higher in the '50s, when Mickey Mantle, Willie Mays, Duke Snider and Larry Doby ruled the middle pasture. In 1954, center field was baseball's premium offensive position, with a .287 EqA. So, not to knock Kemp or Ellsbury, or
Curtis Granderson
and
Andrew McCutchen
, but as good as they are, this isn't a new golden age for center fielders.
Second base has passed third base.
I got into this a bit yesterday, and this might be considered a transient phenomenon, because it has been historically. However, do you really want to bet against Cano, Pedroia and
Ian Kinsler
? What if
Jemile Weeks
and
Dustin Ackley
break out as sophomores? What if
Dan Uggla
,
Kelly Johnson
and
Aaron Hill
all have great bounce-back seasons? What if
Rickie Weeks
and
Chase Utley
were healthy all year? But that last point is part of the problem for sustained greatness at the keystone: It's a physically demanding position, and being a great player for any length of time at second base requires a huge element of skill and a little bit of luck when it comes to staying healthy.
Now, if they all come through, then sure, we could see a multiyear run for second base to wind up as a bigger impact offensive position than third base. But I'll believe it after we see it.
Who needs the Trinity at short?
The offensive standard for short has been higher over the past decade than it ever was at any point since division play started back in 1969. Remember, that's despite four rounds of expansion.
Looking back, what really made Jeter and A-Rod and Nomar stand out, as Larkin and Trammell or Ripken and Robin Yount had stood out, was that they were pretty much alone. That's because there were superstars and then there was a lot of reason to love
Omar Vizquel
or
Edgar Renteria
, because things got ugly fast. You don't really want to remember
Neifi Perez
, do you?
Desi Relaford
? I've probably brought up
Rey Ordonez
one time
too often for polite conversation
.
Today, you still have the lamentably necessary guys like
Yuniesky Betancourt
or
Ronny Cedeno
, or Alcides Escobar's on-the-job education in the major leagues, but if these represent the worst, they're better than the bottom of the heap that existed in the past. The floor has come up, and we still have the true superstars, like
Troy Tulowitzki
and
Jose Reyes
. Let's revel in their time, and also remember the Trinity, Ripken and Larkin as fondly as they deserve.
Catcher's deep, still.
Or, consider this another reason to not pardon the Angels for handicapping themselves with
Jeff Mathis
all these years, because there's a difference between respecting a good receiver and ignoring his other responsibilities to playing baseball. (While we're at it, there's even less excuse for
Drew Butera
.)
Admittedly, being able to get
Mike Napoli
away from that kind of decision making and putting him in Texas is one way to improve matters. But keep in mind, with
Victor Martinez
moving out from behind the plate while
Buster Posey
and
Joe Mauer
missed big chunks of the season, catchers overall did a better job of contributing on offense in 2011 than they had in any year since 1997, so the overall depth behind the plate looks pretty good.
As you'll notice from the chart, there's been a lot of zigzagging around in catcher performance; it often drops behind shortstop, but sometimes tops it, and these days the two positions are running in tandem. Folks might still swear by Johnny Bench, but here again, we've got a lot of legitimate star-level talent out there; not just Posey and Mauer and Napoli, but also
Brian McCann
,
Alex Avila
,
Miguel Montero
,
Carlos Santana
and
Yadier Molina
. Then you can add in the durable catch-and-throw guys from the Jim Sundberg set, useful contributors at the plate and good receivers behind it:
Carlos Ruiz
,
Matt Wieters
,
Russell Martin
, and even
Kurt Suzuki
.
Put all of that together, and while we haven't punched up this generation's reputations with any special mystique, they can let their production be our guide. This may well be the deepest generation of catching talent in the history of the game, and there's more coming, even with prospects like Wil Myers and
Jesus Montero
moving out from behind the dish. We still haven't seen
Jarrod Saltalamacchia
really bust out.
Austin Romine
,
Wilin Rosario
, Derek Norris and Tony Sanchez are all on the way. If you love catching, you should love the present.
Tomorrow, to wrap things up we'll have some fun talking about who best represents an average player at their respective positions.
Christina Kahrl covers baseball for ESPN.com. You can follow her on Twitter.
October, 16, 2011
10/16/11
11:56
PM ET
I'm not going to suggest it was the single worst play in postseason history. Babe Ruth, for instance, once got caught stealing for the final out in Game 7 of the World Series, trailing by one run with the Yankees' cleanup hitter at the plate. Dropped fly balls and dropped pop-ups have led to winning runs in Game 7 of the World Series.
But when
Milwaukee Brewers
third baseman Jerry Hairston Jr. tried to field a ground ball with his knee, then flip the bouncing baseball to second baseman
Rickie Weeks
with his glove, only to have the ball bounce in front of Weeks, and then to have Weeks see the ball go through his legs, with the runners moving up a base ... well, it was atrocious baseball at its worst. Two physical errors by Hairston, one mental error on Hairston for attempting the trick play in the first place when he had no shot to get the runner at second, and one mental error by Weeks for pulling up on the ball like a fourth grader taking infield practice.
So, no, I won't say it was the worst postseason play we've ever seen; that would be exaggeration just for effect. Plus, that play alone did not lose Game 6 of the National League Championship Series for the Brewers and prevent them from reaching the second World Series in franchise history. But, as the
St. Louis Cardinals
beat up Milwaukee
12-6
to win their 18th NL pennant, it symbolized a night that saw:
While Milwaukee's defense was questioned all season, it was also a questionable decision to stick with Marcum, who had been blistered in his two previous postseason starts and five of his past six starts going back to September. It's certainly understandable
why
Roenicke would believe in Marcum, who went 13-7 with a 3.54 ERA during the regular season. But Marcum clearly tired down the stretch, wasn't getting strikeouts and you had to question his mental state going back to the division series when he threw his glove up in the air after surrendering a home run to
Paul Goldschmidt
.
Sadly for the Brewers, his first inning was all too predictable: Four runs, capped by
David Freese
's three-run bomb to left on a first-pitch curveball (making Freese 7-for-9 with 10 RBIs in the series when swinging at the first pitch). For the Cardinals, it was another game in which they scored first, making them the first team to score first in all six games of a six-game series. Overall, St. Louis scored 11 runs in the first inning and four in the second.
There was a glimmer of hope for the Brewers in the bottom of the third when
Jonathan Lucroy
absolutely destroyed an
Edwin Jackson
fastball way over the fence in left-center to cut the lead to 5-4. But the Cardinals -- as they did all series -- just kept hitting and scored four in the top of third, as Albert Pujols lined a high fastball out to left off
Chris Narveson
, followed by the sac fly/missed cutoff man/two-run single string of events. Craig, hitting for Jackson, fought off a 94-mph fastball from
LaTroy Hawkins
, bouncing it over Hawkins' head and into center.
Yuniesky Betancourt
, shifted over in the hole toward third, had no shot at it; then again, it's Yuniesky Betancourt, and we saw balls all series going
just
out of his range.
But that pinch-hit was the finishing touch on a magical series for Tony La Russa. He saw the chance to score runs and took it, even if it meant removing Jackson from the game and using his bullpen for seven innings. Cardinals starters pitched just 24.2 innings in the series and allowed 19 runs. The bullpen, of course, was brilliant, pitching 28.2 innings and allowing seven runs. Three of those relievers were picked up during the season:
Octavio Dotel
and
Marc Rzepczynski
in the
Colby Rasmus
trade, and
Arthur Rhodes
off waivers after he was released by the Rangers.
The St. Louis pen, of course, had been maligned for much of the season, although it pitched much better after several early-season blown saves by former closer
Ryan Franklin
. But give La Russa credit for his willingness to adjust:
Fernando Salas
became the closer after Franklin, pitched well and saved 24 games. As
Jason Motte
got on a roll late in the season with his high-90s heat, La Russa made him the ninth-inning guy. Salas became a setup guy and then, as he did in this game, has become the team's long reliever of choice. So while most managers resort to using the back end of the bullpen early in games, even in loser-out games -- see Roenicke in this game, or Detroit's Jim Leyland in Game 6 of the ALCS -- La Russa can turn to a good pitcher who closed games earlier in the season.
Of course, the team the Cardinals will be facing in the World Series have a similar approach. Ron Washington has managed his
Texas Rangers
pitching staff in the postseason like La Russa: Turn over the game to the bullpen as soon as reasonably possible.
It should make for a fun World Series of tactical moves and decisions. Both teams have deep benches. The Cardinals have the red-hot Freese (12-for-22 with nine RBIs in the NLCS) and the Rangers have the red-hot
Nelson Cruz
(six home runs, 13 RBIs in the ALCS). What's perhaps most amazing of all: After losing on Aug. 24, the Cardinals were just 67-63. They were 11.5 games behind the Braves in the wild-card race.
Their season was over.
Almost over. They went 23-9 to make the playoffs on the final day as the Braves fell apart, a minor miracle essentially lost in all the attention given to the collapse of the
Boston Red Sox
.
Almost over. And now they're four wins away from a World Series title.
A great bullpen. David Freese delivering huge hits. Who saw this happening back in August?
October, 6, 2011
10/06/11
1:12
AM ET
Now we know why the
Milwaukee Brewers
and
Arizona Diamondbacks
played all-out down the stretch to secure home-field advantage for the first round, which the Brewers finally clinched on the final day of the season. These teams play like the 1927 Yankees at home and the 1962 Mets on the road. The Brewers went 11-4 in their final 15 games to beat out the Diamondbacks for the No. 2 seed, which means they get to head back to the loud but comfy confines of Miller Park for Game 5, and that could be the difference in this series.
They'll certainly be glad to leave Arizona after getting hammered by the Diamondbacks
10-6
on Wednesday in a game that featured more plot twists than the final score indicates. A few random notes, thoughts, trivia and other stuff:
Ryan Roberts did not miss what looked like a hanging slider from Randy Wolf in the first inning, hooking it into the left-field bullpen for a grand slam. It gave the Diamondbacks a 4-1 lead and made them the first team since the 1977 Dodgers to hit grand slams in consecutive postseason games (Ron Cey and Dusty Baker, in case you're keeping track). Roberts struggled in September, hitting .205 with just two home runs, but he's been seeing the ball well in this series, with two home runs, a double and a .400 average in the first four games.
After a much-documented disastrous Game 1 in which he pitched to Prince Fielder with a base open and started Lyle Overbay over Paul Goldschmidt, D-backs manager Kirk Gibson redeemed himself with several gutsy moves in this game. Leading 5-3 in the bottom of the third, he pinch hit for starter Joe Saunders with runners at second and third and two outs. Saunders had not looked good through three innings but still led. In the regular season, Saunders hits. This isn't the regular season. Gibson seized the opportunity to score more runs and looked brilliant when Collin Cowgill bounced a two-run single into left field.
After Micah Owings delivered two scorless innings, Gibson's move to bring in Jarrod Parker, the 22-year-old rookie and top prospect who had pitched just one game in the regular season, didn't look smart when Parker allowed an infield hit, a walk and a single to load the bases. Gibson brought in Bryan Shaw, and Corey Hart ripped one into left-center ... it initially sounded (and looked) like it could be a game-tying grand slam, but left fielder Gerardo Parra took a perfect route to the ball and ran it down at the warning, showing why he's likely to win a Glove Glove this season.
That's one of the beautiful aspects of October baseball: Collin Cowgill and Gerardo Parra, unsung heroes. By the way, make sure you watch the replay again to see how much ground Parra covered to make that catch. That ball is out of some ballparks. The play of the game and a terrific play.
Chris Young helped out as well, with two home runs of his own.
The key guy for the Brewers right now has to be Rickie Weeks. Ryan Braun is hitting .467 with a .529 on-base percentage in the series; Fielder is hitting .333 with a .412 OBP. Those guys are living on the bases, but Weeks is hitting .067 after going 0-for-5 on Wednesday and has just one RBI.
Brewers fans certainly were upset with Ron Roenicke for not removing Wolf before he allowed his sixth and seventh runs in the third, but I can't fault Roenicke too much -- with the series lead, there was no need to burn through his bullpen, and Wolf was one out from escaping the inning. Cowgill's bouncer just found a hole.
Both starters lasted just three innings. Not including that Justin Verlander/CC Sabathia rainout from the other night, the last postseason game in which both starters pitched three or fewer innings was Game 5 of the 2005 American League Division Series, in which the Yankees' Mike Mussina lasted just 2.2 innings and the Angels' Bartolo Colon left after one with injury. (Rookie Ervin Santana came on and pitched into the seventh.) The last game in which both starters got shelled was Game 3 of the 2004 AL Championship Series, in which Bronson Arroyo and Kevin Brown both pitched just two innings in a game the Yankees eventually won 19-8.
Game 5, baby! For the first time since 2001, we have three division series going the distance. That year, the Mariners beat the Indians, the Yankees beat the A's and the Diamondbacks beat the Cardinals.
Ian Kennedy versus Yovani Gallardo. If Gallardo has mastery of his curveball the way he did in Game 1, he's going to be tough to beat. He's on a roll; he has 45 strikeouts and just four walks over his past four starts. If either starter struggles, Daniel Hudson and Zack Greinke both will be available for long relief and would be pitching on four days' rest. But I think the biggest number is this one: The Brewers hit .277 and slugged .461 at home (versus .246 and .391, respectively, on the road). They love Miller Park. They're the favorites, but you never know ... one hanging curveball to Goldschmidt or Justin Upton with a couple of runners on ...
June, 7, 2011
6/07/11
9:00
AM ET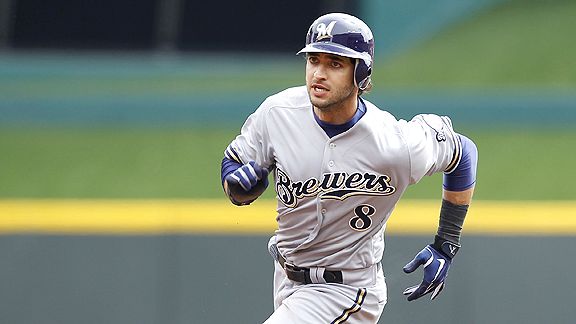 Joe Robbins/Getty ImagesRyan Braun is hitting .309 with 13 home runs, 43 RBIs and 43 runs scored.
I'm not one of those baseball fans who believes things were better in the old days. The game now is better than ever, the quality of the athletes is better than ever, the pitchers throw harder than ever, the way we can consume the game is a hundred times better.
The All-Star Game, however, is not better. The whole World Series home-field advantage thing is embarrassing. The managers still worry more about getting everybody in the game rather than trying to win. Plus, the rivalry that once existed between the leagues no longer does. Nothing really wrong with that. Things change. When I attended the 1979 All-Star Game in Seattle, I hated Pete Rose and his bad haircut, and Steve Garvey and his hairy forearms and Dave Winfield and that ugly brown Padres uniform.
Anyway, this isn't a rant against the All-Star Game. One thing about it that
is
still fun: Debating who should make it! We're about a month away from the game, so it's a good time to see who deserves to start. My No. 1 criteria: Of course you should base your selection on more than just the first half of the season, otherwise you end up with mediocre players who had a few good weeks starting in the All-Star Game. (What, you forgot that
Shea Hillenbrand
once started an All-Star Game?)
So using some variation of the formula Current Season Stats + Established Level Of Play + Star Factor, here are my NL All-Stars as of June 7:
Catcher: Brian McCann, Braves.
He's hitting .302/.371/.472 and will be headed to his sixth straight Midsummer Classic. However, he's never started. So, fans, I challenge you: Vote in McCann to start.
Backup:
Yadier Molina
, Cardinals. Having his best year at the plate, although his percentage throwing out runners has dropped from a league-leading 49 percent last year to 25 percent.
First base: Joey Votto, Reds.
A tough call, but he was as good as
Albert Pujols
last year and far better this year, with a .336/.465/.530 line that includes a league-leading 51 walks.
Backup: Pujols.
Second base: Rickie Weeks, Brewers.
I know Cincinnati's
Brandon Phillips
has his supporters, but Weeks' OPS is 113 points higher. Phillips' Web Gems don't make up for that.
Backup: Phillips.
Third base: Chipper Jones, Braves.
A position riddled with injuries to
Ryan Zimmerman
and
David Wright
and bad years from the likes of
Scott Rolen
and
Casey McGehee
. Call this one a career achievement award for one of baseball's top third sackers of all time.
Backup:
Placido Polanco
, Phillies. He's hitting .319, but Chipper still has a (slightly) higher OPS.
Shortstop: Jose Reyes, Mets.
He has only one home run but has still been one of the best players in the NL. He's hitting .337 and thanks to 18 doubles and 10 triples ranks 11th in the NL in slugging percentage and ninth in OPS. Throw in 19 steals, second to
Michael Bourn
, and he'd be an MVP candidate if he weren't on the Mets.
Backup:
Troy Tulowitzki
, Rockies.
Left field: Ryan Braun, Brewers.
Braun hits over .300, belts game-winning home runs, steals bases, dresses up as the bratwurst for the Brewers sausage race and does the team laundry after games. He does it all.
Backup:
Matt Holliday
, Cardinals.
Center field: Matt Kemp, Dodgers.
The defense may be not great, but when you're hitting .317 with 16 home runs, who notices?
Backup:
Andrew McCutchen
, Pirates. Tough call over
Drew Stubbs
,
Colby Rasmus
and Michael Bourn.
Right field: Lance Berkman, Cardinals.
Man, this position is loaded with the likes of Berkman,
Jay Bruce
,
Mike Stanton
,
Hunter Pence
,
Carlos Beltran
,
Andre Ethier
and
Justin Upton
. But Berkman's .329/.444/.599 production is so impressive, it gives him an OPS more than 100 points higher than Bruce's.
Backup: Bruce, Reds.
Designated hitter: Prince Fielder, Brewers.
If anyone was a born DH, it's Prince, and he's having a monster season for the Brew Crew.
Starting pitcher: Roy Halladay, Phillies.
Anyone want to disagree with this?
Long relievers:
Cole Hamels
, Phillies;
Josh Johnson
, Marlins;
Tim Lincecum
, Giants;
Clayton Kershaw
, Dodgers;
Jair Jurrjens
, Braves.
Emergency extra-inning pitchers:
Tommy Hanson
, Braves;
Kyle Lohse
, Cardinals.
Setup relievers: Jonny Venters, Braves; Mike Adams, Padres.
Venters has allowed just two runs in 35.2 innings, holding batters to a .140 average. Adams is dominant in relief, allowing just 14 hits and four walks in 26.2 innings.
Closer: Ryan Madson, Phillies.
J.J. Putz
has been lights out for Arizona, but slight nod to Madson. Will
Brad Lidge
get his closer job back when he returns from the DL? I think Charlie Manuel would be a little crazy to take the job away from Madson at this point. (Then again, maybe the setup job is more important ... but that's another post.)
There you go. We need only 28 players for our All-Star team ... not the 43 or whatever they put on the roster these days.
Here's my NL starting lineup:
SS Jose Reyes
LF Ryan Braun
1B Joey Votto
RF Lance Berkman
DH Prince Fielder
CF Matt Kemp
C Brian McCann
3B Chipper Jones
2B Rickie Weeks
P Roy Halladay
Power, speed, on-base skills. This lineup has it all. Good luck, American League!
April, 21, 2011
4/21/11
5:23
PM ET
By
Christina Kahrl
| ESPN.com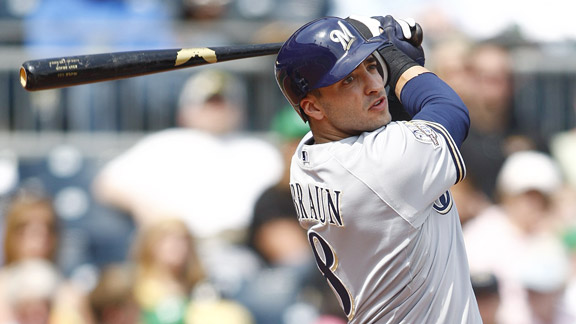 John Grieshop/MLB Photos/Getty ImagesRyan Braun has started the past three All-Star Games for the National League.
Signing left fielder
Ryan Braun
to a
five-year, $105 million extension
through the 2020 season does more than effectively lock the slugger in for the vast majority of his career. Sure, he belongs to Milwaukee through his age-36 season at slightly less per annum than the Red Sox will be paying
Adrian Gonzalez
to slug for them into his mid-30s. This looks like letting the market set a starting point for what people who slug .500 or better are worth, and then working from there.
More significant, though, is the question of what this investment represents for general manager Doug Melvin's near-term decision-making: Is it a bet that
Prince Fielder
will opt to stick around as a free agent-to-be, or does it define how long and who will be a Brewer in the future?
Keep in mind that Melvin has already shelled out all sorts of money to keep what he's defining as the core of this club together in the short term. Consider the Brewers' other major financial commitments in the last 12 months or so:
Add all of that up, and the payroll of the Brewers -- a team that still hasn't won anything since 1982 beyond a lone wild-card slot in 2008 -- won't come down below the $80 million to $90 million range in the immediate future.
Because of those no-trade clauses, there would be some modest difficulties as far as breaking up the team if the Brewers once again come up short in the NL Central's free-for-all this year or next. That isn't really bad news on its own -- even with the injury history of Weeks and Gallardo, counting on those two and Braun to be the foundation of your ballclub over the next five years is a risk worth taking, and there's plenty of recent history suggesting no-trade clauses are just one more biddable item for negotiation.
The problems this commitment involves are twofold: First, was Braun worth extending beyond their previous commitment through 2015? Since they already had Braun under contract through age 31, there was no need to get him inked through the bulk of his 30s -- when his value
will
drop, and when he may be headed toward first base. You can hope that last year's power slip to an ISO (isolated power) number below .200 was just a hiccup, and that he'll continue to deliver .550 or better slugging percentages, and the next several seasons should be productive -- but
the Brewers already had him under contract for those seasons
.
Then there's the fact that, as Buster Olney reports, an up-front signing bonus of $10 million represents a massive outlay of cash, money that might have afforded Melvin the opportunity to add something major at the deadline. That might sound shortsighted, but after trading for Greinke and Marcum, the Brewers are already in win-now mode, so spending this sort of money now dips into coffers that probably aren't bottomless.
That signing bonus brings up the second problem, which is the Fielder follow-on issue. Laying down that kind of money means it isn't there to help pay Fielder the princely sum it'll take to keep him. Maybe owner Mark Attanasio's outfit has deeper pockets than we might guess, but probably not. Braun's commitment looks more like a tacit choice that they're going to be watching Fielder head into free agency as the alternative to
Albert Pujols
on the open market next winter. Signing Braun loudly, splashily, expensively and now might help protect fans from the pain of that, but they'll be happier still if the Brewers win something first.
Christina Kahrl helped found Baseball Prospectus in 1996, is a member of the BBWAA and covers baseball for ESPN.com. You can follow her on Twitter.
March, 24, 2011
3/24/11
2:47
PM ET
Nobody seems to respect the NL Central much.
Adam Wainwright
's injury won't fix the belief that this is baseball's weakest division. But your weakness is my parity. Your 2011 NL Central preseason All-Stars:
Catcher -- Geovany Soto, Cubs.
After a sophomore slump, Soto rebounded with an excellent .280/.393/497 line. Among catchers with at least 300 plate appearances, Soto ranked third in OBP (behind only
Joe Mauer
and
Carlos Ruiz
) and second in slugging (behind
Buster Posey
).
First base -- Albert Pujols, Cardinals.
Pujols and
Joey Votto
ruled the division in 2010, but will
Prince Fielder
have a monster season as he gets ready for free agency?
Second base -- Rickie Weeks, Brewers.
Remained completely healthy (160 games) for the first time and delivered the season everyone's been waiting for. Doesn't have the glove of
Brandon Phillips
, but gets on base more, and Phillips benefits from the cozy dimensions of Great American Ball Park.
Third base -- Pedro Alvarez, Pirates.
I expect big offensive numbers in his first full season, but will his fielding remain so terrible as to cancel out much of his hitting value?
Shortstop – Starlin Castro, Cubs.
Picking Castro over this motley crew is like picking Brooklyn Decker to win a beauty contest with Roseanne Barr and women Tiger Woods meets at Perkins. That said, Castro has a chance to become a huge star in this game. Enjoy him, Cubs fans.
Left field -- Ryan Braun, Brewers.
Tough call between Braun and
Matt Holliday
. Braun's defense, once a big strike against him, seemed to improve last season. His overall numbers weren't as good as in 2009, but I think he'll get back to 30-plus homers and once again top .300.
Center field -- Andrew McCutchen, Pirates.
I wrote an entry that suggested McCutchen will be the
majors' best all-around center fielder
in 2011, so I'd better stick with that here. This position is the strongest in the division, as you can argue cases for
Colby Rasmus
,
Drew Stubbs
,
Michael Bourn
and
Marlon Byrd
.
Right field -- Jay Bruce, Reds.
I'm not a huge
Hunter Pence
fan, so I'm giving the nod to Bruce, who had a big second half after being fully recovered from his broken wrist of 2009. Pence is a nice player and he's only missed 14 games over the past three seasons -- an underrated asset of any player that is often ignored -- but he's too much of a free-swinger for my taste.
Right-handed starter -- Zack Greinke, Brewers.
As you can see in the poll to the right, there are several strong candidates, plus others not listed (
Edinson Volquez
,
Matt Garza
,
Ryan Dempster
; we can only fit five options in a poll). Assuming Greinke only misses a couple of starts, his transition to the NL and proven 200-inning durability bodes well for some nice numbers.
Left-handed starter -- Wandy Rodriguez, Astros.
Buyer beware, as Rodriguez has battled some shoulder tendinitis this spring, but MLB.com reports that
Rodriguez felt good
after throwing four strong innings against the Nationals on Tuesday.
Jaime Garcia
had a terrific rookie season, but he struggled a bit in the second half, and we'll see how he responds to a tougher workload.
Closer -- Carlos Marmol, Cubs.
One of the most unique, fascinating pitchers I've seen. He walks everybody, strikes out nearly everybody he doesn't walk, doesn't give up home runs (three in the past two seasons), and must be simultaneously infuriating and intoxicating for Cubs fans.
Follow David Schoenfield on Twitter at @dschoenfield. Follow the SweetSpot blog at @espn_sweet_spot.
February, 16, 2011
2/16/11
2:45
PM ET
After what felt like an eternity of negotiations, the Brewers and second baseman
Rickie Weeks
finally agreed to
terms on a long-term contract
Wednesday. Ken Rosenthal first reported the details of the new agreement, which potentially pays Weeks $50 million over the next five seasons. The fifth year essentially acts as an option, as the Brewers can opt out if Weeks isn't a full-time player in 2013 and 2014.
[+] Enlarge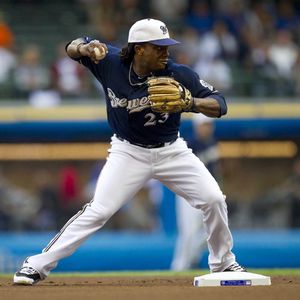 Jeff Hanisch/US PresswireGiven Rickie Weeks' injury history, Milwaukee was smart to include an out clause for the final year of his contract.
At close to $10 million per season, the Brewers are paying for fewer than two Wins Above Replacement (WAR) yearly out of Weeks once we account for long-term salary inflation. Weeks produced a whopping 6.1 WAR in the 2010 season, and even though that kind of production may just be a career year, Weeks is a good bet to eclipse the 2 WAR total on a yearly basis. Both his walk rate (10.7 percent over his career) and
Isolated Power
(.176 for his career) are well above the league average, and these form the basis of his solid .355 career OBP and .429 slugging percentage.
The obvious comparison for Weeks is another second baseman: the Atlanta Braves'
Dan Uggla
. Uggla also received a five-year contract extension this offseason, earning an extra $12 million for a total of $62 million. Uggla has the superior bat -- a .263/.349/.488 career line against Weeks's .253/.355/.429 -- but a worse defensive reputation (which is saying quite a bit) and less speed on the bases. Uggla is also two years older; Weeks won't turn 29 until September while Uggla will turn 31 during spring training.
So the $12 million lower price tag for Weeks seems like quite the bargain. However, I think it makes sense given Weeks's tumultuous injury history. Although Weeks showed no signs of the wrist problems in 2010 that plagued his early career, it remains a worry for many Brewers fans. Last years was the first time that Weeks managed to play more than 130 games in a season -- and only the third time in six tries that he competed in more than 100 games. There's little doubt that Weeks's extension would be much richer -- and perhaps not contain the out clause on the final season -- had he not missed more than 200 career games, including much of a 2009 season that looked primed for a breakout.
Overall, though, it's hard to argue with this deal. The Brewers will be able to escape with relatively little damage should the injury problems strike again, and Weeks is quite likely to be worth much more than his contract while he's on the field. Much like the deals the Brewers have in place with franchise cornerstones
Yovani Gallardo
and
Ryan Braun
, this deal gives the team the flexibility to continue to add talent while retaining a very good player for a long time.
Due to a lack of prospects, the Brewers are set up for the short-term. However, the core talent on the team right now is exceptionally young. Of the team's regular players this season, only fourth starter
Randy Wolf
and setup man
Takashi Saito
are over the age of 30. Outside of
Prince Fielder
and Saito, every other player is under team control at least through 2012. Deals like the Weeks contract should allow the Brewers to stay competitive while rebuilding the farm system.
Jack Moore writes the
Disciples of Uecker
blog.
May, 18, 2009
5/18/09
9:15
PM ET
The Brewers have lost their second baseman for the rest of the season.
From
Tom Haudricourt
:
It's a tough blow for the Brewers and also for Weeks, who was off to the best start of his career with a .272 batting average, nine homers, 24 RBI and a .517 slugging percentage.

--snip--

Melvin said he wasn't sure yet which player would come up from the minors to replace Weeks on the roster. In tonight's game against St. Louis, Craig Counsell is playing second and rookie Mat Gamel is making his first start at third base.

--snip--

One option to bring up from the minors is 2B Hernan Iribarren, who is batting .311 at Class AAA Nashville. But whomever comes out will not be a regular player. Melvin said he'd have a replacement by game time tomorrow in Houston.

Melvin did say that shortstop prospect Alcides Escobar would begin to get some action at second base at Nashville in the event there is another injury. But Melvin said Escobar would not be coming up now.

For the present, Counsell will handle the bulk of the duty at second with right-handed-hitting Casey McGehee getting some starts against lefties.
Herman Iribarren is playing well in the Pacific Coast League -- and yes,
Nashville
is a proud member of the
Pacific Coast
League -- but he's not a real prospect (or at least he wasn't considered one two months ago, when neither Baseball America nor John Sickels ranked Iribarren among the Brewers' top 30 prospects).
Alcides Escobar is a top prospect, but he's a shortstop and much of his value is derived from his defense and he's not moving J.J. Hardy off shortstop anytime soon. At the moment, he can't help the Brewers out of this predicament. Later, he (or Hardy) might be quite useful if the Brewers decide to deal for a second baseman.
Right now, it's Gamel who's the real help. No, he probably won't set any fielding records at third base. But between him and Counsell (both left-handed hitters) and Bill Hall, there's no obvious reason why the Brewers can't get reasonable production at both third and second base. Yes, the loss of Weeks is a serious blow, leaving the club with little tolerance for other crises. It isn't necessarily debilitating, though. This is when the manager earns his salary.