August, 13, 2012
8/13/12
5:46
PM ET
Before the Olympics began,
Kobe Bryant
suggested this year's Olympic basketball team would defeat the fabled 1992 Dream Team that featured Michael Jordan, Magic Johnson, Charles Barkley and Larry Bird. Bryant later adjusted his thoughts, saying the Dream Team was better but that the 2012 squad could beat them.
Bryant and company cruised throughout the tournament until Sunday's gold-medal game against Spain,
prevailing 107-100
after leading by just one point heading into the fourth quarter.
Anyway, that's a lead-in to this: What would baseball's dream team from 1992 look like? Let's turn back the clock and imagine we're in the summer of 1992. Let's pick a 25-man team -- 15 position players, seven starting pitchers and three relievers. Just like the '92 hoops Dream Team, legend status should come into play a bit. Since we're imagining an Olympic-type scenario, we're going with U.S. players only.
The Starters
1. 2B Ryne Sandberg, Cubs
(.304/.371/.510, 26 HR, 7.6 WAR)
Made his ninth consecutive All-Star appearance in '92.
2. CF Kirby Puckett, Twins
(.329/.374/.490, 19 HR, 6.8 WAR)
Had led the Twins to a World Series title in 1991; finished second in '92 American League MVP vote.
[+] Enlarge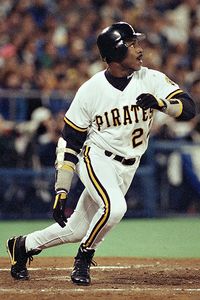 AP Photo/John SwartBarry Bonds led the Pirates to the NLCS in 1992.
3. LF Barry Bonds, Pirates
(.311/.456/.624, 34 HR, 8.9 WAR)
The best player in the game; won his second MVP award in '92.
4. DH Frank Thomas, White Sox
(.323/.439/.536, 24 HR, 6.7 WAR)
In his second full season, but the most feared hitter in the AL. Led the league in OBP and OPS for the second consecutive season.
5. 1B Mark McGwire, A's
(.268/.385/.585, 42 HR, 6.2 WAR)
Had rebounded from a poor 1991 to lead the AL in slugging percentage and the A's to the AL West title.
6. RF Ken Griffey Jr., Mariners
(.308/.361/.535, 27 HR, 5.5 WAR)
At 22 years old, already one of the game's best all-around players. We'll move him to right field with Kirby in center.
7. 3B Terry Pendleton, Braves
(.311/.345/.473, 21 HR, 4.8 WAR)
People remember his 1991 MVP season, but he finished second to Bonds in the '92 vote.
8. C Darren Daulton, Phillies
(.270/.385/.524, 27 HR, 6.7 WAR)
It was a weak year for catchers, but Daulton had a monster season with the fourth-highest WAR among position players.
9. SS Cal Ripken, Orioles
(.251/.323/.366, 14 HR, 3.8 WAR)
Not a good season but a baseball dream team wouldn't have been complete without Ripken.
The Bench
OF Rickey Henderson, A's
(.283/.426/.457, 15 HR, 5.4 WAR)
The best leadoff hitter in the game compiled 5.4 WAR despite playing just 117 games.
OF Andy Van Slyke, Pirates
(.324/.381/.505, 14 HR, 5.9 WAR)
Led the NL in doubles and hits, fourth in the MVP vote, Gold Glove center fielder. His window was small, but a terrific player for a few years.
OF Dave Winfield, Blue Jays
(.290/.377/.491, 26 HR, 3.8 WAR)
Others with a higher WAR, but Winfield gets credit for legend status and helping the Blue Jays win the World Series.
SS Ozzie Smith, Cardinals
(.205/.367/.342, 0 HR, 5.0 WAR)
Tough call here:
Barry Larkin
(.304/.377/.452, 5.5 WAR) or the 37-year-old Ozzie? The Wizard could still pick it and had 43 steals.
3B Gary Sheffield, Padres
(.330/.385/.580, 33 HR, 6.0 WAR)
Challenged for the Triple Crown much of the year before finishing first in batting, third in homers and fifth in RBIs.
C Terry Steinbach, A's
(.279/.345/.411, 3.8 WAR)
Gets the nod over Mickey Tettleton as the backup catcher for his good defense and leadership.
Pitching Staff
Tom Glavine, Braves
(20-8, 2.76 ERA, 3.6 WAR)
The only lefty on our 10-man staff, finished second in the Cy Young vote after winning it the year before.
[+] Enlarge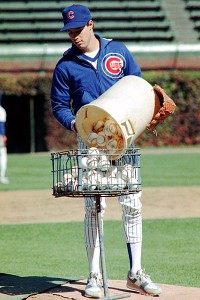 AP Photo/Bill WaughGreg Maddux would win four consecutive Cy Youngs beginning with the 1992 season.
Greg Maddux, Cubs
(20-11, 2.18 ERA, 8.9 WAR)
Won the first of his four consecutive Cy Young Awards.
Roger Clemens, Red Sox
(18-11, 2.41 ERA, 8.4 WAR)
Led the AL in ERA, shutouts, WHIP and SO/BB ratio, but finished just third in Cy Young vote.
Doug Drabek, Pirates
(15-11, 2.77 ERA, 5.1 WAR)
Career went downhill after signing with the Astros in '93, but regarded as one of the toughest competitors in the game at the time.
Jack Morris, Blue Jays
(21-6, 4.04 ERA, 2.5 WAR)
Morris absolutely would have been on a '92 dream team despite the high ERA. He'd just won back-to-back World Series titles and had the 21 wins.
Jack McDowell, White Sox
(20-10, 3.18 ERA, 4.9 WAR)
Kevin Appier
and
Mike Mussina
had better ERAs, but Black Jack had the image at the time. And the league-leading 13 complete games.
Nolan Ryan, Rangers
(5-9, 3.72 ERA, 1.8 WAR)
The numbers don't merit inclusion, but by '92 Ryan was the biggest icon in the game, a 45-year-old flame-throwing legend. Much like Bird, you wouldn't leave him off.
Dennis Eckersley, A's
(7-1, 1.91 ERA, 51 saves, 2.8 WAR)
The last AL reliever to win the Cy Young, Eck also walked away with the MVP trophy. OK, it was a bad vote, but Eck seemed unbeatable back then.
Rob Dibble, Reds
(3-5, 3.07 ERA, 25 saves, 0.9 WAR)
At the time, Dibble had four of the five highest K/9 rates in major league history (minimum 50 innings).
Jeff Montgomery, Royals
(1-6, 2.18 ERA, 39 saves, 3.0 WAR)
From '89 to '93, Montgomery fashioned a 2.22 ERA with 159 saves. What, you expected Mitch Williams?
So, who got Isiah'd? We mentioned Barry Larkin.
Tony Gwynn
was in a bit of a down spell (for him), so he loses out as well. We can't find room for NL home run leader
Fred McGriff
, Will Clark or Paul Molitor. For pitchers, some of the better statistical options would have included the aforementioned Mussina (7.9 WAR) and Appier (7.7 WAR) as well as Frank Viola, Sid Fernandez, Bob Tewksbury and
David Cone
, plus some up-and-coming guys like
John Smoltz
and
Curt Schilling
.
How does this team compare to a 2012 dream team? I'll let you debate who would be on such a 2012 team in the comments section.
September, 1, 2010
9/01/10
6:39
PM ET
Media criticism isn't one of my assignments, but I believe this qualifies as
a straight news item
, considering the subject's professional history:
In the wake of controversial comments Rob Dibble made about Stephen Strasburg, the Nationals announced today Dibble will no longer broadcast their games. The separation will be permanent. The Nationals offered no further comment on the matter.

--snip--

Dibble, who became MASN's analyst at the beginning of last season, has not broadcast a Nationals since Sept. 25. At the time, Nationals President Stan Kasten told the Post that Dibble volunteered to take a leave.

"Rob asked for some time off," Kasten said at the time. "Perhaps he's not feeling well. But I'm not a doctor, nor have I seen his records. So I shouldn't say anything more about it."

Kasten's comment referenced the comments Dibble made about Strasburg on his Sirius XM radio show when, in the days between Strasburg's elbow injury and the revelation he would need Tommy John surgery, Dibble questioned Strasburg leaving the game.
Dibble's comments? Here's just a sample (more if you RTWA):
"I mean, excuse me. There's guys I played with that had screws holding their elbows together. Chris Sabo played two weeks on a broken ankle. I put a steel plate in my wrist so I could be back in five weeks instead of three months. So, this is your choice. You can either suck it up and be a man at 22 making $2 million a year [with] a $15 million contract, or every time you get an ache and pain you can go out of the game and say I'm gonna let down the other 24 guys right here and possibly end up forfeiting the game."
This was before Strasburg was actually diagnosed with a torn elbow ligament that's going to cost him roughly a year of his professional life.
This was after Dibble made some on-air comments that a fair number of distaff baseball fans -- and some non-distaff fans, too -- found
at least moderately offensive
.
This is merely rank speculation, but I'm guessing that Dibble was put on double-secret probation after the earlier transgression. All he had to do was keep his nose clean for a few more months, and he'd have been solid for 2011. Keep it clean for a few more years, and he might have enjoyed a career like Hawk Harrelson has enjoyed with the White Sox.
Maybe he will, still. Harrelson didn't become firmly established in Chicago until nearly 20 years after his playing career ended. By that standard, anyway, Dibble's still got a few years to figure things out.
You do have to wonder, though. The big guy will turn 47 this winter. You have to wonder ... If Dibble was ever going to figure out that the franchise's face of the future outranked him on the organizational depth chart, he probably would have already.
June, 5, 2009
6/05/09
3:35
PM ET
If you weren't watching the game (I was), you might have missed a key moment in
Randy Johnson
's 300th win, as
Brian Wilson
struck out
Adam Dunn
in the bottom of the eighth with the bases loaded. The pitched looked pretty low, and Dunn was fairly irate. So were Nationals broadcasters Rob Dibble and Bob Carpenter.
As transcribed
by Bugs & Cranks' Mark Townsend:
Rob Dibble: Below the knees. Below our Pitch Track. And (Umpire) Tim Timmons now in line to save Randy Johnson's 300th victory.

Bob Carpenter: Yeah ... they'll give it to Brian Wilson.

Dibble: They have not called that strike all year. Joe Kerrigan, pitching coach for Pittsburgh, talked about it - they don't give that knee strike anymore. You can't just call strikes because a guy is going for his 300th victory.

Carpenter: That's a ten-year veteran sitting back there. And the Nationals have just found out in the last two weeks that they can't fight City Hall.

Dibble: Nope.
Townsend's take:
At game speed it certainly looked like a strike to me. With the stills it looks perfectly borderline. It certainly wasn't definitively enough a ball to begin accusing an umpire of handing Johnson his coveted 300th win. If anything, the Pitch Track shows it nicked the very bottom of the zone.

I know Dunn has a fantastic eye, but hitters also have to know the situation and not allow an umpire to make a call on them. If it's nicking the zone on Pitch Track, it's too close to take. Never once were they critical of Dunn for taking a borderline pitch, and that's something I consistently hear home broadcasters point out about their players.
Actually, Dunn does
not
have a "fantastic eye." He's fantastically choosy, which results in 110 to 120 walks every season -- along with 165 to 200 strikeouts. Dunn can hardly claim that if the pitch was really a strike, he'd have swung at it; he watches legitimate third strikes sail past him all the time.
Another odd thing about Dibble's and Carpenter's exchange: As Townsend notes, MASN's own Pitch Track did show the pitch brushing the strike zone. What's more, Pitchf/x shows strike three squarely within the (generic, in this case) zone, too. There simply wasn't any (good) reason for anyone in the dugout -- or for that matter, the broadcast booth -- to get worked up over a borderline pitch that was quite possibly called correctly. Not that you can blame anyone on the Nationals' side for being frustrated, as 14-38 isn't any fun.
Really, I just wanted an excuse to write about Rob Dibble. For years, I was less than a fan of his work at various networks. So you can imagine my shock, when I realized that I sort of like him in his current role with the Nationals. Yes, he's still a blowhard who believes that if you didn't play the game, you don't know anything about it. But he's got a good voice, he's quite a bit smarter than you probably think, and he's not been pulling his punches while the Nationals have become the biggest joke in the game.
Dibble was wrong about the pitch that preserved Randy Johnson's 300th win. But he's doing more right than I would have guessed.