March, 26, 2014
Mar 26
11:50
AM ET
A few quick thoughts as we continue to count down to Opening Day ...
It's always fun to see 22-5 scores, even in spring training -- especially when the game happens in Florida and not Arizona. That was the Pirates beating the Blue Jays as they racked up 29 hits, including 21 in 5.2 innings against JA Happ and Esmil Rogers. Happ's poor spring -- he's allowed 21 hits and 16 runs in seven innings while walking more than he's struck out -- has opened up a rotation slot for Drew Hutchison, who was a promising rookie back in 2012 before undergoing Tommy John surgery. Like everyone else, I see the Jays' rotation as one big question mark: R.A. Dickey and Mark Buehrle both posted ERAs over 4.00 last year and will be 39 and 35; Brandon Morrow pitched 54 innings last year; Hutchison has yet to prove himself at the major league level; the fifth spot is from the likes of Dustin McGowan, Todd Redmond and Happ, as Ricky Romero still can't throw strikes. In the tough AL East, that group just doesn't any inspire much confidence to call the Jays a playoff contender.
The Rangers are in the news with a bunch of stuff: Yu Darvish's stiff neck means he'll miss his Opening Day start, which probably now goes to Martin Perez; former closer Neftali Feliz was optioned to Triple-A; Robbie Ross pitched scoreless innings on Tuesday against the Indians, perhaps paving the way for him to get some starts in April as the Rangers wait on Matt Harrison and Colby Lewis. Speaking of that rotation, Tanner Scheppers is the third starter behind Darvish and Perez. Joe Saunders is apparently the favorite for the fourth spot even though he currently has a tired arm. I have my doubts as Scheppers as a starter (and definitely on Saunders, strong arm or tired arm). Yes, Scheppers has that power arm and put up a 1.88 ERA in relief last year, but this is a guy who only started eight games in the minors and while the ERA was nice last year as a reliever, his strikeout rate was below average for a reliever (59 in 76.2 innings). I'm not sure he has the secondary pitches and command to pitch deep into games. Meanwhile, poor Alexi Ogando is back in the bullpen. I don't remember a pitcher who has been handled this way before. He started in 2011 and pitched well (3.51 ERA); he went to the bullpen in 2012 and pitched well (3.27 ERA); he was back starting primarily in 2013 and pitched well (3.11 ERA, although injuries limited him to 104 innings). He started this spring but didn't pitch well and now may serve as the setup guy to Joakim Soria.
The Pirates optioned first baseman/outfielder Andrew Lambo to Triple-A, clearing room for journeyman Travis Ishikawa to make the team as the platoon partner at first base with Gaby Sanchez. Lambo hit .095 this spring while Ishikawa has hit .333 with three home runs ... because good results in 24 at-bats means something. Ishikawa is regarded as a plus defender but owns a .260/.324/.398 career mark in the majors in 859 plate appearances. His one stint at regular playing time came with the Giants in 2009. He hit .290/.389/.465 in Triple-A last year, so he probably won't be a complete disaster but a team trying to upend the Cardinals isn't going to do that with Travis Ishikawa playing first base.
Assuming Francisco Liriano's tight groin allows him to start Opening Day, the Pirates' first-week rotation is also, with Liriano, Charlie Morton and Wandy Rodriguez scheduled to pitch the first series against the Cubs, with Gerrit Cole and Edinson Volquez in the four and five spots. While it may seem a little strange to start Morton and Rodriguez ahead of Cole, putting Cole at No. 4 does allow him to start against the Cardinals in the second series. I'm not sure if that's Clint Hurdle's reasoning or if he's simply putting the veterans ahead of the second-year righty, but it's not the worst idea. Back in the day, managers users to manipulate their rotations more so their best starters pitched more often against the best teams. But it's all about a strict rotation these days (and has been for about three decades).
No, you don't need to get your eyes checked. That was Verlander pinch-running and playing right field for the Tigers on Tuesday -- Ben Verlander, younger brother of Justin. He was a 14th-round pick last June from Old Dominion but hit just .219 in the New York-Penn League.
The Nationals released Jamey Carroll. At 40, this may be it for him. He was a 14th-round pick of the Expos way back in 1996 and didn't reach the majors until he was 28. He hung around long enough to finish with 1,000 career hits, however, and it's fair to say that few players have gotten more out of their abilities than Carroll.
June, 24, 2013
6/24/13
10:05
PM ET
By
Tommy Rancel
| ESPN.com
Each year Major League Baseball attempts to market the All-Star Game as one that counts; so much so that home-field advantage in the World Series rests on the outcome of the mid-summer exhibition. However, we know that every season there will be a handful of players on the roster who do not deserve the honor and another handful left off for various reasons.
Perhaps the group that most often goes overlooked is middle relievers. When it comes time to pick an All-Star bullpen, closers with gaudy save totals are usually selected -- worthy or not. It would not be a surprise if Jim Leyland selected
Jim Johnson
and his 26 saves despite better options that lack the artificial statistic.
Jose Veras
(15 saves) of the Astros could be selected to satisfy roster requirements. If the game really counts, the bullpen should be comprised of the best relief pitchers regardless of role or team. With that in mind, here are some middlemen who deserve consideration, although their actual inclusion may be unlikely.
[+] Enlarge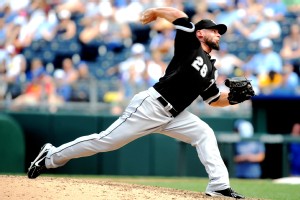 John Rieger/USA TODAY SportsJesse Crain of the White Sox has a 0.52 ERA with 46 strikeouts in 34.2 innings pitched.
Jesse Crain, White Sox
The 31-year old right-hander might be the best relief pitcher in baseball who has not registered a save. He has the lowest ERA (0.52) among AL relievers (minimum 25 innings pitched) and has allowed just six extra-base hits, none of them home runs. He has been particularly stingy against right-handed batters who have hit just .162/.219/.206 against him. An influx of breaking balls have made him more of a fly ball pitcher in recent seasons, which would only play up in spacious Citi Field.
Drew Smyly (Tigers)/Brett Cecil (Blue Jays)/Robbie Ross (Rangers)
Admittedly a cop-out, but I could not chose one of these left-handed relievers over the others. Cecil and Smyly are flourishing in their new relief roles while Ross converted to the bullpen upon promotion last season. Cecil has been excellent against batters on both sides of the plate. Smyly (traditional) and Ross (reverse) have shown hints of platoon splits. Cecil has the highest strikeout percentage of the trio while Smyly has the lowest walk rate. Ross has yet to allow a home run and has surrendered just three in 100 2/3 career innings. Each southpaw is worth considering with no wrong answer among the group.
Mark Melancon, Pirates
After a failed season in Boston, Melancon returned to the National League where he now serves as set-up man for the league's leader in saves. A former closer himself, he -- along with
Jason Grilli
-- has stabilized the contending Pirates' bullpen. He has allowed just four runs to cross the plate in 37 1/3 innings with 40 strikeouts and four walks. Opposing batters have failed to square up his cutter with consistency while his curveball has been a two-strike weapon. His groundball rate is among the highest in the league and could home in handy when a double play is needed.
Trevor Rosenthal, Cardinals
Rosenthal captured the attention of baseball fans late last season with a high-octane fastball that nears triple digits. The Cardinals decided to keep the former starter in the bullpen and he has been dominant. The 23-year old's strikeout percentage is fifth best among NL relievers and the highest of those without a save. Opposing hitters have swung and missed on nearly 30 percent of his fastballs.
Edward Mujica
has had the glory of racking up saves, but Rosenthal has arguably been St. Louis' top fireman.
The All-Star Game is should be more about pomp and less about high-leverage situations. But if we are going to treat it like a real game, managers should treat the mid-to-late innings accordingly.
Tommy Rancel covers the Tampa Bay Rays for The Process Report. You can follow him on twitter @TRancel.
June, 14, 2013
6/14/13
12:24
AM ET
Jesse Chavez
is essentially the 25th man on the Oakland A's roster. He started the year in Triple-A, got called up, got sent down, got called back up and is working as the low-leverage guy out of the bullpen. Before Thursday, he hadn't pitched since June 5, and the final scores of games he'd appeared in (without a decision) were 6-1, 10-2, 11-5, 6-2, 6-1, 6-3, 10-2, 9-6 and 8-1.
Chavez is the definition of a journeyman right-hander, having pitched for the Pirates, Braves, Royals and Blue Jays before the A's purchased him from Toronto last August. He was a typical Billy Beane acquisition: He has a pretty good arm, fastball in the low 90s, but what Chavez hadn't had was much success at the major league level, with a 5.74 ERA over 191 career innings.
But sometimes you need that 25th guy to come through, and Chavez's other asset is that he had started for Triple-A Sacramento. That ability to pitch multiple innings came into play in Thursday's 18-inning marathon in Oakland, the A's finally pushing across the winning run with a blooper and broken-bat flare off
Mariano Rivera
, winning
3-2
. Chavez was the big hero, however, pitching 5.2 innings of one-hit, scoreless relief. He has a starter's repertoire, with a cutter, curve and changeup. He got two big outs when he entered with two runners on in the 13th, striking out
Kevin Youkilis
and
Vernon Wells
on curveballs.
In the 14th, A's manager Bob Melvin had the guts to intentionally walk
Robinson Cano
with runners on first and second;
Mark Teixeira
popped out to shortstop, missing a hittable fastball. From there it was smooth sailing, as Chavez retired the side in order in the 15th, 16th, 17th and 18th innings. Not bad for your garbage-time reliever.
[+] Enlarge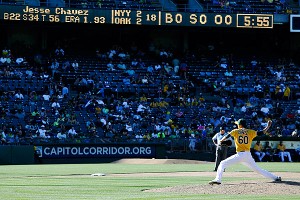 AP Photo/Eric RisbergJesse Chavez got the win for the A's in 5.2 innings of scoreless relief, with one hit and seven strikeouts.
"The last guy they threw was the best guy we faced all day," Teixeira told MLB.com. "That guy is nasty."
It's one of those games that will be remembered if the A's end up winning the American League West. It's that kind of bullpen depth that fueled their second-half surge last season and has fueled their strong start this season. The A's are 33-0 when leading heading into the ninth inning. They're 6-2 in extra innings. When tied through seven innings they're 8-1. This is a tough team to beat late in a game.
The A's have won 11 consecutive games at home and 21 of their past 26, and while they were 7 games behind the Rangers in mid-May, they now lead the division by two games, after the Blue Jays beat
Yu Darvish
and the Rangers
3-1
, dropping the Rangers to 4-8 in June. Injuries to
Ian Kinsler
and
Mitch Moreland
have hurt, but that gets us back to roster depth.
Who is the favorite to win the West? Here's a quick rundown comparing the two teams.
Lineups
Oakland: .246/.328/.397
Texas: .264/.327/.436
Entering Thursday's games, the Rangers had the higher wOBA, but the A's had the slightly better park-adjusted offense. The A's have gotten huge performances from
Josh Donaldson
and
Coco Crisp
, and while some regression might be in order, Donaldson also looks like a much-improved hitter from last season,
as Jerry Crasnick wrote
. On the other hand,
Josh Reddick
(.187) and
Chris Young
(.169) should improve.
For the Rangers, the offense is trending downward. In 2011, they averaged 5.3 runs per game; in 2012, 5.0; this year, 4.4.
Adrian Beltre
and
Nelson Cruz
are doing Adrian Beltre- and Nelson Cruz-type things, but
Elvis Andrus
and
David Murphy
are struggling right now. If Murphy doesn't pick it up, the Rangers might look to add an outfielder.
Advantage: A's.
Starting pitching
Oakland: 29-24, 4.01 ERA; .249/.298/.398; 6.1 innings per start
Texas: 25-21, 3.77 ERA; .251/.311/.391; 5.9 innings per start
The rotations have posted similar numbers, but once you adjust for ballpark, the Rangers' staff has performed better, led by Darvish and
Derek Holland
. FanGraphs WAR rates the Rangers' starters at 8.6 Wins Above Replacement, third-best in the majors, and the A's 12th-best at 5.0.
The good news for the A's is that
Jarrod Parker
pitched well again Thursday. After posting a 7.34 ERA through his first seven starts, he's gone 4-1 with a 2.40 ERA over his past seven, with a .183 average allowed and WHIP under 1.00. His changeup is back to the deadly weapon it was last year, as batters have hit .118 against it in those most recent seven games.

The Rangers have succeeded even though
Matt Harrison
has spent most of the season and the disabled list and
Colby Lewis
all of it.
Alexi Ogando
is also
out again with shoulder inflammation
. The Rangers received some solid work from
Nick Tepesch
and
Justin Grimm
early on, but those two haven't been quite as strong lately, and you have to wonder if the injuries won't catch up to the rotation at some point, at least until Lewis and Harrison return.
Edge: Even. The Rangers have been better so far, but moving forward I think the A's close the gap.
Bullpen
Oakland: 12-3, 2.89 ERA; .227/.289/.358
Texas: 13-7, 3.29 ERA; .240/.313/.368
The Texas bullpen has also been outstanding, especially the back three of
Joe Nathan
,
Tanner Scheppers
and
Robbie Ross
.
Neal Cotts
has added some depth as well. Scheppers has been the big surprise, with a fastball that sits at 94-96 mph and touches 98; he's always had a good arm but might finally be putting it together. He doesn't have a big strikeout rate (21 in 32.1 innings), and I do wonder if he keeps pitching this well. Batters are hitting just .170 off his fastball even though Scheppers' strikeout/walk ratio with the pitch is just 10.9.
Edge: A's. The Rangers have a good pen, but once you get into the fifth, sixth and seventh guys, I think the A's have the advantage.
Defense
Oakland: minus-20 Defensive Runs Saved
Texas: plus-8 Defensive Runs Saved
Ultimate Zone Rating has the clubs essentially even -- Texas at minus-0.3, Oakland at minus-1.3. The big problem area for the A's has been shortstop
Jed Lowrie
at minus-8 DRS. Chris Young, who usually rates very well in the outfield, has also rated poorly at minus-5 DRS. Of course, if he doesn't start hitting, he's not going to get much playing anyway behind Crisp, Reddick and
Yoenis Cespedes
.
Edge: Rangers.
The A's were my preseason pick to win the division, and they look like the better team right now. What do you think?
January, 14, 2013
1/14/13
6:10
PM ET
The
Texas Rangers
failed in their attempt to bring back
Josh Hamilton
or to sign
Zack Greinke
. OK, maybe failed is the wrong word. Maybe the Rangers just drew a line on what they were willing to pay and wouldn't cross it.
But
Kyle Lohse
is still out there and the Rangers theoretically have a rotation slot open behind
Yu Darvish
,
Matt Harrison
,
Derek Holland
and
Alexi Ogando
. I say theoretically, because the Rangers still have
Colby Lewis
, who is expected to return in the second half after elbow surgery. They also have
Robbie Ross
, who pitched out of the bullpen as a rookie in 2012. They have highly touted prospect
Martin Perez
, or at least the one-time highly touted Martin Perez.
So they have options. Their estimated payroll right now is $121 million, a little less than last year's $124 million. The Rangers' mega-TV deal with Fox Sports Southwest doesn't kick until 2015, a deal that will increase the Rangers' local TV revenue from about $20 million per year to $80 million. So -- theoretically -- the Rangers' payroll can increase in the future. Just maybe not this season.
That doesn't mean it can't. Accountants have a way of making the money work. Is Lohse worth whatever price tag it will take? Aside from the money, the first question: How much better would he be than Perez or Ross? (We'll leave Lewis out of the equation for now.) Certainly, Lohse has developed into a solid starter the past two seasons after years of mediocrity, thanks to impeccable command -- just 38 walks in 33 starts in 2012. He went 16-3 with a 2.86 ERA and career-high 211 innings, all numbers that scream career season, but you never know, maybe at 34 he's hitting a little peak of effectiveness here. His strikeout percentage was also a career-best 16.6 percent, his walk percentage a career low and he's now posted back-to-back seasons with a .269 BABIP and .262 BABIP.
Still, we wouldn't project him to do that again, and certainly not in Texas, which is a much higher run-scoring environment than St. Louis. Plus you would be adding in the DH. On the other hand, he'd still get to face the Astros.
Last year, Lohse allowed 74 runs in 211 innings, or 3.2 per nine innings. I think we can conservatively add 15 runs to that total, or 3.8 per nine. Personally, I think that's a pretty low estimate. In 2011, he allowed 80 runs in 188 innings. Anyway, let's be optimistic about Lohse's future and give him those 211 innings again and project 89 runs allowed.
Perez first became a big prospect after a big 2009 season, most of it spent in Class A. He was young and polished and expected to make a quick rise from there to the majors. But he got hammered in Double-A in 2010, was a little better in 2011 and then posted a 4.25 ERA in Triple-A in 2012, but with a poor 69/52 SO/BB ratio in 127 innings. He also pitched 38 innings for the Rangers, making six starts and six relief appearances, and was ineffective with a 5.45 ERA. I'm not optimistic about his chances of becoming a good starter, but he doesn't turn 22 until April.
Ross had a fine season as a rookie in the Texas bullpen, going 6-0 with a 2.22 ERA. His peripherals aren't quite that good -- more like a pitcher with an ERA in the mid-3s -- but he showcased a good low-90s fastball/slider combo. He had very little time in the minors above Class A and would need to add a third pitch as a starter, so as with Perez, he's a question mark as a starter.
Let's say these two were given a shot to start and weren't that impressive -- allowing, say, 5.5 runs per nine innings. That's pretty bad, as bad as Perez in his short stint last year. Of course, they wouldn't throw 200 innings; more like 160. That's 98 runs allowed. We had Lohse at 89 runs in 211 innings. That means the bullpen has to throw an extra 50 innings; at four runs per nine (the Texas bullpen had a 3.99 ERA last year), that's about 22 additional runs. So the difference between Perez/Ross and Lohse would be about 31 runs -- which is worth about three wins -- plus the extra workload the bullpen would have to carry. Maybe that's an extra win that shows up in other ways.

I don't have to point out the meaning of four wins in the AL West; the Rangers know all too well the potential value of one win.
Now ... the numbers above are more like a best-case/worst-case scenario. Odds are the Rangers' fifth starters could do better, and Lohse could do worse. Maybe the spread is more like one win or two wins. In signing Lohse, the Rangers would also lose their first-round draft pick and the bonus money allotted to that pick in their draft budget. Not to mention the $15 million per year or whatever it will cost to sign him.
It wouldn't be an easy decision for general manager Jon Daniels. On the other hand, the Rangers are in win-now mode.
Nelson Cruz
is already declining,
Ian Kinsler
and
Adrian Beltre
aren't going to get better, and you should ride Darvish and Harrison while they're healthy. The window is now.
What do you do?