SweetSpot:

Roberto Alomar
September, 11, 2013
9/11/13
1:13
PM ET
New York Yankees president Randy Levine said the club wants to re-sign impending free agent Robinson Cano (duh) but that
"nobody is a re-sign at any cost."
Much is being made of that statement, but it's really the obvious thing to say, right? The Yankees are simply stating they have a dollar amount they won't cross; in other words, they don't want to get sucked into an Albert Pujols-type contract. What we don't know is what that line is: $150 million? $180 million? $200 million?
One thing I like to do is to compare a player to similar players. In Cano's case, it's a pretty short list. We haven't seen many second basemen with his power and other abilities. Here are the best comparisons from recent decades, how those players performed from ages 28 to 30 (Cano is in his age-30 season) and how they fared from 31 to 35. We're using WAR and offensive WAR (oWAR) from Baseball-Reference.com.
Robinson Cano, ages 28-30: 20.7 WAR (18.5 oWAR)
Strengths: Hitting, power, durability, defense
Weaknesses: Grounds into a few too many double plays?
Perhaps the most underrated aspect of Cano's game is that he's out there every day. He's missed one game this year and just 14 over the past seven seasons. Remarkable durability.
Chase Utley, ages 28-30: 25.0 WAR (18.8 oWAR)
Strengths: Hitting, power, defense, on-base ability
Weaknesses: None
Utley was every bit the hitter Cano was at this age -- Utley had a 139 OPS+ to Cano's 141. Utley's overall value is much higher due to his defensive metrics, which helped make Utley the second-most valuable player in baseball over these three seasons behind Pujols. While Utley did miss 30 games in 2007, his injury history was pretty solid at this point: 160, 159 and 156 games played in 2006, 2008 and 2009.
Utley, ages 31-34: 16.0 WAR (12.4 oWAR)
Utley hasn't reached his age-35 season yet, so that overall WAR will go up a bit. Of course, since turning 31, he's battled injuries every season and has averaged just 104 games per year (with a few more remaining in 2013). Basically, a warning that even durable players can break down after 30.
Jeff Kent, ages 28-30: 11.0 WAR (9.7 oWAR)
Strengths: Power, hitting, strong arm, RBI guy
Weaknesses: Washing trucks
Kent had a breakout season with the Giants in 1997 at age 29 after coming over from Cleveland for Matt Williams. He knocked in 121 runs in 1997 and 128 in 1998, the first two of what would be eight 100-RBI seasons in nine years.
Kent, ages 31-35: 25.6 WAR (25.9 oWAR)
Kent would have a peak season in 2000 at age 32, winning the NL MVP Award. Kent would remain a solid player through age 37, and a good hitter through his retirement at 40, although his range in the field had obviously deteriorated by then.
Roberto Alomar, ages 28-30: 12.5 WAR (11.9 oWAR)
Strengths: Hitting for average, speed, defensive reputation
Weaknesses: Defensive metrics
These were his Baltimore years, 1996 to 1998. He hit .328 in '96 and .333 in '97, although he played just 112 games. After a down year in 1998, he signed as a free agent with Cleveland.
Alomar, ages 31-35: 20.7 WAR (22.3 oWAR)
Alomar had maybe his best season with the Indians in 1999, finishing third in the MVP vote, and another big year in 2001, finishing fourth in the MVP vote. His decline began with the Mets in 2002, his age-34 season and he was done by 36. A warning that even great players don't always remain great past their early 30s.
Craig Biggio, ages 28-30: 16.4 WAR (17.1 oWAR)
Strengths: Hitting for average, speed, durability, power, getting hit by pitches
Weaknesses: None
This covers 1994 to 1996, so Biggio loses some value due to the shortened seasons of '94 and '95. At his best, Biggio didn't quite have Cano's power, but had more speed and better on-base skills (four times he had an OBP over .400, which Cano has never done).
Biggio, ages 31-35: 25.5 WAR (25.3 oWAR)
Biggio lasted forever, although his last great season came at 33. From 34 to 37 he averaged 1.9 WAR per season. This could highlight the dangers of a seven- or eight-year contract. The first four years may work out great, but what about the back end?
Ryne Sandberg, ages 28-30: 17.8 WAR (16.7 oWAR)
Strengths: Power, speed, defense, durability
Weaknesses: Didn't walk a whole lot
Sandberg led the NL with 40 home runs at age 30 in 1990 and ranked third among NL position players in WAR.
Sandberg, 31-36: 22.2 WAR (18.2 oWAR)
Sandberg didn't play in his age-35 season (he retired and then returned), so we're counting his age-36 year. He remained a great player at 31 and 32 -- finishing second in the NL in WAR both years among position players (behind Barry Bonds). In 1993, Sandberg broke his hand in spring training and missed time early that season. He hit over .300 but without the same power and was never the same player again.
Joe Morgan, ages 28-30: 27.2 WAR (24.5 oWAR)
Strengths: Everything
Weaknesses: Sabermetrics
Morgan was probably the best player in baseball over those years, putting up great numbers at a time when a lot of middle infielders couldn't hit.
Morgan, ages 31-35: 30.8 WAR (32.0 oWAR)
Morgan took his game to a new level in 1975 and 1976, when he was 31 and 32, earning 11.0 WAR and 9.6 WAR and winning the MVP Award both seasons. He wasn't as good after that, although he retained excellent on-base skills, and averaged 3.2 WAR from ages 33 to 37.
* * * *

What can we take from this? It's
mostly
a positive list, I think. Obviously, the longer the contract, the more risk for the Yankees. Cano will finish 2013 at about 7.0 WAR. From ages 31 to 35, our group averaged 23.3 WAR, or 4.9 per season. It gets a little dicey after that. Assuming it would take a seven-year contract to sign Cano, his future could look something like this:
Age 31: 7.0 WAR
Age 32: 6.0 WAR
Age 33: 5.0 WAR
Age 34: 5.0 WAR
Age 35: 4.0 WAR
Age 36: 3.0 WAR
Age 37: 2.5 WAR
That's giving him 27.0 WAR over the next five seasons plus some decent value at 36-37. At about $6.5 million per win on the free-agent market, you're looking at a seven-year, $211 million deal.
Is that above or below Randy Levine's line?
January, 5, 2012
1/05/12
8:00
AM ET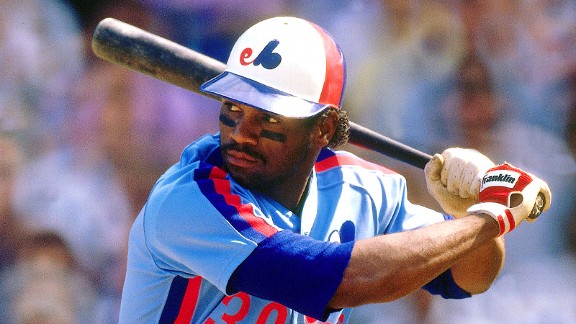 Ronald C. Modra/Sports Imagery/Getty ImagesTim Raines is often cited as the second-greatest leadoff hitter in MLB history.
There are a lot of columns and analysis out there advocating the case for Tim Raines for the Hall of Fame. I probably won't add anything new to the discussion, but let me start here:
Player A is Raines. Player B is Tony Gwynn. That final column is times reached base. Yes, Raines reached base more often in his career than Gwynn, in just slightly more plate appearances. I'm not the first writer to come up with that comparison. Joe Posnanski, among others, is especially fond of this factoid. The point of the statistic isn't to bring down Gwynn, rather to show how potent and devastating an offensive player Raines was. The arc of his game was a little different than Gwynn's but the results are similar: Gwynn got more singles, Raines walked more and had a little more power. He was one of the great base stealers of all time and scored more runs in his career than Gwynn.
That's what Raines did: He scored runs. He's 51st on the all-time list and of the 50 players ahead of him, all eligible candidates are in the Hall of Fame except for Jimmy Ryan and George Van Haltren, two 1890s outfielders; turn-of-the-century shortstop Bill Dahlen; and Rafael Palmeiro.
A common refrain about Raines from his advocates is that he was one of the best players in baseball over a span in the 1980s. This isn't some after-the-fact hocus-pocus going on. It was widely believed at the time. In a 1984 Sports Illustrated piece on Raines, Pete Rose said: "Right now he's the best player in the National League. Mike Schmidt is a tremendous player and so are Dale Murphy and Andre Dawson, but Rock can beat you in more ways than any other player in the league. He can beat you with his glove, his speed and his hitting from either side of the plate." In his annual Baseball Abstracts, Bill James often argued the case of Raines' all-around brilliance. Raines finished fifth, sixth and seventh in MVP votes, despite playing for mediocre Expos teams.
Raines' five-year peak was 1983 to 1987. According to Baseball-Reference's WAR ranking, the top five players during those years were Wade Boggs (39.7), Rickey Henderson (34.1), Cal Ripken (33.3), Schmidt (31.4) and Raines (30.7). Pretty nice company. (The next five were Alan Trammell, Gwynn, Eddie Murray, Murphy and Keith Hernandez.)
To be fair, this alone doesn't make him a Hall of Famer. I checked every five-year period since 1969 (1969 to 1973, 1970 to 1974, etc.) and not all of the names that appear in the top five are Hall of Famers or future Hall of Famers. Heck, Sal Bando rated as the best player in baseball from 1969 to 1973.
Some characterize Raines as having too short of a peak level of dominance. From 1988 to 1995, he averaged .283/.375/.409, with 81 runs and 33 steals per season. Maybe not an MVP candidate anymore, but still a good player, top leadoff hitter and valuable contributor. He's hardly alone in this aspect. He had six seasons with an OPS+ of 130 or higher, the same as Jim Rice, Dawson and Ernie Banks, and more than Kirby Puckett, Roberto Alomar, Johnny Bench, Carlton Fisk, Yogi Berra, Tony Perez or Robin Yount.
Maybe Raines doesn't have a slum-dunk case. But he has a case. Maybe voters have forgotten his great years in Montreal (and they have forgotten; he received only 37 percent of the vote last year). Maybe they remember his final seasons with the Yankees, when he became a part-time player on two World Series champions. Maybe they can't believe he compares favorably with Tony Gwynn.
Believe.
November, 29, 2011
11/29/11
9:26
PM ET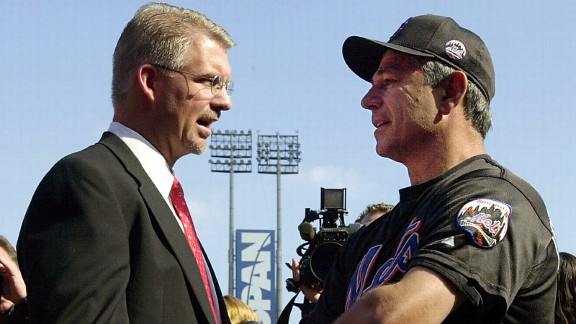 Henny Ray Abrams/Getty ImagesSteve Phillips and Bobby Valentine rarely saw eye-to-eye during their time with the Mets.
When fans think of Bobby Valentine, most will initially think of the time he tried to sneak back into the dugout wearing glasses and a fake mustache after getting ejected from a game. There will be plenty of talk about the perception that he's arrogant, a little aloof and craves the limelight too much. There will be talk that he hasn't managed in the major leagues since 2002 (although he did in Japan after that) and that his departure from the Mets was fueled in part by his disagreements with general manager Steve Phillips.
So the talk will mostly be about his personality. But what kind of manager was he? Let's look back at his career -- focusing mostly on his full seasons with the Mets from 1997 to 2002 -- to see what that may indicate about how he'll manage the Red Sox.
Will Carl Crawford hit leadoff?
With
Jacoby Ellsbury
's new power stroke, it may make sense to move him down in the order to get him more RBI opportunities; that would leave Crawford as a leadoff option. I don't see that. Even if Crawford bounces back, his on-base percentage is hardly ideal for a leadoff hitter and Valentine -- a guy who was using computers and studying sabermetrics back with the Rangers in the '80s -- craves a high OBP from his leadoff hitter.
Check out his leadoff hitters with the Mets:
1997: Lance Johnson/Brian McRae.
1998: Brian McRae/Tony Phillips -- McRae posted a career-high .360 OBP that year.
1999:
Rickey Henderson
.
2000: Ten different leadoff hitters, including
Benny Agbayani
27 games.
2001: Used four guys at least 20 games, led by
Joe McEwing
's 44 games. Led off Agbayani 32 times.
2002:
Roberto Alomar
/
Roger Cedeno
.
The unconventional use of Agbayani, the rotund Hawaiian without much speed but in possession of good on-base skills, shows Valentine's preference for OBP. In 2002, with Cedeno failing to do the job, he used Alomar there. I see Crawford remaining lower in the order, with Ellsbury staying in the No. 1 spot.
Does he like the quick hook or does he let his starters stay in the game?
There's not really a lot of in-game strategy in the American League, especially with a team like the Red Sox that basically just looks to bash the ball. So the most important strategic elements for Valentine will be how he handles the rotation and bullpen. The 2011 Red Sox were 12th in the AL in average innings per start, but that was more a function of a lousy rotation than Terry Francona's itchy trigger finger.
Let's see where the Mets under Valentine ranked in average in innings per start among NL teams:
1997: 5th
1998: 4th
1999: 8th
2000: 4th
2001: 4th
2002: 5th
Nothing really unusual here, as the Mets usually had a solid rotation under Valentine. They ranked in the upper half of innings because he had decent pitchers.
He was a little more generous when it came to allowing his starters throw 100 to 119 pitches:
1997: 9th
1998: 7th
1999: 12th
2000: 3rd
2001: 1st
2002: 4th
What's interesting about the 2001 squad is that they actually allowed the fewest walks in the league, so the high pitch counts weren't the result of a staff that walked a lot of hitters. He had a veteran rotation that year -- Leiter,
Kevin Appier
,
Glendon Rusch
,
Steve Trachsel
,
Rick Reed
-- and let his starters work deeper into games. It will be interesting to see if Valentine allows
Jon Lester
and
Josh Beckett
to reach the century mark more often than Francona did. In 2011, Lester had 22 100-pitch games -- tied for 25th-most among major league starters; Beckett had 21.
Justin Verlander
had 34,
CC Sabathia
31, and other top AL pitchers like
James Shields
,
David Price
,
Felix Hernandez
,
C.J. Wilson
,
Dan Haren
and
Jered Weaver
were all in the high 20s or low 30s.
Does he like an experienced closer?
In other words, would he be comfortable with
Daniel Bard
in the ninth inning? With the Mets, he initially had
John Franco
. The team acquired
Armando Benitez
in 1999 and when Franco went down with an injury in early July, Benitez took over as closer; when Franco returned, Benitez kept the closer job. As the Rangers' manager from 1985 to 1992, he had a different closer every year early on, before the club turned starter Jeff Russell into a successful closer in 1989. Hard to read too much into this, although both Russell and Bard throw hard. My guess is this becomes more of a front-office decision (do they sign
Ryan Madson
?), but that Valentine would have no problem making Bard his closer.
Does he like strikeout pitchers or guys who throw strikes?
With the Rangers, Valentine (and pitching coach Tom House) were obsessed with guys who threw hard. They had
Bobby Witt
, Jose Guzman, Edwin Correa, Nolan Ryan, Mitch Williams and others. Ryan had mostly refined his control (for him) by the time he reached Texas, but the other four would have problems hitting a barn door placed 10 feet in front of them. His first four staffs all had the highest walk rate in the American League. His staffs with the Mets were better, and Valentine seemed less concerned with velocity -- guys like Reed, Bobby Jones and Rusch were more finesse-type pitchers who threw strikes.
Mets strikeout rate under Valentine:
1997: 13th
1998: 7th
1999: 4th
2000: 3rd
2001: 5th
2002: 5th
Mets walk rate under Valentine:
1997: 2nd
1998: 7th
1999: 8th
2000: 3rd
2001: 1st
2002: 5th
Does he like a set lineup?
During his years with the Mets, Valentine always had a set infield, but remarkably never had one outfielder start 100 games at one position more than once. His machinations out there were pretty remarkable and show the willingness to be flexible and mix and match players as needed. Now, with the Red Sox he won't have same issue, with Ellsbury and Crawford playing every day, but it certainly suggests he'd be comfortable with a platoon in right field.
Here's the list of outfielders who started 100 games in a season at the same position with the Mets under Valentine:
1997:
Bernard Gilkey
, LF, 134
1998: Brian McRae, CF, 144
1999: Rickey Henderson, LF, 113
2000:
Jay Payton
, CF, 124;
Derek Bell
, RF, 136
2001: None
2002: Roger Cedeno, LF, 125;
Jeromy Burnitz
, RF, 131
The big issue here is how he handles Crawford, especially if he struggles to hit left-handers again (.195 in 2011). Would he consider benching Crawford against lefties, or at least the tough lefties?
Does he like young players?
With the Mets, he mostly had a veteran lineup. He did give Agbayani an opportunity, broke in Payton and
Timo Perez
, and gave Cedeno his first chance to play every day. With the Rangers, he broke in position players like
Ruben Sierra
, Oddibe McDowell, Steve Buechele, Pete Incaviglia, Jerry Browne,
Ivan Rodriguez
,
Juan Gonzalez
and
Dean Palmer
. Again, this might be more of a front-office decision, but I'd say Valentine would give youngsters like
Josh Reddick
and
Ryan Lavarnway
an opportunity to play regularly.
Valentine's reputation with the Mets was one of being prepared and being tactically smart with his in-game moves. He had to do more with the Mets than he'll have to with the Red Sox, especially considering he was often platooning at one or two outfield spots. He trusted his veteran starters to go deep into games. In short, there's nothing radically unconventional about Valentine's managerial philosophy. Of course, he last managed in the majors 10 years ago and his biggest challenge won't necessarily be strategy, but getting Crawford to rebound, getting his older players in better shape, and rebuilding Bard's confidence.
September, 15, 2011
9/15/11
11:30
AM ET
By
Christina Kahrl
| ESPN.com
In the spirit of the season with Hispanic Heritage Month, let's take a look at the all-time best players of Latin descent for each of the American League teams.
Baltimore Orioles
: Mike Cuellar of Cuba. Cuellar only had an eight-year run in Baltimore, and arrived well after he'd turned 30, but the O's saw a workhorse, and innings and wins are what they got. Cuellar became the first Latin pitcher to win the Cy Young Award when he split it with Denny McClain in 1969 -- his first year as an Oriole. He went on to notch 143 wins during his time in Baltimore, and also delivered WAR seasons worth 2.5 wins or more in five of his first six seasons.
[+] Enlarge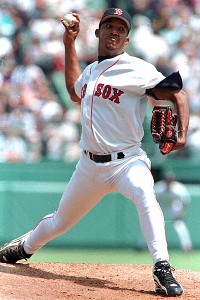 AP Photo/ Jim RogashPedro Martinez won at least 14 games in six of his seven seasons with the Red Sox.
Boston Red Sox
:
Pedro Martinez
of the Dominican Republic. When you can count
Manny Ramirez
and Luis Tiant among the runners-up, you know you've got a full field, but three Cy Young awards and a career 2.52 ERA for the Red Sox over seven seasons during the age of injection-enabled offense puts Pedro on a plane all his own.
Chicago White Sox
: Minnie Minoso of Cuba. In his various stints with the White Sox, the Cuban Comet managed to miss the team's lone pennant in 1959, but the vast majority of his career value (42.7 WAR) came from his the nine seasons in his first two incarnations with the Sox (1951-57, 1960-61); there were three more yet to come. There's room for an honorable mention for Venezuelan shortstop Luis Aparicio (31.5 WAR), but like Minoso, he spent chunks of his career in other unis.
Cleveland Indians
: In another full field, you could pick Venezuela's
Omar Vizquel
or Mexican-American Mike Garcia; Garcia was a rotation regular for the 1950's Tribe, and he's a reasonable choice for the 32.4 WAR, 3.27 ERA and 142 wins he gave them. However, his value on the mound was essentially equal to Manny Ramirez's 32.8 WAR he produced with his bat in almost eight seasons with the Indians. Surprising nobody, Manny's WAR numbers go down when you count his defense, but that production at the plate puts the Dominican immigrant among the 10 most productive Indian bats of all time.
Detroit Tigers
: It might be cause for surprise, but the Tigers are one of the very few teams from among the league's original eight who have yet to boast a long-term Latin star. Venezuela's
Miguel Cabrera
has only just become the franchise's first Latin player to accumulate 20 career WAR with the Kitties, and he still hasn't spent half of his career in Detroit. One man worthy of an honorable mention is Willie Hernandez, for his MVP- and Cy-winning 1984 season, but the Motor City was the Puerto Rican Hernandez's third stop, and his career didn't make it to the '90s.
Kansas City Royals
: It's been so long since
Carlos Beltran
of Puerto Rico played for the Royals that you might forget he was almost every bit the MVP-caliber player there as he'd get more recognition for in Houston and New York. His 2003 season (7.3 WAR) rates among the 10 greatest seasons by a Royals position player, a list that has five different George Brett seasons and four other guys besides Beltran on it. Before the season, you might have wanted to lean towards Mexico'
Joakim Soria
, but a bumpy 2011 was enough for me to play wait and see.
Los Angeles Angels
of Anaheim: The Angels' roster has been characterized by so much turnover historically that it's been hard for anyone to settle in and pile up big career totals as a Halo, something that only recently changed with
Tim Salmon
and
Garret Anderson
. So while
Vladimir Guerrero
of the Dominican Republic has played less than half of his career in Anaheim, he's pretty much by his lonesome for spending so much of his productive career there.
[+] Enlarge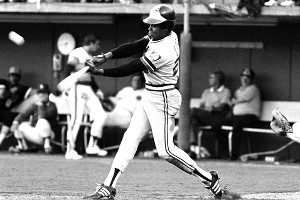 AP PhotoRod Carew spent 12 seasons with the Minnesota Twins.
Minnesota Twins
: One of the other reasons tabbing Vladi as an Angel was necessary is because Panama's Rod Carew did most of his damage during his long career with the Twins. If you remember the fleet-footed old man for his 3,000th hit at the end of his career back in 1985, you might remember him as an Angel, but more than 2,000 of those hits came hitting in the frosty confines of Minnesota's old Metropolitan Stadium, as unlikely a landing spot for a youngster from the Canal Zone as you might imagine.
New York Yankees
: You might fidget over Lefty Gomez, who was Portuguese and Spanish on his father's side and all-Californian enough to merit the nickname "Goofy," and Dominican
Alex Rodriguez
and Puerto Rico's
Jorge Posada
would be easy choices in other organizations. But with almost 56 WAR contributed to one pinstriped contender after another, the man who has delivered the most career value is Panama's
Mariano Rivera
.
Oakland Athletics
: It's important not to forget that Reggie Jackson claims Hispanic heritage on his mother's side, but the key player from the Big Green Machine of the '70s who deserves a shoutout here is Cuba's Bert Campaneris. With 649 career steals, Campy leads all Latin ballplayers while ranking 14th overall, and his 43.1 career WAR suggests how much value he added in the field as well as on the bases.
Seattle Mariners
: Perhaps no player more perfectly captures Puerto Rico's complicated relationship with the United States than
Edgar Martinez
, who was born in New York City but grew up on the island. Whatever label you care to apply, anyone can take pride in the definitive DH's career after he hit .312/.418/.515 while producing 66.9 WAR at the plate.
Tampa Bay Rays
: With an existence that doesn't even stretch back two full decades yet, it might be premature to tab an all-time great Latin Ray, but Dominicans
Carlos Pena
and
Julio Lugo
lead the pack of notables, with Cuba's
Rolando Arrojo
leading the pitchers.
Texas Rangers
: Ivan Rodriguez's career may well be winding down, and he might be a decade removed from his last full season in Arlington, but Pudge has been the pride of Puerto Rico as the greatest position player in Rangers history, topping all Texas players with 48.6 WAR. He's long since punched his own ticket to Cooperstown.
Toronto Blue Jays
: As one of the first franchises to truly invest in Dominican talent, it should come as no surprise that some of the best ballplayers in Blue Jays history came from the island: infielder Tony Fernandez, slugger George Bell and pitcher Juan Guzman. But the Jays also came away with a ton of talent from Puerto Rico, starting with
Carlos Delgado
and
Roberto Alomar
. If you go by WAR, it should be Delgado, but Alomar's Gold Glove-studded career as a fielder is one of the great causes for debate over the strengths and limitations of both scouting and statistical analysis of defense. For the purposes of this sort of exercise, let's give the new Hall of Famer his due and tab Alomar.
On Friday, we'll turn to the National League and give the 16 greats of those franchises their props.
Christina Kahrl covers baseball for ESPN.com. You can follow her on Twitter.
July, 25, 2011
7/25/11
4:53
PM ET
The members of the Baseball Today podcast team enjoyed their weekend -- some more than others -- and so it was back to work to help create
Monday's fine show
, as Mark Simon and I aimed to entertain, with these topics:
1. Most of the show was spent looking ahead, but we share our thoughts on a fine Hall of Fame weekend as well.
2. If it's Monday we rank the top teams from 1 to 10, and of course our lists look a bit different. Did America's team make the cut?
3. Oh, to be a Seattle Mariners fan. At least things should get better this week at Yankee Stad-- ... ugh.
4. With Mark planning a trip to Cincinnati on Tuesday to see his beloved Mets, we check out listener suggestions on where to dine, and Mark has a treat for those who meet him!
5. Mark brings great insight in his Simon Says segment, discussing historical facts about Cincinnati, the best players on glove flips and why Randy Choate did not quite make history recently.
Plus: Excellent emails, the matchup of young pitchers in Los Angeles, when we knew we wouldn't be big leaguers and more on the heat, all on Monday's hot Baseball Today podcast!
July, 23, 2011
7/23/11
10:00
AM ET
By
Bill Parker
| ESPN.com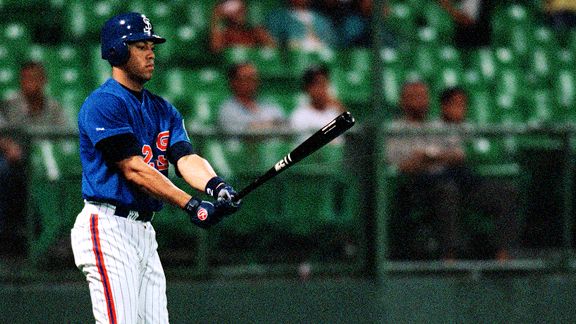 Courtesy El Nuevo DiaYou'd find native Puerto Rican Roberto Alomar on winter league diamonds after he achieved fame.
Roberto Alomar
is a Hall of Fame player. He just is.
I don't mean that in the pure factual sense, of course -- though that's also true, or will be after the induction ceremony -- but to the extent that there are any standards for who gets into the Hall of Fame, Alomar meets all of them. He should have been in on his first ballot, but given the way voters tend to apply their silly unwritten rules, I suppose we should be thankful that he had to wait only a year to get what's rightly his.
Alomar's statistical case is obvious. He fell short of 3000 career hits, but his 2,724 are seventh all-time among players who were primarily second basemen, and second to
Craig Biggio
among second basemen who played a game after World War II. (It's worth noting that Rod Carew played
just
more than half his games at first base.) Alomar is also eighth in runs, 11th in homers, 10th in RBI, 11th in walks, and fifth in steals. More qualitatively, his 116 OPS+ is eighth among all second baseman with at least 8000 plate appearances; of the seven in front of him, six are in the Hall already, one (
Jeff Kent
) likely will be, and the other (Bobby Grich) definitely
should
be. He is also 10th in Baseball-Reference WAR and finished in the top five of his league three times. During his prime, Alomar was revered for his flashy defense (though the advanced metrics' reports are mixed), and he even hit .313/.381/.448 in 263 postseason plate appearances, on the way to playing on two World Series winners. He's a top-10 all-time second baseman, and there are already 13 second basemen in the Hall.
To the extent that there are any faults with Alomar's case at all, they're pretty easily dealt with.
One that is sometimes put forth is that following a near-MVP season in 2001, his game suddenly fell apart the following year with the Mets. He was done as a productive player at 34, leading some to the conclusion that his career was "too short." But second basemen seem to burn out early as a rule (if not usually as rapidly as Alomar did), and he started very early, having logged three full (and very good) seasons and an All-Star appearance before his trade from the Padres to the Blue Jays at the age of 22 -- enough to put him sixth all-time among primary second basemen in plate appearances (10 Hall of Fame second basemen have ended their careers with fewer).
So his was not by any means a
short
career, not by middle infield standards, but the quick fade certainly hurt how he was remembered. For most of Alomar's first 14 seasons, he was perceived as an elite, Hall of Fame-type talent, as evidenced by his 12 straight All-Star selections, 10 Gold Gloves in 11 seasons, and five finishes among the top six in league MVP voting. The three ugly years at the end, in which he was 0.2 wins below replacement -- and coming mostly in New York and Chicago, the only two "big markets" he ever played in -- make it easy for some to forget exactly how dominant Alomar was for the great bulk of his career. It doesn't make him any less worthy of the Hall, though, since after all he really was that dominant, just a little less obvious.
Another thing that hurts some fans' and writers' perception of his career, probably even more than the abrupt ending, is that he played for six teams in 17 years. He does lead all Blue Jays second basemen in career WAR, and will have his number
retired by the team next week
, but he accumulated just 20 WAR with the Jays, seventh overall in team history behind the likes of Lloyd Moseby and Jesse Barfield. His lack of a dominant stretch with a single team might tend to obscure his greatness, but again, doesn't change the fact that the greatness happened, with a couple very good seasons each spent with the Padres, Jays and Orioles, and then three great ones with Cleveland.
Finally, there's that thing you knew was coming -- in September 1996, during an argument, Alomar spit on umpire John Hirschbeck (to whom he later apologized,
and the two are now friends
). At least one voter flatly admitted that he withheld his first-ballot vote because of the incident, and there can be no doubt that many others did the same. It was a terrible and disgraceful incident, to be sure, but it's still just one incident, and one that shouldn't define a 17-year career, and simply shouldn't enter into the discussion when we're talking about an institution that has welcomed all manner of racists, criminals,
possibly murderers
, and other shady characters.
Those three things -- his career's abrupt end, his travels from team to team and the spitting -- are all part of Roberto Alomar's story. But the much more interesting parts are that Alomar was a wonderfully exciting player to watch who, at his best, could hit for average and power, run the bases at an elite level and play brilliant (or at least brilliant-looking) defense; that he was a postseason hero and a twelve-time All Star; and most importantly, that he was unquestionably one of the greatest players ever to play his position. Whatever your definition of a Hall of Famer might be, Alomar almost definitely fits it. Like Bert Blyleven, Alomar is a player who makes the Hall just a little bit
better
, not worse, and his moment in the sun tomorrow afternoon is well deserved, and a year late.
Bill Parker writes for The Platoon Advantage. Follow him on Twitter: @Bill_TPA.
July, 22, 2011
7/22/11
12:54
PM ET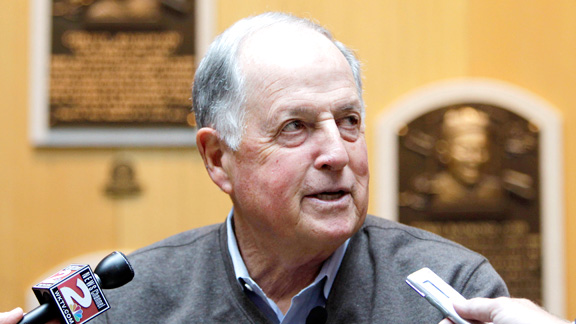 AP Photo/Mike GrollHall of Fame baseball executive Pat Gillick helped build playoff teams in several cities.
You can debate the merits of an executive getting elected to the Hall of Fame; personally, I find it a bit ridiculous that Pat Gillick got elected and will be enshrined this year while deserving players like
Barry Larkin
, Tim Raines, Alan Trammell and others were snubbed yet again by the voters (yes, Gillick was elected via a special expansion era committee).
Gillick was the general manager of the Blue Jays from 1978 through 1994, building them from an expansion franchise into a two-time World Series champion. He ran the Orioles from 1996 to 1998, making the playoffs his first two seasons. He took over the Mariners for the 2000 season, and his first big move was to trade a disgruntled Ken Griffey Jr. The Mariners made the playoffs anyway and then won a record 116 games the following season. He took over the Phillies in 2006 and retired after they won the World Series in 2008 (he remains an advisor).
His ability to build winners is undeniable, although Gillick also had good timing with his various retirements. After winning two World Series, the 1994 Blue Jays had become an aging, past-its-prime ballclub, finishing 55-60. Gillick wasn't around when the Jays stumbled to the worst record in the AL in 1995. He took over a solid Orioles club in 1996, added a few veterans to get them over the playoff hump, but left after the team fell under .500 in 1998. The Orioles haven't seen a winning record since. The Mariners won 93 games in 2003, but were an old club with a bad farm system, depleted in part because Gillick had forfeited draft picks to sign veteran free agents. He stepped down before the team lost 99 games in 2004. Only the Phillies have maintained success after Gillick left, either a testament to his genius or a testament to knowing when to quit.
Here are 10 moves that got him into the Hall of Fame, in chronological order.
1. Selecting George Bell in the Rule 5 draft.
Bell had missed most of the 1980 season while in the Phillies' system, but the Blue Jays were astute enough to select the outfielder. He didn't become a regular until 1984, but over seven full seasons with the Jays hit .288 while averaging 24 home runs and 102 RBIs, winning the 1987 AL MVP when he hit 47 home runs and led the league with 134 RBIs.
2. Acquired Fred McGriff for Dale Murray.
McGriff had hit .272 AVG/.413 OBP/.456 SLG as an 18-year-old in rookie ball with the Yankees when Gillick got him as a throw-in for a deal that brought Dave Collins and
Mike Morgan
to the Blue Jays. Collins had been a high-priced free-agent bust for the Yankees in 1982, and George Steinbrenner eagerly dumped him for Murray, a middling middle reliever who was nearly done. McGriff would hit 125 home runs for the Blue Jays, helping them win the '89 AL East crown.
3. Drafted Tom Henke from the Rangers.
Teams that lost a free agent used to be able to draft an unprotected player off another team. In 1985, Gillick selected Henke, a hard-throwing but wild right-hander who had posted a 6.35 ERA for the Rangers in 1984. Henke turned into one of the best closers in the league, had a 2.48 ERA and 217 saves over eight seasons in Toronto, and was the closer on the 1992 World Series champion.
4. Drafting John Olerud ... and then signing him as a free agent.
Olerud had been one of the best college players in the nation as a sophomore at Washington State, hitting .464 while going 15-0 as a pitcher. But he suffered a brain aneurysm before his junior season and played sparingly. Most teams were scared off, but the Jays drafted him in the third round in 1989 and he went straight to the majors. Later, in Seattle, Gillick signed Olerud as a free agent and he posted a .392 OBP from 2000 to 2003.
5. Acquired Devon White from the Angels for Junior Felix and Luis Sojo.
Felix had played well for the Blue Jays in 1990 as a 22-year-old while White had hit .217 for the Angels. But the Jays needed better defense in center (34-year-old Mookie Wilson had been the team's primary center fielder in '90) and White was one of the game's supreme fly chasers. White not only won three Gold Gloves as the Jays won three straight AL East titles from '91-93, but he hit well and averaged 108 runs per season over those three years.
6. Trading McGriff and Tony Fernandez to the Padres for Roberto Alomar and Joe Carter.
A few days later, Gillick made a good old-fashioned challenge trade, the likes of which you don't see much anymore. Fernandez had been a three-time All-Star with the Jays, but Alomar was younger and on the rise. McGriff was a better player than Carter, but the Jays had Olerud ready to play first base. In five seasons with the Jays, Alomar became one of the best all-around players in baseball, making the All-Star team all five seasons. He also hit .373 in five postseason series while with Toronto, driving in 18 runs and stealing 18 bases in 29 games. When Gillick went to the Orioles, one of his first moves was to sign Alomar as a free agent.
7. Signing Jack Morris, Dave Winfield and Paul Molitor as free agents.
By 1992, the Jays were drawing 4 million fans per season and had become one of baseball's richest franchises. Gillick had money to work with; the Jays had the third-highest payroll in 1992 and the highest in 1993. In '92, he signed veterans Morris and Winfield. Morris went 21-6 while Winfield hit .290 with 108 RBIs as the team's DH. The next season, Molitor replaced Winfield and was even better, hitting .332, driving in 111 runs, scoring 121 and finishing second in the AL MVP vote.
8. Signing Ichiro Suzuki.
Many American scouts and executives believed Ichiro was too thin and frail to succeed in the U.S. The Mariners won negotiating rights with a $13 million bid and soon signed Ichiro to a three-year, $14 million contract entering the 2001 season. All he did as a rookie was hit .350, score 127 runs, steal 56 bases, win AL MVP honors and lead the Mariners to 116 wins.
9. Signing Bret Boone as a free agent.
As good as Ichiro was in 2001, Boone might have been even better. He had one of the greatest seasons ever for a second baseman, hitting .331 with 37 home runs, leading the AL with 141 RBIs and winning a Gold Glove. All for $3.25 million.
10. Trading for Jamie Moyer.
Notice a trend? Gillick has a history of bringing back his former players. He had Moyer in Seattle and picked him up for nothing in 2006. In truth, all the key parts of the Phillies' 2008 World Series were already in place when Gillick arrived --
Ryan Howard
,
Chase Utley
,
Jimmy Rollins
and
Cole Hamels
had been drafted by the previous regime, and
Shane Victorino
had been acquired in the Rule 5 draft. Gillick's big moves were trading for Moyer, who would go 56-40 for the Phillies and was the team's No. 2 starter in 2008, and signing
Jayson Werth
before the 2008 season, after he had missed all of 2007 with a wrist injury.
Follow David Schoenfield on Twitter @dschoenfield.
April, 18, 2011
4/18/11
5:48
PM ET
In the second part of our Padres uniform retrospective, we move on to the 1980s (in case you missed it, here's
the 1970s
). Ahh, the '80s ...
Tony Gwynn
appears on the scene, the team signs Dodger icon Steve Garvey and in 1984 the team reaches its first World Series. The uniforms? More brown.
Garry Templeton, 1984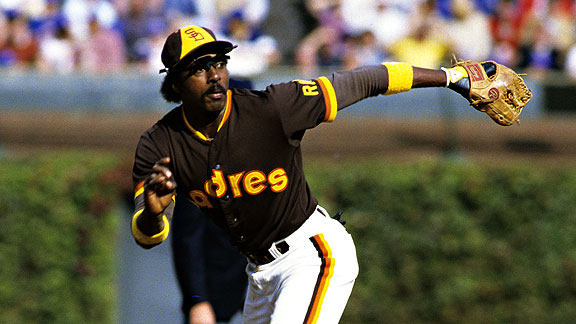 Ronald C. Modra/Getty ImagesAcquired for Ozzie Smith, Templeton was the Padres' shortstop for nine seasons.
After the breakthrough winning season in 1978, the Padres fell back to 93 losses in 1979 and last-place finishes in 1980 and '81. Dick Williams was hired as manager in 1982 and while the team traded away Ozzie Smith, it came up with a terrific crop of rookies: Tony Gwynn, Alan Wiggins, Dave Dravecky, Eric Show and Andy Hawkins (the team's best rookie that year was actually reliever Luis DeLeon, who had a 2.03 ERA in 102 innings). The team finished .500 that year and those five would be keys to the 1984 club that reached the playoffs for the first time, rallied to beat the Cubs in the NLCS and then lost the World Series in five games to the Tigers. Here, Garry Templeton dons the team's brown road jersey that it wore from 1980 through 1984 (note that the logo used the team nickname rather than then city name).
---
Goose Gossage, 1984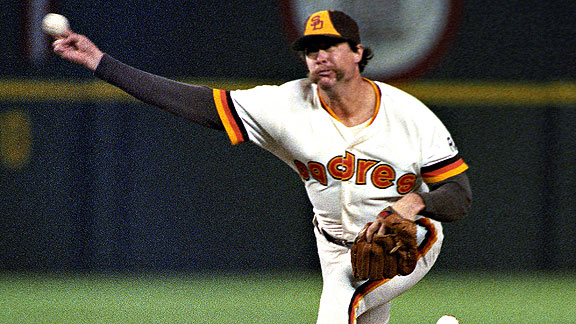 Ronald C. Modra/Getty ImagesSigned in 1984, Gossage went 10-6 with 25 saves as the Padres reached the World Series.
Gossage joined veterans Steve Garvey and Graig Nettles plus young outfielders Kevin McReynolds and Carmelo Martinez to deliver San Diego's first pennant. The team was remarkably healthy that year -- of the eight regulars, only Nettles didn't play at least 147 games, and he played 124. Gossage, wearing the home jersey, and Craig Lefferts headlined the pen, each pitching more than 100 innings.
---
Tony Gwynn, 1985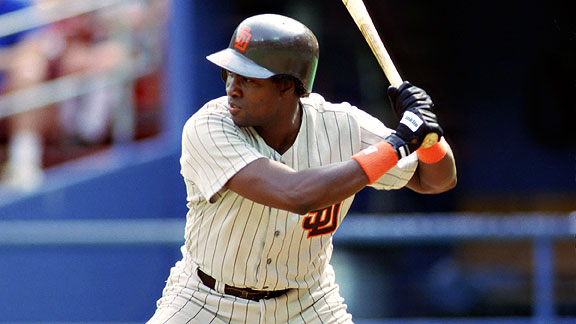 George Gojkovich/Getty ImagesGwynn won his first batting title with a .351 mark in 1984 and would win three more in the '80s.
The Padres switched to pinstripes for both home and road jerseys in 1985. Gwynn is in action here in the road uniform with the "SD" logo on his chest. The Padres couldn't maintain their success of '84 and by 1987 they were back to losing 97 games under new skipper Larry Bowa.
---
Roberto Alomar, 1989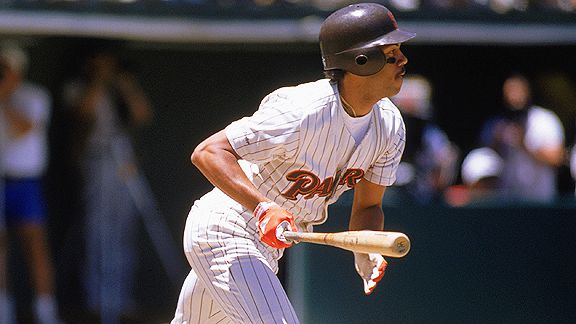 Stephen Dunn/Getty ImagesAlomar played three seasons for the Padres before getting traded to the Blue Jays.
The Padres were competitive again in 1989, winning 89 games and finishing three games behind the Giants -- although they were never really in the race, as they were still 10 games out in late August. The Padres made one of their worst trades early that season, sending John Kruk and Randy Ready to the Phillies for Chris James after Kruk got off to a .184 start. Alomar, wearing the home pinstripes, would be traded after the 1990 season in a four-player blockbuster with the Blue Jays, going to Toronto with Joe Carter for
Tony Fernandez
and
Fred McGriff
.
Follow David Schoenfield on Twitter at @dschoenfield. Follow the SweetSpot blog at @espn_sweet_spot.
March, 3, 2011
3/03/11
2:30
PM ET
By
Bill Parker
| ESPN.com
Ryne Sandberg
was the most famous second baseman of the 1980s. In 2005 (his third try), Sandberg went into the Hall of Fame. And deservedly so, I think.
Lou Whitaker
, however, was the BEST second baseman of the 1980s. In 2001, Whitaker received 15 of 515 votes (2.9 percent) and fell off the ballot forever. And that's the biggest mistake the BBWAA has ever made.
[+] Enlarge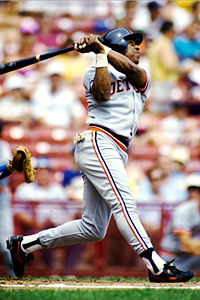 US PresswireDetroit Tigers second baseman Lou Whitaker deserves to be enshrined in Cooperstown.
I don't have the time (or space) to prove this, but second basemen seem to burn out faster than any position other than catcher. The abrupt fade of
Roberto Alomar
was unusual, but not THAT unusual, for someone at his position. Also, of course, it's traditionally been a defense-first position.
So while Whitaker's career line doesn't scream "Hall of Fame," put into the context of his position (and without the support of newfangled stats like WAR), the case becomes clearer. When Sweet Lou retired, among players to have primarily played second base, he was seventh all time in plate appearances (and less than one season's worth away from third), ninth in hits, ninth in doubles, fifth in homers, eighth in runs, ninth in RBI, and fourth in walks.
That may or may not sound like a Hall of Famer to you, but it certainly is. Every player ahead of Whitaker on every one of those lists, and even several behind him, is now in the Hall. And it's not as though he was a mere "compiler" (whatever that means); his 116 OPS+ is equal to or better than 10 of the 18 major league second basemen currently in the Hall of Fame as players.
Craig Biggio
, Alomar and
Jeff Kent
have since passed him in many of those categories above, but only Alomar was even arguably in Whitaker's class defensively. I hate to repeat my
Jim Edmonds
argument from
last week
, but there's a legitimate argument in 2011 that if you're a top-10 all-time player at your position, you should be in the Hall.
And he was better than Sandberg. Ryno had more speed and a touch more power (the difference is exaggerated by the park he got to play in), but a hitter's most important skill is getting on base, and Whitaker's 19-point advantage in OBP -- over a longer career -- is vital. To match Whitaker's on-base ability (ignoring park and league differences) in equal opportunities, Sandberg would have had to play one more season in which he reached base 433 times in 685 trips. He couldn't have grounded into a single double play, and he would have to put up a .632 OBP -- crushing
Barry Bonds
' single-season record of .609. Looked at differently, Sandberg collected 19 more hits than Whitaker and hit nearly 40 more homers, but Whitaker reached base more than 400 more times. It shouldn't be that hard to see which of those was more valuable.
And the metrics suggest Whitaker was every bit Sandberg's equal on defense, to say the least. Both were excellent, and Sandberg won nine Gold Gloves to Whitaker's three, but Sandberg didn't have to contend with an incumbent like Frank White, one of the two greatest ever to field the position.
One could argue that Sandberg's best was better than Whitaker's best, and that's probably true. Whitaker was never QUITE as good as Sandberg was in '83, and didn't have four consecutive seasons that can quite match Ryno's '89-'92. But he also didn't suffer the valleys Sandberg did in the mid-'80s, and I'd argue that "consistently good and sometimes great" can be just as valuable as "inconsistent but sometimes slightly greater."
Even if you'd still put Sandberg above Whitaker, though, it's close enough that there's no way one should get in easily and the other should be one-and-done. They're both Hall of Famers, and you shouldn't need fancy new metrics to see it.
The writers have made errors of omission before, of course. Ron Santo was a huge one, and they're making one now with Lou's teammate Alan Trammell. But at least with those players, they took the full 15 years to think it over. Letting a rock-solid Hall of Famer like Whitaker fall through the cracks on the first try is the biggest mistake they've ever made.
Bill spouts this kind of nonsense regularly on
The Platoon Advantage
, and in shorter, snarkier form on
Twitter
.
January, 8, 2010
1/08/10
1:57
PM ET
Honestly, I can't remember seeing the baseball writers as worked up about anything as they are about
Roberto Alomar
. Here's Ken Rosenthal with a fairly
representative opinion
:

Our membership is too bloated, too riddled with voters who do not take the process seriously enough to educate themselves properly.

Oh, we usually get it right, and we'll surely get it right next year with Alomar, who fell short by only eight votes. But the eligibility requirements for voters need to be tightened before worse mistakes are made.

To vote for the Hall, a writer must be a 10-year member of the BBWAA. But one sports editor from each outlet also is eligible, and so are feature writers and current or former columnists who rarely attend games.

The sports editors should be eliminated immediately; they simply do not develop the same feel for the game as writers who cover the sport regularly. Drawing the line on feature writers and columnists would be more difficult; many columnists, in particular, are astute observers of the game. But somehow, the local chapters need to police their memberships more diligently. There has to be a better way.

--snip--

Virtually every voter I know is honored to participate in the process. Virtually every voter I know considers the ballot a tremendous responsibility. It's the voters I don't know — the ones I never see at ballparks — who worry me. I fear that some do not give the candidates the consideration they deserve.

The BBWAA has done a fine job in recent years of adding Web-based writers, including several whose work is strongly influenced by sabermetrics. The next step is to go the other way, trim the fat from the membership, purge those who do not study the game closely enough to warrant Hall of Fame votes.

The Alomar snub is an embarrassment.

If people's feelings get hurt, too bad.

Rosenthal isn't the only prominent BBWAA member calling for change. Shoot, Buster Olney believes the
writers shouldn't be involved
at all (
Jeff Pearlman agrees
, snarkily).
Rather than editorialize -- Rosenthal and Olney have beaten me to the punch, with style -- I'll simply offer a bit of knowledge and a humble prediction.
First, Rosenthal is absolutely right about the voting population. I've written about this at some length, and if the die-hard baseball fans knew who's being sent Hall of Fame ballots every year, it would be a major scandal.
Or a minor kerfuffle, at least.
But my prediction is that little will come of this. Sure, it would be a neat story if the snubbing of Alomar wound up as the tipping point for real reform. But the BBWAA is a big ship that takes a great deal of time and effort to change directions. I suspect that if a candidate like Alomar was repeatedly snubbed, something might actually change after a few years. But it takes time, and any real movement toward change will likely be forgotten a year from now, when Alomar is elected. The next controversy will come in a few years if
Roger Clemens
and
Barry Bonds
aren't elected. That will result in a great deal of hand-wringing and self-reflection, and might eventually lead to something.
I take it back. I will editorialize. I agree with Rosenthal the system is flawed. I don't necessarily agree that the writers shouldn't be involved, but I believe they (we) should be somewhat
less
involved. But be careful what you wish for. If the BBWAA culls all the current voters who don't really pay any attention to baseball -- and there are many dozens of them -- we'll have
more
candidates elected. How many more, I don't know. But more, for sure.
More isn't necessarily bad. But more wouldn't mean Tim Raines and Alan Trammell. It would mean Jack Morris and Lee Smith. The standards for election would inevitably be lowered. Not maintained. Lowered.
The system that's in place, however flawed, usually arrives at a good result, eventually. It took too long, but eventually Ryne Sandberg and Gary Carter were elected. It's taking too long, but eventually Bert Blyleven and Roberto Alomar will be elected. Raines and Trammell? Sure, they've been terribly jobbed. But the Hall of Fame would never endorse any reform that would get either of them elected.
Be careful what you wish for.
January, 6, 2010
1/06/10
2:27
PM ET
After all these years, I shouldn't be surprised anymore by Hall of Fame voters.
Today I was.
I didn't know how many players would be elected. I figured at least one, but probably two and possibly three.
Well, it was one. And not the one I would have guessed.
[+] Enlarge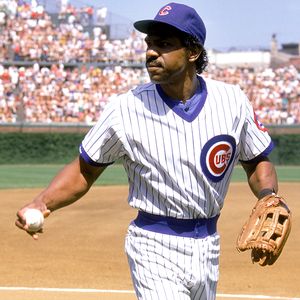 Jonathan Daniel/Getty ImagesAndre Dawson won eight Gold Gloves and four Silver Slugger awards during his 21-year career.
Andre Dawson. In his first four appearances on the ballot, he was considered a Hall of Famer by roughly half the electorate. That number rose to two-thirds of the electorate in the past two elections. And this time around, he jumped from 67 percent to 78 percent. Because, you know, he hit all those home runs in 2009.
Kidding. But Dawson did finish his career with a .323 on-base percentage, which means he's wrested the title
Hall of Fame Outfielder With the Worst OBP
away from Lou Brock ... and it wasn't much of a battle, as Brock's OBP is 20 points higher than Dawson's.
This bothers pointy-headed nerds like me. It did not bother most Hall of Fame voters, who chose instead to focus on his eight Gold Gloves, his MVP award in 1987 and the dynamic power/speed blend that typified Dawson's five best seasons. I wouldn't have voted for Dawson, but his career does (roughly speaking)
fall in line
with the Hall's historical standards. I mean, he wasn't anything like as good as Tim Raines, but that's
an argument
for another day. Raines got only 30 percent and deserved better (but at least he's moving up). Alan Trammell got just 22 percent, and deserved
much
better (he moved up, too, but just slightly).
Roberto Alomar
should have been the easiest choice on the ballot. He finished his career with more than 2,700 hits, he stole 474 bases, and he won 10 Gold Gloves at second base. The only knocks against Alomar are that he once spit on an umpire and that his last good season came when he was still just 33. But only 74 percent of the voters saw well past those things, and it takes 75 percent. Although the BBWAA's collective decision is indefensible, it will be forgotten a year from now when Alomar clears the bar with ease.
Also falling just short -- just
five votes short
-- was Bert Blyleven, in his 13th try. Consider the progress that he's made, though. In his first three tries, he couldn't clear 20 percent. Five years ago, he cleared 50 percent for the first time. And now he's at 74.2 percent, and will almost certainly join Alomar on the podium next year. And when he's up there, I suspect that Blyleven will have a word of thanks for
Rich Lederer
.
There were three first-time candidates other than Alomar who deserved particularly serious consideration.
Barry Larkin
played more than 150 games in only four seasons, which is about the only bad thing you can say about him, but it
is
a bad thing. Larkin played in just 2,180 games; Dave Concepcion, another lifetime Red who played shortstop and has supporters of his own, played nearly 2,500 games. But Larkin won a dozen Silver Sluggers and was an All-Star a dozen times, plus he stole nearly 400 bases and picked up a few Gold Gloves. He'll make it, eventually.
One never got the sense that
Edgar Martinez
really had a chance. Not this time, anyway. For the non-obvious candidates, the only path to election includes starting out well short of the goal, then building support over the years as voters take a closer look and perhaps are dragged aboard the bandwagon.
2009 inductee Jim Rice got just 30 percent his first time on the ballot; Andre Dawson, just 45 percent. There aren't any guarantees, but at least Edgar's still in the game. The problem, for him and any other candidate who's not elected in the next two years, is that the ballot will be flooded with highly qualified first-time candidates in both 2013 and '14. Some of those candidates will be pushed to 2015 and beyond, when they'll be joined by the likes of
Randy Johnson
,
John Smoltz
,
Trevor Hoffman
,
Mariano Rivera
,
Ivan Rodriguez
and ... well, those ballots are going to be mighty crowded.
Fred McGriff
got just 22 percent, which shouldn't be much of a surprise. Maybe he would have fared better if he'd hit 500 home runs (rather than 493). But 500 isn't a magic number these days. More than anything, McGriff simply suffers by comparison to his contemporaries at first base:
Frank Thomas
,
Jeff Bagwell
,
Mo Vaughn
and
Jason Giambi
all won MVPs during McGriff's career;
Mark McGwire
and
Rafael Palmeiro
did some impressive things, too. With the exception of the last two months of the 1993 season, McGriff was overshadowed by all of them.
If I may indulge in a bit of speculation ... Alomar is obviously one of history's greatest second basemen. A huge majority of ballots already made public included Alomar's name. I can only guess that a significant number of voters were simply too apathetic about baseball during Alomar's career to pay any real attention. I don't say that to explain why he didn't get elected this year. I say that to explain why he'll get elected
next
year, as a few dozen voters say to themselves, "Hey, this Alomar fellow was almost elected last year. I guess I should probably vote for him!"
At least they do usually get it right, eventually. The process works, sort of.