SweetSpot:

Roberto Clemente
June, 12, 2014
Jun 12
2:15
PM ET
You probably saw that Yoenis Cespedes
did it again
on Wednesday, misplaying a ball but recovering to show off his cannon and throw out Albert Pujols. That's nine assists on the season for Cespedes (four against the Angels), with eight coming in just the past 16 games, the first outfielder with that many assists in a 16-game span since Bernard Gilkey in 1997.
One thing you sometimes here is that outfielders with great arms don't rack up a lot of assists because runners never test them out. That simply isn't true. Look at some of the outfielders with a reputation for having a great arm:
Roberto Clemente led his league five times in outfield assists and ranked second four times.
Al Kaline led the AL three times and was second twice.
Dave Parker finished first, second or third in the NL each year between 1975 and 1980 (including 26 in 1977).
I mentioned Ellis Valentine in yesterday's post on great throws. He tied for the major league lead with 24 assists in 1978.
Jesse Barfield led the AL five times (three times reaching 20 or more assists) and was second twice.
Ichiro Suzuki twice led the league and three other times finished in the top three.
Royals left fielder Alex Gordon is known for his strong arm and he's ranked first, second and first in the majors the past three seasons.
Gordon's ex-teammate Jeff Francoeur has a cannon, and when he hit well enough to remain in the lineup he racked up 19 assists in 2007 (first in the majors), 16 in 2011 (second) and 19 in 2012 (first).
You get the idea. Here are the year-by-year
top 10 leaders
in outfield assists. Sometimes there are exceptions. Alfonso Soriano was never known for his great arm but he led the majors with 22 assists in 2006 and 19 in 2007. Maybe his arm was was better than it was given credit for or maybe he just had two great seasons in left field. (According to play-by-play data on Baseball-Reference.com, 23 of his assists over those two years falls into the "other" category of assists from those listed, which mostly means batters trying to stretch a base hit into a double.)
There are also some outfielders who can get high assist totals because they're good at charging balls. Barry Bonds fits this description as he didn't have a strong arm but led the NL in assists in 1990 and ranked in the top four five other times between 1987 and 1995. Tim Raines had a weak arm but had a 21-assist season. This is part of what made Ichiro such a good right fielder; I've always thought his actual arm strength was overrated a bit but he was so good at coming in on the ball he was effective at holding runners.
Still, assists aren't everything. Preventing a runner from advancing doesn't show up in the assist column but has value. Thanks to play-by-play data that goes back to the 1954, we can track this information and compare an outfielder's ability in preventing runner advancement to other outfielders. Baseball-Reference lists a category called Rof, which is Total Zone Outfield Arms Above Average -- the number of runs above or below average an outfielder saved based on baserunner kills and runner advancement. For example,
go here
for 2013 and go to the second table and click on the Rof column to sort by the leaders.
I went and looked at each season since 1954. A lot of the same names show up among the leaders year after year. I also noted all seasons where an outfielder saved at least seven runs above average or led the majors (if it was below seven). Using that definition, these players showed up most often:
Jesse Barfield: Six times
Dwight Evans: Five times
Roberto Clemente,, Andruw Jones, Raul Mondesi, Larry Walker: Four times
Bobby Abreu, Johnny Callison, Rocky Colavito, Jim Edmonds, Jeff Francoeur, Cesar Geronimo, Alex Gordon, Ken Griffey Jr.: Three times.
That's a pretty decent proxy list for "Best arms of the past 60 years."
One more thing we can do. We can look at the percentages of times a baserunner was "held." For right fielders, Baseball-Reference looks at five situations (single with runner on first, single with runner on second, double with runner on first, flyout with runner on third and flyout with runner on second) and then calculates the percentage of times the baserunner didn't advance, or hold percentage.
Here are how some right fielders fared in that area in their careers (numbers only while playing right):
Raul Mondesi: 52.7 percent
Alex Rios: 51.2 percent
Ichiro Suzuki: 50.8 percent
Jeff Francoeur: 50.7 percent
Bobby Abreu: 50.2 percent
Ellis Valentine: 49.4 percent
Larry Walker: 49.2 percent
Jesse Barfield: 49.0 percent
Vladimir Guerrero: 48.8 percent
Al Kaline: 48.3 percent
Roberto Clemente: 48.1 percent
Dwight Evans: 46.7 percent
Dave Winfield: 46.2 percent
Dave Parker: 44.7 percent (he was above 50 percent early in his career and then got fat and slow)
Anyway, that's not meant to be comprehensive, just some names I looked up. The MLB average has changed a little over time. For example, during Abreu's career, the average MLB hold percentage was 46 percent. For Barfield, it was 42.5 percent. During Clemente's career the hold percentage was 40.9 percent. So the hold percentage has
increased
through the years, which could be the result of various factors: Better arms, more athletic right fielders who can charge the ball, smaller ballparks compared to the multi-purpose Astroturf stadium of the '70s and '80s, slower or more cautious baserunners and so on.
Two more notes. The best season an outfielder had with his arm, at least according to Rof, is tie between Barfield in 1989 and Richard Hidalgo of the Astros in 2003, both 14 runs better than average. Barfield split that season between the Blue Jays and Yankees and racked up 20 assists with a hold percentage of 53 percent in right field (he also played a bit of center that year). Barfield didn't win the Gold Glove that year (he won just two) as the AL Gold Gloves went to Devon White, Kirby Puckett and Gary Pettis, three pretty good center fielders. Hidalgo, playing right field, had 22 assists and a hold rate of 56 percent.
Finally, maybe the most obscure name I came across was an outfielder for the expansion 1977 Blue Jays named Steve Bowling. Other than 14 games with the Brewers in 1976, that was his only season in the majors. He played 87 games in the outfield that year, but started just 58 of them and yet piled up 14 assists, second-most in the AL. Did he have a cannon for an arm? Who knows, but maybe the best arm of the past 60 years belongs to him and not Clemente or Barfield.
June, 11, 2014
Jun 11
1:01
PM ET
Here's the funny thing about great throws: How many do you remember? Specific throws, I mean? Of course, there's the
Bo Jackson throw
to nail Harold Reynolds and the
Ichiro Suzuki throw
early in his first season in Seattle that helped establish his reputation for having a great arm.
But do many others pop into your head? Roberto Clemente and Al Kaline are known for their legendary arms, but did either one have a signature throw? Certainly, Pirates or Tigers fans of a certain age may remember a specific throw, but from the days before widespread TV broadcasts, visual evidence is spotty. If for some reason you think maybe Clemente's arm strength has been exaggerated through the years ... you're wrong.
Here's one example
, from the 1971 World Series, late in his career. It didn't catch a runner but held one at third and provides pretty solid evidence of his cannon.
Well, I'm thinking the
throw from left field
made by
Yoenis Cespedes
on Tuesday night is one we'll remember for a long time. I was watching the end of the Yankees-Mariners game when Twitter exploded -- this time, with good reason. It was definitely an all-timer.
The best throw I ever saw in person was back in the '80s, sitting in the right-field stands at the Kingdome. Somebody hit a ball into the right-field corner and attempted to stretch the hit into a triple. Jesse Barfield fired a laser all the way to third to get the runner. I had a perfect, direct line right behind Barfield to view the throw. Amazing. Barfield was known as having the best arm in the game in the '80s. Although there's no video of that throw (at least that I could find), here he is
throwing out Chili Davis
at third base. And here he is
throwing out
Mariners catcher Matt Sinatro on a base hit -- only a big deal because Sinatro was on
third base
to start the play.
As a kid, I watched the 1979 All-Star Game in Seattle, in which strong-armed Dave Parker
threw out two runners
. That second one ... wow. Also: Bring back those all-yellow Pirates jerseys!
Another outfielder of that era known for his powerful arm was Ellis Valentine of the Expos. Here he is with the Mets
throwing out
Pete Rose and Dale Murphy. Another strong-armed -- but also famously wild at times -- Expos right fielder was
Vladimir Guerrero
. But when he was on target, he
did things like this
.
One throw that some of you may remember from 1998 was from another Pirates right fielder.
Jose Guillen's throw
from the warning track was impressive enough that MLB Network named it the most unbelievable throw of all time.
Former pitcher-turned-outfielder
Rick Ankiel
was known for his terrific arm.
Here's a fly ball
to medium-deep center in which the runner decides not to tag up -- probably a good decision.
Here's a pretty good one
to catch a runner at third from deep right-center.
Of course, in his short time in the majors,
Yasiel Puig
has developed a reputation for his great arm. Here are
four from his rookie season
.
Here's one
from 2010 that Yankees fans will remember: Backup outfielder
Greg Golson
throws out speedy
Carl Crawford
at third base for the final out of an 8-7 victory.
Here's one I just learned about:
Joe Ferguson cutting down Sal Bando
at the plate in the 1974 World Series. The Dodgers played Ferguson, a catcher, in the outfield at times because they had Steve Yeager.
The most famous throw in World Series history may be
George Foster getting Denny Doyle
in the iconic Game 6 of 1975. Mets fans would like to forget
Derek Jeter's relay throw
to nail
Timo Perez
in Game 1 of the 2000 World Series.
Anyway, we could go on and on. I didn't even mention guys like Carl Furillo, Dwight Evans,
Larry Walker
or
Raul Mondesi
. Greatest throw ever? Maybe it is Cespedes or Guillen. It's definitely
none of these
.
February, 24, 2013
2/24/13
6:30
PM ET
By
Christina Kahrl
| ESPN.com
It's Oscar night, and I'm sure some significant portion of all y'all will watch them. It might be just be me, but every year it seems like I'm disappointed that there aren't more baseball movies being made, let alone Oscar-worthy baseball movies. A couple of years ago I came up with
a list of baseball topics that would make great movies
over at Baseball Prospectus.
I was, and still am, curious what baseball movies other people would love to see made, but my short list 10-1 was: Jane Leavy's novel
Squeeze Play
, Jim Thorpe's life, the 1890s Orioles,
Give 'Em The Bird: The Semi-True Life and times of the San Diego Chicken
, Roberto Clemente, the cocaine scandals of the '80s, Bill Veeck, Pete Rose, Billy Martin and Jackie Robinson. In the spirit of the occasion, let me know what you think of my initial concepts, and let's hear a few of your own.
January, 2, 2012
1/02/12
8:30
AM ET
There are a lot of misunderstandings about the Hall of Fame and its voting procedures and results, beginning with the little fact that baseball was not, of course, actually invented in Cooperstown, N.Y., in 1839 by a future Civil War general named Abner Doubleday.
For example, many voters and fans divide themselves into "big Hall" and "small Hall" camps. This seems like a reasonable split of opinion. There, is however, a problem with those who advocate for the small Hall premise: the Hall of Fame is not -- and has never been -- a small Hall of Fame, a shrine memorializing only the elite of the elites.
The first Hall of Fame vote was conducted in 1936, when Ty Cobb, Babe Ruth, Honus Wagner, Christy Mathewson and Walter Johnson became the initial five inductees. The next year, a special Centennial Committee elected some 19th-century pioneers and executives. An Old Timers Committee in 1939 elected Cap Anson, Old Hoss Radbourn and others. Throughout the 1940s, the Old Timers Committee elected many more players from the 19th century and early 20th century, some obviously strong candidates and others of far less quality. Meanwhile, the Baseball Writers Association essentially stopped electing anybody; between 1940 and 1946, it voted in only Rogers Hornsby.
[+] Enlarge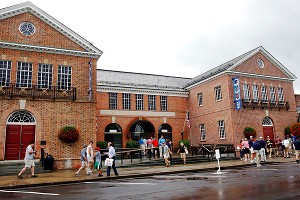 AP Photo/Mike GrollWith baseball writers stingy with their ballots, the Hall of Fame has sought ways to get more members in.
This eventually led to the two means of current entry into the Hall of Fame: the annual Baseball Writers vote, in which a player must obtain 75 percent of the ballots cast; and the Veterans Committee, which considers players bypassed after 15 years on the regular ballot, plus managers, umpires, Negro Leaguers, executives and owners. At the actual Hall of Fame in Cooperstown, there is no distinction made between means of enshrinement, no mention of vote percentage or years spent on the ballot. All Hall of Famers are equal, with a small plaque in the main gallery of the museum, ordered by year of election.
And thus the reality is that we have a large Hall of Fame, one encouraged by the board of trustees with its various incarnations of the Veterans Committee through the years. In so many words, it's saying to the writers, "You're not electing enough Hall of Famers; you're too tough and we believe in a big Hall, so we want another means to elect players you missed." When the Veterans Committee failed to elect any candidates from 2002 to 2007, the Hall revised the committee in attempts to get more inductees.
Despite this, the small Hall versus large Hall debate persists. The writers -- and there were 581 who voted last year -- collectively hold a small Hall mindset, not surprising considering the 75 percent threshold. The writers have essentially averaged between one and two players elected per year for six-plus decades:
2010-2011: 3
2000-2009: 17
1990-1999: 15
1980-1989: 18
1970-1979: 13 (plus Roberto Clemente in a special election)
1960-1969: 6
1950-1959: 15
While this may
appear
to establish a level of consistency, in reality it suggests a toughening of standards -- the number of teams (and players) has increased through the years since baseball's first expansion in 1961, so the writers are electing a lower percentage of eligible players than 30 or 40 years ago. (A near doubling of teams would indicate a doubling of Hall of Famers.)
So the writers have been tougher in recent years; ironically, this span coincides with some of the
weakest
Hall of Fame selections by the writers -- Andre Dawson (2010), Jim Rice (2009), Bruce Sutter (2006) and Kirby Puckett (2001) would all rank near the bottom of the 108 BBWAA Hall of Famers.
That doesn't even get into the inexplicable psychology in Hall of Fame voting. Why does Rice receive 29.8 percent of the vote in his first year, remain stuck at 29.4 percent by year five, languish in the 50 percentile for six years and then ramp up to 76.4 percent and election over his final four years on the ballot? Why does Don Mattingly begin at the same place as Rice -- 28.2 percent -- and slowly slide backwards from there? Why does Sutter start at 23.9 percent and later gain momentum and enshrinement after 13 years on the ballot, but Lee Smith start at 42.3 percent and after nine years remain at 45.3 percent?
It doesn't make sense. And that's why Hall of Fame debates are contentious, spirited, sometimes mean, sometimes logical, sometimes emotional ... but always fun to read and argue about.
Over the next week, leading up to next Monday's 2012 Hall of Fame announcement, I'll be examining some of the players on this year's ballot.
We'll start with Barry Larkin
.
September, 16, 2011
9/16/11
6:29
PM ET
By
Christina Kahrl
| ESPN.com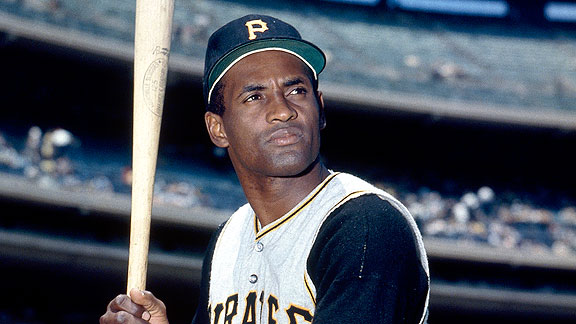 Louis Requena/ MLB Photos via Getty ImagesRoberto Clemente became the first Latin player to win the NL MVP, doing it with the Pirates in 1966.
Yesterday, in recognition of Hispanic Heritage Month, we talked about one person's list -- mine alone -- for
the AL team's all-time greats of Hispanic heritage
, so naturally enough, let's turn to the senior circuit and look at the best of the National League's teams.
Arizona Diamondbacks
: Although a recent expansion addition to the circuit, the Snakes have a clear favorite in
Luis Gonzalez
, who as recently as the All-Star break was inducted into the Hispanic Heritage Baseball Museum Hall of Fame. Gonzo's also the man who beat
Mariano Rivera
in the ninth inning of Game Seven of the 2001 World Series, a postseason feat unlikely to be forgotten any time soon.
Atlanta Braves
: If you make the mistake of thinking this is about Latin America versus what is or isn't culturally Hispanic, you might count
Andruw Jones
, but the Netherlands Antilles aren't culturally Spanish or Portuguese. Among the Braves' Hispanic players, the choices boil down to Dominican bopper Rico Carty or catcher Javy Lopez of Puerto Rico. While the 'Beeg Boy' won the 1970 batting title, I'll go with Lopez for his playing a key role on the great teams of the Braves' recent dynasty.
Chicago Cubs
: Arguments over how he got there will go on for as long as we're willing to debate the impact of PEDs on performance, but Dominican
Sammy Sosa
's easily the most productive player to call Wrigley Field home. His 545 homers top all Cubs ever, and his .569 SLG as a Cub is second only to Hack Wilson.
Cincinnati Reds
: You can make arguments for either of two great Latin players who were key players for the Big Red Machine: first baseman Tony Perez of Cuba, or Venezuelan shortstop Davey Concepcion. Concepcion was a career Red, so 19 years in the Queen City puts the nimble defender high up on the Reds' al-time counting stats, while "Big Doggie" moved around a bit, but was mostly, essentially, a Red. Per WAR, it'd Perez's place, but I'd also cite Joe Posnanski's fine
The Machine
, which helps remind us today how important Perez was then to a team stuffed with stars.
[+] Enlarge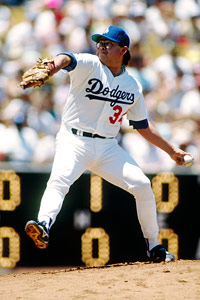 Icon SMIFernando Valenzuela won the NL Rookie of the Year and Cy Young awards in 1981.
Colorado Rockies
: The Rockies have never had a shortage of great Latin players, but perhaps surprisingly, none of them have had long careers in Denver.
Ubaldo Jimenez
would have been an easy choice if he hadn't already been traded away, while Mexico's
Vinny Castilla
mashed 239 homers in nine seasons manning the hot corner. However, let's use this as an opportunity to give well-traveled
Andres Galarraga
some love, because the Big Cat was the team's first star by winning the batting title in the franchise's inaugural season in 1993.
Florida Marlins
: Between going by teams and the near-impossibility of anyone sticking around as a Fish for any great length of time, it makes for a short list, but Dominican
Hanley Ramirez
makes for a relatively easy selection, although you can offer honorable mentions to
Luis Castillo
,
Miguel Cabrera
,
Anibal Sanchez
and
Livan Hernandez
for their contributions to the Marlins' strange, episodic history.
Houston Astros
: Given a choice between Cesar Cedeno and Jose Cruz, you could easily pick either player and have good reason to. Cedeno was a wonderful center fielder and may well be the least well-remembered great player of the '70s, while Cruz was the gifted all-around hitter hurt badly by a career almost entirely spent shackled by the Astrodome. I'm slightly biased towards Cruz (a personal favorite back in the day), but for purposes of this sort of exercise, it's easy to leave this as a tie.
Los Angeles Dodgers
: While you could concoct an argument for Pedro Guerrero because he was one of the best bats of the '80s, this is a slam dunk: Fernandomania, baby! Fernando Valenzuela's breakthrough was a national phenomenon, as the Mexican southpaw provided both peerless pitching early in his career -- winning the Cy Young and Rookie of the Year Awards in 1981 – with unprecedented box-office and media value in Los Angeles. His unique delivery and nifty screwball are things you had to see to believe, putting him on a short list of pitchers you never forgot after watching him work.
Milwaukee Brewers
: It isn't a strong field, but it wasn't Teddy Higuera's fault that his career flamed out early, as injuries sapped the Mexican hurler's career early on. He still ranks third all-time in wins for the team while handily leading their pitchers in career WAR as a Brewer, not too shabby for what was essentially a six-year run spent in relative obscurity.
New York Mets
:
Carlos Beltran
wins via WAR, but he's also been tabbed as the Royals' best, while better health from
Johan Santana
would have made him worth choosing. So let's use the opportunity to cite
Jesse Orosco
, who holds the all-time record for games pitched on a career.
Philadelphia Phillies
: It's perhaps characteristic of the franchise and city that its greatest Latin player, Venezuelan
Bobby Abreu
, was dumped on the Yankees at the deadline in 2006 -- for nothing, effectively -- but Abreu's brand of patience and power made him an offensive keystone for nine years, hitting .303/.416/.513.
Pittsburgh Pirates
: Roberto Clemente, the easiest great to note in a wide field of greats, and the first Latin to win an MVP award in 1966.
St. Louis Cardinals
:
Albert Pujols
has become as easy a selection as Clemente, but with a career that's still going strong, the question best asked might be whether or not the man who will unseat Lou Gehrig on all-time lists walks and plays among us.
San Diego Padres
: Strangely enough, the border town franchise doesn't have a storied history where its Latin talent is concerned, but native son
Adrian Gonzalez
makes for a good fit, even with his recent shuffle to Boston.
San Francisco Giants
: There's a fun debate to be had over whether this ought to be the Baby Bull, Orlando Cepeda or their Dominican ace of the '60s, Juan Marichal. Much like Galarraga and Perez, Cepeda was a hard-hitting first baseman who got around -- he immediately followed Clemente as the NL MVP in 1967, for the Cardinals, but started out winning the Rookie of the Year award in 1958 (second in this as well, as Luis Aparicio was the first to win in 1956 with the White Sox). Against that, Marichal had six 20-win seasons and 238 victories for San Francisco while contributing the highest Giants WAR pitching tally since Christy Mathewson. Whether as a matter of career value or peak value as a Giant, I think you have to go with Marichal.
Washington Nationals
: Vladi Guerrero has already gotten credit as an Angel, but since this is the franchise stolen from Montreal, stealing the Impaler from their list might seem an additional injustice. However, doing so opens the field to tab Nicaragua's greatest player,
El Presidente
. In a 23-year career, Dennis Martinez won 100 or more games with both the Orioles and Expos, pitched the only perfect game thrown by a Latin pitcher, and nearly helped deliver Cleveland a long-awaited championship as a 40-year-old workhorse in 1995.
Christina Kahrl covers baseball for ESPN.com. You can follow her on Twitter.
March, 23, 2011
3/23/11
10:06
PM ET
Major League Baseball released its list of the
20 best-selling jerseys
from the past season.
Derek Jeter
ranked No. 1 ahead of
Joe Mauer
and
Roy Halladay
, mildly surprising since you'd think most Yankee fans would own a Jeter jersey by now.
Anyway, it got me curious. Which jerseys would have been the top-sellers of all time? You know, if replica uniforms had actually been sold back in the old days and merchandise sales tracked and the old ballparks with wooden grandstands had official team stores.
1. Babe Ruth: He wasn't just big in New York, but one of the most famous Americans of his time, along with Charles Lindbergh, Al Capone and
Jamie Moyer
.
2. Stan Musial: I think you'd be hard-pressed to find an athlete more beloved in his hometown than Musial. Played for the Cardinals for 22 classy seasons.
3. Roberto Clemente: Popular in Pittsburgh, but as one of the first Latino stars in the game, his reach would have extended across the nation.
4. Willie Mays: Maybe the greatest ballplayer of all time. When I was in second grade, my teacher gave me an old, wrinkled poster of Mays that I kept hanging in my bedroom for years. I would have loved a jersey.
5. Mickey Mantle: More popular than DiMaggio? I think so.
6. George Brett: He was Royals baseball for 21 seasons. Cool, clutch and every kid, teenager and adult in a 500-mile radius wanted to be him.
7. Jackie Robinson: My father-in-law grew up a Brooklyn Dodgers fan and he's told me there's nothing he's seen like Robinson dancing on the bases, trying to rattle the opposing pitcher.
8. Christy Mathewson: In a time when ballplayers were considered ruffians and hooligans, Mathewson was a college-educated star for the New York Giants and the most admired and respected player in the game.
9.
Cal Ripken
: More than Jeter, I think his appeal spread outside his home city.
10. Carl Yastrzemski: Yes, ahead of Ted Williams, who notoriously feuded with Red Sox fans during his playing days. Yaz carried the Sox to the 1967 pennant, one of the greatest individual seasons ever, and then played 16 more seasons in Fenway.
Disagree? Let's hear your thoughts below.
Follow David Schoenfield on Twitter at @dschoenfield. Follow the SweetSpot blog at @espn_sweet_spot.