July, 15, 2014
7/15/14
12:24
PM ET
Robin Yount was a great player: A two-time MVP, a first-ballot Hall of Famer, over 3,000 hits. Yet he made just three All-Star teams in his career.

Here are the fewest All-Star selections for position players who debuted after 1933, the year of the first All-Star Game:

Robin Yount: 3
Phil Rizzuto: 5
Frank Thomas: 5
Richie Ashburn: 6
Lou Brock: 6
Willie McCovey: 6
Willie Stargell: 6

(Monte Irvin made just one All-Star Game but had a short major league career after he started in the Negro Leagues.)

All-Star selections are certainly an imperfect process, but it's still odd that a player of Yount's caliber made it just three times. I mean, Paul Lo Duca was a four-time All-Star. So were John Stearns, Manny Trillo and Dante Bichette. Carlos Guillen and Ozzie Guillen made as many All-Star teams as Yount.

So what was the deal? Let's dig what happened.

1974-1979: Yount came up as an 18-year-old rookie and took a few years to establish himself. He was a good player from '77 to '79 but was bypassed as a reserve each season. He was worth 5.0 WAR in 1978, but it's easy to see why he didn't make it: He hit .281 with one home run and 25 RBIs in the first half but .301 with eight home runs and 46 RBIs in the second half.

1980: His first All-Star appearance, selected as a reserve along with Alan Trammell behind starter Bucky Dent.

1981: Didn't make it as Dent was again voted the starter and Rick Burleson selected as the backup. (Burleson was a four-time All-Star.)

1982: Yount had one of the great seasons ever for a shortstop, winning MVP honors while hitting .331 and leading the league in slugging percentage, and the fans recognized it by voting him in as the starter.

1983: Yount's final appearance, again voted in as the starter (over eventual MVP Cal Ripken).

1984: Yount was hitting .299/.370/.431 at the break with eight home runs and 42 RBIs. He had spent the previous week or so DHing for the Brewers because of a sore shoulder -- which would force a move to the outfield in 1985 -- so maybe that's why he wasn't selected. Ripken was voted as the starter and Trammell (.307, 8 HR, 44 RBI) the backup. When Trammell was unavailable to play, Alfredo Griffin was added to the roster -- mainly because he was already in town. (Griffin, hitting .241 with 19 RBIs, thus became one of the worst All-Stars ever.)

Keep in mind rosters were smaller than -- only 29 guys were on the AL squad as opposed to the 40 or so who eventually become official All-Stars these days.

1985 -- Rickey Henderson, Dave Winfield and Jim Rice started in the outfield, with Harold Baines, Phil Bradley, Tom Brunansky and Gary Ward the outfield reserves. Bradley, Brunansky and Ward were their teams' only rep and Yount didn't tear it up in the first half (.275, 7 HR, 39 RBIs).

1986 -- Kirby Puckett, Henderson and Winfield started with Rice, Baines, Lloyd Moseby, Jesse Barfield and Jose Canseco the outfield reserves. Yount was hitting .330 at the break but with just three home runs and 20 RBIs.

1987 -- Henderson, Winfield and George Bell started and Puckett and Dwight Evans were the backups. The AL squad included three backup first basemen and two DHs. Winfield played the entire 13-inning game. Yount was hitting .301 with 11 home runs and 45 RBIs at the break, but got pushed out by Baines (.301, 12, 49, White Sox only rep), Pat Tabler (.301, 7, 48, Indians rep) and Larry Parrish (.274, 20, 60, Rangers rep).

1988 -- Henderson, Canseco and Winfield started with Puckett and Mike Greenwell (who would finish second in the MVP voting that year) the backups. Johnny Ray and Harold Reynolds both made it as backup second basemen but were their teams' only rep. Yount was hitting .304, 8, 46 at the break.

1989 -- This was Yount's second MVP season, when he edged out Ruben Sierra. He was hitting .299 with 10 home runs and 49 RBIs at the break and then hit .339 in the second half. The All-Star starters were Sierra, Puckett and Bo Jackson, with Greenwell (.300, 10, 55), Canseco (he must have been voted in as a starter because he had missed the entire first half) and Devon White (.259, 9, 39) the reserves. White was the Angels' only All-Star.

So you can what happened here. The fans never voted Yount in after he moved off shortstop, his numbers were rarely "automatic" quality and he got squeezed a couple times by teams needing their token All-Star.

1990-1993: He fell off after his MVP season and was no longer All-Star-quality.

It's interesting, Yount's career WAR is 77.0 -- higher than Derek Jeter's, even though the two had similar careers, minus Yount's position change. Yount had the awesome 1982 season and was worth 7.2 WAR in 1983 and 7.1 in 1980 and had five other seasons at 4.9 or higher. That's eight seasons of 4.9 WAR or higher compared to six for Jeter.

They're players of near identical offensive ability -- Jeter has a 116 career OPS+ and Yount 115. Their career plate appearances are currently within 100 of each other. Jeter, however, is appearing in his 14th All-Star Game. One player will be remembered as a legend and the other is remembered for his great '80s 'stache.

I'm not trying to knock Jeter when I say this: The difference between the two is really in their quality of their teammates and the city they played in. Yount, once that 1982 Brewers World Series team quickly faded, spent the rest of his career playing for mostly mediocre Brewers teams. He simply never caught the public's fascination like Jeter or even other players of his era like Henderson, Puckett, Canseco and, even briefly, Jackson.












September, 14, 2012
9/14/12
10:00
AM ET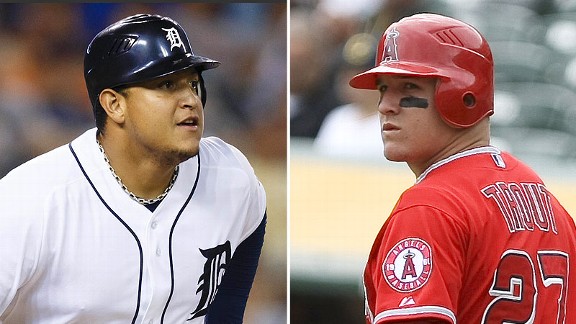 US PresswireMiguel Cabrera, left, is having a great season, but Mike Trout is the slam-dunk AL MVP.
The grievances seem mostly confined to Michigan but usually go something like this: The media is ignoring
Miguel Cabrera
's MVP candidacy because we're in love with
Mike Trout
since he's a rookie; that Trout isn't doing anything so historic that we should just hand him the trophy so easily; that Trout's Angels might not even make the playoffs; that Cabrera is the best hitter in the game; that Cabrera has been shafted in other MVP votes and finally deserves one.
Let's take those arguments one at a time.
1. We just love Mike Trout and are ignoring Miguel Cabrera.
Guilty. Of course we love Mike Trout. He hits, he runs, he fields, he robs opponents of home runs and then hits his own. His name is Trout and he tweets about fishing. The fact that he turned 21 in August isn't the reason he's the leading MVP candidate in the world; the fact that he turned 21 and is doing the things he's doing just adds an extra layer of awe.
But that doesn't mean we have anything against Cabrera. We should all respect the way he has moved back to third base and acquitted himself better than anyone expected. He has missed one game all season. That he's a hitting machine, as feared as any batsman in the league, goes without saying. I don't think Cabrera is getting ignored. It is, however, difficult to claim the spotlight when a kid who spent most of the season at 20 years old is putting up numbers we've never seen from someone that young.
2. Trout isn't doing anything that historic.
Through Thursday's games, Trout is hitting .331/.397/.569. If you look
just
at that triple-slash line then, yes, I suppose you could say there's nothing historic going on here. After all, since 1901 there have been 193 times that a player reached all three of those numbers. Cabrera himself even did it last season.
Of course, Trout has 45 steals (in 49 attempts). Not all 193 of those players ran the bases with Trout's blazing speed. In fact, only 17 of them swiped as many as 25 bases.
And not all of them hit 27 home runs. In fact, of those 17 who stole 25-plus bases, only eight hit as many 20 home runs. All eight happened to be outfielders. Of those eight -- Ken Williams in 1922, Willie Mays in 1957 and 1958, Barry Bonds in 1993, Ellis Burks in 1996, Larry Walker in 1997, Vladimir Guerrero in 2002 and
Ryan Braun
in 2011 -- only one played center field.
So just like that: Mike Trout and Willie Mays. Yes, with a straight face.
Maybe that's too goofy of an approach for you. WAR -- wins above replacement -- is an attempt to analyze a player's batting, fielding and baserunning statistics into one number. Entering Thursday's game, Trout's Baseball-Reference WAR was 10.3. According to the metrics, there have
28 seasons when a player achieved 10.3 WAR or higher
. Six of those seasons were by Babe Ruth, and there have been just six during the divisional era -- Joe Morgan in 1975, Robin Yount in 1982, Cal Ripken in 1991 and Barry Bonds in 2001, 2002 and 2004.
Assuming Trout doesn't go 0 for his next 75, I'm pretty comfortable calling this a historic season.
Oh, Cabrera's WAR: 5.8. Excellent figure. Not historic.
3. How can Trout be the MVP if the Angels don't make the playoffs?
This seems to be Cabrera's best argument -- assuming the Tigers make the playoffs, of course, and the Angels don't. It is true that during the wild-card era few players from non-playoff teams have won the MVP award: Larry Walker in 1997, Barry Bonds in 2001 and 2004,
Alex Rodriguez
in 2003,
Ryan Howard
in 2006,
Albert Pujols
in 2008.
But why this should be held
against
Trout confuses me. Where would the Angels be without him? Nowhere near contending for the playoffs. Plus, there is the likely scenario that the Angels win more games than the Tigers, yet miss the playoffs while the Tigers make it. I fail to see why that makes Cabrera a better MVP candidate than Trout
when Trout's team will have won more games
.
4. Cabrera is the best hitter in the game.
I won't disagree with this assessment, but the problem here is it's hard to argue that he has been a better hitter than Trout in 2012.
Trout: .331/.397/.569, 27 HR, 77 RBI, 115 runs
Cabrera: .328/.393/.590, 36 HR, 118 RBI, 91 runs
So Cabrera has the slightest edge in OPS, .983 to .966. Even though he spent the first few weeks of the season in Triple-A, however, Trout has
created more runs -- 115 to 113, by our numbers
, 121 to 117 by Baseball-Reference figures. But here's another key: Trout has created those while using up 344 outs; Cabrera has used 401 outs.
That's before we even get to the ballparks. Angel Stadium has played a strong pitcher's park this season. Comerica, despite its reputation, has played as a slight hitter's park. So it's hard to give Cabrera the edge on offense when Trout has been the better offensive player. Factor in Trout's obvious huge edges in defense and baserunning, and it's not close.
And, no, I don't want to hear about RBIs. Trout bats leadoff. He doesn't get the opportunities. For what it's worth, in "high leverage" situations, Trout is hitting .328 with four home runs and Cabrera is hitting .351 with four home runs.
5. Cabrera deserves an MVP award.
Hey, I feel for him. If Cabrera fails to win it this year, he'll join Eddie Murray as the only players to finish in the top five of the MVP voting six times yet never win. That's no reason, of course, to vote for a player.
It's Mike Trout's year. He's the best player in the game. This should be Reagan-Mondale. If Trout doesn't win, it would be one of the biggest travesties in MVP voting history.
August, 28, 2012
8/28/12
9:07
PM ET
In early May of 2011,
Starlin Castro
was hitting over .300 and Sports Illustrated put the Cubs shortstop
on its cover
, writing "21-year-old Cubs phenom grows up before our eyes."
The Cubs just signed their now-22-year-old shortstop to a
seven-year, $60 million extension
that takes him through 2019 and also includes an option for 2020 at $16 million. I'm not sure it's really worth breaking down the parameters of the deal. Sometimes, we get
too
caught up in the money. Whether Castro is going to be worth $45 million or $60 million or $80 million over the life of the contract isn't that big of an issue; a few million here or there per year isn't a major factor to an organization like the Cubs. Bottom line: Castro is a good player and unless he blows out both knees it should be a good contract for the Cubs.
No, the more important question: Is Castro a franchise player? Is he the kind of player who can be the best player on a playoff team? My feeling is he isn't. I know many will disagree with me; after all, Castro is just 22, already led the league once in hits and owns a .296 career average. His defense, once questioned, has by all accounts improved substantially, to the point that there are no longer questions that he'll remain at shortstop.
My concern is that he hasn't really improved at the plate. His on-base percentage is 36 points lower now than it was his rookie season. After a good start to 2012, he's hit just .248 over the past three months. Since he doesn't walk much, he needs to hit .300 to have offensive value.
The common analysis would be that he's just 22 and will improve. That's generally true, but it hasn't happened in three seasons with Castro. His walk percentage is actually lower than it was his rookie year and his strikeout percentage is slightly higher. He has more home runs, but his extra-base hit percentage has held steady at 28 percent. Not all 22-year-olds improve.
Look, he's a good player and there's certainly a
chance
he could become a great one. Maybe Castro follows the Robin Yount path; Yount reached the majors when he was just 18, but didn't really become ROBIN YOUNT until his seventh season, when he was 24. In fact, it's kind of scary how they profile as similar players: As young players, neither walked much but both were good contact hitters. They had speed but not blazing speed. Yount made 44 errors as a 19-year-old. Castro is still error-prone (29 last year, 21 this year).
So that's a best-case scenario. I hope it happens. And then the Cubs just need to find five or six more stars.
March, 5, 2012
3/05/12
1:30
PM ET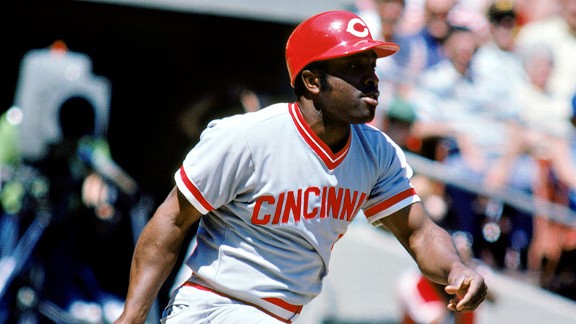 Rich Pilling/Getty ImagesIn the mid-1970s, Joe Morgan was the best all-around player in baseball -- by a large margin.
In 1975, Joe Morgan hit .327 with 17 home runs and 94 RBIs. Those traditional statistics may not seem impressive, but Morgan's season ranks as one of the best in the game's history.
As we begin voting Monday on the
greatest individual season of all time
, consider Morgan's value that season:
He drew 132 walks, giving him a league-leading .466 on-base percentage (the highest figure, by the way, in either league between Mickey Mantle in 1962 and Wade Boggs in 1988).
Because of his ability to get on base, he created a lot of runs --about 145, 17 more than the No. 2 hitter in the league, Greg Luzinski. But he created his runs in an efficient manner. He used up 354 outs; Luzinski, by comparison, used up 443 outs. So Morgan created more runs while using up 89 fewer outs.
He stole 67 bases in 77 attempts. Factor in his speed, and he was one of the best baserunners in the league.
He was an outstanding defensive second baseman, not only winning a Gold Glove but also ranking as the third-best overall defensive player in the National League in 1975, according to Baseball-Reference.com.
He did all this in an era when second basemen usually produced little at the plate. In 1975, National League second basemen hit a collective .267/.330/.353 (BA/OBP/SLG) -- with just 80 home runs. Morgan hit nearly one quarter of all home runs by National League second basemen. In 2011 terms, that would be akin to a second baseman hitting close to 50 home runs.
The Reds won 108 games, Morgan was the near-unanimous MVP winner, and he even drove in the winning run in the ninth inning of Game 7 of the World Series.
Add it up, and you end up with a player who was the best hitter in the league and one of the best defenders and baserunners in his league, and he did so while towering over other players at his position and playing on a championship team.
The wins above replacement statistic attempts to capture all this. In 1975, Morgan's Baseball-Reference WAR was 12.0, the best of his career and easily the best in the National League. During his 1972 to 1976 peak, Morgan rated as the best player in the NL four times, at least acording to Baseball-Reference.
In 1975, Morgan was a full five wins better than Mike Schmidt, an astonishing total. Only 12 times since 1901 has a player recorded a bWAR of at least 4.5 wins higher than the No. 2 position player in his league:
1921 AL: Babe Ruth (14.0) over Ty Cobb/Tris Speaker (6.6)
1924 AL: Babe Ruth (11.9) over Harry Heilmann (6.2)
1956 AL: Mickey Mantle (12.9) over Yogi Berra (7.3)
2002 NL: Barry Bonds (12.2) over Jim Edmonds (7.2)
1975 NL: Joe Morgan (12.0) over Mike Schmidt (7.0)
1924 NL: Rogers Hornsby (13.0) over Frankie Frisch (8.0)
1967 AL: Carl Yastrzemski (12.2) over Al Kaline (7.3)
1946 AL: Ted Williams (11.8) over Johnny Pesky (6.9)
1923 AL: Babe Ruth (14.7) over Harry Heilmann (9.8)
1926 AL: Babe Ruth (12.0) over Goose Goslin (7.2)
1922 NL: Rogers Hornsby (10.7) over Dave Bancroft (5.9)
1948 NL: Stan Musial (11.5) over Johnny Mize (6.9)
For what it's worth, only three of those 12 seasons ended in a World Series title -- Morgan, Mantle and Ruth in 1923.
So maybe Joe Morgan didn't hit 73 home runs or drive in 191 runs or bat .400. But his 1975 season ranks as sleeper candidate for greatest individual season of all time.
* * * *
It wasn't easy picking the 32 best seasons. I had two rules: Only one season per player, so we'd end up with a bracket of 32 different players; and I considered only seasons since 1901 (sorry, Ross Barnes fans).
It was important to get a diverse list of eras as well as positions. I did put a little more emphasis on more recent decades; basically, the quality of the game has improved over time, thus making it more difficult to post seasons with huge WAR totals like Ruth put up. Here is the breakdown by decade:
1900s -- 1
1910s -- 3
1920s -- 3
1930s -- 2
1940s -- 4
1950s -- 3
1960s -- 2
1970s -- 3
1980s -- 3
1990s -- 4
2000s -- 4
And by position:
C -- 2; Johnny Bench, Mike Piazza.
1B -- 3; Lou Gehrig, Jimmie Foxx, Rod Carew.
2B -- 4; Eddie Collins, Rogers Hornsby, Jackie Robinson, Joe Morgan.
3B -- 2; George Brett, Mike Schmidt.
SS -- 5; Honus Wagner, Ernie Banks, Robin Yount, Cal Ripken, Alex Rodriguez.
LF -- 6; Babe Ruth, Ted Williams, Carl Yastrzemski, Rickey Henderson, Barry Bonds, Albert Pujols. (Ruth played left field in 1921, and Pujols primarily played left in 2003.)
CF – 8; Ty Cobb, Tris Speaker, Hack Wilson, Joe DiMaggio, Stan Musial, Mickey Mantle, Willie Mays, Ken Griffey Jr. (Musial started at all three outfield positions in 1948 but played the most in center.)
RF -- 2; Hank Aaron, Sammy Sosa.
So there are our 32 players. I didn't necessarily pick each player's highest WAR season. In some cases, a player's iconic season -- like Ted Williams' .406 year or Hank Aaron's 1957 MVP campaign -- was selected. In some instances, maybe a player had other things in his favor that would help him to potentially fare better in the voting, like a big RBI total. Certainly, WAR is a good baseline to use because it helps us adjust for differences in eras, but it shouldn't be the only factor in determining the better season between two players. Was what Williams accomplished in 1941 more impressive than what Morgan accomplished in 1975? Is Yount being the best hitter in his league while playing shortstop more impressive than what Babe Ruth did in 1921 against an inferior brand of pitching? Maybe you prefer the all-around brilliance of Mays or DiMaggio over the pure hitting dominance of Rogers Hornsby or Lou Gehrig.
Which seasons just missed the cut? There were seven players who had a bWAR season of at least 10.0 who didn't make the bracket -- Lou Boudreau, Jason Giambi, Ron Santo, Adrian Beltre, Home Run Baker, Norm Cash and Matt Kemp. Sorry, guys. (Just noticed there are three third basemen there; too late now to change the final 32, unfortunately.)
So get to the bracket and start voting
. We'll do one round per day this week, culminating in the final matchup on Friday.
Let the debates begin.
Follow David Schoenfield on Twitter @dschoenfield.
January, 5, 2012
1/05/12
8:00
AM ET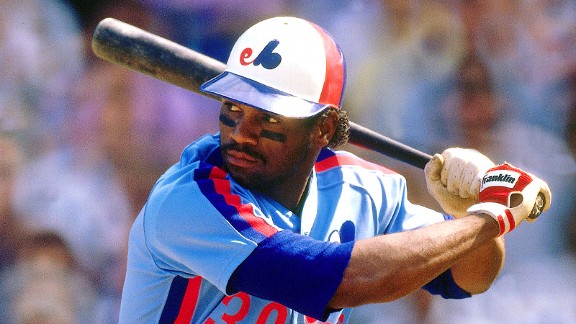 Ronald C. Modra/Sports Imagery/Getty ImagesTim Raines is often cited as the second-greatest leadoff hitter in MLB history.
There are a lot of columns and analysis out there advocating the case for Tim Raines for the Hall of Fame. I probably won't add anything new to the discussion, but let me start here:
Player A is Raines. Player B is Tony Gwynn. That final column is times reached base. Yes, Raines reached base more often in his career than Gwynn, in just slightly more plate appearances. I'm not the first writer to come up with that comparison. Joe Posnanski, among others, is especially fond of this factoid. The point of the statistic isn't to bring down Gwynn, rather to show how potent and devastating an offensive player Raines was. The arc of his game was a little different than Gwynn's but the results are similar: Gwynn got more singles, Raines walked more and had a little more power. He was one of the great base stealers of all time and scored more runs in his career than Gwynn.
That's what Raines did: He scored runs. He's 51st on the all-time list and of the 50 players ahead of him, all eligible candidates are in the Hall of Fame except for Jimmy Ryan and George Van Haltren, two 1890s outfielders; turn-of-the-century shortstop Bill Dahlen; and Rafael Palmeiro.
A common refrain about Raines from his advocates is that he was one of the best players in baseball over a span in the 1980s. This isn't some after-the-fact hocus-pocus going on. It was widely believed at the time. In a 1984 Sports Illustrated piece on Raines, Pete Rose said: "Right now he's the best player in the National League. Mike Schmidt is a tremendous player and so are Dale Murphy and Andre Dawson, but Rock can beat you in more ways than any other player in the league. He can beat you with his glove, his speed and his hitting from either side of the plate." In his annual Baseball Abstracts, Bill James often argued the case of Raines' all-around brilliance. Raines finished fifth, sixth and seventh in MVP votes, despite playing for mediocre Expos teams.
Raines' five-year peak was 1983 to 1987. According to Baseball-Reference's WAR ranking, the top five players during those years were Wade Boggs (39.7), Rickey Henderson (34.1), Cal Ripken (33.3), Schmidt (31.4) and Raines (30.7). Pretty nice company. (The next five were Alan Trammell, Gwynn, Eddie Murray, Murphy and Keith Hernandez.)
To be fair, this alone doesn't make him a Hall of Famer. I checked every five-year period since 1969 (1969 to 1973, 1970 to 1974, etc.) and not all of the names that appear in the top five are Hall of Famers or future Hall of Famers. Heck, Sal Bando rated as the best player in baseball from 1969 to 1973.
Some characterize Raines as having too short of a peak level of dominance. From 1988 to 1995, he averaged .283/.375/.409, with 81 runs and 33 steals per season. Maybe not an MVP candidate anymore, but still a good player, top leadoff hitter and valuable contributor. He's hardly alone in this aspect. He had six seasons with an OPS+ of 130 or higher, the same as Jim Rice, Dawson and Ernie Banks, and more than Kirby Puckett, Roberto Alomar, Johnny Bench, Carlton Fisk, Yogi Berra, Tony Perez or Robin Yount.
Maybe Raines doesn't have a slum-dunk case. But he has a case. Maybe voters have forgotten his great years in Montreal (and they have forgotten; he received only 37 percent of the vote last year). Maybe they remember his final seasons with the Yankees, when he became a part-time player on two World Series champions. Maybe they can't believe he compares favorably with Tony Gwynn.
Believe.
May, 3, 2011
5/03/11
2:40
PM ET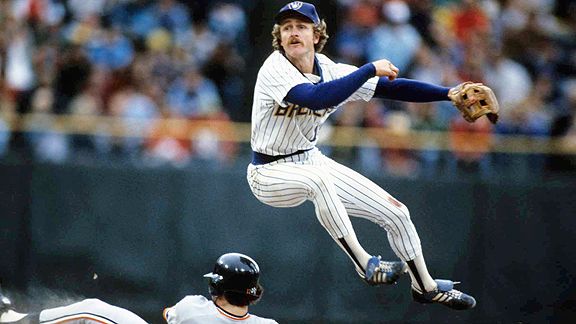 Ronald C. Modra/Sports Imagery/Getty ImagesRobin Yount won the 1982 AL MVP Award while playing shortstop for the Brewers.
In 1980, Robin Yount, then 24, had his first big season for the Brewers, hitting .293 with 82 extra-base hits and scoring 121 runs. The same year, 22-year-old Alan Trammell hit .300, scored 107 runs and won a Gold Glove for the Tigers. In 1982, a rookie third baseman named
Cal Ripken
would slide over to shortstop for the Orioles.
And so began a long run of the American League at the shortstop position. From 1980 through 2006, there were 115 shortstop seasons in the majors of 4.0 WAR or higher, from
Baseball-Reference
; 75 of those were from AL shortstops, 39 from NL shortstops (and one who split time in both leagues). The top 15 seasons were all from AL players and 27 of the top 30 were from AL players.
Now, that's not surprising when you see the list of shortstops with the most 4.0 WAR seasons during that span:
Cal Ripken 10
Barry Larkin
9
Ozzie Smith 9
Derek Jeter
8
Alex Rodriguez
8
Alan Trammell 8
Miguel Tejada
6
Nomar Garciaparra
5
Robin Yount 5
John Valentin
3
Larkin and Ozzie were NLers, but the rest were all ALers, and the AL guys put up a lot of monster numbers. The list doesn't even include
Omar Vizquel
, who had just one 4.0 WAR season. Since 2007, however, the tide has swung -- of the 18 shortstop seasons of 4.0 WAR or better, only five have come from AL players: two from Jeter and one apiece from
Marco Scutaro
,
Erick Aybar
and
Jason Bartlett
.
But with Jeter in decline, Aybar unable to replicate his fine 2009 and Bartlett now with the Padres, the American League seems devoid of a topflight shortstop. In 2010, the only two with a WAR of 3.0 or higher were
Cliff Pennington
and
Alexei Ramirez
. This season's
group isn't doing much better
, unless you count
Jed Lowrie
and
Maicer Izturis
, two utility guys who have filled in at short (or, in the case of Lowrie, potentially winning the job from Scutaro).
Maybe Jeter and Ramirez will start hitting. Maybe Toronto's
Yunel Escobar
will regain his 2009 batting stroke. There's not even an obvious Gold Glove candidate -- Jeter has won the last two as much by default as skill. So who is the best right now? Place your vote!
Follow David Schoenfield on Twitter at @dschoenfield. Follow the SweetSpot blog at @espn_sweet_spot.
March, 5, 2011
3/05/11
11:30
AM ET
One of my baptismal moments as a baseball fan came when I was about 9 or so, and I had a new baseball card that was one of those historical tributes, this one to Walter Johnson. Riding in the back of our '76 Plymouth van, I quizzed my dad on how many career strikeouts the Big Train had, thinking there was no way he would get the exact four-digit number. When Dad said "3,509," I was flabbergasted. How could he possibly have known?
[+] Enlarge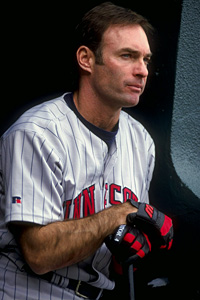 Doug Pensinger /AllsportHall of Famer Paul Molitor, who retired in 1998, is the last player to crack the top 10 in all-time hits.
Soon enough, I learned the joy of losing myself in baseball's career stat leaders. In that long-before-the-Internet era, you would pore over the Baseball Encyclopedia or the Street and Smith's annual preview. We never saw Johnson or Ty Cobb play, but through those numbers (which later proved to be subject to correction by baseball researchers), they began to gain a purpose. They began to gain an identity.
Things change. Johnson, who was No. 1 in career strikeouts when I was a boy (in fact, was the tops from 1921 through 1983), is No. 9 today. Steve Carlton passed him first, then Nolan Ryan leapfrogged Carlton and obliterated the mark, finishing with 5,714. Besides Johnson, just one pre-World War II pitcher is left in the top 20. That's Cy Young, resting in 20th place with 2,803.
With marriage and three children, I'm forced to live much more in the present than maybe I'd like to, especially from a baseball standpoint. It's been years since I've luxuriated in the career tables like I did in the past -- one of life's simple pleasures lost to a much more complex existence. And so when I turned my attention to the career strikeout leaders today, it didn't surprise me much that so much change had occurred.
But when I looked over at the career hit leaders, I was taken aback -- by the utter stability of it all. It was as if it were frozen in time, but the truth is, that top-10 list is a boulder that would not be moved.
It was just as I left it as a single man. The most recent player to break into the top 10 was Paul Molitor, whose major league career began before my 11th birthday and ended back in 1998. Carl Yastrzemski was the only other top-10er to play into my teen years.
I mean, I don't know what I was expecting -- and those of you with healthier attention spans will think me a fool for being the least bit surprised, so forgive me -- but how wonderful, how glorious, how … viscerally energizing it was to see these names hold up over time. Rose and Cobb and their angry, cantankerous 4,000-plus hit careers. The classy Hammerin' Hank and Stan the Man holding strong in third and fourth. The classic old-timers -- Speaker, Cap Anson, Honus Wagner -- in the meat of the lineup at 5-7. At eight and nine, Yaz and Molitor, young whippersnappers even as they court the AARP demographic.
And then … this was my favorite. No. 10, with 3,315 hits: Eddie Collins. To my utter shame, I haven't given Eddie Collins a nanosecond of thought in years. My mind has been too polluted by extraneous, worthless details like work and family to give Collins the time of day -- and yet there he sits, steady as granite. Mays couldn't catch him. Murray and Ripken couldn't catch him. Yount and Gwynn, Winfield and Biggio, Henderson and Carew, Brock and Palmeiro and Boggs … all playing in the 162-game era, many with the designated hitter rule in their right pocket, and none could touch Collins, born in 1887, christened in 1906, retired by 1930. When he passed away in 1951, he was fifth all-time in hits. Sixty years later, he's lost only five spots.
Soon, Collins might finally face his top-10 eviction notice.
Derek Jeter
has 2,926 career hits, more than any ballplayer at age 36 since Yount, two decades ago. By July, Jeter will probably break 3,000 and (with all the subtle media coverage of a moon landing) become the 28th man to reach that milestone, leaving him perhaps no more than two years away from Collins. Behind Jeter looms
Alex Rodriguez
, barely 600 hits from Collins and Molitor at age 34.
After that? Maybe 36-year-old
Ichiro Suzuki
has more than 1,000 hits left in him to catch Yastrzemski. Quite possibly, 30-year-old
Albert Pujols
, who has 1,900 hits in his first decade, picks up close to the same in his second, knocking out Wagner.
And so maybe that stability on the all-time hits list is headed by the wayside. Hours ago, I wouldn't have known what I missed. But now I wonder … I miss Walter Johnson in that No. 1 spot. Is it that crazy that I might miss Eddie Collins at No. 10?
If it is, all I can say is that's the same kind of crazy that made me the baseball fan I am today.
Jon Weisman writes about the Dodgers at Dodger Thoughts for ESPNLosAngeles.com. Follow him on Twitter.
February, 15, 2011
2/15/11
2:30
PM ET
By
Geoff Young
| ESPN.com
Spring training games are different. At the beginning, when men who ask their bodies to do unreasonable things for a living return from a winter of not playing baseball (excepting those who did play during the winter, but let's not worry about them), they play a few innings and then yield to someone lower on the depth chart. Before the starters leave the field to shower and get on with their day, they run laps along the outfield warning track -- while the game is being played.
Different.
[+] Enlarge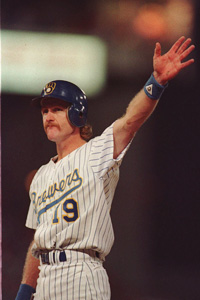 AP PhotoRobin Yount, shown here after collecting his 3,000th hit in 1992, finished his career with 3,142 hits.
In 1993, Robin Yount played the last of his 20 seasons. As few men do these days, he spent all of them with one team, the
Milwaukee Brewers
.
Yount first arrived in 1974 as an 18-year-old kid, playing alongside home run king Hank Aaron, and was now navigating his own fine career to its conclusion.
In the process, Yount helped redefine the shortstop position. His next stop would be Cooperstown, where he had earned the right to rejoin former teammate Aaron among the greats of the game.
In 1993, though, Yount was gearing up for one last run. He was asking his 37-year-old body to do unreasonable things one more time. And on a spring day in Arizona -- they all run together; who can remember details? -- he put in his work before being replaced by some young hopeful.
Like every other guy, Yount ran his laps along the warning track. He started in the left field corner, jogged to the right field corner, and then returned.
Fans knew this would be Yount's final season. They knew he would be elected to the Hall of Fame one day soon. They knew this was their last chance to say goodbye, and so they did.
A few hundred of Yount's new best friends gravitated toward the left field corner for one final look. Yount stood there in full uniform for several innings -- the still-in-progress game faded into the background for all but those playing -- until every fan waiting had gotten a few moments of his time, maybe an autograph.
Different.
The game continued and, presumably, ended. As with the day itself, details are forgotten. The lingering image is that of a man, aging like the rest of us, asking his body to do unreasonable things and thanking strangers for giving him the opportunity to do so.
It's not what one expects to see, but then, spring training games are different. Robin Yount was different. After all, he did unreasonable things for a living.
Geoff Young writes Ducksnorts, a blog about the San Diego Padres. Follow him on Twitter.