July, 15, 2013
7/15/13
6:22
PM ET
NEW YORK -- Media day at the All-Star Game isn't quite media day at the Super Bowl, but on a hot, steamy day in the Jackie Robinson Rotunda at Citi Field, sweaty media members met with sweaty ballplayers. There was a vibe of happiness from the players because everyone enjoys being an All-Star, but special praise to Justin Verlander and Brandon Phillips for gutting out the hot weather and wearing jackets to their media sessions -- Verlander in a baby blue coat complete with pocket square, something you might see your grandfather wearing at his condo in Florida -- when most players smartly donned short-sleeved shirts.
(Poor Felix Hernandez kept needing a towel to mop off the sweat dripping down his forehead. Hey, he's not used to 100-degree weather pitching in Seattle.)
Players praised Mariano Rivera and talked about childhood dreams coming true, although Brett Cecil admitted he never dreamed of becoming an All-Star. Matt Carpenter was asked to translate "I love baseball" in Chinese for a promotional video. Joey Votto said he thought Ichiro Suzuki would be a good contestant for the Home Run Derby.
Speaking of home runs, on Sunday, I wrote about Chris Davis now being on pace to hit 62 -- short of Barry Bonds' record of 73, but giving him a chance to beat Roger Maris' total of 61.
I asked readers who they think the "real" home run champion is and the poll results, with more than 38,000 votes, have Maris ahead of Bonds, 73 percent to 27 percent. That's a landslide for Maris.
What do the All-Stars think? All leaned toward 73 -- as in homers, not percent -- at least the ones we asked. Some of the more interesting responses:
Votto, the Cincinnati Reds first baseman: "I think 61 came with its own little asterisk, since they had extended the schedule to play more games. At the time, if you asked players of the previous era, they probably would have said 60 is the record, with Babe Ruth. If you ask players of Maris' generation, they'll say 61 is the record. If you ask the recent generation, they'll probably say 73 [with Barry Bonds]. My gut says to keep 73, but it's something we'll have better perspective on in 20 or 30 years."
Baltimore Orioles shortstop J.J. Hardy, teammate of Davis: "I think that year all those home runs were happening was really exciting for the fans, really exciting for us, fun to watch. I don't know where the record should stand. If Chris hits 61 home runs this year, that would be pretty cool though." By the way, Hardy on playing with Davis this year: "It's awesome. Just like the fans and how interested they are in watching, I think everyone on his team is the same way. Everyone in the dugout watches every one of his at-bats in case something special happens. He put up numbers like this in the minors and it was just a question of whether he'd do it in the big leagues, so it's not like he hasn't done it before. It's something that's been in there."
Cleveland Indians second baseman Jason Kipnis: "That's a record I'll never have to worry about. It's a topic you're going to have a lot of debate over if Davis gets close. I guess the old-school guys will say 61. The purists will probably say 61. But didn't the pitchers use back then as well? They did from what I know. I think [Bonds] is just a product of his era. The fact is he hit 73 home runs."
San Francisco Giants pitcher Madison Bumgarner, giving a little bit of a Of course Bonds holds the record, he's a Giant look: "Bonds holds the record, but if Davis can come close to 61 or 73, that will be fun to watch."
Atlanta Braves first baseman Freddie Freeman: "That's a tough question. I grew up with Bonds and I choke up on the bat because of him. It was amazing what he did when he would often only get one pitch to hit in a game. That answer your question? Probably not."
Washington Nationals pitcher Jordan Zimmermann: "Bonds holds the record. I grew watching him and it was incredible what he did."
Braves reliever Craig Kimbrel: "I'd like to see Davis hit 62 because that's fun baseball. [But would that make him the home run king?] If he hits 62, he hits 62."
One interesting side note: Many of players seemed reluctant to actually mention Bonds by name, which is interesting, although they still tacitly acknowledged he's the record holder.
As for Davis himself
suggesting 61 is the record
, Votto had the best quip: "Maybe he's just being selfish, saying that if he beats the record he'll get to wear a crown or something."
July, 14, 2013
7/14/13
8:00
PM ET
Chris Davis hit his 37th home run on Sunday, his fourth straight game with a homer, and he is now on pace for … 62.
You know what that means, right?
Let the controversy begin. It's already starting to ramp up a bit. It will not be avoided if Davis mounts a charge to 62: Roger Maris is the "real" home run champion with the 61 he hit in 1961, and if Davis hits 62, he'll surpass Maris as the legitimate single-season record holder.
Davis himself considers Maris the record holder, telling ESPN's "Mike & Mike" in early July that "the reason being, he was the last guy to do it clean. There's a lot of things that have been said about the guys who have come after him and have achieved the record, but I think as far as the fans are concerned they still view Maris as being the all-time home run record [holder] and I think you have to. There's no doubt that Barry [Bonds] and Mark [McGwire] and any of those guys had ridiculous seasons and had some great years, but I think when you get to the root of the record, I still think it's Roger Maris.'"
My guess is that most fans would agree with Davis, that McGwire's 70 home runs in 1998 and Bonds' in 73 are tainted, tarnished and achieved in unethical ways.

And thus don't count.
That may be true. Except the not counting part. The record is the record, and Bonds is the single-season home run champion. What people believe or desire shouldn't factor into the argument; well, you can argue, but I'm not buying. We can't pretend that Bonds didn't hit 73; we can't wipe out an entire era and pretend it didn't exist. Barry Bonds hit 73 baseballs over the fence in 2001, and 73 is the record.
But brace yourself for a non-ending stream of columns, sports radio chatter, Twitter posts and the like. When Davis appears before the media on Monday in New York in preparation for the All-Star Game, he's going to be mobbed more than other player: Can you do it?
Look, it's an amazing story. Davis is now slugging .717. Not including Davis this season, there have been 35 seasons in which a player slugged .700 -- and all but four occurred in the 1920s and '30s, or between 1994 to 2004. The four outlier seasons: Ted Williams in 1941 and 1957, Stan Musial in 1948 and Mickey Mantle in 1956. Davis' performance would remain historic in nature, no matter his final home run tally.
Will he get to 62? He has said his big difference is that he has learned the strike zone; his selectivity and patience have helped him wait for better pitches to drive. His walk rate is up 3.2 percent from last year, one sign of his patience. Another sign is his ability to drive the ball to left field -- 11 of his 37 home runs are classified as opposite field, most in the majors (Miguel Cabrera, Joey Votto and Adam Dunn each have seven). But Davis has hit another five just to the left of center field and he's hitting .537 when putting the ball in play to the opposite field -- second in the majors to Jason Kipnis' .556.
Davis' year reminds me a little of what Reggie Jackson did in 1969. Reggie was younger -- he was 23, Davis is 27 -- but had a monster first half, hitting .287 with 37 home runs and a .716 slugging percentage in 91 games (the Orioles have played 96 games). There was talk of Reggie dethroning Maris, but he would hit just 10 home runs in the second half (the 47 would remain his career high).
There are two majors differences: Reggie has said the talk of beating Maris created added pressure on him and, as a young player, he didn't deal with it very well, trying too hard to hit home runs. Davis is older, although nobody can predict how a player will handle the pressure if it gets to that point. Reggie also played in Oakland, a tough home run park; Camden Yards is generous in the power alleys, so that will help Davis.
One thing working against Davis, however, is that Buck Showalter continues to hit Davis fifth in the order, choosing to bat Adam Jones cleanup between lefties Nick Markakis and Davis. That will cost Davis plate appearances over the season -- an estimated 30 over the entire year, if he was hitting third instead of fifth -- and those 30 missing PAs could be the difference between 59 and 62. With Matt Wieters not having a great year behind him, Davis may also start receiving more walks (although July has produced his lowest walk rate of the season, so pitchers haven't been pitching around him).
Hey, I hope he makes 62 an interesting number to watch for in late September. A lot of fans
will
consider 61 the record and that will make for a fun, engaging stretch drive if Davis gets close. It won't be The Record but it will get people watching baseball, and that's a good thing.
April, 30, 2013
4/30/13
3:25
PM ET
I found this edition of Mint Condition interesting. Robert Edward Auctions has an item up for bid it claims is possibly the bat Roger Maris used in 1961 to tie Babe Ruth's then-record of 60 home runs. But the Hall of Fame in Cooperstown claims
it
has the bat Maris used to hit home runs 59, 60 and 61. Which is the real bat? There's probably no way to ever authenticate, but the one in the video comes from an Orioles clubhouse attendant and is signed and dated by Maris with the day he hit his 60th home run. What I'm confused by: Maris hit No. 60 in New York (he did hit No. 59 in Baltimore a few days prior), so how did the visiting clubhouse attendant from Baltimore get this bat?
Here's the
full story
of the bat's history. That post says studies of photographs from 1961 show that Maris likely used different bats for Nos. 60 and 61, so it's possible the Hall of Fame does have the record-setting bat but not the record-tying one.
Anyway, the bidding is up to $15,000, so you'll need at least $16,000 if you want to own it.
April, 15, 2011
4/15/11
2:14
PM ET
I filled in on Friday's
Baseball Today podcast

for Eric, hosting with Friday regular Mark Simon. Let's just say it's not every podcast that references Lenny Sakata, the Corn Palace in South Dakota and
Travis Hafner
's hometown. We also discuss:
Joe Mauer heads to the DL, culminating a bad day for the Twins.
Troy Tulowitzki is on fire. Is he the one guy you'd start a team with right now?
Instant replay: Pros and cons to expanding its role.
Adrian Gonzalez's big, new contract. How does it affect Albert Pujols?
Cliff Lee's great game and an interesting comparison with Sandy Koufax.
Simon says: Correcting an error on Jason Varitek and Roger Maris, best players from North and South Dakota.
Mailbag, a look ahead to the best of the weekend, birthdays and Jackie Robinson Day.
April, 7, 2011
4/07/11
5:10
PM ET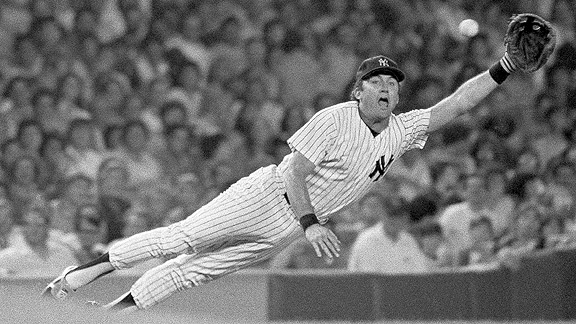 AP Photo/Ron FrehmFew third basemen could play the hot corner like Graig Nettles.
Last week, ESPNNewYork.com ran its list of the
50 greatest Yankees of all time
. I was part of the voting committee and ran
Nos. 50 through 31
on Wednesday. Here are Nos. 30 through 16. The overall panel ranking is in parenthesis.
30. Vic Raschi, P (39)
The ace of the Yankees staff along with Allie Reynolds when they won five straight World Series from 1949-53, Raschi was 120-50 with New York, annually placing among the league leaders in ERA, wins, innings, strikeouts and WHIP. He relied primarily on a high fastball, mixing in an occasional curve or change. He was at best in the World Series, posting a 2.24 ERA in 60 innings, including a two-hit shutout in Game 1 in 1950 and a three-hitter in Game 2 in 1952.
29. Roger Maris, OF (22)
His greatest play was one nobody talks about: In the bottom of the ninth of Game 7 of the World Series, Felipe Alou doubled into the right-field corner with two outs and Willie Mays on first. Maris somehow cut the ball off (Alou was a right-handed batter) before it reached the wall, holding Mays at third base. When Willie McCovey then lined out, the Yankees won 1-0.
28. Lefty Gomez, P (14)
It's really a shame we don't give guys nicknames like "Goofy" anymore. Gomez was spectacular in 1934 and 1937, years he led the AL in wins, ERA and strikeouts, and went 6-0, 2.86 in seven career World Series starts. He mixed in less impressive years but won 189 games in pinstripes.
27. Gil McDougald, IF (47)
A gifted infielder who played third, second and short -- basically, wherever Casey Stengel needed him -- and hit 10-15 home runs a season, got on base and played in eight World Series in his 10 seasons with the Yankees. Largely forgotten now, but he was a five-time All-Star, finished in the top 10 in the AL MVP voting three times, and if players were described as "glue" guys in the '50s, McDougald would have been described as the "ultimate glue guy."
26. Tony Lazzeri, 2B (18)
The Hall of Famer drove in 100 runs seven times -- only
Jeff Kent
with eight has more as a second baseman. Lazzeri had one of the great days in baseball history on May 24, 1936, when he hit three home runs, a triple and drove in 11 runs.
25. Mel Stottlemyre, P (31)
More famous now for being Joe Torre's pitching coach for many years, Stottlemyre went 164-139 in pinstripes and pitched 250-plus innings nine seasons in a row -- with a high of 303 in 1969 -- before his arm finally gave out. His rookie season was 1964, the last year of the dynasty, and thus his only World Series appearance.
24. Roy White, OF (44)
Spent his entire career with the Yankees. Vastly underrated while still active -- he had a broad-based range of skills that didn't stand out, plus most people at that time had no idea that drawing a lot of walks was a good thing -- Bill James has written how he was a better player than Jim Rice. (
Baseball-Reference agrees
, giving White a career WAR of 44.5 compared to Rice's 41.5.) His best seasons came during offensive doldrums of the late '60s and early '70s and B-R rates him as the best position player in the AL in 1971, when he hit .292/.388/.469, big numbers for the era. The MVP voters didn't agree: He didn't receive a single vote.
23. Charlie Keller, OF (36)
Had Hall of Fame numbers through age 29, combining power and 100-plus walks a year, but a ruptured disc in his back ruined the second half of his career.
22. Allie Reynolds, P (26)
"Superchief" (he was one-quarter Creek Indian) was Casey Stengel's secret weapon during the Yankees' five straight titles from 1949-53, starting and relieving as needed. He went 7-2 in his World Series career with a 2.79 ERA, posting five complete games and four saves. In 1952 against the Dodgers, he pitched a four-hit shutout in Game 4, saved Game 6, and pitched three innings of relief to win Game 7. He delivered 131 of his 182 career victories with the Yankees, after coming in a trade with Cleveland for Joe Gordon.
21. Graig Nettles, 3B (29)
One of the great heists in Yankee history was stealing Nettles from the Indians after the 1972 season for John Ellis, Jerry Kenney, Charlie Spikes and Rusty Torres; there's a reason you've never heard of any of those guys. A gifted fielder who remained a productive hitter with the Yankees into his late 30s, during the 1977-78 World Series years Nettles finished fifth and sixth in the AL MVP voting -- ahead of Reggie Jackson both seasons.
20. Phil Rizzuto, SS (20)
Would rate higher if you want to give extra credit for his announcing career.
[+] Enlarge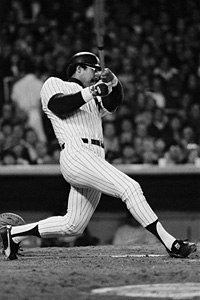 AP File PhotoReggie Jackson made an impact in his five seasons with the Yankees.
19. Reggie Jackson, OF (15)
Reggie was a Yankee for only five seasons, so it's difficult to place him much higher. While still a great hitter in the Bronx, his fielding became an issue and he was no longer one of the very best players in the league as he had been with the A's (Baseball-Reference has him as the AL's best player three seasons with Oakland). But he obviously was dynamic, memorable and his three-homer World Series game in 1977 gave the Yankees their first World Series title since 1962 and cemented his legend status.
18. Alex Rodriguez, 3B (13)
A-Rod has averaged 38 home runs, 120 RBIs, 107 runs and a .952 OPS with the Yankees. He's won two MVP awards. He won a World Series. His place as an all-time great Yankee is deserved and should be unquestioned by now. In fact, he even finally qualifies as a True Yankee.
17. Ron Guidry, P (17)
I can still remember sitting in the family station wagon and hearing the report on the radio that Rice had edged out Guidry for the 1978 AL MVP Award. Rice received 20 first-place votes, Guidry the other eight. I wasn't a Yankees fan, but I was angry that Guidry didn't win the award. I mean,
25-3
just sounded surreal. He never came close to that season again, of course, but he won 20 twice more and finished with 170 career wins.
16. Willie Randolph, 2B (33)
A tremendously underrated player (check his ranking from our panel) who did everything well except hit for power. Even then, he was one of the best offensive second baseman in baseball. Here are his annual rankings among all second basemen via Baseball Prospectus' VORP statistic (runs produced above a replacement-level second baseman): 5th, 7th, 3rd, 4th, 1st (1980), 12th, 8th, 13th, 6th, 9th, 5th, 2nd (1987), 27th, 12th (no longer with Yankees), 27th, 6th, 21st. Factor in that he was a very good glove man and a good baserunner who had more than 2,200 career hits, and you can make a Hall of Fame case for him.
Follow David Schoenfield on Twitter at @dschoenfield. Follow the SweetSpot blog at @espn_sweet_spot.
July, 27, 2010
7/27/10
5:10
PM ET
The particulars aren't particularly exciting. But the impact is worth mentioning, I think ...
Thanks to the diligent work of someone named Ron Rakowski, it's now established -- to the extent that something like this can be established -- that in 1961,
Roger Maris
was credited with an "extra" RBI
and
that
Mickey Mantle
was credited with an extra run scored.
The impact? Maris drops into a tie for the American League RBI lead with
Jim Gentile
, and Mantle drops
out
of a tie with Maris for the American League scoring lead. Maris and Gentile both drove in 141 runs; Maris scored 132 runs (vs. Mantle's 131).
I suspect that some of you don't really care. But those of us who write about baseball have to care. When we're writing about Mantle, we don't want to write that he co-led the league in runs in 1961 if he didn't, you know, actually co-lead the league in runs. So while this might seem somewhat esoteric, if not downright trivial, much of the discussion on this page and others involves esoterica and trivia.
Anyway, when researchers like Rakowski find these things, if they're high-profile (as these are) it can take years (as these did) to become official (whatever that means). It's
finally happened
, though. Here's Lyle Spatz, chair of the
Records Committee
:
I am pleased to see that Retrosheet, Baseball-Reference, Baseball Almanac, and the Elias Sports Bureau all recognize these numbers.

I know there are people who object to these types of corrections, even when they are done to rectify an obvious error such as a faulty computation or putting a number in a wrong column. This is especially true when the correction changes a league leader in a particular category. For those of you that do (I hope there aren't too many on the Records Committee) let me restate an obvious truth. Mickey Mantle was one of the game's great players. Does finishing his career with 1,676 runs scored rather than 1,677 make him any less a great player. Will anybody's assessment of Mantle's place in history be changed by the fact that he did not lead the league in runs scored in 1961? I don't think so.

We should try to get the numbers as accurate as we can, but we must also, as Neil Postman, a Professor at NYU and critic of technology run wild, said, "free ourselves from the belief in the power of numbers and not regard calculation as an adequate substitute for judgment, or precision as a synonym for truth."
Most of you will have trouble believing this, but there really are people who think that if a guy won a "batting title" in 1910 because everybody in 1910 thought he led his league in batting average, and later we discover he
didn't
lead his league in batting average ... We should ignore the new information!
Seriously.
Putting it bluntly, most of the people who think that way have died off. But some of them are still out there, and fortunately they're now routinely shouted down by other people who think that when your facts change, you follow them where they take you instead of pretending something never happened because it's ever so slightly inconvenient.
There is one argument that should, I suppose, be addressed. Some of those guys will ask, "If you start changing the numbers, where does it all stop?"
It doesn't. Not long ago, the casualty figures for the carpet bombing of German cities during World War II was revised downward. By one authority, anyway. Mind you, this is 65-plus years after the fact. For many decades, writers in good conscience, and only some of them with ideological axes to grind, relied on the old figures. Now we have new figures, and the historians who trust them will use them ... until somebody comes up with something better.
It doesn't stop. It's not
supposed
to stop. This is the way it works. We go with what we've got, while acknowledging that what we've got today won't necessarily be what we've got tomorrow. For many years, Royals infielder
Frank White
was credited with an appearance as a catcher, even though he never actually appeared in a game as a catcher. It was a simple mistake, and nobody noticed for a long time.
It's finally been "fixed" ... but there are many more just like it, especially as you travel back into history.
We go with what we've got, while we try to get more. As someone once observed, "There's no statute of limitations on the truth."
Thank you, Ron Rakowski. Some of us care an awful lot.