June, 6, 2011
6/06/11
12:06
PM ET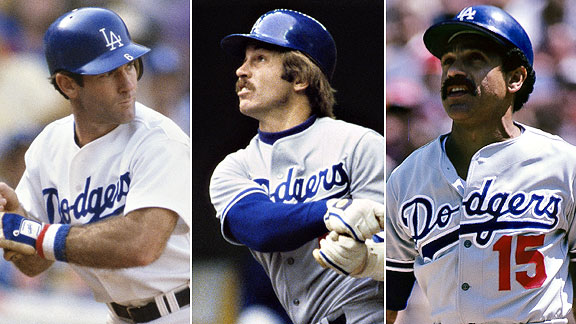 Getty ImagesThe Dodgers drafted 15 players who made the majors in 1968, including All-Stars Steve Garvey, Ron Cey and Davey Lopes.
If a team drafts one future star, that's a pretty good draft.
If a team drafts three solid future contributors, that's a pretty good draft.
But no team has ever come close to the draft haul the Dodgers pulled off in 1968.
Back then, the draft was conducted in four different phases -- two in January and two in June. The January phases were for high schools kids who had graduated, community college players or players who had reached the age 21. The regular January phase was for players who hadn't been drafted before, the secondary phase for those who had previously been drafted. The regular June phase was for all high school and college players who hadn't been drafted previously; the secondary phase was for all previously drafted players. (Basically, baseball was worried about the legality of the draft, so figured if players could be drafted every six months, that gave them more signing leverage.)
Anyway, here's who the Dodgers hauled in:
Davey Lopes, OF, Washburn University:
Drafted in the second round of the January secondary phase, Lopes was already nearly 23 and didn't play his first full season until he was 28. The Dodgers converted him to second base and he played over 1,800 major league games, becoming a four-time All-Star and one of the game's best-ever basestealers (he stole 47 bases in 51 attempts at the age of 40).
Geoff Zahn, LHP, Michigan:
A fifth-round January selection, Zahn would win 111 games in the majors, although only four for the Dodgers. After posting a 2.03 ERA in 79 innings as a rookie in 1974, the Dodgers traded him to the Cubs for Burt Hooten, who would win 112 games with the Dodgers. The Cubs, meanwhile, would release Zahn after he won just two games with them. (He had later success with the Twins and Angels.)
Bobby Valentine, OF, Rippowam HS, Stamford, Conn.:
The team's first-round pick in the June regular phase, Valentine would become one of the
top prospects of the draft era
before knee and ankle injuries ruined his career.
[+] Enlarge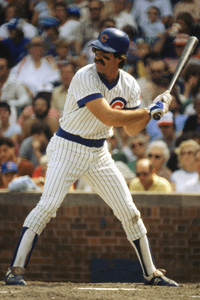 Jonathan Daniel/Getty ImagesBill Buckner, drafted in the second round in '68, went on to play for 22 seasons.
Bill Buckner, 1B, Napa HS, Vallejo, Calif.:
A second-round pick, Buckner played his first big league game while still just 19. He'd play 22 seasons and finish with 2,715 hits. With the Dodgers, he had good speed before knee injuries slowed him down and forced a move from outfield to first base. He was later traded to the Cubs for Rick Monday.
Tom Paciorek, OF, Houston:
Despite consistently great numbers in the minors, Paciorek never got much of a chance with the Dodgers. He went to Atlanta, then Seattle, then the White Sox, lasting until he was 40, hitting .300 four times and finished with over 1,000 hits.
Joe Ferguson, OF, Pacific:
Ferguson, an eighth-round pick, would play over 1,000 games in the majors, mostly at catcher. He had two big seasons with the Dodgers in '73 and '74, splitting time in right field and behind the plate.
Doyle Alexander, RHP, Woodlawn HS, Birmingham, Ala.:
Drafted a round after Ferguson, Alexander reached the majors in 1971 and posted a 3.80 ERA in 92 innings as a rookie. The Dodgers dealt him to the Orioles after the season in a deal that netted Frank Robinson. Alexander would win 192 games in the majors and, of course, later be dealt from the Braves to the Tigers for a minor leaguer named John Smoltz.
Steve Garvey, 3B, Michigan State:
The team's first-round pick in the June secondary phase (he'd been drafted out of high school by the Twins), Garvey would become the 1974 NL MVP and 10-time All-Star, finishing with 2,599 hits (1,968 with the Dodgers).
Ron Cey, 3B, Washington State:
A six-time All-Star and one of the most underrated players of the '70s, Cey hit 312 career home runs and drove in 1,139 runs.
In all, the Dodgers drafted 15 players who made the majors. While none of them become Hall of Famers, it's the greatest draft haul in history, and Garvey, Cey and Lopes formed three-quarters of the infield (along with Bill Russell) that helped the Dodgers reach four World Series between 1974 and 1981.