June, 30, 2011
6/30/11
11:00
AM ET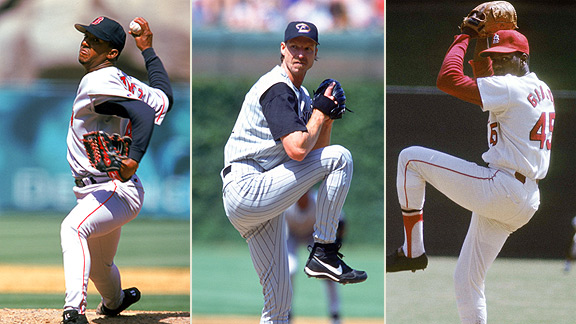 Getty ImagesWho had the best season since 1960? Pedro, Randy and Bob Gibson are in the running.
Last week on his blog, Curt Schilling wrote an interesting post on
what he called Pitcher Dominance Factor
-- a way to evaluate the best starting pitchers. His formula basically rates a pitcher by comparing his ERA to the league average ERA for starters, and comparing his baserunners allowed per nine innings to the league average.
In many ways the formula works perfectly -- it rewards pitchers with low ERAs and those who don't allow many baserunners. It has a couple primary flaws in assessing overall value: There are no park effects and it doesn't factor in innings pitched, so a 170-inning season can have the same "dominance factor" as a 250-inning season.
There's another flaw: All of Schilling's highest-rated seasons since 1960 came during the so-called steroid era. His top 13 seasons included five from
Pedro Martinez
; two apiece from
Randy Johnson
,
Greg Maddux
and
Kevin Brown
; and one each from
Roger Clemens
and
Johan Santana
. Now, maybe those
are
the best seasons since 1960, as those guys dominated in a high-scoring era.
Of course, there are other metrics out there as well to measure the best pitcher seasons.
Wins:
I think we all agree by now that wins aren't the best way to measure a pitcher. By this method, in 1990 Bob Welch had the second-best season since 1960 with 27 wins -- despite ranking just sixth in his own league in ERA and posting a mediocre 127/77 SO/BB ratio.
ERA:
Better than wins, but doesn't adjust for home ballpark, era (a 2.05 ERA in 1968, when the American League ERA was 2.98 is not as valuable as a 2.05 ERA in 1996, when the AL ERA was 5.00) or innings pitched.
ERA+:
The Baseball-Reference stat adjusts a pitcher's ERA for his park and era to a scale where 100 is average. Much better than regular ERA, although it still doesn't factor in innings pitched, unearned runs, or the quality of a pitcher's defense. It actually ends up generating a list similar to Schilling's as 15 of the top 25 ERA+ seasons since 1960 occurred between 1994 and 2005. ERA+ also doesn't factor in "dominance" in the sense of what Schilling was looking for, as it's possible to post a low ERA without dominating peripherals.
WAR (wins above replacement):
WAR establishes a value to a pitcher's season. FanGraphs and Baseball-Reference have different versions of WAR, and both arguably have a problem in generating a list of the best pitching seasons since 1960.
Under the Baseball-Reference formula, the more innings you pitch, the more value you accumulate. While completely logical (you're more valuable if you pitch more innings), its list ends up skewed towards the late '60s and early '70s, when starters routinely racked up 300-plus innings. Fourteen of its top 25 seasons reached 300 innings (and only four have fewer than 275), so modern pitchers struggle to make the top of the list since they don't pitch as many innings.
FanGraphs' version of WAR doesn't factor a pitcher's ERA or runs allowed. Instead, it extrapolates a pitcher's innings, strikeouts, walks allowed and home runs allowed (adjusted for park and era). It also only has pitcher WAR dating back to 1974. As it turns out, nine of its
top 10 seasons
occurred between 1995 and 2004, and you also end up with seasons like Schilling's 2002 in the top 10, when he had a great strikeout-to-walk ratio, but finished just 10th in the NL in ERA.
Both the B-R and FanGraphs lists are a terrific guide to greatness. I'm not knocking their lists. I'm just not sure either should be considered the definitive list of the "best" seasons. So here's my subjective 15 best since 1960, trying to account for the changing patterns of the game ... with apologies to the many great pitchers who finished 16th in my personal tally.
15. Steve Carlton, 1980 Phillies
24-9, 2.34 ERA, 304 IP, 243 H, 90 BB, 286 SO, 15 HR
The last pitcher to throw 300 innings, Carlton led the NL in wins, innings, strikeouts and SO/BB ratio. He held opponents to a .218 average -- and this despite Greg Luzinski usually behind him in left field.
14. Gaylord Perry, 1972 Indians
24-16, 1.92 ERA, 342.2 IP, 253 H, 82 BB, 234 SO, 17 HR
A great season that nobody remembers, although Perry did win the Cy Young Award. While 1972 didn't see much hitting -- there was a reason the AL instituted the DH rule for the 1973 -- Perry's workload was amazing as he had 29 complete games and averaged 8.5 innings per start. That's a lot of spit. From May 6 through Aug. 5, he started 22 games and averaged more than nine innings per start, all while compiling a 1.55 ERA.
13. Randy Johnson 2002 Diamondbacks
24-5, 2.32 ERA, 260 IP, 197 H, 71 BB, 334 SO, 26 HR
Johnson captured his fourth straight Cy Young Award with one of his many dominant seasons. He allowed two runs or fewer in 22 of his 35 starts and struck out 15 or more four times. He also tightened up when it most counted, holding batters to a .174 average in "high-leverage" situations, with just one home run allowed in 154 at-bats.
12. Zack Greinke, 2009 Royals
16-8, 2.16 ERA, 229.1 IP, 195 H, 51 BB, 242 SO, 11 HR
Greinke hasn't been able to replicate the consistency, focus or, yes, the little bit of magic he had in 2009. He allowed one run or less in more than half of his starts -- 18 of 33 -- but due to lack of run support won just 12 of those 18 games. (Thank you, Royals teammates.) His relative lack of stamina prevents him from ranking higher as he pitched fewer than seven innings in 13 of his starts.
11. Greg Maddux, 1995 Braves
19-2, 1.63 ERA, 209.2 IP, 147 H, 23 BB, 181 SO, 8 HR
The shortened season cost Maddux a few starts, otherwise he'd rank even higher with the additional innings pitched. He allowed 39 runs (38 earned) in 28 starts and had a remarkable 0.81 WHIP. His .224 OBP allowed is the second-best since 1960 and his ERA+ is third-best (he ranked even better in 1994, although he did allow nine unearned runs that year.) Maddux allowed more than two runs just four times and more than three runs just twice. He painted the corners, got grounders, didn't give up home runs and dominated without just blowing batters away. Some say he also had a few extra innings off the plate to work with thanks to the kindness of the umpires.
10. Tom Seaver, 1971 Mets
20-10, 1.76 ERA, 286.1 IP, 210 H, 61 BB, 289 SO, 18 HR
The only season on our list not to result in a Cy Young trophy, as Seaver lost out to Fergie Jenkins, who went 24-13 with a 2.77 ERA for the Cubs. The vote actually wasn't a travesty; once you adjust for Shea Stadium and Jenkins' 39 more innings pitched, the seasons are close in value. However, Seaver did outpitch Jenkins by quite a bit on the road: 1.63 ERA versus 2.70 ERA, so I rate Seaver's season as better. Seaver's 9.1 K's per nine led the league, at a time when the league average was 5.4, a ratio of +69 percent. In 2011, the NL average is 7.2 K's per nine; a rate of +69 percent would equate to 12.2 K's per nine.
9. Ron Guidry, 1978 Yankees
25-3, 1.74 ERA, 273.2 IP, 187 H, 72 BB, 248 SO, 13 HR
My buddy Bish is going to punish me for not ranking Louisiana Lightning her, but this is a tough field. Guidry, all 160 pounds of him, threw 16 complete games and tossed nine shutouts. Guidry didn't lose until July, and in September, with the Yankees battling the Red Sox for the AL East title, he went 6-1 with a 1.19 ERA. He went 3-0 in four starts against the Red Sox. Can we have a re-do on that AL MVP vote?
8. Pedro Martinez, 1999 Red Sox
23-4, 2.07 ERA, 213.1 IP, 160 H, 37 BB, 313 SO, 9 HR
Pedro's second of three Cy Young reasons resulted in an opponents' batting line of .205/.248/.288, as he allowed just nine home runs while fanning 13.2 per nine, the second-highest total ever for a starter. He fanned 15 batters four times, 16 once and 17 once. He allowed more than four runs just once, a nine-run disaster after his All-Star start that landed him on the DL. In fact, that's the only strike against this season: He made just 29 starts. Well, that and
these gloves he wore during the playoffs
.
7. Randy Johnson, 2001 Diamondbacks
21-6, 2.49 ERA, 249.2 IP, 181 H, 71 BB, 372 SO, 19 HR
And if you want to give him extra credit for winning three games in the World Series, please do so. Johnson struck out 10 or more in 23 starts, including a record-tying 20 on May 8 against the Reds. His 13.4 K's per nine is the best ever for a starter, left-handed batters hit one home run off him all season and you didn't dare dig him against him: he also hit 18 batters. Yes
6. Sandy Koufax, 1966 Dodgers
27-9, 1.73 ERA, 323 IP, 241 H, 77 BB, 317 SO, 19 HR
You could flip a coin between any of Koufax's three Cy Young seasons (1963, '64, '66). His strikeout and hit rates were better in 1965 than 1966, but he also allowed 14 more runs in the same number of starts. He threw 11 shutouts in 1963, but had a big home park advantage that year. In 1966, he had 1.52 ERA at home and 1.96 on the road, his most even split, so I give '66 the nod. This was his final season, as he pitched in so much pain doctors were injecting steroids directly into the elbow joint, according to Jane Leavy's "Sandy Koufax: A Lefty's Legacy." Down the stretch, with the Dodgers battling for the pennant, he started seven times over the final 26 days, posting a 1.20 ERA.
5. Steve Carlton, 1972 Phillies
27-10, 1.97 ERA, 346.1 IP, 257 H, 87 BB, 310 SO, 17 HR
If you want to argue that Carlton's season was the best ever, I won't mount much of a disagreement. Carlton famously won nearly half of his team's 59 wins as he completed 30 of his 41 starts and threw eight shutouts. He held batters to a .207/.257/.291 line while making 31 starts on three days' rest. He allowed one home run to a cleanup hitter all season. And did you check the innings pitched total? The National League OPS that year was .680, not far below the .704 so far this season. Carlton's 12.2 WAR ranks No. 1 on Baseball-Reference's list since 1960.
4. Roger Clemens, 1997 Blue Jays
21-7, 2.05 ERA, 264 IP, 204 H, 68 BB, 292 SO, 9 HR
While the AL was batting .271/.340/.428 in 1997, Clemens dominated with a .213/.273/.290 line. He won the pitching Triple Crown, leading the league in wins, ERA and strikeouts while allowing zero runs or one run in 20 of his 33 starts. Clemens had many great seasons -- seven Cy Young Awards, seven ERA titles -- but 1997 stands out as his best. Red Sox fans just punched the wall in disgust.
3. Dwight Gooden, 1985 Mets
24-4, 1.53 ERA, 276.2 IP, 198 H, 69 BB, 268 SO, 13 HR
He allowed just a .201 average and .270 slugging percentage. Left-handed batters had a lower OPS off him than right-handers. In September, with the Mets fighting the Cardinals for a division title, he went 4-0 in six starts with a 0.34 ERA. His strikeout rate of 8.7 per nine may not appear to stand out now, but that's 58 percent better than the NL average. He even hit .226. And he did all this at 20 years of age while partying with Darryl Strawberry.
2. Bob Gibson, 1968 Cardinals
22-9, 1.12 ERA, 304.2 IP, 198 H, 62 BB, 268 SO, 11 HR
Yes, 1968 was the Year of the Pitcher, but even in a league where the league ERA was 2.99, Gibson's 1.12 ERA ranks as fourth-best ERA+ since 1968. He threw 13 shutouts (meaning he was just 9-9 if he didn't throw up a zero). You can find areas to nitpick: He allowed nine unearned runs, he averaged just 7.9 K's per nine (although that was second-best mark in the NL). But this is what stands out most to me: He pitched seven innings his first two starts of the season ... and then at least eight every start after that. The man literally didn't have a bad game all season.
1. Pedro Martinez, 2000 Red Sox
18-6, 1.74 ERA, 217 IP, 128 H, 32 BB, 284 SO, 17 HR
Can a guy who pitched 87 fewer innings than Gibson have had a better season? (Vote in the poll!) Pedro's opponent batting line is just sick: .167/.213/.259. Absolutely incredible. He was throwing 95-mph Wiffle balls that year, unhittable heaters and changeups and curveballs with precise location. The AL ERA in 2000 was 4.92, giving Pedro the best adjusted ERA since 1960. I think I answer it this way: If I wanted one of these guys pitching at his peak in a game to save the future of mankind, I'd take 2000 Pedro Martinez.
(Statistics from Baseball-Reference.com and FanGraphs.com.)
Follow David on Twitter @dschoenfield and the SweetSpot blog on Facebook.
April, 7, 2011
4/07/11
5:10
PM ET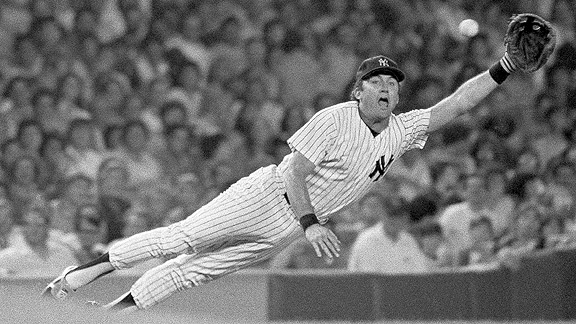 AP Photo/Ron FrehmFew third basemen could play the hot corner like Graig Nettles.
Last week, ESPNNewYork.com ran its list of the
50 greatest Yankees of all time
. I was part of the voting committee and ran
Nos. 50 through 31
on Wednesday. Here are Nos. 30 through 16. The overall panel ranking is in parenthesis.
30. Vic Raschi, P (39)
The ace of the Yankees staff along with Allie Reynolds when they won five straight World Series from 1949-53, Raschi was 120-50 with New York, annually placing among the league leaders in ERA, wins, innings, strikeouts and WHIP. He relied primarily on a high fastball, mixing in an occasional curve or change. He was at best in the World Series, posting a 2.24 ERA in 60 innings, including a two-hit shutout in Game 1 in 1950 and a three-hitter in Game 2 in 1952.
29. Roger Maris, OF (22)
His greatest play was one nobody talks about: In the bottom of the ninth of Game 7 of the World Series, Felipe Alou doubled into the right-field corner with two outs and Willie Mays on first. Maris somehow cut the ball off (Alou was a right-handed batter) before it reached the wall, holding Mays at third base. When Willie McCovey then lined out, the Yankees won 1-0.
28. Lefty Gomez, P (14)
It's really a shame we don't give guys nicknames like "Goofy" anymore. Gomez was spectacular in 1934 and 1937, years he led the AL in wins, ERA and strikeouts, and went 6-0, 2.86 in seven career World Series starts. He mixed in less impressive years but won 189 games in pinstripes.
27. Gil McDougald, IF (47)
A gifted infielder who played third, second and short -- basically, wherever Casey Stengel needed him -- and hit 10-15 home runs a season, got on base and played in eight World Series in his 10 seasons with the Yankees. Largely forgotten now, but he was a five-time All-Star, finished in the top 10 in the AL MVP voting three times, and if players were described as "glue" guys in the '50s, McDougald would have been described as the "ultimate glue guy."
26. Tony Lazzeri, 2B (18)
The Hall of Famer drove in 100 runs seven times -- only
Jeff Kent
with eight has more as a second baseman. Lazzeri had one of the great days in baseball history on May 24, 1936, when he hit three home runs, a triple and drove in 11 runs.
25. Mel Stottlemyre, P (31)
More famous now for being Joe Torre's pitching coach for many years, Stottlemyre went 164-139 in pinstripes and pitched 250-plus innings nine seasons in a row -- with a high of 303 in 1969 -- before his arm finally gave out. His rookie season was 1964, the last year of the dynasty, and thus his only World Series appearance.
24. Roy White, OF (44)
Spent his entire career with the Yankees. Vastly underrated while still active -- he had a broad-based range of skills that didn't stand out, plus most people at that time had no idea that drawing a lot of walks was a good thing -- Bill James has written how he was a better player than Jim Rice. (
Baseball-Reference agrees
, giving White a career WAR of 44.5 compared to Rice's 41.5.) His best seasons came during offensive doldrums of the late '60s and early '70s and B-R rates him as the best position player in the AL in 1971, when he hit .292/.388/.469, big numbers for the era. The MVP voters didn't agree: He didn't receive a single vote.
23. Charlie Keller, OF (36)
Had Hall of Fame numbers through age 29, combining power and 100-plus walks a year, but a ruptured disc in his back ruined the second half of his career.
22. Allie Reynolds, P (26)
"Superchief" (he was one-quarter Creek Indian) was Casey Stengel's secret weapon during the Yankees' five straight titles from 1949-53, starting and relieving as needed. He went 7-2 in his World Series career with a 2.79 ERA, posting five complete games and four saves. In 1952 against the Dodgers, he pitched a four-hit shutout in Game 4, saved Game 6, and pitched three innings of relief to win Game 7. He delivered 131 of his 182 career victories with the Yankees, after coming in a trade with Cleveland for Joe Gordon.
21. Graig Nettles, 3B (29)
One of the great heists in Yankee history was stealing Nettles from the Indians after the 1972 season for John Ellis, Jerry Kenney, Charlie Spikes and Rusty Torres; there's a reason you've never heard of any of those guys. A gifted fielder who remained a productive hitter with the Yankees into his late 30s, during the 1977-78 World Series years Nettles finished fifth and sixth in the AL MVP voting -- ahead of Reggie Jackson both seasons.
20. Phil Rizzuto, SS (20)
Would rate higher if you want to give extra credit for his announcing career.
[+] Enlarge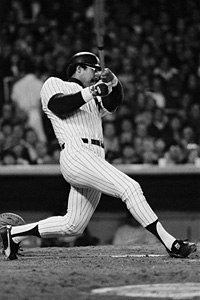 AP File PhotoReggie Jackson made an impact in his five seasons with the Yankees.
19. Reggie Jackson, OF (15)
Reggie was a Yankee for only five seasons, so it's difficult to place him much higher. While still a great hitter in the Bronx, his fielding became an issue and he was no longer one of the very best players in the league as he had been with the A's (Baseball-Reference has him as the AL's best player three seasons with Oakland). But he obviously was dynamic, memorable and his three-homer World Series game in 1977 gave the Yankees their first World Series title since 1962 and cemented his legend status.
18. Alex Rodriguez, 3B (13)
A-Rod has averaged 38 home runs, 120 RBIs, 107 runs and a .952 OPS with the Yankees. He's won two MVP awards. He won a World Series. His place as an all-time great Yankee is deserved and should be unquestioned by now. In fact, he even finally qualifies as a True Yankee.
17. Ron Guidry, P (17)
I can still remember sitting in the family station wagon and hearing the report on the radio that Rice had edged out Guidry for the 1978 AL MVP Award. Rice received 20 first-place votes, Guidry the other eight. I wasn't a Yankees fan, but I was angry that Guidry didn't win the award. I mean,
25-3
just sounded surreal. He never came close to that season again, of course, but he won 20 twice more and finished with 170 career wins.
16. Willie Randolph, 2B (33)
A tremendously underrated player (check his ranking from our panel) who did everything well except hit for power. Even then, he was one of the best offensive second baseman in baseball. Here are his annual rankings among all second basemen via Baseball Prospectus' VORP statistic (runs produced above a replacement-level second baseman): 5th, 7th, 3rd, 4th, 1st (1980), 12th, 8th, 13th, 6th, 9th, 5th, 2nd (1987), 27th, 12th (no longer with Yankees), 27th, 6th, 21st. Factor in that he was a very good glove man and a good baserunner who had more than 2,200 career hits, and you can make a Hall of Fame case for him.
Follow David Schoenfield on Twitter at @dschoenfield. Follow the SweetSpot blog at @espn_sweet_spot.