August, 2, 2011
8/02/11
4:23
PM ET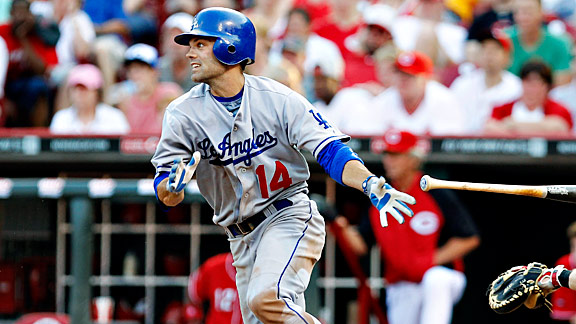 Joe Robbins/Getty ImagesJamey Carroll is hitting .297 but has just 10 RBIs in more than 300 at-bats.
Jamey Carroll
, the Dodgers' infielder, is a nice little player. He has no power -- he's actually one of the few major leaguers who still chokes up on the bat -- but he hits for enough average and draws enough walks to make him a useful utility guy. He's also a nice story -- he didn't reach the majors until he was 28 years old and now at 37 is arguably having the best season of his career, hitting .297 with a .370 on-base percentage. He gets on base more often than
Hunter Pence
or or
Troy Tulowitzki
or
Albert Pujols
or
Ryan Howard
or any number of guys that announcers say pitchers "fear."
He also has just 10 RBIs in 358 plate appearances. While he's hitting .275 with men on base, he's hitting just .170 with runners in scoring position (9-for-53). Some of it is just bad luck, some of it is bad timing, some of it is lack of opportunity. Whatever the reason, he just hasn't knocked in the runs -- in fact, I tweeted last night that Arizona pitcher
Daniel Hudson
has more RBIs.
As close to a full-time player, Carroll has a chance to become just the fifth player since 1920 to receive 500 plate appearances and drive in fewer than 20 runs.
Ron Hunt, 1972 Expos: 531 PAs, 18 RBIs.
Hunt is known for his single-season record of getting hit by 50 pitches. In fact, that was really the only skill he brought to the table, and it made him of the most despised players in the game. In '72, he hit .253 with 20 doubles and no triples or home runs. As the Expos leadoff batter, he didn't have a lot of RBI opportunites, but hit just .195 with runners in scoring position. To prove this season was no fluke, he had 18 RBIs in 1973 in 486 PAs.
Gary Pettis, 1989 Tigers: 536 PAs, 18 RBIs.
Pettis hit .257 and drew 84 walks, but managed just 15 extra-base hits in 444 at-bats. Pettis hit .190 with runners in scoring position (16-for-84), with no extra-base hits.
Luis Castillo, 2000 Marlins: 626 PAs, 17 RBIs.
Castillo actually had a terrific season in 2000, hitting .334, posting a .418 on-base percentage and scoring 101 runs. But while he hit .380 with the bases empty, he hit just .217 with men on base and .211 with runners in scoring position (19-for-90).
Enzo Hernandez, 1971 Padres: 618 PAs, 12 RBIs.
That's right, the great Enzo played 143 games and equaled the RBI total that Jim Bottomley and Mark Whiten produced in one game. Enzo only struck out 34 times, but needless to say he didn't do much when he put the ball in play, hitting .222 with just nine doubles and three triples. The Padres were a woeful offensive club, scoring just 486 runs, and he hit .182 with runners in scoring position (19-for-99). It will be near impossible to replace Hernandez as the RBI-less King: He had 2,327 career at-bats and just 113 RBIs.
There are actually two players since 1920 with more plate appearances than Carroll's 358 and fewer RBIs -- the late Dick Howser had six RBIs in 377 PAs for the 1965 Indians and Wayne Tolleson of the 1984 Rangers had nine RBIs in 378 PAs.
Follow David Schoenfield on Twitter @dschoenfield.
March, 19, 2011
3/19/11
12:15
PM ET
By
Chris Quick
| ESPN.com
In the arena of sports, in my opinion, baseball is the most workman-like game out there. Sure, you'll find players like
Alex Rodriguez
,
Barry Bonds
or Babe Ruth -- players with talent so huge and vast that they seem like perfectly formed giants by the time they've taken their first swing. But, you'll also find players like Ron Hunt. Guys who didn't have the talent to bash 50 home runs in a single season or steal 60 bags but who found a way to succeed in the majors by sheer determination alone.
The phrases "scrappy" or "gamer" have been tossed around so much in modern baseball they've lost some of their meaning. However, Ron Hunt's 1971 season is the ultimate example of succeeding at all costs.
[+] Enlarge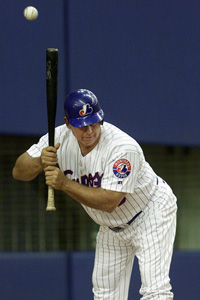 AP Photo/Ryan RemiorzRon Hunt, shown here getting plunked during an Expos old-timers game in 2002, holds the record for HBPs in a single season.
In 1971, while playing second base for the Montreal Expos, Ron Hunt was hit by a pitch 50 times -- setting a major league record for most HBPs in a season. Hunt shattered the previous record of 31 plunks in a season that was originally set by Steve Evans way back in 1910.
Some facts from Hunts' record-breaking season in '71:
Nolan Ryan, never a stranger to hitting batters (158 career HBP), hit Hunt four times in '71, the most of any pitcher that year.

Bill Bonham must have really despised pitching to Hunt. Hunt had four plate appearances against Bonham and was hit in three of them. Hunt's line against Bonham reads: 4 PA, 1 AB, 0 H, .000/.750/.000

Hunt had six games in which he was hit by a pitch at least two times.

For Ron Hunt, getting hit by pitches was a real strategy. He finished '71 with a sterling OBP of .402. If you removed even half of his HBPs, his OBP drops all the way to .377. If you removed all of his HBP, his OBP plummets to .350. By the result of getting hit by pitches, Hunt added nearly 50 points to his OBP in '71.
There's something admirable about knowing your limitations, and finding a way to succeed even if you aren't the most talented player on the field. For me, Ron Hunt embodies that "get the job done" workman mentality. He's another reason (among countless others) that baseball is such an interesting game to follow.
Chris Quick writes Bay City Ball, a blog about the San Francisco Giants.