February, 25, 2014
2/25/14
9:49
PM ET
Another day with two Hall of Famers: Monte Irvin and Ron Santo. Plus a guy who
looked
like a sure bet for the Hall of Fame in his early 20s, a guy who kicked a water cooler or two and a guy who starred for the last Cubs team to play in a World Series.
Monte Irvin: Born 1919
Irvin was born in Haleburg, Alabama, in 1919, although he grew up in New Jersey, where he was a four-sport star in high school. Here's something that may blow you away: Irvin was born the same year as Jackie Robinson (Branch Rickey had wanted to sign Irvin along with Robinson when Irvin got out of the service in World War II but Irvin elected to play in the Negro Leagues before eventually signing a few years later with the New York Giants). This is the blow-you-away part: Irvin is still alive, 95 years old; Robinson, sadly, has been deceased 41 years.
How good was Irvin? He was 30 before he reached the major leagues, 31 in his first full season. From 1950 to 1953, when he was 31 to 34 years old, he hit .314/.403/.511 -- ranking eighth in the majors in OPS over that span. Considering he was probably already slightly past his peak, that tells you what kind of hitter he was before reaching the major leagues. He also mentored Willie Mays when Mays was called up in 1951. The Giants, of course, rallied to beat the Dodgers to win the pennant and Irvin led the league in RBIs and finished third in the MVP voting.
In 1973, Irvin became the fourth Negro Leagues player elected to Cooperstown, following Satchel Paige, Josh Gibson and Buck Leonard. Was he the fourth-greatest Negro Leagues player? No, he wasn't. Oscar Charleston was certainly the better all-around player, a center fielder many compared to Willie Mays (Buck O'Neil said Charleston was better). Pop Lloyd was a shortstop Connie Mack said was the equal of Honus Wagner. A few others. But Irvin was clearly highly regarded, although I'm guessing it helped that he played a few years in the majors for a prominent franchise and remained in the game (he was working for the commissioner's office when elected).
Here's a
video clip
with a few highlights of Irvin playing for the Giants.
Andy Pafko: Born 1921
Pafko just passed away last October at the age of 92, so maybe Feb. 25 is a good day to be born to live a long life. Pafko had a 17-year career and played in four World Series with three different franchises. He was a good player with two outstanding peak seasons in 1948 (6.2 WAR) and 1950 (6.6 WAR) and finished with 36.7 career WAR. His SABR bio points out that he played in the last World Series the Cubs reached in 1945, was in left field for the Dodgers when Bobby Thomson's home run soared into the stands over his head and returned to his home state of Wisconsin to play for the Braves when they moved from Boston (he was the right fielder before Henry Aaron). Known for his strong arm, Pafko hit as many as 36 home runs in a season and three times hit .300.
In many ways, Pafko was a symbol of his generation of Americans. His parents immigrated from Czechoslovakia (two older sibling were born there) to Wisconsin, where they owned a 200-acre diary farm. Pafko grew up milking cows ... and playing baseball. He started out playing in local amateur leagues before signing with Eau Claire of the Northern League in 1940 and eventually getting purchased by the Cubs. After nine years with the Cubs, fans were crushed when he was traded to the Dodgers.
Ron Santo: Born 1940
I'm sure you know the Santo story. Long a controversial Hall of Fame candidate -- arguably the best player not in the Hall of Fame for many years, until he was finally elected a year after he passed away in 2010.
Here's what
Nick Pietruszkiewicz wrote on the SweetSpot blog when Santo was finally elected.
Cesar Cedeno: Born 1951
Most Wins Above Replacement through age-23, position players: Ty Cobb, Ted Williams, Mel Ott, Ken Griffey Jr., Mickey Mantle, Alex Rodriguez, Al Kaline, Arky Vaughan, Rogers Hornsby, Andruw Jones, Eddie Mathews, Jimmie Foxx, Cesar Cedeno.
Paul O'Neill: Born 1956
A good player for the Reds, the Yankees got him for Roberto Kelly in what was essentially a challenge trade. With the Yankees, O'Neill quit trying to hit everything out of the park (Lou Piniella wanted him to hit home runs) and settled into being a line-drive hitter with 20-homer power. A .259 hitter with the Reds, O'Neill hit .300 his first six years with the Yankees, including a .359 mark in 1994 to win the batting title. Here's a trivia question: How many players set their career high in stolen bases in their final season? O'Neill stole 22 bases in 2001, when he was 38.
(I don't if anyone else did it. Where's ESPN Stats & Info when you need those guys?)
December, 6, 2011
12/06/11
12:50
PM ET
Baseball Today
is back on Tuesday and live from the winter meetings in Dallas -- well, one of us is! -- as me and Keith Law talked about the busy baseball offseason. Guess what, we'll be podcasting on Wednesday and Thursday as well! As for the topics, glad you asked ...
1. I compared what the
Miami Marlins
are doing to Richard Pryor's exploits in the fun movie "Brewster's Millions." Hey, I enjoyed the movie, at least. How will it work out for the Marlins?
2. What else is on the horizon for the next 24 hours at the winter meetings? Did I mention Keith Law is actually there getting all the dirt? We discuss why a deal involving
Prince Fielder
news isn't likely pending but plenty of other stuff is.
3. Kudos to the
Los Angeles Dodgers
for assembling … well, we're not really sure what they're doing in L.A. But what could go wrong with
Mark Ellis
,
Chris Capuano
and
Aaron Harang
aboard?
4. Want emails? We got emails. Today we serve up information on under-25 stud
Jason Heyward
and how to cook olive oil. Yep, I don't write the emails.
5. Ron Santo makes it into the Hall of Fame, but certainly a little late. Still, it's a better Hall with him in it.
Tune in Wednesday as we talk more baseball with KLaw, discussing the big and small news from Dallas and also answer your emails. For now, download Tuesday's Baseball Today and have a great day!
December, 5, 2011
12/05/11
11:09
AM ET
By
Nick Pietruszkiewicz
| ESPN.com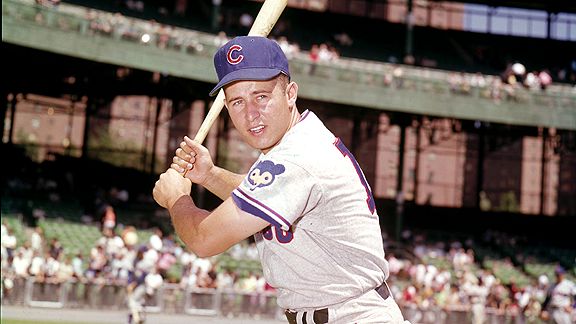 Louis Requena/MLB Photos via Getty ImagesFormer Chicago Cubs third baseman Ron Santo was elected to the Baseball Hall of Fame on Monday with at least 75 percent of the vote from the Golden Era committee.
Ron Santo wanted this day for so long, and now that it's finally here, he isn't. The
Hall of Fame call
, the one he waited for and agonized over pretty much his entire adult life, came on Monday, but he's no longer with us to answer the phone and hear this: "Ronnie, welcome to the Hall of Fame." And that's not right.
He was asked once, on one of the many days a new group of inductees was announced and he wasn't among them, if he'd be OK getting a spot in Cooperstown, even if it came after he died. And, in that style that endeared him to generations of Cubs fans, he said "I don't want to go in post-humorously." Of course, he meant posthumously, but then an E-5 on words was part of what made Ron Santo.
I spent seven years in Chicago, covering the Cubs and White Sox, and to this day say the most interesting person I've ever covered was Ozzie Guillen. The most impressive was Ron Santo. And for so many people, Ron Santo didn't belong in the Hall because he was one of the best third basemen of his generation. They didn't want him in because of his 342 homers, 1,331 RBIs and 2,254 hits. I mean, those were good enough reasons. But so many of them wanted him in because he was Ron Santo.
I know it's not the best baseball argument, and that writers who serve as gatekeepers to Cooperstown shouldn't vote with their hearts with something as important as entry into the Hall of Fame. But all those people that wanted Ron Santo in for being simply Ron Santo, I get it. So no, this isn't a piece about the numbers and the on-field credentials.
I admit that when I first arrived in Chicago, I didn't understand what Ron Santo meant to the city, to these people, to Cubs fans and to those suffering from diabetes. To me, he was a shrieking, name-mispronouncing homer cluttering up a radio broadcast. Before his health rapidly declined, Santo took a few days off from Cubs broadcasts. In his absence, I wrote a column for the small suburban newspaper for which I worked, a piece saying what a break it would be for his partner, the classy Pat Hughes, to have a few days off from Ronnie's malapropisms, from the recaps of his between-innings trips to the bathroom, from his butchering of the English language. I recalled some of his classic mistakes. (Note: Let's get something straight, I wrote this before the leg amputations, before the bladder cancer, before the suffering reached the unimaginable levels it would in the years to come. I mean, even I'm not heartless enough to pick on someone fighting debilitating illnesses). People wanted me fired. Or shot. Or fired, and then shot. And you know, they had a point. All these years later, I regret nothing more in my professional life than that column. I was young and stupid. Mostly, I couldn't have been more wrong.
No, these aren't baseball arguments, but if you spent time around Ron Santo, you quickly realize you don't think with your mind, you think with your heart. You don't think the radio broadcast going off the rails is ridiculous; you think it fits, it's perfect. (
Here's a brief, but oh-so-perfect sampling
).
Ron Santo was the crazy grandfather who overlooked your flaws; seriously, how else could someone love some of those awful Cubs teams the way Ronnie did. He was the voice of a fight, raising millions upon millions for the Juvenile Diabetes Research Foundation (JDRF). He was a stubborn patient, the one who wouldn't let the disease -- actually, the diseases -- keep him from living his life. I saw no-hitters and 60-homer seasons in Chicago; I saw a team on the other side of town win a World Series. Yet, the achievement that stands above all else was watching Ron Santo, on two prostheses, work his way down that steep flight of stairs into the Cubs' clubhouse, finally get to the bottom and smile. Not complain. Never complain. Smile. Walk through the clubhouse and say hello to reporters and players and clubhouse staff, asking "How you feeling today, big boy?"
Oh, I saw or heard about some funny ones, too. About the hairpiece catching on fire in the booth at Shea Stadium. The countless drinks he spilled on his notes or the fax machine in the broadcast booth. And, oh, the mess he made with words. OK, so the man could never remember my last name. And so, to see what kind of torture we could put him through, his partners handed him a piece of paper during a broadcast so he could wish me happy birthday on the air. He looked at the 15 letters and fought for 10 minutes -- live on radio -- that there's no way that "Pietruszkiewicz" was a real last name. I still have the tape. Listening to everyone laughing in the background might be the best birthday wish I ever got.
In a city that loved people with one name -- Jordan … Ditka … Sweetness … Ernie … -- it's not an exaggeration to say the name they loved the most was Ronnie.
And in his life, too short but incredibly well lived, he wanted two things more than anything -- a World Series title for his Cubs and to hear someone say, "Ronnie, welcome to the Hall of Fame."
I wish we could all see him push himself out of his chair on that stage this summer, surrounded by Hall of Famers --
fellow
Hall of Famers -- and fumble and mumble and shriek his way through a speech that wouldn't leave a dry eye anywhere in Cooperstown.
Yes, this is a happy day. It's a sad one, too.
Nick Pietruszkiewicz is an editor for ESPN.com Follow him on Twitter at npiet_ESPN.
November, 3, 2011
11/03/11
11:57
PM ET
This year's
Veterans Committee ballot
is called the "Golden Era" ballot, which will consider candidates from the 1947-1972 era. Now, I think "Golden Era" is a misleading label for an era that actually saw stagnant attendance -- in 1947, the average attendance per game was 15,989, while by 1972 it had dropped to 14,507 -- but that's another column.
The 16-member committee will vote on 10 candidates, with 12 votes needed for enshrinement. If you remember, last year's Veterans Committee elected only executive Pat Gillick from the post-1972 era, with union leader Marvin Miller falling one vote short of election,
I think the Golden Era ballot actually has a few stronger candidates, especially if you believe in a big Hall. I advocate the following two candidates for the Hall of Fame.
[+] Enlarge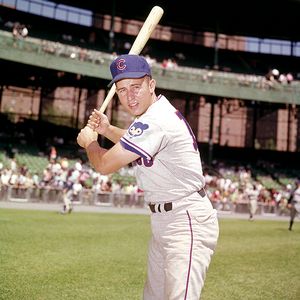 Louis Requena/MLB Photos via Getty ImagesYou could argue that Ron Santo, who was a nine-time All-Star, was the best third baseman of the 1960s and one of the best of all-time.
Ron Santo, 3B, 1960-1974
Stats:
.277/.362/.464, 342 HRs, 1,331 RBIs, 2,254 hits, 5 Gold Gloves, 9-time All-Star
Much has been written about Santo, whose vote total on the BBWAA ballot peaked at 43.1 percent in 1998, his final year of eligibility. The best way to assert his candidacy is perhaps just to list the greatest third basemen of all time. Here's the Baseball-Reference.com top 10, sorted by Wins Above Replacement:
Mike Schmidt: 108.3 WAR
Eddie Mathews: 98.3
Wade Boggs: 89.0
George Brett: 85.0
Chipper Jones: 83.0
Brooks Robinson: 69.1
Scott Rolen: 66.7
Ron Santo: 66.4
Home Run Baker: 63.7
Graig Nettles: 61.6
I'm picking and choosing here, but Santo has more hits than Schmidt, more home runs than Brett, Boggs or Robinson, more RBIs than Boggs, more walks than Brett, a higher batting average than Schmidt, Mathews or Robinson. He's clearly the best eligible third baseman
not
in the Hall of Fame, and there are several who rank below him in career WAR who
are
in the Hall, including Baker, Pie Traynor, George Kell, Freddie Lindstrom and Jimmy Collins.
I think one argument used against Santo is that he'd be the fourth Cubs player from his era to make the Hall, joining Ernie Banks, Billy Williams and Fergie Jenkins. How can a team have four Hall of Famers but never win anything? Well, quite easily when you have a lot of bad teammates. It's also important to note that the players' peaks didn't overlap. Banks was a phenomenal player when he won two MVP awards playing shortstop in the 1950s, but after he hurt his knee and moved to first base, he wasn't much of a player the second half of his career; from 1962 to 1971 he posted a .306 on-base percentage and just 8.7 WAR. He wasn't contributing much by the time Jenkins began peaking in 1967.
Plus, you have to ask yourself: Why the other three but not Santo? Here are the career WAR for the four:
Jenkins: 81.3 WAR (made it third year)
Santo: 66.4 WAR
Banks: 64.4 WAR (made it first year)
Williams: 57.2 WAR (made it sixth year)
OK, Jenkins and Banks make sense. But why Williams and not Santo? His career hitting stats are a little better, but he was a mediocre left fielder while Santo was a Gold Glove third baseman. Williams was certainly more liked than Santo and that eventually meant something to the voters. He hung on a few years longer to add to his counting totals. While Santo was the best third baseman in the National League in the 1960s, some of his skills weren't obvious -- he led the league four times in walks and was a solid defensive third baseman, things voters weren't necessarily factoring in while assessing his value. Baseball-Reference rates Santo as one of the top 10 position players in the NL seven times, including No. 1 in 1967 and No. 2 in 1965 and 1966.
[+] Enlarge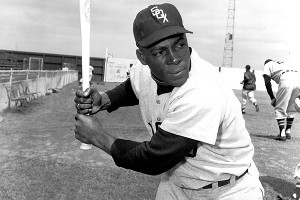 AP PhotoMinnie Minoso finished fourth in the MVP voting four times and didn't start until he was 25 because of the color barrier
I don't know if Santo will get in -- he wasn't particularly liked by his peers either, and some of them will be on the committee (including Williams, which could certainly help Santo). To me, the bottom line is Ron Santo won't be lowering the standards of the Hall of Fame, but raising them; he's the best player at his position not already in, and arguably the best eligible player at any position not already in. Sadly, he passed away last December, and won't get to enjoy the moment if he's finally elected.
Minnie Minoso, OF, 1949-1964
Stats:
.298/.389/.459, 186 HRs, 1,023 RBIs, 1,136 runs, 1,963 hits, 9-time All-Star
Minoso's first full season in the majors came in 1951, when he was 25 years old. He hit .326, scored 112 runs, led the league in triples and stolen bases and finished fourth in the MVP vote. From 1951 until 1962 (when he fractured his skull and wrist running into a wall, and later fractured his forearm when hit by a pitch) Minoso had the seventh-highest WAR among all major league position players, trailing only Mickey Mantle, Willie Mays, Eddie Mathews, Stan Musial, Hank Aaron and Ernie Banks. In other words, for an 11-year span, he was one of the best players in baseball.
Minoso did everything well: He hit for average, drew walks, had speed, hit for some power, was durable and was regarded as a good outfielder (the Gold Glove award wasn't created until he was 31, but he won three). The writers of his time knew he was an excellent player -- he finished fourth in the MVP voting four times, an impressive achievement considering he never played for a pennant winner.
Of course, his career numbers may not look impressive, but remember: His career didn't start until he was 25 because of the color barrier. He was the first black player for the White Sox. Considering he was already a star as a rookie, what if he had reached the majors when he was 21? Now you're adding another 700 hits or so, 400 runs and 350 RBIs to his career totals and 15 seasons as one of the best players in baseball. It seems to me more than unfair to discount Minoso's totals simply because he got a late start in the major leagues due to racial circumstances.
Minoso is 85 years old and still going strong. Put the man in Cooperstown. He deserves it.
Coming up on Saturday: I'll check out the other eight candidates on the ballot.
August, 17, 2011
8/17/11
12:35
PM ET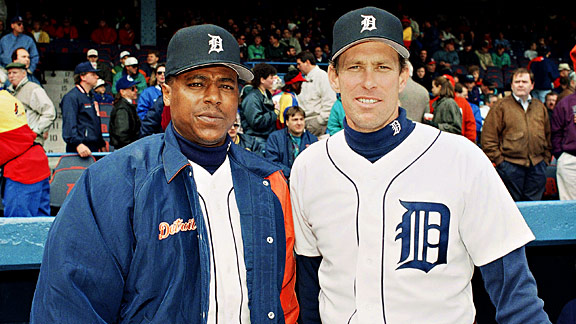 AP Photo/Lennox McLendonLou Whitaker and Alan Trammell formed one of the best double-play combinations in history.
With
Jim Thome
hitting his 600th home run and the Cubs unveiling a statue last week to honor Ron Santo, the Hall of Fame has been on my mind. I'll go more in-depth on Hall of Fame analysis in the offseason, but here are 10 eligible players who deserve a plaque in Cooperstown.
Catcher: Ted Simmons.
Simmons was a career .285 hitter with more than 2,400 hits and during his 1971-1980 peak he hit .301/.367/.466. Only Yogi Berra has more RBIs among catchers -- yes, Simmons has more than Bench,
Mike Piazza
, Gary Carter or Carlton Fisk. He has more hits than any catcher except
Ivan Rodriguez
. I'm not saying Simmons was
better
than those guys, but he produced at the plate like few catchers.
First base: Jeff Bagwell.
Lou Gehrig, Jimmie Foxx,
Albert Pujols
and Jeff Bagwell: The four greatest first basemen of all time. Bagwell received only 41.7 percent of the vote in his first year on the ballot. He'll get in eventually.
Second base: Lou Whitaker.
Here are the players who rank ahead of Whitaker on Baseball-Reference's WAR (wins above replacement-level) list for second basemen: Rogers Hornsby, Eddie Collins, Joe Morgan, Nap Lajoie, Charlie Gehringer and Frankie Frisch. That means Whitaker ranks just ahead of
Craig Biggio
,
Roberto Alomar
and Ryne Sandberg. OK, maybe you don't think Whitaker is quite as good as those three. But he had a terrific all-around game, with good power (242 home runs), patience (.363 career OBP -- the same as Biggio, 19 points higher than Sandberg), a good glove and speed on the bases. Yet he received only 15 votes his first year and was booted off the ballot.
Third base: Ron Santo.
Christina Kahrl made Santo's case here
.
Shortstop: Alan Trammell.
Barry Larkin
received 62 percent of the vote last year and should deservedly make it this year, so I'll stump for Trammell, who peaked at 24 percent last year but is running out of time, as it was his 10th year on the ballot. Trammell hit .300 seven times, won Gold Gloves, was the best player on a World Series winner and should have won the 1987 AL MVP Award.
Left field: Tim Raines.
Arguably the best player in the NL in the 1980s, or at least for a five- or six-year span. (B-R ranks him fifth, behind Mike Schmidt, Dale Murphy, Ozzie Smith and Keith Hernandez, but Raines wasn't a rookie until 1981. Give him another season and he'd move up to second.) He reached base more times in his career than
Tony Gwynn
(3,977 to 3,966, in just 127 more plate appearances). He was one of the greatest basestealers of all time.
Center field: Dale Murphy.
If you like peak value, then Murphy is your guy.
Right field: Larry Walker.
His case isn't a slam dunk, but I was surprised he fared so poorly on his first year on the ballot (20.3 percent). The various injuries hurt his counting stats and the three batting titles are discounted a bit because of Coors Field, but the guy still produced a .313/.400/.565 and was regarded as the best right fielder in the game for many years.
Designated hitter: Edgar Martinez.
Simply put:
One of the greatest hitters of all time
.
Pitcher: Kevin Brown.
Now that Bert Blyleven finally made it, there isn't an obvious pitcher. The six highest guys on B-R's list would be Rick Reuschel, Brown, Luis Tiant, Tommy John, Jerry Koosman and
David Cone
. Brown received just 12 votes last year, despite 211 wins, two ERA titles, a remarkable stretch from 1996 to 2001 when he posted a 2.53 ERA during the height of the steroid era, and a World Series title with the Marlins. Plus, he helped the Red Sox win it all in 2004.
Follow David Schoenfield on Twitter @dschoenfield.
August, 12, 2011
8/12/11
3:30
PM ET
By
Christina Kahrl
| ESPN.com
The bronze might be on the corner of Sheffield and Addison instead of in Cooperstown, but the statue of Ron Santo unveiled on Wednesday cements his place in baseball history where it was made, in the heart of Wrigleyville on Chicago's north side.
[+] Enlarge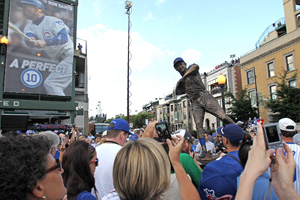 Jonathan Daniel/Getty ImagesFans take photos of a statue of Ron Santo which was unveiled outside of Wrigley Field this week.
As gestures go, it's a nice touch, as Santo's likeness in bronze now joins those of Billy Williams and Ernie Banks. Fergie Jenkins' statue can't be far behind -- then all four great players from the ill-starred Cubs of the late '60s and early '70s will be honored at Wrigley. Statues are beginning to catch up to retired numbers; the Cubs have retired just six numbers to honor seven players (counting the MLB-wide honor accorded Jackie Robinson's No. 42): Williams (No. 26), Banks (No. 14), Santo (No. 10), Jenkins and Maddux (both wearing No. 31), and Ryne Sandberg's No. 23.
That may seem slightly strange, or just reflective of the Cubs' decades of haplessness. But it's also something Santo deserved as one of the game's all-time best third basemen, and in the absence of tribute elsewhere to Santo's place in the game's history, the statue and the retired number are what will have to do for now.
Santo's place as an all-time great has been acknowledged more in sabermetric circles than in the mainstream, but the raw numbers aren't exactly shabby: 342 home runs, a career .277/.362/.464 line generated while batting during one of the game's offensive doldrums of the high-mound '60s. Years before the sabermetrics revolution, Santo was an OBP star, leading the league in walks four times, twice in OBP. He was also remarkably durable, playing in 154 games or more in 11 straight seasons; if you recognize that health is a skill as valuable as any other, Santo had it, but playing for Leo Durocher, you pretty much had to.
Break out the more advanced stats, and you can get an even greater respect for his value: among players who spent at least 60 percent of their careers at third base since World War II (and integration in '47), Santo ranks as one of the top 10 third basemen via WAR, if you check the table.
Obviously, there are flaws to this sort of quick-and-dirty exercise. Jay Jaffe's
more thorough exercise on third basemen
, repeated on the occasion of Santo's passing in December, essentially has Schmidt, Mathews, Boggs, Rolen, Brett, Santo and Jones at the top of his rankings. And it's notable that a year from now we'll be moving Alex Rodriguez onto this list, when A-Rod will have finally played more games at third than short. He'll be knocking everyone -- from Michael Jack Schmidt on -- down a peg.
However you want to slice it, Santo belongs in the conversation, and always has. He's wound up as the first guy on the wrong side of that line between Hall of Famers and everybody else. Maybe that line will move upward with Rolen once his career ends, should the electors not take a shine to him, but if it does that won't be just to either man. The most important thing to note beyond Santo's value in simple tallies is the notion of position scarcity. At a time when third basemen are in short supply, we should be especially sympathetic, because the '60s had much the same problem. Other than Dick Allen's sporadic, oft-bobbled brand of greatness, Santo was the best player in the league at the position, and the guy who, through his peak, was also on the short list for best players in the league, at any position.
The indignity of Santo's absence from the Hall of Fame is one of those institutional mistakes that may never get corrected, but you can hope that isn't so. The BBWAA blew it at every point despite getting multiple bites at this apple, even when given a reprieve after initially blowing it on his first ballot in 1980 -- Santo was in a group of players re-added to the ballot after initially getting dropped for not getting enough votes the first time out. Even restored to the ballot, the writers never gave Santo more than the 43 percent he received in his last year on their ballot in 1998. Iterations of the Veterans Committee placed him first or tied for first on their ballots three different times (in 2005, 2007 and 2009) without ever qualifying him for the Hall, so it isn't like the writers are alone in booting their opportunities to give Santo his props.
Obviously, if Santo finally does get in posthumously as part of the 2012 VC class, it's a long overdue bit of recognition, and just as obviously it will be far too late to have the reliably genial Santo there to accept the honor. At this point, voting for Santo might have as much to do with purging any lingering guilt among the electors as it does with belatedly acknowledging the obvious: Ron Santo belongs in the Hall of Fame. At least in Chicago there's a piece of bronze to provide the man his tribute, today and tomorrow.
Christina Kahrl covers baseball for ESPN.com. You can follow her on Twitter.
December, 3, 2010
12/03/10
2:30
PM ET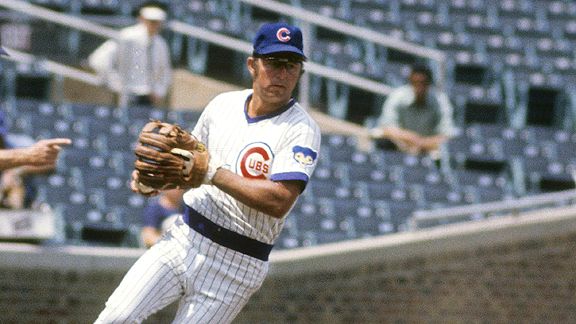 Focus on Sport/Getty ImagesRon Santo was a nine-time All-Star and had 2,254 hits, 342 home runs and 1,331 RBIs over 14 years.
Baseball players with Hall of Fame talent don't generally spend much time in the minor leagues, and
Ron Santo
,
who died Thursday at the age of 70
, was no exception.
Signing with the Cubs out of high school in Seattle, Santo began his professional career in 1959 with the San Antonio Missions in the Double-A Texas League. Excelling there, he began the next season with Triple-A Houston, in the American Association. Santo found Triple-A pitching a bit tougher, but he held his own. And with the Cubs going nowhere, he was summoned to the big club in late June and took over at third base from Don Zimmer.
As a 20-year-old rookie in 1960, Santo spent most of the second half of the season as the youngest every-day player in the National League, and it showed a little in his stats.
Just that once, though.
Or rather, just that once for a long while.
Beginning in 1961, Santo established himself as the best all-around third baseman in the league and held that (unofficial) title for quite some time. He played well in '61, struggled in '62 while learning to treat his juvenile diabetes, then established himself as a power-hitting, Gold Glove-winning third baseman. Oh, and he was
exceptionally
durable, averaging 159 games per season from 1961 through '71.
Maybe all those games did take their toll, as third basemen historically have not aged well. Maybe the diabetes took its toll (though Santo didn't blame it for anything except his poor numbers in 1962). Whatever the reasons, Santo's four best seasons all came before he turned 28. There was one last brilliant season in 1972, when he was 32, after which the end came rather quickly.
Santo had always figured on spending his entire career in Wrigley Field.
Just after the World Series, the Cubs traded their ace (and future Hall of Famer) Fergie Jenkins to the
Texas Rangers
for an impressive young hitter named Bill Madlock.
Madlock played third base, but Santo apparently didn't see the writing on the wall, and was surprised when management approached him about a deal that would send him to the California Angels. Management
had
to approach him, because he could veto any trade.
Santo balked. He didn't want to leave Chicago, and said he would rather retire than move to California. Eventually, Santo did agree to a trade to Chicago's other team, the White Sox, after being assured that he would spend at least some of his time at third base (and not much as the DH, a "position" for which he held little affection).
Well, it didn't work out that way. The White Sox already a star third baseman, Bill Melton. Santo played a little third base, but he DH'd a bunch and also started 37 games at second base, which he hated. Still only 34, Santo didn't hit at all, didn't appreciate the mercurial talents of superstar teammate Dick Allen, and was generally miserable all season. After which, he quit, walking away from the one season and $130,000 still left on his contract.
For decades now,
the
question in Chicago has been
Why isn't Ron Santo in the Hall of Fame?
It's probably not just one thing.
It didn't help that his career ended relatively early.
It didn't help that some of the things he did -- particularly drawing walks and playing excellent defense at third base -- are generally undervalued by Hall of Fame voters.
And it absolutely didn't help that the Cubs blew their big lead over the Mets down the stretch in 1969. That was the team that was supposed to win. They had three future Hall of Famers, plus Santo, plus a Hall of Fame manager in Leo Durocher. Three weeks into August, they still owned an eight-game lead over the second-place Mets.
And then they blew it. The Cubs didn't play well down the stretch, the Mets played brilliantly, and the Cubs finished the season eight games
behind
the Mets.
The Mets wound up winning 100 games. The Cubs won 92, their finest showing since World War II. Nevertheless, the story wasn't so much that the Mets won the pennant, but that the Cubs lost it. And nobody's ever taken more blame for the Cubs losing in 1969 than Santo.
By 1969, Santo had been installed as Cubs captain. Not Ernie Banks nor Billy Williams. Ron Santo. He thought the Cubs were the best team in the National League, and wasn't shy about his confidence. Before a July series against the Mets, Santo was asked by a New York writer to compare the Cubs and the Mets. "Man for man," he said, "there's no comparison. You've got the pitchers but don't try to compare the Mets to the
Chicago Cubs
." In the annals of "famous last words" spoken by front-runners in baseball, those probably rank among the top 10.
Just a few weeks earlier, Santo had celebrated teammate Jim Hickman's walkoff home run at Wrigley Field by running down the left-field line, jumping into the air and ... clicking his heels together. It became a huge story, and Santo began clicking his heels after every Cubs win at home.
After Santo said the Mets couldn't compare to the Cubs, the Mets took two straight games from the Cubs, and it got into the papers that Santo had blamed
one of the losses
on rookie center fielder
Don Young
... who, as it turned out, had been mentored by Santo all season. This story blew up, too, and Santo was booed in Chicago and received death threats for some time afterward.
For better or worse, in the space of about three weeks Santo had become the face of the Chicago Cubs. If they had finished the season well, he would have been haled for both his performance and his leadership, all the negative stories forgotten (Young, who talked about quitting after the game in New York, played decently in August and September).
But they didn't finish well, and a fair number of Hall of Fame voters probably assigned an inordinate amount of the blame to their captain. Apparently forgetting that Santo's brushes with publicity in '69 came many weeks
before
the Cubs' September swoon.
Incredibly, when Santo first appeared on a Hall of Fame ballot in 1980 -- Ron Santo: nine-time All-Star, five-time Gold Glove winner, No. 2 all-time in home runs for a third baseman -- he received
15 votes
. Fewer than Roy Face, Elston Howard, Don Larsen, Harvey Kuenn, and a bunch of other guys who would never come close to being elected. So few votes, in fact, that Santo was dropped from the ballot forever ... until 1985, when a special committee restored him.
Santo's support did steadily improve, and in 1998, his final year on the BBWAA ballot, he was named on 43 percent of the ballots. Since then, he's been considered by various manifestations of the Hall of Fame's Veterans Committee, but fallen just short of election.
Santo will make it, eventually. He was simply too good a player not to make it. But I think we can all agree that it's a shame he didn't make it during the 30-some years when he could have enjoyed it.