SweetSpot:

Ronald Belisario
June, 12, 2013
6/12/13
1:55
AM ET
Tuned in to watch Puig, and before I get to see him a brawl erupts and he's ejected. Scully calls a brawl as calmly as a flyout to RF.

— Dave Haller (@HallerDave) June 12, 2013
Tuesday's
Arizona Diamondbacks
-
Los Angeles Dodgers
game was anything but calm, however, with benches emptying, coaches fighting, punches thrown and multiple suspensions in order. It was an ugly brawl, the kind we used to routinely see in the 1980s and '90s, not the meet-and-greet, exchange-phone-numbers stuff we usually see now.
We had Dodgers coach Mark McGwire
locked up
with Diamondbacks coach Matt Williams. We had
Yasiel Puig
throwing punches and Dodgers reliever
Ronald Belisario
doing the honorary Darryl Strawberry bats*** crazy impression. D-backs coach Turner Ward
got tossed
into the ropes.
After everything had calmed down and the great Vin Scully was running down the ejections, he said Arizona manager Kirk Gibson was ejected for "hollering a lot of chicken stuff." The man is a poet.
Once again,
Zack Greinke
was in the middle of all this, but it's Arizona pitcher
Ian Kennedy
who delivered the bush-league moment of the game, throwing a pitch that seemed directed right at Greinke's head. Kennedy should face a harsh suspension; a short one that pushes his next start back a day or two won't be enough. Give him 15 days and make him miss two starts. It's one thing to throw at a guy; it's another to throw at somebody's head, especially when retribution had already been made.
It all began with a scary moment, Kennedy delivering an up-and-in, 0-2 fastball in the sixth inning that glanced off Puig's nose. He was down for a few minutes as he got checked out by the medical staff, but stayed in the game. Kennedy's reaction clearly showed he wasn't trying to hit Puig, but the chain of events had kicked in.
[+] Enlarge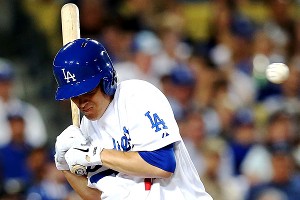 Stephen Dunn/Getty ImagesIan Kennedy's first pitch to Zack Greinke in the seventh inning was a dangerous one.
The next inning, Greinke delivered a fastball to the back of
Miguel Montero
, Arizona's cleanup hitter. Your cleanup hitter for our cleanup hitter. Have to protect our new franchise player. At least Greinke's pitch was done in honorable baseball tradition, thrown where Montero couldn't get hurt. The benches and bullpens cleared and there was some finger-pointing and yelling, but things quieted down.
Until Greinke came to bat in the bottom of the seventh. Kennedy, even though the game was tied 2-2, decided it was more important to throw at somebody's head than to try to win the game, highlighting the absurdity of the whole retribution concept. But sometimes emotions get the better of us and next thing you know, Don Mattingly was fighting Alan Trammell, Belisario was looking to take on the entire Diamondbacks roster,
Clayton Kershaw
scared the crap out of Dodgers fans by getting in the middle of the scrum, and Puig needed multiple players to restrain him from going after Gibson. Belisario and Puig will likely face suspensions for their roles in the fight.
(As an aside; Mattingly, McGwire, Gibson, Trammell, Williams, Don Baylor ... this had to be greatest list of coaches and managers ever involved in a brawl.)
Meanwhile, we had a baseball game to complete and after Arizona scored in the top of the eighth, the Dodgers plated three in the bottom of the eighth -- catcher
Tim Federowicz
delivering the bases-clearing double, to be forever remembered as the hero of the 2013 Brawl Game. New closer
Kenley Jansen
then pitched 1-2-3 ninth to finish off the
5-3 victory
.
Whew. Is that all? Huge win for the Dodgers, who had lost five in a row to Arizona. Loved the passion and intensity from Mattingly and McGwire, and my take is that Kennedy and the D-backs were in the wrong here, so I can understand their anger. It certainly is going to make the rest of the Diamondbacks-Dodgers games very interesting.
One hopes cooler heads will prevail Wednesday. As Scully signed off after the final out, "In a sense, I am personally relieved the game is over."
February, 8, 2011
2/08/11
3:50
PM ET
My
recent interview with Dodgers general manager Ned Colletti
prompted me to reflect on a little-discussed aspect of his tenure.
Colletti has held the management reigns for more than five years now, and some clear patterns have emerged. He values depth. He values veteran leadership. He wants young players to succeed, but he'd much rather do it on his own timetable. One of the funnier revelations I've had is that while Dodger fans think Colletti took too long to commit to then-kids like
Andre Ethier
or
Matt Kemp
, Colletti would tell you that he wishes they could have had more time in the minor leagues to develop. You can imagine that there would be some fun arguments at the imaginary Dodgers dinner table.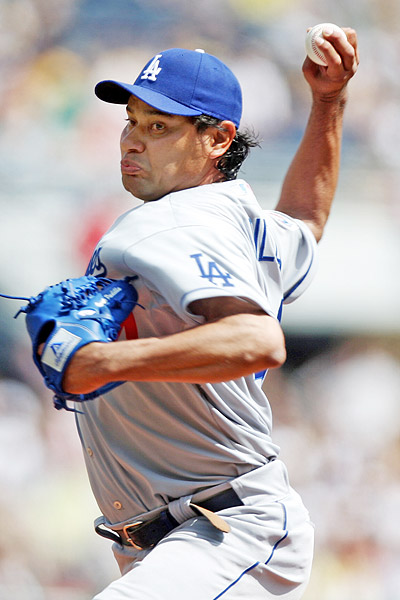 Jason Bridge/US PresswireNed Colletti has signed Vicente Padilla twice after picking him up midway through the 2009 season.
I've long been suspicious of the value placed on so-called clubhouse leaders, for a number of reasons. For one thing, these clubhouse leaders, at times, seemed not all they were cracked up to be. Players like
Nomar Garciaparra
,
Luis Gonzalez
and
Jeff Kent
were supposed to show how this game was played, but often they seemed more concerned with turning up their noses and looking out for themselves.
Then there were the players who would seem to have no other function other than to be clubhouse gents and gems. The Dodgers would give money to players staring retirement right in the face -- last year, it was
Garret Anderson
and
Brad Ausmus
-- and justify it in large part by the examples they set as professionals. Nothing against these guys personally, but there's a word for baseball men who can teach but can no longer play. They're called coaches -- or at least they should be.
All this might be enough to conjure up an image of Colletti's Dodger clubhouse as a local branch of the VFW -- guys hanging out, sharing war stories while hazing the rebellious small-fry. But that wouldn't tell the whole story.
It doesn't get discussed much in a broader context, but Colletti has also taken in guys who have worn problems on their sleeves.
Vicente Padilla
was practically chased out of Texas, but not only did Colletti pick him up from the midseason junkyard in 2009, he has signed him as a free agent twice since, including once shortly after Padilla shot himself in the leg.
In his first year as Dodger GM, Colletti traded away catcher
Dioner Navarro
when he was a 22-year-old with promise, in order to clear the path for
Russell Martin
. This winter, Colletti signed Navarro to a $1 million contract when he was a 26-year-old who packed his bags and left the
Tampa Bay Rays
after they didn't include him on the active postseason roster, rather than stay and support the team.
Ronald Belisario
will be back, visas willing, despite being late to the past two spring trainings and having a DUI arrest and rehab stint on his ledger.
Meanwhile,
Blake DeWitt
, who wowed even the irascible Larry Bowa with his work ethic, and
Juan Pierre
, who was considered the clubhouse MVP at one point, are among the good citizens who have been traded away in the past year.
In other words, the pattern to Colletti's attitude toward the clubhouse is that there isn't exactly a pattern. He's wants a good mix off the field, but he's not afraid to take a chance on a player that would upset that mix if he thinks he can help. Colletti asks the question, "Can they succeed in Los Angeles?" and comes up with an answer. That answer might sometimes perplex fans, but it isn't dependent on the players being angels.
Jon Weisman writes about the Dodgers at Dodger Thoughts for ESPNLosAngeles.com.