August, 19, 2012
8/19/12
10:42
PM ET
By
Jack Moore, SweetSpot network
| ESPN.com
The
Pittsburgh Pirates
can be forgiven for lingering bad memories of 19th innings past. It was the 2011 season that looked like the breakthrough that Pittsburgh has been waiting for since 1992 … until it
all came crashing down on July 26
, as an apparent blown call at the plate gave the
Atlanta Braves
a victory in the 19th frame.
The Pirates entered that game last year at 53-47, tied with the Cardinals for the National League Central lead. Much as they were entering Sunday's game, the Pirates were no lock for the playoffs, but they were right in the thick of things. Fast-forward to October and the Pirates were 24 games out of first. It wasn't a collapse, it was an implosion -- the Pirates were an NL-worst 19-42 after that infamous extra-inning contest.
On Sunday, the Pirates and Cardinals -- along with San Francisco the Pirates' closest rivals for the second NL wild-card slot -- slogged through 18 innings knotted up in an increasingly epic 3-3 tie. Who in Pittsburgh could help but recall the moment that turned last season's seemingly magical campaign on its head?
But then with one out in the Pirates' half of the 19th,
Pedro Alvarez
launched a ball deep into the St. Louis evening. Pittsburgh tacked on two more via an
Andrew McCutchen
single, and then
Wandy Rodriguez
held the lead with a 1-2-3 inning for his
first victory as a Pirate
.
Should the Pirates manage to hold their still-slim lead on the NL's last playoff slot, it will be easy to point at July 26, 2011, and Aug. 19, 2012, as key points in Pirates history. Some will wax poetic about the Pirates breaking free, or of a reversal of franchise fortune. What Aug. 19, 2012, really proves is the quality of this 2012 squad -- far above anything Pittsburgh baseball has seen in recent memory.
Let's not forget the mirage created by the 2011 Pirates' first four months. The lineup featured just four starters with an OPS+ of 82 or lower. The club managed a 3.46 first-half ERA despite a strikeout-to-walk ratio below 2.0 and just 6.2 strikeouts per nine innings. The Pirates' 116 FIP- wound up as the worst mark in the National League. It was, simply put, not a good team.
The differences with the team they're fielding in 2012 begin with Sunday's hero, third baseman Alvarez. Alvarez was easily the worst hitter on the 2011 Pirates, a team featuring 99 games of
Brandon Wood
, 128 games of
Ronny Cedeno
, 100 games of
Matt Diaz
and 121 games of
Xavier Paul
. Alvarez managed just four home runs in 74 games, limping to a 58 OPS+ and an early demotion to Triple-A. Alvarez still strikes out nearly once every three at-bats, but his prodigious power is back -- Sunday's game-winner marked Alvarez's 23rd home run of the season, raising his slugging percentage to .467, nearly 200 points above last year's disastrous clip.
Alvarez is just one component behind the improved lineup --
Garrett Jones
(131 OPS+),
Neil Walker
(123),
Michael McKenry
(140) and obviously McCutchen (180) have all had their say in raising the Pirates' offensive output from 3.8 runs per game in 2011 to 4.2 runs per game this season.
But the biggest improvement for the Pirates has come in run prevention, not run production. The Pirates created their 2011 mirage on pitching and defense. Their 383 runs allowed through the debacle in Atlanta was fourth best in the National League; they nearly doubled that mark in 40 fewer games, allowing a league-worst 329 runs down the stretch.
Adding
A.J. Burnett
to the rotation was key. The bullpen has featured more than just
Joel Hanrahan
this season -- after all, the Pirates' closer and six others combined for 12 innings of nine-hit, one-run baseball in St. Louis on Sunday, with setup men like
Jason Grilli
and
Jared Hughes
lowering their ERAs to 2.38 and 2.51 respectively.
But the real key has been defense. McCutchen could be in the running for a Gold Glove. If
Starling Marte
and
Travis Snider
can return quickly from injuries, they will give the Pirates one of the speediest outfields in baseball.
Clint Barmes
hasn't hit, but his glove has stabilized the always-difficult shortstop position. McKenry saved the game several times Sunday with clutch stops behind the plate.
Overall, the Pirates own a .720 defensive efficiency, meaning they turn 72 percent of batted balls in play into outs. Only Washington, Seattle, Oakland and Anaheim own better marks, with Washington's .723 leading the league. Last year, the Pirates' squad finished 25th in baseball at .700, roughly 10 points below the league average.
Sunday's 19-inning victory against St. Louis showed plenty of things -- heart, perseverance and even some good fortune. But it also showed the one thing that really separates the 2012 Pirates from the 2011 version that faltered down the stretch: Talent. The Pirates still have a long way to go, but this year's team is infinitely better equipped to walk the path and carry Pittsburgh into the postseason for the first time since 1992.
PHOTO OF THE DAY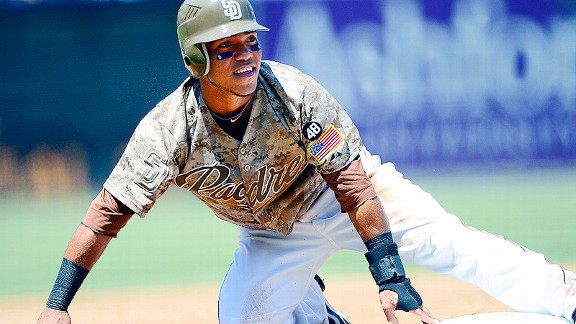 Christopher Hanewinckel/US PresswireThat's Alexi Amarista of the Padres sliding into third base, not G.I. Joe.
Jack Moore's work can be seen at FanGraphs and Disciples of Uecker (a SweetSpot affiliate devoted to the Brewers). Follow him on Twitter @jh_moore.
December, 21, 2011
12/21/11
6:05
PM ET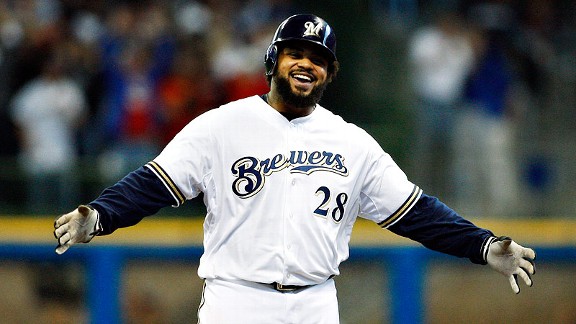 Jerry Lai/US PresswirePrince Fielder is the biggest catch remaining in baseball's pool of free agents.
There are still some good free agents out there, perhaps even a few bargains. What kind of team could you buy if you signed the best of these guys? Let's find out. Here's a 25-man roster of unsigned players, with estimated salaries and WAR (wins above replacement). Would it be a competitive team?
C: Chris Snyder
Snyder is coming off back surgery, but it's a thin lot of available catchers. He's been up and down in his career with his bat, but will draw some walks and has a little pop.
Projected salary: $2.5 million
Projected WAR: 1.0
C: Ramon Castro
The career backup never landed in the right place at the right time, but he can he hit left-handed pitching and provides a capable 200-plate appearance backup.
Projected salary: $1.2 million
Projected WAR: 0.6
1B: Prince Fielder
We're going to empty our pocketbooks and have the big guy anchor our lineup. We'll sign him to a seven-year, $165 million contract, but we'll backload the deal. That way, if we get fired, it screws the next GM.
Projected salary: $20 million
Projected WAR: 5.0
2B: Ryan Theriot
Honestly, he doesn't bring a whole lot to the table other than a proven ability not to be horrible. He'll hit an empty .270 or so and play capable defense.
Projected salary: $2 million
Projected WAR: 0.7
3B: Carlos Guillen
Third base is a bit of a problem so we'll have to gamble on Guillen. He's missed a lot of time the past three years, so we'll sign him to a low base salary with incentives if he remains healthy. Considering the production of third basemen in the majors in 2011, he could produce at a league-wide average for the position.
Projected salary: $1.5 million plus incentives
Projected WAR: 1.0
SS: Ronny Cedeno
No, a shortstop who hits .249/.297/.339 isn't ideal, but
Troy Tulowitzki
isn't available in this scenario. Still, Cedeno was a 1.5 WAR player in 2011 and there's no reason he can't duplicate that effort again.
Projected salary: $4 million
Projected WAR: 1.5
[+] Enlarge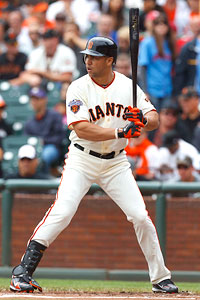 Jason O. Watson/US PresswireWhen healthy, veteran Carlos Beltran is still considered one of baseball's most feared hitters.
RF: Carlos Beltran
We need another big bat and Beltran is still out there. He's been compared to
Michael Cuddyer
, who signed a three-year, $31.5 million deal, so Beltran figures to go in a similar range. The good thing is he's better than Cuddyer. Even if he drops off a bit from his strong 2011, he'll be a productive player.
Projected salary: $12 million
Projected WAR: 3.5
LF: Luke Scott/Andruw Jones
We're going with a platoon here, hoping for Scott to bounce back but signing Jones to play against left-handers. Scott hit .264 and slugged .499 from 2007 to 2010, so we think he has something left in the tank. Jones had a .923 OPS against left-handers in 2011.
Scott's projected salary: $5 million
Scott's projected WAR: 1.9
Jones' projected salary: $3 million
Jones' projected WAR: 1.1
CF: Coco Crisp
We're going to want a good flychaser in center and Crisp is a solid defender who also led the AL with 49 stolen bases. His OBP fell to .314 in 2011, so we should be able to sign him for a decent salary.
Projected salary: $6.5 million
Projected WAR: 2.0
IF: Brooks Conrad
He's an insurance policy for Guillen as someone who could provide some pop off the bench and also play second base in a pinch.
Projected salary: $800,000
Projected WAR: 0.6
IF: Jack Wilson
Ugh. But considering Conrad isn't a glove guy (in fact, I'm not sure he even wears a glove in the field), we better sign Wilson as infield insurance. No, we don't like this move, especially considering Wilson's propensity to get injured while filing his fingernails.
Projected salary: $1.4 million
Projected WAR: 0.0
OF: Rick Ankiel
We wanted to sign
Cody Ross
here, but he's a little expensive for a fourth outfielder (although isn't that what he should be?). Ankiel can play center and provide a left-handed pinch-hitter off the bench.
Projected salary: $1.5 million
Projected WAR: 0.5
OK, now to the pitching staff, which will have to be the strength of our team.
SP: Roy Oswalt
For all the talk about his injury history, 2011 was his first season he didn't start 30 games since 2003. A bad back is always a concern but this was a guy who led the NL in WHIP in 2010. Jerry Crasnick recently reported that Oswalt wants to show he's healthy and is thus willing to take a one-year deal and aim for a bigger contract after 2012. Perfect.
Projected salary: $10 million
Projected WAR: 3.0
SP: Hiroki Kuroda
The Yankees reportedly offered Kuroda a one-year, $12 million deal. Sounds good to us.
Projected salary: $12 million
Projected WAR: 2.8
SP: Javier Vazquez
Yes, we are going to force Javy out of his rumored retirement. He had a 2.15 ERA in the second half last season, so he's far from finished.
Projected salary: $10 million
Projected WAR: 2.5
SP: Joe Saunders
The Diamondbacks declined to offer him a contract, making him a free agent. We're not in love with his soft-tossing style, but he's a solid innings eater for the back of the rotation.
Projected salary: $8 million
Projected WAR: 1.8
SP: Paul Maholm
He may be a little expensive for a No. 5 starter, but we like durability in our rotation. He was 6-14 with the Pirates in 2011, but that was a misleading record for a guy with a 3.66 ERA (4.36 career).
Projected salary: $6.25 million
Projected WAR: 1.5
[+] Enlarge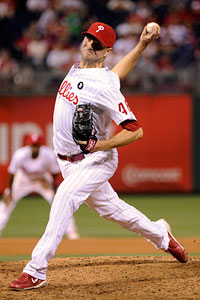 Howard Smith/US PresswireRyan Madson proved last season that he can be one of baseball's most dominant closers.
Closer: Ryan Madson
Baseball's most underrated reliever the past few seasons, Madson finally got a chance to close regularly in Philadelphia and did an outstanding job. His changeup is one of the best pitches in the game and we feel we can bring him in for slightly under his rumored asking price.
Projected salary: $9 million
Projected WAR: 1.7
RP: Hong-Chih Kuo
Kuo was unhittable in 2010, holding opponents to a .139 average and one home run in 60 innings, but developed his usual elbow problems in 2011 and had minor surgery after the season. He's a risky signing but with the potential of a big payoff.
Projected salary: $2.5 million
Projected WAR: 1.0
RP: Chad Qualls
A fungible middle reliever, the right-hander got pounded in 2010 but bounced back ... albeit in San Diego, so he's not necessarily a sure thing. But he's a veteran with a rubber arm. He's not as good as
Octavio Dotel
, who signed for $3.5 million, so we'll sign him for under that.
Projected salary: $2.3 million
Projected WAR: 0.8
RP: Darren Oliver
Doesn't every team need a veteran left-hander? Oliver has now had an ERA under 3.00 four straight seasons.
Projected salary: $2.7 million
Projected WAR: 1.1
RP: Micah Owings
He can be a long man, spot starter or even pinch-hitter!
Projected salary: $1 million
Projected WAR: 0.4
RP: Clay Hensley
After a strong 2010, his control deserted him in 2011 and he walked 30 batters in 67.2 innings and served up nine big ones. But we'll take a flyer to see if he can rediscover his 2010 groove.
Projected salary: $1 million
Projected WAR: 0.5
RP: Jamey Wright
Yes, we could sign
Francisco Cordero
, but bringing in two closers isn't realistic. Wright is cheap, mediocre and the perfect 11th or 12th guy on a staff.
Projected salary: $900,000
Projected WAR: 0.5
Total payroll:
$127.05 million
Projected WAR:
37.0
How good would this team be? A team of replacement-level players would be estimated to win about 48 games, so our team with +37 WAR would be estimated to win about 85 games. Obviously, there's a wide range in there; if everybody stayed healthy and we had some big years, maybe it could win 90. On the other hand, there are a lot of injury risks on this roster, so the downside could be pretty extreme. Plus, there's the simple fact that a $127 million payroll is high -- that's about what the White Sox's payroll was, which ranked fifth in the majors in 2011.
If only we had a few good rookies making the league minimum to supplement the free agents!
June, 10, 2009
6/10/09
12:59
PM ET
It's now been a week since
Yuniesky Betancourt
has played. And, no, he's not hurt. As Larry LaRue writes, Betancourt has simply been
benched for cause
...
What must Betancourt do to get back in the lineup?

"He has to show he's prepared to play," [manager Don] Wakamatsu said.

Betancourt, who has had meetings with his manager and coaches all season, insists he's doing nothing different now than ever.

"I've been doing the same routine for years," Betancourt said. "I can't control the lineup. I'm doing whatever I've done in the past."

That, of course, may well be the issue. Betancourt has never been a hard worker, and the past four days have not served him well.

Since being out of the lineup, his teammates say, Betancourt has not taken a single ground ball.

And Monday, when 12 position players showed up for early batting practice, Betancourt was not among them.

"I was asleep on the plane when they announced that," Betancourt said.

Clearly, this management group -- from general manager Jack Zduriencik to Wakamatsu and his coaches -- have had enough of half-assed workouts and a failure to adjust.

The simple truth is, Betancourt has minor league options left, and one plan is to send him down and tell him he won't be back until he shows his work ethic has changed.

"You can't play a guy who doesn't work hard on a team where everyone else busts their ass," one Mariner said. "I don't know why this never happened before, but no one in this clubhouse has any doubts about why it's happened now."

Well, no one but Yuni.
As you might recall, Betancourt was benched for a couple of games in the middle of May. Upon his return, he walked three times in his first two games ... and has walked exactly three times in the 15 games since. Which is probably something close to his natural ability. Or his physical aptitude, or whatever you want to call it. I believe that Betancourt can draw 30-40 walks per season if he wants to.
And if he does that and plays reasonably well in the field, he's good enough to play.
Last year, Betancourt played poorly in the field.
This year, he's been worse.
It's one thing to have a guy who's not playing well, but a rebuilding organization simply can't tolerate a subpar player who can't be bothered to improve himself. Or at least try.*
* By the way, does anyone else find it strange that an infielder can choose whether to practice fielding ground balls? Isn't that part of the job anymore? Have we really reached the point where a manager can't simply tell someone to work? And all this time, I've been thinking that all the talk about players not taking infield these days was just a bunch of hooey ...
I can think of only two reasons for not just releasing Betancourt right now.
One, he's only 27 and theoretically is just now peaking. And two, they still owe him roughly $10 million on a contract that runs through 2011 (with an option for 2012, hey-o).
But that $10 million is a sunk cost that can easily be blamed on the fired general manager, and Betancourt's from Cuba so we have to regard his listed age as a vague approximation, right?
I suspect that we've seen his best already, and that was two years ago. It's time to move on, and the M's might as well just rip off the bandage quickly.