SweetSpot:

Rubby De La Rosa
May, 31, 2014
May 31
11:27
PM ET
By
Jason Collette
| ESPN.com
In a day dominated by talk of comparing baseball games to wars and continued chirping between
David Ortiz
and
David Price
, three young arms stole the show with stellar performances on the mound in Cleveland, Boston and Toronto.
Trevor Bauer
,
Rubby De La Rosa
and
Marcus Stroman
flashed the skills that have excited talent evaluators and fans alike despite the varying levels and lengths of struggles each has faced in their careers.
Bauer faced a
Colorado Rockies
team that came into play with a league-best .341 weighted on-base average as a team. Colorado's offense typically displays Jekyll-and-Hyde tendencies in terms of its home and road splits, and this season is no different. The team's .400 wOBA at home is 49 points better than any other team in baseball, but its .295 wOBA in road games is 11th worst. Bauer was coming off a game against Baltimore in which he permitted four earned runs and nine baserunners in less than five innings of work. While he struck out eight Orioles in that game, he also permitted two home runs and walked three batters.
[+] Enlarge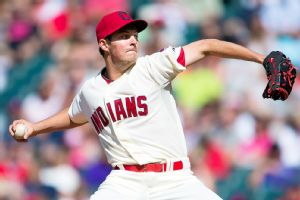 Jason Miller/Getty ImagesTrevor Bauer tossed six innings of two-run ball against the Rockies, walking one and striking out eight.
Bauer's outing against Colorado was arguably the best of the four starts he has made for Cleveland this season. He threw 70 of his 100 pitches for strikes, which forced Colorado batters to expand their strike zone while in protect mode at the plate. He induced 19 swings on pitches out of the zone and got the Rockies' batters to swing and miss at 14 offerings while striking out eight in the contest. Bauer, as he often does, used a wide assortment of pitches, from a fastball that maxed out at 99 mph to a 12-to-6 curveball at 77 mph that froze
Troy Tulowitzki
with two men in scoring position to end the third inning.
The outing was Bauer's third quality start in four outings this season after having just one quality start in the four starts he made at the major league level last season. His 2013 season at the big league level was bookended by two horrific outings: the first one saw him walk the first four batters of the game while the latter saw him get chased in the first inning after allowing six hits and five earned runs.
The 2014 version of Bauer is one that has simplified his delivery to stay on one side of the mound rather than drift back and forth on the rubber depending on the batter he is facing. His fastball command is noticeably better this season for a team that is looking for someone to step up behind
Corey Kluber
.
Rubby De La Rosa was making his first appearance of the season for the
Boston Red Sox
, hoping to erase a rather unimpressive showing in August and September last season. This season in Pawtucket, De La Rosa had a 3.04 ERA over 10 starts, allowing fewer hits than innings pitched, striking out nearly a batter an inning and not permitting a home run. Despite the statistical success, Boston wanted to see more pitch efficiency from him, something Tim Britton of The Providence Journal outlined a few weeks ago.
Against a Tampa Bay lineup that was missing
Wil Myers
and
Yunel Escobar
, De La Rosa had one of the best outings of the season by a Boston pitcher. He induced 17 swings and misses by Tampa Bay batters, which trailed only the 20 swings and misses
John Lackey
had against Atlanta on May 28. While his fastball hit triple digits at one point, it was his changeup that was most impressive on the evening. According to BrooksBaseball.net, De La Rosa threw the pitch 30 times, enticing 20 swings and generating 11 empty swings.
The win was Boston's sixth consecutive win after its 10-game losing streak earlier this month.
Marcus Stroman was making his first start since being demoted to Triple-A earlier in May. Earlier this month, he worked five times out of the bullpen for Toronto and permitted 14 baserunners and nine earned runs in just over six innings of work. In his first start this season at the big league level, Stroman showed the side of himself that impressed evaluators during the 2013 Arizona Fall League and in parts of the 2014 Grapefruit League.
He established his fastball in this outing, throwing it 66 percent of the time to set up his breaking balls to finish off batters. That was the opposite of the approach he tended to take as a reliever, when he utilized his fastball just half the time and relied too much on his secondary pitches.
Despite throwing fewer secondary pitches, Stroman was able to get batters to chase more pitches (15) out of the zone against Kansas City than he had in his five relief appearances (13). He also generated 10 swings and misses on 48 pitches in this outing compared to the 12 swings and misses out of 57 swings while pitching in relief.
The outing was a learning experience for the sharp young pitcher from Duke as he figured out that he could generate empty swings with his fastball and his breaking ball.
Trevor Bauer, Rubby De La Rosa and Marcus Stroman all have bright futures in baseball. Bauer is in his second organization and has shown signs of putting his extreme struggles with command behind him. De La Rosa has overcome an elbow injury and a change in organization, and Saturday night looked like the prospect who first turned heads in 2011. Stroman, until Saturday, had struggled in May at both the minors and the majors. Today, each of these promising youngsters showed why their respective organizations and scouts are so high on the pitchers.
Jason Collette writes for The Process Report, a blog on the Tampa Bay Rays, and also contributes to FanGraphs and Rotowire.
June, 8, 2011
6/08/11
2:22
PM ET
Wednesday's Baseball Today

was one to remember for me, as Hall of Fame third baseman Mike Schmidt was the special guest in studio. Needless to say, this was not a short interview. Then again, I was also joined by SweetSpot editor/writer David Schoenfield. Wow, two Hall of Famers on one show! Here's why you should listen:

Schmidt
1. When Mr. Schmidt talks, perk up your ears. We talked about the current state of the game, the Hall of Famers that probably will not be joining him in Cooperstown, the kids that don't always listen and, of course, booing. Don't miss it.
2. The Dodgers unveiled a few future stars in Philly on Tuesday -- or will they be
superstars
? -- and Dave and I discuss Dee Gordon and
Rubby De La Rosa
... as well as a fading
Roy Oswalt
.
3. Was Tuesday night the beginning of the end for the Yankees'
Freddy Garcia
? It's amazing how one outing can change opinions so quickly. On the positive side, the best is yet to come for a Boston pitcher.
4. The state of the Cubs is not a positive one. A beleaguered emailer searches for hope in a world that doesn't offer much for Cubs faithful. Though we did try.
5. Wednesday's ESPN game pits survivors
Tim Wakefield
versus
A.J. Burnett
, and each looks legitimate. However, tune in to see what we picked as the night's top pitching matchup, and whether there will be a bit of Bryce Harper-like retribution.
Plus: Excellent emails,
Chipper Jones
criticizes
Jason Heyward
, attendance problems,
Vin Mazzaro
, why hitting in the NL East is just awful, why
Alex Avila
is a stud, more stars versus superstars debate with a Jack Nicholson theme and really, so much more. Listen to Wednesday's Baseball Today!
June, 7, 2011
6/07/11
12:30
PM ET
We're draft heavy on Tuesday's
Baseball Today podcast

, as expert Keith Law and I analyze from the same studio for the first time. Keith breaks down what you need to know after the first round, as well as these other fun tidbits that make your download well worth it.
1. Keith tells us the winners, losers and other interesting facts from the Monday portion of the draft, including why the Tampa Bay Rays couldn't help but succeed, and how the No. 2 overall pick might not have been the correct one.
2. What does the term "over slot" mean and why are so many teams likely to pay their new youngsters well, and likely anger the league office?
3. Bryce Harper gets himself into the news for something he did Monday ... but there might be repercussions. Is the atty-tude warranted?
4. Los Angeles Dodgers right-hander Rubby De La Rosa makes his first start in Philadelphia Tuesday, and Mr. Law tells us why his future is a bright one.
5. There's plenty to watch on Tuesday night, but here's why among the names we're rooting for include Vin Mazzaro and Kyle Drabek. Hey, don't get Mazzaroed!
Plus: Excellent emails, why we fear the worst for Brett Anderson, Milwaukee's haul from Monday, how the Nationals and Royals could be ruling MLB in a few years and congratulations to Chicago White Sox left-hander John Danks, all on a packed Tuesday edition of Baseball Today!
May, 25, 2011
5/25/11
3:11
PM ET
There are many reasons you should listen to Wednesday's three-headed
Baseball Today podcast

with myself, Keith Law and SweetSpot blogger David Schoenfield, but here are the top five:
1. Tuesday was a far different day for the De La Rosa pitchers, as one blew out of his elbow, and the other got the call to the big leagues. Are the
Colorado Rockies
in trouble replacing their De La Rosa? And what are the
Los Angeles Dodgers
doing promoting theirs?
2. Sticking with the NL West, do the
San Francisco Giants
want
to score runs? Of course they do, but then why aren't they playing their best hitters? Then again, this isn't the same offense it was a year ago.
3. Should MLB take a cue from Premier League soccer and bump out the bottom few teams each season? As always, Mr. Law brings a strong opinion.
4. We talk relief pitchers, from the hierarchy of the
Atlanta Braves
' top duo to the fellow that earned a three-year contract from the
Detroit Tigers
.
5. On Wednesday's docket is a rematch of one of the best pitched games of 2010. Not to give too much away, but you can find this game on ESPN2!
Plus: Excellent,
Glee
ful emails (send to
baseballtoday@espnradio.com
, incidentally), discussion about a few prospects in the upcoming draft,
Alfredo Simon
's presence in the big leagues,
Edinson Volquez
's presence in the minor leagues, why
Madison Bumgarner
isn't a bum and I wantonly ring the Kara-bell, all on Wednesday's Baseball Today podcast!