May, 23, 2013
5/23/13
12:42
AM ET
The
Philadelphia Phillies
are 23-24, they've been outscored by 31 runs,
Roy Halladay
is on the disabled list,
Ryan Howard
hasn't hit and
Cole Hamels
can't win. So the Phillies eventually will be sellers at the trade deadline, right? I don't think so. Here are 10 reasons why.
1. Cliff Lee is an ace.
Remember him? Finished third in the Cy Young voting back in 2011. Pitches 200-plus innings every year. Can throw a fastball over a postage stamp while blindfolded. He's still pretty good. OK, his three-hit shutout Wednesday came against the Marlins. It still counts. He's 5-2, his ERA is 2.48, he's one inning shy of leading the majors in innings pitched and opponents are hitting .227 against him. He's one of the best pitchers in baseball.
2. Cole Hamels will pitch better.
Hamels is 1-7 with a 4.45 ERA and has struggled with his command. The Phillies have won just one of his 10 starts. In a way, this is
good
news. You really think Hamels will go 3-21? That the Phillies will win just three of the 30 or so starts Hamels will make? Of course not. So the fact that the Phillies are 23-24 while playing worse than the Marlins or Astros when Hamels pitches means they could easily be worse than 23-24. But they're not.
[+] Enlarge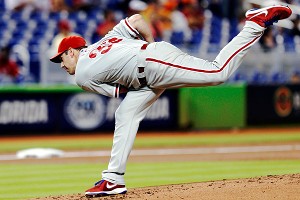 AP Photo/Alan DiazPhillies lefty Cliff Lee improved to 5-2 with a complete-game, three-hit shutout of the Marlins.
3. Kyle Kendrick is actually good now.
As Bill Baer wrote at the end of April, this is a
new-and-improved Kendrick
over the previous mediocre editions. Basically, Kendrick has stopped throwing so many cutters to left-handers and started using his changeup more often. It has given him a strikeout pitch against lefties and helped hold them to a .240/.290/.380 (BA/OBP/SLG) line against him this season, a big improvement compared to the .268/.341/.458 mark from 2010 to 2012.
4. Michael Young hasn't been horrible.
He hasn't been great, hitting .287 with just one home run, but for some reason, he has started drawing walks (23 this year compared to 33 all of last season with the Rangers). That's given him a fine .378 on-base percentage. If he keeps that walk rate up, Philadelphia manager Charlie Manuel should actually consider moving him into the leadoff spot -- especially considering Young's tendency to ground into rally-killing double plays (11, most in the majors). It's not so much that he hasn't been a big positive, but he hasn't been the gaping wound many sabermetric analysts projected. Take that, smart guys!
5. Delmon Young isn't good at baseball.
No, no, no, this is another good thing. The Phillies will eventually realize they'll need a better right fielder. Can you say
Andre Ethier
? Actually, he and Young would make a nice platoon.
6. The bullpen will do better.
The Phillies rank 27th in the majors with a 4.67 bullpen ERA. I think they have enough quality arms down there (14th in strikeout percentage, for example) to improve. Well, assuming
Chad Durbin
doesn't keep getting used.
7. The Nationals just might not be that good.
The Phillies are just one game behind the Nationals in the standings. Their run differentials are nearly the same -- minus-26 for Washington, minus-31 for Philadelphia -- but nobody is suggesting the Nationals sell off. That still leaves the Braves, a team the Phillies still have to play 16 times. In fact, the Phillies haven't played the Nationals yet, so they have 19 games remaining against them. So, umm ... they control their own destiny!
8. Even if the Phillies decide to dump, what do they have to dump?
OK, you could trade
Chase Utley
, but you're not going to get a franchise prospect in return for three months of Utley's services (yes, everyone can point to the Mets getting Zack Wheeler for
Carlos Beltran
in 2011, but that's a rarity). You could trade Lee, although his salary is so high -- $25 million each of the next two years with a possible $27.5 million vesting option in 2016 -- that he might not bring much in return, either. You're not going to get anything for Delmon Young or Michael Young. In other words, trading assets isn't really the way to start a youth movement because you don't have valuable assets to deal. That leaves general manager Ruben Amaro with the option of trying to acquire players other teams might be looking to dump -- such as an Ethier, who probably wouldn't cost much if the Phillies are willing to absorb part of his contract.
9. Roy Halladay might return this year.

He just headed to Florida to
begin rehabbing
from his shoulder surgery, and everyone is hopeful he can return in late August. Hey, you never know.
10. Big-market teams don't give up!
Well, OK, the Red Sox did a year ago, but that's because the Dodgers offered a gift too generous to turn down. The Phillies aren't going to find a taker for Howard's contract.
Look, I don't
believe
the Phillies are good enough to beat the Braves or Nationals, but the wild card isn't a crazy impossibility. They have a tougher schedule ahead, with 35 games left against the Braves and Nationals and only 19 against the Marlins and Mets. Manuel's resistance to doing things such as platooning Howard or admitting that Delmon Young can't or shouldn't play right field is an obstacle. Michael Young might stop drawing walks. Utley just missed a game with a sore rib cage, so who knows when he'll miss a chunk of action.
If the Phillies trade for a couple of bats in the outfield, however, you never know. It certainly doesn't seem in Amaro's nature to concede a playoff berth. Look for the Phillies to be buyers.
July, 25, 2012
7/25/12
1:43
PM ET
By
Paul Boye
| Special to ESPN.com
As if hoisted off the weary chest of the Philadelphia collective by a crane forged from an amount of money unfathomable to most of us, the
Cole Hamels
Situation has been resolved. Bill Baer has more thoughts on the
Hamels' shiny new six-year, $144 million contract here
, but for many months the thought of Philadelphia losing its greatest homegrown pitcher to free agency weighed heavy on the minds and hearts of Phillies fans, threatening to unravel the last thread of euphoria spun by these "golden era" teams of the past five seasons.
Instead, Hamels received the latest massive, multi-year agreement doled out by Phillies management to secure some of the game's top players over the past few seasons. It's a collection of talent that has reached the playoffs and set a club record for wins in a season, but has not replicated the 2008 title chase, for one reason or another.
To say things in 2012 haven't gone the way the Phillies, their fans and management had envisioned this past March would be a bit of an understatement, but retaining Hamels' services is an analgesic all parties will surely be happy to have. While the Hamels saga and the "will-he-won't-he" wondering about his future destination became the dominant storyline of the Phillies' season, putting that issue to rest doesn't mean general manager Ruben Amaro Jr.'s heavy lifting is over.
[+] Enlarge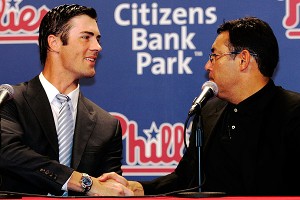 AP Photo/Tom MihalekWith Cole Hamels locked up, GM Ruben Amaro Jr., right, has plenty still to do in Philadelphia.
In fact, the toughest work may be yet to come.
Consider what faces the Phillies this coming winter: Even though Hamels is secure, the Phils likely stand to lose their starting center fielder (
Shane Victorino
) and third baseman (
Placido Polanco
) to free agency (or trade, at least in Victorino's case), and could suffer a hit to their rotational depth if
Joe Blanton
ends up departing. Retaining Hamels is important because of his value as a transitional player -- he's likely to be a top-tier starter well into this deal -- to lead the team as the remnants of the '08 squad continue to age. How, then, can Amaro restructure the Phillies and reshape their identity into one built not around
Ryan Howard
,
Chase Utley
or even
Roy Halladay
, but Cole Hamels?
Avoiding Free Agents Who Receive Qualifying Offers
The Phillies are far from stacked with internal candidates to step in and fill shoes of any potentially departing major leaguer, due in large part to the many trades executed to bring in players like Halladay,
Roy Oswalt
and
Hunter Pence
. Trading away major leaguers for prospects could beef up what is currently a gaunt system, but keeping excess spending under wraps this offseason and keeping the incoming mid-to-early first-round pick -- or second-rounder, should the first be protected (the top 10 picks are protected) -- could go a long way toward improving the outlook of the distant future.
Teams lose their first-round pick if they sign a free agent who has received a qualifying offer from his previous team. That offer is the average of the top 125 players' salaries, expected to be in the $12-$13 million range. The Phils haven't drafted higher than 24th overall since 2007 and didn't have a first-round pick in three of the past nine years.
Maintaining Fan Interest
No fan base enjoys a transition or rebuilding, necessary as those phases may be. Finding ways to keep the fans interested and perpetuating the flow of revenue will be difficult; the Phillies have already seen their fair share of empty seats at home games this season, even though their sellout streak officially passed 250 consecutive games. I doubt the Phillies would commit additional money contingent solely on continued crowds of 44,000-plus even in lean years, but acquiring exciting and/or productive players who can hold down the fort for the time being would help bridge the gap between this moment and when it becomes prudent for the Phillies to make a free agent splash again.
Ripple Trades
This is the biggest point of all. It almost would have been easier for Amaro to trade Hamels or make continued efforts to re-sign him only to have the lefty walk in the winter. In that scenario, the Phillies could use the money saved on Hamels to keep trying to build around its current aging core. Instead, Amaro has tagged Hamels as the player to transition this franchise from a lean 2012 (and perhaps 2013) to a more prosperous latter half of the decade. In doing so, he's forcing his own hand into the near necessity of making additional trades, whether before the July 31 deadline or in the offseason.
The Phillies have long said they have no plans to operate above the luxury tax threshold, and I've seen no reason to doubt them. In 2014, the threshold will rise from its current $178 million ceiling to $189 million, which will help. But as currently constructed, the Phillies will be paying a combined $74 million to Howard,
Cliff Lee
,
Jonathan Papelbon
and
Jimmy Rollins
in 2014, plus Hamels' newly assumed salary and a potential $20 million option on Halladay. One or more of those players may not see the entirety of their deals played out in Philly.
With the Phillies looking at severely long odds of reaching the postseason, the departures of these players may be expedited to alleviate the pressure on the payroll, and that could mean a trade deadline that's far from quiet for the Phillies, even with Hamels going nowhere.
Extending Hamels was the right move, even if it means the second-highest pitching contract in history. Hamels has proven to be worthy of "cornerstone" billing. A Cy Young contender. A World Series MVP. A 28-year-old, homegrown ace whose departure would have left an indelible scar on the franchise. Now Hamels has a chance to prove himself yet again, and Amaro has the formidable task of retooling and reconstructing a championship-caliber team around the left arm of his latest multi-million-dollar man. The future of the franchise is now theirs to mold.
Paul Boye writes regularly for Crashburn Alley.