February, 21, 2011
2/21/11
10:22
AM ET
By
The Common Man
and
Bill
| ESPN.com
A few weeks back, Bill caught some attention when
he revisited Bill James' 25-year Hall of Fame projections
from James' excellent book, "Whatever Happened to the Hall of Fame?" to see how the sensei did with his predictions. The results were interesting and, in Ruben Sierra's case, deeply funny. In the wake of Bill's project, at the suggestion of a commenter, we decided to undertake the challenge ourselves. Our
first installment is already up
, and we'll continue picking five years at a time for the rest of the week.
The truth is that the exercise is darn close to impossible due to the number of variables involved. We don't know how the electorate will change, or how attitudes about PED use (or suspected PED use) are going to change in the coming years. We don't know if voters will become more rational or not. But with so many deserving candidates on the ballot, it's clear that some players are going to slip through the cracks, especially at the rate that the BBWAA elects candidates (exactly 1.5 per year from 1966-2011). This is unacceptable.
Jayson Stark
wrote about this problem in January
, saying:
For two decades, that instructional line on the ballot informing me not to vote for more than 10 candidates has never been a problem. But it is now.

For the first time ever, 10 slots weren't enough for me to vote for all the players who fit my definition of a Hall of Famer. For the first time ever, I had to leave off the names of players I've voted for in the past -- not because I'd changed my mind, but because that 10-player limit got in the way.
And Jayson's not alone in pointing this out, either. Think about it: We're asking a disparate group of voters to reach not just a super-majority, but a super-super majority. So, to combat the problem, we propose a simple solution: The Hall of Fame should lower the voting threshold needed to elect a candidate from three-fourths of BBWAA voters to two-thirds.
But wait, some of you are going to say, the Hall of Fame is for the best players ever and lowering the voting threshold would allow unworthy players a way in. Not true! Since 1980, only three players (Orlando Cepeda, Jim Bunning and Nellie Fox) have garnered more than two-thirds of the vote and still fallen short of election by the BBWAA, and no player has had more than two-thirds of the vote and not eventually been elected since 1994. However, you probably aren't shocked to know that all three were elected by the Veterans Committee shortly thereafter. All have plaques resting comfortably in Cooperstown.
Rather than throwing the doors wide, then, what this proposal will do is speed up the process by which worthy players are voted in. It will allow the voting to more closely reflect the era in which they are voting, when suddenly a few writers and editors who are rabidly and proudly irrational and unfair about their choices, or have given up following the game closely are given less sway in the overall process. And if the players in question are going to get in eventually anyway, what's the problem?
With just one year left before the mega-cohort of Barry Bonds, Mike Piazza, Craig Biggio, Roger Clemens, Sammy Sosa, Curt Schilling and Kenny Lofton all hit the ballot at once, it is imperative that the Hall of Fame act on this now. Do not wait. Do not form a committee (good lord, does baseball not need another committee!). The backlog Stark identifies is only going to get worse.
The Hall of Fame may be a private institution, but it exists because baseball fans pay a great deal of money to go there and honor the game's history and their favorite players. And for every worthy player that is excluded, the Hall will grow less and less legitimate as the keeper of the game's past, and lose more and more of its appeal to the people who support it.
The Common Man and Bill write at The Platoon Advantage and can be found on Twitter here and here.
February, 14, 2011
2/14/11
5:24
PM ET
By
Bill Parker
| ESPN.com
As most people spending time in this space know already, RBIs are a very poor measure of a hitter's actual offensive production. So what are the worst seasons ever turned in by players who topped 100 RBIs? The
Baseball Reference
blog did a list a little like that a while ago using
WAR
, but WAR includes defense and a positional adjustment; what I'm interested in is a list of guys who got RBIs but were in fact poor offensive players. So I've used only the batting component of Baseball Reference's WAR (rbat), the number of runs above or below average the player's bat was worth.
Here's the actual list
. I'm making a few subjective adjustments to the order of the top 10 below:
[+] Enlarge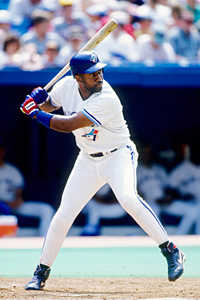 US PresswireFormer Toronto outfielder Joe Carter drove in 102 runs in 1997.
10.
Jeff Francoeur
, 2006 Braves: .260/.293/.449 (-16 rbat), 103 RBIs
This was Francoeur's first full season, when, at age 22, we could still dream about what might happen if he learned to take a pitch every now and then. He generally hit fifth or sixth in a solid lineup, so he had plenty of runners on base.
9. Ray Pepper, 1934 Browns: .298/.333/.399 (-18 rbat), 101 RBIs
The Browns had one above-average hitter get more than 31 PA. As a team, they had a 77 OPS+, last in the AL, so Pepper's 83 was right in line. But it was a hitters' park in a hitter's time, so Pepper knocked in 101 just by banging out a bunch of singles in a bad lineup, topping 100 RBIs with just six homers. This was Pepper's only full season; I guess people just didn't value a proven run producer in those days.
8. Tony Armas, 1983 Red Sox: .218/.254/.453 (-16 rbat), 107 RBI
Armas hit 36 homers in '83, then led the league in homers (43), RBIs (123) and strikeouts (156) in '84. But he was never able to hit for average or draw walks, and in '83, all the non-home-run-hitting aspects of his game were at their very worst.
7. Lou Bierbauer, 1894 Pirates: .303/.337/.407 (-18 rbat), 109 RBI
Bierbauer's raw numbers don't look nearly as bad as they were; the entire Pirates team hit .312/.379/.443, and the league averaged more than seven runs per game. Four Pirates starters had an OBP better than .400 and a ton of batters reached on errors, so Bierbauer had plenty of opportunities despite only three homers.
6. Moose Solters, 1936 Browns: .291/.336/.467 (-15 rbat), 134 RBI
These Browns were better hitters than the ones from two seasons prior, and the park and era helped just as much. Solters' line is no worse than the four others above, but he was that bad and had 134 RBIs! Solters actually surrounded this one with two legitimately good years in 1935 and '37, but here he was just in the right place at the right time.
5.
Ruben Sierra
, 1993 Athletics: .238/.288/.390 (-18 rbat), 101 RBI
As I
wrote a few weeks ago
, in 1994, Bill James thought Sierra was headed to the Hall. That was written just after this atrocious season. With little patience and just OK power, Sierra depended on maintaining a high batting average to be productive. That aspect of his game fell apart in '93. Sierra was never quite this bad again, but also never really recovered, and never drove in 100 again.
4. Lave Cross, 1895 Phillies: .271/.319/.364 (-21 rbat), 101 RBI
See No. 7 above. Cross was one of four Phillies to top 90 RBIs (in just 131 team games). A year before, Cross had played like a star: .387/.424/.528, 132 RBIs. In '95, everything about his game dropped through the floor, and he hit just two home runs, but he still reached 100 ribbies. Safe to say that Hall of Fame teammates Billy Hamilton (.490 OBP) and Ed Delahanty (.500) helped.
3.
Vinny Castilla
, 1999 Rockies: .275/.331/.478 (-20 rbat), 102 RBI
Through his prime, Castilla was a pretty decent hitter who Coors Field made look like a star; this was past that, and he was a very poor hitter who Coors made to look pretty decent. Surprising that Castilla's partner in crime against unadjusted slash lines,
Dante Bichette
, doesn't make this list, but much of Bichette's negative value came from defense, while Castilla was a solid glove man.
2.
Tony Batista
, 2004 Expos: .241/.272/.455 (-22 rbat), 110 RBI
If Castilla had never set foot in Coors and
had an insane stance
, he'd be Batista, whose previous season with Baltimore was one RBI short of No. 1: .235/.270/.393 (-29 rbat), 99 RBI.
1. Joe Carter, 1997 Blue Jays: .234/.284/.399 (-25 rbat), 102 RBI
For Carter, 1997 was his last full season and his worst, but in addition to No. 1, he also occupies spots 11, 15, 47, 105, 129 and 139 on the list. Carter was a more athletic and longer-lasting version of Armas. The Jays plugged Carter into either the number three or four spot in 157 of their 162 games in '97, where he cost them significantly in runs and wins on both sides of the ball despite the RBI.
Each of these 10 guys cost his team runs with his bat, while apparently excelling in the category most people seem to associate with "run production" -- RBI are kind of a fun little thing to look at, but it would be nice if we stopped pretending they mean anything.
Bill writes for The Platoon Advantage on ESPN's SweetSpot Network, and you can follow him on Twitter.