SweetSpot:

Runelvys Hernandez
March, 30, 2011
3/30/11
12:25
AM ET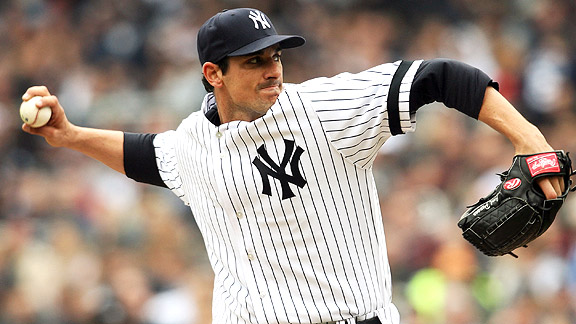 Nick Laham/Getty ImagesApril 2, 2007: Carl Pavano draws the Opening Day start for the Yankees.
Last week the
Kansas City Royals
announced
Luke Hochevar
as their Opening Day starter, which certainly made for a happy day for the Hochevar family, but considering his career 5.60 ERA probably didn't send Royals fans flocking to purchase 20-game plans.
I'll be honest: I love hearing the official announcements of all the first-game starters. Why? Because I heard about Luke Hochevar and it sent me searching for the most improbable Opening Day starters of the past decade.
10. David Wells, Red Sox, 2005
Wells, of course, had a long and successful career, but how did he end up drawing the first start following Boston's historic 2004 World Series title, considering he wasn't on that team? Well,
Pedro Martinez
signed with the Mets,
Derek Lowe
left for the Dodgers,
Curt Schilling
had an injured ankle that meant he wasn't ready and Terry Francona simply decided to give the ball to Boomer (against the Yankees, no less) rather than holdovers
Tim Wakefield
or
Bronson Arroyo
.
9. Carl Pavano, Yankees, 2007
Pavano hadn't pitched in 643 days when he drew the start. Why?
Chien-Ming Wang
had pulled a hamstring,
Andy Pettitte
was battling back spasms and
Mike Mussina
had pitched too late in spring training. So it was Pavano drawing the start, "the same Pavano whose many ailments have included a bruised buttocks," as the New York Times heralded. Pavano started the game, started again seven days later … and that was it for his 2007 campaign.
8. Jimmy Haynes, Reds, 2003
Haynes was a hotshot prospect coming up through the Orioles system but like a lot of pitching prospects of that era melted under the barrage of longballs. He drifted to Oakland, Milwaukee and finally Cincinnati, where he put together a superficially good 15-10 season in 2002, thus drawing the 2003 opener. He really wasn't that good in '02: 210 hits allowed in 196 innings, a 126/81 strikeout/walk ratio and 1.48 WHIP. He went 2-12 with a 6.30 ERA in 18 starts in '03.
7. Runelvys Hernandez, Royals, 2003
Hernandez was known as Fat Elvys for his ample body mass. He had a decent rookie season in 2002, with a 4.36 ERA in 12 starts, and was really the only option for the Royals, since
Paul Byrd
, their only good starter, had signed with Atlanta. Despite Fat Elvys drawing the opener and
Darrell May
eventually leading the club with 10 victories, the Royals had a surprising 83-79 record in 2003, their only winning season since 1994.
6. Ryan Drese, Rangers, 2005
Drese drew the start after going 14-10 with a 4.20 ERA in 2004. Under Rangers standards of that time, that was a pretty awesome season. Believe it or not, that was the third-best ERA of any Rangers starter from 2000 to 2008 (behind only two seasons by
Kenny Rogers
). Drese lasted just 12 starts and was released with a 6.46 ERA after getting into an in-game scuffle with catcher
Rod Barajas
.
5. Mike Maroth, Tigers, 2003
As a rookie in 2002, Maroth had posted a 4.48 ERA in 21 starts and struck out an uninspiring 58 hitters in 128.2 innings. Among pitchers with at least 75 innings, that was the second-lowest strikeout rate in the American League. However, considering the '02 Tigers had lost 106 games, that was good enough to draw the opener. The Tigers lost that game 3-1 on their way to a 1-17 start and 119 losses -- 21 of them by Maroth.
4. Mark Hendrickson, Marlins, 2008
Hendrickson has lasted nine seasons in the bigs despite a 5.02 career ERA, splitting time as a starter and reliever. He started for Florida even though he'd gone 4-8 with a 5.21 ERA with the Dodgers the previous year. The Marlins didn't have a lot of good options.
Dontrelle Willis
had been traded to Detroit and their No. 2 guy in '07,
Scott Olsen
, had posted a 5.33 ERA. Rather than go with a youngster, Hendrickson drew the start.
3. Omar Daal, Phillies, 2001
The Phillies have come a long way in a decade. This one was weird since Daal had led the majors with 19 losses in 2000, pitching for Arizona and Philadelphia. The Phillies' best starters in 2000 had been
Randy Wolf
and
Robert Person
. Curt Schilling was traded to Arizona during the season for Daal and others, and it appears the Phillies held Wolf for the home opener in the fourth game of the season.
2. Ron Villone, Pirates, 2002
This one caught my eye since Villone spent most of his career as a reliever. He'd spent 2001 with the Rockies and Astros, starting in just 12 of his 53 appearances, and not pitching very well with a 5.89 ERA. He'd had a 5.43 ERA with the Reds in 2000, mostly as a starter. After losing 100 games in 2001, the Pirates signed him as a free agent and made him their Opening Day starter. He lasted just seven starts before moving back to the bullpen.
1. Dewon Brazelton, Devil Rays, 2005
Easily the worst pitcher on our list, Brazelton had an 8-25 career record with a 6.38 ERA. He'd been the third overall pick in the 2001 draft, taken just after
Joe Mauer
and
Mark Prior
, and just ahead of
Gavin Floyd
and
Mark Teixeira
. He'd won six games in 2004 with bad peripherals (64/53 strikeout/walk ratio), despite which Lou Piniella gave him the ball on Opening Day. He actually pitched pretty good matched up against
Roy Halladay
, allowing three runs in 7 1/3 innings with no walks and four strikeouts, but drew the loss. It would be the last good outing of his major league career. He made seven more starts, allowing 31 runs, and then made 12 relief appearances, giving up runs in 11 of them.
Follow David Schoenfield on Twitter at @dschoenfield. Follow the SweetSpot blog at @espn_sweet_spot.
April, 8, 2009
4/08/09
10:41
AM ET
Tom Verducci on who should be worried this year about
this year's Year After Effect
:
Mike Pelfrey was ready for me in the Mets spring training clubhouse, as if he knew I was coming.

"Look at me," the Mets right-hander said one day last month. "I'm a pretty big guy." Yes, sir. Pelfrey is 6-foot-7. Thankfully, he is a rather pleasant, mild-mannered guy.

I didn't feel threatened, but my theory about young pitchers getting overworked was precisely in Pelfrey's crosshairs. Pelfrey was familiar with my rule of thumb that pitchers 25 and under are at risk of injury or significant regression in the year after their clubs boost their workload by 30 or more innings.

--snip--

So I agreed with some of what Pelfrey presented. He turned 25 in January and is a big guy, so maybe he withstands his 48-inning jump better than someone younger and smaller. That said, I'm still not taking him off my list of the most at-risk young pitchers of 2009 based on the Year After Effect. There is a reason why the Mets had an innings threshold in mind for Pelfrey, a reason why the Yankees have treated Joba Chamberlain with kid gloves and a reason, going further back, why Oakland was very careful to manage the innings growth of its young starters almost a decade ago when I first learned about this growing trend: Too much too soon is risky stuff.

This year I red-flagged 10 pitchers -- and the list includes some of the greatest young arms in the game. Here are those pitchers and the innings jumps that put them on the list ...
The list:
Jon Lester
,
Cole Hamels
,
Chad Billingsley
,
Tim Lincecum
,
Clayton Kershaw
,
Dana Eveland
, Mike Pelfrey,
John Danks
,
Jair Jurrjens
, Jon Niese.
Verducci:
How much should those guys be worried? Over the previous three years I red-flagged a total of 24 young pitchers at the start of those seasons. Of those 24 at-risk pitchers, 16 were hurt in that same season. Only one of the 24 pitchers managed to stay healthy and lower his ERA: Ubaldo Jimenez of Colorado, a guy I said would be less at risk because of his powerful body type.

In the early years of my tracking the Year After Effect, the Royals notoriously pushed young pitchers to awful results (Jose Rosado, Chris George, Runelvys Hernandez, Mac Suzuki, etc.). The Pirates have supplanted the Royals as the worst offenders (Zach Duke, Paul Maholm, Tom Gorzelanny). It's one thing for the Mets to push Pelfrey with a playoff spot at stake, but it's hard to explain why a rebuilding franchise would put young starters at risk in meaningless games in September.

Last year I red-flagged seven pitchers: Jimenez, Gorzelanny, Ian Kennedy (Yankees), Dustin McGowan (Blue Jays), Chad Gaudin (Cubs), Yovani Gallardo (Brewers) and Fausto Carmona (Indians). Except for Jimenez all of them broke down with injuries -- some of them serious, not all arm-related -- and combined to go 29-32. None won 10 games. Previous blowouts that were red-flagged included Francisco Liriano, Gustavo Chacin, Anibal Sanchez, Adam Loewen and Scott Mathieson.
I'm sure you see the gap in this analysis ... Where's the control group? We know -- we've known for a long, long time -- that young pitchers who pile up innings are susceptible to injuries. The Holy Grail of baseball is something that will keep young pitchers from ruining those oh-so-valuable gears and levers and pulleys that allow them to somehow perform their superhuman feats. But are young pitchers who boost their workload by 30 innings more injury-prone than pitchers who boost their workload by 20 innings? Is a 24-year-old pitcher who goes from 120 innings to 150 innings more likely to get hurt than a 22-year-old pitcher who goes from 175 innings to 190 innings? Do pitch counts matter, at all?
Verducci's method strikes me as terribly arbitrary. That doesn't mean it doesn't work. But without a control group -- without some basis for comparison -- we can't really know if pasting the photos of a bunch of young pitchers on the wall and throwing darts wouldn't work just about as well. And one thing I'm sure about: the Red Sox and Rays and Cardinals and Indians and Padres and another half-dozen (at least) teams aren't throwing darts.
Not exactly.