August, 4, 2012
8/04/12
7:47
AM ET
By
Doug Kern
| ESPN Stats & Information
Theme of the week: Late-game drama.
[+] Enlarge

Thearon W. Henderson/Getty ImagesThe Athletics on Friday won their second 15-inning game in the span of five days.
Statistical support for this column provided by Baseball-Reference.com and the Elias Sports Bureau.
April, 16, 2012
4/16/12
11:00
AM ET
By
Christina Kahrl
| ESPN.com
Please think these things through:
The Twins might be bad on offense, but Ron Gardenhire's being a worrywart over having
Joe Mauer
and
Ryan Doumit
in the same lineup is a way to make a bad lineup worse. The issue is that Mauer and Doumit are his two backstops, and there's that old-school concern that if your starting catcher has to come out you want to have a guy on the bench to back him up. If Doumit is the DH, that swap might hurt the Twins' offense because they'd lose the designated hitter.
But you'll hurt your offense when you play
Clete Thomas
over Doumit because he
might
have to come in and catch a couple of innings if Mauer needs to come out.
That might seem silly to bring up when Thomas is the hero of the hour in the Twin Cities. The recently discovered bit of waiver bait did just hit a home run, after all. But nice first impression aside, don't forget that this is the same Thomas who was projected to deliver a .660 OPS or so via Dan Szymborski's ZiPS before the year. Maybe that looks good in Minnesota, but it's no reasonable solution, even for this lineup.
Speaking of which:
Thomas just got Pittaro'd, a legacy that Tigers fans might remember well from the days of the immortal Sparky Anderson back in the '80s:
Sparky on Chris Pittaro: "He's going to be a great ballplayer, and that's etched in cement." Pittaro wound up with 102 PAs in the major leagues, hitting .249/.299/.323.
Leyland on Thomas in February 2011: "Clete, he's one of our favorites, really. He's a four-tools guy, he's got a lot of tools." Favorite or not, Thomas spent 2011 in Toledo, and I'm sure the Tigers will be glad to get the occasional postcard from Minnesota.
Putting the word 'rotate' in your rotation:
Speaking of Sparky, Leyland and the Tigers, remember those "Tigers romp" predictions of 10-12 days ago? Well, take another page out of history, because right now the Kitties' rotation looks a lot like those mid-'80s Motor City squads. That was a rotation that had Jack Morris, a good sidekick or two (Dan Petry and Frank Tanana), and … a cast of dozens that could not hold the lead for a heavy-hitting lineup.
Fast forward and you've got
Justin Verlander
flanked by frustrating/promising
Max Scherzer
and
Rick Porcello
, and ... well, we'll see won't we? It depends on how long
Doug Fister
is out, but the Tigers are being sensible and cautious with the strike-throwing beanpole.
The camp battle for the fifth starter was supposed to be an amusing sidelight to the Tigers' season-long stomp to first place.
Adam Wilk
and
Drew Smyly
are getting first crack at replacing Fister. In reality they're still essentially battling over who gets to stay once Fister is ready to return.
Andrew Oliver
's shot at re-entering the race probably hasn't been helped by his nine walks in 9 2/3 innings pitched for the Mudhens.
Rotate times two:
You might also pity the Padres, if you please.
Dustin Moseley
's shoulder looks bad, so he may not get to reap the benefit from pitching in Petco, while
Tim Stauffer
recovers from an injured triceps. In their spots, Bud Black gets to use righties
Anthony Bass
(15 minor-league starts above A-ball) and
Joe Wieland
(14).
That might seem like the Padres are pushing things, but they don't want to call up top prospect Casey Kelly and add him to the 40-man roster any sooner than they have to -- not when they can push off his arbitration eligibility for another year. Bass is an interesting enough utility pitcher who could figure out a changeup and stick as a starter, while Wieland's upside is that he eventually turns into a nice strike-throwing fourth-starter type -- a lot like Moseley.
Pleading the fifths, and at third:
As the schedule starts to hit its regular rhythm, fifth starters
Jerome Williams
(Angels),
Ryan Vogelsong
(Giants),
Drew Pomeranz
(Rockies),
Charlie Morton
(Pirates) and
Ted Lilly
(Dodgers) all showed up and pitched over the weekend. So if you were hoping for anything really unconventional, guess again.
One of the things lost from that bit of scheduled shuffling? The Rockies' commitment to multi-corner substitute
Jordan Pacheco
didn't last. In broad strokes, Pacheco might seem like a perfect bench weapon. He switch-hits, plays catcher, third and first, and he has a career .803 OPS in the minors. But three starts in eight games, and see ya -- the Rockies' hot corner belongs to
Chris Nelson
. The 2011 season was the first year in the last four that Nelson didn't lose significant time to injury. Given that Nelson is also projected to deliver just a .714 OPS (again, thanks to Dan Szymborski's ZiPS), he isn't a great option for Colorado at third base even if he stays healthy. I suspect Dan O'Dowd's not going to let this ride any longer than he has to.
Christina Kahrl covers baseball for ESPN.com. You can follow her on Twitter.
January, 26, 2012
1/26/12
8:30
AM ET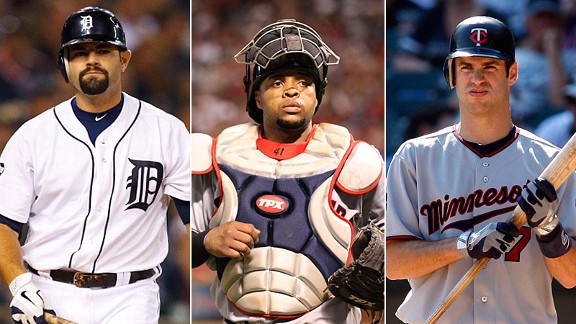 US PresswireWith Alex Avila, Carlos Santana and Joe Mauer, the AL Central is loaded at catcher.
We're back with more divisional position rankings for 2012. You can scream, you can holler, you can protest and call me names. But just because I rated your player lower than you think he deserves doesn't mean I hate your team.
(Here are the
NL East
and
NL West
rankings.)
Catcher
1.
Alex Avila
, Tigers
2.
Joe Mauer
, Twins
3.
Carlos Santana
, Indians
4.
Salvador Perez
, Royals
5.
A.J. Pierzynski
, White Sox
The AL Central might not be baseball's glamor division, but it may have three of the top five catchers in the game if Mauer bounces back from his injury-plagued campaign. Since we're not certain of his health, I'm going to give top billing to Avila, who had the best hitting numbers of any catcher outside of
Mike Napoli
and plays solid defense. I wouldn't be surprised if Santana explodes; with his power-and-walks combo, all he has to do is raise his average 30 points and he'll be one of the most valuable players in the game. Considering that his average on balls in play was .263, there is a good chance of that happening. Perez hit .331 in 39 games; OK, he won't do that again, but he doesn't turn 22 until May and puts the ball in play. There's no shame in being fifth in this group but that's where I have to place Pierzynski, who keeps rolling along and is now 36th on the all-time list for games caught.
First base
1.
Prince Fielder
, Tigers
2.
Paul Konerko
, White Sox
3.
Eric Hosmer
, Royals
4.
Justin Morneau
, Twins
5.
Matt LaPorta
, Indians
In 2009, when Morneau played 135 games, he hit .274 AVG/.363 OBP/.516 SLG. Even if he replicates that line, he may rank only fourth. Konerko has hit a combined .306 with 70 home runs the past two seasons. He's 104 home runs from 500 but turns 36 in March, so he's probably four seasons away; not sure he'll hang on that long, but who knew he'd be this good at this age. If Hosmer improves his walk rate and defense and Konerko declines, Hosmer could climb past him. If it doesn't happen this year, it will happen next. The most similar batter to him at age 21: Eddie Murray.
Second base
1.
Jason Kipnis
, Indians
2.
Gordon Beckham
, White Sox
3.
Johnny Giavotella
, Royals
4.
Alexi Casilla
, Twins
5.
Ramon Santiago
, Tigers
Well, this isn't exactly a
Robinson Cano
/
Dustin Pedroia
/
Ben Zobrist
debate, is it? Kipnis' bat is a sure thing, as evidenced by his excellent play after his call-up (.272 average and .507 slugging in 36 games). His glove was once a question mark but now appears solid enough that he looks like a future All-Star to me. Can anybody explain what has happened to Beckham? He's second mostly by default; he's gone downhill since his superb rookie season in 2009 but is only 25, so there's hope that he'll find those skills again. Giavotella has some potential with the bat (.338/.390/.481 at Triple-A), which is more than you can say for Casilla and Santiago.
Third base
1.
Miguel Cabrera
, Tigers
2.
Mike Moustakas
, Royals
3.
Lonnie Chisenhall
, Indians
4.
Danny Valencia
, Twins
5.
Brent Morel
, White Sox
We'll go with the idea that Cabrera is Detroit's starting third baseman, although I predict he'll end up starting more games at designated hitter. Manager Jim Leyland will end up doing a lot of mixing of his lineups, but for this little exercise we have to choose a starter. Moustakas didn't tear up the league as a rookie and I worry about his ability to hit lefties (.191, homerless in 89 at-bats), but he showed more than fellow rookies Chisenhall and Morel. Valencia doesn't get on base enough and he rated poorly on defense in 2011. I hope he's at least good in the clubhouse. Morel was terrible all season and then exploded for eight of his 10 home runs in September and drew 15 walks after drawing just seven the previous five months. Maybe something clicked.
Shortstop
1.
Asdrubal Cabrera
, Indians
2.
Alexei Ramirez
, White Sox
3.
Jhonny Peralta
, Tigers
4.
Alcides Escobar
, Royals
5.
Jamey Carroll
, Twins
Peralta had the best 2011 season, but he's a difficult guy to project. He had an .804 OPS in 2008 but dropped to .691 in 2009. He had a .703 OPS in 2010 and then .823 in 2011. I just don't see a repeat season, at the plate or in the field. Cabrera didn't rate well on the defensive metrics, and after a strong start he wore down in the second half. Ramirez has turned into a nice player, with a good glove and some power, and he even draws a few walks now. Escobar is a true magician with the glove. Carroll is actually a useful player who gets on base (.356 career OBP), but he's pushed as an everyday shortstop and he'll be 38. He'll be issued the honorary
Nick Punto
locker in the Twins' clubhouse.
Left field
1.
Alex Gordon
, Royals
2.
Alejandro De Aza
, White Sox
3.
Ben Revere
, Twins
4.
Michael Brantley
/
Shelley Duncan
, Indians
5.
Ryan Raburn
/
Don Kelly
, Tigers
I'm not sure what to do here. After Gordon, I just get a headache. We'll pretend to believe in De Aza after his impressive stint in the majors (171 plate appearances, .329/.400/.920). He's hit in Triple-A for three seasons now, and while he's not going to post a .400 OBP again, he should be adequate. Revere is one of the fastest players in the majors, but he's all speed and defense; he hopes to grow up to be
Brett Gardner
, which isn't a bad thing, but he'll have to learn to get on base at a better clip. Brantley doesn't have one outstanding skill so he'll have to hit better than .266 to be anything more than a fourth outfielder; Duncan provides some right-handed pop as a platoon guy. The Tigers have
Delmon Young
, but I'll slot him at DH. That leaves supposed lefty masher Raburn and utility man Kelly to soak up at-bats; both had an OBP below .300 in 2011, although Raburn has hit better in the past.
Center field
1.
Austin Jackson
, Tigers
2.
Denard Span
, Twins
3.
Grady Sizemore
, Indians
4.
Lorenzo Cain
, Royals
5.
Alex Rios
, White Sox
I can't rate Sizemore any higher since he's played just 104 games over the past two seasons, and he hasn't had a big year since 2008. Rios was terrible in '09, OK in '10 and worse than terrible in '11. I'm not betting on him.
Right field
1.
Shin-Soo Choo
, Indians
2.
Brennan Boesch
, Tigers
3.
Jeff Francoeur
, Royals
4.
Josh Willingham
, Twins
5.
Dayan Viciedo
, White Sox
Choo would like to forget 2011, but there's no reason he shouldn't bounce back and play like he did in 2009 and 2010, when he was one of the 10 best position players in the AL. I don't expect Francoeur to deliver 71 extra-base hits again, but maybe he'll surprise us. Viciedo is apparently nicknamed "The Tank," which makes me wonder how much ground he can cover. He did improve his walk rate last season in the minors and turns 23 in March, so there's still room for more growth.
Designated hitter
1.
Billy Butler
, Royals
2.
Travis Hafner
, Indians
3.
Ryan Doumit
, Twins
4. Delmon Young, Tigers
5.
Adam Dunn
, White Sox
Has there been a bigger prospect disappointment than Young in the past decade? I mean, yes, there were complete busts like
Brandon Wood
and
Andy Marte
, but those guys had obvious holes in their games, while Young was viewed as a
sure thing
, a consensus No. 1 overall prospect. But his bat has never lived up to its billing. Other than one decent year in Minnesota, he has low OBPs and he clearly lacked range in the outfield. His career WAR on Baseball-Reference is minus-0.2 (1.6 on FanGraphs), meaning he's been worse than replacement level. He's just not that good, Tigers fans.
No. 1 starter
1.
Justin Verlander
, Tigers
2.
John Danks
, White Sox
3.
Justin Masterson
, Indians
4.
Luke Hochevar
, Royals
5.
Carl Pavano
, Twins
Masterson was better than Danks in 2011, and I do believe his improvement was real. He absolutely crushes right-handers -- they slugged an anemic .259 off him. Danks had two bad months but has the longer track record of success. Even in his "off year" he had a higher strikeout rate and lower walk rate than Masterson. If you want to argue about Hochevar versus Pavano, be my guest.
No. 2 starter
1.
Doug Fister
, Tigers
2.
Ubaldo Jimenez
, Indians
3.
Gavin Floyd
, White Sox
4.
Francisco Liriano
, Twins
5.
Jonathan Sanchez
, Royals
Yes, sign me up for the Doug Fister bandwagon club. Jimenez's fastball velocity was down a couple miles per hour last season but the positives are that his strikeout and walk rates were identical to 2010; he'll be better. Floyd isn't flashy but he's now made 30-plus starts four years in a row, and he'll become a very rich man when he becomes a free agent after this season. Sanchez won't have the luxury of pitching in San Francisco (and to eight-man NL lineups).
No. 3 starter
1.
Max Scherzer
, Tigers
2.
Scott Baker
, Twins
3.
Philip Humber
, White Sox
4.
Bruce Chen
, Royals
5.
Josh Tomlin
, Indians
I could be underrating Baker, who was excellent last season, but only once in his career has he made 30 starts in a season. Tomlin's fans will disagree with this ranking, but he's a finesse guy who relies on the best control in baseball (21 walks in 26 starts). He's the kind of guy you root for, but the league seemed to figure him out as the season progressed.
No. 4 starter
1.
Felipe Paulino
, Royals
2.
Rick Porcello
, Tigers
3.
Jake Peavy
, White Sox
4.
Derek Lowe
, Indians
5.
Nick Blackburn
, Twins
Scouts still love Porcello's arm and I know he's just 23, but he's made 89 big league starts and shown no signs of getting better. His WHIP has increased each season and his strikeout rate remains one of the lowest in baseball. Paulino has an electric arm -- he averaged 95 mph on his fastball -- and
is
getting better. How could the Rockies give up on him after just 14 innings? How could the Astros trade him for
Clint Barmes
? Anyway, kudos to the Royals for buying low on the guy who may turn into their best starter. Peavy can't stay healthy. Lowe has led his league in starts three out of the past four seasons, but I'm not sure that's a good thing anymore. Blackburn is a poor man's Lowe, and I don't mean that in a good way.
No. 5 starter
1.
Chris Sale
, White Sox
2.
Jacob Turner
, Tigers
3.
Aaron Crow
/
Danny Duffy
, Royals
4.
Fausto Carmona
/
David Huff
/
Jeanmar Gomez
, Indians
5.
Brian Duensing
/
Jason Marquis
, Twins
Welcome to the AL Central crapshoot. Turner and Sale have the most upside, but one is a rookie and the other is converting from relief. Crow will also be given a shot at the rotation, but his difficulties against left-handed batters (.311 average allowed) don't bode well for that transition. Even if the artist formerly known as Carmona gets a visa, what do you have? A guy with a 5.01 ERA over the past four seasons. Duensing is another typical Twins pitcher, which means he at least throws strikes. His first full season in the rotation didn't go well, so of course the Twins brought in Marquis, yet another guy who doesn't strike anybody out.
Closer
1.
Jose Valverde
, Tigers
2.
Joakim Soria
, Royals
3.
Matt Thornton
, White Sox
4.
Chris Perez
, Indians
5.
Matt Capps
, Twins
Four good relievers plus Matt Capps. I do admit I'm a little perplexed by Perez, however. In 2009, he struck out 10.7 batters per nine innings. In 2010, that figure fell to 8.7 but he posted a pretty 1.71 ERA. In 2011, it was all the way down to 5.9, but without much improvement in his control. Perez blew only four saves but he did lose seven games. He survived thanks to a low .240 average on balls in play. He's an extreme fly-ball pitcher but didn't serve up many home runs. Bottom line: I'd be nervous.
Bullpen
1. Indians --
Vinnie Pestano
,
Rafael Perez
,
Tony Sipp
,
Joe Smith
,
Nick Hagadone
2. Royals --
Jonathan Broxton
,
Greg Holland
,
Louis Coleman
,
Tim Collins
,
Jose Mijares
3. Tigers --
Joaquin Benoit
,
Octavio Dotel
,
Phil Coke
,
Daniel Schlereth
,
Al Alburquerque
4. White Sox --
Jesse Crain
,
Jason Frasor
,
Will Ohman
,
Addison Reed
,
Dylan Axelrod
5. Twins --
Glen Perkins
,
Alex Burnett
,
Anthony Swarzak
,
Kyle Waldrop
,
Lester Oliveros
If you're starting to think I'm not high on the Twins for this season, you would be correct.
Intangibles
1. Royals
2. Indians
3. Tigers
4. White Sox
5. Twins
I like the youthful exuberance of the Royals, plus the likelihood of improvement from the young players and the possibility of some midseason reinforcements from the minors. The depth of the bullpen will help bolster a shaky rotation, and this just feels like an organization that is finally starting to believe in itself. The Indians are riding last year's positive results and enter the season knowing they might get better production from Choo and Sizemore and full seasons from Kipnis and Chisenhall. I'm not knocking the Tigers here, but they do lack depth in the pitching staff and the pressure is on them.
The final tally
1. Tigers, 65 points
2. Royals, 55 points
3. Indians, 54 points
4. White Sox, 46 points
5. Twins, 35 points
No surprise here: The Tigers will be heavy favorites to win the division with a lineup that should score a ton of runs. I don't think it's a lock that they'll win -- Verlander, Avila, Peralta and Valverde will all be hard-pressed to repeat their 2011 campaigns, for example. But the Royals and Indians appear to have too many questions in the rotations, the White Sox have serious lineup issues, and the Twins have a beautiful ballpark to play their games in.
December, 14, 2011
12/14/11
1:00
PM ET
By
Christina Kahrl
| ESPN.com
The Minnesota Twins'
pursuit of Josh Willingham
makes sense for them, but does it make sense for him? The Twins need a left fielder to plug into the lineup to replace
Delmon Young
, and they need right-handed power to replace Young and
Michael Cuddyer
.
[+] Enlarge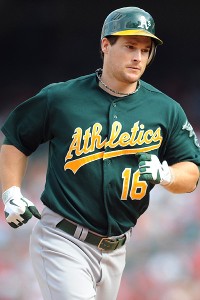 Kelvin Kuo/US PresswireFormer A's outfielder Josh Willingham slugged 29 home runs last season.
Part of this is a function of their lineup, which rests upon the left-handed bats of
Joe Mauer
and
Justin Morneau
. That's a fairly fragile proposition at this point, just like the two stars themselves, assuming Morneau ever completes his comeback from post-concussion symptoms. The Twins finished next to last in the AL in runs scored, finishing ahead of only the Mariners. They also finished last in the AL and 29th in the major leagues in
Isolated Power
-- even with the advantage of a DH.
That in turn is a function of their ballpark. The one team that finished behind the Twins in ISO, the Padres, play in Petco Park, the best pitchers' venue in the major leagues. But using the 2012 edition of the irreplaceable "Bill James Handbook," you'll see that the Twins' Target Field indexes worse than any other in park factor for home runs across the past two years (76, when 100 is average). However, with just two years in existence, Target Field's numbers have already bounced around a bit; last year, it rated 104 for right-handed hitters' homers. That's far from the biggest boosts via park power: The Yankees' short-porch in right field indexes at 143 across three years and the White Sox's equally short porch in left indexes at 138. But in a park that slightly favors pitchers (95 over two years), that looks like an exploitable advantage for a Twins team that needs power.
Hence, the addition of Willingham on top of initially signing
Ryan Doumit
to
help provide power at DH, catcher, first base and/or the outfield corners
. Coming off a 29-homer season for the A's in equally pitcher-friendly, power-strangling Oakland Coliseum, Willingham should be an outstanding third wheel and right-handed foil to Mauer and Morneau. But does signing with the Twins make sense for Willingham? We'll see what the terms will be on what's already reported to be a multiyear deal -- it's hard to beat handsome compensation, certainly, especially as a free agent heading into your age-33 season.
But beyond cash, is Minnesota where you want to wind up? Can the Twins contend? Signing Willingham is the latest move in GM Terry Ryan's speedy bit of retooling. First, he added
Jamey Carroll
to provide
an OBP boost at the top of the order and to play shortstop
, then he added Doumit's flexibility and bat. If this aging crew can complement Mauer and Morneau, with
Ben Revere
and
Denard Span
in the outfield, the Twins have what looks to be a contending lineup in a potentially expanded playoff format and a weak division. That's if everyone stays healthy; if the Tigers come back to the pack, that would also help, but that's obviously outside of Ryan's control.
The downside of signing Willingham is what it means for the Twins' already-ragged defense. After rating negatively as a left fielder in four of the past five years via Total Zone (and three of five via Baseball Info Solutions' Plus/Minus) putting him in left field doesn't figure to do Twins pitchers any favors. Adding him on top of the DH-worthy Doumit and Carroll (with his weak range at short) makes it especially hard to sustain the faith in fundamentals that's supposed to be a Minnesota mantra. But the Twins
already rated last in Defensive Efficiency and Baseball Prospectus' Park-Adjusted Defensive Efficiency last year
, so it wasn't like they could rank any lower. But they could get worse.
In the end, adding Willingham should help power a much-improved Twins offense -- how could he not? You can appreciate the problem from Ryan's perspective, because he was already tasked with shoring up an offense. The new problem is whether or not Willingham's the latest poor addition to what might be a particularly bad defense lined up behind a pitching staff already well known for its pitch-to-contact tendencies. Come the season, it could be a summer of slugfests in the twin cities.
Christina Kahrl covers baseball for ESPN.com. You can follow her on Twitter.
December, 1, 2011
12/01/11
9:35
AM ET

The American League Central may have a reputation as baseball's skinflint division, but such is not the case: The White Sox, Twins and Tigers each had payrolls over $100 million in 2011 and ranked in the top 10 of highest-salaried ballclubs.
The problem was that two of those three teams didn't get much for their money. Considering the issues in Chicago and Minnesota, and the youth and unwillingness to spend big in Cleveland and Kansas City, Detroit will enter 2012 as the heavy favorite to win the division -- no matter what happens in the offseason. But even the Tigers are far from a sure thing and if the Indians can get good health from
Shin-Soo Choo
and
Grady Sizemore
in 2012, plus strong seasons from youngsters
Jason Kipnis
and
Lonnie Chisenhall
, their offense could be dramatically improved.
But that's getting ahead of ourselves. Here's a quick look at some action plans and items of interest for the five teams.
Detroit Tigers
1. Third base (
Brandon Inge
)
With Inge plummeting to a .197 average, Detroit's third-base production was among the worst in the majors. The team has already been linked to free agent
Aramis Ramirez
and trade discussions with Angels on
Maicer Izturis
. Both would be big upgrades over Inge, who still has one year remaining on his contract. The dark horse possibility: With
Carlos Guillen
($13 million) and
Magglio Ordonez
($10 million) off the books, the Tigers pursue
Jose Reyes
to fill their leadoff void, moving
Jhonny Peralta
to third base.
Likely solution: As much I love the Reyes idea, Ramirez to Detroit seems like a logical fit. The negatives are Ramirez's lack of range and Detroit's need for a little more athleticism in the lineup.

2. Middle relief
By the postseason, Jim Leyland was down to two relievers he trusted:
Jose Valverde
and
Joaquin Benoit
.
Al Alburquerque
had a strong rookie season out of nowhere and
Phil Coke
and
Daniel Schlereth
provide rare power lefty arms, but Albuquerque and Schlereth still have trouble throwing strikes. The Tigers could go after a low-cost veteran like
LaTroy Hawkins
,
Mike Gonzalez
or
Darren Oliver
, or maybe make a trade pitch for White Sox lefty
Matt Thornton
, although it seems unlikely Chicago would trade Thornton to a division rival.
Likely solution: A veteran righty-hander, with the Tigers counting on improvement from Coke and Schlereth.
3. A left-handed bat.
The Tigers missed
Brennan Boesch
's stick in the playoffs, as
Victor Martinez
and the hobbled
Alex Avila
were the only threats from the left side (granted,
Don Kelly
hit a big home run). Boesch's return will help, but Detroit could use a lefty bat to help balance out the lineup.
Likely solution:
Andy Dirks
may given another shot at that third/fourth outfielder job after hitting .251/.296/.406 as a rookie. But what about Rockies left fielder
Seth Smith
, who is on the trade block? His career .518 slugging percentage against righties has been bolstered a bit by Coors Field, but he's a solid hitter who could platoon with
Ryan Raburn
in left, or allow Raburn to play some at second base.
Cleveland Indians

1. Find a left fielder who can hit.
Michael Brantley
is a decent asset -- but as a center fielder. The plan to use Brantley as an everyday left fielder was never a great one to begin with, as he's never going to pop many balls over the fence. Brantley,
Austin Kearns
,
Shelley Duncan
and
Travis Buck
all started at least 20 games in left; Jared Head started six games there. As a group, Cleveland's left fielders hit a miserable .233 with seven home runs; only Baltimore and Minnesota received a lower OPS from their left fielders.
Likely solution: Signing
Grady Sizemore
doesn't necessarily push Brantley back to a starting role in left field. He's best used as a fourth outfielder and Sizemore insurance.
Michael Cuddyer
may end up getting priced out of Cleveland's range, so how former Twins teammate
Jason Kubel
? He can play left and step in as designated hitter when
Travis Hafner
suffers his inevitable breakdown.
2. Find at least one more starter.
Right now, the Indians can only count on
Justin Masterson
and
Ubaldo Jimenez
for their rotation.
Carlos Carrasco
is out for the season following Tommy John surgery,
Fausto Carmona
was terrible and even
Josh Tomlin
is a question mark after the league caught up to him in the second half (5.26 ERA).
Likely solution:
Jeanmar Gomez
has been roughed up in two stints in the majors (146 hits in 116 innings), but his Triple-A numbers were solid, if unspectacular. He'll be given another chance in spring training to battle
David Huff
for a rotation spot.
3. If not
Matt LaPorta
, who plays first base?
The big prospect acquired in the
CC Sabathia
deal, LaPorta just hasn't hit as expected, posting a .299 on-base percentage in 2011. The Indians seem ready to punt on LaPorta, who turns 27 in January so isn't even that young.
Carlos Santana
ended up playing a lot of first base down the stretch, but let's hope he's kept behind the plate, where his hitting value would be maximized.
Likely solution: If free agent
Carlos Pena
lowers his price, he's a possibility, and the Indians reportedly talked with Houston about
Brett Wallace
. I'm not sure Wallace is much of an upgrade over LaPorta, but at least he's younger.
Casey Kotchman
could fit nicely here as lower-cost alternative after posting a .378 OBP with Tampa. And hey, he's only two years older than LaPorta.
Chicago White Sox

1. What do you do with
Adam Dunn
and
Alex Rios
?
Dunn hit .159 with a .569 OPS. Rios hit .227 with a .613 OPS. Dunn was the least-valuable position player in baseball, according to Baseball-Reference.com, while Rios was seventh-worst. They made $24 million in 2011 and will make a combined $26 million in 2012. Both are signed through 2014.
Likely solution: General manager Kenny Williams will be busy during the winter meetings, perhaps shopping around guys like
Gavin Floyd
,
John Danks
and Matt Thornton, looking for some sort of backup plan to these two pieces of junk. The 40-man roster currently includes
Alejandro De Aza
, who probably deserves a chance to play somewhere after a nice run (if over his head) last season. Let's put it this way: he can produce an OPS higher than .613.
2. Third base (
Brent Morel
)
After struggling all season, hitting .250 with just two home runs and seven walks in 328 at-bats through August, Morel suddenly changed his approach in September, got more patient and swung for the fences. He hit just .224 the final month, but with eight home runs and 15 walks. Was it a legitimate improvement, or merely feasting off September tired arms and rookie call-ups?
Likely solution: Morel's hot September earns him another shot.
3. The new manager
This isn't so much an action plan, as a big question mark. Robin Ventura has no previous managerial experience, but the good sign for the White Sox is that respected pitching coach Don Cooper is still around to handle the pitching staff.
Likely solution: If Dunn and Rios stink it up again, it won't matter how well Ventura transitions into the job -- he'll be doomed.
Kansas City Royals

1. Fix the rotation
The Royals had a 4.82 ERA from their starters; only Baltimore was worse in the American League.
Likely solution: The Royals already made a move here, trading
Melky Cabrera
to the Giants for
Jonathan Sanchez
. The club also re-signed
Bruce Chen
. With the signing of
Jonathan Broxton
, and the emergence of rookie relievers
Greg Holland
,
Louis Coleman
and
Tim Collins
in 2011, fellow 2011 rookie
Aaron Crow
will be given a shot at the rotation. I have my doubts it will work: Crow walked 31 in 62 innings out of the bullpen and left-handed hitters tagged him for a .311 average and .538 slugging percentage. There's a reason he struggled in the minors as a starter in 2010 (5.73 ERA). He has a great arm, but won't be able to rely on his fastball/slider combo as a starter.
2. Second base (
Chris Getz
)
Royals second basemen posted a .301 OBP and .636 OPS (26th in the majors) in 2011.
Likely solution: Rookie
Johnny Giavotella
played the final two months there and hit .247 with a .649 OPS. He'll head into spring training as the favorite to win the job. He hit .338/.390/.481 at Triple-A, so the batting potential is there: Bill James projects him to hit .295/.342/.419.
3. Center field (empty -- Cabrera traded)
The Royals were smart to deal Cabrera after his career season.
Likely solution:
Lorenzo Cain
, acquired from Milwaukee in the
Zack Greinke
trade, will finally get a chance to play after spending 2011 in Triple-A. Cain is old for a guy still considered a prospect -- he turns 26 in April -- so he should be a polished product by now. He showed some power for the first time in his career, hitting 16 home runs for Omaha while batting .312. He doesn't walk much, so won't be a star, but should come closing to matching Cabrera's 2011 production.
Minnesota Twins

1. The M & M boys
After 2011's train wreck -- the club's first 90-loss season since 2000 (and at 99 losses, the most the 1982 Twins lost 102) -- it seems pretty clear this team will be dead in the water again unless
Joe Mauer
and
Justin Morneau
get healthy and regain their All-Star status. But they also can't assume these guys are going to play 140-plus games.
Likely solution: Obviously, the Twins need a better backup plan for Mauer than giving .167-hitting
Drew Butera
250 plate appearances. They already accomplished with the smart signing of
Ryan Doumit
to a one-year deal for $3 million. Doumit can catch or play right field, but his bat is good enough to warrant a regular place in the lineup even when he's not behind the plate. Of course, he's also been injury-prone throughout his career. Prospect Chris Parmalee, who impressed in a September call-up, gives the team a potentially decent backup option for Morneau as well.
2. Right field: Empty (Michael Cuddyer, free agent)
For all the attention Cuddyer is getting, let's remember that he's really just a complementary bat on a good team. Unfortunately, considering some of the other outfielders the Twins tried last season --
Rene Tosoni
,
Jason Repko
,
Trevor Plouffe
-- you realize they had nobody in the upper levels of the system.
Likely solution: Doumit may factor into their plans here, but regardless, the Twins need another bat to play a corner or DH. Smith is a trade option and free agent
Josh Willingham
is another possibility.
3. Closer: Empty (
Matt Capps
and
Joe Nathan
, free agents)
Nathan signed with Texas while GM Terry Ryan recently told the St. Paul Pioneer Press that it's likely Capps could return.
Likely solution: Capps was terrible last year, allowing 10 home runs in 65.2 innings while striking out just 4.7 hitters per nine innings. Two years ago, he had a 5.80 ERA. I can't fathom why any team would want to make Capps its closer. Sadly, however, the rest of the Minnesota bullpen is nearly as uninspiring (as is the rotation, but I don't have room to get to them here), but Capps throws strikes and there's nothing the Twins love more than a pitcher who throws strikes (velocity are ability to miss bats don't seem to be a factor). There's no reason for this team to spend big money on one of the remaining free-agent closers, so it probably will be Capps or lefty
Glen Perkins
.
November, 18, 2011
11/18/11
7:45
PM ET
By
Christina Kahrl
| ESPN.com
OK, I admit it, I've been worrying and wondering about the Twins. Not because they're sneaking up on anybody -- potential Superfund sites don't sneak, and even in the AL Central, they're in trouble. Whether because of old subjects like the questionable health of
Joe Mauer
and
Justin Morneau
or new subjects like Bill Smith's
hastily dug shallow grave
or
Jamey Carroll
,
senior citizen and shortstop
, a quickly stoked Hot Stove is already being used to cauterize a few wounds. Early activity didn't necessarily equal a sense of direction.
Happily, a quick-strike addition of
Ryan Doumit
is exactly what the doctor ordered. While Doumit's skill as a receiver behind the plate is nothing short of execrable -- read
Mike Fast's outstanding article at BaseballProspectus.com
to learn the extent of the damage -- you wouldn't think he's been signed to be an everyday receiver. Instead, by
signing him to a one-year, $3 million deal
, he's an excellent bit of risk-hedging by resurrected GM Terry Ryan to address a series of overlapping issues on the Twins' roster.
[+] Enlarge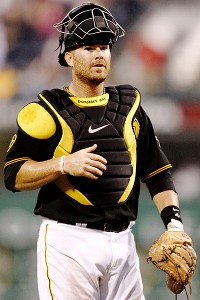 Charles LeClaire/USPRESSWIRERyan Doumit signed a one-year, $3 million deal with the Twins.
First, there's the question of Mauer's health. Maybe the Twins' franchise player will be fine to catch 90-100 games, and play DH or first base or maybe even left field the rest of the time. Mauer might want to catch, but the more often he breaks down, the less likely he should be granted a Carlton Fisk-like exemption from moving out from behind the plate while there's still a few years of potentially prime production to reap. Or, in a worst-case scenario, maybe Mauer needs to just stop catching altogether. Doumit may not be very good at it, but he can catch. Although he's just as fragile as Mauer, a situation in which they split the chore of starting behind the plate, while exploiting the DH slot to keep them both in the lineup, could be the best thing for both.
Second, there's the question of Mauer's backup backstop.
Drew Butera
just tied Brandon Inge's horrific 2001 season for the single worst OPS+ (24) for a catcher with more than 200 at-bats in the era when I'd argue the historical stats ought to matter -- since integration. (Sorry to all you Bill Bergen fans.) That's intolerably awful, especially when you're relying on Mauer to catch and know that he goes away now and again. If the Twins want to keep Sal Butera's kid around as some sort of self-spiting bit of nepotism, the least they can do is scrape together the dignity to keep him from being more than the third catcher and having him bat as infrequently as possible. In the meantime, this gets the Twins out of the catcher shopping market at the right time, because with
Brian Schneider
,
Gerald Laird
,
Rod Barajas
,
Henry Blanco
and
Matt Treanor
already signed, there's been an early rush on backstops.
Third, there's the desperately necessary infusion of power that Doumit might provide. The Twins slugged .360 as a team last year, worse than 15 teams in the National League -- you know, the circuit that has pitchers hitting instead of DHs -- and 12 of their rivals in the AL. With the uncertainty now permanently associated with Morneau's comeback from his 2010 mid-season concussion, they needed an alternative. Doumit's not a very adept target for his fellow infielders at first base, but .186 Isolated Power clip versus right-handed pitching is something this team needed. Whether that comes from him as a first baseman, DH or catcher is something they can afford to wait and find out, depending on who's healthy and what else the market might provide.
It's that positional flexibility in a lineup which needs all sorts of help which provides Ryan with the final benefit: Time to look at the rest of the market. In the months of offseason action to come, Ryan doesn't absolutely have to sign one specific type of player -- first baseman or outfielder or power bat or catcher -- because he can pencil in Doumit as needed while negotiating with players at prices he can live with. Having that kind of flexibility now will help Ryan in December and January, when free agency's middle class tends to start getting desperate and when its ranks will have been long since swollen by non-tendered players. With the amount of money he has to work with being finite, retaining that flexibility for later should help him deliver the best offseason the Pohlads are willing to afford.
Christina Kahrl covers baseball for ESPN.com. You can follow her on Twitter.
November, 11, 2011
11/11/11
1:53
PM ET
Keith Law and Joe Sheehan of Sports Illustrated joined forces for Friday's
Baseball Today podcast
. Among the topics:
1. The scary story of
Wilson Ramos
getting kidnapped in Venezuela.
2. Are the Marlins serious about going after
Jose Reyes
and
Albert Pujols
? Plus more on Pujols versus
Prince Fielder
.
3.
C.J. Wilson
is a No. 2 starter in a market without a No. 1 and that's when mistakes are made.
4. Terry Ryan replaces Bill Smith as GM of the Twins.
5. Special guest Michael Ruhlman talks about ... how to cook an egg. And his career as a journalist-turned-cookbook author.
Plus: Emails, thoughts on Gerrit Cole and Danny Hultzen and much more!
March, 11, 2011
3/11/11
4:36
PM ET
By
The Common Man
| ESPN.com
I don't get it.
Jason Castro
, sadly, tears his ACL and is out for the season, so the Astros start poking around to
find another catcher
. How many wins do they think that is going to buy them? The Astros are terrible. According to
Dan Szymborski's projections
, they have just two hitters and two pitchers capable of being above average. Baseball Prospectus thinks they'll be worse than the Pirates. This is a team with absolutely no chance of going anywhere in 2011. Ninety-plus losses is a virtual certainty. That's going to happen whether Houston picks up
Jesus Flores
, or
Ryan Doumit
, or even if they manage to kidnap
Joe Mauer
. They can't actually think they're going anywhere, can they? If they do, well, they could be poised to make themselves even worse in the long run.
Castro is likely out for the entire season, but he'll still just be 25 in 2012, and a decent young player who will need major league reps in order to succeed. The chances of him coming back strong in 2012 are actually pretty good. So it doesn't make sense for Houston to add anyone with a chance of helping the team beyond 2011, when they'll be at the bottom of the NL Central anyway.
And for 2011, the club already has two catchers ready to go,
Humberto Quintero
(a terrible journeyman with a .232/.271/.322 career line) and former catcher-of-the-future
J.R. Towles
(who will be 27 and has only had 319 MLB plate appearances in four years, despite a .861 OPS at AAA). Neither of them are likely to be long-term solutions for the Astros, but doesn't it make more sense to finally give Towles a half-season behind the dish to see if he can recover his promise? What exactly do the Astros have to lose?
Are they going to be competitive in the NL Central? Not with the Cubs, Reds, Cardinals, and Brewers each with legitimate shots to win 85-plus games. Not with the wild card likely to go to the NL East runner-up. Attendance in Houston has fallen every year since 2006, and is not likely to rebound just because the team improves from 76 wins to 78. Aside from Jordan Lyles, a 20-year-old with the potential to eventually be a No. 2 or 3 starter, help isn't close to arriving from the minors. Every young player with a chance to help the club now has already been called up. Frankly, they don't have any talent to spare to bring back a marginal improvement in 2011.
Really, the only smart play for the Astros is to sit on their hands. If they get worse, they improve their draft spot, which would allow them to take some truly talented players in 2012. If Towles finds the talent that once made him a prospect, he can be dealt to a team desperate for catching help and bring in talent that way. There is simply no upside to expending resources to win a game or two more this year.
This is something the Mets seem to have grasped under new GM Sandy Alderson. New York has an extremely top-heavy team of extremely disappointing players, and like the Astros, the Mets have absolutely nothing in the way of prospects ready to help the club in the next year. But they also are going to see at least $38 million come off the books next year, and perhaps more if they don't re-sign
Jose Reyes
or if
Francisco Rodriguez
gets in more trouble. They spent virtually nothing in terms of resources and prospects to bring in guys that would fill out the back end of the rotation, thus keeping the path clear for
Jenrry Mejia
to eventually rejoin the club. The Mets finally seem to understand that stopping up leaks was only keeping them afloat. They need to build a better boat if they're going to sail anywhere.
The Common Man writes at The Platoon Advantage and rants in 140 characters at a time on Twitter.
June, 19, 2009
6/19/09
3:44
PM ET
Yes, it's the question that's burning through the highways and byways of the Keystone State: What should the Pirates do with
Ryan Doumit
when he comes off the DL? Dejan Kovacevic
lays (almost) everything out
:
It is difficult to imagine, given several pointed circumstances, that the Pirates have not discussed the possibility of moving Ryan Doumit from catcher to another position once he returns to the lineup.

When general manager Neal Huntington was asked yesterday if that were the case, this was his emailed reply: "While we are pleased with the production of Jason Jaramillo and Robinzon Diaz, our intention at this point in time is to return a healthy Ryan Doumit to our lineup as our catcher."

Huntington did not elaborate, nor acknowledge if there had been such a discussion.

Be certain that Doumit would prefer to stay behind the plate. And that, based on his history at the other two positions, right field -- which he genuinely seemed to embrace at the time -- would be preferred to first base.

Doumit is expected back from rehabilitating his right thumb early next month.

Among those aforementioned circumstances:

--snip--

• Doumit has experience in right field and at first base, though he was far better in right. His arm was a defensive weapon in his brief time there, and the ground he would have to cover would be highly limited because of Andrew McCutchen and Nyjer Morgan.

• If first baseman Adam LaRoche is traded, the Pirates have no obvious replacement. Steve Pearce has done better of late for Class AAA Indianapolis -- .277, 10 home runs -- but his offensive track record is no match for Doumit's.

• The Pirates just made a catcher, Tony Sanchez, their first-round draft pick. He is seen as advanced enough defensively to fast-track to Pittsburgh.

• This might be most important: If Doumit plays right field or first base, his chances of playing more often -- and staying healthier -- greatly improve. Given the Pirates' near-tragic dearth of power, that facet might trump all.
Well, yeah. Doumit's a pretty good hitter. He's also 28, and it's quite possible that we saw his best last year. Granted, maybe getting out from behind the plate would help some. But if I were the Pirates, I don't know that I would bet on it. There's a pretty good chance that within a year or two, Doumit won't hit enough to play first base, or right field.
Maybe the Pirates should trade Adam LaRoche. And here's a thought: Maybe they should trade Ryan Doumit, too. Let's assume he comes back strong in a few weeks ... Wouldn't a power-hitting catcher who's under club control through 2013 be attractive to at least a few teams with prospects to spare?
Jaramillo and Diaz are both playing over their heads. But if the Pirates really and truly believe that Tony Sanchez is their Catcher of the Future, there's little sense in hanging on to Doumit for another four years. Or for that matter, for another four weeks.