SweetSpot:

Ryan Lavarnway
November, 23, 2012
11/23/12
10:25
AM ET
By
Christina Kahrl
| ESPN.com
So, how about that AL East? We know the Blue Jays have been busy, and the Yankees will be. The Rays can't be counted out and the Orioles just proved nothing's certain. What's a fading former contender like the
Boston Red Sox
to do?
It would be easy to blast to the foundations and start dealing away everyone who might be a free agent after 2013 --
Jacoby Ellsbury
,
Jon Lester
and
Jarrod Saltalamacchia
among others -- but I doubt that's why they re-signed
David Ortiz
, and it probably wouldn't help them talk
Dustin Pedroia
into signing a contract extension. So instead, let's say the Red Sox make a real effort to contend again, shy of making any huge financial commitments, but shoring up the hand they've got and making a play to get back to October. Could they make that happen?
What do they need? I'd argue two big areas would have to be addressed: A front-end rotation starter who ranks up there with Lester at the very least, and offensive upgrades wherever possible, especially at first base and the outfield.
The rotation's fairly straightforward, because to keep up in the AL East's arms race, the Red Sox need to shore up a rotation that let them down in 2011, delivering only 72 quality starts last year. Hoping for rebound seasons from Lester and
Clay Buchholz
may be reasonable, and counting on
John Lackey
to come back and be a solid mid-rotation horse will help, but it isn't enough.
On offense, let's face it, an outfield blend of just-added
Jonny Gomes
plus
Ryan Kalish
,
Daniel Nava
and
Ryan Sweeney
doesn't add up to two well-stocked corners. And at first base, settling for some combination of
Mauro Gomez
and
Jerry Sands
also isn't going to get it done; outside of Albuquerque's extra-friendly confines, Sands hit a relatively unimpressive .278/.350/.510 in the hitter-friendly PCL in his second season in the circuit. Take that down a few pegs in the majors, and you won't get much O from an offense-first position.
General manager Ben Cherington's cupboard isn't bare. The Red Sox have a few young veterans who might fill people's needs at up-the-middle positions, notably Saltalamacchia and Kalish. In and of themselves they're not guys who will put Boston over the top, now or ever, but that's perhaps the Red Sox's area of surplus. As Salty heads into his age-28 season after belting 25 bombs in 2012, he's already as good as he's going to get, and while Kalish has had his moments at the lower levels over a long minor-league apprenticeship, he's no Ellsbury. Their value may never be higher, so better to shop them now and address the Red Sox's needs.
November, 29, 2011
11/29/11
9:26
PM ET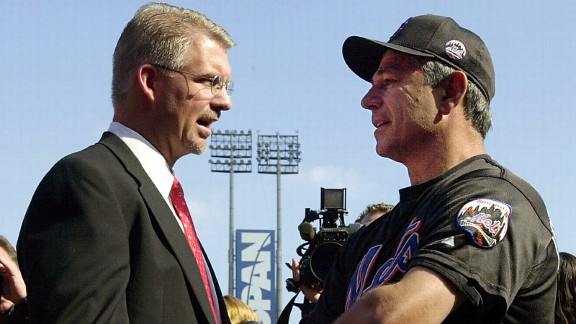 Henny Ray Abrams/Getty ImagesSteve Phillips and Bobby Valentine rarely saw eye-to-eye during their time with the Mets.
When fans think of Bobby Valentine, most will initially think of the time he tried to sneak back into the dugout wearing glasses and a fake mustache after getting ejected from a game. There will be plenty of talk about the perception that he's arrogant, a little aloof and craves the limelight too much. There will be talk that he hasn't managed in the major leagues since 2002 (although he did in Japan after that) and that his departure from the Mets was fueled in part by his disagreements with general manager Steve Phillips.
So the talk will mostly be about his personality. But what kind of manager was he? Let's look back at his career -- focusing mostly on his full seasons with the Mets from 1997 to 2002 -- to see what that may indicate about how he'll manage the Red Sox.
Will Carl Crawford hit leadoff?
With
Jacoby Ellsbury
's new power stroke, it may make sense to move him down in the order to get him more RBI opportunities; that would leave Crawford as a leadoff option. I don't see that. Even if Crawford bounces back, his on-base percentage is hardly ideal for a leadoff hitter and Valentine -- a guy who was using computers and studying sabermetrics back with the Rangers in the '80s -- craves a high OBP from his leadoff hitter.
Check out his leadoff hitters with the Mets:
1997: Lance Johnson/Brian McRae.
1998: Brian McRae/Tony Phillips -- McRae posted a career-high .360 OBP that year.
1999:
Rickey Henderson
.
2000: Ten different leadoff hitters, including
Benny Agbayani
27 games.
2001: Used four guys at least 20 games, led by
Joe McEwing
's 44 games. Led off Agbayani 32 times.
2002:
Roberto Alomar
/
Roger Cedeno
.
The unconventional use of Agbayani, the rotund Hawaiian without much speed but in possession of good on-base skills, shows Valentine's preference for OBP. In 2002, with Cedeno failing to do the job, he used Alomar there. I see Crawford remaining lower in the order, with Ellsbury staying in the No. 1 spot.
Does he like the quick hook or does he let his starters stay in the game?
There's not really a lot of in-game strategy in the American League, especially with a team like the Red Sox that basically just looks to bash the ball. So the most important strategic elements for Valentine will be how he handles the rotation and bullpen. The 2011 Red Sox were 12th in the AL in average innings per start, but that was more a function of a lousy rotation than Terry Francona's itchy trigger finger.
Let's see where the Mets under Valentine ranked in average in innings per start among NL teams:
1997: 5th
1998: 4th
1999: 8th
2000: 4th
2001: 4th
2002: 5th
Nothing really unusual here, as the Mets usually had a solid rotation under Valentine. They ranked in the upper half of innings because he had decent pitchers.
He was a little more generous when it came to allowing his starters throw 100 to 119 pitches:
1997: 9th
1998: 7th
1999: 12th
2000: 3rd
2001: 1st
2002: 4th
What's interesting about the 2001 squad is that they actually allowed the fewest walks in the league, so the high pitch counts weren't the result of a staff that walked a lot of hitters. He had a veteran rotation that year -- Leiter,
Kevin Appier
,
Glendon Rusch
,
Steve Trachsel
,
Rick Reed
-- and let his starters work deeper into games. It will be interesting to see if Valentine allows
Jon Lester
and
Josh Beckett
to reach the century mark more often than Francona did. In 2011, Lester had 22 100-pitch games -- tied for 25th-most among major league starters; Beckett had 21.
Justin Verlander
had 34,
CC Sabathia
31, and other top AL pitchers like
James Shields
,
David Price
,
Felix Hernandez
,
C.J. Wilson
,
Dan Haren
and
Jered Weaver
were all in the high 20s or low 30s.
Does he like an experienced closer?
In other words, would he be comfortable with
Daniel Bard
in the ninth inning? With the Mets, he initially had
John Franco
. The team acquired
Armando Benitez
in 1999 and when Franco went down with an injury in early July, Benitez took over as closer; when Franco returned, Benitez kept the closer job. As the Rangers' manager from 1985 to 1992, he had a different closer every year early on, before the club turned starter Jeff Russell into a successful closer in 1989. Hard to read too much into this, although both Russell and Bard throw hard. My guess is this becomes more of a front-office decision (do they sign
Ryan Madson
?), but that Valentine would have no problem making Bard his closer.
Does he like strikeout pitchers or guys who throw strikes?
With the Rangers, Valentine (and pitching coach Tom House) were obsessed with guys who threw hard. They had
Bobby Witt
, Jose Guzman, Edwin Correa, Nolan Ryan, Mitch Williams and others. Ryan had mostly refined his control (for him) by the time he reached Texas, but the other four would have problems hitting a barn door placed 10 feet in front of them. His first four staffs all had the highest walk rate in the American League. His staffs with the Mets were better, and Valentine seemed less concerned with velocity -- guys like Reed, Bobby Jones and Rusch were more finesse-type pitchers who threw strikes.
Mets strikeout rate under Valentine:
1997: 13th
1998: 7th
1999: 4th
2000: 3rd
2001: 5th
2002: 5th
Mets walk rate under Valentine:
1997: 2nd
1998: 7th
1999: 8th
2000: 3rd
2001: 1st
2002: 5th
Does he like a set lineup?
During his years with the Mets, Valentine always had a set infield, but remarkably never had one outfielder start 100 games at one position more than once. His machinations out there were pretty remarkable and show the willingness to be flexible and mix and match players as needed. Now, with the Red Sox he won't have same issue, with Ellsbury and Crawford playing every day, but it certainly suggests he'd be comfortable with a platoon in right field.
Here's the list of outfielders who started 100 games in a season at the same position with the Mets under Valentine:
1997:
Bernard Gilkey
, LF, 134
1998: Brian McRae, CF, 144
1999: Rickey Henderson, LF, 113
2000:
Jay Payton
, CF, 124;
Derek Bell
, RF, 136
2001: None
2002: Roger Cedeno, LF, 125;
Jeromy Burnitz
, RF, 131
The big issue here is how he handles Crawford, especially if he struggles to hit left-handers again (.195 in 2011). Would he consider benching Crawford against lefties, or at least the tough lefties?
Does he like young players?
With the Mets, he mostly had a veteran lineup. He did give Agbayani an opportunity, broke in Payton and
Timo Perez
, and gave Cedeno his first chance to play every day. With the Rangers, he broke in position players like
Ruben Sierra
, Oddibe McDowell, Steve Buechele, Pete Incaviglia, Jerry Browne,
Ivan Rodriguez
,
Juan Gonzalez
and
Dean Palmer
. Again, this might be more of a front-office decision, but I'd say Valentine would give youngsters like
Josh Reddick
and
Ryan Lavarnway
an opportunity to play regularly.
Valentine's reputation with the Mets was one of being prepared and being tactically smart with his in-game moves. He had to do more with the Mets than he'll have to with the Red Sox, especially considering he was often platooning at one or two outfield spots. He trusted his veteran starters to go deep into games. In short, there's nothing radically unconventional about Valentine's managerial philosophy. Of course, he last managed in the majors 10 years ago and his biggest challenge won't necessarily be strategy, but getting Crawford to rebound, getting his older players in better shape, and rebuilding Bard's confidence.
September, 28, 2011
9/28/11
2:04
PM ET
Eh, not much going in baseball these days, is there? No races to speak of. Keith Law and I were somewhat bored on Wednesday's
Baseball Today
, talking about 2012 ... OK, I'm joking! What a day in baseball, and what a show, with these topics:
1. Who is
Ryan Lavarnway
and does he belong on the Red Sox Mount Rushmore already? Well, let's see what he does Wednesday! Red Sox and Rays are tied!
2. Braves can't score, and the Astros are just so awful the Cardinals couldn't help but win and create an NL wild-card tie as well. There's only so much Braves manager Fredi Gonzalez can do.
3. The Ozzie Guillen move to Miami is complete, and we express shock -- shock, I tell ya! -- at the level of prospects heading back to the White Sox as compensation.
4. Keith's awards column gets extra attention, as we debate who should and who will win, while also discussing the interesting comments.
5. Look, we all know there's gonna be a doubleheader on Thursday, but we preview the Wednesday night games anyway, discussing who's on the spot.
So download and tune in for Wednesday's Baseball Today podcast, as we had a lot of fun talkin' baseball. What could be better?
September, 27, 2011
9/27/11
10:50
PM ET
So, all of this happened on Tuesday in two games in the American League, where all that's at stake is a playoff spot, one team trying to avoid a colossal collapse, the other team trying to prove that small-market franchises can slay the wealthy dragon, maybe an MVP award, and the pain and suffering of an entire Nation:
A triple play. It may end up as the most important triple play in major league history.
A rookie catcher, in the biggest game of the season, making his first career start behind the plate in the majors.
That catcher -- Boston's Ryan Lavarnway, only the third Yale player drafted since 1965 to reach the big leagues -- throwing out a baserunner trying to steal third base and then hitting a three-run home run, the first of his career. And then hitting his second career home run.
An intentional walk … to bring Alex Rodriguez to the plate.
The Red Sox hitting a guy cleanup who has never started in the cleanup position before.
Nick Swisher doubling off the center-field wall, but Mark Teixeira not scoring from second base on the play.
Jacoby Ellsbury showing why he may be the AL's Most Valuable Player with another clutch home run.
Adam Jones, fouling off pitch after pitch from Jonathan Papelbon with the tying run at second base in the bottom of the ninth, Orioles fans standing like they had a playoff berth on the line.
Matt Joyce, Matt Joyce, Matt Joyce. You made Tampa Bay fans very happy.
All that plus a thousand other little pieces of joy.
Where do you start? You start with the triple play, of course. But turn back the clock to the previous at-bat. With runners at second and third and the game tied 2-2, Swisher lofted a high fly to left-center. Teixeira, thinking the ball may be caught, looked to tag up from second, so when the ball instead bounced off the fence, he was unable to score. As they say, it's the little things. (How often do guys try to tag up on a play like that, anyway? Not often, it seems.)
Jorge Posada
was intentionally walked to load the bases.
And then came the play that Rays fans will put in their back pocket and pull out for decades to come if Tampa ends up making the postseason:
Russell Martin
up. Hard grounder to
Evan Longoria
. Step on the bag. Over to
Ben Zobrist
. Lightning quick on the turn. The throw to first baseman
Sean Rodriguez
beats Martin despite his head-first slide.
Longoria to Zobrist to Rodriguez, definitely the sweetest of words in Tampa Bay.
The game wasn't over. Joyce provided the big hit, a three-run shot off the Yankees' $10 million middle reliever,
Rafael Soriano
. Is there a better sound in sports than the buzz of a baseball crowd -- the low hum of fans talking and vendors selling -- suddenly turning into a gigantic roar when something good happens? Love that sound.
In Baltimore, the hero was a rookie catcher named Ryan Lavarnway. With
Jarrod Saltalamacchia
fighting a sore collarbone and
Jason Varitek
battling a sore knee, Terry Francona gave the kid his first start behind the plate. Lavarnway's three-run homer in the fourth gave the Red Sox a 5-1 lead. He'd homer again in the eighth. Francona showed no fear. He also batted
Jed Lowrie
cleanup for the first time his career.
A triple play. A rookie from Yale. The biggest games of the season.
We're down to No. 162. Forget everything that has happened over the previous 161. None of that matters now. It's one game to stay alive, to create legacies or avoid one.
David Price
will start for Tampa.
Jon Lester
will start for Boston.
And I have absolutely no idea what will happen.