August, 13, 2013
8/13/13
10:56
AM ET
Eric Karabell wrote about Ryan Ludwick's
return to the Reds' lineup
on Monday, which could give Dusty Baker the option of returning to his Opening Day lineup, when Brandon Phillips hit second and Ludwick hit cleanup, for a left-right-left-right-left-right top six with Shin-Soo Choo, Phillips, Joey Votto, Ludwick, Jay Bruce and Todd Frazier. Ludwick hit sixth on Monday but if he gets the bat going like last year, it will be interesting to see if Baker moves guys around.
Baker may look at Phillips' 89 RBIs and want to leave him in the cleanup spot. Phillips' production is a mixed bag, however: He's hitting just .260/.310/.410, good for an OPS+ of 93, so he's been a below-average hitter overall. But all those RBIs! Well, a lot of that is credit to Votto and Choo, who rank 1-2 in the NL in on-base percentage. Phillips has hit with the second-most runners on base of any hitter in the majors, trailing only Prince Fielder. He has, however, hit much better with runners in scoring position (.376) or with runners on base (.319) than with the bases empty (.195).
So what does Baker do? Phillips has hit .224/.269/.344 since June 15, so even though he's driven in 34 runs in 47 games (including a two-run homer in Monday's
2-0 win over the Cubs
) over that stretch, he's using up a ton of outs and outs are bad. Yes, give him credit for hitting well with runners on base, but that has to be balanced against his poor production otherwise.
My guess is Baker stands pat for now, with Todd Frazier perhaps staying in the two-hole for a spell. If Ludwick gets hot and Phillips continues to struggle, then Baker makes a change. Personally, while I understand the desire to split up the lefties, I'd probably just hit Bruce cleanup, but that's not going to happen.
By the way, I figured the Reds had struggled against left-handed pitching this year, but actually their splits are pretty even: .720 OPS against RHP, .708 against LHP. But if Ludwick hits like last year, he'll help.
August, 4, 2013
8/04/13
2:17
AM ET
By
Christina Kahrl
| ESPN.com
Now 11 games over .500 after beating the Cardinals
on Saturday night
, the
Cincinnati Reds
might seem like they're in a good spot with the fifth-best record in the league. As long as they continue to be just that wee bit better than mediocre, they can probably count on making it as far as the one-game wild card play-in. The Phillies have already excused themselves in the last week, while the Diamondbacks and Nationals don't seem likely to achieve escape velocity from their orbits around .500.
While a third trip to the postseason on Dusty Baker's watch seems likely, though, this isn't as strong a team as it looks like at first glance. The lineup that ranks fourth in the league in runs scored with 4.3 per game might appear to be humming along with
Shin-Soo Choo
and
Joey Votto
getting on base and
Brandon Phillips
and
Jay Bruce
driving them in.
But it's far from a perfect offense. Despite gaudy RBI totals generated by getting to bat behind Choo and Votto, Phillips isn't a perfect cleanup man. The Reds are getting
below-average offense from five different positions
, including second base, the others being catcher, short, left (absent
Ryan Ludwick
) and third base.
[+] Enlarge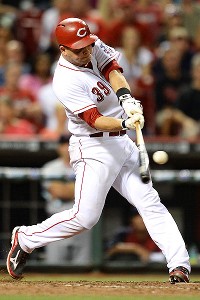 Jamie Sabau/Getty ImagesDevin Mesoraco's hot bat since the break could help cure some of what ails the Reds.
Third? Didn't the Reds just get a top prospect break through there? Sadly, not so much.
Todd Frazier
has struggled badly as a sophomore, with a .718 OPS that represents a 100-point tumble from his rookie season; add in last season's September fade and that Frazier is producing a woeful .581 OPS on the road, and you might wonder if he's really a long-term answer.
One of the especially crippling problems the lineup has is the woeful performance of its right-handed hitting regulars against right-handed pitching, or almost half of the Reds' plate appearances. Even with the advantage of getting to hit in a bash-boosting ballpark like the Gap when they're home, the Reds' righty bats are hitting a pathetic .219/.274/.330. Big culprits include everyday players such as second baseman Phillips (.673 OPS vs. RHPs) and shortstop
Zack Cozart
(.634).
Chris Heisey
was supposed to help improve the offense when he came back from the DL to man left field; instead, he has chipped in a .558 OPS versus righties.
How bad is the issue? The team's collective .604 OPS from righties against righties through Friday night's action ranks 14th in the National League, bettering only the Marlins. Using Baseball-Reference.com's OPS indices for league-relative splits, if 100 would be normal, the Reds' 74 for righty-on-righty performance barely betters the Marlins' 71. When you're better at something than one of the worst offenses in the era of divisional play, you don't really get to brag, you merely hope that nobody else notices.
Unfortunately, the Reds won't have that luxury, especially not if they're matched up against the Cardinals -- and either one of the Birds' top-tier right-handers,
Adam Wainwright
or
Shelby Miller
. While anything can happen in sudden death, that sounds more like one-and-done than something won as postseasons go.
One source of improvement is supposed to be left fielder Ryan Ludwick, out since Opening Day and working hard to get back in action to prove that his surgically repaired shoulder is sound while also trying to get his bat back up to speed. Ludwick is the rare righty whose career line is stronger against right-handed pitching (.811 career OPS, versus .774 against lefties). If Baker's preference for Ludwick to get another week-plus of minor-league playing time is any guide, Ludwick will be back in action mid-month.
Maybe Ludwick helps fix the problem, but that leaves the Reds with just two weeks to evaluate him and make a decision on whether they need to add a bat before the waiver trade deadline, compressing an already tough decision into an impossibly small timeframe. Kvetching about sample size will be pointless -- there won't be enough results to say much of anything either way. They'll simply have to make a tough call.
Happily enough for the Reds, Saturday's game provided more than just a win against the Cardinals, it also gave them a reason to believe things might be getting better where
Devin Mesoraco
is concerned. Ripping a pair of home runs on Saturday gave him four since the break. If Mesoraco is finally settling into a groove at the plate, it can't come a moment too soon for a Reds organization that had expected him to have long since blossomed into a top-tier hitter at catcher, going all the way back to when they made him the 15th overall selection in the draft in 2007. The well-worn bromide that catchers develop later doesn't have a lot of statistical support for it, but if Mesoraco finally breaks out in his age-25 season, it couldn't come a moment too soon.
Christina Kahrl covers baseball for ESPN.com. You can follow her on Twitter.
October, 9, 2012
10/09/12
9:54
PM ET
That was one of the more entertaining games of the postseason, a classic pitching duel of sorts, with some interesting strategic decisions and some missed opportunities. The
Cincinnati Reds
will be kicking themselves for not taking advantage of one of the best-pitched games in Reds postseason history and the
San Francisco Giants
will be wondering how they're still alive in a game where they got three hits in 10 innings and struck out 16 times. For the rest of us, we'll get more baseball!
Some thoughts on the Giants'
2-1 victory
:
As dominant as Aroldis Chapman was in the ninth inning, getting two strikeouts while throwing just 15 pitches, I was a little surprised he didn't come back out for the 10th inning. Chapman pitched more than one inning eight times this season, but only twice after becoming the closer, a 1.2-inning save May 27 and a four-out save Aug. 10. Factoring in the shoulder fatigue that sidelined Chapman for 11 days in September, maybe Reds manager Dusty Baker is wary about using Chapman for more than an inning. The trouble is it's a big drop-off from Chapman to Jonathan Broxton. Of course, it's a big drop from Chapman to just about any reliever not named Craig Kimbrel.

As is, despite giving up two singles to start the inning, Broxton would have escaped the 10th if not for shoddy Reds defense. After he struck out Brandon Belt and Xavier Nady, Ryan Hanigan's passed ball allowed the runners to move up and then Scott Rolen mishandled Joaquin Arias' chopper to third base. The sloppy defense in this postseason continues. Giants manager Bruce Bochy made a couple interesting choices that inning: He let Belt swing away with two on and no out. I would say most managers would have bunted there about 99 percent of the time. I didn't mind the call. Belt has never had a sacrifice bunt in his brief career and he was the Giants' best chance to deliver a hit. Bochy then let pitcher Sergio Romo hit with runners at first and second. Again, I liked the call. Romo is the Giants' best reliever; Bochy had used the other relievers you might want to use. Plus, Bochy had used up his bench; only backup catcher Hector Sanchez was left.

Xavier Nady and Xavier Paul. Discuss. Or not. Man, these two benches are horrible.

Keith Law and Eric Karabell talked about an interesting point on the Baseball Today podcast today, wondering if the Yankees aren't better off moving up Robinson Cano in the order. He hit cleanup on Monday, and was left in the on-deck circle as Alex Rodriguez made the final out. Keith's point is that batting lineups don't matter all that much, but one obvious benefit of stacking your best hitters at the top is you may get them one more plate appearance. That's the problem with the Reds batting Zack Cozart and his .288 OBP second. He made the final out, leaving Joey Votto on deck.

Not to bury Homer Bailey's awesome start. You can see why he pitched a no-hitter two starts ago as he took a no-hitter to two outs in the sixth (although the Giants had scored on a hit-by-pitch, walk and two sacrifices). The walk to No. 8 Brandon Crawford proved especially painful and kudos to pitcher Ryan Vogelsong for a good bunt and Angel Pagan for delivering the sac fly. Considering Bailey had thrown just 88 pitches, you can argue that Baker took him out too early. I can't fault Baker for handing the game to the best bullpen in baseball, but the Giants couldn't touch Bailey on this night.

Bailey's game score of 80 was the fourth highest in Reds postseason history, behind Hod Eller's 89 in Game 5 of the 1919 World Series against a team that wasn't trying to win (9 IP, 3 H, 0 R, 1 BB, 9 SO) and Ross Grimsley's 84 in Game 4 of the 1972 NLCS (9 IP, 2 H, 1 R, 1 BB, 5 SO). Jose Rijo's win to clinch the sweep of the A's in the 1990 World Series (8.1 IP, 2 H, 1 R, 3 BB, 9 SO) scores a 91. And, yes, this was just an excuse to mention Hod Eller.

Brandon Phillips' hustle effort in the first inning when he got thrown out at third base is one of those plays described as a "baserunning error" if you don't make it but "heads-up baseball" if you do. The argument against trying to get the extra base is that with zero outs there is a little reward if you do make it (you're already in scoring position) but a huge penalty if you get caught. As it turned out, Vogelsong labored through a 30-pitch inning and Phillips' hustle cost the Reds a potential big inning.

Vogelsong did a nice job of settling down after that inning. He walked Votto and Ryan Ludwick in the third, but got Jay Bruce on a fly to left. Bruce swung at the first pitch, which isn't necessarily the worst idea if he thinks a pitcher is going to groove something after two walks. Bochy hit for Vogelsong leading off the sixth, again not a bad idea considering the circumstances. Vogelsong had thrown 95 pitches, the Reds had Votto and Bruce due up the next inning and the Giants were still hitless at the time. It was the one opportunity Bochy knew he could use Aubrey Huff against a right-hander, without the possibility of the Reds bringing in Sean Marshall or Chapman. Huff just isn't a big weapon right now.

As I write this, the Reds haven't announced their Game 4 starter. It could be Johnny Cueto, but that seems unlikely. It could be Mat Latos, three days after throwing 57 pitches in Game 1. It could be Mike Leake, but to activate him they'd have to replace Cueto, which would make him ineligible for the National League Championship Series, should the Reds advance. If they go with Latos, that would likely mean starting Bronson Arroyo on three days' rest in a potential Game 5. No easy calls here, but I'd probably go Latos and Arroyo, and rely on the deepest bullpen in the league. The Giants counter with Barry Zito -- and you know Bochy will have a quick hook. The Reds had a .770 OPS against left-handers compared to .710 versus righties, so if Zito struggles early don't be surprised to see Tim Lincecum again in relief. Should be a good chess match yet again.
October, 7, 2012
10/07/12
1:22
AM ET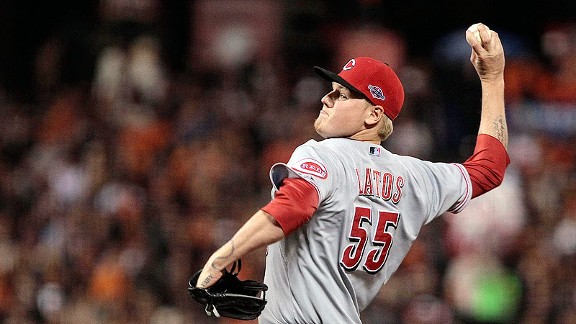 Kelley L Cox/US PresswireMat Latos pitched four effective innings in relief to help the Reds top the Giants.
When
Cincinnati Reds
starter
Johnny Cueto
had to leave with back spasms after recording just one out Saturday, manager Dusty Baker and pitching coach Bryan Price had four reasonable options:
1. Bring in reliever
Sam LeCure
, who didn't start a game this season but had started 10 games in his career over the previous two seasons, and let him go as long as possible.
2. Turn into it into a bullpen game: Use LeCure and
Alfredo Simon
, another reliever who can be stretched out, and hope those two could get the game into the fifth inning.
3. Use Game 2 starter
Bronson Arroyo
, who last pitched on Monday.
4. Use Game 3 starter
Mat Latos
, who last pitched on Tuesday, meaning he'd be pitching on three days' rest, something he'd never done before in the majors.
All were certainly defensible options. The Reds chose right: A combination of No. 1 and No. 4. LeCure got five outs to get the Reds through the second inning and then Baker gave the ball to Latos, who pitched four innings of one-run baseball, allowing only a home run to
Buster Posey
in the sixth inning. That decision proved key as the
Reds beat the Giants 5-2
in their Division Series opener.
The smart thing Baker and Price did was to first use LeCure, a guy used to pitching in relief. That allowed Latos to go to the bullpen and conduct his usual pre-start routine and not potentially rush himself coming in for the injured Cueto. He wasn't dominant pitching on short rest, recording just one strikeout, but he got some help from his defense and bridged the gap to the back end of the Reds' bullpen.
Defense -- and maybe a little luck -- was a huge key for the Reds. I counted six big defensive plays that saved bases and/or hits. In the second inning,
Drew Stubbs
cut off
Gregor Blanco
's double in the gap, preventing
Brandon Belt
from scoring from first base. Then, after intentionally walking
Brandon Crawford
,
Matt Cain
shot a hard liner to right field that
Jay Bruce
snagged. In the fourth, after
Hunter Pence
reached on an infield chopper, Belt rocketed a line drive that
Joey Votto
reached up and snared, allowing him to double off Pence. Left fielder
Ryan Ludwick
, not known for his defense, made a diving catch on Belt's blooper in the sixth and a running catch on
Marco Scutaro
's drive over his head in the seventh.
Brandon Phillips
also saved an extra base by backing up an errant throw on Blanco's bunt single in the sixth.
Some good plays, a couple at them balls, some heads-up thinking. The Reds ranked fifth in the majors in Defensive Runs Saved, so defense like this is no surprise. The one aspect to watch moving forward is Votto's mobility at first base with his bad knee; normally recognized as a pretty good glove, he had three scoop/reach plays and didn't come up with any of them. It will be interesting to see if the Giants try a couple bunts on him in Game 2.
Offensively, the Reds rely on home runs, and that's what they did, with Phillips clocking a hanging curveball from Cain just over the fence in left-center for a two-run shot and Bruce crushing a changeup 436 feet to right-center. Not a lot of balls are hit out in that area of AT&T Park (in fact, AT&T featured the fewest home runs by left-handed batters of any park in the majors). Bruce was my key hitter in the series for the Reds and he went 2-for-4, hitting a double and also a deep fly to center. A good sign for the Reds that he didn't strike out. The Reds finished third in the NL home runs but just 12th in on-base percentage, so this is typical Reds baseball. When they hit home runs, they win.
As for Cain, he entered with a sterling postseason résumé from 2010, allowing just one unearned run in three starts. He just got beat on a couple bad pitches. Posey set up outside on the curveball to Phillips, but the pitch hung inside. The pitch to Bruce got too much of the middle of the plate.
I didn't have a problem with Bruce Bochy hitting for Cain when he was due up leading off the bottom of the fifth. Considering the Reds' bullpen -- it had the best ERA in the majors -- Bochy realized he had to try and generate some offense. The problem is
Aubrey Huff
and his .192 average (to be, fair, a .326 OBP, so at least he had a chance to draw a walk) was the choice. Other than
Todd Frazier
for the Reds, however, both teams have pretty weak benches.
One thing Bochy may have to consider is moving Belt up a spot in the order. With the Reds starting four right-handers, why not move Belt and his .380 OBP up to the fifth spot? (Or, arguably, ahead of Posey and moving
Pablo Sandoval
down to fifth). Belt had solid at-bats all night, drawing two walks. Pence may provide a veteran presence but he's been terrible since coming over to the Giants, hitting .219/.287/.384.
The Giants made things interesting in the final two innings. Trailing 3-1 in the eighth, they got two on with two outs against
Jonathan Broxton
but Blanco took a 3-2 pitch on the low outside corner for strike three.
In the ninth, despite now leading 5-1, Baker brought on
Aroldis Chapman
. Remember, Chapman didn't pitch for 11 days in mid-September and he hasn't pitched in back-to-back games since returning. Why burn him with a four-run lead? The Reds had solid relievers in
J.J. Hoover
and
Jose Arredondo
available. As is, Chapman was wild enough to walk two guys, wild pitch in a run and allow likely NL MVP Posey to come up as the tying run with two outs. He finally struck him out on a high 100-mph fastball, but it took Chapman 28 pitches to get through the inning. It's potentially a long postseason; now Baker has to wonder if Chapman will respond if needed on Sunday.
Obviously, the Giants don't want to head back to Cincinnati down two games, so the pressure is on
Madison Bumgarner
to deliver a gem in Game 2, facing Arroyo. But the best news for the Reds: As of now, they believe Cueto will be OK to start Game 3.
September, 4, 2012
9/04/12
5:00
PM ET
It's a good dilemma: Too many players, not enough starting positions.
With
Joey Votto
activated
,
Cincinnati Reds
manager Dusty Baker will have to decide what to do about his lineup. With Votto out since July 16 following knee surgery, Baker has been able to use
Todd Frazier
as his primary first baseman with
Scott Rolen
playing third. Rolen, who looked done the first two months of the season, has responded with an excellent second half, hitting .320/.420/.513 in the second half. Rolen, of course, is a veteran and we all know Baker loves his veterans. But the rookie Frazier is slugging .539 and hasn't been exposed with regular playing time since the All-Star break, hitting .306/.352/.522.

In my
chat session
today, a reader threw out the possibility of playing Frazier in right field with
Jay Bruce
moving to center in place of
Drew Stubbs
(.219/.285/.356). Frazier has made five starts in the outfield this year, but all came in left field. Bruce, meanwhile, hasn't played center field since his rookie season in 2008. The trouble with that alignment -- or playing Frazier in left and
Ryan Ludwick
in center -- is that you weaken yourself at two positions, center field and right/left field. Neither Bruce or Ludwick should be considered a center fielder and it seems unlikely that Baker would play around with his defensive alignment this late in the season, even if it means getting Stubbs' bat out of the lineup.
Another reader pointed out that Tony La Russa played
Skip Schumaker
in center field last postseason, even though he hadn't played there in the regular season. Indeed, Schumaker had played just 13 innings all season in center field but started there four games in the postseason, including three World Series games. Schumaker had come up as an outfielder and started 59 games in center in 2008 before moving to second base, but it was still a risky move by La Russa.
Maybe Baker thinks Bruce can handle center. Bruce has basically rated as an average right fielder the past two seasons (minus-3 Defensive Runs Saved), so probably wouldn't be a disaster in center. Maybe when
Bronson Arroyo
-- the most extreme flyball pitcher in the rotation -- starts, Baker plays Stubbs. In the end, I'd predict Stubbs remains in center, with Rolen starting the most of the playoff games at third and Frazier serving as a pinch-hitter deluxe/occasional starter.
What would you do?
August, 24, 2012
8/24/12
2:08
AM ET
By
Matt Philip, SweetSpot Network
| ESPN.com
For a St. Louis Cardinals fan, saying something nice about
Johnny Cueto
, who in a 2010 brawl literally kicked Jason LaRue out of baseball, is possibly more difficult than complimenting Don Denkinger. (At least Denkinger never meant to hurt anyone.) Still, with Cueto helping the Cincinnati Reds to a National League Central-leading 76-50 record, I'll say it: Cueto is one of the best pitchers in the league this year and should be considered for the Cy Young.
That's less a personal opinion than a fact. Though he didn't pitch quite as well Thursday against the Philadelphia Phillies -- allowing two runs in five innings, while issuing three walks in a game the Reds would
lose 4-3 in 11 innings
-- as he has for most of the year, Cueto entered the game with a 2.44 ERA, the best in the National League. Not bad for a guy who starts half his games in
one of the majors' homer-happiest parks
.
Somehow, he's keeping the ball on the ground, as his uncannily low 6.2 percent home run/fly ball ratio attests. But his third consecutive year with a single-digit homer-to-fly rate just might be due to something in his control, such as inducing weak contact. That's in no small part because of an increased reliance on his changeup, which he's featuring twice as often as he did in 2011.
[+] Enlarge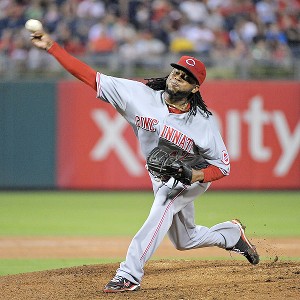 Eric Hartline/US PresswireJohnny Cueto and his NL-leading 2.47 ERA have been a constant for the injury-plagued Reds.
His non-traditional stats -- career bests in strikeout/walk (3.65), fielding independent pitching (3.04) and xFIP (3.62) -- are strong, but not as knockout-impressive as other Cy Young candidates such as
Stephen Strasburg
(11.33 K/9),
Gio Gonzalez
(2.80 FIP),
Clayton Kershaw
(2.84 FIP),
Cliff Lee
(6.04 K/BB) or
Adam Wainwright
(2.99 xFIP). Still, it's not like Cueto is a one-hit wonder: He would've won the NL ERA title last year with a 2.31 ERA had season-starting and -ending stints on the disabled list not prevented him from pitching a measly six more innings to qualify.
He has been healthy the entire 2012 season and therefore has been a constant for the Reds, who have at various times been without the services of key players such as
Joey Votto
,
Scott Rolen
,
Drew Stubbs
and
Ryan Madson
. Just how important has the righty been to the Reds? Despite Votto's ethereal .465 OBP, Cueto nearly matches him in WAR (wins above replacement), 4.3 to 4.8. So Cueto may more appropriately qualify as an MVP candidate than for the Cy Young.
As the surging Cardinals head into Cincinnati for a weekend series, Cueto will miss the action (he's next scheduled to pitch Tuesday). In addition to the built-in rivalry between the two contending teams -- including former Cardinals Rolen,
Ryan Ludwick
and
Miguel Cairo
, all of whom don a different red-and-white uniform now -- the matchup is a reminder of the ongoing bad blood between the Reds' ace and the defending world champs. The weekend tilt isn't the only meeting with Cardinals players that Cueto has missed this season. Though he was expected to join
Yadier Molina
(later replaced by
Matt Holliday
),
Carlos Beltran
,
Lance Lynn
,
David Freese
and
Rafael Furcal
on the NL All-Star team, former Cardinals manager Tony La Russa passed over Cueto, upsetting both the player and his manager, Dusty Baker. For his part, La Russa denied any vendetta, insisting that he omitted Cueto because he was scheduled to start two days before the game. La Russa also snubbed
Zack Greinke
, having a better year than Cueto, and of course is no stranger to head-scratcher lineup choices. But even so, the episode wasn't exactly an act of rapprochement.
Cueto made himself persona non grata with the Cardinals two years ago for his cheap shots in the fight. But there's nothing cheap about his 2012 campaign, which he's establishing with his arm. And that's what continues to make his presence on the field an unwelcome sight, not only for the Cardinals but the rest of the National League this year.
Matt Philip tweets at @fungoes and posts everything that doesn't fit at fungoes.net.
July, 24, 2012
7/24/12
12:04
PM ET
First base: Vogelsong victorious.
Giants right-hander
Ryan Vogelsong
had another quality start in a
7-1 victory over the Padres
-- seven innings, four hits, one run -- improving to 8-4 with a 2.26 ERA. Vogelsong now has 17 quality starts in 18 starts -- and in his one non-quality start he allowed he allowed four runs in six innings. Basically, he hasn't had a bad start all season. The Nationals'
Jordan Zimmermann
is in a similar position: He has 18 quality starts in 20 starts but has allowed four runs in six innings in his two "bad" starts.
Now it's not necessarily unusual to pitch at least six innings in every start;
Justin Verlander
, for example, hasn't pitched fewer than six innings since July 9, 2010. But how rare is it pitch at least six innings and allow four runs or fewer in every start? Even Verlander had two games with one run and one with six runs a year ago.
Using the
Play Index
at Baseball-Reference.com, we can conduct such a search. Here are the pitchers since 1994 with at least 30 such starts:
Justin Verlander, 2011: 31 (34 starts)
Jered Weaver
, 2011: 31 (33 starts)
Brett Myers
, 2010: 30 (33 starts)
Jake Peavy
, 2007: 30 (34 stars)
Roy Oswalt
, 2005: 30 (35 starts)
Curt Schilling
, 2002: 31 (35 starts)
Randy Johnson
, 2002: 31 (35 starts)
Kevin Brown
, 1998: 31 (35 starts)
Going back a couple more years, we get
Greg Maddux
in 1992 (33 in 35 starts) and
Jose Rijo
in 1993 (32 in 36 starts).
Pedro Martinez
came close during his 23-4 season in 1999 but he had one start of five innings (one run) and one game where he allowed nine runs. When he posted a 1.74 ERA in 2000 in 29 starts, he had one start of five runs and one with six runs (plus two other starts he pitched fewer than six innings). Maddux, during the 1994 strike season, made 25 starts and had a 1.56 ERA ... but still allowed five runs in four games.
Anyway, Vogelsong's 2011 season, when the Giants signed him off the scrap heap and he went 13-7 with a 2.71 ERA, may have been viewed as a fluke. But now that he's doing it again it's time to give him credit for becoming perhaps the game's most underrated starter.
Second base: Ludwick lashing.
On May 23, Reds outfielder
Ryan Ludwick
was hitting .191 with a .638 OPS. Since then he's hit .277/.337/.595 with 11 home runs and 12 doubles in 148 at-bats, a key reason the Reds lead the NL Central. On Monday, he hit cleanup for the second time since April and went 3-for-6 with two doubles in the Reds' 8-3 win over the Astros, Cincinnati's fifth straight win. The Reds are in the midst of a
very
friendly stretch of schedule: Only three of their next 30 games are against a team currently above .500 (the Pirates). With a 1.5-game lead over the Pirates and 6 games over the Cardinals, the Reds have to been seen as the clear favorite in the Central right now.
Third base: Smoak demoted.
Justin Smoak
, once the centerpiece of a
Cliff Lee
trade, was sent down to Triple-A. Hitting .189/.253/.320, Smoak had the third-lowest OPS of any regular player, better only than
Cliff Pennington
and
Dee Gordon
. Smoak had 13 home runs but just six doubles. While he was partially a victim of the Safeco Curse (10 of his 13 home runs were on the road), he was also hitting just .213 on the road.
Mike Carp
was called up. He's hit .157 with the Mariners and .182 in Triple-A. While it was time consider alternatives to Smoak, Carp probably isn't the long-term answer. Seattle will be seeking a first baseman in the offseason.
Home plate: Tweet of the day.
Ichiro is a Yankee!
While Ichiro didn't take
Bernie Williams
' No. 51, he did take the number of a Hall of Famer:
Great Yanks didn't give BigUnit or Ichiro non-HOF Bernie's # 51, but gave Ichiro HOF Winfield's # 31.

— Batting Stance Guy (@BattingStanceG) July 24, 2012
March, 22, 2012
3/22/12
2:00
PM ET
On Thursday's
Baseball Today podcast
, SweetSpot writer Dave Schoenfield and I had loads of fun, as we always do, discussing not only the pertinent breaking news of the day, but Shoeless Joe Jackson and Jay Johnstone (he wears his shoes apparently) as well.
1.
Chipper Jones
says this will be his final season, and we aim to put his tremendous career in proper perspective, while also looking ahead for the Braves.
2. The defending champs could be without No. 1 starter
Chris Carpenter
for a little while or a long while, but should the Cardinals panic?
3.
Homer Bailey
is scuffling this spring and
Aroldis Chapman
and
Jeff Francis
are not. Is Dusty Baker on the hot seat in Cincinnati and who will be the No. 5 starter?
4. We love our emails! Dave and I reminisce about the greatest season ever voting from a few weeks ago,
Jacoby Ellsbury
's worth in baseball and to the Red Sox, and much more!
5. Why was Jay Johnstone hitting right-handed in the movie I watched this morning? Does it bother anyone else? Thankfully, when it comes to inaccuracy in flicks, I'm not alone!
So download and listen to Thursday's fun Baseball Today podcast because, let's face it, Dave and I had a good time and that's what this should be about!
January, 17, 2012
1/17/12
11:38
AM ET
Some good stuff from around the SweetSpot network ...
December, 31, 2011
12/31/11
6:25
PM ET
By
Christina Kahrl
| ESPN.com
With the
Carlos Quentin
trade, it was fairly clear what one of the teams wanted. The Chicago White Sox were looking to clear salary, even before they got power lefty
John Danks
nailed down with a multi-year extension
. You can add in the motivating factor of wanting to create an opportunity for hefty former third baseman
Dayan Viciedo
in the outfield -- not unlike their replacing Albert Belle with hefty former third-base prospect
Carlos Lee
in 1999.
[+] Enlarge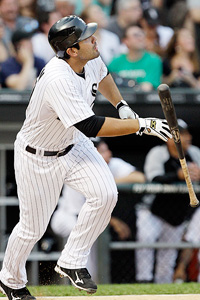 AP Photo/Nam Y. Huh)The Padres hope Carlos Quentin provides some sock in their lineup, but will he be a Padre after the 2012 season?
But for the Padres, things might not seem quite so clear-cut. Adding a player with Quentin's track record as a power hitter might seem like exactly what they needed after finishing last in the major leagues in power with a .112 isolated power. However, the deal might seem a bit incongruous with some of their other actions this winter. They did just deal their nominal ace,
Mat Latos,
to the Reds for a package of goodies that, besides wild man
Edinson Volquez
, was prospect-heavy. That wasn't a move made to win the NL West right away, but it did provide an already deep Padres organization with blue-chip prospects like
Yonder Alonso
and Yasmani Grandal.
That same organizational depth provided Josh Byrnes with the excess talent to trade for Quentin, but why go get Quentin in particular? He's only going to be under club control for a single season -- and he's due a raise via arbitration -- before he reaches free agency. So this is a one-year rental, even less control than they have over their other major trade pickup this winter, Rockies closer
Huston Street
, who at least came over from Colorado already inked to a club option for 2013.
So where's the pattern, or is there one? The Pads' other big-ticket veterans, second baseman
Orlando Hudson
and shortstop
Jason Bartlett
, are similarly locked up for 2012 with club options for 2013. Put that collection of veterans together, and that
might
sound like a club more geared towards trying to win now. After the Diamondacks' Lazarus act last season, four different teams have made the playoffs from the NL West in the last four years. With Quentin in the middle of the order, you might hope for another Padres run at relevance, like 2010. Using their Pythagorean projected record, they should have been much better last year; with a stronger lineup they might be better equipped to make up ground after they finished 71-91, eight wins below their expected 79 last year.
After Quentin slugged .505 over four seasons for the White Sox, he would certainly appear to have the power to contribute to a contender. However, Quentin is an extreme fly-ball hitter, having just tied for 10th in the majors in 2011 for batted balls hit into the air. And now he's moving from the Cell and its inviting short porch in left, to the most punishing environment for fly-ball hitters in baseball.
The Padres have been here before with extreme right-handed fly-ball hitters. Can Quentin power a Padres bid any better than
Ryan Ludwick
did? Ludwick had slugged .507 for the Cardinals over four seasons when
he
was traded to San Diego at the end of 2010. Upon introduction to Petco Park, Ludwick promptly stopped slugging.
You might hope that Quentin's poor season in the Cell in 2011 suggested he was overcompensating -- he hit 17 of his 24 homers on the road with a .616 SLG to his .381 clip in Chicago -- but skepticism of what Quentin will do in San Diego is warranted, even with his two-year advantage of relative youth over Ludwick.
Dan Szymborski of
ESPN Insider

projects Quentin to hit .254/.344/.458 in Petco, good for a park-adjusted 123 OPS+. That would have led all Padres outfielders in 2011, but that's setting the bar low; it would have also ranked third among Pads regulars behind journeyman
Jesus Guzman
and catcher
Nick Hundley
. That's a fairly modest season to project for an All-Star outfielder in his age-29 season, or what's supposed to be the tail end of a normal career peak.
Keeping that kind of projection in mind, if you can set aside any expectations of a 36-homer season, getting Quentin puts the Padres in a nice position for the time being. They've added better power than they had on hand -- or were likely to find on the market -- for prospects they might never really miss. That's a nice deal for them in the near term, just as it's nice for Quentin to get a shot to return to his SoCal roots in San Diego.
But if Quentin's a one-year rental, it's hard to see what this does for them in the big picture. If the Pads aren't knocking around .500 three or four months into the season, Byrnes might just end up dealing Quentin at the deadline. After all, that was Ludwick's ultimate fate last summer -- after Petco had sapped him of any real value. However, by virtue of the new CBA, free agents-to-be no longer generate picks for the teams acquiring them in-season, diminishing any value they'd get back in a trade. So the Padres might get 2013 draft-pick compensation, but that's if they keep Quentin all year and then offer him arbitration -- which he might accept, after getting his arbitration-generated raise past $6 million this winter, and after a season in Petco that's likely to hurt his prospects for better offers on the open market.
Not every trade turns into some spectacular feat of genius, or needs to be. In the end, credit Byrnes with making a worthwhile deal for the time being. Ultimately, it might just give them better power in just this one season, and make them a slightly better team -- for now.
Christina Kahrl covers baseball for ESPN.com. You can follow her on Twitter.
October, 3, 2010
10/03/10
9:35
PM ET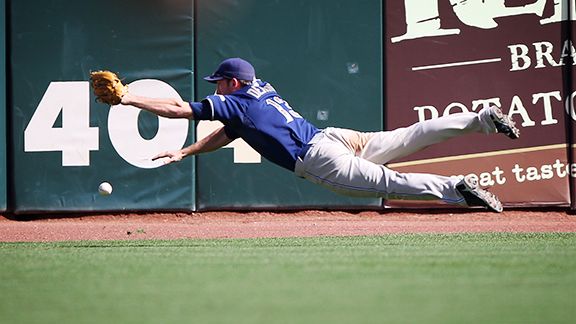 Jed Jacobsohn/MLB Photos/Getty ImagesOutfielder Chris Denorfia and the Padres fell just short on Sunday.
SAN FRANCISCO -- There are games you analyze, and there are games you watch.
The game that decided the National League West and
two
postseason berths was the sort of game you just watch.
After 161 games, what was Bud Black supposed to do? His team hasn't been scoring lately, but then his team really hasn't scored much all season (or last season, or the season before that). The front office worked hard all summer and did add
Ryan Ludwick
and
Miguel Tejada
to the lineup.
But Ludwick didn't hit much and Tejada won his MVP Award a long, long time ago. Black spent all season cobbling together lineups -- and especially outfields -- from a menagerie of spare parts and Triple-A guys and other teams' rejects. The Padres rarely scored, and when they did score without
Adrian Gonzalez
' help it was usually a minor miracle.
So they had to pitch. And when it came to the first through the sixth innings, they had to pitch mostly with guys you'd never heard of.
Jake Peavy
? Gone.
Chris Young
? Hurt. They pitched with guys named Latos and Richard and Stauffer and LeBlanc and Correia. Talented young men, to be sure. But nobody's idea, six months ago, of a pennant-winning rotation.
From the seventh through the ninth, it was quite a bit easier. Most games, Black literally had seven guys in the bullpen who were really, really, really good. It's actually sort of phenomenal, to have that many relief pitchers with strikeout-to-walk ratios so many pitchers would die for.
Edward Mujica
, who hit a little rough patch in September and didn't get to pitch against the Giants this weekend, struck out 72 hitters this season and walked
six
.
Ernesto Frieri
(who did pitch against the Giants, briefly) struck out 41 batters in 32 innings. And those were the relievers Bud Black did
not
particularly trust.
So they had to pitch, and they had to pray. When you're picked to finish in last place and you've got one of the lowest payrolls in the National League, you've got to pray a little.
For most of the season, that recipe -- Adrian Gonzalez, pitching, prayer -- worked really well.
Beginning on the 26th of August, it stopped working. The Padres lost 10 straight games, and their lead in the West went from six-and-a-half games to one game. They eventually lost their lead, but stayed exceptionally close to the Giants until losing three of four games to the Cubs last week, in San Diego. In the three losses, they scored two runs.
That left them needing a miracle this weekend.
They almost got it. They broke through with six runs Friday and four runs Saturday, a 10-run gusher that represented the most runs they'd scored in consecutive wins in nearly three weeks. The Braves lost two games against the Phillies, who weren't even really trying to win. Sunday, another Atlanta loss would guarantee the Padres at least one more game.
Granted, that wouldn't have been a miracle, exactly. What would have been a miracle, almost, was the Braves blowing a six-run lead against those non-trying Phillies ... and it very nearly happened.
Not quite, though.
They didn't need a
miracle
to beat the Giants, and play another day. But in the first inning, they did receive a minor miracle when third-base umpire Mike Everitt ruled that leadoff man
Andres Torres
' drive down the left-field line dropped foul when, as replays suggested, it probably hit the line. Everitt's call probably cost the Giants a run.
There wouldn't be any more minor miracles for the Padres, though. Let alone the full-blown, drop-to-your-knees-and-beg-for-salvation sort. They did get somewhat lucky, as starter
Mat Latos
gave up a bunch of rockets to the Giant hitters but most of them were caught.
If you want to do a little analyzing, you can analyze Bud Black's decision, on the 7th of September, to let Latos throw a season-high 113 pitches in a game against the Dodgers. Maybe if Latos had thrown 93 pitches, he wouldn't have 0-4 with a 10.13 ERA in his next four starts.
But that was a close game, and Latos had thrown
nearly
113 pitches a few times before, and maybe he would have been ineffective down the stretch regardless, considering that he'd never thrown even 125 innings before in one season. The Padres knew Latos might eventually tire, but given their situation they probably had to pitch him ... and pray.
And in Game No. 162, it really didn't matter how well Mat Latos pitched (and despite all those rockets, he gave up only two runs in six innings). Because the Padres didn't score.
Bud Black didn't use
Tony Gwynn
, Jr. He didn't use Jerry Hairston, Jr. He didn't use
Matt Stairs
, or
Oscar Salazar
, or
Aaron Cunningham
. He did (oddly) use
Luis Durango
. But I would challenge any of my brilliant friends to look at Bud Black's bench in Game 162 and come up with a combination of players that would have gotten him three or four runs against the Giants' bullpen.
You want to analyze the game? In the top of the seventh inning, Miguel Tejada batted against
Ramon Ramirez
, with two outs and two on base. Adrian Gonzalez lurked on deck. If Tejada could keep the rally alive, Gonzalez would have a chance to put a completely different spin on things.
Tejada struck out. Maybe Bud Black should have sent up a pinch-hitter for Tejada ... but you don't pinch-hit for your No. 3 hitter. Maybe you should, very occasionally. But you don't. Not in real baseball. Anyway, if Tejada had reached, Bruce Bochy would have gone to a left-hander to face Gonzalez. Which would have left the Padres hoping for another minor miracle.
The Padres just didn't play well enough to beat the Giants in this particular game, and it didn't have anything to do with the managers. The better team won the game, and the championship. In baseball, praying usually isn't enough.