August, 2, 2013
8/02/13
3:34
PM ET
Ryan Raburn is awesome.
Ryan Raburn is terrible.
Both of these statements are true, depending on what season and what month you're talking about. If you're talking about 2013, Raburn has been a dynamic force off the bench for the Cleveland Indians, slugging .544 in about 200 plate appearances. If you're talking about 2012, however, Raburn is a bum who couldn't hit anything en route to a .254 slugging percentage over 222 plate appearances for the Detroit Tigers.
So who is Ryan Raburn? After seeing the 32-year-old slug two home runs in a 6-1 win over the White Sox on Thursday, I did not anticipate how complex the answer to that question would be. Let's look at a heat map of Raburn in 2013: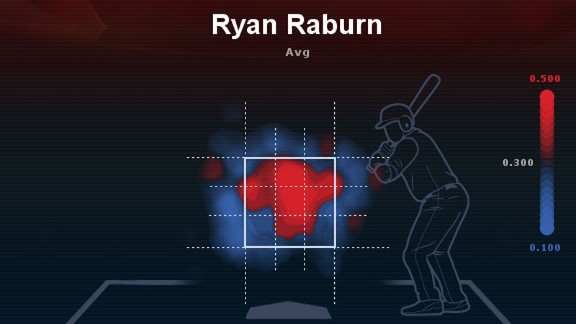 ESPN Stats & InformationRaburn's batting average in 2013.
Ah, so Raburn is a guy who excels at hitting balls elevated in the middle of the strike zone! That wasn't so ha--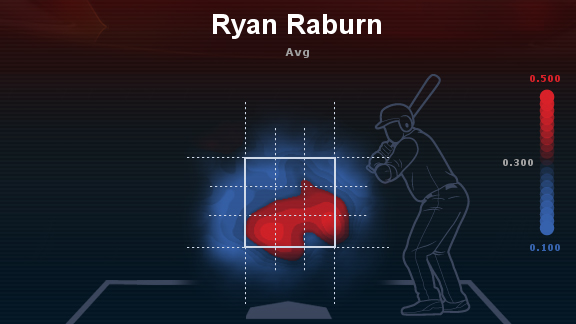 ESPN IllustrationRaburn was a better low-ball hitter from 2009 to 2012.
... What now? The above graph is Raburn from 2009-2012, and it profiles a completely different hitter.
Sometimes, in baseball, you will see a hitter having a great year who is having success against pitches he used to struggle against. Raburn, however, has gone from a guy who loved the ball down in the zone to a guy who loves the ball up in the zone. When a drastic shift like this does happen, however, it usually has a dramatic effect that can be seen elsewhere in the stat line: power hitters lose their power, players who took walks are swinging earlier in counts, something has to be different. With Raburn, however, this isn't really the case.
The last time Raburn had a season on par with 2013 was 2009, when he was a 28-year-old in his prime who had a 130 OPS+ in 113 games. This season, he has a 157 OPS+ in 61 games. If you don't quite understand OPS+, just know that an OPS+ of 100 denotes a league-average hitter, so 130 is pretty good and 157 is pretty great.
2009: .291 AVG, .359 OBP, .533 SLG, .891 OPS, .323 BABIP, 20.6% SO, 8.9% BB
2013: .283 AVG, .377 OBP, .584 SLG, .961 OPS, .321 BABIP, 24.1% SO, 11.6 BB
Functionally, Raburn is the same hitter in both seasons. Yes, in 2013 he is swinging and missing more often, but so is everyone else in 2013 compared to 2009. In 2009 the league-average strikeout percentage was 17.9, and in 2013 that number has risen to 19.8. While Raburn's increase is a little higher at 3.5 percent, it's nothing too significant compared to the overall rise in strikeouts.
2013 Raburn is taking more walks than in his 2009 season, but that too could be the product of simple growth and maturity. In other words, he may have simply learned to work the count better. Regardless, the drastic shift in his heat maps is not adequately explained by the statistical differences between these two seasons.
At this point in my research, I was thoroughly perplexed by Raburn. Why was he suddenly able to catch up to high pitches? Why did he suddenly forget how to hit low pitches?
What could possibly be causing Raburn to have more success with high pitches? For him to have more success up in the zone, he would need to be generating more bat speed and he would need to be more consistent with his swing. When I focused on these two variables, I came up with two common threads between 2009 and 2013 that may explain why Raburn had such great seasons these years:
1. Limited playing time kept him fresh and able to maintain the bat speed to hit high pitches.
2. Lack of playing time at second base.
The second point here is really key, as Raburn is often viewed as a player who can play anywhere on the field, a true utility man, if you will. In Detroit, Raburn was often deployed at second base, and the proportion of his starts there increased over the years. Take a look:
2009: 0%, .891 OPS
2010: 16%, .814 OPS
2011: 46%, .729 OPS
2012: 49%, .480 OPS
2013: 3%, .914 OPS
As Raburn aged, maybe the toll of playing second base -- or the mental side effects (he was never very good defensively there) -- affected his offensive game until he reached a tipping point in 2012, and he fell off the face of the earth.
The importance of the first point above cannot be understated: Raburn is simply not an everyday player. In 2013, Terry Francona has carefully managed Raburn's playing time; for the first time since 2009 he has not appeared in more than 20 games in any month, and he hasn't started more than 14 in any month.
I believe that this careful management of playing time, alongside a strict reduction in his playing time at second base, is a primary driving force behind Raburn's resurgence. This has allowed him to catch up to fastballs up in the zone, which has translated into more power and more solid contact. Raburn has not magically become a different hitter, but instead is finally settled into a situation that plays him to his offensive and defensive strengths. This should elicit praise for Francona and his hitting staff, but should also raise questions about how Raburn was handled in Detroit.
Maybe Ryan Raburn is awesome, after all.
Adam Hintz contributes to the It's Pronounced "Lajaway" blog on the Indians.
May, 12, 2013
5/12/13
12:20
AM ET
By
Christina Kahrl
| ESPN.com
Say you're the
Cleveland Indians
. You've been one of baseball's hottest teams, but you're in Detroit against the defending pennant winners, you got routed in the first game of the series, and you're facing
Justin Verlander
, who's still on top of most people's lists for best pitcher on the planet.
How to beat all of those seemingly insuperable challenges and pull off a win? Easy: It takes the whole Tribe.
Consistent with what has worked for the Indians so far this season, that's how they pulled off an upset
7-6 victory
Saturday in the Motor City to make it clear that the American League Central is a race that has months to run. Put on the spot, Cleveland's offense did the best things possible against Verlander: The Indians scored early and often, but most of all, they used him up to get to the Tigers bullpen early. The Tribe had already pushed Verlander to 90 pitches through the first four innings. Even allowing for Jim Leyland's understandable willingness to let his ace achieve feats of strength racking up big pitch counts, that's not what long nights from your best pitcher are made of.
Getting four runs off Verlander through five innings was big, but getting the next three runs with nine baserunners against the Tigers' bullpen over the following three innings was the decisive reward, an opportunity created by a top-to-bottom lineup that, even as some hitters have struggled, is doing a good job of creating shark attack-like feeding frenzies in-game.
That might sound easy enough, because the Indians rank second in the league to the Tigers in runs per game, and they're first in OPS for the time being. Those numbers create an illusion of strength this lineup has not yet made good on, though: As my old Baseball Prospectus compadre Joe Sheehan noted last week in his excellent newsletter, the Tribe has been far from consistent in terms of scoring -- plating two runs or less in 12 of their first 34 games -- but thanks to 13-0, 19-6 and 14-2 wins in the early going, they project as a statistical powerhouse only in the aggregate.
[+] Enlarge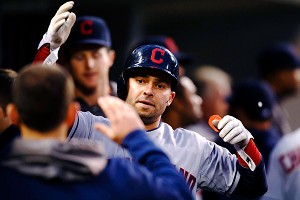 Rick Osentoski/USA TODAY SportsNick Swisher helped the Indians wear down Justin Verlander, working two walks off the Tigers ace.
However, look at that info, and it would be easy to overstate their failings, because Cleveland's offense has qualities most teams would kill for. The Indians are grinding down opposing pitchers, they're exploiting the flexibility and depth they built up over the winter, and what problems they do have are ones that can be fixed.
Consider their grinding approach on offense. The Indians are next-to-last in the league in swinging strikes, and fourth in the league in pitches per plate appearance. Which is not to say they're enjoying perfect success; their walk rate of 8.0 percent is below league average. But walks aren't the sole goal of getting deep into counts -- they're just one of the positive outcomes, but getting your pitch and simultaneously using up the opposing starter are the others. The Indians extend their at-bats and make opponents work, but it's interesting to note that they're not collectively watching strike three go by: Unlike the sabermetrically-beloved Rays and their league-leading 30 percent clip for being called out by those oh-so-human umps on their whiffs, the Indians are down around league average at 25 percent.
One of the other cool features of the Indians' assemblage is that theirs is a lineup stocked with moving parts.
Nick Swisher
rotating from first to right field to designated hitter from night to night is no surprise, but he's not the only roving corner in Terry Francona's playing-time scheme.
Mark Reynolds
has split his time among first, DH and third. (To some of us among the chatterati, Reynolds might have initially seemed like a free agent signed too soon for too much, but with a league-leading homer tally and that value at multiple lineup slots, the Indians may well get the last laugh.)
Carlos Santana
is doing his variation on a
Buster Posey
theme by moving to first or DH when he isn't catching.
Mike Aviles
provides considerably more power than your average utility infielder, which is why he starts more regularly than one.
That flexibility could come even more into play as we get deeper into the season. Now that
Michael Bourn
is back from the disabled list, you might wonder how much Francona will still be able to keep all of his hitters active and sharp with an everyday player back in the mix. But the silver lining of losing Bourn for a couple weeks to injury might just be getting to (over)expose
Drew Stubbs
for what he is, now that he's 28 and been doing this for years: A fine defender and baserunner, but not a regular at a corner.
That isn't the Indians' only lineup issue: Third baseman
Lonnie Chisenhall
's early-season struggles force the question of whether he's going to turn the corner and stick as an everyday player. He came into Saturday with a career .288 OBP in 466 PAs; if he fielded like Brooks Robinson or slugged like Rob Deer, that's a survivable blemish, but he doesn't do those things. He'll need to improve, or risk losing at-bats to some combination of Aviles and Reynolds.
If players like Stubbs and Chisenhall come around, that's great. But if not, the Indians already have the depth on hand to make some hard choices. If Francona wants to keep putting pressure on opposing pitchers, that will continue to mean expanded playing time for his duo of handy platoon bats from the bench -- lefty thumper
Jason Giambi
at DH and lefty-masher
Ryan Raburn
-- thanks to the position flexibility his other starters and semi-regulars possess. And if the Indians still don't have a happy answer by the end of July, renting a free agent-to-be at the trade deadline wouldn't cost much in talent or treasure.
That's because the Indians shouldn't have to indulge Chisenhall or Stubbs their struggles all season, not as a contender. Because that's what these Indians should be: Contenders. Maybe just for the AL Central title, and maybe because the Tigers fail to run away with it. But contenders just the same.
Christina Kahrl covers baseball for ESPN.com. You can follow her on Twitter.
May, 2, 2013
5/02/13
9:00
AM ET
Thoughts on Wednesday's games ...
May, 1, 2013
5/01/13
9:00
AM ET
Quick thoughts on a Tuesday night that featured a lot of home runs across this great land ...
November, 21, 2012
11/21/12
2:15
PM ET
Adrian Beltre
suffered through an injury-plagued campaign with the Mariners in 2009 -- including a shoulder injury and a severely bruised testicle -- and hit .265 with eight home runs in 111 games. The Mariners made a halfhearted attempt to re-sign Beltre by offering him arbitration, but instead signed
Chone Figgins
to a four-year, $36 million deal.
It proved, of course, to be a disastrous decision. Beltre sought a multiyear deal but ended up going to Boston for one season before signing a five-year deal with the Rangers. Not to pound home the obvious, but look at their production over the past three seasons:
Figgins: .227/.302/.283, four home runs, $28 million in salary
Beltre: .314/.353/.558, 96 home runs, two top-10 MVP finishes, $38 million in salary
OK, so Beltre doesn't put up those numbers in Safeco Field. Still ... those are the decisions that cost people jobs. The Mariners mercifully
designated Figgins for assignment
, eating the final $8 million of his contract. He will end his tenure as perhaps the least popular Mariners player ever. Am I wrong, Mariners fans? It will be a happy Thanksgiving in Seattle.
GM Jack Zduriencik, who signed Figgins but has kept his job, said, "At the time of the signing it looked like it was going to be the right thing for all of us. He was excited about coming here. ... It just never worked out like he thought and sometimes you just never know why."
Figgins had posted a .386 OBP with the Angels from 2007 to 2009, but was entering his age-32 season. It wasn't a bad signing at the time, but Figgins just fell off the table.
A few other notable names designated for assignment, outrighted to the minors or released as teams added players to their 40-man rosters on Tuesday night:
October, 18, 2012
10/18/12
10:30
AM ET
By
Christina Kahrl
| ESPN.com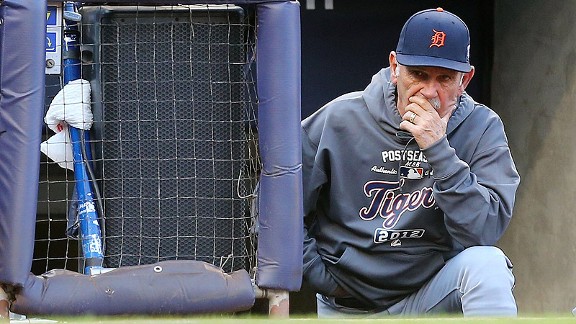 Jim McIsaac/Getty ImagesJim Leyland's adaptability and creative lineups are what set him apart from his peers.
DETROIT -- Where the Tigers are concerned, it's easy to lose yourself in the statistical feats of their star sluggers:
Miguel Cabrera
's Triple Crown, of course, but also
Prince Fielder
notching his sixth consecutive 30-homer season and
Austin Jackson
's huge year.
But successful seasons from his stars are one of the hallmarks of Jim Leyland's contending teams over the years, going all the way back to his original trio of Barry Bonds, Andy Van Slyke and Bobby Bonilla in Pittsburgh. They powered his Pirates team that won three straight division titles from 1990-92. Each man from among that trio was worth three wins or more at the plate, using Baseball-Reference.com's oWAR or offense-only WAR, as did shortstop Jay Bell. His World Series-winning '97 Marlins featured a trio of three-win players (Gary Sheffield, Moises Alou and Bonilla). And the Tigers of this year and last? Same deal.
Miguel Cabrera
is the lone holdover at that level, though, with the 2011 performances
Alex Avila
,
Jhonny Peralta
and
Victor Martinez
being replaced by Fielder and Jackson this year.
Admittedly, there's an obvious bit of circular logic in play here: If you pile up great players, you're liable to see great results. One of the frequent criticisms of Leyland's legacy is that he has been given great talent to work with -- he's supposed to win with it, and if he didn't, you'd be no more likely to remember Leyland as a skipper than you do Larry Parrish. Stars represent big-time investments by owners and general managers; you might credit or discount Leyland's impact on their contributions.
But that brings us to another aspect of Leyland's teams worth keeping in mind: As with most teams, they're not just made up of the superstars. Which is why an equally important way to evaluate a manager's impact is where
his
choices make a difference. Who's filling out the rest of the lineup or manning the back end of the roster, and what are they there for?
Unlike Joe Girardi with the Yankees, Leyland has usually had to help conjure up solutions everywhere his stars were not, and to his credit he's been remarkably adaptable and creative in his lineup and roster choices. As uncharitable as it might be to say about some of the players, Leyland might be one of the best stars-and-scrubs skippers in the majors today.
How so? First, he's long been willing to make sacrifices on defense in the infield and outfield corners to make room for an extra bat. Having Cabrera play third is only the most recent instance, but Leyland was willing to use the far more error-prone Bonilla at the hot corner 20 years ago, and it worked just as well then: Like Miggy, Bonilla wasn't great but he was adequate, and the payoff of getting another outfield-level bat on the lineup card more than made up for it, now as then.
Opening up space in the lineup to add extra bats hasn't been a problem for Leyland over time because he's one of the game's more adept platoon-builders. The Pirates' catching platoon of Don Slaught and Mike LaValliere is perhaps his signature on this score, but in the absence of a star first baseman on that same team, he'd do things like pair off
Orlando Merced
with Lloyd McClendon. He's platooning with
Quintin Berry
and
Avisail Garcia
in the outfield right now, not because he wanted to all along, but because he adapted to the talent he had on hand once
Brennan Boesch
and
Ryan Raburn
-- the latter a key masher of left-handed pitching -- broke down this year. What he
didn't
do was something easy or lazy, like just write
Delmon Young
into his everyday outfield.
Which demonstrates something else Leyland's adaptable about: He may make a sacrifice to get another star into the mix, but he doesn't just punt defense outright. If anything, he's been willing to compensate for the risks he's been willing to run with guys like Bonilla or Cabrera or by employing some fairly slick defenders over the years. Pirates second baseman Jose Lind was perhaps the best example of his relying on an extreme glove-first everyday player: His highest OBP in any of the five years he started for Leyland was .308, and he had as much power as a potato battery, but he was there to play second base.
[+] Enlarge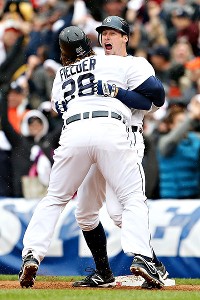 Leon Halip/Getty ImagesJim Leyland has made good use of utilitymen such as Don Kelly, right, over the years.
Over time, Leyland's list of guys whose primary value has been on defense includes middle infielders
Ramon Santiago
and
Adam Everett
, or when he's using a less-than-Ozziesque shortstop, slick-fielding third basemen like Steve Buechele and
Brandon Inge
. In short, the selections seem more tailored for each collection of talent. Get the core in place, and then figure out how the rest of the edges of the roster should work around them.
But even those big plans leave room for a quick-fix solution, which brings us to one other thing Leyland's rosters have reliably featured over 21 seasons: Utility players that he puts to work. Going all the way back to aging utilityman Bill Almon on his first ballclub as a rookie big-league skipper for the Pirates in 1986 to John Wehner with the Pirates to Don Kelly, Leyland has a knack for carrying multi-positional supersubs he can start at five or six positions and give 200-250 at-bats to. They're not great, but they are handy for the tactical flexibility they give Leyland in-game.
In short, easy as it might be to home in on the big things when evaluating Leyland as a skipper, beyond seeing his stars shine you can just as easily admire the man's tradecraft with his lineups and roster usage. There is no such thing on a Leyland roster as a player he doesn't know how to use, or might only use in an emergency, and he keeps them sharp with consistent use. In a postseason where Fielder and Cabrera have one homer between them so far, it's that sort of acumen that has helped compensate.
Christina Kahrl covers baseball for ESPN.com. You can follow her on Twitter.
May, 29, 2012
5/29/12
4:00
PM ET
Here's the
big chat wrap
from Tuesday afternoon. Among the heated discussion: Anthony Gose versus Billy Hamilton, whether or not Zack Greinke could pitch in New York and whether you'd rather have Mike Trout or Bryce Harper.
May, 26, 2012
5/26/12
2:01
PM ET
By
Josh Worn
| Special to ESPN.com
When the
Detroit Tigers
inked their prodigal son to a contract back in January, the bulk of the Tigers fan base knew
Prince Fielder
's presence would come with strings attached. They knew that the cost of signing him was not exclusively limited to the nine-year deal, or the $214 million, or the drama with his estranged father.
They knew that, given the fact that All-Star first baseman
Miguel Cabrera
was already on the roster, there would have to be some shuffling done. Questions were quickly answered at the news conference announcing Fielder's deal; the more agile Cabrera would move across the diamond and play third base, as he had when he first arrived in Detroit four years ago, and Fielder would play first base.
Immediately, you took a look at the projected infield of Fielder, a platoon of
Brandon Inge
/
Ryan Raburn
/
Ramon Santiago
at second base,
Jhonny Peralta
at shortstop, and Cabrera, and you cringed. While national writers and bloggers lamented how this would affect the Tigers' starting pitching, the Tigers fan base, for the most part, shrugged and said, "We know it's bad, we know there's no range. But. They. Will. Score. Runs."
Well, here we are, nearly two months into the season and the Tigers sit at 21-24 entering Saturday's action and are in third place in the AL Central. The bullpen hasn't been consistent (while better as of late, they still sit at a league-high 4.64 ERA), and the offense has been suspect and stagnant, but both of those will most likely improve as the season goes on. The defense, however, has certainly lived up to its reputation. I'm not sure it's going to get better.
[+] Enlarge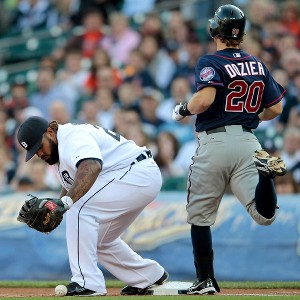 Leon Halip/Getty ImagesMaybe Detroit's first baseman should change his name to Prince Batter.
On May 16, the Tigers and
Rick Porcello
faced the last-place
Minnesota Twins
. Porcello induced two groundballs to start the game. Fielder fielded the first one cleanly for one out and Santiago (starting at shortstop to give Peralta the day off) fielded the second one cleanly for what should have been the second out. However, Fielder flat out dropped the throw, and
Brian Dozier
was safe at first on the error.
The Twins capitalized.
Joe Mauer
doubled Dozier home, and
Josh Willingham
doubled Mauer home. While it wasn't the final out of the inning, Fielder's gaffe on an easy play turned into a pair of runs before Porcello could recover, striking out the final two batters of the inning.
The Tigers scored once in the bottom half of the inning and Porcello returned to the mound trailing only 2-1. After he recorded two outs and allowed a single,
Erik Komatsu
bounced a groundball to Raburn, who booted the easy play. With both runners safe, Dozier stepped to the plate and promptly swatted a three-run home run to make it 5-1, Minnesota. Four of those runs came courtesy of the Tigers' infield defense.
The Tigers ended up losing the game, 11-7, each member of the infield defense had an error, and the game became the perfect example of how to lose when professional baseball players forget to play defense. It wasn't the first game, and it certainly won't be the last.
Defensive efficiency measures the percentage of batted balls in play that are converted into outs. It's obviously not the only thing you look at when measuring a team defense, but it is one thing. And in this area, the Tigers are among the worst in baseball, ranking 26th in the majors at .692. The Blue Jays top the majors with a .735, meaning they're turning an extra 4.3 percent of balls in play into outs compared to the Tigers. The Tigers are obviously not a very clean fielding team as a whole, led by their uninspiring infield.
Defensive Runs Saved uses video review to estimate each fielder's defensive contribution and compares each fielder to the league average for his position. The Tigers' infield defense looks like this:
1B Prince Fielder: -5 runs (386 innings)
2B Ryan Raburn: -2 runs (162 innings)
2B Ramon Santiago: -1 run (132 innings)
2B
Danny Worth
: -1 run (60 innings)
2B Brandon Inge: -2 runs (43 innings)
3B Miguel Cabrera: -3 runs (388 innings)
SS Jhonny Peralta: -4 runs (348 innings)
SS Ramon Santiago: -1 run (50 innings)
That's pretty brutal, especially when you consider that this is what the defense looks like a quarter of the way through the season. I mean, oh man, holy tomato sauce, something has to be done here, right? No wonder people punch their mirrors. Looking at yourself is sometimes ugly.
So, what is going to happen going forward?
The Tigers like to be traditional and old school and they like to stick to certain roles for as long as they can. I doubt we'll be seeing any changes here unless they swing a trade later this summer.
With
Delmon Young
ousted out of left field thanks to the start of
Andy Dirks
, the designated hitter position is taken. I don't think we'll be seeing Fielder moving to DH and Cabrera to first base, nor do I think that they will do that even if they make a trade.
Peralta was moved to third base when he was with the Indians two years ago due to his lack of range at shortstop. After a big 2011, his offense thus far has been suspect. He's also about to turn 30 years old and on the final year of his contract.
Raburn's versatility would keep the Tigers from trading him even if he wasn't hitting .148/.214/.217 through the first two months of the season.
No, I think the Tigers are sticking with what they have. They are going to rely on the hope that their offense eventually clicks, their pitching dominates (i.e., they need to rely even more on strikeout pitchers
Justin Verlander
,
Max Scherzer
, and, apparently,
Drew Smyly
), and the rest of the AL Central can perform like they did last year and allow Detroit to run away with the division.
Some might ask if that is realistic. Maybe it's not. But do they really have a choice?
Josh Worn writes about the Tigers at the Walkoff Woodward blog.
May, 23, 2012
5/23/12
12:30
AM ET
OK, I'll give you
Justin Verlander
.
I'll even give you
Miguel Cabrera
,
Prince Fielder
and
Austin Jackson
.
But five through 25? I think I'll take the
Cleveland Indians
over the
Detroit Tigers
.
The
Indians beat the Tigers 5-3
on Tuesday, even though
Ubaldo Jimenez
struggled once again with his control. Relief ace
Chris Perez
, who criticized Indians fans on Saturday for their lack of support (Cleveland is last in the majors in attendance), was greeted with a thunderous ovation as he came in out of the bullpen in the ninth inning. With two runners on, he struck out Cabrera and got Fielder to ground out.
Just another save. "That's the loudest I've ever been cheered here," Perez said. "I was pumped, the adrenaline was going. It could have gone the other way. I came through. I didn't know which way it was going to go. I was thankful it went the good way."
The good way pushed the Indians to 24-18. The Tigers are 20-22, and for the life of me I can't understand why everyone still thinks Detroit is the better team. Mind you, I'm not saying the Indians are better. I just don't see why the Tigers are better. Just because everyone picked them before the season?
Once you get past those big shiny names on the Tigers' roster, if you want to pinpoint one big difference between the two clubs, it's a little statistic that us sabermetric types love: the old base on balls. The Indians lead the American League with 188 walks, 25 more than any other team; the Tigers have 127 walks, ninth in the league. That patience will go a long ways toward giving Cleveland an offense capable of scoring as many runs as Detroit's (the Indians have outscored the Tigers by one run so far, 184 to 183).
In fact, when you go position by position, you'll see what I mean.
Catcher: Carlos Santana versus Alex Avila.
So far, Avila has been unable to match 2011's .366 average on balls in play, the sixth-best average in the majors. Which means he's hitting like he did in 2010. Santana, meanwhile, is a walks machine who hit 27 home runs in 2011.
First base: Casey Kotchman versus Prince Fielder.
Obvious edge to Fielder, of course. The most interesting thing about his start (.292/.354/.472) is his walk rate is down from 15.5 percent to 8.5 percent. Part of that is he was intentionally walked 32 times a year ago, just three this year.
Second base: Jason Kipnis versus Ramon Santiago/Ryan Raburn.
Please. Big edge to Kipnis with Santiago and Raburn both hitting under .200. Will Detroit make a move here?
Third base: Jack Hannahan/Jose Lopez versus Miguel Cabrera.
This may be the first and only time you'll see Jose Lopez mentioned in the same breath as Miguel Cabrera. So far, however, this edge has been minimal. Cabrera is hitting .304/.362/.488, Hannahan .287/.365/.436 but with better defense. According to Defensive Runs Saved, Cabrera has cost the Tigers four runs -- worst among third basemen (tied with
Hanley Ramirez
).
Shortstop: Asdrubal Cabrera versus Jhonny Peralta.
With the Indians preaching plate discipline, check out Cabrera: Last year, 44 walks and 119 strikeouts; this year, 18 walks and just 12 strikeouts. He's hitting .309 with an OBP over .400 but hasn't lost any power. In 2011, he swung at 31 percent of the pitches out of the strike but he has cut that down to 24 percent. Small differences can go a long way. Peralta was a big surprise for Detroit last season but hasn't matched the numbers in the plate or in the field.
Left field: Johnny Damon/Shelley Duncan versus Andy Dirks/Delmon Young.
Damon has looked terrible. Dirks has looked great, but too early to evaluate this one.
Center field: Michael Brantley versus Austin Jackson.
With his defense and hot start at the plate, Jackson has been as valuable as any player in the American League not named
Josh Hamilton
.
Right field: Shin-Soo Choo versus Brennan Boesch.
This one isn't close and that's with Choo off to a middling start in the power department. Choo has a .391 OBP, Boesch a .271 OBP. Choo is a solid defender while Boesch is slow and lumbering. With his poor start at the plate and poor defense, Boesch has been one of the worst regular in baseball so far. Choo is an underrated asset and I love Manny Acta's decision to move him into the leadoff spot.
Designated hitter: Travis Hafner versus field.
Cleveland's designated hitters have six homers and .370 OBP (fourth in the league). Detroit's DHs have one home run and a .238 OBP (13th in the league). Big, big edge to Pronk.
Rotation.
With the best pitcher on the planet, Detroit's rotation has posted a 3.87 ERA; without the best pitcher on the planet, Cleveland's rotation has posted a 3.94 ERA. Both teams have played 42 games and Cleveland's starters have thrown 12 more innings. Moving forward, maybe you think Detroit's group will perform better. After all,
Doug Fister
missed some,
Max Scherzer
just struck out 15 in game (never mind that the Pirates have been an historic strikeout binge of late) and
Rick Porcello
will put it together one of these years, because everyone says so. Meanwhile, Ubaldo Jimenez can't throw strikes,
Justin Masterson
hasn't pitched as well as last year and
Derek Lowe
is doing it with smoke, mirrors and a deal with the devil. The one thing the Cleveland starters do is keep the ball in the park; they've allowed 20 home runs, second-fewest in the league. Look, maybe you think Scherzer will start pitching better; I'd say so will Masterson. Maybe you're a Porcello believer; I'm not, especially with that infield defense behind him. Lowe is a fluke? Well, let's see how
Drew Smyly
does as the scouting reports get around on him.
Bullpen.
Neither pen has been stellar, as Cleveland's 4.16 ERA ranks 13th in the AL and Detroit's 4.76 ranks 14th. Cleveland's top guys, however, have been pretty solid -- Chris Perez is 14 of 15 in save opportunities while
Vinnie Pestano
,
Joe Smith
and
Nick Hagadone
have pitched well. Detroit's top two of
Jose Valverde
and
Joaquin Benoit
, so dominant a year ago, have both struggled to throw strikes.
I said before the season that I believed the Tigers were drastically overrated. On the Baseball Today podcast late in spring training, I predicted Cleveland would win the division. Unfortunately, when ESPN.com published predictions a few days later, I changed my pick to Detroit. I bought into the hype.
I'm not buying any longer. This division is wide, wide open. (And I haven't even mentioned the White Sox!)
PHOTO OF THE DAY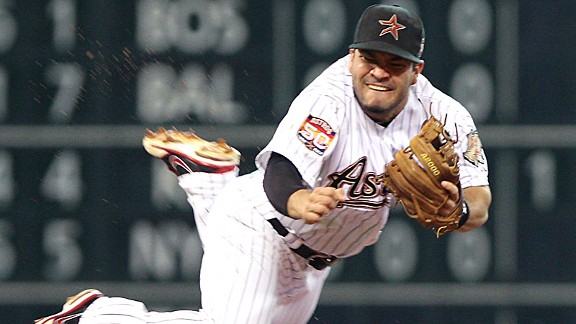 Troy Taormina/US PresswireDiminutive Astros infielder Jose Altuve isn't always so low to the ground.
January, 27, 2012
1/27/12
2:03
PM ET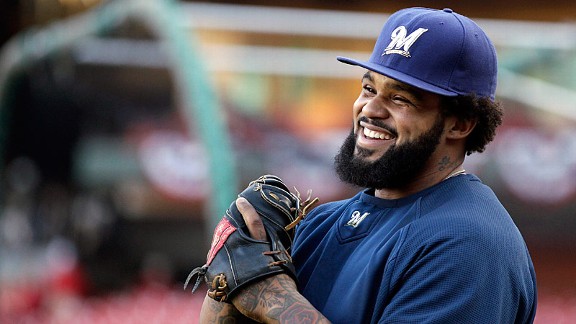 AP Photo/Matt SlocumThe Tigers gave Prince Fielder a king's ransom. But it wasn't necessarily for his work with the glove.
I went through our data and divided the information into six storylines to consider about the Detroit defense. A lot of this information is a starting point for discussions, and I'd suggest not viewing the numbers as absolutes, but as indicators.
1. Fielder rates poorly as a first baseman
Worst first basemen since 2006, Defensive Runs Saved:
Prince Fielder
, minus-48 runs
Paul Konerko
, minus-38 runs
Adam Dunn
, minus-35 runs
Ryan Howard
, minus-32 runs
Fielder's defensive issues relate to a simple matter -- fielding batted balls in the areas in which first basemen record outs at least 50 percent of the time. This is covered in the Revised Zone Rating (RZR) metric. Fielder's RZR since 2006 is .706, fourth-worst among those with at least 2,000 innings at first base.
Miguel Cabrera
became a first baseman in 2008. Since then, he's rated as having cost the Tigers 21 runs. In that same span, Fielder cost the Brewers 25 runs (though he had his best year in 2011, costing the Brewers just one run).
Fielder also does not fare well when it comes to video review. Baseball Info Solutions has video scouts who watch every play of every game and categorize plays as Good Fielding Plays (GFPs) and Defensive Misplays & Errors (DM&E).
Fielder's 42 Defensive Misplays & Errors were the most in the majors in 2011 and his rate of one every 33 innings ranked ahead of only
Daric Barton
,
Carlos Lee
and
Eric Hosmer
among the 28 first basemen who played at least 500 innings. Fielder rates significantly worse than Cabrera, who averaged one misplay every 47 innings. Cabrera also made good plays more frequently. Here are totals of good fielding plays and misplays, prorated to 1,300 innings:
2. Cabrera didn't rate well at third base
In 2006 and 2007 while with the Marlins, Cabrera was credited with minus-25 Defensive Runs Saved, third-worst of any third baseman in the majors those two years.
Over the past two seasons,
Brandon Inge
, the Tigers' primary third baseman, has been an MLB average third baseman -- zero Defensive Runs Saved. Last season, Inge cost the Tigers two runs with his defense, the first season in his career in which he had negative Defensive Runs Saved,
3. Detroit's entire infield doesn't rate well
The Tigers were the only team in baseball for which every infield position produced a negative Defensive Runs Saved in 2011.
First base: minus-4
Second base: minus-9
Third base: minus-8
Shortstop: minus-2
But, as their fans will note, that team did win the AL Central and play in the ALCS.
4. Second base might be the bigger issue
The Tigers used six second basemen in 2011, with
Ramon Santiago
and
Ryan Raburn
the only two who played more than 400 innings. In 777 2/3 career innings at second base, Raburn has been charted as costing his team 14 runs. In 1,384 2/3 career innings at second base, Santiago has been credited with saving his team 2 runs. Both are back in 2012.
5. Worst defensive lineup versus best lineup
As a hypothetical, if we made the presumption that the Tigers went primarily with an infield of Fielder, Raburn,
Jhonny Peralta
and Cabrera, and each of them performed to their career Runs Saved average, with Fielder and Cabrera playing 1,300 innings, and Raburn and Peralta playing 1,100 innings, here's how they would fare:
1B Fielder: minus-8
2B Raburn: minus-20
SS Peralta: minus-3
3B Cabrera: minus-12
That gives you a combined total of minus-43 Defensive Runs Saved, not taking into account who would fill in for the remaining innings (or much range Cabrera is likely to have lost since 2007). That's 20 runs worse than the Tigers infield positions combined for last season.
What would the difference be if the Tigers played Cabrera at first, Santiago at second and Inge at third, using the same basic principles (working via career averages)?
1B Cabrera: minus-5 (three runs better than Fielder)
2B Santiago: plus-2 (22 runs better than Raburn)
SS Peralta: minus-3
3B Inge: plus-8 (20 runs better than Cabrera)
The Inge hypothetical might be a little optimistic. He's rated league average (0 runs saved) over the past two seasons. But it's still significantly better than Cabrera.
6. Which Tigers starters are most impacted by infield defense?
The Tigers have a combination of pitchers who are reliant on the groundball and those more reliant on the strikeout and balls hit in the air. Here is the 2011 groundball percentage of their four top starters, with their ranking among all AL pitchers who faced at least 250 batters:
Where this move may impact Porcello most is when he gets a right-handed hitter to pull a groundball. We can dig deep into our stats to show that Porcello was among the most successful in baseball when he got hitters to do that.
Our Trumedia video evaluation tool is able to isolate chunks of the field and provide stats related to them. On balls hit to the area that starts with the traditional shortstop-third base hole and extends down the left-field line, the average right-handed hitter hit .300 when they hit a groundball. Those facing Porcello over the past two seasons were 24-for-102 (.235).
January, 26, 2012
1/26/12
8:30
AM ET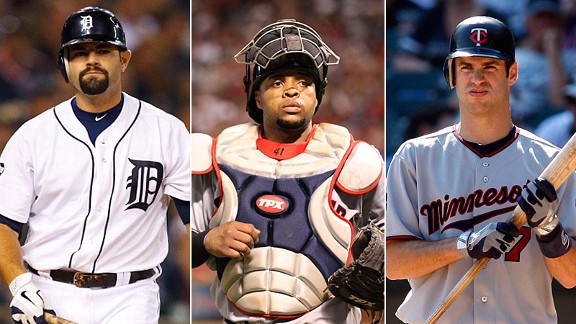 US PresswireWith Alex Avila, Carlos Santana and Joe Mauer, the AL Central is loaded at catcher.
We're back with more divisional position rankings for 2012. You can scream, you can holler, you can protest and call me names. But just because I rated your player lower than you think he deserves doesn't mean I hate your team.
(Here are the
NL East
and
NL West
rankings.)
Catcher
1.
Alex Avila
, Tigers
2.
Joe Mauer
, Twins
3.
Carlos Santana
, Indians
4.
Salvador Perez
, Royals
5.
A.J. Pierzynski
, White Sox
The AL Central might not be baseball's glamor division, but it may have three of the top five catchers in the game if Mauer bounces back from his injury-plagued campaign. Since we're not certain of his health, I'm going to give top billing to Avila, who had the best hitting numbers of any catcher outside of
Mike Napoli
and plays solid defense. I wouldn't be surprised if Santana explodes; with his power-and-walks combo, all he has to do is raise his average 30 points and he'll be one of the most valuable players in the game. Considering that his average on balls in play was .263, there is a good chance of that happening. Perez hit .331 in 39 games; OK, he won't do that again, but he doesn't turn 22 until May and puts the ball in play. There's no shame in being fifth in this group but that's where I have to place Pierzynski, who keeps rolling along and is now 36th on the all-time list for games caught.
First base
1.
Prince Fielder
, Tigers
2.
Paul Konerko
, White Sox
3.
Eric Hosmer
, Royals
4.
Justin Morneau
, Twins
5.
Matt LaPorta
, Indians
In 2009, when Morneau played 135 games, he hit .274 AVG/.363 OBP/.516 SLG. Even if he replicates that line, he may rank only fourth. Konerko has hit a combined .306 with 70 home runs the past two seasons. He's 104 home runs from 500 but turns 36 in March, so he's probably four seasons away; not sure he'll hang on that long, but who knew he'd be this good at this age. If Hosmer improves his walk rate and defense and Konerko declines, Hosmer could climb past him. If it doesn't happen this year, it will happen next. The most similar batter to him at age 21: Eddie Murray.
Second base
1.
Jason Kipnis
, Indians
2.
Gordon Beckham
, White Sox
3.
Johnny Giavotella
, Royals
4.
Alexi Casilla
, Twins
5.
Ramon Santiago
, Tigers
Well, this isn't exactly a
Robinson Cano
/
Dustin Pedroia
/
Ben Zobrist
debate, is it? Kipnis' bat is a sure thing, as evidenced by his excellent play after his call-up (.272 average and .507 slugging in 36 games). His glove was once a question mark but now appears solid enough that he looks like a future All-Star to me. Can anybody explain what has happened to Beckham? He's second mostly by default; he's gone downhill since his superb rookie season in 2009 but is only 25, so there's hope that he'll find those skills again. Giavotella has some potential with the bat (.338/.390/.481 at Triple-A), which is more than you can say for Casilla and Santiago.
Third base
1.
Miguel Cabrera
, Tigers
2.
Mike Moustakas
, Royals
3.
Lonnie Chisenhall
, Indians
4.
Danny Valencia
, Twins
5.
Brent Morel
, White Sox
We'll go with the idea that Cabrera is Detroit's starting third baseman, although I predict he'll end up starting more games at designated hitter. Manager Jim Leyland will end up doing a lot of mixing of his lineups, but for this little exercise we have to choose a starter. Moustakas didn't tear up the league as a rookie and I worry about his ability to hit lefties (.191, homerless in 89 at-bats), but he showed more than fellow rookies Chisenhall and Morel. Valencia doesn't get on base enough and he rated poorly on defense in 2011. I hope he's at least good in the clubhouse. Morel was terrible all season and then exploded for eight of his 10 home runs in September and drew 15 walks after drawing just seven the previous five months. Maybe something clicked.
Shortstop
1.
Asdrubal Cabrera
, Indians
2.
Alexei Ramirez
, White Sox
3.
Jhonny Peralta
, Tigers
4.
Alcides Escobar
, Royals
5.
Jamey Carroll
, Twins
Peralta had the best 2011 season, but he's a difficult guy to project. He had an .804 OPS in 2008 but dropped to .691 in 2009. He had a .703 OPS in 2010 and then .823 in 2011. I just don't see a repeat season, at the plate or in the field. Cabrera didn't rate well on the defensive metrics, and after a strong start he wore down in the second half. Ramirez has turned into a nice player, with a good glove and some power, and he even draws a few walks now. Escobar is a true magician with the glove. Carroll is actually a useful player who gets on base (.356 career OBP), but he's pushed as an everyday shortstop and he'll be 38. He'll be issued the honorary
Nick Punto
locker in the Twins' clubhouse.
Left field
1.
Alex Gordon
, Royals
2.
Alejandro De Aza
, White Sox
3.
Ben Revere
, Twins
4.
Michael Brantley
/
Shelley Duncan
, Indians
5.
Ryan Raburn
/
Don Kelly
, Tigers
I'm not sure what to do here. After Gordon, I just get a headache. We'll pretend to believe in De Aza after his impressive stint in the majors (171 plate appearances, .329/.400/.920). He's hit in Triple-A for three seasons now, and while he's not going to post a .400 OBP again, he should be adequate. Revere is one of the fastest players in the majors, but he's all speed and defense; he hopes to grow up to be
Brett Gardner
, which isn't a bad thing, but he'll have to learn to get on base at a better clip. Brantley doesn't have one outstanding skill so he'll have to hit better than .266 to be anything more than a fourth outfielder; Duncan provides some right-handed pop as a platoon guy. The Tigers have
Delmon Young
, but I'll slot him at DH. That leaves supposed lefty masher Raburn and utility man Kelly to soak up at-bats; both had an OBP below .300 in 2011, although Raburn has hit better in the past.
Center field
1.
Austin Jackson
, Tigers
2.
Denard Span
, Twins
3.
Grady Sizemore
, Indians
4.
Lorenzo Cain
, Royals
5.
Alex Rios
, White Sox
I can't rate Sizemore any higher since he's played just 104 games over the past two seasons, and he hasn't had a big year since 2008. Rios was terrible in '09, OK in '10 and worse than terrible in '11. I'm not betting on him.
Right field
1.
Shin-Soo Choo
, Indians
2.
Brennan Boesch
, Tigers
3.
Jeff Francoeur
, Royals
4.
Josh Willingham
, Twins
5.
Dayan Viciedo
, White Sox
Choo would like to forget 2011, but there's no reason he shouldn't bounce back and play like he did in 2009 and 2010, when he was one of the 10 best position players in the AL. I don't expect Francoeur to deliver 71 extra-base hits again, but maybe he'll surprise us. Viciedo is apparently nicknamed "The Tank," which makes me wonder how much ground he can cover. He did improve his walk rate last season in the minors and turns 23 in March, so there's still room for more growth.
Designated hitter
1.
Billy Butler
, Royals
2.
Travis Hafner
, Indians
3.
Ryan Doumit
, Twins
4. Delmon Young, Tigers
5.
Adam Dunn
, White Sox
Has there been a bigger prospect disappointment than Young in the past decade? I mean, yes, there were complete busts like
Brandon Wood
and
Andy Marte
, but those guys had obvious holes in their games, while Young was viewed as a
sure thing
, a consensus No. 1 overall prospect. But his bat has never lived up to its billing. Other than one decent year in Minnesota, he has low OBPs and he clearly lacked range in the outfield. His career WAR on Baseball-Reference is minus-0.2 (1.6 on FanGraphs), meaning he's been worse than replacement level. He's just not that good, Tigers fans.
No. 1 starter
1.
Justin Verlander
, Tigers
2.
John Danks
, White Sox
3.
Justin Masterson
, Indians
4.
Luke Hochevar
, Royals
5.
Carl Pavano
, Twins
Masterson was better than Danks in 2011, and I do believe his improvement was real. He absolutely crushes right-handers -- they slugged an anemic .259 off him. Danks had two bad months but has the longer track record of success. Even in his "off year" he had a higher strikeout rate and lower walk rate than Masterson. If you want to argue about Hochevar versus Pavano, be my guest.
No. 2 starter
1.
Doug Fister
, Tigers
2.
Ubaldo Jimenez
, Indians
3.
Gavin Floyd
, White Sox
4.
Francisco Liriano
, Twins
5.
Jonathan Sanchez
, Royals
Yes, sign me up for the Doug Fister bandwagon club. Jimenez's fastball velocity was down a couple miles per hour last season but the positives are that his strikeout and walk rates were identical to 2010; he'll be better. Floyd isn't flashy but he's now made 30-plus starts four years in a row, and he'll become a very rich man when he becomes a free agent after this season. Sanchez won't have the luxury of pitching in San Francisco (and to eight-man NL lineups).
No. 3 starter
1.
Max Scherzer
, Tigers
2.
Scott Baker
, Twins
3.
Philip Humber
, White Sox
4.
Bruce Chen
, Royals
5.
Josh Tomlin
, Indians
I could be underrating Baker, who was excellent last season, but only once in his career has he made 30 starts in a season. Tomlin's fans will disagree with this ranking, but he's a finesse guy who relies on the best control in baseball (21 walks in 26 starts). He's the kind of guy you root for, but the league seemed to figure him out as the season progressed.
No. 4 starter
1.
Felipe Paulino
, Royals
2.
Rick Porcello
, Tigers
3.
Jake Peavy
, White Sox
4.
Derek Lowe
, Indians
5.
Nick Blackburn
, Twins
Scouts still love Porcello's arm and I know he's just 23, but he's made 89 big league starts and shown no signs of getting better. His WHIP has increased each season and his strikeout rate remains one of the lowest in baseball. Paulino has an electric arm -- he averaged 95 mph on his fastball -- and
is
getting better. How could the Rockies give up on him after just 14 innings? How could the Astros trade him for
Clint Barmes
? Anyway, kudos to the Royals for buying low on the guy who may turn into their best starter. Peavy can't stay healthy. Lowe has led his league in starts three out of the past four seasons, but I'm not sure that's a good thing anymore. Blackburn is a poor man's Lowe, and I don't mean that in a good way.
No. 5 starter
1.
Chris Sale
, White Sox
2.
Jacob Turner
, Tigers
3.
Aaron Crow
/
Danny Duffy
, Royals
4.
Fausto Carmona
/
David Huff
/
Jeanmar Gomez
, Indians
5.
Brian Duensing
/
Jason Marquis
, Twins
Welcome to the AL Central crapshoot. Turner and Sale have the most upside, but one is a rookie and the other is converting from relief. Crow will also be given a shot at the rotation, but his difficulties against left-handed batters (.311 average allowed) don't bode well for that transition. Even if the artist formerly known as Carmona gets a visa, what do you have? A guy with a 5.01 ERA over the past four seasons. Duensing is another typical Twins pitcher, which means he at least throws strikes. His first full season in the rotation didn't go well, so of course the Twins brought in Marquis, yet another guy who doesn't strike anybody out.
Closer
1.
Jose Valverde
, Tigers
2.
Joakim Soria
, Royals
3.
Matt Thornton
, White Sox
4.
Chris Perez
, Indians
5.
Matt Capps
, Twins
Four good relievers plus Matt Capps. I do admit I'm a little perplexed by Perez, however. In 2009, he struck out 10.7 batters per nine innings. In 2010, that figure fell to 8.7 but he posted a pretty 1.71 ERA. In 2011, it was all the way down to 5.9, but without much improvement in his control. Perez blew only four saves but he did lose seven games. He survived thanks to a low .240 average on balls in play. He's an extreme fly-ball pitcher but didn't serve up many home runs. Bottom line: I'd be nervous.
Bullpen
1. Indians --
Vinnie Pestano
,
Rafael Perez
,
Tony Sipp
,
Joe Smith
,
Nick Hagadone
2. Royals --
Jonathan Broxton
,
Greg Holland
,
Louis Coleman
,
Tim Collins
,
Jose Mijares
3. Tigers --
Joaquin Benoit
,
Octavio Dotel
,
Phil Coke
,
Daniel Schlereth
,
Al Alburquerque
4. White Sox --
Jesse Crain
,
Jason Frasor
,
Will Ohman
,
Addison Reed
,
Dylan Axelrod
5. Twins --
Glen Perkins
,
Alex Burnett
,
Anthony Swarzak
,
Kyle Waldrop
,
Lester Oliveros
If you're starting to think I'm not high on the Twins for this season, you would be correct.
Intangibles
1. Royals
2. Indians
3. Tigers
4. White Sox
5. Twins
I like the youthful exuberance of the Royals, plus the likelihood of improvement from the young players and the possibility of some midseason reinforcements from the minors. The depth of the bullpen will help bolster a shaky rotation, and this just feels like an organization that is finally starting to believe in itself. The Indians are riding last year's positive results and enter the season knowing they might get better production from Choo and Sizemore and full seasons from Kipnis and Chisenhall. I'm not knocking the Tigers here, but they do lack depth in the pitching staff and the pressure is on them.
The final tally
1. Tigers, 65 points
2. Royals, 55 points
3. Indians, 54 points
4. White Sox, 46 points
5. Twins, 35 points
No surprise here: The Tigers will be heavy favorites to win the division with a lineup that should score a ton of runs. I don't think it's a lock that they'll win -- Verlander, Avila, Peralta and Valverde will all be hard-pressed to repeat their 2011 campaigns, for example. But the Royals and Indians appear to have too many questions in the rotations, the White Sox have serious lineup issues, and the Twins have a beautiful ballpark to play their games in.
December, 1, 2011
12/01/11
9:35
AM ET

The American League Central may have a reputation as baseball's skinflint division, but such is not the case: The White Sox, Twins and Tigers each had payrolls over $100 million in 2011 and ranked in the top 10 of highest-salaried ballclubs.
The problem was that two of those three teams didn't get much for their money. Considering the issues in Chicago and Minnesota, and the youth and unwillingness to spend big in Cleveland and Kansas City, Detroit will enter 2012 as the heavy favorite to win the division -- no matter what happens in the offseason. But even the Tigers are far from a sure thing and if the Indians can get good health from
Shin-Soo Choo
and
Grady Sizemore
in 2012, plus strong seasons from youngsters
Jason Kipnis
and
Lonnie Chisenhall
, their offense could be dramatically improved.
But that's getting ahead of ourselves. Here's a quick look at some action plans and items of interest for the five teams.
Detroit Tigers
1. Third base (
Brandon Inge
)
With Inge plummeting to a .197 average, Detroit's third-base production was among the worst in the majors. The team has already been linked to free agent
Aramis Ramirez
and trade discussions with Angels on
Maicer Izturis
. Both would be big upgrades over Inge, who still has one year remaining on his contract. The dark horse possibility: With
Carlos Guillen
($13 million) and
Magglio Ordonez
($10 million) off the books, the Tigers pursue
Jose Reyes
to fill their leadoff void, moving
Jhonny Peralta
to third base.
Likely solution: As much I love the Reyes idea, Ramirez to Detroit seems like a logical fit. The negatives are Ramirez's lack of range and Detroit's need for a little more athleticism in the lineup.

2. Middle relief
By the postseason, Jim Leyland was down to two relievers he trusted:
Jose Valverde
and
Joaquin Benoit
.
Al Alburquerque
had a strong rookie season out of nowhere and
Phil Coke
and
Daniel Schlereth
provide rare power lefty arms, but Albuquerque and Schlereth still have trouble throwing strikes. The Tigers could go after a low-cost veteran like
LaTroy Hawkins
,
Mike Gonzalez
or
Darren Oliver
, or maybe make a trade pitch for White Sox lefty
Matt Thornton
, although it seems unlikely Chicago would trade Thornton to a division rival.
Likely solution: A veteran righty-hander, with the Tigers counting on improvement from Coke and Schlereth.
3. A left-handed bat.
The Tigers missed
Brennan Boesch
's stick in the playoffs, as
Victor Martinez
and the hobbled
Alex Avila
were the only threats from the left side (granted,
Don Kelly
hit a big home run). Boesch's return will help, but Detroit could use a lefty bat to help balance out the lineup.
Likely solution:
Andy Dirks
may given another shot at that third/fourth outfielder job after hitting .251/.296/.406 as a rookie. But what about Rockies left fielder
Seth Smith
, who is on the trade block? His career .518 slugging percentage against righties has been bolstered a bit by Coors Field, but he's a solid hitter who could platoon with
Ryan Raburn
in left, or allow Raburn to play some at second base.
Cleveland Indians

1. Find a left fielder who can hit.
Michael Brantley
is a decent asset -- but as a center fielder. The plan to use Brantley as an everyday left fielder was never a great one to begin with, as he's never going to pop many balls over the fence. Brantley,
Austin Kearns
,
Shelley Duncan
and
Travis Buck
all started at least 20 games in left; Jared Head started six games there. As a group, Cleveland's left fielders hit a miserable .233 with seven home runs; only Baltimore and Minnesota received a lower OPS from their left fielders.
Likely solution: Signing
Grady Sizemore
doesn't necessarily push Brantley back to a starting role in left field. He's best used as a fourth outfielder and Sizemore insurance.
Michael Cuddyer
may end up getting priced out of Cleveland's range, so how former Twins teammate
Jason Kubel
? He can play left and step in as designated hitter when
Travis Hafner
suffers his inevitable breakdown.
2. Find at least one more starter.
Right now, the Indians can only count on
Justin Masterson
and
Ubaldo Jimenez
for their rotation.
Carlos Carrasco
is out for the season following Tommy John surgery,
Fausto Carmona
was terrible and even
Josh Tomlin
is a question mark after the league caught up to him in the second half (5.26 ERA).
Likely solution:
Jeanmar Gomez
has been roughed up in two stints in the majors (146 hits in 116 innings), but his Triple-A numbers were solid, if unspectacular. He'll be given another chance in spring training to battle
David Huff
for a rotation spot.
3. If not
Matt LaPorta
, who plays first base?
The big prospect acquired in the
CC Sabathia
deal, LaPorta just hasn't hit as expected, posting a .299 on-base percentage in 2011. The Indians seem ready to punt on LaPorta, who turns 27 in January so isn't even that young.
Carlos Santana
ended up playing a lot of first base down the stretch, but let's hope he's kept behind the plate, where his hitting value would be maximized.
Likely solution: If free agent
Carlos Pena
lowers his price, he's a possibility, and the Indians reportedly talked with Houston about
Brett Wallace
. I'm not sure Wallace is much of an upgrade over LaPorta, but at least he's younger.
Casey Kotchman
could fit nicely here as lower-cost alternative after posting a .378 OBP with Tampa. And hey, he's only two years older than LaPorta.
Chicago White Sox

1. What do you do with
Adam Dunn
and
Alex Rios
?
Dunn hit .159 with a .569 OPS. Rios hit .227 with a .613 OPS. Dunn was the least-valuable position player in baseball, according to Baseball-Reference.com, while Rios was seventh-worst. They made $24 million in 2011 and will make a combined $26 million in 2012. Both are signed through 2014.
Likely solution: General manager Kenny Williams will be busy during the winter meetings, perhaps shopping around guys like
Gavin Floyd
,
John Danks
and Matt Thornton, looking for some sort of backup plan to these two pieces of junk. The 40-man roster currently includes
Alejandro De Aza
, who probably deserves a chance to play somewhere after a nice run (if over his head) last season. Let's put it this way: he can produce an OPS higher than .613.
2. Third base (
Brent Morel
)
After struggling all season, hitting .250 with just two home runs and seven walks in 328 at-bats through August, Morel suddenly changed his approach in September, got more patient and swung for the fences. He hit just .224 the final month, but with eight home runs and 15 walks. Was it a legitimate improvement, or merely feasting off September tired arms and rookie call-ups?
Likely solution: Morel's hot September earns him another shot.
3. The new manager
This isn't so much an action plan, as a big question mark. Robin Ventura has no previous managerial experience, but the good sign for the White Sox is that respected pitching coach Don Cooper is still around to handle the pitching staff.
Likely solution: If Dunn and Rios stink it up again, it won't matter how well Ventura transitions into the job -- he'll be doomed.
Kansas City Royals

1. Fix the rotation
The Royals had a 4.82 ERA from their starters; only Baltimore was worse in the American League.
Likely solution: The Royals already made a move here, trading
Melky Cabrera
to the Giants for
Jonathan Sanchez
. The club also re-signed
Bruce Chen
. With the signing of
Jonathan Broxton
, and the emergence of rookie relievers
Greg Holland
,
Louis Coleman
and
Tim Collins
in 2011, fellow 2011 rookie
Aaron Crow
will be given a shot at the rotation. I have my doubts it will work: Crow walked 31 in 62 innings out of the bullpen and left-handed hitters tagged him for a .311 average and .538 slugging percentage. There's a reason he struggled in the minors as a starter in 2010 (5.73 ERA). He has a great arm, but won't be able to rely on his fastball/slider combo as a starter.
2. Second base (
Chris Getz
)
Royals second basemen posted a .301 OBP and .636 OPS (26th in the majors) in 2011.
Likely solution: Rookie
Johnny Giavotella
played the final two months there and hit .247 with a .649 OPS. He'll head into spring training as the favorite to win the job. He hit .338/.390/.481 at Triple-A, so the batting potential is there: Bill James projects him to hit .295/.342/.419.
3. Center field (empty -- Cabrera traded)
The Royals were smart to deal Cabrera after his career season.
Likely solution:
Lorenzo Cain
, acquired from Milwaukee in the
Zack Greinke
trade, will finally get a chance to play after spending 2011 in Triple-A. Cain is old for a guy still considered a prospect -- he turns 26 in April -- so he should be a polished product by now. He showed some power for the first time in his career, hitting 16 home runs for Omaha while batting .312. He doesn't walk much, so won't be a star, but should come closing to matching Cabrera's 2011 production.
Minnesota Twins

1. The M & M boys
After 2011's train wreck -- the club's first 90-loss season since 2000 (and at 99 losses, the most the 1982 Twins lost 102) -- it seems pretty clear this team will be dead in the water again unless
Joe Mauer
and
Justin Morneau
get healthy and regain their All-Star status. But they also can't assume these guys are going to play 140-plus games.
Likely solution: Obviously, the Twins need a better backup plan for Mauer than giving .167-hitting
Drew Butera
250 plate appearances. They already accomplished with the smart signing of
Ryan Doumit
to a one-year deal for $3 million. Doumit can catch or play right field, but his bat is good enough to warrant a regular place in the lineup even when he's not behind the plate. Of course, he's also been injury-prone throughout his career. Prospect Chris Parmalee, who impressed in a September call-up, gives the team a potentially decent backup option for Morneau as well.
2. Right field: Empty (Michael Cuddyer, free agent)
For all the attention Cuddyer is getting, let's remember that he's really just a complementary bat on a good team. Unfortunately, considering some of the other outfielders the Twins tried last season --
Rene Tosoni
,
Jason Repko
,
Trevor Plouffe
-- you realize they had nobody in the upper levels of the system.
Likely solution: Doumit may factor into their plans here, but regardless, the Twins need another bat to play a corner or DH. Smith is a trade option and free agent
Josh Willingham
is another possibility.
3. Closer: Empty (
Matt Capps
and
Joe Nathan
, free agents)
Nathan signed with Texas while GM Terry Ryan recently told the St. Paul Pioneer Press that it's likely Capps could return.
Likely solution: Capps was terrible last year, allowing 10 home runs in 65.2 innings while striking out just 4.7 hitters per nine innings. Two years ago, he had a 5.80 ERA. I can't fathom why any team would want to make Capps its closer. Sadly, however, the rest of the Minnesota bullpen is nearly as uninspiring (as is the rotation, but I don't have room to get to them here), but Capps throws strikes and there's nothing the Twins love more than a pitcher who throws strikes (velocity are ability to miss bats don't seem to be a factor). There's no reason for this team to spend big money on one of the remaining free-agent closers, so it probably will be Capps or lefty
Glen Perkins
.
June, 9, 2011
6/09/11
11:55
PM ET
Sabermetricians are not big fans of
Brennan Boesch
, with a full host of reasons. He doesn't walk enough. He doesn't have enough power for a corner outfielder. He's not a very good defensive player. He doesn't exactly run like
Austin Jackson
. He just had a couple hot months in 2010. He's got a weird reverse platoon split that he won't be able to maintain.
Maybe they're right, but on the other hand ... well, maybe Brennan Boesch isn't so bad. After wrapping a two-run homer around the foul pole in Thursday's 4-1 victory over Seattle, Boesch is hitting .281 with eight home runs on the year. He's drawing enough walks and hitting for enough power to produce an .805 OPS, a figure that may not have had you writing epic poems about Boesch a decade ago but is good enough for 24th in the American League. He's eighth in the league in runs and tied for 18th in RBIs. In 2011 you can win division titles with players like Brennan Boesch.
Which gets us to our issue of the night. The Tigers have the best pitcher in the AL Central. They have the best hitter in the AL Central. Do they have the best team?
With
Justin Verlander
striking out a season-high 10 (yes, Thursday was his first double-digit strikeout game), the Tigers won for the ninth time in 11 games. They kind of snuck up on us, and now they're just one game behind Cleveland, which isn't simply looking at Detroit in its rear-view mirror but seeing the Tigers race by at 85 mph.
The Tigers scored barely four runs per game in April, but several guys had extremely slow starts:
Magglio Ordonez
hit .169, Jackson .178 and
Brandon Inge
.198.
Will Rhymes
won the second-base job out of spring training but hit .211 with no power to lose the job.
Now the Tigers are starting to mash.
Miguel Cabrera
and the Brewers'
Ryan Braun
are the only two players in the majors with at least 45 runs and 45 RBIs. Catcher
Alex Avila
hit two triples -- yes, two -- deep into the right-center gap on Thursday, and is now hitting .297/.359/.564 and looking more legit by the day. Shortstop
Jhonny Peralta
is having his best season in years, hitting .313 with eight homers.
Victor Martinez
is hitting better than .300.
But Boesch is a potentially critical component. If he's the guy who is going to hit in front of Cabrera in Jim Leyland's lineups, then Boesch has to produce -- he's going to get pitches to hit and Miggy needs guys on base to drive in. Boesch is hot right now, hitting .400 in June to raise his average from .254 to. 280. He hit a long two-run homer off
Edwin Jackson
last weekend in a 4-2 win over the White Sox, went 5-for-6 with two homers Monday in Texas, and then homered again on Thursday against Seattle. If he keeps producing, that gives the Tigers five big threats in the lineup, the kind of offensive depth that is matched by just the Red Sox and Yankees in the AL. (I don't put that Rangers up there, as many of their offensive totals are park inflated.)
For the Tigers, I see five keys:
Lineup selection. Jackson's recent streak has raised his average to .243, but his OBP remains a substandard .302. Leyland seems determined to turn Jackson into a leadoff hitter, but I'm not sure it's in the cards. He strikes out way too much (73 times in 62 games) and doesn't draw many walks. Thursday, Leyland had Peralta and Avila buried in the seventh and eighth spots in the order, while hitting Jackson leadoff and Don Kelly (.303 OBP) second, which makes no sense. It's not 1988 anymore; you don't have two fast, scrappy guys who don't get on base batting one and two in the order. The Tigers lack a classic leadoff hitter, and Jackson is really the speed on the team, but why hit these two guys in front of Cabrera? Why not go Peralta, Boesch, Cabrera, Martinez and Avila, and bunch your best hitters together?

The return of Magglio Ordonez. Does he have anything left? And if he does, where does he play? With Avila mashing, Martinez has basically become the team's everyday DH. Considering Mags plays right field about as well as Al Kaline -- and I mean the statue outside the ballpark -- he may not have a job beyond platooning in the outfield with Andy Dirks.

What's on second? Five guys have played there so far. Ryan Raburn started Thursday, but after a couple good years at the plate, he's lost all semblance of the strike zone with a 63/8 K/BB ratio. Ramon Santiago offers a better glove; if Raburn doesn't start hitting soon, Santiago may become the regular by default.

How good is the bullpen? Jose Valverde comes in with his goggles, shaggy goatee, meat-and-potatoes girth and two-step antics on the mound, but he usually gets the job done as the closer. But the rest of the pen is thin. High-priced setup man Joaquin Benoit has been better of late but remains a question. Rookie Al Alburquerque has 35 strikeouts in 19 2/3 IP but a minor league track record that suggests he won't be able to sustain this. Outside of that, they'll need some of these rookie call-ups, such as Adam Wilk and Charlie Furbush, to surprise and pitch.

Justin Verlander is great, but how good is the rest of the rotation? The Tigers entered Thursday eighth in the AL in ERA among starters, seventh in innings and tied for sixth in quality starts. In other words, decidedly middle of the pack.
In the AL Central that may be enough to win. And if Brennan Boesch continues to defy the skeptics, the Tigers may be the team to beat in the division.
PHOTO OF THE DAY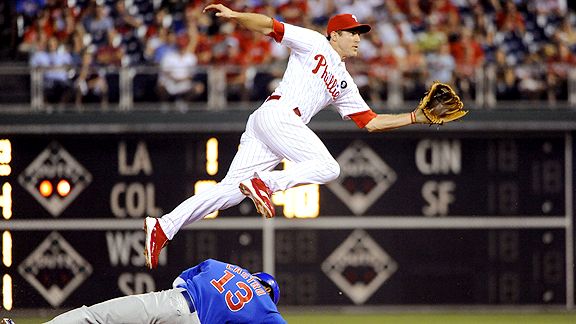 Howard Smith/US PresswireSometimes stealing second can be a heads-
down
play.