May, 31, 2012
5/31/12
1:29
AM ET
ESPN.com will be holding its second annual Franchise Player Draft on Thursday afternoon. It's a fun project where we gather 30 ESPN writers and TV personalities and conduct a fictional draft of every player in baseball, asking the question: Whom would you build a team around?
In last year's draft,
Tim Lincecum
went fifth, the second pitcher selected after
Felix Hernandez
.
This year? Nobody's going to take a pitcher with a 5.82 ERA.
So what's wrong with the two-time Cy Young winner? In some sabermetric circles, the issues are described as Lincecum merely having a lot of bad luck so far.
1. His batting average on balls in play is high -- .327 versus .281 in 2011 and a career mark of .296. So he's just been unlucky with a few bloops, flares and dying quails, or maybe just some bad defense behind him.
2. His strikeout rate per nine innings is still excellent -- 9.6 K's per nine, a touch higher than 2011 and just a tick below his career average. See? He still has dominant strikeout stuff.
3. He entered Wednesday's start with a .361 average with runners in scoring position? See, more bad luck. No wonder he began the game with a 6.41 ERA.
Add it all up and Lincecum will regress back to more normal levels and return to being one of the best pitchers in baseball over his next 20-plus starts ... just like always.
Maybe all that
is
true. Maybe some of it is true. But I don't think it's quite so simple.
Let me throw a couple heat maps at you. The first one compares Lincecum's pitch locations versus left-handed batters on 0-1 and 1-1 counts in 2011 versus 2012; the second does the same versus right-handed batters. (These don't include Wednesday's game.)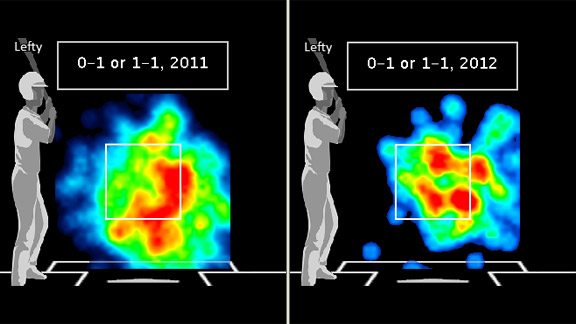 ESPN Stats & InformationLincecum's heat map versus left-handed batters on 0-1 and 1-1 pitches, 2011 vs. 2012.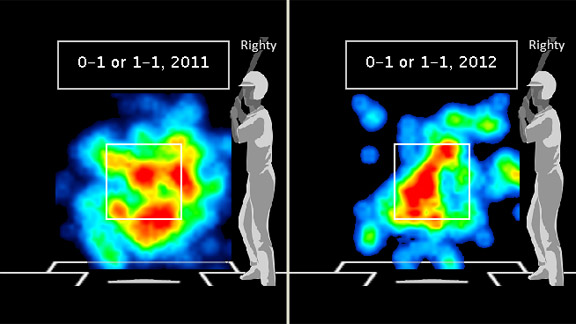 ESPN Stats & InformationLincecum's heat map versus right-handed batters on 0-1 and 1-1 pitches, 2011 vs. 2012.
I think these graphics are pretty instructive. In 2011 against left-handed batters, Lincecum pounded the outside corner or bottom of the strike zone. But in 2012, his hot zones are more up in the strike zone and over the middle of the plate. As a result, Lincecum is getting hit harder on these counts. In 2011, for example, batters hit .205/.237/.323 after falling behind 0-1; in 2012, they're hitting .291/.336/.496 (again, before Wednesday's game).
Against right-handers, he's having similar location issues. In 2011, he had two hot zones on the inside corner of the plate and down in the zone; in 2012, there's a lot more red over the middle of the plate and no red on the inside part of the plate. His strikeout/walk ratio after being ahead 0-1 has declined from 11-to-1 to 4.7-to-1. When he got to a 1-1 count in 2011, batters hit .181; in 2012, .230.
The diagnosis, to me, isn't just bad luck, but location, location, location. This can certainly be seen in his walk rate, which is up by more than a walk per nine innings, but also in his command: He's leaving too many pitches in hittable areas, especially in counts where he usually has hitters at a disadvantage. The result? A higher-than-normal batting average on balls in play.
Hey, I could be completely wrong. I'm sure Lincecum has had some bloops fall in. I'm not sure I buy the bad defense angle, as
Matt Cain
,
Madison Bumgarner
,
Ryan Vogelsong
and
Barry Zito
are all doing just fine.
Lincecum's box score line in the Giants'
4-1 loss to visiting Arizona
on Wednesday looked better: 7 IP, 4 H, 2 R, 1 ER, 5 BB, 6 SO, 1 HR. (I'm not sure why one run was unearned; Arizona had
Miguel Montero
on third with one out when a fly ball was hit to
Gregor Blanco
in right field. He dropped the ball on the transfer, but I believe Montero was tagging up on the play.)
Giants announcer Mike Krukow said he thought he saw Lincecum throw some of his best pitches he'd seen a while, but as you can see with the five walks (one intentional), he was still all over the place. A few examples:
With Montero on third in the second, he walked Chris Young on five pitches. He threw three consecutive fastballs to Ryan Roberts and the 1-1 pitch looked pretty hittable, although Roberts got jammed slightly and flew out to right.

In the third, with a runner on first and two out, Montero hit a hard grounder to second that Ryan Theriot made a diving stop on.

In the fourth, after Paul Goldschmidt had walked, Roberts smoked a 2-0 pitch on a line to left field, but right at Melky Cabrera.

In the fifth, on a 2-2 count to Gerardo Parra, Lincecum threw a changeup that bounced in the dirt, an obvious ball. Parra walked on the next pitch. A year go, hitters had a .239 OBP against Lincecum after a 2-2 count; this year, .385 (before Wednesday). In 2011, Parra strikes out on that changeup.

In the sixth, Goldschmidt hit 1-0 curveball on low liner over the left-field fence for the go-ahead home run. It wasn't a terrible pitch, down at the knees, but was over the middle of the plate instead of down and away. Goldschmidt now has 12 career home runs -- four off Lincecum.
So maybe there is some luck evening out -- the diving stop, the liner to Cabrera -- but I saw a pitcher struggling with his control. I'm not expert enough to break down his mechanics, but at one point Krukow examined Lincecum's motion and suggested his release point was out of sync with his landing foot. That would certainly explain some of the command problems.
Look, Lincecum
is
likely to have better results moving forward, but my take is that will have to come from improved pitch location, hitting the corners and making better pitches when he's 0-1 or 1-1. It hasn't been bad luck; it's been bad pitching.
May, 24, 2012
5/24/12
9:00
AM ET
By
Christina Kahrl
| ESPN.com
You had to figure the D-backs were due to break out at some point. Playing in one of the baseball's best ballparks to hit in, but posting a .133 Isolated power rate, below even the .140 league average? That wasn't going to last. And
Ted Lilly
, 5-0 and looking invincible going into Wednesday night's start in the ballpark formerly known as Bob? As good as Lilly has been this season, he's a guy who's averaged almost 30 homers allowed per 200 innings pitched on his career, so that wasn't going to last either.
Something had to give -- and did. Lilly gave up an extra-base hit in every frame while allowing 14 baserunners and eight runs before he was yanked in the fourth, and the Snakes' parade around the bases got the benefit of an additional
Justin Upton
three-run shot in the fifth off
Jamey Wright
to seal the deal.
A lot of what went right for Arizona reflects what's supposed to be going right for it, and what worked for it last year. Upton is supposed to air-mail Earl Weaver specials into the cheap seats, because Arizona is supposed to slug well in its home park -- that's what it was built to do, and last year's 38-point relative advantage in slugging at home as opposed to on the road was fairly normal. Even though we're past the quarter mark, these are things that are so, but aren't likely to remain so.
Upton isn't the only guy failing to deliver power relative to expectations. After
Paul Goldschmidt
slugged .474 as a rookie, you would expect that he isn't going to slug under .400 all year. Then again, he was also only projected to slug .428 before the season by ESPN Insider's Dan Szymborski (via ZiPS). On the other hand,
Miguel Montero
isn't going to have an ISO below .100 ... but if he doesn't it will be a bitter climb-down for the defending division champs.
But failing to slug isn't the only thing that's different about the D-backs this year. After ripping his third-inning double, Goldschmidt stole third base for the first time ever in his young career -- and that's very much Kirk Gibson's brand of baseball, setting loose his basepath commandos. It's also something we've seen less of this season as the D-backs have struggled to get their offense on track. Gibby likes pushing defenses on the bases, perhaps not unlike the wide receiver he once was, but from 2011 to 2012 the Snakes have sunk from third to 13th in the league in extra bases taken on base hits. So not only have the Snakes lost their thunder, they're no longer lightning on the bases. Instead, teams like the Marlins, Braves and Dodgers are the ones advancing aggressively on the bases.
It will be interesting to see how things shake down in the lineup in the weeks to come. Staying the course and expecting that their guys will get back on track is the easy thing, the patient thing, the choice that relies on courage of the actuarial kind. But these Snakes aren't made of stone, and changes are being made on the margins. You can see why the switch-hitting
Josh Bell
was brought up: Not just to play some third base and perhaps push
Ryan Roberts
into a utility role after Tatt Man's slow start, but to give the lineup another power source from the left side if the plate. (Stephen Drew's latest rehab setback doesn't help matters any.) Roberts was one of the people Gibson turned to and won with last season; so was Goldschmidt.
The D-backs can't sit entirely still, not after a title, and not after they watch the promising youth of key stars from that 2007 NLCS team fail again to top that feat. But if they don't start hammering foes with some regularity, it won't be people like Upton or Montero or
Chris Young
who get moved aside. Instead, it will be the guys with options -- like Goldschmidt -- or the guys who are fundamentally replaceable -- as Roberts has always been -- who will become targets of convenience for a club that may need to shake things up sooner rather than later.
PHOTO OF THE DAY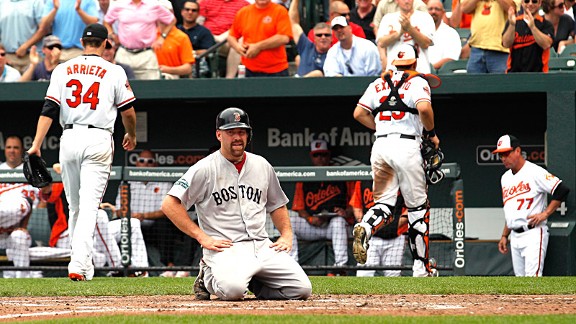 Rob Carr/Getty ImagesLook at me, I'm out, I'm still out... doesn't anyone here understand irony?
Christina Kahrl covers baseball for ESPN.com. You can follow her on Twitter.
October, 6, 2011
10/06/11
1:12
AM ET
Now we know why the
Milwaukee Brewers
and
Arizona Diamondbacks
played all-out down the stretch to secure home-field advantage for the first round, which the Brewers finally clinched on the final day of the season. These teams play like the 1927 Yankees at home and the 1962 Mets on the road. The Brewers went 11-4 in their final 15 games to beat out the Diamondbacks for the No. 2 seed, which means they get to head back to the loud but comfy confines of Miller Park for Game 5, and that could be the difference in this series.
They'll certainly be glad to leave Arizona after getting hammered by the Diamondbacks
10-6
on Wednesday in a game that featured more plot twists than the final score indicates. A few random notes, thoughts, trivia and other stuff:
Ryan Roberts did not miss what looked like a hanging slider from Randy Wolf in the first inning, hooking it into the left-field bullpen for a grand slam. It gave the Diamondbacks a 4-1 lead and made them the first team since the 1977 Dodgers to hit grand slams in consecutive postseason games (Ron Cey and Dusty Baker, in case you're keeping track). Roberts struggled in September, hitting .205 with just two home runs, but he's been seeing the ball well in this series, with two home runs, a double and a .400 average in the first four games.
After a much-documented disastrous Game 1 in which he pitched to Prince Fielder with a base open and started Lyle Overbay over Paul Goldschmidt, D-backs manager Kirk Gibson redeemed himself with several gutsy moves in this game. Leading 5-3 in the bottom of the third, he pinch hit for starter Joe Saunders with runners at second and third and two outs. Saunders had not looked good through three innings but still led. In the regular season, Saunders hits. This isn't the regular season. Gibson seized the opportunity to score more runs and looked brilliant when Collin Cowgill bounced a two-run single into left field.
After Micah Owings delivered two scorless innings, Gibson's move to bring in Jarrod Parker, the 22-year-old rookie and top prospect who had pitched just one game in the regular season, didn't look smart when Parker allowed an infield hit, a walk and a single to load the bases. Gibson brought in Bryan Shaw, and Corey Hart ripped one into left-center ... it initially sounded (and looked) like it could be a game-tying grand slam, but left fielder Gerardo Parra took a perfect route to the ball and ran it down at the warning, showing why he's likely to win a Glove Glove this season.
That's one of the beautiful aspects of October baseball: Collin Cowgill and Gerardo Parra, unsung heroes. By the way, make sure you watch the replay again to see how much ground Parra covered to make that catch. That ball is out of some ballparks. The play of the game and a terrific play.
Chris Young helped out as well, with two home runs of his own.
The key guy for the Brewers right now has to be Rickie Weeks. Ryan Braun is hitting .467 with a .529 on-base percentage in the series; Fielder is hitting .333 with a .412 OBP. Those guys are living on the bases, but Weeks is hitting .067 after going 0-for-5 on Wednesday and has just one RBI.
Brewers fans certainly were upset with Ron Roenicke for not removing Wolf before he allowed his sixth and seventh runs in the third, but I can't fault Roenicke too much -- with the series lead, there was no need to burn through his bullpen, and Wolf was one out from escaping the inning. Cowgill's bouncer just found a hole.
Both starters lasted just three innings. Not including that Justin Verlander/CC Sabathia rainout from the other night, the last postseason game in which both starters pitched three or fewer innings was Game 5 of the 2005 American League Division Series, in which the Yankees' Mike Mussina lasted just 2.2 innings and the Angels' Bartolo Colon left after one with injury. (Rookie Ervin Santana came on and pitched into the seventh.) The last game in which both starters got shelled was Game 3 of the 2004 AL Championship Series, in which Bronson Arroyo and Kevin Brown both pitched just two innings in a game the Yankees eventually won 19-8.
Game 5, baby! For the first time since 2001, we have three division series going the distance. That year, the Mariners beat the Indians, the Yankees beat the A's and the Diamondbacks beat the Cardinals.
Ian Kennedy versus Yovani Gallardo. If Gallardo has mastery of his curveball the way he did in Game 1, he's going to be tough to beat. He's on a roll; he has 45 strikeouts and just four walks over his past four starts. If either starter struggles, Daniel Hudson and Zack Greinke both will be available for long relief and would be pitching on four days' rest. But I think the biggest number is this one: The Brewers hit .277 and slugged .461 at home (versus .246 and .391, respectively, on the road). They love Miller Park. They're the favorites, but you never know ... one hanging curveball to Goldschmidt or Justin Upton with a couple of runners on ...
April, 29, 2011
4/29/11
12:05
PM ET
The SweetSpot blog network weighs in with April's best surprises ...

Beachy
Atlanta Braves
Simply put, the Braves' most pleasant surprise has been
Brandon Beachy
. At this time last year, Beachy was a virtually unknown prospect at Double-A Mississippi. Now he's leading the Atlanta starting staff in strikeout per nine innings (9.51) and is a prime candidate for the NL Rookie of the Month award for April. At this pace, it's going to be impossible for
Mike Minor
to unseat him for the fifth-starter role, regardless of his dominance in Triple-A.
--Kevin Orris. Capitol Avenue Club
Florida Marlins
It is absolutely amazing that the Marlins are just a half-game out of first place, especially considering the rough start of
Hanley Ramirez
(.197/.299/.250). In another amazing twist, given the shaky outfield defense that was expected of them, the Fish have the best defensive efficiency in the National League, turning almost 73 percent of balls in play into outs, and understandably have given up the fewest runs in the Senior Circuit.
--The Common Man, The Platoon Advantage
New York Mets
Though the hot starts of
Ike Davis
and
Jose Reyes
have been greatly appreciated by Mets fans, they are not necessarily surprises -- at least, not compared to
Pedro Beato
. A Rule 5 pick, the hard-throwing Beato began the season as the last man out of the bullpen but has quickly emerged as arguably the Mets' most reliable reliever. Through 12 innings, Beato has yet to allow an earned run, has struck out eight and boasts a 0.75 WHIP. Perhaps most impressive, the youngster is now being called upon in high-leverage, late-inning situations.
--Joe Janish,
Mets Today

Bastardo
Philadelphia Phillies
The Phillies' most pleasant surprise has been
Antonio Bastardo
. As
Brad Lidge
,
J.C. Romero
and
Jose Contreras
succumbed to injury, Bastardo emerged as a legitimate late-innings option, striking out 15 and allowing just one run in 10 1/3 innings.
--Bill Baer, Crashburn Alley
Washington Nationals
Wilson Ramos
has been the Nats' pleasant (yet probably unsustainable) surprise. He is hitting a cool .375/.426/.563, while playing acceptably behind the plate, gunning down three of eight attempted base stealers. Given that he has a batting average on balls in play of around .450, he's sure to cool off a lot, but we're grateful for each additional day he keeps the corpse of Pudge Rodriguez from getting up to bat.
--Harper Gordek, Nationals Baseball
Chicago Cubs
Darwin Barney
came into spring training fighting to make the roster. One month into the season, he's a viable No. 2 hitter in the lineup and deserving of the spot on the All-Star ballot
Blake DeWitt
is hoarding.
--Joe Aiello, View from the Bleachers

Gomes
Cincinnati Reds
The plate discipline shown by
Jonny Gomes
has been the most pleasant surprise, by far. Gomes has drawn 19 walks in the first month (second in the league, behind teammate
Joey Votto
), after walking only 39 times in the entire 2010 season. Because of Gomes' patience, his OPS remains over .900, despite a batting average hovering around the Mendoza line.
--Chad Dotson, Redleg Nation
Houston Astros
As the last-place team in the NL Central, there's been very little for the Astros to be pleasantly surprised about. But for the team that won one series in April (a distinction the Mets would rather forget), its lone pleasant surprise is
Brett Wallace
, who is hitting great despite having the unfortunate situation of being sandwiched between
Carlos Lee
and
Bill Hall
. He leads the team in batting average (.373), on-base percentage (.441) and slugging (.518).
--Austin Swafford, Austin's Astros 290 Blog
Milwaukee Brewers
The best surprise for the Brewers is they're 12-12 despite
Zack Greinke
not making a start,
Corey Hart
missing nearly the entire month and the bullpen leading the majors with seven losses. They can thank the hot starts of
Ryan Braun
(.356/.454/.689),
Prince Fielder
(leading the NL with 23 RBIs) and
Rickie Weeks
(21 runs scored).
--David Schoenfield

Morton
Pittsburgh Pirates
In five starts,
Charlie Morton
already has as many wins as he did in 2010, and his ERA is 60 percent lower. Don't buy into it, though. His 18:18 strikeout-to-walk ratio is highly troubling, and his .253 BABIP is completely unsustainable, even though he's getting 2.25 grounders for every fly ball so far. The Pirates will have to hope the coming regression is accompanied by a return to form for
James McDonald
, who has been terrible.
--The Common Man, The Platoon Advantage
St. Louis Cardinals
When the Cardinals lost ace
Adam Wainwright
for the season, the pressure suddenly shifted to their starting rotation. In particular, to
Kyle Lohse
, the righty who made only 40 starts in the two seasons since signing a hefty 4-year, $41 million contract extension. Given that from 2009-10 his ERA was indistinguishable from his strikeout rate (though, to be fair, his expected Fielding Independent Pitching was much lower), expectations were tempered. So his 2011 campaign thus far -- five Wainwright-like starts with an ERA of 1.64 -- has been the most pleasant surprise for the Cardinals. He is inducing ground balls like never before (48.6 percent) and limiting self-inflicted damage with a walk rate (1.17 walks per nine innings) that
Cliff Lee
would be proud of. And he's tied for fourth among NL pitchers in Wins Above Replacement.
--Matt Philip, Fungoes.net
Arizona Diamondbacks
Bright spots are fairly few and far between for the D-backs. The starting pitching has been atrocious, but the hitters have proven solid. The most shocking performance has been from
Ryan Roberts
, a minor league lifer who has seemingly taken over the third-base job by hitting .311/.408/.607 through 20 games. It's not a mirage. Roberts is a legitimate hitter, and as long as his defense holds up, he'll be a very productive and cheap option for the near future.
--The Common Man, The Platoon Advantage
Colorado Rockies
Where in the world did
Jonathan Herrera
(.317/.442/.429) come from? The 26-year-old has never really done anything like this before and is a good bet to regress. Still, he's done a terrific job of making up for the disappointing, but totally predictable, performances of
Ty Wigginton
(.233/.309/.383) and
Jose Lopez
(.143/.169/.254).
--The Common Man, The Platoon Advantage

Kemp
Los Angeles Dodgers
The return -- and then some -- of
Matt Kemp
has been the biggest surprise. Even though he has tapered off in his past 10 games, going 10-for-41 with 15 strikeouts, he still has walked six times in that stretch and has had a superb start overall (1.072 OPS). One question is whether his walks reflect better plate discipline or the horrors of the Dodgers lineup after his spot in the order.
--Jon Weisman, Dodger Thoughts
San Diego Padres
In a month of unpleasant surprises, one exception for San Diego has been the performance of catcher
Nick Hundley
. After splitting duties with veterans
Henry Blanco
and
Yorvit Torrealba
the past two seasons, Hundley has assumed a larger role this year and responded. He is hitting .286/.356/.481 and providing the bulk of what little offense the Padres have been able to muster.
--Geoff Young, Ducksnorts
San Francisco Giants
The Giants' most pleasant surprise is this: They're still around .500 despite going through a month bereft of actual pleasant surprises. That's not to say the Giants haven't had good performances, but what's been good hasn't been surprising and what's been surprising hasn't been good.
Pablo Sandoval
shouldn't surprise anyone when he hits .330 in a month; he'll do that.
Buster Posey
and
Tim Lincecum
have played well, yes. They're good, you know. The bad surprises on the other hand: a bushel of injuries, month-long slumps from key regulars and defense that has had fans saying to each other, "You know, I don't think that fellow can really play that position."
--Otis Anderson, Bay City Ball