SweetSpot:

Ryan Rowland-Smith
August, 13, 2011
8/13/11
2:00
PM ET
By
Taylor Halperin
| ESPN.com
The creators of Twitter intended for their product to revolutionize communication. News could be consumed seconds after it broke; the article was cast aside in favor of the headline. Twitter would be a stream of pure information doubling as both a news source and a social network.
[+] Enlarge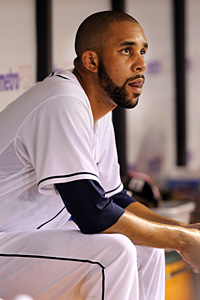 Kim Klement/US PresswireRays left-hander David Price, who is nearly two decades younger than Tim Wakefield, will try to bring his team within two games of Boston in the wild-card chase.
The creators of Twitter, however, did not intend for their product to serve as a potent connection between fans and the athletes they alternately adore and despise.
Fans are constantly trying to connect with athletes. We are curious to discover the man behind the .270 batting average. For a long time, the fan had only two methods of connection: She might ask for an autograph at a game, or she might hope for a chance encounter outside of the ballpark. The former entails a clipped, impersonal exchange while the latter is very unlikely to happen. By no means do athletes intentionally shy away from contact with fans; it's just that contact with fans can be really impractical. [A
Sports Illustrated
article claimed that
Joe Mauer
responded to every fan letter he received, but I can't imagine that he actually did.]
Professional athletes frequently have places to be and things to do that preclude them from reaching out to their faithful. The remedy, as Jason Mraz astutely points out, is a dangerous liaison. If somehow, someway, athletes could publicly convey semi-personal information in a quick and easy manner, the fan's appetite for connection might be satiated.
Enter Twitter, and the connection is made. Using this technology, we can reply to and pass judgment on David Aardsma's updates. We can find out where Jason Heyward's political affiliations lie. We discover marital problems, anecdotes and religious convictions. All
David Price
has to do to satisfy the Rays' faithful is type in anything along the lines of, "So I was just asked since I'm left handed do I drive with my left foot....???" The comment isn't especially funny in itself, but it gains something from being attached to David Price's name.
In a way, athlete's tweets are no different from the "Celebrities: they're just like us" section of any gossip magazine. We could logically assume that
Nick Swisher
drinks Starbucks coffee, but the Twitter-delivered confirmation makes us all giddy for some reason. Nick Swisher drinks Starbucks coffee? So do I! That's exciting!
But Twitter doesn't just connect fans to their favorite players. It fosters a phenomenon that can be loosely termed "irrational affection."
Ryan Rowland-Smith
pitched incredibly poorly for the Mariners in 2010, but the fan base adored him for his earnest tweets and unyielding optimism. As someone who covers baseball without interacting directly with the men who play the game, I am frequently tempted to rant about the players who don't do their jobs particularly well. But I could never bring myself to badmouth the Aussie, despite his sky-high ERA. More recently, A's righty
Brandon McCarthy
has shown his personality to be a lovely mixture of clever and cynical through his amusing tweets; I find myself rooting for him despite my full-fledged allegiance to the Mariners. From a purely logical standpoint, this doesn't make sense. Why would anyone favor a mediocre player (in the case of Rowland-Smith) over a good player? Why would droll 140-character updates from a member of my team's division rivals make me like him?
Twitter has given fans a vehicle to root for players as human beings rather than as characterless objects, numerical fractions of a team. It's easier to relate to an athlete when you know he guzzles Red Bull en masse. Twitter might not truly connect fans and their heroes in an intellectually meaningful way, but it's a big first step. And, feasibly, there might not be a bigger step possible.
I think
Brian Wilson
put it best when he tweeted, "The Tux. Made of reproduced underwater sea lion-platypus hybrid DNA. Just keeping it classy! #fearthespandex". That might not have anything to do with the rest of this article, but it makes me happy that Brian Wilson is a bizarre, fascinating human being as well as a great closer. That is the power of Twitter.
Taylor Halperin contributes to Pro Ball NW, the Mariners' corner of the SweetSpot network.
February, 10, 2011
2/10/11
12:42
PM ET
By
Austin Swafford
| ESPN.com
The Astros went into the offseason looking like they had their rotation for 2011 mostly in place. They have a solid front three with
Brett Myers
,
Wandy Rodriguez
and
J.A. Happ
. And that's assuming Myers' resurgent year in 2010 wasn't a fluke. The threesome of Myers, Rodriguez and Happ might not strike fear in the heart of the common reader, but it is worth pointing out that the Astros had
as many quality starts as the Giants
last year. It's safe to say, however, that Myers and Rodriguez won't be confused with
Tim Lincecum
and
Matt Cain
any time soon. But the trio of Myers, Rodriguez and Happ was a combined 18-7 with a 2.87 ERA after the break last year. If they duplicate that production in 2011, the Astros will have a front three that's as good as any in the league.
But the question mark was with the fifth spot in the rotation. Although that spot is generally discarded as virtually irrelevant,
Fernando Abad
's winter has the Astros looking like they could have one of the deepest rotations in the National League.
[+] Enlarge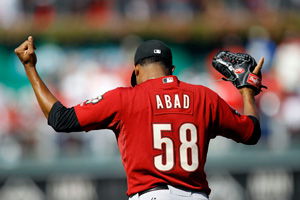 AP Photo/Matt RourkeFernando Abad compiled a 2.84 ERA and 1.00 WHIP in 19 major league innings last season.
The lefty made his major league debut last year, compiling a 2.84 ERA and 1.00 WHIP in 19 innings. It's an extremely small sample size that provides very little insight into the kind of pitcher he could be, and he was originally expected to do little more than compete for a prominent bullpen role. His winter numbers, however, have given the Astros reason to re-evaluate. In 10 regular-season games (six starts) in the Dominican Winter League, Abad went 3-0 with a 2.38 ERA. He was also dominant in the playoffs, including one game in which he allowed
no hits through six innings
, retiring the first 16 batters he faced before an error broke up his perfect game.
Originally, the front-runners for the fifth spot in the Astros' rotation were
Nelson Figueroa
and Jordan Lyles. Figueroa put up surprisingly good numbers last year, but a 36-year-old journeyman who has started only 27 major league games since 2004 isn't quite ideal. And Lyles, the Astros' great prospect, is only 20 years old and needs some more work in the minors. Abad could provide the just-right-in-the-middle solution to those two extremes on the age spectrum, and actually could provide some talent to boot.
The tougher decision will be what to do with free-agent signee
Ryan Rowland-Smith
, who may end up with the job as fifth starter just so the Astros don't risk losing him. He's another lefty who is a couple of years older than Abad, but has done more to prove himself at the major league level. He took a big step backward in 2010, but he did enough in '08 and '09 that the Astros will want to give him a real look. Abad will certainly give the Astros something to think about, however, and when placed in a rotation with Myers, Rodriguez, Happ and
Bud Norris
, he could help the Astros have one of the most difficult and surprising rotations in the NL.
Austin Swafford runs the SweetSpot Astros blog at Austin's Astros 290 Blog.