June, 23, 2014
Jun 23
4:06
PM ET
Cubs fans of a certain age know the game I'm talking about: June 23, 1984. The day Ryne Sandberg turned into a Hall of Famer.
Other fans may remember the game as well. It was the Saturday afternoon Game of the Week, back when that was a big deal, with Bob Costas and Tony Kubek calling the action. Actually, I wonder if it was the backup game, because Vin Scully and Joe Garagiola were NBC's A team that year. Or maybe they had the week off. I remember watching it and it turned into a breakout performance in the national spotlight for the Cubs' third-year second baseman and the most memorable game of the year for the Cubs as they went on to win the NL East title.
The Cubs rallied from 7-1 and 9-3 deficits as Sandberg went 5-for-6 with two home runs and seven RBIs -- with both home runs coming off Cardinals closer and future Hall of Famer Bruce Sutter. But what I just learned as I looked up the
box score
on Baseball-Reference with Eric Karabell: Sandberg's second home run didn't the win the game.
Here's what happened. Wrigley Field was packed as the surprising Cubs entered with a 36-31 record, in third place but just 1.5 games behind the Mets. Bottom of the ninth, Cardinals up 9-8, Sandberg hit a leadoff homer off Sutter to tie it. The Cardinals scored twice in the top of the 10th to take a 11-9 lead. Sutter returned for his third inning of work. With two outs, Bob Dernier drew a walk.
Sandberg homered again
to tie it.
"That's the real Roy Hobbs because this can't be happening!" an excited Costas proclaimed. "We're sitting here, and it doesn't make any difference if it's 1984 or '54 -- just freeze this and don't change a thing!" Cubs announcer Harry Caray: "There's a drive, way back! Might be outta here! It is! It is! He did it again! He did it again! The game is tied! The game is tied! Holy cow! Listen to this crowd, everybody's gone bananas! What would the odds be if I told you that twice Sandberg would hit home runs off Bruce Sutter?"
I'm guessing even most Cubs fans think Sandberg's second homer won the game. Instead, the Cubs won in the 11th on a pinch-hit single from backup infielder Dave Owen, one of 10 RBIs he had that season.
Still, there's a reason they call it The Sandberg Game and not the Dave Owen Game.
April, 2, 2014
Apr 2
9:36
AM ET
Some quick thoughts on Tuesday's games and news ...
Here's something you probably didn't know: Marlins right-hander Nathan Eovaldi had the highest fastball velocity last season of any pitcher who threw 100 innings. His 96.2 mph average fastball topped the 96.0 mph of the Pirates' Gerrit Cole. Now, we all know velocity isn't everything if you don't have movement and location, but it does speak to Eovaldi's good arm and his potential. What he needs is to refine his command and develop an offspeed speed as a better strikeout weapon (his slider is OK, the curveball needs work). He had a strong 2014 debut, allowing two runs in six innings against the Rockies with one walk and six strikeouts. He still relied a lot on his fastball -- 65 of his 95 pitches were heaters (average: 95.8 mph) -- but he's a guy to keep an eye on.

For some reason, Braves manager Fredi Gonzalez decided to bat B.J. Upton second after he hit .184 last year. Two games in and Upton is 0-for-8 with four strikeouts. How long will Gonzalez's show of confidence in Upton last? Will moving him back down after three or four games create even more damage? Are Braves fans already in an uproar?

Yasiel Puig did this, taking a 93-mph fastball from Ian Kennedy that was high and inside and out of the strike zone and crushing it to left. Bat speed, my friends, bat speed. The Dodgers won but it wasn't all good news as the team announced Clayton Kershaw will be out two to three more weeks.

Erasmo Ramirez looked very good for the Mariners, throwing 93 pitches in an efficient seven innings as the Mariners beat the Angels. His one mistake was a first-pitch two-seamer that Raul Ibanez smacked for a two-run homer. The location actually wasn't bad -- low and outside corner -- but the pitch didn't run away as much as Ramirez would have liked. He's not overpowering so relies on location and movement and an excellent changeup. Ramirez was the guy who pitched well in eight starts at the end of 2012 but battled a strained triceps last season and struggled in 13 major league starts (4.98). He's a much different pitcher than Eovaldi but he's another guy with a little experience who could break out. Here's a heat map of Ramirez's night and you can see he tries to run that two-seamer away from lefties and into righties: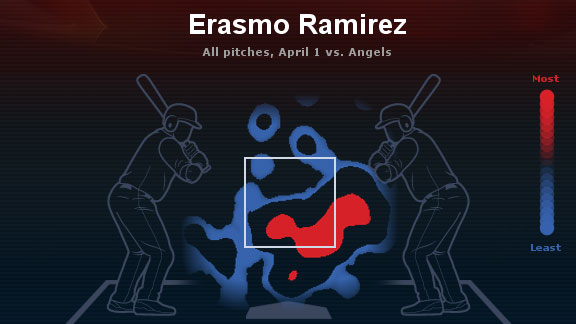 ESPNRamirez struck out six and had no walks in his 2014 debut.
The Phillies lost 3-2 to the Rangers as Ryne Sandberg brought in reliever Mario Hollands for his major league debut with the game tied in the bottom of the ninth. It didn't go well. Bill Baer writes that the new boss looks a lot like the old boss.

CC Sabathia is skinnier but struggled (average fastball velocity: 89.0 mph) and the Astros beat the Yankees 6-2. Stacey Gotsulias wraps up the good and bad for the Bronx Bombers and says the defense already looks bad.

The Giants jumped on D-backs starter Wade Miley with a four-run first inning, including a three-run homer from 2014 NL batting champ Brandon Belt, but Miley settled down and ended up going seven innings and getting the win when the Diamondbacks scored twice in the sixth off Giants reliever Juan Gutierrez (also known as J.C. Gutierrez). I'm a little concerned about the Giants bullpen behind closer Sergio Romo. They've milked a lot of years and innings out of the likes of Santiago Casilla, Javier Lopez and Jeremy Affeldt (currently on the DL). Gutierrez is a 30-year-old journeyman with a 4.65 ERA, pitched for the Royals and Angels last season. Matt Cain scuffled through five innings (99 pitches) so Bruce Bochy had to go early to his pen. (As Buster Olney writes, that game also had a replay controversy when Bochy used up his challenge and then the umps missed a call on a play at the plate that couldn't be challenged because it happened before the seventh inning.

Finally, bad news for Wilson Ramos and the Nationals as he'll miss one to two months. The good news is that Jose Lobaton, who was with the Rays last year, is one of the better backup catchers in the majors.
September, 11, 2013
9/11/13
1:13
PM ET
New York Yankees president Randy Levine said the club wants to re-sign impending free agent Robinson Cano (duh) but that
"nobody is a re-sign at any cost."
Much is being made of that statement, but it's really the obvious thing to say, right? The Yankees are simply stating they have a dollar amount they won't cross; in other words, they don't want to get sucked into an Albert Pujols-type contract. What we don't know is what that line is: $150 million? $180 million? $200 million?
One thing I like to do is to compare a player to similar players. In Cano's case, it's a pretty short list. We haven't seen many second basemen with his power and other abilities. Here are the best comparisons from recent decades, how those players performed from ages 28 to 30 (Cano is in his age-30 season) and how they fared from 31 to 35. We're using WAR and offensive WAR (oWAR) from Baseball-Reference.com.
Robinson Cano, ages 28-30: 20.7 WAR (18.5 oWAR)
Strengths: Hitting, power, durability, defense
Weaknesses: Grounds into a few too many double plays?
Perhaps the most underrated aspect of Cano's game is that he's out there every day. He's missed one game this year and just 14 over the past seven seasons. Remarkable durability.
Chase Utley, ages 28-30: 25.0 WAR (18.8 oWAR)
Strengths: Hitting, power, defense, on-base ability
Weaknesses: None
Utley was every bit the hitter Cano was at this age -- Utley had a 139 OPS+ to Cano's 141. Utley's overall value is much higher due to his defensive metrics, which helped make Utley the second-most valuable player in baseball over these three seasons behind Pujols. While Utley did miss 30 games in 2007, his injury history was pretty solid at this point: 160, 159 and 156 games played in 2006, 2008 and 2009.
Utley, ages 31-34: 16.0 WAR (12.4 oWAR)
Utley hasn't reached his age-35 season yet, so that overall WAR will go up a bit. Of course, since turning 31, he's battled injuries every season and has averaged just 104 games per year (with a few more remaining in 2013). Basically, a warning that even durable players can break down after 30.
Jeff Kent, ages 28-30: 11.0 WAR (9.7 oWAR)
Strengths: Power, hitting, strong arm, RBI guy
Weaknesses: Washing trucks
Kent had a breakout season with the Giants in 1997 at age 29 after coming over from Cleveland for Matt Williams. He knocked in 121 runs in 1997 and 128 in 1998, the first two of what would be eight 100-RBI seasons in nine years.
Kent, ages 31-35: 25.6 WAR (25.9 oWAR)
Kent would have a peak season in 2000 at age 32, winning the NL MVP Award. Kent would remain a solid player through age 37, and a good hitter through his retirement at 40, although his range in the field had obviously deteriorated by then.
Roberto Alomar, ages 28-30: 12.5 WAR (11.9 oWAR)
Strengths: Hitting for average, speed, defensive reputation
Weaknesses: Defensive metrics
These were his Baltimore years, 1996 to 1998. He hit .328 in '96 and .333 in '97, although he played just 112 games. After a down year in 1998, he signed as a free agent with Cleveland.
Alomar, ages 31-35: 20.7 WAR (22.3 oWAR)
Alomar had maybe his best season with the Indians in 1999, finishing third in the MVP vote, and another big year in 2001, finishing fourth in the MVP vote. His decline began with the Mets in 2002, his age-34 season and he was done by 36. A warning that even great players don't always remain great past their early 30s.
Craig Biggio, ages 28-30: 16.4 WAR (17.1 oWAR)
Strengths: Hitting for average, speed, durability, power, getting hit by pitches
Weaknesses: None
This covers 1994 to 1996, so Biggio loses some value due to the shortened seasons of '94 and '95. At his best, Biggio didn't quite have Cano's power, but had more speed and better on-base skills (four times he had an OBP over .400, which Cano has never done).
Biggio, ages 31-35: 25.5 WAR (25.3 oWAR)
Biggio lasted forever, although his last great season came at 33. From 34 to 37 he averaged 1.9 WAR per season. This could highlight the dangers of a seven- or eight-year contract. The first four years may work out great, but what about the back end?
Ryne Sandberg, ages 28-30: 17.8 WAR (16.7 oWAR)
Strengths: Power, speed, defense, durability
Weaknesses: Didn't walk a whole lot
Sandberg led the NL with 40 home runs at age 30 in 1990 and ranked third among NL position players in WAR.
Sandberg, 31-36: 22.2 WAR (18.2 oWAR)
Sandberg didn't play in his age-35 season (he retired and then returned), so we're counting his age-36 year. He remained a great player at 31 and 32 -- finishing second in the NL in WAR both years among position players (behind Barry Bonds). In 1993, Sandberg broke his hand in spring training and missed time early that season. He hit over .300 but without the same power and was never the same player again.
Joe Morgan, ages 28-30: 27.2 WAR (24.5 oWAR)
Strengths: Everything
Weaknesses: Sabermetrics
Morgan was probably the best player in baseball over those years, putting up great numbers at a time when a lot of middle infielders couldn't hit.
Morgan, ages 31-35: 30.8 WAR (32.0 oWAR)
Morgan took his game to a new level in 1975 and 1976, when he was 31 and 32, earning 11.0 WAR and 9.6 WAR and winning the MVP Award both seasons. He wasn't as good after that, although he retained excellent on-base skills, and averaged 3.2 WAR from ages 33 to 37.
* * * *

What can we take from this? It's
mostly
a positive list, I think. Obviously, the longer the contract, the more risk for the Yankees. Cano will finish 2013 at about 7.0 WAR. From ages 31 to 35, our group averaged 23.3 WAR, or 4.9 per season. It gets a little dicey after that. Assuming it would take a seven-year contract to sign Cano, his future could look something like this:
Age 31: 7.0 WAR
Age 32: 6.0 WAR
Age 33: 5.0 WAR
Age 34: 5.0 WAR
Age 35: 4.0 WAR
Age 36: 3.0 WAR
Age 37: 2.5 WAR
That's giving him 27.0 WAR over the next five seasons plus some decent value at 36-37. At about $6.5 million per win on the free-agent market, you're looking at a seven-year, $211 million deal.
Is that above or below Randy Levine's line?
April, 19, 2013
4/19/13
9:00
AM ET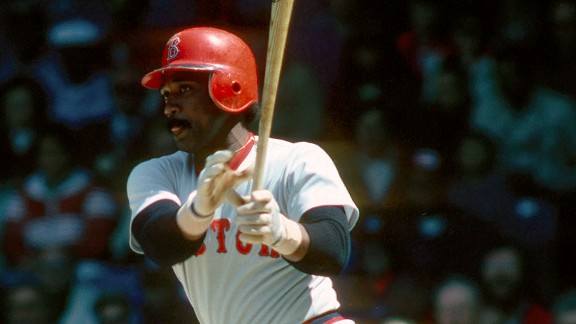 Malcolm Emmons/US PresswireJim Rice may not have made the Hall of Fame had he not played for 16 years in Fenway Park.
One of the first major impacts Bill James made as a sabermetrician was pointing out the huge effect that ballparks had on statistics. I mean, people always knew that Fenway Park and Wrigley Field were good hitting parks, or that the Astrodome was a lousy place to hit home runs, but that doesn't mean people in the game properly accounted for these factors. For decades, the Cubs always overrated their hitters and underrated their pitchers. That was one reason they were the Cubs.
Obvoiusly, a park can drastically effect our view of a player if we're not aware of the advantage he's receiving from his home park. Here are a few historical players who received a big boost from their home park or parks.
Jim Rice
When Jim Rice hit the Hall of Fame ballot after his 16-year career with the Red Sox, the debates got ugly. Rice was feared, argued his supporters; Rice was overrated, a beneficiary of Fenway Park, argued his detractors. During most of Rice's career in Boston, Fenway
was
a terrific hitter's park, the traditional Fenway of "no lead is safe" lore. Overall, Rice hit .320 with 208 home runs at Fenway but .277 with 174 home runs on the road. In his 1978 MVP season, Rice hit .361/.416/.690 with 28 home runs at home and .269/.325/.512 with 18 home runs on the road. The debates lasted until Rice's 15th and final year on the ballot when he made it in.
Sandy Koufax
Through 1961, Koufax was 54-53 in his career with a 3.94 ERA, a talented but erratic left-hander. Suddenly, in 1962, he put it all together, and over his final five seasons in the majors went 111-34 with a 1.95 ERA, leading the NL in ERA all five seasons. Koufax's control did improve dramatically, but something else happened in 1962: The Dodgers moved out of the L.A. Coliseum and into Dodger Stadium. In 1961, Koufax had a 2.77 ERA on the road … but 4.22 at home. In 1960, he had 3.00 ERA on the road … but 5.27 at home. In 1962, Koufax had a 3.53 ERA on the road … but 1.75 at home. In 1963, he was 2.31 on the road … and 1.38 at home. He had always been pretty good on the road, but the difference was he became unhittable at Dodger Stadium.
Nolan Ryan
Before finishing his legendary career with the Rangers, Ryan spent eight seasons with the Angels and nine with the Astros; that's 17 years in parks that heavily favored pitchers. Check out his career home/road splits, including his days with the Mets and Rangers: 189-136, 2.77 ERA at home; 135-156, 3.73 ERA on the road. Yes, Ryan had a career road record 21 games under .500.
Ryne Sandberg
Sandberg made the Hall of Fame in his third year on the ballot, with his reputation as an all-around player -- power, speed, defense -- overcoming some career counting stats that might be considered marginal for a Hall of Famer: 2,386 hits, 282 home runs, 1,061 RBI and a .285 average. But those totals would look even more marginal without a little help from Wrigley Field. Sandberg hit .300/.361/.491 with 164 home runs at home and .269/.326/.412 with 118 home runs on the road. (Ernie Banks, by the way, had a similar split: .290 at Wrigley and .259 on the road.)
Mel Ott
Ott hit 511 career home runs and led the NL in homers six times but took advantage of the short porch at the Polo Grounds to do so. He hit 323 home runs at home and 188 on the road. He was still a great hitter, however; on the road, he hit more doubles and triples and hit for a higher average, so his overall batting line was still an impressive .311/.408/.510 compared to .297/.422/.558 at home. But he wouldn't be a member of the 500-home run club if he'd played elsewhere.
Carl Yastrzemski
Fenway Park isn't the hitter's park it used to be. It's believed that renovations in 1988, which moved a new press box above the stadium club seats behind home plate, changed the air currents. It's also underrated as a good park for left-handed hitters, especially those who can go the opposite way and take advantage of the Green Monster. Yaz hit 237 home runs at home and 215 on the road, but he
loved
hitting at Fenway, with a .306 average there compared to .264 on the road. His OPS was 125 points higher at home than on the road. (Ted Williams hit .361 at Fenway and .328 on the road.)
Don Sutton
Like Koufax, Sutton enjoyed pitching at Dodger Stadium. He went 169-119, 2.81 at home in his career and 155-137, 3.77 on the road. Thirty-nine of his 58 shutouts came at home. Pulling out Dodger Stadium individually (which includes some road games when he pitched for the Astros), Sutton posted a 2.66 ERA there. Despite winning 300 games, he was a somewhat controversial Hall of Fame selection; he might have still won 300 games for another organization, but his ERA might have been a bit higher.
Would any of these guys
not
be a Hall of Famer without their home parks? It's difficult to say. Extreme talents can learn to take advantage of unique situations. But maybe Koufax's curveball was better because of the high mound at Dodger Stadium, or Ryan's fastball harder to pick up in the gloomy indoor lighting of the Astrodome. Rice, in particular, had a weak Hall of Fame case as-is; if he hadn't played for the Red Sox, I doubt he'd be in Cooperstown.
January, 8, 2013
1/08/13
11:53
AM ET
Let's play a little Hall of Fame game. I'm going to present two players with similar statistics. One is in the Hall of Fame and the other is on this year's ballot. Presented two lines of numbers, can you guess which player is the Hall of Famer? Check the numbers, vote in our poll and then check below to see who the players are. (No cheating!)
Comparison No. 1
I should note that these two are contemporaries and the Hall of Famer made it in the first year he was on the ballot.
While the Hall of Famer was never considered the best player in the game, there is an argument to be made that the non-Hall of Famer was the best player in the game at his peak.
Both were good defensive players and had speed, at least early in their careers.
Comparison No. 2
Both had some monster seasons, however. The Hall of Famer led his league in several offensive categories at various times, including runs scored, home runs, RBIs, on-base percentage and slugging percentage. The non-Hall of Famer also led his league in home runs, on-base percentage and slugging percentage. Both were considered good all-around players.
The Hall of Famer took a few years to get elected, but nobody ever calls him out as a poor selection.
Comparison No. 3
I can say these two were pretty similar in many ways, both among the biggest names in the sport while active, with some legendary tales about their performances.
Both pitched for multiple World Series champions but neither came close to 300 wins. Their adjusted ERAs are pretty similar.
When elected, the Hall of Famer was viewed as a controversial selection, in large part because of his win total. The non-Hall of Famer will have to face that same bias.
Comparison No. 4
The Hall of Famer made it on his first year on the ballot and made seven All-Star teams. The non-Hall of Famer made five All-Star teams. Both led their league twice in home runs.
The Hall of Famer hit 30-plus home runs six times while the non-Hall of Famer hit 30-plus home runs 10 times, including six seasons in a row at one point.
According to Baseball-Reference, both players had five seasons with 4-plus WAR.
Comparison No. 5
They didn't play the same position, but both did play key up-the-middle positions and were awarded multiple Gold Gloves in their careers.
One guy was part of more than one World Series champion while the other never played in a World Series. The Hall of Famer made it in on his third year on the ballot while the non-Hall of Famer has work to do.
As far as fame, both would rate very high in that category while active. Had they played longer, both would have a better chance to meet some of the automatic Hall of Fame standards.
Comparison No. 6
Both were arguably the best player on a World Series championship team.
While the Hall of Famer made it after a short stay on the ballot, the non-Hall of Famer has struggled to get enough support. Both players won multiple Gold Gloves. The Hall of Famer hit .300 nine times and the non-Hall of Famer hit .300 seven times.
According to Baseball-Reference, the Hall of Famer had eight four-win seasons while the non-Hall of Famer had nine. This one is close.
Answers
Comparison No. 1: Player A is Tony Gwynn and Player B is Tim Raines.
Of course, I left out Gwynn's 3,000 hits and .338 career average. But as you can see from above, the two were quite similar players: Raines drew more walks, hit a few more home runs and stole more bases at an excellent percentage, making up the advantage Gwynn had in base hits. But Gwynn won batting titles and Raines' dominant years in the '80s came in the obscurity of Montreal.
Comparison No. 2: Player A is
Larry Walker
and Player B is Duke Snider.
Snider's Hall of Fame case was originally hurt by the fact that he wasn't Willie Mays or Mickey Mantle. Of course, who is? But he was a key member of one of the great teams of all time, the 1950s Brooklyn Dodgers. Snider never won an MVP Award but finished as high as second; Walker won MVP in 1997. Of course, Walker is questioned because of the Coors Field numbers, but as you can see, each player's adjusted OPS is about the same. (Ebbets Field was a great hitters' park as well, and Snider's career OPS is 79 points higher at home.)
Comparison No. 3: Player A is
Curt Schilling
and Player B is Don Drysdale.
Two hard-throwing right-handers who racked up strikeouts. Schilling, of course, has the great postseason record (11-2, 2.23 ERA); Drysdale was 3-3, 2.95 in the postseason (all World Series games). Both pitched for three World Series champs. Drysdale has the lower career ERA -- 2.95 to 3.46 -- but once you adjust for eras and ballpark (Dodger Stadium in the '60s was a great pitchers' park), Schilling's ERA is a little better.
Comparison No. 4: Player A is Willie Stargell and Player B is
Fred McGriff
.
And both had cool nicknames as well -- Pops and Crime Dog. Stargell did win an MVP (shared with Keith Hernandez) but that was an award earned for leadership more than production; he did finish second twice in the voting. McGriff finished as high as fourth in the voting.
Comparison No. 5: Player A is
Bernie Williams
and Player B is Ryne Sandberg.
This was my favorite comparison on the list. Sandberg made it on the third ballot while Williams, despite playing center field for four World Series champs, got just under 10 percent of the vote his first year on the ballot. Shouldn't center fielders be given a similar defensive consideration as second basemen?
Comparison No. 6: Player A is
Barry Larkin
and Player B is Alan Trammell.
There is very little to separate these two. Larkin did win an MVP Award, but Trammell should have won in 1987, when he finished second. Larkin played until he was 40, but their career games totals are similar. I think his edge over Trammell is that once Ozzie Smith faded, Larkin was viewed as the best shortstop in the National League. Trammell was always behind somebody -- Robin Yount or
Cal Ripken
, and then after he retired, the AL had all the shortstops putting up the big numbers -- A-Rod,
Derek Jeter
,
Nomar Garciaparra
and
Miguel Tejada
. But there's no shame in being ranked behind Yount or Ripken. Trammell deserves to join Larkin in Cooperstown.
August, 13, 2012
8/13/12
5:46
PM ET
Before the Olympics began,
Kobe Bryant
suggested this year's Olympic basketball team would defeat the fabled 1992 Dream Team that featured Michael Jordan, Magic Johnson, Charles Barkley and Larry Bird. Bryant later adjusted his thoughts, saying the Dream Team was better but that the 2012 squad could beat them.
Bryant and company cruised throughout the tournament until Sunday's gold-medal game against Spain,
prevailing 107-100
after leading by just one point heading into the fourth quarter.
Anyway, that's a lead-in to this: What would baseball's dream team from 1992 look like? Let's turn back the clock and imagine we're in the summer of 1992. Let's pick a 25-man team -- 15 position players, seven starting pitchers and three relievers. Just like the '92 hoops Dream Team, legend status should come into play a bit. Since we're imagining an Olympic-type scenario, we're going with U.S. players only.
The Starters
1. 2B Ryne Sandberg, Cubs
(.304/.371/.510, 26 HR, 7.6 WAR)
Made his ninth consecutive All-Star appearance in '92.
2. CF Kirby Puckett, Twins
(.329/.374/.490, 19 HR, 6.8 WAR)
Had led the Twins to a World Series title in 1991; finished second in '92 American League MVP vote.
[+] Enlarge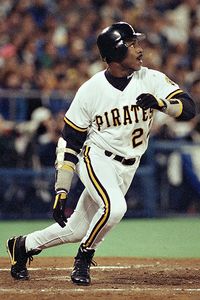 AP Photo/John SwartBarry Bonds led the Pirates to the NLCS in 1992.
3. LF Barry Bonds, Pirates
(.311/.456/.624, 34 HR, 8.9 WAR)
The best player in the game; won his second MVP award in '92.
4. DH Frank Thomas, White Sox
(.323/.439/.536, 24 HR, 6.7 WAR)
In his second full season, but the most feared hitter in the AL. Led the league in OBP and OPS for the second consecutive season.
5. 1B Mark McGwire, A's
(.268/.385/.585, 42 HR, 6.2 WAR)
Had rebounded from a poor 1991 to lead the AL in slugging percentage and the A's to the AL West title.
6. RF Ken Griffey Jr., Mariners
(.308/.361/.535, 27 HR, 5.5 WAR)
At 22 years old, already one of the game's best all-around players. We'll move him to right field with Kirby in center.
7. 3B Terry Pendleton, Braves
(.311/.345/.473, 21 HR, 4.8 WAR)
People remember his 1991 MVP season, but he finished second to Bonds in the '92 vote.
8. C Darren Daulton, Phillies
(.270/.385/.524, 27 HR, 6.7 WAR)
It was a weak year for catchers, but Daulton had a monster season with the fourth-highest WAR among position players.
9. SS Cal Ripken, Orioles
(.251/.323/.366, 14 HR, 3.8 WAR)
Not a good season but a baseball dream team wouldn't have been complete without Ripken.
The Bench
OF Rickey Henderson, A's
(.283/.426/.457, 15 HR, 5.4 WAR)
The best leadoff hitter in the game compiled 5.4 WAR despite playing just 117 games.
OF Andy Van Slyke, Pirates
(.324/.381/.505, 14 HR, 5.9 WAR)
Led the NL in doubles and hits, fourth in the MVP vote, Gold Glove center fielder. His window was small, but a terrific player for a few years.
OF Dave Winfield, Blue Jays
(.290/.377/.491, 26 HR, 3.8 WAR)
Others with a higher WAR, but Winfield gets credit for legend status and helping the Blue Jays win the World Series.
SS Ozzie Smith, Cardinals
(.205/.367/.342, 0 HR, 5.0 WAR)
Tough call here:
Barry Larkin
(.304/.377/.452, 5.5 WAR) or the 37-year-old Ozzie? The Wizard could still pick it and had 43 steals.
3B Gary Sheffield, Padres
(.330/.385/.580, 33 HR, 6.0 WAR)
Challenged for the Triple Crown much of the year before finishing first in batting, third in homers and fifth in RBIs.
C Terry Steinbach, A's
(.279/.345/.411, 3.8 WAR)
Gets the nod over Mickey Tettleton as the backup catcher for his good defense and leadership.
Pitching Staff
Tom Glavine, Braves
(20-8, 2.76 ERA, 3.6 WAR)
The only lefty on our 10-man staff, finished second in the Cy Young vote after winning it the year before.
[+] Enlarge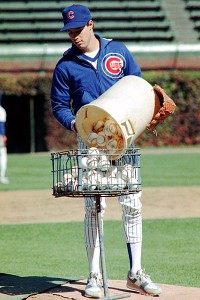 AP Photo/Bill WaughGreg Maddux would win four consecutive Cy Youngs beginning with the 1992 season.
Greg Maddux, Cubs
(20-11, 2.18 ERA, 8.9 WAR)
Won the first of his four consecutive Cy Young Awards.
Roger Clemens, Red Sox
(18-11, 2.41 ERA, 8.4 WAR)
Led the AL in ERA, shutouts, WHIP and SO/BB ratio, but finished just third in Cy Young vote.
Doug Drabek, Pirates
(15-11, 2.77 ERA, 5.1 WAR)
Career went downhill after signing with the Astros in '93, but regarded as one of the toughest competitors in the game at the time.
Jack Morris, Blue Jays
(21-6, 4.04 ERA, 2.5 WAR)
Morris absolutely would have been on a '92 dream team despite the high ERA. He'd just won back-to-back World Series titles and had the 21 wins.
Jack McDowell, White Sox
(20-10, 3.18 ERA, 4.9 WAR)
Kevin Appier
and
Mike Mussina
had better ERAs, but Black Jack had the image at the time. And the league-leading 13 complete games.
Nolan Ryan, Rangers
(5-9, 3.72 ERA, 1.8 WAR)
The numbers don't merit inclusion, but by '92 Ryan was the biggest icon in the game, a 45-year-old flame-throwing legend. Much like Bird, you wouldn't leave him off.
Dennis Eckersley, A's
(7-1, 1.91 ERA, 51 saves, 2.8 WAR)
The last AL reliever to win the Cy Young, Eck also walked away with the MVP trophy. OK, it was a bad vote, but Eck seemed unbeatable back then.
Rob Dibble, Reds
(3-5, 3.07 ERA, 25 saves, 0.9 WAR)
At the time, Dibble had four of the five highest K/9 rates in major league history (minimum 50 innings).
Jeff Montgomery, Royals
(1-6, 2.18 ERA, 39 saves, 3.0 WAR)
From '89 to '93, Montgomery fashioned a 2.22 ERA with 159 saves. What, you expected Mitch Williams?
So, who got Isiah'd? We mentioned Barry Larkin.
Tony Gwynn
was in a bit of a down spell (for him), so he loses out as well. We can't find room for NL home run leader
Fred McGriff
, Will Clark or Paul Molitor. For pitchers, some of the better statistical options would have included the aforementioned Mussina (7.9 WAR) and Appier (7.7 WAR) as well as Frank Viola, Sid Fernandez, Bob Tewksbury and
David Cone
, plus some up-and-coming guys like
John Smoltz
and
Curt Schilling
.
How does this team compare to a 2012 dream team? I'll let you debate who would be on such a 2012 team in the comments section.
February, 8, 2012
2/08/12
4:29
PM ET
Editor's note: The following is an excerpt from "100 Things Phillies Fans Know and Do Before They Die" by Bill Baer. Copyright 2012 by Bill Baer. Excerpted with permission from Triumph Books. (Check out more of Bill's work at Crashburn Alley, our Phillies SweetSpot blog.)
53. Ed Delahanty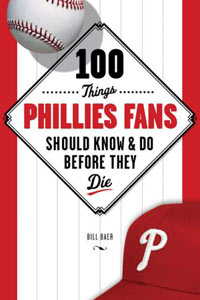 Triumph Books
Ed Delahanty was the first marquee player in Phillies franchise history. The right-handed hitter joined the club in 1888, but did not rise to stardom until 1892. Early in his career, he was a jack-of-all-trades, but as he became more established in the league, he settled in nicely as an outfielder.
In his first four seasons -- which included one season with the Cleveland Infants of the Players League -- Delahanty showed decent contact skills, but scant power. In 1892, he broke out with 57 extra-base hits and 91 RBI. The next year, Delahanty barely missed out on the triple crown, leading the league with 19 home runs and 146 RBI, but his .368 average trailed teammates Billy Hamilton (.380) and Sam Thompson (.370).
Delahanty hit .404 in each of the next two seasons. The trio of Delahanty, Hamilton, and Thompson are the only Phillies to hit over .400; no one has accomplished the feat since the turn of the 20th century.
From 1893-96, Delahanty hit .392 with a 1.069 OPS. He led the league in doubles, home runs, RBI, and OPS twice.
Delahanty did not slow down much as he aged. In 1899, at the age of 31, he led the league in average at .410 and RBI at 137, missing out on the triple crown again. He also had an astonishing 238 hits. Impressively, Delahanty was also a great base runner, finishing his career with 455 stolen bases, averaging one every four games.
Delahanty was easily the best hitter in the Phillies' young history, but he has also remained among the best in franchise history more than 100 years later. He still ranks in the franchise's top-ten in batting average (2), on-base percentage (5), slugging percentage (10), OPS (6), runs (2), hits (3), doubles (1), triples (1), RBI (2), walks (7), and stolen bases (2).
Additionally, along with Rogers Hornsby, Delahanty is one of only two three-time .400 hitters. His career .346 average is fifth all-time in baseball history, behind Ty Cobb, Hornsby, "Shoeless" Joe Jackson, and Lefty O'Doul.
Along with his impressive numbers, Delahanty is remembered for one of "the most shameful home runs of all time." In 1892, the Chicago White Stockings were in Philadelphia at the Huntingdon Street Grounds. In the eighth inning, Cap Anson hit a fly ball to center field. The ball hit a pole and caromed into a "doghouse," where numbers were stored for the scoreboard.
Delahanty went after the ball but got stuck. His teammate Sam Thompson had to retrieve Delahanty with the ball, but Anson had already circled the bases by the time the two had emerged. The book "Baseball Hall of Shame" by Bruce Nash and Allan Zullo referred to the home run as an "inside-the-doghouse home run."
45. The Ryne Sandberg Trade
The Phillies have made quite a few trades with the Chicago Cubs over the years, but arguably none as bad as the Ryne Sandberg trade. Sandberg was drafted by the Phillies in the 20th round of the 1978 draft. In the minor leagues, he performed well enough to merit significant attention from other teams as a trade chip.
[+] Enlarge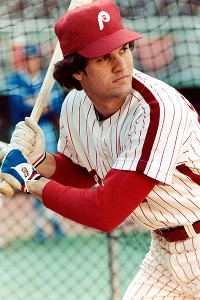 Photofile/MLB/Getty ImagesRyne Sandberg appeared in 13 games with the Phillies in 1981.
After the 1981 season, 36-year-old shortstop Larry Bowa and the Phillies could not reach an agreement on a new contract. Bowa requested a three-year deal, but team president Bill Giles had no intention on handing out a multi-year deal to an aging shortstop. When the team flat refused to grant Bowa the contract he desired, Bowa went on a tirade, accusing the organization of lacking class.
Bowa was still under his old contract, though, so the Phillies either had to keep a disgruntled player on their team or trade him to another organization. With a trade, however, the Phillies would not have any leverage as their dispute with Bowa was in the public eye.
Former Phillies manager and newly-installed Cubs GM Dallas Green saw an opportunity for his club. The Phillies wanted to swap Bowa for Ivan DeJesus, but Green knew he could extract more from the Phillies by playing on Bowa's shortcomings. Later speaking about the trade, Green said, "We knew we had them over a barrel." After a back-and-forth conversation, Green convinced the Phillies to include Sandberg in the deal.
On January 27, the two teams had reached an agreement. The Phillies sent Bowa and Sandberg to Chicago and the Cubs sent DeJesus to Philadelphia. While Sandberg went on to enjoy a highly-successful career with the Cubs that would lead to enshrinement in the Hall of Fame, DeJesus had three very lackluster years with the Phillies, hitting just .249 between 1982-84.
From 1984 to 1993, Sandberg made 10 consecutive All-Star teams. He won the NL Gold Glove at second base each year from 1983 to '91, and he finished first in MVP voting in 1984.
Sandberg finished his career with 62 Wins Above Replacement (WAR), a sabermetric statistic that factors in a player's contributions on both offense and defense, then accounts for the position he plays and compares him to the expected production of a replacement-level player (a theoretical player who would be freely available to play for the league minimum salary). Prior to Chase Utley, the Phillies franchise leader in WAR for second baseman was Tony Taylor at 11.9. There is no doubt that, if Sandberg had stayed in the Phillies organization, he would have retired as the greatest second baseman in Phillies history.
They say hindsight is 20/20, but the outcome of this trade could have been seen coming from a mile away. Unfortunately, the Phillies were forced into action by an ugly contract dispute with one of the team's most recognizable players in Larry Bowa. Bowa, of course, would later return to the Phillies as a manager in 2001, but left at the end of the 2004 season after many clashes with his players, including third baseman Scott Rolen.
Bowa's fiery personality was one reason why he was and still is such a controversial figure in Philadelphia sports history, but the Sandberg trade is as big a part of it. Who knows just how good the 1984-1992 Phillies would have been with Sandberg -- they may not have had to wait 10 years to reach the postseason.
March, 3, 2011
3/03/11
2:30
PM ET
By
Bill Parker
| ESPN.com
Ryne Sandberg
was the most famous second baseman of the 1980s. In 2005 (his third try), Sandberg went into the Hall of Fame. And deservedly so, I think.
Lou Whitaker
, however, was the BEST second baseman of the 1980s. In 2001, Whitaker received 15 of 515 votes (2.9 percent) and fell off the ballot forever. And that's the biggest mistake the BBWAA has ever made.
[+] Enlarge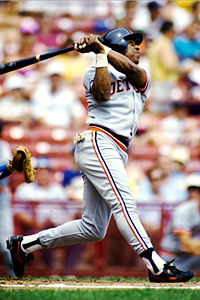 US PresswireDetroit Tigers second baseman Lou Whitaker deserves to be enshrined in Cooperstown.
I don't have the time (or space) to prove this, but second basemen seem to burn out faster than any position other than catcher. The abrupt fade of
Roberto Alomar
was unusual, but not THAT unusual, for someone at his position. Also, of course, it's traditionally been a defense-first position.
So while Whitaker's career line doesn't scream "Hall of Fame," put into the context of his position (and without the support of newfangled stats like WAR), the case becomes clearer. When Sweet Lou retired, among players to have primarily played second base, he was seventh all time in plate appearances (and less than one season's worth away from third), ninth in hits, ninth in doubles, fifth in homers, eighth in runs, ninth in RBI, and fourth in walks.
That may or may not sound like a Hall of Famer to you, but it certainly is. Every player ahead of Whitaker on every one of those lists, and even several behind him, is now in the Hall. And it's not as though he was a mere "compiler" (whatever that means); his 116 OPS+ is equal to or better than 10 of the 18 major league second basemen currently in the Hall of Fame as players.
Craig Biggio
, Alomar and
Jeff Kent
have since passed him in many of those categories above, but only Alomar was even arguably in Whitaker's class defensively. I hate to repeat my
Jim Edmonds
argument from
last week
, but there's a legitimate argument in 2011 that if you're a top-10 all-time player at your position, you should be in the Hall.
And he was better than Sandberg. Ryno had more speed and a touch more power (the difference is exaggerated by the park he got to play in), but a hitter's most important skill is getting on base, and Whitaker's 19-point advantage in OBP -- over a longer career -- is vital. To match Whitaker's on-base ability (ignoring park and league differences) in equal opportunities, Sandberg would have had to play one more season in which he reached base 433 times in 685 trips. He couldn't have grounded into a single double play, and he would have to put up a .632 OBP -- crushing
Barry Bonds
' single-season record of .609. Looked at differently, Sandberg collected 19 more hits than Whitaker and hit nearly 40 more homers, but Whitaker reached base more than 400 more times. It shouldn't be that hard to see which of those was more valuable.
And the metrics suggest Whitaker was every bit Sandberg's equal on defense, to say the least. Both were excellent, and Sandberg won nine Gold Gloves to Whitaker's three, but Sandberg didn't have to contend with an incumbent like Frank White, one of the two greatest ever to field the position.
One could argue that Sandberg's best was better than Whitaker's best, and that's probably true. Whitaker was never QUITE as good as Sandberg was in '83, and didn't have four consecutive seasons that can quite match Ryno's '89-'92. But he also didn't suffer the valleys Sandberg did in the mid-'80s, and I'd argue that "consistently good and sometimes great" can be just as valuable as "inconsistent but sometimes slightly greater."
Even if you'd still put Sandberg above Whitaker, though, it's close enough that there's no way one should get in easily and the other should be one-and-done. They're both Hall of Famers, and you shouldn't need fancy new metrics to see it.
The writers have made errors of omission before, of course. Ron Santo was a huge one, and they're making one now with Lou's teammate Alan Trammell. But at least with those players, they took the full 15 years to think it over. Letting a rock-solid Hall of Famer like Whitaker fall through the cracks on the first try is the biggest mistake they've ever made.
Bill spouts this kind of nonsense regularly on
The Platoon Advantage
, and in shorter, snarkier form on
Twitter
.
September, 2, 2010
9/02/10
12:50
PM ET
No, it's probably
not going to happen overnight
. Gordon Wittenmyer:
Cubs chairman Tom Ricketts says it's up to general manager Jim Hendry to identify the right guy to replace Lou Piniella as manager.

But no matter how good Hendry's new manager is, if the Cubs plan to contend next season, that's probably going to be up to the Ricketts ownership.

Because without at least two or three significant free-agent additions -- probably on the pitching staff alone -- it will be a long, slow climb back toward the top of the National League Central. And it's unclear how big a hit Hendry's opening $146 million payroll will take for 2011 as he tries to fix all that broke down this season.

--snip--

One thing ownership won't do, Ricketts said, is favor a managerial candidate for marketing and fan-draw value, such as Ryne Sandberg.

"The fact is, it's Jim's job to decide which manager to bring in," said Ricketts, who expects to get involved as part of the interview process once Hendry has a short list of finalists. "But it's about winning, not about marketing.

"I don't think we need a marquee name to sell tickets. What we need is a team that produces on the field. That's really what's most important to us."
If you're a Cubs fan, that's exactly what you want your owner to say.
Reportedly, Ricketts once lived across the street from Wrigley Field and met his wife in the Wrigley Field bleachers. His love for the Cubs seems genuine. Today, much of his great wealth comes from the family business, but even
before
joining the family business he seems to have done quite well for himself. And he seems to
believe in modern objective analysis
.
I don't know if Ricketts is good at hiring people or managing them. I don't know how he'll respond to another losing season (if there is one). But less than a year into his ownership, he's said most of the right things and the Cubs seem to be in pretty good hands. They're down now, but I don't expect them to be out for long.
January, 8, 2010
1/08/10
1:57
PM ET
Honestly, I can't remember seeing the baseball writers as worked up about anything as they are about
Roberto Alomar
. Here's Ken Rosenthal with a fairly
representative opinion
:

Our membership is too bloated, too riddled with voters who do not take the process seriously enough to educate themselves properly.

Oh, we usually get it right, and we'll surely get it right next year with Alomar, who fell short by only eight votes. But the eligibility requirements for voters need to be tightened before worse mistakes are made.

To vote for the Hall, a writer must be a 10-year member of the BBWAA. But one sports editor from each outlet also is eligible, and so are feature writers and current or former columnists who rarely attend games.

The sports editors should be eliminated immediately; they simply do not develop the same feel for the game as writers who cover the sport regularly. Drawing the line on feature writers and columnists would be more difficult; many columnists, in particular, are astute observers of the game. But somehow, the local chapters need to police their memberships more diligently. There has to be a better way.

--snip--

Virtually every voter I know is honored to participate in the process. Virtually every voter I know considers the ballot a tremendous responsibility. It's the voters I don't know — the ones I never see at ballparks — who worry me. I fear that some do not give the candidates the consideration they deserve.

The BBWAA has done a fine job in recent years of adding Web-based writers, including several whose work is strongly influenced by sabermetrics. The next step is to go the other way, trim the fat from the membership, purge those who do not study the game closely enough to warrant Hall of Fame votes.

The Alomar snub is an embarrassment.

If people's feelings get hurt, too bad.

Rosenthal isn't the only prominent BBWAA member calling for change. Shoot, Buster Olney believes the
writers shouldn't be involved
at all (
Jeff Pearlman agrees
, snarkily).
Rather than editorialize -- Rosenthal and Olney have beaten me to the punch, with style -- I'll simply offer a bit of knowledge and a humble prediction.
First, Rosenthal is absolutely right about the voting population. I've written about this at some length, and if the die-hard baseball fans knew who's being sent Hall of Fame ballots every year, it would be a major scandal.
Or a minor kerfuffle, at least.
But my prediction is that little will come of this. Sure, it would be a neat story if the snubbing of Alomar wound up as the tipping point for real reform. But the BBWAA is a big ship that takes a great deal of time and effort to change directions. I suspect that if a candidate like Alomar was repeatedly snubbed, something might actually change after a few years. But it takes time, and any real movement toward change will likely be forgotten a year from now, when Alomar is elected. The next controversy will come in a few years if
Roger Clemens
and
Barry Bonds
aren't elected. That will result in a great deal of hand-wringing and self-reflection, and might eventually lead to something.
I take it back. I will editorialize. I agree with Rosenthal the system is flawed. I don't necessarily agree that the writers shouldn't be involved, but I believe they (we) should be somewhat
less
involved. But be careful what you wish for. If the BBWAA culls all the current voters who don't really pay any attention to baseball -- and there are many dozens of them -- we'll have
more
candidates elected. How many more, I don't know. But more, for sure.
More isn't necessarily bad. But more wouldn't mean Tim Raines and Alan Trammell. It would mean Jack Morris and Lee Smith. The standards for election would inevitably be lowered. Not maintained. Lowered.
The system that's in place, however flawed, usually arrives at a good result, eventually. It took too long, but eventually Ryne Sandberg and Gary Carter were elected. It's taking too long, but eventually Bert Blyleven and Roberto Alomar will be elected. Raines and Trammell? Sure, they've been terribly jobbed. But the Hall of Fame would never endorse any reform that would get either of them elected.
Be careful what you wish for.
December, 7, 2009
12/07/09
11:04
AM ET
You'll pardon me if I'm not leading three cheers for the Hall of Fame's Veterans Committee(s). There were two lists of candidates, one of them loaded with outstanding candidates and one of them almost bereft of
good
candidates. And the results? Of course: none of the outstanding candidates were elected from the loaded list, while
two were elected
from the other:
Results of the 2009 Managers/Umpires Ballot (12 votes needed for election): Doug Harvey (15 votes, 93.850 percent), Charlie Grimm (3 votes, 18.8%). Davey Johnson, Tom Kelly, Billy Martin, Gene Mauch and Steve O'Neill each received less than 3 votes.

The Veterans Committee for Managers and Umpires consisted of Hall of Famers Jim Bunning, Tommy Lasorda, Eddie Murray, Phil Niekro, Tony Perez, Robin Roberts, Ryne Sandberg, Ozzie Smith, Billy Williams and Dick Williams; former executive Jim Frey; current executives Roland Hemond (Diamondbacks) and Bob Watson (Major League Baseball); and veteran writers Tim Kurkjian (ESPN), Jack O'Connell (BBWAA) and Tom Verducci (Sports Illustrated).

The Veterans Committee for Executives and Pioneers also considered 10 candidates for election to the Hall of Fame in 2010. No candidate on that ballot received the necessary 75 percent of all ballots cast needed for Hall of Fame election. Former Detroit Tigers executive John Fetzer received eight votes, the highest total of any of the 10 candidates.

Results of the 2009 Executives/Pioneers Ballot (9 votes needed for election): John Fetzer (8 votes, 66.7%),
Marvin Miller (7 votes, 58.3%), Jacob Ruppert (7 votes, 58.3%), Ewing Kauffman (6 votes, 50 percent). Gene Autry, Sam Breadon, Bob Howsam, John McHale, Gabe Paul and Bill White each received less than 3 votes. The Veterans Committee for Executives and Pioneers consisted of Hall of Famers Robin Roberts and Tom Seaver; former executive John Harrington (Red Sox); current executives Jerry Bell (Twins), Bill DeWitt (Cardinals), Bill Giles (Phillies), David Glass (Royals), Andy MacPhail (Orioles) and John Schuerholz (Braves); and veteran media members Rick Hummel (St. Louis Post-Dispatch), Hal McCoy (Dayton Daily News) and Phil Pepe(New York Daily News).
My four choices from the Executives/Pioneers ballot were Miller and Ruppert (who both came close) and Breadon and Howsam (who both did not). Just a reminder: There are 11 owners in the Hall of Fame, and Breadon accomplished more than almost all of them. Before Breadon owned the Cardinals, they hadn't won any sort of championship since the 1880s. While Breadon owned the Cardinals, they won nine National League pennants and six World Series. In the 60-some years since Breadon sold the Cardinals, they've won three World Series. With the exception of George Steinbrenner, it's hard to imagine who might clear the bar for owners if Breadon can't even come close. (Oh, and by the way, Fetzer's Tigers won
one
American League pennant and one World Series in his 28 years as owner. One can only assume that he nearly gained election because he played a pivotal role in negotiating TV contracts. Or something.)
My three choices from the Managers/Umpires ballot were Doug Harvey, Billy Martin, and umpire Hank O'Day. Harvey should have been elected a long time ago. O'Day, because he umpired a century ago, is easy for some voters to ignore. In response, a commenter wrote this:
You seem to ignore the fact that Billy Martin routinely took the very good teams he created and routinely destroyed them, mostly by the same method. He wore out his best pitchers arms' by overwork (What he did to Ron Guidry alone should disqualify him for the Hall of Fame) and he micromanaged his players, who eventually got tired of playing for him. He usually deserved to be fired, which is not great credentials for the Hall of Fame.
Point taken. I suspect that I fall victim to the same impulse that often afflicts the real voters: the desire to vote for
someone
, even if there's no obviously deserving candidate. I also suspect that this impulse explains Herzog's election. He picked up 14 of 16 possible votes? After failing to gain election in many previous elections? Herzog's 1,281 wins rank just 32nd all-time, and his .532 career winning percentage is good but not great. I suspect that he was elected because he (and his teams) had a
personality
-- in St. Louis, they called it "Whiteyball" -- and because his teams did win six division titles and three league championships.
Essentially, Herzog doesn't obviously rank among the managers already in the Hall of Fame -- or for that matter, with Tony La Russa, Bobby Cox, and Joe Torre -- but
was
(arguably) the best candidate on the ballot. It's more fun to elect someone than not.