April, 7, 2012
4/07/12
8:35
PM ET
This is what will have American League pitchers and managers waking up in cold sweats all season long: Those stretches when
Miguel Cabrera
and
Prince Fielder
are both raking, eyes bulging as they pummel meaty fastballs over fences and into outfield seats.
Josh Beckett
become the first pitcher to experience these forces of nature in action, as both hit two home runs off him in Detroit's
10-0 victory
Saturday over Boston. Fielder hit one out to left field and a low, screaming bullet to right for his pair. Going the opposite way is nothing new for him; 11 of his 38 home runs in 2011 went to left or left-center. There were some concerns that Fielder would lose a few home runs moving from Miller Park to the more spacious environs of Comerica, so hitting one out to left is a good, early sign.
How dynamic is this pair? A season ago, Fielder hit .299/.415/.566 with 38 home runs; Cabrera hit .344/.448/.586 with 30 home runs. The last team with two players to hit 30 home runs with a .400 OBP? The 2006 Red Sox with
Manny Ramirez
and
David Ortiz
. Twelve teams since 2000 have had such a duo (or in the case of the 2004 Cardinals, three players):
[+] Enlarge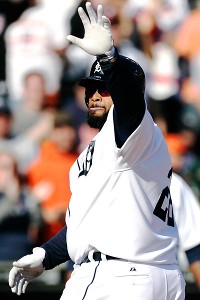 AP Photo/Duane BurlesonPrince Fielder waves after hitting the first of his two home runs off Boston's Josh Beckett.
2006 Red Sox: Ramirez, Ortiz
2005 Yankees:
Alex Rodriguez
,
Jason Giambi
2004 Cardinals:
Albert Pujols
,
Jim Edmonds
,
Scott Rolen
2003 Yankees: Giambi,
Jorge Posada
2002 Astros:
Jeff Bagwell
,
Lance Berkman
2001 Rockies:
Todd Helton
,
Larry Walker
2001 Cardinals: Pujols, Edmonds
2000 Cardinals: Edmonds,
Mark McGwire
2000 Angels:
Tim Salmon
,
Troy Glaus
2000 Astros: Bagwell,
Moises Alou
2000 Mariners: Rodriguez,
Edgar Martinez
2000 Giants:
Barry Bonds
,
Jeff Kent
Of course, all of those pairs or threesomes did this during the high-offense steroids period. Six other teammates did it between 1995 and 1999. But before that? That previous team to have two such players was the 1969 Oakland A's with Reggie Jackson and Sal Bando. Throughout baseball history there have been only 34 such pairs. Here's another way to do this. Let's add OPS+ (adjusted on-base plus slugging percentage) as a third measuring stick. OPS+ adjusts a player's offensive production for home park and era. In 2011, Cabrera's OPS+ was 181, second in the American League. Fielder's was 164, fourth in the National League. Let's set a minimum of 30 home runs, .400 OBP and 150 OPS+.
This takes away some of steroids-era pairs and leaves us with 24 such teammates in baseball history. And six of those 24 were Babe Ruth and Lou Gehrig.
And that, my readers, is the kind of company Cabrera and Fielder have the chance to join.
A few more notes from today's early games:
January, 15, 2012
1/15/12
4:40
PM ET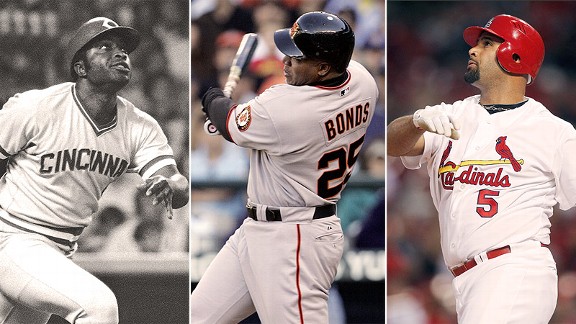 AP PhotoJoe Morgan, Barry Bonds and Albert Pujols all made cases for being the best player in the game during different stages of their career.
The genesis for this article came out of all the recent Hall of Fame discussions. A lot of arguments were along the lines of "Tim Raines was one of the best players in baseball in the mid-'80s," or "You know, Don Mattingly was the best in the game there for a few years," or perhaps "Barry Larkin was as good an all-around player as anybody at his peak."
None of those statements are necessarily incorrect. But are they good Hall of Fame arguments? How many players can you claim were "one of the best in the game" over a period of years? So here's what I did. I went back to 1969 and looked at each five-year span to determine the five best players in baseball, based on cumulative Baseball-Reference wins against replacement over those five years. (For the purposes of this piece, I looked just at position players.)
So here we go, with the usual caveats about WAR. You'll see a lot of the same players and you'll see a lot of Mike Schmidt and
Barry Bonds
and
Albert Pujols
in the top spot. But while the best player may not change all that often, it's interesting to see who pops in some of the top five slots.
1969-1973: Sal Bando (33.6), Joe Morgan (32.7), Reggie Jackson (32.2), Johnny Bench (30.4), Pete Rose (30.1)
Our first entry and we already get a big surprise: Sal Bando, the best player in baseball? It may seem odd now, but Bando was one of the most respected players in the game at the time and finished second, third and fourth in MVP votes in 1971, 1973 and 1974. He hit for power, drew walks and played a solid third base, putting up big numbers for the era in the Oakland Coliseum, a place where batting averages and fly balls often went to die.
1970-1974: Joe Morgan (37.6), Johnny Bench (31.9), Sal Bando (30.0), Reggie Jackson (29.2), Pete Rose (28.8)
No change in the top five, although Morgan takes a big leap ahead of the others, replacing a more mundane 1969 with a monster 1973. You're going to see a lot of Morgan here, as his 1972-76 run was one of the greatest five-year stretches in baseball history.
1971-1975: Joe Morgan (46.2), Reggie Jackson (33.3), Johnny Bench (31.9), Pete Rose (29.6), Willie Stargell (29.5)
Some believe Rose was a compiler, a good player who merely played forever. That's not accurate; while he was never the best player in the game -- although he did win the 1973 MVP Award -- he was clearly one of the best for a period of years. This peak coincides with his years in the outfield; his value started declining once he moved to third base in 1975, where it's fair to say he wasn't exactly Brooks Robinson.
1972-1976: Joe Morgan (51.0), Rod Carew (33.2), Cesar Cedeno (32.5), Johnny Bench (32.1), Bobby Grich (32.0)
Absolutely phenomenal: Morgan was nearly 18 wins better than the No. 2 player over this five-year span. I don't know if any player has ever dominated the game to the extent Morgan did over this stretch (that's another article). Cedeno was a marvelous talent, a power/speed center fielder who hit .298 while averaging 21 home runs and 55 steals per season over these five years. The Astros moved the fences back in 1977 (10 feet at the foul lines, 12 feet in the power alleys), hurting Cedeno's power. He injured his knee in 1978 and then broke his ankle in the 1980 playoffs, sapping his speed and effectively ending his years as a productive player.
January, 5, 2012
1/05/12
8:00
AM ET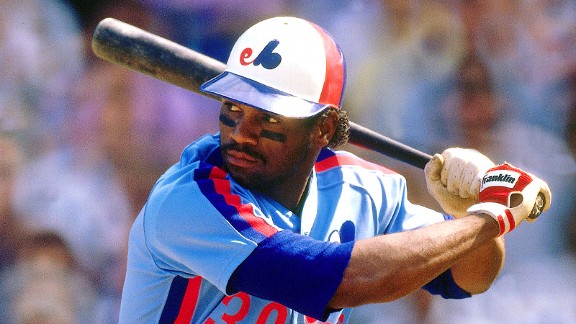 Ronald C. Modra/Sports Imagery/Getty ImagesTim Raines is often cited as the second-greatest leadoff hitter in MLB history.
There are a lot of columns and analysis out there advocating the case for Tim Raines for the Hall of Fame. I probably won't add anything new to the discussion, but let me start here:
Player A is Raines. Player B is Tony Gwynn. That final column is times reached base. Yes, Raines reached base more often in his career than Gwynn, in just slightly more plate appearances. I'm not the first writer to come up with that comparison. Joe Posnanski, among others, is especially fond of this factoid. The point of the statistic isn't to bring down Gwynn, rather to show how potent and devastating an offensive player Raines was. The arc of his game was a little different than Gwynn's but the results are similar: Gwynn got more singles, Raines walked more and had a little more power. He was one of the great base stealers of all time and scored more runs in his career than Gwynn.
That's what Raines did: He scored runs. He's 51st on the all-time list and of the 50 players ahead of him, all eligible candidates are in the Hall of Fame except for Jimmy Ryan and George Van Haltren, two 1890s outfielders; turn-of-the-century shortstop Bill Dahlen; and Rafael Palmeiro.
A common refrain about Raines from his advocates is that he was one of the best players in baseball over a span in the 1980s. This isn't some after-the-fact hocus-pocus going on. It was widely believed at the time. In a 1984 Sports Illustrated piece on Raines, Pete Rose said: "Right now he's the best player in the National League. Mike Schmidt is a tremendous player and so are Dale Murphy and Andre Dawson, but Rock can beat you in more ways than any other player in the league. He can beat you with his glove, his speed and his hitting from either side of the plate." In his annual Baseball Abstracts, Bill James often argued the case of Raines' all-around brilliance. Raines finished fifth, sixth and seventh in MVP votes, despite playing for mediocre Expos teams.
Raines' five-year peak was 1983 to 1987. According to Baseball-Reference's WAR ranking, the top five players during those years were Wade Boggs (39.7), Rickey Henderson (34.1), Cal Ripken (33.3), Schmidt (31.4) and Raines (30.7). Pretty nice company. (The next five were Alan Trammell, Gwynn, Eddie Murray, Murphy and Keith Hernandez.)
To be fair, this alone doesn't make him a Hall of Famer. I checked every five-year period since 1969 (1969 to 1973, 1970 to 1974, etc.) and not all of the names that appear in the top five are Hall of Famers or future Hall of Famers. Heck, Sal Bando rated as the best player in baseball from 1969 to 1973.
Some characterize Raines as having too short of a peak level of dominance. From 1988 to 1995, he averaged .283/.375/.409, with 81 runs and 33 steals per season. Maybe not an MVP candidate anymore, but still a good player, top leadoff hitter and valuable contributor. He's hardly alone in this aspect. He had six seasons with an OPS+ of 130 or higher, the same as Jim Rice, Dawson and Ernie Banks, and more than Kirby Puckett, Roberto Alomar, Johnny Bench, Carlton Fisk, Yogi Berra, Tony Perez or Robin Yount.
Maybe Raines doesn't have a slum-dunk case. But he has a case. Maybe voters have forgotten his great years in Montreal (and they have forgotten; he received only 37 percent of the vote last year). Maybe they remember his final seasons with the Yankees, when he became a part-time player on two World Series champions. Maybe they can't believe he compares favorably with Tony Gwynn.
Believe.