August, 16, 2014
Aug 16
1:47
PM ET
By
Christina Kahrl
| ESPN.com
The A's have been on top for months, with the best record in baseball to brag about, and they're supposed to be the runaway winners in the AL West. But in case you've missed it, they're not running away any more, and not just because the Angels have been the second-best team in baseball. If anything, the A's are coasting, because while they still have the best record, we'll see how much longer that lasts.
[+] Enlarge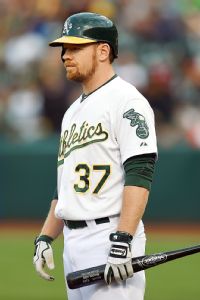 Thearon W. Henderson/Getty ImagesBrandon Moss' power outage since the break is a big problem.
That's because the A's have gone 15-15 in their last 30 games, and after Friday night's loss they've slipped below a .600 winning percentage on the season. They haven't won a series against a team with an above-.500 record since the Orioles immediately after the All-Star break. At this point, you can skip talk of winning 100 games, because the division title isn't the only thing in danger with the Mariners, Tigers and Royals all making serious pushes for the postseason. Say they play .500 the rest of the way, and they'd wind up with 93 wins, which should at least get them into the wild card -- one-and-done territory, or not where they were supposed to be when they traded away their best prospect,
Addison Russell
, to purportedly win the World Series this year.
What's gone wrong of late? It's pretty much a team-wide problem.
Let's start with the offense.
Since the All-Star break, they've put up a collective .698 OPS, a tumble from the .729 OPS they had in the first half. Those numbers get worse when you get into what they've done since trading
Yoenis Cespedes
: a .636 OPS in August, with the A's averaging just 3.7 runs per game when they had averaged 4.9 in the first half.
Who are the culprits?
Brandon Moss
has struggled terribly, hitting just .213/.31/.303 with two homers since the break; for a guy who had 21 on his way to his first All-Star Game, suddenly hitting 30 again seems a long way off.
Coco Crisp
has been even worse as he struggles through a neck injury, putting up just a .395 OPS. Moving parts like
John Jaso
(.647 OPS) and
Alberto Callaspo
(.505), so important to manager Bob Melvin's lineup-card dynamics, are slumping as well. If it weren't for
Josh Donaldson
doing his thing and Josh Reddick's rebound since returning to action (.904 OPS, four homers since the break), the picture would be even more bleak.
[+] Enlarge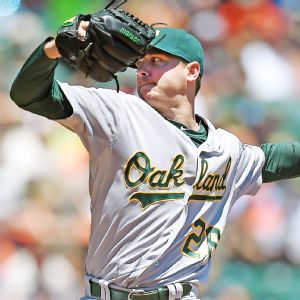 Thearon W. Henderson/Getty ImagesScott Kazmir is among the A's pitchers who are slumping in the second half.
Then there's the pitching.
Saturday's starter,
Sonny Gray
, may have set off alarms for the beatdown he took two turns ago, but his velocity's holding relatively steady; he may be the one guy you should worry about least. Instead, worry about the fact that Scott Kazmir's strikeout rate since the All-Star break is 13 percent, 10 points lower than it was in the first half, or that
Jason Hammel
has one quality start in seven tries as an Athletic. Or that Jeff Samardzija's run of greatness extends no further back than this season. Did the A's need
Jon Lester
? You bet they did, in no small part because their investment in Kazmir and their getting Hammel haven't paid off as well as they might have hoped.
And then there's the interior defense.
Losing
Jed Lowrie
to the DL isn't something you'd normally associate with hurting your defense, but the problem it created is that it moved
Eric Sogard
from a position he plays well at second base (averaging plus-9 Defensive Runs Saved per season on his career) to a position he doesn't at short (minus-14 career). Exacerbating that loss is that Alberto Callaspo has had to become an every-day player at second. Whatever Callaspo's virtues as a multi-positional rover, one thing he doesn't do well and has never done well is play second base: His performance this year is at a minus-11 DRS for a full season at the keystone, consistent with a career clip of minus-14. So instead of the benefits of getting Lowrie's bat (even in an off year) at short and Sogard's glove at second, the A's now have neither, plus they don't have Callaspo to plug in everywhere else they might have a day-to-day need either. And with Kazmir and Hammel looking so hittable, you can bet a worse infield defense is hurting.
And just stop with Sam Fuld already.
The guy's
well-spoken
, a
great interview
and a decent fielder, but c'mon now, he's sabermetrics' answer to
Willie Bloomquist
. A .370 OBP during two months in Minnesota do not define a guy, they're just two nice months from someone whose career suggests he couldn't keep that up. And sure enough, the guy the A's got back in a ticky-tack trade with the Twins has not been
Rickey Henderson
reborn or Lance Blankenship or even Eric Fox; instead, it's the same guy who came into the year with a .314 career OBP, and the same guy who was eminently cut-worthy by these same A's earlier this season. The A's need him because Crisp's neck injury and second-half struggles make an insurance policy in center necessary, but you can forget about penciling in an every-day OBP north of .350. Tell yourself you'll always have Minnesota to fulfill your Fuld fantasy, and just let that notion go.
Now, I know, this is where we can cite all sorts of happy stats to warm A's fans' hearts, like their huge run differential or their expected record, which is six games better (79-43) than where they're actually at (73-49). But wasn't this supposed to the team that was better than the sum of its parts, not worse? Admittedly, that was a sportswriterly narrative that wilts in the daylight of data, but to stick with the facts, a big chunk of the A's run differential belongs to early-season blowout wins that this lineup hasn't been cranking out of late, as well as that stack of close losses that you can blame on the early-season mistake of having
Jim Johnson
as their closer.
And the thing to keep in mind is that the A's won't get any of that back -- those runs, wins and losses are history and already banked, and that accrual doesn't mean squat for the last 40 games. That's because this team is a significantly different collection of players than that which stacked up that run differential in the first place just a few short months ago. You can't expect it to continue or magically continue. A big win in May can't do anything more to keep the A's ahead of the Angels than it already has. The A's relative run differential is shrinking, and even with Lester and Samardzija and Gray going strong, it's probably going to shrink more.
This is why all you ditch that stuff about the A's being the best team in baseball, or having the best record in baseball. It's true for as long as nobody catches them while playing .500 brand of baseball as they have lately, and that won't be for much longer. So Oakland needs an in-season rebound, starting now. Beating the struggling Braves in this series may not sound like much, but the A's have to start somewhere if they're going to fulfill any of the expectations put on them, let alone stay a game ahead of the Angels.
Christina Kahrl writes about MLB for ESPN. You can follow her on Twitter.
September, 14, 2012
9/14/12
12:00
AM ET
As the
Tampa Bay Rays
and
Baltimore Orioles
played on in the late-afternoon shadows, the managers turned to
Chris Archer
and
Tommy Hunter
, a rookie with just 18 innings of big league experience making his first relief appearance of the season and a veteran starter banished to the bullpen, respectively.
This is pennant-race baseball.
In Anaheim, Angels ace
Jered Weaver
took the mound, making his first start in 11 days because of biceps tendinitis, and all he had to do was prevent the A's from completing a four-game sweep and keep the Angels within shouting distance of the playoffs.
This is playoff-race baseball.
In Houston, the Phillies -- who punted back in July when they traded two-thirds of their starting outfield -- had suddenly found themselves smelling the sweat of the Cardinals, Dodgers and Pirates. They started a rookie named
Tyler Cloyd
, making his fourth major league start. Not only that, he was starting on three days' rest. I knew nothing about him, so I looked up a few facts. He was the International League pitcher of the year, but he's a finesse right-hander who rarely reaches 90 mph. He was an 18th-round draft pick in 2008 out of Nebraska-Omaha, but his lack of velocity meant he wasn't one of Baseball America's top 30 Phillies prospects entering the season despite good minor league numbers in 2011.
This is wild-card baseball.
I intended to watch the monumental
Chris Sale
-
Justin Verlander
showdown, two Cy Young contenders facing off in a crucial game in the American League Central, but that game was rained out, so I focused on the Yankees-Red Sox showdown at Fenway Park.
Phil Hughes
, a pitcher who had allowed the second-most home runs in the major leagues, was trying to pitch the Yankees back into a first-place tie with the Orioles. All he did was pitch one of the best games of his career, allowing no runs for just the second time this season.
This is baseball.
[+] Enlarge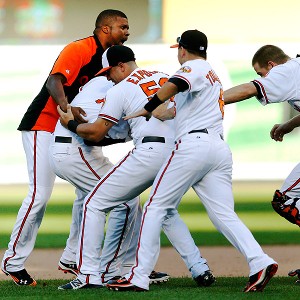 AP Photo/Patrick SemanskyThe Orioles should be celebrating. They're in playoff contention after not having a winning record in 15 seasons.
I'm riveted to my television set, flipping channels, checking box scores, watching a second game on my laptop. It's the best time of the year, when nearly every game matters, when important outs in important games start taking on an October-like intensity. It's why we watch the first 140 games, to build up to these moments: Archer versus 20-year-old rookie
Manny Machado
with the game on the line.
Archer had used a little magic in the 13th inning, when he escaped a bases-loaded, no-outs jam to extend the game another inning. During that high-wire act, he fell behind
Matt Wieters
3-0 but came back to strike him out on a 94 mph fastball, his seventh consecutive fastball of the at-bat. No tricks, just heat, and it worked. I tweeted something along the lines of: "If the Rays win this game and eventually make the playoffs, remember this inning."
But Buck Showalter has been around this game a few years. They say he's pretty wise. In the 14th inning, Archer got the first batters out, but
Adam Jones
fouled off a 3-2 slider and then drew ball four.
Endy Chavez
singled to left. That brought up the rookie Machado, 0-for-5 on the day, 2-for-his-past-20. Archer fell behind 3-and-0.
You don't give a rookie the green light.
Buck gave Machado the green light.
Machado swung and lofted a sinking line drive near the left-field line.
Matt Joyce
ran in, dove, stretched out, his glove reaching for the baseball, reaching for hope -- to keep the game going, to give the Rays hope of getting a win closer to the playoffs rather than a loss further away. Off the glove. Base hit.
Orioles win 3-2
-- their 13th in a row in extra innings; 27-7 in one-run games, the best percentage in history. How can you not believe in the Orioles?
Joyce came up a few inches short. If
Sam Fuld
, an outfielder with more range, had been in left field, he makes the play. But Fuld had been removed in the 13th inning when Joe Maddon had replaced him with
Reid Brignac
to give the Rays five infielders after the Orioles loaded the bases. And that strategy worked when the Rays got the first out of the inning on a force at home. Maddon used 26 players in the game, clawing for any little edge.
That's what you do this time of year.
* * * *
Cloyd pitched three scoreless innings against the Astros but then gave up a single -- single -- home run and got the hook. He was replaced by another rookie,
B.J. Rosenberg
, with an ERA of 9.00. Rosenberg pitched two scoreless innings. In the eighth, the Phillies clinging to a 4-3 lead, Charlie Manuel turned to yet another rookie,
Phillippe Aumont
, once the prize of the
Cliff Lee
trade with the Mariners. Big stuff, no command: He averaged 6.9 walks per nine innings in Triple-A. He walked a guy, but got a caught stealing. He walked another guy. He hit a batter.
Two outs, two on, the Phillies cannot afford to lose. They have a $50 million closer in the bullpen.
Manuel brought in yet another rookie,
Jake Diekman
. He gave up a two-run double and an RBI single, and the
Phillies lost 6-4
.
Jonathan Papelbon
sat in the bullpen, and suddenly that playoff run seems a little less likely.
The victories are extra sweet. The losses extra bitter. Welcome to the best time of the season.
December, 26, 2011
12/26/11
12:00
PM ET
By
Mark Simon, ESPN Stats & Information
| ESPN.com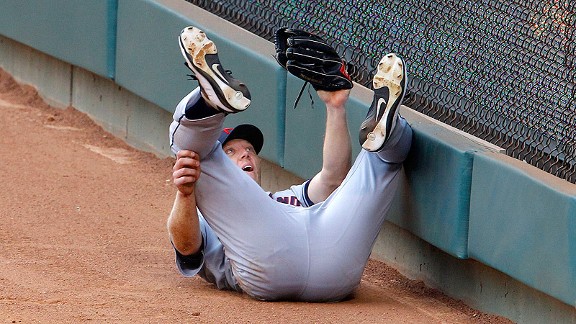 Jim Cowsert/US Presswire
Shelley Duncan made a season's worth of incredible catches in one day, but was it enough to earn him the Defensive Game of the Year honor for 2011?
Context or quantity, what's your preference? That's the question that requires answering when trying to select which player had the Defensive Game of the Year in 2011.
It struck me that it would be an interesting project to try to determine the game in which a player did the most with the glove. Baseball Info Solutions charts every play of every game, tagging the best plays into 30 categories of Good Fielding Plays (GFPs). They denote the plays for which you'd likely put a star on your scorecard and keep a running count throughout the season.
Using a combination of their lists and anecdotal recall, I was able to come up with about 30 nominees. These were either players who made at least three out-producing GFPs in a game or made multiple plays of great significance to the ultimate outcome of the game.
After reviewing video for each candidate, it came down to two choices, and that's where the context versus quantity debate comes into play.
My pick for the Defensive Game of the Year by a player goes to
Brent Lillibridge
of the White Sox. This selection is one that will be worthy of debate. Consider this: Lillibridge only played two innings in his game and handled two chances, but he made the biggest impact of anyone on the field.
On April 26 against the Yankees, Lillibridge's team was down 2-1 in the eighth inning when Lillibridge was inserted as a pinch-runner for
Carlos Quentin
.
Paul Konerko
, and then homered off
Rafael Soriano
to put the White Sox up, 3-2.
Lillibridge wouldn't get any action as Quentin's replacement in right field in the eighth, but he became the game's focal point in the ninth inning. The Yankees put two men on with one out for
Alex Rodriguez
. On a 2-1 count, Rodriguez hit a line drive towards the right-field fence.
Lillibridge, who was playing deep, sprinted back, reached out and
made the catch
, his glove parallel to the ground, his left leg up in the air as he leaned into the wall. That play got a "Mercy!" from Ken Harrelson, a hands-on-helmet gasp from Rodriguez and a smile from the runner retreating to second,
Derek Jeter
.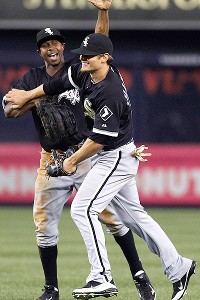 Kathy Willens/AP Photo
Brent Lillibridge got plenty of kudos for his glovework vs the Yankees
The
second catch
came two pitches later on Robinson Cano's sinking line drive to right. This one required a quick sprint toward the line and a full-length dive.
Lillibridge's glove hit the ground with the baseball with his body fully extended in the air. Cano's helmet went flying in frustration as Lillibridge slammed the grass with his right hand and let out a yell in celebration.
We wrote about the difficulty of these plays earlier in the season
. The second play had a 95 percent chance of being a hit, according to the research done by Baseball Info Solutions. That, combined with the win probability value of the two plays, which took the White Sox chances of winning from 65 percent to 100 percent, made this the choice to be the top honor.
Lillibridge had 12 GFPs in his 339 2/3 innings in the outfield, a pretty good innings-to-play rate. Lillibridge had six Good Plays in just over 200 innings in right field, the most by anyone who didn't get charged with any Defensive Misplays & Errors (the opposite of GFPs). He had a penchant for great late-game glovework, preserving a 1-0 shutout for
Jake Peavy
with a
tough catch in left-center in the eighth inning of one win
, and
robbing
Coco Crisp
of a go-ahead two-run home run in the eighth inning of another.
There is a worthy runner-up for Game of the Year from an unlikely source. In a 9-1 loss to the Rangers on September 14,
Cleveland Indians
left fielder
Shelley Duncan
made
four fabulous plays
on would-be base hits. The amazing thing was that three of them came in a row, for the last two outs of the first inning and the first out of the second inning, each by the 19-foot-high fence in left field.
On the first, Duncan tracked the ball off Elvis Andrus' bat a little oddly, twisting his body to left center, before stopping and turning back to leap and make the catch right by the wall. The next two looked a little more natural. Both were similar in nature, requiring a full extension in the air with his glove hand, and in the same location, just in front of the last set of games listed on the out-of-town scoreboard.
The image atop this article shows the catch that ended the first inning, against
Josh Hamilton
, and has a little bit of a "look what I've got" quality to it.
The fourth catch came in the fourth inning and required Duncan to come toward the line, come in, and backhand the ball as he slid on the grass. It ended up being overshadowed because the Rangers ended up scoring eight times in the inning. Baseball Info Solutions didn't award Duncan a GFP for the first catch, but did give him one for each of those last three.
This was about as unlikely a combination of Web Gem-worthiness as you could imagine. In 248 other innings in left field over the rest of the season, Duncan only had one other GFP.
In the end, I selected Lillibridge over Duncan because I wanted to reward the game-saving nature of his plays. Lillibridge's plays were the difference between winning and losing, and their value trumped any others that came along the rest of the season. But before you have at debating this selection and the idea of "clutch defense" in the comments section, here's a list of some of the other notable contenders, with links to the video so you can check them out for yourself.
Honorable Mentions
Sam Fuld, Tampa Bay Rays
The Rays' version of Superman had a pair of games that merit mention. On May 7 against the
Baltimore Orioles
, Fuld made a
diving catch
in the fourth inning, then went to the left-field fence to
rob
Matt Wieters
of a home run with a leaping catch in the eighth inning.

Fuld
Then, on June 19 against the Florida Marlins, Fuld took away a pair of hits, one a
line drive in the corner
by
Omar Infante
that likely would have been a double, then came in to shallow left to dive and
pick a ball off just before it hit dirt
. That preserved a 1-1 eighth-inning tie in a game in which the Rays would score in the home half to win, 2-1.
Also among the best performances by an outfielder were Diamondbacks centerfielder
Chris Young
(
three tough catches
in Wrigley Field on April 6), and Astros right fielder
Jason Michaels
(three catches
against
the
Braves
on June 12).
Cody Ransom, Arizona Diamondbacks
Ransom, a Mesa, Arizona native, hit only .152 in 12 games and 33 at-bats for his hometown team but made one of his nine starts count on both the offensive and defensive end.
Ransom's seventh-inning two-run home run off
Clayton Kershaw
made the difference in a 4-3 win that kept the Diamondbacks a half-game back of the Giants in the NL West, but that's not why he's on this list.

Ransom
Ransom made three fine defensive plays, twice going to
his
right
to make difficult plays, then making a nice long throw on Juan Rivera's ground ball for the final out of the game.
Other infielders worthy of notice were Orioles first baseman
Chris Davis
(three
terrific
plays
on August 12), Phillies second baseman
Chase Utley
(four
hit robberies
vs the Cardinals on June 23), Rays second baseman
Ben Zobrist
(six GFPs
against the Mariners
on August 21), Cardinals shortstop
Rafael Furcal
(six GFPs
against the Brewers
on August 31), and Rockies third baseman
Chris Nelson
(three fine plays
against the Cardinals
on August 12).
August, 29, 2011
8/29/11
3:00
PM ET
After hitting .318 with 52 extra-base hits and 52 stolen bases in the minors in 2009,
Desmond Jennings
became one of the top prospects in baseball. But his trek from hotshot to starting major league outfielder was slower than expected. The
Tampa Bay Rays
sent him to Triple-A in 2010 -- which made sense, considering he had played 32 games there in 2009. When Jennings failed to match his 2009 numbers, hitting .278 with three home runs, he didn't make his major league debut until a September call-up.
Still, many expected him to be the starting left fielder for the Rays this season. Instead, the team signed
Johnny Damon
and
Manny Ramirez
, and when Ramirez retired a week into the season after failing a drug test, minor league veteran
Sam Fuld
became the left fielder. Jennings languished in Triple-A and while his numbers improved over 2010 -- he hit .275/.364/.456 -- they weren't even as impressive as less-heralded teammates like
Brandon Guyer
or
Justin Ruggiano
. Scouts said Jennings looked a little bored, maybe he needs the challenge of the major leagues.
Sure enough, the Rays called up him July 23 and he's been on fire ever since going 2-for-3 with a double, triple and two walks in his first game up. He's hitting .354/.440/.646 with eight home runs, 15 steals and 22 runs in 34 games. The Rays are 21-13 since he recall and the question, as Eric Karabell and Mark Simon raised on the
Baseball Today podcast
: Did Tampa wait too long to call him up? The Rays are 6.5 games behind the Yankees? What if they finish a couple games behind? The Tampa Bay front office will face a lot of criticism if that happens.
That said, I'm not sure it was a bad decision. By delaying Jennings' service time, they'll get an extra year from Jennings before he reaches arbitration (and, later, free agency). Second, Fuld did OK in left field, excelling on defensive in particular, and hitting well in April; his playing time though May and June was probably deserved. Third, if Jennings had hit at Durham like he has in Tampa, he would have been recalled much sooner.
I think it's important to realize that Jennings isn't
this
good. You don't suddenly go from hitting 15 home runs over two seasons in Triple-A to hitting eight in just 130 at-bats in the majors without a little luck. Even Jennings' biggest supporters couldn't have expected this outburst. In the end, if Tampa falls a couple games short of the playoffs, you can blame the poor play of
Reid Brignac
or the production from the catchers more than the decision to leave Jennings in the minors.
May, 21, 2011
5/21/11
12:00
PM ET
By
Christina Kahrl
| ESPN.com
Yes, this is another article about the sorry state of offense in 2011. Scoring is down a fifth of a run per team from 2010, a "year of the pitcher." It's down four-tenths of a run from 2009, six-tenths of a run if you want to reach back to 2006. We've also heard about how power is a big part of this "problem," as MLB-wide isolated power is down 20-25 points from 2006. But we're not talking about something else that seems to have gone missing: leadoff hitters who are quality table-setters.
[+] Enlarge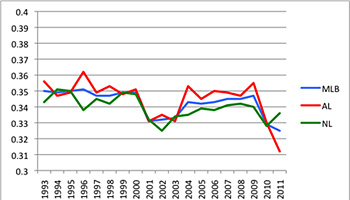 Courtesy of Baseball-Reference.comOn-base percentages for leadoff men.
We'll get into the data up front and then start seeing if we can parse what it might mean. First, there's the simple fact that OBPs for leadoff hitters are down. Last year's MLB-wide leadoff man OBP of .329 was the lowest we've seen in a full season since 1982, when it was also .329. It hadn't been lower than .329 since 1978, when the leadoff OBP was .323. From 1993-2010, the American League's leadoff OBP of .330 was its worst, the NL's .328 its second-worst. Keep in mind, leadoff OBP didn't disappear in a puff of PED ban enforcement. As the first chart reflects, leadoff OBPs weren't just stable after 2006,
they went up
. The AL's 2009 leadoff OBP of .355 was its highest since 1996. On-base percentage for leadoff men was back up where it had been in the offensive onslaught of the late '90s… until last year.
So, a low-water mark was set in 2010, the worst leadoff OBP in 32 seasons … until this spring's action. In 2011, leadoff hitters have managed to get on base at a .325 clip. It's especially bad in the American League, where leadoff men were eking out a .312 OBP through Thursday's action. More than a quarter of the way in, we're still waiting for both leagues to flip the ignition, but without any ignitors, let alone the original Paul Molitor, how is that supposed to happen?
[+] Enlarge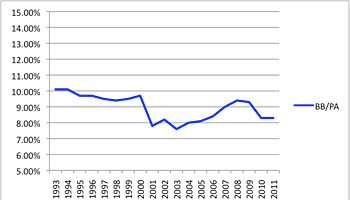 Courtesy of Baseball-Reference.comBase on balls percentages for leadoff men.
Naturally, the first question to ask is
why?
Looking at walk rates for leadoff hitters in the second table, we've obviously lost some of what we took for granted -- hitters aren't managing that walk once every 10 times up, a pace you might once have accepted as the basic standard. We're not at the bottom of a trough, but the rate is back down where things were earlier in the Aughties, and that's sub-good.
Some of that is a matter of the selection of leadoff likelies available to their teams:
Jacoby Ellsbury
is not a big-time walking man, for example, and wishing he was won't make it so, but it doesn't make him ineffective. However, in a league and time where Rickey Henderson is still retired, finding people who can draw ball four hasn't exactly been easy, which is probably why
Juan Pierre
or even
Scott Podsednik
keep getting opportunities. Some of it can also be institutional -- last year, the Rays came up with a perfectly functional creative adaptation, moving
John Jaso
and
B.J. Upton
into and out of the role as Joe Maddon played matchups. But this year they got carried away with the
Sam Fuld
phenomenon, only to learn what they already knew from his projections, which is that for a leadoff hitter he makes a heck of a defensive replacement.
Admittedly, when we think about leadoff hitters, it's easy to stick with happier memories, of the guys who are or were truly great at it: Rickey and Tim Raines in the '80s for example, or Ichiro for the past decade. You can take things down a notch and think fondly of
Ray Durham
or Tony Phillips, or from the current generation of players get sentimental about guys like
Brian Roberts
and
Chone Figgins
. And from any of these guys, you generally knew what to expect: OBPs that were .350 or higher, plenty of walks, and stolen-base totals in the 20-50 range.
But even then, there were always the other guys, the way the other half lived with their leadoff options, which pulled leadoff OBPs down around .333 year after year. If you were around in 1981, you had a rare opportunity to see one of the worst leadoff hitters of all time in action, achieving what would be, even by his standards, a career lowlight. Alfredo Griffin posted a .236 OBP leading off for the Blue Jays for the bulk of a season that was blighted by a strike. It's a mark for single-season leadoff putrescence that hasn't been underwhelmed in the 30 years since.
We can get into origin myths if you like, and ask where the great leadoff men came from and now, where they went, and whether or not we're bereft of truly elite leadoff men in this particular generation of players -- beyond admirable dinosaurs like Ichiro, of course. I wonder if we aren't just stuck in the
Michael Bourn
generation. That might not seem entirely fair to Bourn, because he's one of the better leadoff hitters by today's standards. He has posted OBPs better than league average in 2009 and 2010, after all. He's off to a slow start this season, but at least he's reliably within spitting distance of walking once every ten times and he runs well. That might represent a new, lower standard of what will do, but perhaps this isn't a burden to be Bourn, but a reflection of a changed game. Bourn makes an appropriate symbol for a time when teams are getting used to living with less offense.
Christina Kahrl covers baseball for ESPN.com. You can follow her on Twitter.
May, 12, 2011
5/12/11
3:54
PM ET
Top five reasons why Thursday's
Baseball Today podcast

, hosted by myself and the energetic Mark Simon, is a can't-miss:
1. The played some of a baseball game in Arlington, Texas, Wednesday, but it didn't count. But stuff did happen! Which players should be happy ... and sad?
2. Not a bad season debut for
Chicago White Sox
right-hander
Jake Peavy
. We discuss some of the players we're rooting for, including Peavy.
3. Which current pitcher would be the best at darts? OK, I'm serious. Simon's got the answer.
4. Eric Hosmer wasn't the only impressive Kansas City Royals player at Yankee Stadium Wednesday, and the Yankees did something they had never done in their history in that game.
5. Who are the best hitters on fastballs of varying speeds ... some interesting names top the list.
Also: Excellent emails, discussing sample sizes and closers getting wins; Simon says Bill Gallo impacted his youth; we discuss shortstop defense, a very famous Yankee turns 86 and the immortal Kenny Greer, all on Thursday's Baseball Today!
April, 29, 2011
4/29/11
1:34
PM ET
Baltimore Orioles
Zach Britton
was supposed to start the year in the minors but injuries to Baltimore's rotation forced his promotion. In five starts he is 4-1 with a 2.84 ERA. He is a ground ball pitcher (57.3 GB percent) who has already induced five double plays. Britton is an early favorite for Rookie of the Year.
--Dave McNeill

Lowrie
Boston Red Sox
There's only one word to describe
Jed Lowrie
's performance thus far -- irreplaceable. After the Red Sox stumbled to their forgettable 2-10 start, Lowrie stepped in to give their offense the spark it so desperately needed. While he won't continue to hit at a .390/.413/.620 clip over the rest of the season, he should still provide solid offensive production whether he's the starting shortstop or the utility infielder. Considering many left him for dead after a string of wrist injuries and a bout with mononucleosis, it's nice to see him proving his doubters wrong.
--Chip Buck, Fire Brand of the AL
New York Yankees
The Yankees were not sure what to expect out of
Russell Martin
heading into the season. Were his hip/back injuries fully healed, or would he continue his four-year slide from the guy who hit 19 HRs, batted .293/.374/.469 and managed to steal 21 bases as a 24-year-old catcher with the Dodgers to the guy who hit just five home runs with a .248/.347/.332 line in 97 games during 2010? After 19 games, Martin looks back to that 24-year-old form having already hit six home runs with a nifty .290/.364/.594 line. The Yanks could not be more pleased.
--Jason Rosenberg, It's About the Money
Tampa Bay Rays
Sam Fuld
has become a Twitter sensation with his diving catches, clutch hits and base-stealing exploits. A throw-in in the
Matt Garza
trade with the Cubs, Fuld has taken over the leadoff spot and is hitting .315/.380/.472 with 16 runs and 10 steals -- a key reason the team is now 14-11 after its 0-6 start.
--David Schoenfield

Bautista
Toronto Blue Jays
The added pressure of a big contract extension, a paucity of pitches to hit and the immutable laws of physics haven't stopped
Jose Bautista
from elevating his production to dizzying heights, as he's hitting .360/.529/.760.
--Drew Fairservice, Ghostrunner on First
Chicago White Sox
It's hard to be pleasantly surprised by a player who would have won the MVP award three years ago if not for a freak injury that prematurely ended his season, but after two tough seasons,
Carlos Quentin
is hitting .305/.394/.632, with six homers and an MLB-leading 13 doubles, certainly qualifying as the most pleasant surprise on a team that's been largely devoid of pleasantness for the past three weeks or so.
--Bill Parker, The Platoon Advantage
Cleveland Indians
On a team on which nearly everything has gone right,
Justin Masterson
's performance has been the biggest, and most pleasant, surprise. His stuff and the underlying numbers don't support his current line (5-0, 2.18 ERA), but if he's able to keep the walks and homers down and ground balls up the way he has so far, he'll keep that ERA somewhere in the threes, and will be a rock-solid starter at the top of the rotation of what is suddenly looking like a very exciting young team.
--Bill Parker, The Platoon Advantage

Avila
Detroit Tigers
After a strong showing over the final months of 2009, catcher
Alex Avila
struggled as a rookie in 2010, hitting just .228 with seven home runs in 333 PAs. So far he's showing the hitting tools predicted of him last year, as he's hitting .290/.356/.537 and tied with
Miguel Cabrera
for the club lead with 16 RBIs.
--David Schoenfield
Kansas City Royals
In what was to be his third "make or break" season, Royals outfielder
Alex Gordon
has shown there is plenty of life in his bat, getting off to a torrid start, hitting .327/.382/.485. His April included a career-best 19-game hitting streak. On a team that needs production anywhere it can find it, Gordon has emerged as a steady No. 3 hitter ahead of
Billy Butler
. Finally, they have formed the dangerous offensive tandem Royals fans dreamed about for years.
--Craig Brown, Royals Authority

Kubel
Minnesota Twins
Trying to find a pleasant surprise on this team is like getting your molars removed without pain medication. We'll go with
Jason Kubel
, who had a disappointing 2010 after a great showing in '09. He's hitting .333 with a team-leading two home runs. Yes, we said team-leading.
--David Schoenfield
Los Angeles Angels
Dan Haren
and
Jered Weaver
have been brilliant, of course, but you already knew they were great. The real surprise has been
Howie Kendrick
. He's hitting just .280, but he's already got six homers -- his career high is 10 -- and his walk rate is way up from his career norms, too. If he manages to retain the power and patience and his batting average climbs back toward his career .294, they've got a superstar on their hands.
--Bill Parker, The Platoon Advantage

McCarthy
Oakland A's
After missing all of last season and signing a one-year deal for a million dollars in the offseason,
Brandon McCarthy
fended off a host of contenders for the fifth starter's spot this spring. McCarthy has pitched 35 1/3 innings in his first five starts, has a 5.75 K/BB ratio and has allowed only one home run. His 3.57 ERA is impressive but his 2.44 FIP speaks to just how good he's been (already 1.1 WAR).
--Dan Hennessey, Baseballin' on a Budget
Seattle Mariners
Many would point to
Michael Pineda
as the surprise for the Mariners, but in some ways his success was almost expected. Instead,
Justin Smoak
's start has been the more pleasing one, especially in light of his struggles last year. Now instead of pressing at the plate and looking nervous, Smoak seems calm and is letting everything come to him. He's an important part of the Mariners' future, so it's wonderful to see this type of progress for him.
--Conor Dowley, Pro Ball NW
Texas Rangers
The reliever who was expected to join the Texas rotation this year was
Neftali Feliz
. Instead, Ron Washington decided to move
Alexi Ogando
there late in spring training. He's been brilliant, going 3-0 in five starts, with a 2.30 ERA and 0.86 WHIP. His strikeout rate (6.0 per 9) doesn't support the rest of the numbers, so expect some regression to set in.
--David Schoenfield
April, 25, 2011
4/25/11
4:42
PM ET
We did it last week. We'll try it again ... a Monday stroll through the stats as we pass the time with no day baseball. (Seriously, Bud, forget worrying about things like expanded playoffs and labor deals ... just get us day baseball, every day, and we'll be much happier.)
Jose Bautista reached base 11 straight times before finally going hitless (with two walks) on Sunday. He has 19 walks in 18 games and a .506 on-base percentage. Yes, he's for real. By my count, the following players had more walks than games played in a season (minimum 100 games): Barry Bonds (five times), Ted Williams (five times), Babe Ruth (twice), Mark McGwire, Eddie Joost, Mickey Mantle and Jack Clark. Nice company if he can keep it up.
Is it me, or is Alex Rodriguez quietly having a monster April that seems to be getting little attention? I think I've read more about Bartolo Colon and Freddy Garcia. Meanwhile, A-Rod is hitting .354/.492/.792. He seems locked in at the plate and the scary thing for pitchers is that he has 14 walks and only six strikeouts. A-Rod's walk rate dropped to 9.9 percent last season, his lowest since 1999.
Matt Kemp and Andre Ethier have carried the Dodgers so far, but warning to Dodgers fans: The two also rank 1-2 in the majors in BABIP (batting average in balls in play) at .484 and .451, respectively.
Nice to see the early resurgence from Lance Berkman, leading the NL with a .725 slugging percentage. As bad as Berkman looked with the Yankees last season (one home run in 106 at-bats), it was easy to forget that this guy posted a .906 OPS in 2009 and finished fifth in the MVP vote in 2008.
Sam Fuld leads the majors with 10 steals, more proof of Joe Maddon installing an aggressive baserunning mentality with the Rays. Fuld had just 23 career steals in the minors. The team with the most steals in the majors, however, is Kansas City, with 30 -- and they've only been caught five times, for an 86 percent success rate. The Royals were eighth in the majors in steals in 2010, but just 20th in success rate at 70 percent.
Oakland's rotation leads the majors with a 2.20 ERA. The Cubs are last with a ghastly 6.03 mark. Showing how much teams have struggled to generate offense in the AL, the six worst rotation ERAs all belong to NL teams. The worst in the AL: the Yankees, with a 4.62 mark.
The Marlins lead in bullpen ERA (1.79), lowest batting average allowed (.189) and lowest OPS (.527). Philly's pen has allowed just one home run in 56 innings.
Alfonso Soriano has six home runs, Tyler Colvin two and nobody else has more than one for the Cubs.
The Padres are averaging 2.86 runs per game ... no team has averaged less than three runs per game since the '72 Rangers and Angels.
Pitchers I'm worried about: Madison Bumgarner (10 walks, only nine K's in 17.1 IP), Javier Vazquez (11/16 SO/BB ratio, fastball velocity same as last year, which means down from 2009), Mike Pelfrey (34 hits in 23.2 IP, 12/13 SO/BB ratio).
From FanGraphs: the Mariners have the worst UZR (Ultimate Zone Rating) in the majors at -16.6 runs. Jack Wilson, Brendan Ryan, Ichiro Suzuki, Milton Bradley and Ryan Langerhans all with bad ratings. So not only can four of those guys not hit, now they can't field either. Ladies and gentlemen, your 2011 Seattle Mariners!
April, 12, 2011
4/12/11
11:41
AM ET
OK, I know the cycle is a fun, freak thing that happens a few times a season.
But I get annoyed when announcers say, "And all he needs for the cycle is a triple!" And all the Mariners need is
Joey Votto
,
Hanley Ramirez
and
Josh Hamilton
and they'd have a shot at the playoffs. Yet this happens every single time a player has a single, double and home run.
It annoys me that somebody who hits for the cycle will get a big headline, but somebody who hits two home runs, a double and a single will get ignored.
So for one day at least,
Sam Fuld
is my favorite player in the major leagues.
A New Hampshire native playing in front of a large throng of family and friends at Fenway Park, Fuld had homered, tripled and doubled when he stepped to the plate in the ninth inning for the Rays. He lined the ball into the left-field corner. He could have stopped at first and completed his cycle. Instead, he hustled for a double. One writer wrote that it would have been better if Fuld had stopped. His teammates were razzing him from the dugout.
Even though he had a better game than if he had stopped at first base.
Tampa Bay manager Joe Maddon tweeted, "Speaks to Sam's integrity that he didn't stop at 1st to get the cycle in the 9th. Its what he's all about."
I'm with Joe. So thank you, Sam, for not stopping. You made my day.
April, 11, 2011
4/11/11
12:27
AM ET
As miserable as the Red Sox have played so far, at least they can look at a lineup that includes
Adrian Gonzalez
,
Kevin Youkilis
,
Carl Crawford
,
Dustin Pedroia
and
David Ortiz
and know -- eventually -- they're going to score a lot of runs.
The fans of the
Tampa Bay Rays
, however, are staring down a lineup that includes Triple-A veteran
Dan Johnson
hitting cleanup, Cubs castoff
Sam Fuld
hitting leadoff and 37-year-old
Johnny Damon
trying to hold off the cruelties of age.
It's been brutal start for the defending AL East champions: 20 runs scored through nine games, with a .163 team batting average. With runners in scoring position, they're hitting .150. It's added up to a 1-8 record and now the Rays have to play the Red Sox and Twins this week, two other teams with playoff aspirations due to break out of hitting slumps.
In 2010, the Rays finished third in the AL in runs scored, despite finishing 13th in the league in batting average. They did it by drawing the most walks in the league and stealing the most bases. And they also did it with clutch hitting. Overall, the Rays hit .247/.333/.403, but with runners in scoring position they hit .266/.368/.422 and in so-called high-leverage situations, when a game's outcome is most up for grabs, they hit .272/.354/.442.
In other words, the talent level of the Tampa Bay offense wasn't that of the third-best offense in the league. Yes, the speed and stolen bases helped, but it was a team that relied on timely hitting. The 2011 Rays were counting heavily on big production from
Manny Ramirez
and Damon. Ramirez is gone and Damon looks lost early on, hitting .125 (4-for-32) with nine strikeouts and just one walk.
OK, they're not going to hit .163 all year and they'll hopefully get
Evan Longoria
back in a couple weeks, but this team is going struggle to score runs all season. And that's not the only reason I'm declaring the Rays on life support:
1. The rotation is shaky. In 2010, Tampa Bay starters posted a 3.99 ERA, third-best in the AL.
Jeff Niemann
and
Wade Davis
combined to go 24-18 with a solid a 4.23 ERA.
James Shields
had an ERA over 5.00. Of 92 major league starters to pitch 162 innings, Niemann ranked 82nd, Davis 83rd and Shields 91st in home runs allowed per nine innings. Yes, some of that was due to facing the tough lineups of the AL East, but Tropicana Field is a relatively tough home run park. Niemann (.263) and Davis (.272) also had low averages allowed on balls in play, suggesting some regression would occur in 2011 (even with Tampa's usually stout defense).
2. The bullpen. As "Baseball Prospectus 2011" reported, Tampa Bay's bullpen was the best in the league last season, worth 4½ wins more than the Yankee pen, eight more than Boston's. All those guys are gone, replaced by
Kyle Farnsworth
,
Joel Peralta
, rookie
Jake McGee
and others who will be hard-pressed to come close to the 2010 results.
3. The running game. So important to Tampa's success last year, the Rays are on the losing end this year -- because they can't stop it. While Tampa is eight for 10 on the bases, their opponents are 15 for 15. Something else to worry about.
Look, Tampa is every stat head's little engine that could. They've won two of the past three AL East titles despite spending about $444 million less than the Yankees and $243 million less than the Red Sox.
But it's not going to be three out of four.
SERIES OF THE WEEK
Dodgers at Giants
Monday:
Clayton Kershaw
versus
Madison Bumgarner
Tuesday:
Chad Billingsley
versus
Tim Lincecum
Wednesday:
Ted Lilly
versus
Jonathan Sanchez
Sadly we won't get a Kershaw-Lincecum rematch of Opening Day, but we'll see three excellent matchups. Bumgarner must rebound from a bad first start in which he lasted just three innings. With last week's incident at Dodger Stadium involving fan-on-fan violence, extra security will be on hand at AT&T Park. The Dodgers are 5-4 but another team with a struggling offense, having scored just 28 runs in nine games.
PITCHING MATCHUP OF THE WEEK
Tuesday:
David Price
versus
Jon Lester
(Tampa Bay at Boston)
Yes, I think I'll want to check this one out.
THREE SWINGS
1.
Jered Weaver
and
Dan Haren
may be as good as any 1-2 combo in the majors. After Weaver added the strikeout to his arsenal last season, he moved into the upper echelon of major leaguer starters. He's showing it wasn't a fluke after sending down 15 Blue Jays on Sunday. Haren got the win in relief in Saturday's 14-inning win over Toronto and has 13 strikeouts without a walk so far.
2. Is
Joey Votto
even better than last season? The 2010 NL MVP is hitting .455/.548/.727 and NL pitchers are showing their fear: Votto has eight walks, only three strikeouts.
3. Kudos to Ozzie Guillen for suggesting he may go to a closer-by-committee approach. Yes, this came about primarily because former setup man
Matt Thornton
blew two of his first three save opportunities, but going to a committee allows Guillen to tactically deploy his two late-inning lefties (Thornton and
Chris Sale
) and his late-inning righties (
Jesse Crain
and
Sergio Santos
) as best suited to the situation.
RANT OF THE WEEK
James Loney
, it's time to step up. The Dodgers first baseman turns 27 in May, but instead of reaching his peak, he's become a dud. After hitting .331/.381/.538 in 96 games as a rookie in 2007, big things were expected. After hitting .289 with 13 home runs in 2008, big things were still expected. When his OPS slid to .756 in 2009, people said the power may still come. When he hit .267 with 10 home runs in 2010, reality set in: James Loney isn't that good anymore. He's off to a slow start (.441 OPS) and the Dodgers -- if they want to contend in a tough division -- may need to figure out a way to upgrade their offense at first base.
PHOTO OF THE DAY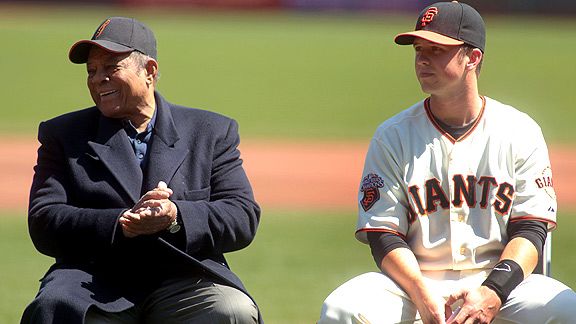 Cary Edmondson/US PresswireGiants past (Willie Mays) alongside Giants present (Buster Posey). Not bad company.