August, 22, 2013
8/22/13
10:11
PM ET
On Wednesday night, Dusty Baker used
Aroldis Chapman
for two innings to close out the Cincinnati Reds' 10-7 victory over the Arizona Diamondbacks. It was only the second time all season he'd brought in Chapman before the ninth inning (the other coming in a mop-up role) and the first time he'd used Chapman for more than four outs since May 27 … of 2012.
The six-out save was born more of necessity than by design.
Jonathan Broxton
got hurt after serving up a leadoff home run and walk to start the inning (
he'll be lost for the season
), and the bullpen had thrown 5 1/3 innings the day before.
Manny Parra
and
J.J. Hoover
had been used in the seventh and
Alfredo Simon
and
Sam LeCure
both had thrown more than 30 pitches the night before, so rather than use a lesser reliever with an 8-6 lead, Baker turned to Chapman.
[+] Enlarge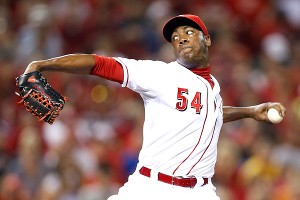 Joe Robbins/Getty ImagesIs Dusty Baker's willingness to stretch out closer Aroldis Chapman a positive sign?
Considering the Diamondbacks are the team closest to the Reds for the second wild-card spot, it was a pretty big game, all things considered, so give Baker at least a little credit for doing something he hadn't done all season. To be fair, Baker's use of Chapman isn't any different from the way other managers handle their closers, although (A) Chapman is a big, strong guy who trained as a starter in Cuba and the minors and as Bill James once wrote of a reliever named Bryan Harvey, "He's awfully strong to be throwing so few innings"; and (B) he's supposed to be better than most closers.
One way to show you're "better" is to show you can, you know, get four or five outs in big games.
Anyway, that's wishful thinking in this day and age. Closers pitch the ninth, not part of the eighth and then the ninth. Still, it means Baker has either fallen into the trap of robot managing, or believes Chapman wouldn't pitch as well with a heavier workload.
That takes us to Thursday with the
Reds leading the Diamondbacks 2-1
entering the ninth after eight strong innings by
Mat Latos
. Baker could have left Latos in since he'd thrown only 102 pitches, but the Reds rarely let Latos go to 110 pitches (only three times all season, never more than 111). He could have used Chapman, who threw 35 pitches on Wednesday. Baker said he was unavailable. Instead, he went to option No. 3, LeCure. He gave up two hits, including an infield single, but escaped the jam and got the save.
You can read the scenario in two ways or both ways: That Baker will continue to be very cautious with Chapman and will revert back to three-out saves, and/or that he had confidence in LeCure to close it out.
Either way, with Broxton out, it will be interesting to see if Baker changes his usage patterns with Chapman the rest of the regular season -- and into the postseason, if the Reds win the division or advance past the wild-card game.
May, 13, 2011
5/13/11
2:03
PM ET
The
Cincinnati Reds
have one of the deepest starting rotations in the National League -- seven-deep, in fact -- and of the seven, six of them are ages 23-27.
[+] Enlarge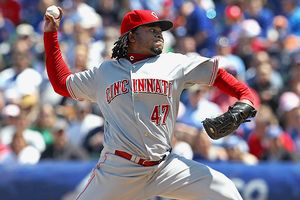 Jonathan Daniel/Getty ImagesJohnny Cueto, who'd been on the disabled list with muscle irritation in his arm, pitched six shutout innings in his season debut May 8.
Edinson Volquez
has shown flashes of being a potential No. 1 starter;
Johnny Cueto
already is a solid No. 2;
Bronson Arroyo
just wins 15 games and pitches 200 innings every year;
Travis Wood
has pinpoint control;
Homer Bailey
has the raw stuff to potentially become a No. 1; and
Mike Leake
and
Sam LeCure
are solid back-of-the-rotation arms. With one of baseball's best defensive teams behind this young, strong rotation, the Reds are built to be a World Series-contending team over the next several seasons.
Rotation depth should give them an advantage over the 162-game schedule. But the question remains: Can they compete in the playoffs? While the Phillies, Giants, Marlins, Rockies, Dodgers, Braves and Cardinals all have proven No. 1 starters, the Reds are hoping that either Volquez, Cueto or Bailey will develop into one. The hope is that they can compete with the likes of
Roy Halladay
,
Tim Lincecum
and
Josh Johnson
come October in Games 1 and 7 of important playoff matchups. The potential is there.
Here is a breakdown of their starting rotation:
Volquez, 27, has an overpowering fastball at times (90-96 mph) with an excellent changeup, an effective curveball and a hard slider. He has quick arm speed out front with whip-like action. When he's healthy, he's shown he can be a strike thrower who goes right at hitters and pounds the zone. In fact, if you want to take a snapshot of his best pitching, it was the first half of 2008, when he went 12-3 with a 2.29 ERA and a WHIP of just 1.24. Some even nicknamed him "Mini-Pedro" for that short period of success. Since then, he's had Tommy John surgery and a positive test for PEDs. The reality is he can't control the baseball like he used to. In his past start, he walked five of the first 12 batters he faced. His WHIP is 1.6, he's averaging seven walks per nine innings, and leads the league in walks with 33. Although he has the potential to be a No. 1, he looks more like a No. 3 starter, and the Reds are hoping the command and control come back sooner rather than later. The raw stuff is top-of-the-rotation talent.
Former Reds scout Johnny Almaraz recruited Cueto as an international signee . Cueto, 24, has a smaller frame with a powerful fastball in the 90-95 mph range. He's aggressive and commands the fastball well. This has allowed him to realize getting outs on the ground can be as effective as strikeouts. He has a hard, tight slider that is deceptive enough to get him punch-outs out of the zone against even some of the league's better hitters. He has a plus changeup at times, and the cutter is also effective, especially against left-handed hitters. The Reds signed Cueto to a four-year, $27 million deal before spring training. Imagine the alarm when his shoulder started barking. But thanks to one of the best medical teams in baseball, led by Dr. Timothy Kremchek, they quickly put him on a strengthening program that has him healthy again and back on track to being a solid No. 2 starter.
Arroyo, 34, is one of the best No. 3 starters in baseball. He has won at least 15 games three years in a row and has pitched at least 200 innings every season since 2005. He'll throw between 85-90 mph, with a big, slow curveball, an average slider with tilt, and an effective cutter. He varies speeds, plains, zones and really knows how to pitch. He'll try to get you to chase, and he'll try to fool you. He wins. He pitches innings. He has tremendous make-up and character and is the leader of this rotation. He is a straight shooter and a rock 'n' roller, with the hairdo, swagger and charm. Every fifth day the Reds can count on him keeping them in the game with a chance to win.
Wood, 24, is the lone lefty in the rotation. He is a competitor and a good athlete. His sinking fastball is mostly 88-91 mph with pinpoint control. He has an excellent changeup, a quality cutter, and his breaking balls -- a slider and a curveball -- have developed enough to be effective. His balls have late movement, and he keeps them out of the middle of the plate. He spent time in the offseason with
Cliff Lee
, working out and talking about pitching. Both Arroyo and catcher
Ryan Hanigan
rave about Wood and his ability to get outs with less stuff. Wood is a solid lefty who will always be referred to as a real estate pitcher, meaning location, location, location ... and late life.
Bailey, 25, has the highest ceiling of any of the Reds' starting pitchers. Like Cueto, Wood and Lecure, he was cross-checked and recommended by former Reds scout Jimmy Gonzales, who felt strongly Bailey would be a 15-18 game winner someday. Bailey had some minor injuries early in his career and used to be just a thrower. His stubbornness and inability to make adjustments due to immaturity frustrated the Reds' brass for years. However, last September, the maturity came, the light bulb went on, and Bailey is now ready to take off. His fastball is 90-96 mph with hard, arm-side sink. The pitch is so overpowering that at times he can throw it down the middle of the plate, tell the hitter it's coming, and they still can't catch up. When he was drafted, he had a big curveball that was his primary breaking pitch, but now his first breaking ball is a tight slider or cutter that is a lot more effective. His secondary offspeed pitch has improved dramatically; everything moves. He is a fierce competitor who is really coming into his own as he has learned how to pitch.
Leake, 23, the right-hander out of Arizona State, became the first player in a decade in the past season to make the major leagues without spending time in the minors. He rewarded the Reds in the first half by going 6-1 with a 3.53 ERA in 17 starts with a WHIP of 1.3 and was a ground-ball machine. Leake is not overpowering, but he used both sides of the plate and kept the ball down. The second half, however, was a different story once the innings racked up. Leake is now throwing out of the bullpen, but if there is an injury, he'll be ready to step back into the rotation. At the back end of the rotation, he is certainly capable of winning 10-12 games.
LeCure, 27, went to school at the University of Texas and was academically ineligible to pitch in 2005. That didn't stop the Reds from evaluating and drafting him after watching his bullpen sessions. His fastball can get up to 88-91 mph, and he commands his slider and changeup. LeCure is a tough kid with exceptional make-up, an over-achiever who can win at the back end of any rotation. He provides more valuable depth for the Reds.
The bottom line is that this is a really talented and deep rotation. If Volquez, Cueto and/or Bailey arrive at their fullest potential, the Reds may be celebrating at the White House and not just at Fountain Square in the Queen City or at one of Jeff Ruby's famous downtown restaurants.
Thanks for reading, and I appreciate your comments, recommendations and retweets. You can follow me on Twitter:
@JimBowdenESPNxm
.
April, 4, 2011
4/04/11
3:46
PM ET
I picked the Reds to win the NL Central for several reasons, including:
1.
Joey Votto
. Canada's hero gives the lineup a true superstar hitter.
2. Adam Wainwright's injury.
3. Concerns about Milwaukee's defense and bullpen.
4. The Reds' depth.
I'm going to focus on reason No. 4. The various projection systems all predict the National League as a complicated playoff struggle, with as many as 10 teams having a legitimate shot at the playoffs if things break right. Maybe 12 if you're so inclined to include the Mets and Padres in that mix.
That means a key component becomes who avoids injuries, who doesn't, and who has the depth to fill in.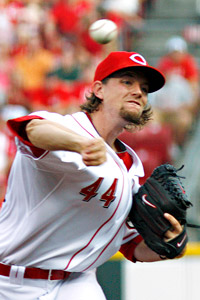 AP Photo/David KohlMike Leake started 22 games as a 22-year-old rookie last season.
The Reds are already being tested, with
Johnny Cueto
and
Homer Bailey
landing on the DL out of spring training, opening up rotation slots for
Mike Leake
and
Sam LeCure
. Here are Baseball Prospectus' projections for those two:
Leake
: 140 IP, 155 H, 50 BB, 92 SO, 4.88 ERA, 1.9 WARP (wins above replacement)
LeCure
: 135 IP, 147 H, 53 BB, 100 SO, 4.86 ERA, 2.0 WARP
Those numbers may not blow you away, but they are very serviceable for sixth and seventh starters. Leake, who makes his 2011 debut Tuesday against Houston, in particular has some upside as a former No. 1 pick who jumped straight to the majors last season. The point isn't that these two are necessarily stars, but that they're solid replacements for Cueto and Bailey. Those two are projected for a combined 5.9 WARP, meaning the drop to Leake and LeCure is about two wins over a full season.
But it's not just the rotation where the Reds have solid reserves.
Ryan Hanigan
, who hit two home runs and reached base five times on Sunday, is the best backup catcher in the majors. He posted a .361 OBP in 2009 and .405 OBP in 2010. He can particularly destroy left-handed pitchers, a nice complement to Joey Votto and
Jay Bruce
if the opposition tries to stack its rotation with lefties. Power isn't his forte, but he's worked hard on his stroke, saying, "
I want to be a dangerous guy
."
Ramon Hernandez
remains the starter, with Hanigan serving as Bronson Arroyo's personal caddy and playing regularly against lefties. Hanigan has tired in the second half in previous systems, thus Dusty Baker's reluctance to increase his playing time beyond two or three times a week.
In the outfield,
Chris Heisey
is a nice fourth outfielder, a good glove at all three positions who can hit some. He had a 103 OPS+ as a rookie last year, a fair representation of his minor league numbers. Factoring in his defense, he may actually be an upgrade over regular left fielder
Jonny Gomes
.
Paul Janish
is the team's starting shortstop and if he falters,
Edgar Renteria
is around. He's past his prime, of course, but there are worse fallback options. Waiting in the minor leagues are top prospects like first baseman
Yonder Alonso
, a former first-round pick, catcher Devin Mesoraco, who hit 26 homers in the minors in 2010, and outfielder Dave Sappelt, who hit .361 in Double-A.
Finally, I'm more bullish on
Travis Wood
than most. Wood is a small, skinny lefty without overpowering stuff who nonetheless had excellent strikeout rates throughout the minors. He averaged 7.5 K's per nine innings as a rookie and posted a 3.51 ERA. The caveat is that he's an extreme flyball pitcher (32 percent groundball rate) but allowed just nine home runs in 102 2/3 innings, an impressive total considering his bandbox home park, and a .259 BABIP (batting average on balls in play). The analysts would say he's unlikely to be so well-served by the baseball gods in 2011. ZiPS, however, projected him to a 3.64 ERA and if he can match or exceed that figure, the Reds have a solid No. 2 or 3 starter for their rotation.
Plus, they still have Joey Votto. Did I mention that?
Follow David Schoenfield on Twitter at @dschoenfield. Follow the SweetSpot blog at @espn_sweet_spot.