SweetSpot:

Santiago Casilla
October, 24, 2012
10/24/12
1:17
AM ET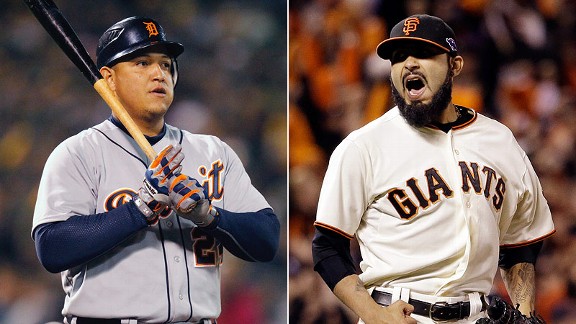 AP PhotosHow closer Sergio Romo, right, and the Giants staff deal with Miguel Cabrera could be a Series key.
It has been a long season. Remember when the Oakland A's and Seattle Mariners began in Japan way back in March? OK, you probably don't. But you've made it this far. Don't quit now. We have at least four more games left and hopefully seven. Here's why I'm watching what should be an exciting World Series between two of the game's storied franchises -- and even though this is the San Francisco Giants' 19th World Series trip and the Detroit Tigers' 11th, they've never met before.
1. Miguel Cabrera.
The best hitter on the planet on the game's biggest stage: Yeah, that's a pretty good place to start. I can't wait to see how the Giants attack him. He has been kept under wraps for the most part this postseason, hitting .278 with one home run in nine games, so he has to be careful not to press if the Giants don't give him much to hit. But I have the feeling Cabrera may show us why he won the Triple Crown.
2. Justin Verlander.
He might not win the AL Cy Young Award this season, but Verlander is the game's best starting pitcher with the game's most dominating stuff. After mediocre results in his first two postseasons in 2006 (his rookie season) and 2011, he has been lights-out so far, with three wins in three starts. No starting pitcher has ever won five games in a single postseason, but because he'll start Game 1, he could have the opportunity to start twice. One thing to watch: The A's led the league in strikeouts; the Yankees were clearly in an offensive slump of historic proportions. The Giants are a contact team against whom the strikeouts won't come quite so easily. That means more balls in play and more pressure on the Detroit's suspect defense. We'll see how Verlander responds to this tougher assignment.
3. Jim Leyland's and Bruce Bochy's place in history.
It's amazing to realize that when Leyland won the World Series with the Marlins in 1997 he was only 52 years old. Wasn't he kind of portrayed as the slightly cranky baseball lifer even then? He's now 67 and trying to win another title. He and Bochy are two of the best managers of the past quarter-century and both are going for their second championship. Neither has managed in the major media markets of New York, Chicago, Los Angeles or Boston, although Leyland has certainly received more media attention through the years than Bochy. The winner of this series may have something bigger at stake than media attention, however: a place in the Hall of Fame. Not every manager with two titles is in (Cito Gaston, Tom Kelly to name two), but Leyland is 15th on the all-time win list and Bochy is 23rd. This Series could cement their legacy.
4. Marco Scutaro.
One of the best things about the postseason is how a player like Scutaro -- a good player, although certainly more role player than star -- can become the most important guy for a team for a couple weeks. It doesn't have to be a team's No. 3 or 4 hitter who does all the damage, and Scutaro enters on a roll after knocking out 14 hits in the National League Championship Series. The Giants had an obvious parallel two years ago in
Cody Ross
, another late-season acquisition who came up big in October. Admire Scutaro for his old-school approach at the plate: He puts the ball in play with his superior contact skills, a trait lost amid this generation's incessant desire for power.
5. Matt Cain, Tim Lincecum and Madison Bumgarner.
They may not all get a World Series start -- Bumgarner's velocity and stuff have been down in recent starts -- but this trio has the chance to make its mark with a second World Series title. Think how difficult that is: Not even the Greg Maddux-Tom Glavine-John Smoltz trio was able to do that. Lincecum, of course, didn't have a good season, but that doesn't matter now. All the Giants need from him is one -- or maybe two -- good starts.
6. Intentional walks and sacrifice bunts.
Remember last year's World Series when Ron Washington and Tony La Russa went crazy with ill-advised free passes and odd bunts? It was a second-guesser's dream. I don't expect to see the same slew of erratic decisions from Leyland and Bochy, but the World Series can turn even the most level-headed of managers into chemists with a room full of potions. In the National League Championship Series, we saw how Mike Matheny's free pass to No. 8 hitter
Brandon Crawford
in Game 6 led to a big inning. Last year, Washington's intentional walk to
Albert Pujols
in Game 6 was a key decision in the Rangers' eventual defeat. In a tight series, managerial decisions can be a decisive factor.
7. Prince Fielder.
Many in the industry were not pleased when the Tigers coughed up $214 million to sign Fielder. Hey, imagine that: Tigers owner Mike Ilitch is 83 years old and wants to win a World Series. OK, so Fielder isn't riding the exercise bike after games. Despite his girth, Fielder is actually one of the most gifted hitters in the game. He seemed a little overanxious at times in the first two rounds, hitting .211 with two unintentional walks, but maybe he'll be more relaxed as he plays in his first World Series.
8. Sergio Romo.
Who says you need a closer who throws 98 mph? Romo is a guy who barely cracks 90 but has a deadly slider that hitters have trouble picking up. He's another great story, a guy the Giants never seemed to fully believe in until they were forced to use him as the closer after
Brian Wilson
was injured and
Santiago Casilla
struggled. Bochy had primarily used Romo as a right-handed relief specialist in recent seasons (last year he pitched just 48 innings in 65 appearances), but now he has earned Bochy's confidence to face all swingers -- as he should, after holding lefties to a .167 average this season. At some point, he'll probably need to protect a one-run lead against two guys named Cabrera and Fielder and that's going to be some kind of wonderful.
9. Cold weather.
Because it's always fun watch players wearing layers, ear muffs and hand warmers. Oh, wait, no it's not. The weather in Detroit this weekend may dip into the high 30s, so cold that Leyland might be given special dispensation to smoke in the dugout. But the dark, not-so-secret aspect of cold weather is the realization that the season's most important games can be played in weather more suitable for creating ice sculptures than baseball art. Let's hope foul weather isn't a factor.
10. Who will have Darrell Evans throw out the first pitch?
Yes, I've termed this the Darrell Evans World Series. You know, like if it had been the Reds versus the Tigers, we would have had the Sparky Anderson World Series. Or the Cardinals-Tigers would have been the Rematch of 1968 World Series, with highlight reels of Bob Gibson and Mickey Lolich. Instead, we get the Darrell Evans World Series, the underrated star of the '70s and '80s who played for both franchises (he was part of Detroit's 1984 World Series champs). Make it happen! We need a Darrell Evans sighting.
April, 16, 2012
4/16/12
3:43
PM ET
Monday's
Baseball Today podcast
was taped with the
Boston Red Sox
and
Tampa Bay Rays
playing a morning game in the background, but the big story in Beantown wasn't the game, as Mark Simon and I discussed.
1. What was Bobby Valentine thinking calling out
Kevin Youkilis
? You know, I still can't figure it out, but it doesn't bode well for the future. Plus, we analyze the
Jacoby Ellsbury
injury and
Cody Ross
filling in. Can the Red Sox overcome?
2. It's Power Rankings day! Are the Red Sox in the top 10? Are the Phillies? And where will Mark jump the streaking
Los Angeles Dodgers
?
3. How can the
San Francisco Giants
lose an All-Star closer and still be contenders? We explain, but we believe.
4. Mark gets us going with the first Leaderboard of the Week segment discussing an unlikely power source pacing the league in well-hit average.
5. Our emailers want to talk about the best announcers,
Miguel Cabrera
and the chalk line, and intentional walks!
So download and listen to Monday's excellent Baseball Today podcast, and get ready for another fine show on Tuesday!
April, 14, 2012
4/14/12
10:01
PM ET
By
Christina Kahrl
| ESPN.com
The news that the
San Francisco Giants
could lose
Brian Wilson
for the balance of the season sounds grim. It isn't as if there weren't warning signs coming into the season: Declining velocity and an increasing reliance on his slider made it clear he wasn't the same pitcher whose late-game endurance and power helped propel the Giants to a 2010 World Series win.
We'll have to see what
the second or third opinions
the Giants are seeking will reveal. But in the meantime, what will the Giants do with their late-game leads?
If manager Bruce Bochy follows up with his initial comment that he'll go with a bullpen by committee, it should mean save opportunities will go to righties
Santiago Casilla
and
Sergio Romo
, with lefties
Javier Lopez
and
Jeremy Affeldt
possibly in the mix as well. Bochy and the Giants have been here before, of course, if just for a month last season. That was when Wilson broke down in August with a strained elbow, and made it back in time for only the last 10 days of the season. Casilla notched most of the save opportunities in Wilson's absence, although since Romo was also on the disabled list that August, you can't automatically chalk this up to simple preference for Casilla.
[+] Enlarge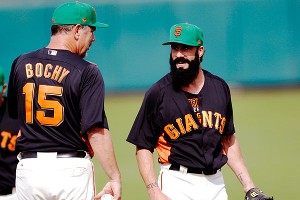 AP Photo/Marcio Jose SanchezBruce Bochy says he'll go closer-by-committee without Brian Wilson, right, but will he really?
Will we really see a closer-by-committee in action? In Bochy's long experience as a major league manager, he hasn't exactly had much chance or demonstrated any willingness to experiment with his team's save opportunities in this way. Bochy has a well-established track record of relying heavily on one designated closer, but that's largely a function of opportunity. During his 12 years managing the Padres, Bochy almost always had Trevor Hoffman to close for him.
That was true in every one of Bochy's seasons skippering the Padres save one: 2003, when Hoffman was out with shoulder surgery for most of the year. And that time around, Bochy really did compensate for the lack of a closer with a bullpen by committee, at least initially. For two months, journeymen Brandon Villafuerte, Jay Witasick, Jaret Wright, Matt Herges and Jesse Orosco all notched saves, including the last two of Orosco's long career. But even on a team going nowhere (the Pads would lose 98 games), nobody liked this solution much. Rather than stick with it, the Padres signed Rod Beck in June, and got 20 saves from the Shooter over the next three months.
That wasn't the only time Bochy has had to change gears with his closer in-season, though. In 2007, Bochy's first year managing the Giants, he once again wound up in a "manager's choice" scenario. Two months into that season, the Giants dealt Armando Benitez in the wake of a lot of public recriminations over Benitez's performance. In the absence of anyone even remotely resembling an established closer, Bochy might have gone with a committee. He didn't, making utility pitcher Brad Hennessey his stopper. Hennessey had all of one career save beforehand, but he notched 19 more before getting replaced by Wilson toward the end of the season. Wilson went on to fame, a ring and Taco Bell commercials; Hennessey never got another save in the major leagues.
So, in both of these situations, Bochy basically reverted to convention, whether that was identifying a designated temporary closer in the case of Hennessey in 2007, or having one brought in as Beck was in 2003.
What does that mean going forward? Last season, during Wilson's monthlong absence, Bochy split save opportunities between Casilla and
Ramon Ramirez
. He wound up favoring Casilla, but as I said, Romo was hurt and out of the running for part of that time. We'll see how much more than polite, for-public-consumption consideration for his top relievers Bochy's comments about a committee wind up being. But if you want to bet on what's going to happen in the next couple of weeks if Wilson really is out for the year, bet on Bochy picking one pitcher to close.
Christina Kahrl covers baseball for ESPN.com. You can follow her on Twitter.
March, 23, 2011
3/23/11
5:54
PM ET
An update from the Giants' camp now suggests that closer
Brian Wilson
will
not be ready for their season opener
due to an oblique strain. He earlier missed three weeks with lower back soreness and has made just five appearances this spring.

Wilson
Wilson, of course, has been one of baseball's best closers the past two seasons, leading the majors in saves in 2010 and tossing 11 2/3 scoreless innings during the postseason.
So would the Giants miss Wilson if his injuries lead to him missing extended time? Not really. As the Giants showed in the playoffs, they have one of the deepest 'pens in the majors, going seven deep with the likes of
Sergio Romo
,
Santiago Casilla
,
Javier Lopez
,
Ramon Ramirez
,
Jeremy Affeldt
and
Dan Runzler
. The Giants had a 2.99 bullpen ERA, second-best in the National League. Romo would likely step in for Wilson and he actually had a lower WHIP and better SO/BB ratio.
One smart thing Bruce Bochy did in 2010 was not saving Wilson for just the ninth inning. Among relievers with at least 20 saves, Wilson entered games with 30 inherited runners, third-most in the majors behind
Carlos Marmol
(40) and
Chris Perez
(31), and well ahead of more protected relievers like
Huston Street
(1),
Francisco Cordero
(4),
Brad Lidge
(6) and
Heath Bell
(9).
That said, that total placed Wilson only 84th among
all relievers
, proving yet again how the closer role is overrated. Lopez inherited 57 baserunners, Casilla 47 and Romo 46. As much as Wilson, those guys were the stalwarts of the San Francisco bullpen. They spent the season pitching out of tight jams.
I will, however, miss the beard if Wilson doesn't soon return.
Follow David Schoenfield on Twitter at @dschoenfield. Follow the SweetSpot blog at @espn_sweet_spot.