March, 17, 2013
3/17/13
8:15
PM ET
By
Christina Kahrl
| ESPN.com
I wrote
a short bit
about how the
Oakland Athletics
are that rare team that still has pretty major decisions to make this spring, about who's going to start in their infield and why. You can find this column over in ESPN's Spring Training blog, where I'll be checking in from Phoenix every day on different teams and their outlook as we approach Opening Day.
No sooner had my story gone up than today's A's-Cubs game finished up. Jesse Rogers of ESPN Chicago has
a rapid reaction
up already on the Cubs' side of things --
Scott Baker
did not do well in his debut,
Brent Lillibridge
homered to help his bid to be the last man on the bench -- but from the A's perspective, the infield plot thickened just that wee bit more after
Eric Sogard
had another good game at the plate in his start at second base, while utility infielder
Adam Rosales
ripped a pair of home runs. Curiouser and curiouser, but you can bet
Jemile Weeks
and
Scott Sizemore
are starting to hear footsteps with just two weeks left until Opening Day.
Christina Kahrl covers baseball for ESPN.com. You can follow her on Twitter.
December, 22, 2012
12/22/12
8:00
AM ET
Last weekend, I presented the top 10 teams in my
personal power rankings
. That was before the Blue Jays officially acquired
R.A. Dickey
, so I updated my top 10 after that trade, and, to spur on more debate, now present the rest of my rankings. Agree or disagree, but I do think this is the most parity we've seen in a long time. It's why the Orioles and A's were able to surprise this past season and why we will undoubtedly see another surprise team in 2013. It's a great time to be a baseball fan.
1. Nationals
Most talented rotation in the majors, deep lineup, depth. Re-signing
Adam LaRoche
to add another lefty power bat will help.
2. Reds
Superb rotation could be better if the
Aroldis Chapman
transition works, bullpen is deep enough to absorb his loss and
Shin-Soo Choo
provides a needed leadoff hitter.
3. Yankees
I think they can stretch things out more season with a deep rotation, excellent bullpen and power. Remember, they had the largest run differential in the American League last season.
4. Tigers
Deep rotation, great 1-2 punch with Miggy and Prince, and
Torii Hunter
and
Victor Martinez
should improve the lineup.
5. Braves
Left-handed power, power bullpen and a young team that could improve from last year's 94 wins.
6. Blue Jays
Addition of Dickey adds a needed No. 1 to a rotation that could be dominant if
Josh Johnson
and
Brandon Morrow
remain healthy.
7. A's
Young teams that show big improvement are usually for real, and this team has a solid rotation, a strong outfield and power arms in the bullpen.
8. Dodgers
Have to love the
Clayton Kershaw
-
Zack Greinke
combo and an offense with big upside if
Matt Kemp
and
Adrian Gonzalez
come close to 2011 levels.
9. Rangers
I think the rotation is playoff-caliber with
Yu Darvish
,
Matt Harrison
,
Derek Holland
,
Alexi Ogando
,
Martin Perez
and
Colby Lewis
.

10. Cardinals
Have to replace
Kyle Lohse
, but they'll score plenty of runs as long as
Carlos Beltran
(36 years old in April) and
Matt Holliday
(33 in January) keep producing.
11. Rays
Still some holes in the lineup, and replacing
James Shields
' 220-plus innings won't be that easy, but underestimate the Rays at your own risk.
12. Angels
Oddsmaker Bovada.lv has the Angels with the second-best odds to win the World Series (behind the Blue Jays), but I see a rotation
with a lot of question marks
behind
Jered Weaver
, and
Josh Hamilton
only replaces Hunter, who was terrific in 2012.
13. Giants
I discussed
my issues with the Giants here
. I could be wrong, although our friends at Bovada only put the Giants tied for ninth in their World Series odds.
14. Diamondbacks
Their run differential wasn't much different than the Giants last year, and they've added
Brandon McCarthy
, infield depth and still have
Justin Upton
.
15. Phillies
I want to say we're all underestimating a team that includes
Cole Hamels
,
Cliff Lee
and
Roy Halladay
, but then I see an outfield of
Darin Ruf
,
Ben Revere
and
Domonic Brown
, and an infield defense that includes
Michael Young
and
Ryan Howard
and 30-somethings
Jimmy Rollins
and
Chase Utley
.
16. Brewers
They can score runs -- most in the National League last season -- and if the bullpen regroups after 2012's gruesome late-inning efforts, this team could surprise.
17. Red Sox
There will be no expectations after the disaster in 2012 (the franchise's worst record since 1965), but I see a big rebound coming.
18. Royals
I'll buy -- but I'm not buying a playoff spot.
Eric Hosmer
and
Mike Moustakas
have to take huge leaps forward ... or the Royals could be headed for another rebuild.
19. Orioles
Last season's 93-win playoff team provided a beautiful ride, but the Orioles haven't added that big bat they need.
20. Padres
Young team is moving in the right direction after winning 76 games in 2012. Can rotation improve to push Pads over .500?
21. Mariners
Mariners have pursued a big bat all offseason but were only able to pick up
Kendrys Morales
, and he cost them
Jason Vargas
, opening up a 200-inning hole in the rotation. Looks like 2014 before Mariners can make a push in the tough AL West.
22. Pirates
Still no No. 1 or even No. 2 starter (sorry,
A.J. Burnett
is a No. 3 at best) and not enough support for
Andrew McCutchen
. One of these years, Pirates fans, one of these years.
23. White Sox
No
A.J. Pierzynski
, a declining
Paul Konerko
, good year/off year
Alex Rios
due for an off year. Then again, White Sox had a bigger run differential in 2012 than the Tigers.
24. Cubs
Rotation of
Edwin Jackson
,
Jeff Samardzija
,
Travis Wood
,
Scott Baker
and
Scott Feldman
could be competitive, but offense won't be.
25. Mets
At least Mets fans can dream of a future rotation that includes
Matt Harvey
,
Zack Wheeler
,
Jonathon Niese
and Noah Syndergaard. Unfortunately, the 2013 version still includes
Frank Francisco
and a bunch of fourth outfielders.
26. Marlins
Giancarlo Stanton
still makes this team worth watching on a daily basis.
27. Indians
Getting
Trevor Bauer
in the Choo deal added a much-needed starting pitcher prospect. Unfortunately, much of the rest of rotation remains suspect.
28. Twins
Kevin Correia
,
Vance Worley
,
Mike Pelfrey
... what, Rich Robertson and Sean Bergman weren't available?
29. Rockies
At least the Twins have a direction as they wait for young position players to reach the majors. I have no clue what the Rockies are doing, intend to do, want to do, wish to do or hope to achieve.
30. Astros
Welcome to the AL West, boys.
January, 26, 2012
1/26/12
8:30
AM ET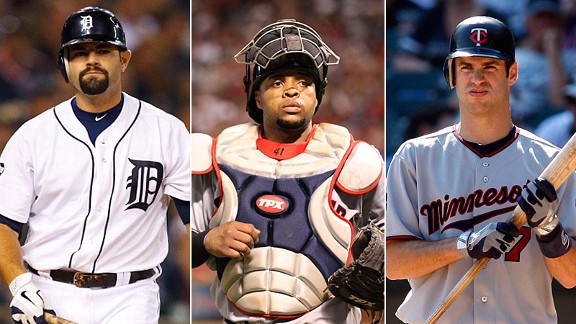 US PresswireWith Alex Avila, Carlos Santana and Joe Mauer, the AL Central is loaded at catcher.
We're back with more divisional position rankings for 2012. You can scream, you can holler, you can protest and call me names. But just because I rated your player lower than you think he deserves doesn't mean I hate your team.
(Here are the
NL East
and
NL West
rankings.)
Catcher
1.
Alex Avila
, Tigers
2.
Joe Mauer
, Twins
3.
Carlos Santana
, Indians
4.
Salvador Perez
, Royals
5.
A.J. Pierzynski
, White Sox
The AL Central might not be baseball's glamor division, but it may have three of the top five catchers in the game if Mauer bounces back from his injury-plagued campaign. Since we're not certain of his health, I'm going to give top billing to Avila, who had the best hitting numbers of any catcher outside of
Mike Napoli
and plays solid defense. I wouldn't be surprised if Santana explodes; with his power-and-walks combo, all he has to do is raise his average 30 points and he'll be one of the most valuable players in the game. Considering that his average on balls in play was .263, there is a good chance of that happening. Perez hit .331 in 39 games; OK, he won't do that again, but he doesn't turn 22 until May and puts the ball in play. There's no shame in being fifth in this group but that's where I have to place Pierzynski, who keeps rolling along and is now 36th on the all-time list for games caught.
First base
1.
Prince Fielder
, Tigers
2.
Paul Konerko
, White Sox
3.
Eric Hosmer
, Royals
4.
Justin Morneau
, Twins
5.
Matt LaPorta
, Indians
In 2009, when Morneau played 135 games, he hit .274 AVG/.363 OBP/.516 SLG. Even if he replicates that line, he may rank only fourth. Konerko has hit a combined .306 with 70 home runs the past two seasons. He's 104 home runs from 500 but turns 36 in March, so he's probably four seasons away; not sure he'll hang on that long, but who knew he'd be this good at this age. If Hosmer improves his walk rate and defense and Konerko declines, Hosmer could climb past him. If it doesn't happen this year, it will happen next. The most similar batter to him at age 21: Eddie Murray.
Second base
1.
Jason Kipnis
, Indians
2.
Gordon Beckham
, White Sox
3.
Johnny Giavotella
, Royals
4.
Alexi Casilla
, Twins
5.
Ramon Santiago
, Tigers
Well, this isn't exactly a
Robinson Cano
/
Dustin Pedroia
/
Ben Zobrist
debate, is it? Kipnis' bat is a sure thing, as evidenced by his excellent play after his call-up (.272 average and .507 slugging in 36 games). His glove was once a question mark but now appears solid enough that he looks like a future All-Star to me. Can anybody explain what has happened to Beckham? He's second mostly by default; he's gone downhill since his superb rookie season in 2009 but is only 25, so there's hope that he'll find those skills again. Giavotella has some potential with the bat (.338/.390/.481 at Triple-A), which is more than you can say for Casilla and Santiago.
Third base
1.
Miguel Cabrera
, Tigers
2.
Mike Moustakas
, Royals
3.
Lonnie Chisenhall
, Indians
4.
Danny Valencia
, Twins
5.
Brent Morel
, White Sox
We'll go with the idea that Cabrera is Detroit's starting third baseman, although I predict he'll end up starting more games at designated hitter. Manager Jim Leyland will end up doing a lot of mixing of his lineups, but for this little exercise we have to choose a starter. Moustakas didn't tear up the league as a rookie and I worry about his ability to hit lefties (.191, homerless in 89 at-bats), but he showed more than fellow rookies Chisenhall and Morel. Valencia doesn't get on base enough and he rated poorly on defense in 2011. I hope he's at least good in the clubhouse. Morel was terrible all season and then exploded for eight of his 10 home runs in September and drew 15 walks after drawing just seven the previous five months. Maybe something clicked.
Shortstop
1.
Asdrubal Cabrera
, Indians
2.
Alexei Ramirez
, White Sox
3.
Jhonny Peralta
, Tigers
4.
Alcides Escobar
, Royals
5.
Jamey Carroll
, Twins
Peralta had the best 2011 season, but he's a difficult guy to project. He had an .804 OPS in 2008 but dropped to .691 in 2009. He had a .703 OPS in 2010 and then .823 in 2011. I just don't see a repeat season, at the plate or in the field. Cabrera didn't rate well on the defensive metrics, and after a strong start he wore down in the second half. Ramirez has turned into a nice player, with a good glove and some power, and he even draws a few walks now. Escobar is a true magician with the glove. Carroll is actually a useful player who gets on base (.356 career OBP), but he's pushed as an everyday shortstop and he'll be 38. He'll be issued the honorary
Nick Punto
locker in the Twins' clubhouse.
Left field
1.
Alex Gordon
, Royals
2.
Alejandro De Aza
, White Sox
3.
Ben Revere
, Twins
4.
Michael Brantley
/
Shelley Duncan
, Indians
5.
Ryan Raburn
/
Don Kelly
, Tigers
I'm not sure what to do here. After Gordon, I just get a headache. We'll pretend to believe in De Aza after his impressive stint in the majors (171 plate appearances, .329/.400/.920). He's hit in Triple-A for three seasons now, and while he's not going to post a .400 OBP again, he should be adequate. Revere is one of the fastest players in the majors, but he's all speed and defense; he hopes to grow up to be
Brett Gardner
, which isn't a bad thing, but he'll have to learn to get on base at a better clip. Brantley doesn't have one outstanding skill so he'll have to hit better than .266 to be anything more than a fourth outfielder; Duncan provides some right-handed pop as a platoon guy. The Tigers have
Delmon Young
, but I'll slot him at DH. That leaves supposed lefty masher Raburn and utility man Kelly to soak up at-bats; both had an OBP below .300 in 2011, although Raburn has hit better in the past.
Center field
1.
Austin Jackson
, Tigers
2.
Denard Span
, Twins
3.
Grady Sizemore
, Indians
4.
Lorenzo Cain
, Royals
5.
Alex Rios
, White Sox
I can't rate Sizemore any higher since he's played just 104 games over the past two seasons, and he hasn't had a big year since 2008. Rios was terrible in '09, OK in '10 and worse than terrible in '11. I'm not betting on him.
Right field
1.
Shin-Soo Choo
, Indians
2.
Brennan Boesch
, Tigers
3.
Jeff Francoeur
, Royals
4.
Josh Willingham
, Twins
5.
Dayan Viciedo
, White Sox
Choo would like to forget 2011, but there's no reason he shouldn't bounce back and play like he did in 2009 and 2010, when he was one of the 10 best position players in the AL. I don't expect Francoeur to deliver 71 extra-base hits again, but maybe he'll surprise us. Viciedo is apparently nicknamed "The Tank," which makes me wonder how much ground he can cover. He did improve his walk rate last season in the minors and turns 23 in March, so there's still room for more growth.
Designated hitter
1.
Billy Butler
, Royals
2.
Travis Hafner
, Indians
3.
Ryan Doumit
, Twins
4. Delmon Young, Tigers
5.
Adam Dunn
, White Sox
Has there been a bigger prospect disappointment than Young in the past decade? I mean, yes, there were complete busts like
Brandon Wood
and
Andy Marte
, but those guys had obvious holes in their games, while Young was viewed as a
sure thing
, a consensus No. 1 overall prospect. But his bat has never lived up to its billing. Other than one decent year in Minnesota, he has low OBPs and he clearly lacked range in the outfield. His career WAR on Baseball-Reference is minus-0.2 (1.6 on FanGraphs), meaning he's been worse than replacement level. He's just not that good, Tigers fans.
No. 1 starter
1.
Justin Verlander
, Tigers
2.
John Danks
, White Sox
3.
Justin Masterson
, Indians
4.
Luke Hochevar
, Royals
5.
Carl Pavano
, Twins
Masterson was better than Danks in 2011, and I do believe his improvement was real. He absolutely crushes right-handers -- they slugged an anemic .259 off him. Danks had two bad months but has the longer track record of success. Even in his "off year" he had a higher strikeout rate and lower walk rate than Masterson. If you want to argue about Hochevar versus Pavano, be my guest.
No. 2 starter
1.
Doug Fister
, Tigers
2.
Ubaldo Jimenez
, Indians
3.
Gavin Floyd
, White Sox
4.
Francisco Liriano
, Twins
5.
Jonathan Sanchez
, Royals
Yes, sign me up for the Doug Fister bandwagon club. Jimenez's fastball velocity was down a couple miles per hour last season but the positives are that his strikeout and walk rates were identical to 2010; he'll be better. Floyd isn't flashy but he's now made 30-plus starts four years in a row, and he'll become a very rich man when he becomes a free agent after this season. Sanchez won't have the luxury of pitching in San Francisco (and to eight-man NL lineups).
No. 3 starter
1.
Max Scherzer
, Tigers
2.
Scott Baker
, Twins
3.
Philip Humber
, White Sox
4.
Bruce Chen
, Royals
5.
Josh Tomlin
, Indians
I could be underrating Baker, who was excellent last season, but only once in his career has he made 30 starts in a season. Tomlin's fans will disagree with this ranking, but he's a finesse guy who relies on the best control in baseball (21 walks in 26 starts). He's the kind of guy you root for, but the league seemed to figure him out as the season progressed.
No. 4 starter
1.
Felipe Paulino
, Royals
2.
Rick Porcello
, Tigers
3.
Jake Peavy
, White Sox
4.
Derek Lowe
, Indians
5.
Nick Blackburn
, Twins
Scouts still love Porcello's arm and I know he's just 23, but he's made 89 big league starts and shown no signs of getting better. His WHIP has increased each season and his strikeout rate remains one of the lowest in baseball. Paulino has an electric arm -- he averaged 95 mph on his fastball -- and
is
getting better. How could the Rockies give up on him after just 14 innings? How could the Astros trade him for
Clint Barmes
? Anyway, kudos to the Royals for buying low on the guy who may turn into their best starter. Peavy can't stay healthy. Lowe has led his league in starts three out of the past four seasons, but I'm not sure that's a good thing anymore. Blackburn is a poor man's Lowe, and I don't mean that in a good way.
No. 5 starter
1.
Chris Sale
, White Sox
2.
Jacob Turner
, Tigers
3.
Aaron Crow
/
Danny Duffy
, Royals
4.
Fausto Carmona
/
David Huff
/
Jeanmar Gomez
, Indians
5.
Brian Duensing
/
Jason Marquis
, Twins
Welcome to the AL Central crapshoot. Turner and Sale have the most upside, but one is a rookie and the other is converting from relief. Crow will also be given a shot at the rotation, but his difficulties against left-handed batters (.311 average allowed) don't bode well for that transition. Even if the artist formerly known as Carmona gets a visa, what do you have? A guy with a 5.01 ERA over the past four seasons. Duensing is another typical Twins pitcher, which means he at least throws strikes. His first full season in the rotation didn't go well, so of course the Twins brought in Marquis, yet another guy who doesn't strike anybody out.
Closer
1.
Jose Valverde
, Tigers
2.
Joakim Soria
, Royals
3.
Matt Thornton
, White Sox
4.
Chris Perez
, Indians
5.
Matt Capps
, Twins
Four good relievers plus Matt Capps. I do admit I'm a little perplexed by Perez, however. In 2009, he struck out 10.7 batters per nine innings. In 2010, that figure fell to 8.7 but he posted a pretty 1.71 ERA. In 2011, it was all the way down to 5.9, but without much improvement in his control. Perez blew only four saves but he did lose seven games. He survived thanks to a low .240 average on balls in play. He's an extreme fly-ball pitcher but didn't serve up many home runs. Bottom line: I'd be nervous.
Bullpen
1. Indians --
Vinnie Pestano
,
Rafael Perez
,
Tony Sipp
,
Joe Smith
,
Nick Hagadone
2. Royals --
Jonathan Broxton
,
Greg Holland
,
Louis Coleman
,
Tim Collins
,
Jose Mijares
3. Tigers --
Joaquin Benoit
,
Octavio Dotel
,
Phil Coke
,
Daniel Schlereth
,
Al Alburquerque
4. White Sox --
Jesse Crain
,
Jason Frasor
,
Will Ohman
,
Addison Reed
,
Dylan Axelrod
5. Twins --
Glen Perkins
,
Alex Burnett
,
Anthony Swarzak
,
Kyle Waldrop
,
Lester Oliveros
If you're starting to think I'm not high on the Twins for this season, you would be correct.
Intangibles
1. Royals
2. Indians
3. Tigers
4. White Sox
5. Twins
I like the youthful exuberance of the Royals, plus the likelihood of improvement from the young players and the possibility of some midseason reinforcements from the minors. The depth of the bullpen will help bolster a shaky rotation, and this just feels like an organization that is finally starting to believe in itself. The Indians are riding last year's positive results and enter the season knowing they might get better production from Choo and Sizemore and full seasons from Kipnis and Chisenhall. I'm not knocking the Tigers here, but they do lack depth in the pitching staff and the pressure is on them.
The final tally
1. Tigers, 65 points
2. Royals, 55 points
3. Indians, 54 points
4. White Sox, 46 points
5. Twins, 35 points
No surprise here: The Tigers will be heavy favorites to win the division with a lineup that should score a ton of runs. I don't think it's a lock that they'll win -- Verlander, Avila, Peralta and Valverde will all be hard-pressed to repeat their 2011 campaigns, for example. But the Royals and Indians appear to have too many questions in the rotations, the White Sox have serious lineup issues, and the Twins have a beautiful ballpark to play their games in.
July, 6, 2011
7/06/11
2:30
PM ET
It was quite the dust storm of
a show on Wednesday's Baseball Today podcast

as Keith Law and I gathered from many miles apart to discuss important matters, with plenty of happy, upbeat topics such as …
1. The
Roger Clemens
trial is about to begin … oh wait, we said
happy
topics. Why, Roger, why?
2. Wednesday is a huge day for the
New York Yankees
, but we doubt a certain shortstop will be a part of it. It's about the right-handed pitcher.
3. Similarly, the
St. Louis Cardinals
officially get
Albert Pujols
back Wednesday … well, they did on Tuesday but they kind of didn't, too.
4.
Jon Lester
and
Scott Baker
each left their outings early Tuesday … both are obviously important to their "contending" teams, but … wait, did I say contending?
5. Arizona radio hosts are up in arms over something, and people outside of Arizona demand to know why. For the love of
Gerardo Parra
we explain.
Plus: Excellent emails, why
Mike Cameron
will save the Marlins, what it means to be the player to be named later, Indians versus Pirates, Upstairs versus Downstairs,
Matt Kemp
's MVP case and a look at Wednesday's slate of pitching matchups, all on a packed Baseball Today for Wednesday! Check out all the podcasts at
ESPNRadio.com/podcenter
.
July, 1, 2011
7/01/11
2:05
PM ET
We've spent the last month watching
Cliff Lee
and
Justin Verlander
pitch as well as any major league pitcher can.
CC Sabathia
and
Roy Halladay
keep winning, as they always do. Even the Pirates' rotation is getting some well-deserved attention with the Bucs two games over .500 entering July. I find myself rooting for the Twins'
Scott Baker
. Baker doesn't have a 98-mph fastball or a saw-your-hands-off cutter he throws 25 times a game. He's merely a quiet guy on a struggling Midwestern team you won't see doing any commercials, but he just finished June with a complete game, a 10-strikeout game and a nine-strikeout game and he's become as effective on his home field as any pitcher in baseball.
[+] Enlarge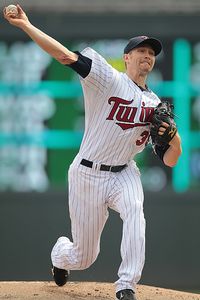 Jesse Johnson/US PresswireScott Baker has a 3.15 ERA and 101 strikeouts in 105.1 innings for the Twins.
Baker was Minnesota's Opening Day starter in 2010, but he stumbled through a seven-start stretch last June and July, going 2-5 with a 6.30 ERA and allowing 53 hits in 40 innings. His elbow flared up and required several cortisone shots just to finish the season. He pitched through it, going 5-0, 3.18 in his last 10 starts but was relegated to long man duty in the Twins' bullpen for the playoffs before finally having bone chips removed from the elbow in October. This spring, he worked his way back into Minnesota's rotation, but only as the fifth starter, and after opening the year just 2-4 has now gone 4-1, 1.89 in his last five starts. So, what's changed?
Baker's average fastball velocity of 91.2 miles per hour ranks him only 55th among major league starting pitchers. Yet his strikeout rate with his fastball, 22.8 percent, places Baker sixth among starters, ahead of names like Verlander,
Tim Lincecum
and
Josh Beckett
. This is where the Baker case becomes something of a riddle. He's throwing his fastball with virtually the same speed and frequency which he did last season. Yet opponents, who hit .307 against the Baker fastball in 2010, are batting only .225 against the pitch this year.
As this is happening, Baker's curveball is getting pounded and he's throwing it more often, 14.2 percent of the time this season, way up from last season's 5.8 percent rate. Opposing hitters, who batted just .140 against the Baker curveball in 2010, are suddenly belting the pitch at a .333 clip this year. Pitch frequency charts clearly show a curveball that Baker primarily threw to the lower left corner of the strike zone last season now often hangs squarely in the middle of the hitting area, where it's being put into play 45 percent of the time. However, Baker's BABIP (batting average on balls in play) at spacious Target Field is down from .314 last season to .290 this season.
It appears Baker's improved fastball command and more frequent fastball/curveball mix are keeping opposing hitters off-balance, leading to more strikeouts and fewer balls hit cleanly into play. Hitters who saw the Baker curveball only 7 percent of the time with two strikes last season are seeing the curve more than twice as often as an out pitch this season, 16 percent of the time, and while the pitch is getting hit, Baker is using his home ballpark's big dimensions in his favor. Baker's home ERA has plummeted from 3.86 last season to 2.21.
While opposing hitters chase more Baker curveballs, his fastball is leading to more strikeouts. Baker's strikeout-per-nine innings rate at Target Field has increased from 7.4 to 9.5. In his past four home starts, Baker is 3-1 with a 0.29 ERA. In Wednesday's 1-0 win over the Dodgers, Baker threw 87 of his career-high 119 pitches for strikes and following the game was sixth in the American League with 101 strikeouts.
Over his past four starts, Baker has nearly doubled his curveball usage with hitters chasing the pitch twice as frequently. This has made his two-strike fastball a vastly more effective pitch. When Baker does throw his more traditional fly ball, it's staying in his big home ballpark more often and now as we enter July, it's all combined to turn Minnesota's fifth starter back into its ace.
Follow Steve Berthiaume on Twitter @SBerthiaumeESPN.
October, 9, 2010
10/09/10
11:53
PM ET
There is a parallel dimension -- actually, an infinite number of parallel
dimensions
-- in which the
Minnesota Twins
scored four or five runs Saturday night against the
New York Yankees
. In this dimension, the
Twins still lost the game
, because the Yankees still scored six runs.
The other big difference between that dimension and ours? In that dimension, wiseacres like me are questioning Ron Gardenhire's choice of
Brian Duensing
to start a game the Twins absolutely had to win (in this dimension, anyway).
Duensing posted a 2.63 ERA this season. Granted, he started only 13 games this season. But including last season, Duensing has started 22 games in the major leagues, and in those games he's 12-3 with a 2.93 ERA. You can't blame Duensing's manager for being impressed by those numbers. In this or any other dimension.
Still, it's not clear that Duensing is the Twins' third-best starter. His career strikeout-to-walk ratio is solid: 2.27. He's also left-handed, which is little help against the Yankees' right handed (and switch) hitting lineup. Meanwhile,
Scott Baker
entered 2010 as the Twins No. 1 starter, is a righty, and his 3.44 strikeout-to-walk ratio this season was the sixth best in the American League.
In a parallel dimension, the Twins picked up a couple of key hits Saturday night. They still lost, though, because Duensing gave up five runs. In that same universe, Baker actually relieved Duensing and fared quite a bit better. And guys like me wondered why Baker didn't just start the game, as his entire career suggested he should have.
In this dimension, though? The Twins could manage just one run against
Phil Hughes
,
Kerry Wood
,
Boone Logan
,
David Robertson
, and
Mariano Rivera
. In this dimension, Gardenhire was irrelevant.
September, 3, 2010
9/03/10
12:11
PM ET
Thursday night's
loss
was a tough one for the Twins; after their starting pitcher exited early with an elbow injury, they wound up losing in 13 innings. Making things worse: Ron Gardenhire used two starters in relief. And as Aaron Gleeman notes,
this shouldn't happen in September
:
Obviously teams don't plan for 13-inning games in which their starter departs after two innings, but if the Twins had simply called up a few pitchers from Triple-A when rosters expanded Wednesday none of that would have been an issue and they wouldn't have overworked Crain and Duensing while screwing up the rotation for the next week. Alex Burnett, Anthony Slama, Pat Neshek, Rob Delaney, and Anthony Swarzak are all on the 40-man roster and could have been added to the bullpen two days earlier.

Instead the Twins added zero pitching reinforcements, blew out the entire pitching staff in a 13-inning loss, and are now planning to call up various fresh arms for tonight's game. In fact, the rotation is so screwed up now that they're adding 27-year-old Matt Fox to the 40-man roster just so he can make his big-league debut starting tonight against the first-place Rangers. Without last night's disaster there's a decent chance Fox never pitches in the majors. Good for him, bad for the Twins.

And it all could have been avoided by simply expanding the roster on September 1.
Why didn't the Twins call anybody up on Wednesday? It's not like the Rochester Red Wings are fighting for the International League pennant. In fact, at 48-92 they've got the worst record in Triple-A. In retrospect, the decision to spurn Slama or Swarzak or Neshek or whoever seems quite unconscionable.
Matt Fox is probably going to lose to the Rangers tonight. Maybe it ultimately matters, probably it doesn't.
The Twins have bigger problems. With
Kevin Slowey
and now
Scott Baker
dealing with elbow injuries, the Twins might be down to
Brian Duensing
as their No. 3 starter and that just isn't going to work in October. Toss in
Justin Morneau
's continuing non-availability, and winning the American League Central might become a heroic victory, but ultimately a somewhat hollow one.