May, 26, 2012
5/26/12
12:51
AM ET
By
Christina Kahrl
| ESPN.com
Exactly one year ago,
Buster Posey
went from sure thing to question mark. It wasn't because of anything he failed to do, it wasn't because he hadn't fulfilled every expectation for his greatness. If anything, it was a matter of professional hazard: He was a catcher protecting home plate, and when
Scott Cousins
took his shot at scoring, Posey was there, trying to make a play. Instants later, Posey went from the best young catcher in baseball to a young man in agony at home plate.
Giants fans were understandably devastated. Posey was the best thing to happen to catcher offense since Mike Piazza. His rookie-season performance -- hitting .305/.357/.505 with 18 home runs, gunning down 29 percent of stolen-base attempts and winning the National League Rookie of the Year award -- created a heightened expectation of what was to come. He was the new bright light on a defending champion; a first-rounder who hadn't just lived up to his promise, he'd taken the Giants to the promised land. And then, one play at the plate later, Posey was dealing with a case of career, interrupted.
Now, one year later, we can say that interruption, however avoidable, however unfortunate, has cost Posey little in terms of what he's able to do. One year later, and he's hitting like the same kid catcher who provided so much joy in 2010: .297/.364/.473, not very different from the .297/.366/.479 line that ESPN Insider's Dan Szymborski projected for him via ZiPS before the season. Posey is fourth in OPS+ and OBP among regular receivers, sixth in slugging, seventh in homers. Quibblers might note that Posey is throwing out just 22 percent of stolen-base attempts, but when people are testing you scarcely more often (0.77 attempts per nine innings) than they do
Yadier Molina
(0.69), that's a sign of respect of what Posey is to this day: A big-league catcher.
Losing sight of Posey's comeback might be easy, especially after the Dodgers' torrid start. The Giants have had more than their share of problems beyond that:
Brian Wilson
's broken beyond repair this season and
Pablo Sandoval
's out with a broken hand for a few more weeks yet.
Tim Lincecum
has delivered just one quality start in 10 this season, and took another beating at the hands of the Fish Friday night. The long-standing
Aubrey Huff
versus
Brandon Belt
debate over who should be playing first base has been fairly pointless with both men's bats missing in action.
But in the big picture, Posey is just the leading example of how much is going right for the Giants already. He joins
Melky Cabrera
's crazy-good start, and Posey's handling a pitching staff that, outside of Lincecum's woes, may very well be the league's best. In the two wild-card-team era, that's something any skipper could work and win with.
You can consider me an interested party as an observer to Posey's misfortune because, this time last year, I'd selected Posey in
ESPN's franchise player draft
. I'd picked Posey before he suffered the injury, but the horror of this play at the plate came before we went to press. In an act of generosity, I was asked if I wanted to change my pick from Posey, taking anyone left on the board. I thought about it … and I said no.
I said no because I believed, or because I wanted to believe, not just in Posey's promise of what could be, of what was supposed to be, but because I wanted to believe that he'd be back, that he would be every bit the player he'd already been and was always meant to be. I believed because I'm a fan, and in the way that every fan wants to see players play, I wanted to see Posey play again. Call it faith if you want, faith in a player, faith in the miracle of modern orthopedics, but I believed Posey would be back.
It wasn't simple fandom on my part, and I don't think any of us kid ourselves over the amount of work that went into his getting back on the field. Frankly, as a Northern Californian and an A's fan in the late '70s, I grew up hating the Giants, resenting the affection they received from a fawning press still buzzing off a contact high from Willie Mays, where Charley Finley's franchise received -- and deserved -- derision. No, if I was a fan of anything, it was Posey's game, a fan of what baseball deserves, of what he deserves.
So, seeing Posey take the field in Florida to face the Marlins on this unhappy anniversary, you can consider me guilty of a contact high of my own, one that comes from getting to say that this is one of those happy non-news stories: That Buster Posey remains the player he's supposed to be. And whether you root for the Giants or against them, that's a beautiful thing, all by itself.
PHOTO OF THE DAY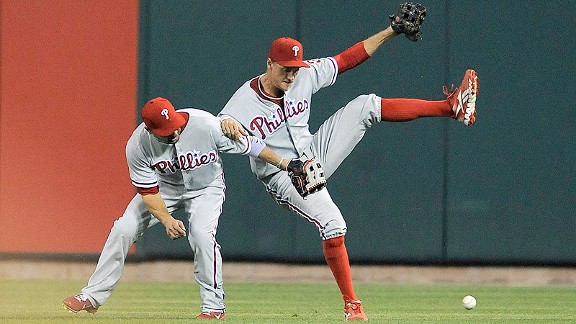 Jeff Curry/US PresswireHunter Pence does a little dance with Shane Victorino, but nobody was the worse for wear.
Christina Kahrl covers baseball for ESPN.com. You can follow her on Twitter.
June, 3, 2011
6/03/11
1:46
PM ET
We finish the week as we do every Friday, with a packed
Baseball Today podcast

hosted by myself and Mark Simon dealing with many factors and looking ahead to a fun weekend. Here are a few highlights from Friday:
1.
San Francisco Giants
GM Brian Sabean goes off on the man who ended his catcher's season, and Mark and I agree it doesn't seem like the wisest course of action.
2. So much for matchup of star pitchers in Seattle Thursday, as
Felix Hernandez
was terrific but
James Shields
must have missed the memo. How should we view Shields' outing?
3. We debate stars versus superstars, trying to define what these words mean and which players fall into which categories. You might be surprised!
4. Seems like the three-homer games are in vogue now, as
Aubrey Huff
was the latest to pull off the accomplishment. Who's next? And no, taking Joey Bats or
Joey Votto
is too easy. Mark and I go off the grid for unlikely names.
5. There are a few series this weekend matching winning teams (in terms of record), so we analyze the ones you shouldn't be missing ... and of course the Mets play the Braves on Sunday night. That was for you, Mark!
Plus: Excellent emails discussing sabermetricians, more on our franchise draft picks, snobs versus dorks, reaching base after "fowling" a ball off yourself, and so much more we could barely get it all in before we lost our voices. Check out Friday's Baseball Today!
May, 26, 2011
5/26/11
4:10
PM ET
Here are the top five reasons why Thursday's Coffee Talk, um,
Baseball Today podcast

with myself and Keith Law had all the emotions, from serious to silly and all between, and why you should listen:
1. It's a shame
Buster Posey
's season ended Wednesday night, but would there be calls to change the rules if it was someone else? We attack all angles of this situation.
2
Wilson Valdez
saves the Phillies in the 19th inning! We discuss a very long game, the good, bad and unfortunate.
3. How can we avoid the Brewers being on fire? Well, we have reasons, but we deal with them today.
4. European baseball players and the "Big Whack": discuss. No, I can't discuss but this is right up Law's alley, and I learned something.
5. There will be much fun at Coors Field today. There generally is when
Micah Owings
is pitching ... and hitting!
Plus: Excellent emails, Oakland's offensive help in the minors, taking advantage of defensive shifts (or not) and even a little Mets talk in a Yankees-free but still crazy and wild Baseball Today podcast for Thursday!