February, 13, 2013
2/13/13
11:00
AM ET
2012 in review
Record: 89-73 (88-74 Pythagorean)
767 runs scored (3rd in American League)
699 runs allowed (7th in AL)
Big Offseason Moves
Signed free agent
Josh Hamilton
to five-year, $125 million contract. Traded
Kendrys Morales
to Mariners for
Jason Vargas
. Traded
Jordan Walden
to Braves for
Tommy Hanson
. Signed free agents
Ryan Madson
,
Sean Burnett
and
Joe Blanton
. Traded
Ervin Santana
to Royals. Lost
Torii Hunter
,
Zack Greinke
,
Dan Haren
,
Maicer Izturis
,
LaTroy Hawkins
and
Jason Isringhausen
.
What to make of general manager Jerry Dipoto's busy offseason? In some ways, it's just a reshuffling of the deck chairs.
Hunter: 5.5 WAR, 88 runs created in 584 PAs
Hamilton: 3.4 WAR, 115 runs created in 636 PAs
At quick glance, Hamilton looks like the far superior hitter in 2012, creating 27 more runs in a few more plate appearances. Once you adjust for home-park environment, Hunter edges a little closer, then when you factor in Hunter's superior defense (Hunter plus-15 defense runs saved, Hamilton minus-9 DRS), you can see why Hunter moves ahead in wins above replacement. That doesn't mean Hamilton was a bad signing; Hunter was unlikely to repeat his season -- at the plate or in the field -- and Hamilton might have a better year. In terms of 2012 value versus 2013 value, however, this looks pretty even.
Vargas and Hanson: 2.8 WAR and minus-0.9 WAR (392 IP)
Haren and Santana: minus-0.6 WAR and minus-1.6 WAR (354.2 IP)
Haren and Santana
were
pretty bad last year, posting high ERAs despite playing in a pitchers' park and with a good defense behind them. Hanson remains an injury risk, but Vargas has developed into a solid innings-eater and should put up good numbers in Angel Stadium with
Mike Trout
and
Peter Bourjos
running down fly balls behind him. This should be an upgrade of a few wins over 2012 performance. However, some of that is given back with the Blanton signing, given that he's unlikely to replicate the Greinke/
Jerome Williams
rotation slot. So unless Hanson is healthy and pitches better than last year, this looks like a minor upgrade -- maybe a win or two.
Morales out, Bourjos in.
Bourjos won't produce as much offense as Morales, but adding his elite glove back to the outfield on a regular basis is a big plus. Still, if Morales is 20 runs better at the plate than Bourjos and Bourjos is 20 runs better than
Mark Trumbo
in the outfield, that's another equal tradeoff.
The bullpen should be better, although Madson -- returning from Tommy John surgery -- has already been shut down with a sore elbow.
In the end, I can't give the Angels' offseason that high of a grade, especially given that they didn't get the guy they
really
wanted: Greinke. But at least give Dipoto credit for adjusting to not getting Greinke by signing Hamilton and trading for Vargas.
Position Players
The Angels have the best player in baseball, a 40-homer guy, one of the greatest players of all time who is still pretty good even if he's in decline, a Gold Glove-caliber center fielder, a 32-homer designated hitter and two middle infielders who hit pretty well for middle infielders. The catcher hits OK for a catcher, and the third baseman at least puts up a decent OBP.
That's a lineup without a glaring weakness. It's a lineup that will be as fun to watch as any in the game. Is it a great lineup, however, or just very good?
Aside from Trout's sophomore campaign and Hamilton's transition across the AL West,
Albert Pujols
is the guy to pay attention to. Take away his homerless April and he hit .297/.357/.553. His days as a .400 OBP machine are long gone thanks to the continued deterioration in his walk rate, but a lot of teams would still like Pujols anchoring their lineup.
The one problem area? Depth. There is none (no,
Vernon Wells
doesn't count). The Angels do have some players with injury histories, so we'll see whether that comes into play.
Pitching Staff
A year ago, we were talking about the possibility of the Angels having four 220-inning starters. Instead,
C.J. Wilson
led the staff with 202.1 innings.
Jered Weaver
, Wilson and Vargas should be a solid top three, although Wilson had his elbow cleaned out in the offseason. His first season with the Angels was a bit of disappointment -- 3.83 ERA after a 3.14 ERA with the Rangers over the previous two seasons -- and if his walk rate remains at 4.0 per nine innings, it's going to be difficult to get that ERA under 3.50.
Blanton is a bit of wild card in the fifth spot. He's the opposite of Wilson -- a guy who basically throws strikes and hopes his defense helps him out. He had a 4.79 ERA in the National League over the past three seasons, so there's a good chance he won't last the season in the rotation.
The Angels' bullpen had a 3.97 ERA last year, ranking ahead of only Cleveland and Toronto in the AL. But it was arguably even more problematic than that. Only the Yankees' pen threw fewer innings, so Mike Scioscia was able to concentrate his innings in his best relievers. Although
Ernesto Frieri
did an excellent job as the closer after coming over from the Padres, it was the middle relief that hurt the club. The Angels lost 12 games when they led heading into the seventh inning -- 3.5 more than the major league average. Madson was supposed to help out there (or assume closer duties, with Frieri sliding to the seventh and eighth) but is a big question mark. The one thing the Angels do have is three good lefties in Burnett,
Scott Downs
and rookie
Nick Maronde
, if he's kept on the big league roster as a reliever instead of starting in the minors.
Heat Map to Watch
With a quick glance at Trout's heat map, you can see he punished low pitches. On pitches in the lower half of the zone, he hit .360/.396/.608 -- the best OPS in the majors against pitches down in the zone. Does that mean pitchers should attack Trout up high this year? Possibly. But if you attack up in the zone, that means doing it with the fastball. Trout hit .297/.397/.509 in plate appearances ending in fastballs. Which is actually kind of scary: He already has shown he can cream the off-speed stuff. Good luck, pitchers.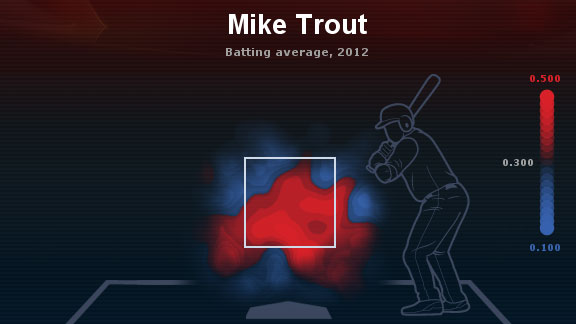 ESPN Stats & InformationWhere do you pitch Mike Trout? Working him low in the zone didn't pay off in 2012.
Overall Grade

The Angels might be the best team in the American League. With Trout, Pujols and Hamilton, they might have the best offensive trio of any team in baseball. In Weaver, they have a legitimate No. 1. That makes them one of the top World Series favorites, at least according to the latest odds in Vegas.
But they were in that position last year and failed to make the playoffs despite Trout's monster rookie season. I worry about the lack of depth behind the starting nine and the back end of the rotation. I don't think Pujols will put up better numbers than last year, and I don't think Hamilton will hit 43 home runs again. The Angels will surely be in the playoff chase, but I don't expect them to run away with the division -- and they might not win it.
What do you think?
August, 26, 2012
8/26/12
11:00
PM ET
I just returned from vacation and spent a portion of the weekend catching up on the HBO series "The Newsroom." The show has been a little uneven -- what's with all the personal discussions and arguments taking place right in the middle of the newsroom, in front of everyone? -- but a recent episode did present an interesting dilemma.
The theme of the show's first season has been the challenges the newscast faces as it transitions to broadcasting more legitimate news and less fluff. Set in 2011, when the newscast doesn't initially cover the Casey Anthony trial the ratings drop dramatically, so the producers have to decide: Do you give more air time to the trial or to the more important debt-crisis debate going on in Congress?
Well, the
Boston Red Sox
are Casey Anthony. The
Los Angeles Angels
are the debt crisis. It's a sexier issue to talk about
Josh Beckett
's golf outings than
Ervin Santana
's hanging sliders. It's a lot more fun to break down Bobby Valentine's personality conflicts -- misunderstood genius or funny-nose-and-glasses nutty? -- than to break down Mike Scioscia's bullpen usage. Tabloid headlines about chemistry issues and unhappy players will bring in more readers than stories about
Dan Haren
's earned run average.
So the dark clouds that hovered over the Red Sox all season had been the car crash we couldn't keep our eyes off. Like it or not, the Red Sox bring in the ratings. While the Red Sox finally, mercifully, died when general manager Ben Cherington seduced the Dodgers with Saturday's big trade, dangling
Adrian Gonzalez
in order to purge the contracts of Beckett and
Carl Crawford
, in the end the Red Sox story was more fluff than substance, beginning with this: The Angels, not the Red Sox, have been the season's most disappointing team.
Not that expectations weren't high for the Red Sox, of course, but consider the preseason predictions for the Angels:
Of 50 people who voted on ESPN.com's preseason predictions list, 25 picked the Angels to win the American League West and 21 picked them to win a wild card. Only four predicted they would miss the playoffs.

Of those 50 voters, only one picked the Red Sox to win the AL East and 15 picked them to win a wild card. Thirty-four picked them to miss the playoffs.

The Angels were also the overwhelming consensus World Series pick -- remarkably, 18 of the 50 voters picked them to win it all, 10 more than other team (eight chose the Rangers). Only one person picked the Red Sox.
So on a national level, the Angels were the big story heading into the 2012 season, not the Red Sox. According to the vast majority of ESPN's baseball contributors, the Red Sox weren't even supposed to be a playoff team. (Before Angels fans jump all over me, it's obviously too early to write off the Angels just yet. They're 66-62 after
losing 5-2 to the Tigers on Sunday
, four games behind the wild-card leading trio of Tampa Bay, Oakland and Baltimore, and also 3.5 games behind Detroit. So they have 34 games left to pass at least three teams and claim one of the two wild-card spots.)
But a one-game coin-flip affair is not what the Angels expected after signing
Albert Pujols
and
C.J. Wilson
in the offseason and then acquiring
Zack Greinke
at the trade deadline. Remember when the spring-training storyline was how the Angels-Rangers rivalry was going to develop into baseball's best? Well, wake me up when it begins. The Angels are 9.5 games behind the Rangers, closer in the standings to the Mariners than to the Rangers.
What's remarkable about the Angels is they're in this position despite the unexpected MVP-caliber season from
Mike Trout
and improvement from
Mark Trumbo
. And Pujols, even with his homerless April, is essentially on pace to match his 2011 numbers with the Cardinals. Unlike the Red Sox, the Angels don't even have the injury excuse to fall back on. The only significant injury has been to catcher
Chris Iannetta
. Reliever
Jordan Walden
missed most of July and half of August and set-up man
Scott Downs
missed a couple of weeks, but even there the Angels caught lightning in a bottle with
Ernesto Frieri
.
Trout's monster season, of course, has served to obscure the Angels' inability to stay close to Texas. He has deservedly been the most intriguing individual player story of the season. I think everyone kept expecting the Angels to go on a big streak; it hasn't happened. And now it's getting late.
While Trout's rise to stardom wasn't expected -- at least, not this quick and not at
this
level -- the Red Sox's collapse fit neatly into the spring-training angst that the media stirred up: chicken, beer, Bobby Valentine, a meddling ownership and so on. While there were obvious issues inside the Boston clubhouse, those stories served to detract attention from the real reasons the Red Sox are 61-67: Beckett,
Jon Lester
and late-game bullpen issues.
Even with all the missed time from
Jacoby Ellsbury
,
David Ortiz
and Crawford, the Red Sox are second in the American League in runs scored. If Beckett (5.23 ERA) and Lester (4.98 ERA) had allowed even one run fewer per nine innings, we're talking about a 32-run improvement -- or about three wins. If they were 1.5 runs better per nine innings, we're talking a 48-run improvement -- or about five wins. Add five wins, and the Red Sox are 66-62 ... the same as the Angels. The Red Sox have lost 12 games they've led entering the seventh inning; cut that down to a more normal total of six and the Red Sox have 72 wins -- just two fewer than the Yankees. You can blame clubhouse chemistry; I'll blame the team's two aces and a lousy bullpen.
So the Red Sox are now irrelevant; they won on Sunday but nobody cares. The Angels lost again and it's time to start analyzing why. And asking the obvious follow-up question: Are there chemistry issues in the Angels' clubhouse?
PHOTO OF THE DAY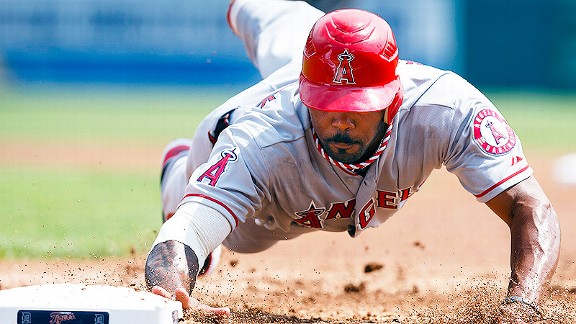 Rick Osentoski/US PresswireHoward Kendrick's dive back to the bag reflects an Angels team that isn't advancing.
April, 18, 2012
4/18/12
8:00
AM ET
First base: Double trouble for D-backs.
Justin Upton
sat out Tuesday's game against the Pirates due to the thumb injury he suffered April 8. Manager Kirk Gibson said his star right fielder -- batting .212 without an RBI -- saw a hand specialist and would likely undergo an MRI. "The thumb's been bothering him," Gibson
told the Arizona Republic
. "He's pushed hard through it. We've taken a day to re-evaluate what's going on with his thumb." To make matters worse for Arizona,
Chris Young
crashed into the wall in left-center making a leaping grab and left the game with a shoulder bruise. He too will undergo an MRI. The D-backs received a lot of criticism for signing
Jason Kubel
in the offseason, but this is where having four outfielders is an asset, not a problem. If Young can't go,
Gerardo Parra
can handle center.
Second base: Gold Glovers struggling on defense.
Two-time Gold Glove winner
Troy Tulowitzki
committed just six errors last season but he made his sixth already in 2012, letting an easy double-play go through his legs, an error that led to two unearned runs and nearly cost
Jamie Moyer
his "oldest pitcher to win a game" achievement. Meanwhile, two-time Gold Glover
Evan Longoria
booted two grounders and made a throwing error for a three-error night in Tampa's 7-3 loss to the Blue Jays (three of
Jeff Niemann
's five runs were unearned). While Longoria just had one of those nights, Tulo's situation appears more serious, a possible "fielding slump" that is worth keeping an eye on.
Third base: No A's for Angels.
Mike Scioscia removed
Dan Haren
after just 85 pitches, with the Angels leading 2-1 with two runners on and two out in the seventh. Lefty
Daric Barton
was up for the A's so Scioscia brought in
Scott Downs
, who did retire Barton to escape the jam. Even though Downs' is the team's best setup guy -- a guy who has proven he can retire right-handed hitters as well as lefties -- Scioscia took him out after four pitches and brought in
Kevin Jepsen
, a guy considerably lower in the bullen pecking order. Two walks and two hits later it was 3-2 Oakland, and then
Yoenis Cespedes
made it 5-2 with a two-run single off
David Carpenter
. Why Jepsen? Or why remove Haren so soon if your bullpen has been taxed in recent days?
LaTroy Hawkins
had thrown 31 pitches on Monday so was probably unavailable. Downs had thrown 14 pitches, hardly reason to limit him to four pitches.
Jason Isringhausen
had thrown 21 pitches on Sunday -- but Carpenter had thrown 37. The obvious question: Why not use closer
Jordan Walden
... you know, for
more than three batters.
He's thrown two innings all season -- one inning in a 7-1 win and one inning in a 7-3 loss. In other words, he hasn't thrown a meaningful inning all season. In the last week, the Angels' bullpen has lost two leads in the eighth inning and one in the seventh. But whatever you do, SAVE YOUR CLOSER FOR THE NINTH INNING.
Home plate: Tweet of the day.
Rockies pitcher tweeting members of the Los Angeles Clippers after Jamie Moyer's win:
Shout out 2 boys from @laclippers.U witnessed history 2nite! @blakegriffin @bobbysimmons21 @mowilliams @RandyFoye Will u b able 2 dunk @ 49?

— Jeremy Guthrie (@JGuthrie46) April 18, 2012
April, 13, 2012
4/13/12
1:06
AM ET
For all the consternation and criticism dished out over the Boston Red Sox's 1-5 start, another expected American League power is off to a sluggish opening week as well: The
Los Angeles Angels
are 2-4 after
coughing up 20 hits and an eighth-inning lead
in losing 10-9 to the Minnesota Twins on Thursday.
There is one obvious difference between the two starts: The Red Sox have been outscored 38 to 22 while the Angels are even-up 30 and 30. On the other hand, the Red Sox have played the Detroit Tigers and Toronto Blue Jays while the Angels have faced
Bruce Chen
,
Luke Hochevar
,
Jonathan Sanchez
,
Nick Blackburn
,
Carl Pavano
and
Francisco Liriano
. Not exactly Maddux, Glavine and Smoltz there.
Actually, based on ESPN.com's preseason predictions, maybe it's not fair to label the Red Sox an "expected power." After all, 34 of 50 voters predicted the Red Sox to miss the playoffs. Only one -- fantasy expert Matthew Berry -- picked the Red Sox to win the American League East. Meanwhile, 25 of the 50 picked the Angels to win the AL West and 46 of 50 picked them to make the playoffs.
The Angels were easily the most popular World Series pick as well, with 18 of the 50 selecting them to win it all -- 36 percent, a pretty amazing total since last time I checked there are some other pretty good teams around. Only one voter (Karl Ravech) picked the Red Sox to win the World Series.
OK, those are just predictions and as our SweetSpot network blog affiliate says, you can't predict baseball. Still, since ESPN's panel of experts did essentially declare the Angels the World Series favorite, it seems like a fair time to ask:
What's wrong with the Angels and why aren't their fans ready to fire the manager, whine about overpaid left fielders and complain about the bullpen?
Well, it's Los Angeles, for one thing. No less enthusiastic, but perhaps slightly less pessimistic. Still, we can't get all crazy about the Red Sox and just ignore the Angels getting bulldozed by a mediocre Twins lineup.
True fact: In 2011, the Red Sox had a run differential of plus-138. The Angels had a run differential of just plus-34. As good as
Albert Pujols
and
C.J. Wilson
are, and as good
Kendrys Morales
may prove to be, that's still a lot of ground for the Angels to make up.
So, in the spirit of early-season panic, here are some things that could go wrong with the Angels.
1. Jered Weaver doesn't repeat his career season.
Weaver is a terrific pitcher. He has increased his innings each season he has been in the big leagues, peaking at 235.2 last season, when he ranked fifth in the league. It's not a knock against him to say he might not be quite as stingy with the runs as in 2011. But check his basic numbers in 2010 and 2011:
In some regards, he actually pitched better in 2010, most notably in strikeout rate. His walk rate, home run rate and hit rate were all pretty similar, thus his Fielding Independent Pitching runs per nine was basically identical. So why did he allow 18 fewer runs in 2011? A couple primary reasons: 15 of his 20 home runs were solo shots as opposed to 15 of 23 in 2010; he allowed a .195 average with men on base in 2011 versus .236 in 2010. In other words, if you consider hits to be randomly distributed, they worked in his favor last season. Also note: After a hot start in 2011, his second-half ERA rose from 1.86 to 3.21 as he surrendered 15 home runs in 95.1 innings. He's off to a great start in 2012 in one regard: 17 strikeouts and just one walk. But he's allowed five runs for a 3.21 ERA. Random distribution, my friends.
2. Potential bullpen issues.
Mike Scioscia left
Rich Thompson
in to allow four runs in the eighth inning on Thursday, the first two on
Justin Morneau
's go-ahead two-run homer and then two more that proved costly when the Angels scored twice in the ninth. Now, Scioscia would have loved to have had lefty
Scott Downs
face
Joe Mauer
and Morneau, but Downs had rolled his ankle the previous inning in a collision with
Denard Span
. Fellow lefty
Hisanori Takahashi
had already been used since starter
Dan Haren
lasted only five innings.
But put of the reason Thompson was in there was that ancient relievers
LaTroy Hawkins
and
Jason Isringhausen
were apparently unavailable to pitch since both had thrown the night before, Hawkins for 16 pitches, Isringhausen for 10. Seems odd, since neither had pitched on Tuesday. But why not extend closer
Jordan Walden
for five outs? Thompson is a guy who is homer-prone, so why let him face the meat of the Twins' order? Plus, isn't it a bad sign if two-sevenths of your bullpen can't pitch two days in a row? "We're going to need to get our starters maybe over that little hump and then try to get our roles in the bullpen a little more nailed down," Scioscia said. "Our guys tried. We just couldn't shut the door when we needed it."
3. Vernon Wells.
It's early, but he's hitting .217 with no walks and five strikeouts. Stay tuned.
4. Will we get good Ervin or mediocre Ervin?
Ervin Santana
had a career-low 3.38 ERA last season. He has been pretty consistent the past two seasons, but he has been plagued by minor injuries in the past, a reason his ERA rocketed up to 5.03 in 2009 and 5.76 in 2007. Just something to keep in mind.
5. Is Peter Bourjos' bat for real?
Bourjos is a supreme defender in center and he exceeded expectations last year with a .271/.327/.438 batting line. Scouts had doubts about his bat coming up through the minors and he did strike out 124 times against just 32 walks in 2011. While his .338 BABIP may be repeatable -- he is one of the fastest players in the majors, after all -- Dan Szymborski's ZiPS system projects a .261/.309/.412 line, with some regression due to a lower BABIP.
6. Mark Trumbo's defense at third.
I've written about this before
. The early returns aren't good; yes, it's early, I realize that. It's also true that since 1950 only Enos Cabell has successfully converted from first base to third base at the major league level. We don't know yet how determined Scioscia will be to keep Trumbo's bat in the lineup, but playing him at third is likely to be a liability, especially since Trumbo's low OBP means he isn't really much -- if any -- of an offensive upgrade over
Alberto Callaspo
.
7. Howie Kendrick also coming off his best season.
Kendrick posted a career-high .802 OPS in 2011, 50 points above his career mark, fueled by a career-high 18 home runs. It's possible that power growth was real, as he appeared to sacrifice a few more strikeouts -- a career-high 20.4 percent K rate -- for a little more power while maintaining his usual .285 or so batting average. But there's also a chance it was simply his best season and he's not quite as good.
8. Maybe Albert Pujols won't be better than he was in 2011.
Hey, that's still pretty awesome, if also somewhat more mortal compared to his previous decade of production.
Look, it's only a week. The Angels should still have one of the best, and maybe
the
best, rotations in the league. They have a lot of depth and versatility in the lineup, although it remains to be seen who will be a second and third big bat behind Pujols.
The larger point is this: This isn't a perfect team in my book, certainly one that shouldn't rate as such a landslide favorite to make the playoffs and win the World Series.
So, yes, I just managed to slam 49 of my ESPN colleagues. This is what the first week does to us.
PHOTO OF THE DAY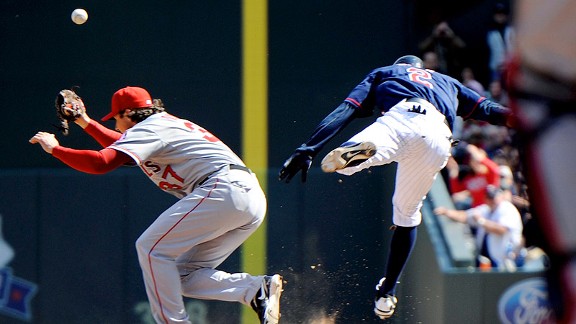 Hannah Foslien/Getty ImagesAngels pitcher Scott Downs collides with Minnesota's Denard Span, injuring his ankle in the process.
February, 12, 2011
2/12/11
1:00
PM ET
By
Drew Fairservice
| ESPN.com
To call general manager Alex Anthopoulos a folk hero in Toronto does him a disservice. Sources tell me plans for a statue in his honor are already under way, a tribute to the Great Unloading (also known as the
Vernon Wells
trade). Despite not sniffing the playoffs in 18 years, an incredible amount of good will and buzz surrounds this
Toronto Blue Jays
team. The minor league system underwent a complete overhaul and the team hired a fleet of scouts. It is hard to argue the future isn't bright in Toronto.
[+] Enlarge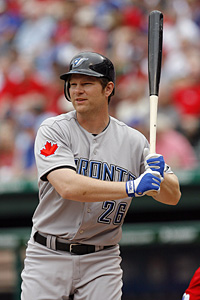 Tom Pennington/Getty ImagesThe Blue Jays are counting on a productive season from slugger Adam Lind.
Until we consider 2011, that is. The 2010 Blue Jays won a surprising 85 games, never competing seriously for a playoff spot but making a good show of themselves in the process. The young pitching staff excelled in the absence of
Roy Halladay
with
Ricky Romero
and
Brandon Morrow
jostling for the Opening Day starter role for years to come. Free-agent acquisitions
John Buck
and
Alex Gonzalez
provided best-case scenario contributions: huge power numbers for cheap before giving way to draft pick compensation (in Buck's case) and sell high/buy low trade opportunities (i.e. Gonzalez traded for
Yunel Escobar
.)
While the Jays brass keep their eyes firmly on the prize -- with 2012 pegged as the earliest possible season to make a playoff run -- the expectations of many fans jumped ahead of the intricate plan laid out by the brain trust. Fans clamber for big-name signings, hoping the elusive final piece falls into their collective lap.
For Blue Jays fans, the immediate future might be a little rockier than they expect. None of the losses suffered by the Blue Jays figure to torpedo the season. For the team to win 85 games again, far too many things must go right.
The rotation must stay healthy. While the No. 5 starter spot saw more than its share of pretenders; the top four Blue Jays hurlers toed the rubber at least 25 times apiece. A figure that would be higher had the team not shut down Morrow early in September. While replacing
Shaun Marcum
's 200 innings is tough, it won't be the first time this team filled a gaping rotation hole. Young
Kyle Drabek
has the makeup and stuff to slot into the rotation directly, but he, too, comes with innings limits.
Staying healthy is vital for every team, rebuilding or otherwise. The Jays racked up the third-most days spent on the disabled list in all of baseball,
according to Fangraphs research
. A closer look at those numbers reveals the true impact of these maladies wasn't quite so severe.
Dirk Hayhurst
,
Jesse Litsch
,
Scott Richmond
and
Dustin McGowan
spent much of or all of 2010 on the shelf. Only McGowan at his peak had an honest shot of making the rotation or any discernable impact.
The bullpen underwent a complete rebuild as well. A virtual parade of competent right-handed pitchers now lurk in the 'pen, hoping to scoop up whatever stray saves come their way. Losing versatile "setup" man
Scott Downs
is a huge blow for any team. Downs was long the team's best reliever and the man generally tasked with the highest-leveraged work.
Adam Lind
and
Aaron Hill
need to decide which season was a fluke: Was it 2009, when they powered the middle of the lineup, or their ugly 2010 seasons?
Jose Bautista
is not going to hit 54 home runs again, so the Jays need these two key players to produce runs in bunches. Maybe throw a walk in there for good measure.
The future is bright for the Blue Jays. Financial agility coupled with a renewed pipeline churning out major league-ready talent positions the Jays perfectly to make multiple runs at the playoffs. Be prepared for some growing pains in 2011.
Drew Fairservice writes the Blue Jays blog Ghostrunner on First. Follow him on Twitter.
February, 9, 2011
2/09/11
1:55
PM ET
By
Evan Brunell
| ESPN.com
The Angels and
Jered Weaver
are headed to arbitration on Wednesday; the ace has requested a salary of $8.8 million while the team is countering with $7.375 million.
For those bad at math, the difference between the two salaries is a mere $1.425 million, with $8.09 million as the midpoint between the two salaries. It's a pretty small gap that shouldn't have been very difficult to bridge.
[+] Enlarge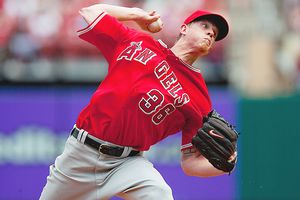 Dilip Vishwanat/Getty ImagesAfter shelling out $86 million for Vernon Wells, the Angels are now in arbitration with ace Jered Weaver.
Except the whole arbitration hearing being scheduled for Wednesday clearly indicates the two sides can't come to an accord, which is rather baffling. The Angels just shelled out $86 million (or $81 million, depending on what you believe) for the rights to slot a declining
Vernon Wells
in left field over the next four seasons.
But the Angels can't bridge a gap that essentially amounts to $1 million for their ace? A guy, you know, you might want to keep happy?
You'll have to forgive me for pointing the finger at the Angels. The culprit in all this could very well be Weaver, who could be holding out for the $8.8 million and refusing to settle. But after the curious offseason the Angels have had, it wouldn't come as a surprise if L.A. was suddenly crying that they don't even have two pennies to rub together.
Wells' trade has been exhausted at this point, so no need to recap it. It may have improved the team on the baseball side of things -- even that is in doubt -- but it destroyed their financial ledger. The Angels will top $130 million in payroll this season and already have $75 million on the books for 2012.
Then you have the bizarre rantings of owner Arte Moreno, who excoriated the Red Sox for the cash outlay given to
Carl Crawford
. Never mind that the Angels were poised to offer a similar amount and that Crawford was as perfect a fit for the team. Instead, he acted shocked at the sticker value for Crawford and ran into Toronto's open arms, taking Wells for the same age that apparently bothered L.A. about Crawford.
After losing Crawford, L.A. licked its wounds by handing
Scott Downs
a three-year, $15 million contract. This after giving fellow lefty reliever
Hisanori Takahashi
two years for $8 million. Yes, relief pitchers were vastly overpriced on the market, but the Angels didn't need to go commit those kind of dollars to middle relievers. (And all the more oddly enough, GM Tony Reagins appeared to be serious when he characterized the signing of Takahashi as a splash.)
After shelling out $23 million for two middle relievers and losing out on Crawford, what did the Angels do before striking for Wells? Sat on their hands while
Adrian Beltre
went to a division rival. They again chose to lowball a player that made too much sense for the Angels, who had a wide-open spot at third waiting for Beltre. But hey,
Alberto Callaspo
.
In the Reagins regime, the Angels seem to have made one misstep after another. In the process, everything the Angels have stood for in previous years have been wiped out. The team is increasingly getting older, lacking playmakers and playing station-to-station baseball.
Earlier this offseason, someone said that it felt the Angels were negotiating as if they were the only team in baseball. This has stuck with me all offseason as it rings all too true.
And so that brings us back to Weaver and arbitration. Like I said, this could all be Weaver's doing, but it would not surprise me to learn that the Angels were negotiating as if the player and arbitration hearing didn't matter.
Evan Brunell runs the SweetSpot Red Sox blog at Fire Brand of the American League.