SweetSpot:

Scott Podsednik
June, 7, 2012
6/07/12
12:56
AM ET
"Show us some respect," yell Baltimore Orioles fans. Or maybe they're politely demanding. But I've seen the complaints in the Power Rankings comments, read the emails sent to "Baseball Today," been asked the question in my chats: Why doesn't anyone believe in the Orioles?
The Orioles traveled to Fenway Park this week in a precarious situation. They've lost two of three in Tampa. They've been swept in Toronto. They've lost two of three at home to Kansas City. They've lost two of three at home to Boston. They haven't won a series since the big weekend showdown in Washington from May 18-20.
So, yes, the concerns all of us "experts" had been raising -- it's a long season, let's see what happens to the rotation, let's find out if some of the hitters can keep up their hot starts, the bullpen can't keep its ERA under 2.00 all season -- were proving true. The O's were 27-14 after winning the second against the Nationals but had gone 3-10 since, with the staff posting a 4.95 ERA while the offense scored 3.5 runs per game.
These were the Orioles we all expected. And then they beat the Red Sox in extra innings on Tuesday. And then they
beat the Red Sox 2-1
on Wednesday behind a solid effort from
Wei-Yin Chen
and scoreless innings from
Pedro Strop
and
Jim Johnson
. They're 5-0 at Fenway in 2012 and Chen is now 5-2 with a 3.49 ERA. The key moments came in the seventh inning after the Red Sox threatened with a pair of singles to start the frame. But after a sacrifice bunt, Chen struck out
Marlon Byrd
and induced
Mike Aviles
to pop out to first base.
Normally, Buck Showalter might have turned to his stellar bullpen, but after Tuesday's victory, in which the bullpen threw five innings, he left Chen to escape the jam. He set up Byrd with three fastballs and then got him swinging on a beautiful changeup. He threw three more fastballs to Aviles that he couldn't get around on. Don't underestimate Chen. His stuff plays up big, with his four-seamer reaching 94 mph. His last pitch to Aviles was clocked at 93. In 11 starts, he allowed two or fewer runs seven times and I think this outing will give Showalter more confidence to stretch Chen a little deeper into games.
So the Orioles remain in first place for another day, half a game ahead of the Yankees. Is it time to show them a little respect, to give Orioles fans what they crave? Let's do some position-by-position rankings to help sort out this tightly packed division. Rankings are simply listed in order of who I would want the rest of the season.
(Season-to-date Wins Above Replacement from Baseball-Reference.com, before Wednesday's games, listed in parenthesis.)
Catcher
1.
Matt Wieters
, Orioles (1.6 WAR)
2.
Jarrod Saltalamacchia
/
Kelly Shoppach
, Red Sox (1.6)
3.
Russell Martin
, Yankees (0.7)
4.
J.P. Arencibia
, Blue Jays (0.2)
5.
Jose Molina
, Rays (0.1)
There is a case to be made that Boston's duo is more valuable since they've combined for 14 home runs and an OPS over .900. But Wieters brings elite defensive skills and I also don't believe Salty is going to slug .583 all season. For the second consecutive season, the Rays are essentially punting offense at catcher. Rays catchers have the worst OPS in the majors.
First base
1.
Adrian Gonzalez
, Red Sox (0.8)
2.
Mark Teixeira
, Yankees (0.6)
3.
Mark Reynolds
, Orioles (-0.6)
4.
Carlos Pena
, Rays (0.4)
5.
David Cooper
/others, Blue Jays (incomplete)
Gonzalez is still struggling to get his stroke going, but he's the best of a weak group. Yes, I just called Mark Teixeira weak, but at this point he's a low-average guy who pops a few long balls, doesn't draw as many walks as he once did and isn't as great on defense as Yankee fans believe. But in this group that's good enough to rank second. Reynolds has a low WAR but he's missed time and that includes his bad defense at third base, a position we've hopefully seen the last of him playing. The Jays, meanwhile, need to quit fooling around at first base and find a legitimate hitter, or move
Edwin Encarnacion
there and find a designated hitter. You hate to waste a potential playoff season because you can't find a first baseman who can hit. (No, David Cooper is not the answer, although he's hit well so far in 11 games.)
Second base
1.
Robinson Cano
, Yankees (2.1)
2.
Dustin Pedroia
, Red Sox (1.8)
3.
Kelly Johnson
, Blue Jays (2.1)
4.
Ben Zobrist
, Rays (0.7)
5.
Robert Andino
, Orioles (0.6)
I love Ben Zobrist almost as much as two scoops of Vanilla Heath Bar Crunch from Ben & Jerry's, but a .199 average isn't going to cut it in this group, even if you are on pace to draw 100-plus walks. Zobrist has actually play more right field so far, but should be back at second on a regular basis with
Desmond Jennings
back.
Third base
1.
Evan Longoria
, Rays (1.4)
2.
Brett Lawrie
, Blue Jays (3.1)
3.
Alex Rodriguez
, Yankees (1.2)
4.
Kevin Youkilis
/
Will Middlebrooks
, Red Sox (0.5)
5.
Wilson Betemit
/
Steve Tolleson
, Orioles (-0.1)
Lawrie's WAR is boosted by defensive metrics that treat him like he's the second coming of Brooks Robinson. He's a good player but don't I think he's been the second-best position player in the American League. Longoria hopes to
return at the end of the Rays' current road trip
. As for A-Rod, his health is always a question at this stage of his career, but Youkilis has health questions and I'm not a believer in Middlebrooks' ability to hit .321 with power all season. His 29/4 strikeout/walk ratio is something pitchers should learn to exploit. As for the Orioles ... third base is an obvious concern. But don't expect a rare intra-division trade to acquire Youkilis.
Shortstop
1.
J.J. Hardy
, Orioles (2.1)
2. Mike Aviles, Red Sox (2.2)
3.
Derek Jeter
, Yankees (0.9)
4.
Yunel Escobar
, Blue Jays (1.9)
5.
Sean Rodriguez
, Rays (1.9)
Wait ... Jeter has been the
least
valuable of this group so far? The other four all rate as excellent fielders -- in fact, Baseball-Reference rates them all in the top 13 fielders in the AL. Jeter, meanwhile, ranks 310th in the AL on defense -- out of 313 players.
Left field
1. Desmond Jennings, Rays (1.2)
2.
Daniel Nava
/
Carl Crawford
, Red Sox (1.7)
3.
Brett Gardner
/
Raul Ibanez
, Yankees (0.3)
4.
Eric Thames
/
Rajai Davis
, Blue Jays (-0.1)
5.
Endy Chavez
/
Xavier Avery
/
Nolan Reimold
, Orioles (-0.3)
Not to keep picking on the Orioles, but this is another problem position, especially if Reimold's disc problems lingers all season. Nava has quietly been a huge savior for the Red Sox, batting .305 with a .438 OBP. He's drawing walks at a crazy rate. He should slide some but he's provided the kind of depth the Orioles don't have.
Center field
1.
Adam Jones
, Orioles (2.5)
2.
Curtis Granderson
, Yankees (1.3)
3.
B.J. Upton
Rays (0.9)
4.
Jacoby Ellsbury
/
Scott Podsednik
/Marlon Byrd, Red Sox (0.5)
5.
Colby Rasmus
, Blue Jays (1.3)
Ellsbury might be the biggest wild card in this race, because the Red Sox can't survive much longer with the Podsednik/Byrd platoon. When will he return? How will he hit? He just started throwing and could
return by the end of the month
. I've conservatively put him fourth, which seems fair considering the unknown. And please note, Orioles fans, that I believe in Mr. Jones.
Right field
1.
Jose Bautista
, Blue Jays (0.9)
2.
Matt Joyce
, Rays (2.2)
3.
Nick Swisher
, Yankees (-0.1)
4.
Cody Ross
/
Ryan Sweeney
, Red Sox (1.6)
5.
Nick Markakis
/others, Orioles (0.3)
Markakis is out three to four weeks with a broken bone in his wrist, an injury that once again reflects Baltimore's lack of depth. But all five teams are solid in right field. Ross is about to return from his broken foot; we'll see if he pounds the ball like he was before the injury (.534 slugging).
Designated hitter
1.
David Ortiz
, Red Sox (1.4)
2. Edwin Encarnacion, Blue Jays (1.6)
3. Revolving Door, Yankees
4.
Chris Davis
, Orioles (0.3)
5.
Luke Scott
, Rays (0.0)
No respect for Davis? OK, he's hitting .295/.333/.494. And he has 53 strikeouts and eight walks. Sorry, call me skeptical, O's fans. Yankee designated hitters have actually fared well, hitting a combined .279/.354/.467 with 10 home runs.
No. 1 starter
1.
David Price
, Rays (2.2)
2.
CC Sabathia
, Yankees (1.9)
3.
Ricky Romero
, Blue Jays (0.3)
4.
Josh Beckett
, Red Sox (0.5)
5.
Jason Hammel
, Orioles (1.9)
Look, Hammel has been terrific so far thanks to a career-high strikeout rate
and
a career-high ground-ball rate. But this is tough group and the question is who is going to be best moving forward? My biggest concern is that Hammel has never pitched 180 innings in a season. Can he pitched the 210 to 220 that you need from a No. 1?
No. 2 starter
1.
Brandon Morrow
, Blue Jays (1.1)
2.
James Shields
, Rays (-0.4)
3.
Andy Pettitte
, Yankees (1.5)
4. Wei-Yin Chen, Orioles (0.7)
5.
Jon Lester
, Red Sox (-0.4)
I like Chen. Heck, right now I like him better than Jon Lester, which tells you how much I like him. But he averaged just 172 innings in Japan over the past three seasons. Can he hold up over 32 starts?
No. 3 starter
1.
Jeremy Hellickson
, Rays (1.0)
2.
Hiroki Kuroda
, Yankees (1.4)
3.
Felix Doubront
, Red Sox (0.4)
4.
Brian Matusz
, Orioles (0.2)
5.
Henderson Alvarez
, Blue Jays (0.4)
Matusz is holding his own at 5-5, 4.41, but he's still walking a few too many, allowing a few too many hits, a few too many home runs. The velocity is solid, averaging 91 on his fastball. We're talking minor upgrades needed in his command, getting the ball down in the zone more often to get more groundballs. If the Orioles are to have any chance, Matusz's improvement may be the single most important aspect.
No. 4 starter
1.
Matt Moore
, Rays (-0.6)
2.
Ivan Nova
, Yankees (0.3)
3.
Jake Arrieta
, Orioles (-0.4)
4.
Clay Buchholz
, Red Sox (-1.2)
5.
Kyle Drabek
, Blue Jays (-0.1)
Five pitchers who have struggled, but Arrieta's peripheral numbers are actually pretty solid. Like Matusz, there is hope for improvement. On the other hand, he's been awful since pitching eight scoreless innings against the Yankees on May 2, giving up 29 runs in 31.2 innings. His BABIP was .243 through May 2; it's .361 since. The truth is probably right in the middle, leaving Arrieta third on our list of fourth starters.
No. 5 starter
1.
Alex Cobb
/
Jeff Niemann
, Rays (0.3)
2.
Drew Hutchison
, Blue Jays (0.1)
3.
Phil Hughes
, Yankees (0.2)
4.
Daisuke Matsuzaka
/
Aaron Cook
/
Daniel Bard
, Red Sox (-0.3)
5.
Tommy Hunter
, Orioles (-0.5)
Hunter isn't really a major league starter, but I'm not sure
Jamie Moyer
-- just signed to a minor league contract -- is exactly a solution. The Orioles need to upgrade here.
Bullpen
1. Yankees (2.76 ERA)
2. Orioles (2.48 ERA)
3. Red Sox (3.66 ERA)
4. Rays (3.43 ERA)
5. Blue Jays (4.39 ERA)
If you watched Pedro Strop and Jim Johnson close out Wednesday's win, you'll realize the back of the Orioles' end has two guys with filthy stuff.
Darren O'Day
and
Luis Ayala
are strike-throwing machines and
Troy Patton
is a lefty who isn't a LOOGY. It's a good pen and it's deep. But the reliability of the pen ties into the rotation's inability to pitch deep into games -- Orioles relievers have already thrown 39 more innings than Yankees relievers, for example.
OK, let's add it up … one point for ranking first, five points for ranking fifth. Hey, this isn't meant to be scientific, so don't overanalyze this too much. The totals:
Yankees: 36 points
Rays: 40 points
Red Sox: 45 points
Blue Jays: 51 points
Orioles: 53 points
Not the respect Orioles fans are seeking. Sorry about that; it's nothing personal. Look, I don't think the Orioles are going to fade away anytime soon. I worry about the rotation's ability to hold up all summer and the bullpen's workload. They lack depth on offense and have a couple of obvious holes. Hey, you never know, and the Orioles are certainly due for a winning season. I would love to see it happen.
PHOTO OF THE DAY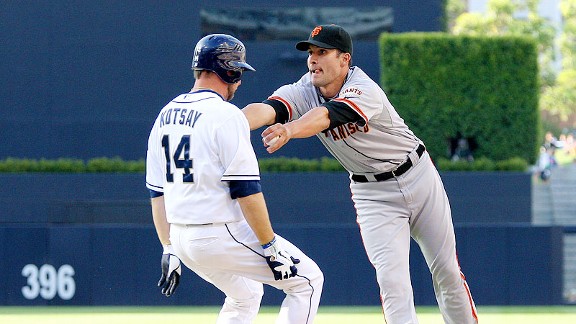 Jake Roth/US PresswireJavier Lopez is sending a message to Mark Kotsay: Tag, you're out!
November, 8, 2011
11/08/11
4:15
PM ET
By
Christina Kahrl
| ESPN.com
During Hot Stove season, the majority of attention goes to the major league free agents, of course. But every winter, attention goes to that less-heralded crop of talent dumped into the "free talent" pool, available to the highest bidder: minor-league free agents.
These are the veterans not on teams' 40-man rosters who have used up all six of their contract renewals with their original organization or whose one-year contracts have run out. As
Baseball America's Matt Eddy reported
on Friday, there are more than 530 minor-league free agents, but now there's over 600 available.
Admittedly, most of these guys are going to wind up still beating the bushes after getting no more than a spring-training invite. Their value is usually in the depth they can provide a team -- a well-run organization makes sure it has big league-ready depth available at Triple-A, because
everyone
will have to deal with injuries at one point or another.
But a handful of these guys will get big-league deals, and more will be pursued every bit as aggressively as major league free agents. Even if they're signed to non-roster deals, more than a few can anticipate winning jobs in spring training and getting added to the 40-man roster before Opening Day.
Starting with the outfielders available, more than a few guys with serious big-league experience are available:
Scott Podsednik
,
Fred Lewis
,
Jay Gibbons
,
Ryan Langerhans
and
Reggie Willits
, for example. Lewis could still prove a useful fourth outfielder in a platoon role; he clearly struggled getting fewer at-bats as a player on Dusty Baker's bench with the Reds.
There are also some former highly-touted prospects in the mix, notably
Felix Pie
and
Lastings Milledge
. Like Lewis, Pie flopped in a part-time role, but come the opening of camps next spring, he makes for a nifty stealth alternative for teams looking for a regular center fielder, especially considering he'll be just 27 years old. Milledge failed to go nuts at the plate in a full season with Triple-A Charlotte (.295/.364/.441), but he's also heading into his age-27 season -- as a bargain pickup, he might surprise, but if he doesn't the very small expense is easy enough for most teams to absorb.
Beyond the outfielders, other names worth noting at a few positions:
Catcher:
From among the more catch-and-throw types,
Rob Johnson
,
Dusty Brown
and
Dusty Ryan
, and Cole Armstrong (guys who bat lefty are always a little interesting); for bat-first/only types,
Max Ramirez
and
Jake Fox
are out there. The guy who might be especially interesting to check out is Mark Wagner, back from a hamate bone injury and perhaps finally ready to live up to the hype he once got in the Red Sox system.
Infield corners:
Jorge Cantu
and
Kevin Kouzmanoff
are the veterans with some success on their track records, while
Andy LaRoche
,
Brandon Wood
and
Jeff Clement
might represent the best of the former blue chippers who've faded like an old pair of Levi's. I'm interested in seeing where the always-fragile
Nick Johnson
lands.
Middle infield:
If you're wondering if this pool of talent holds lots of alternatives for teams unwilling to chase the big-names shortstops on the market, the answer's no.
Chin-lung Hu
might be worth a look if you think all of the weirdness of the last two years is behind him -- between injuries, an attempt to convert to switch-hitting, and a case of the yips on throwing, clearly there's a lot that has gone wrong. At the keystone, veterans such as
Felipe Lopez
,
Bill Hall
and
Kevin Frandsen
are available.
Starting pitchers:
Armando Galarraga
might be a nice guy for a team with a big outfield and distant fences to take a chance on; going to Phoenix from Detroit wasn't going to be a good fit. Laugh if you like, but somebody's going to take a look at
Oliver Perez
now that his contract's a thing of the past. Extreme strike-throwers like Matt Torra and Will Inman are available; while they're not great bets for extended success, but at the back end of big-league rotations all sorts of people can get a look.
Relievers:
Jason Bulger
and
Shane Lindsay
both cook with gas, while for ex-famous veteran types you've got names like
Robinson Tejeda
,
Vinnie Chulk
and
Lance Cormier
to choose from. I'm curious to see where Sam Deduno winds up, given a career minor-league strikeout rate of 9.6 K/9. For lefties, you're no doubt already familiar with
Hideki Okajima
and
Dennys Reyes
, but I'd be more interested in seeing where the Giants'
Alex Hinshaw
and his swing-and-miss stuff winds up; also a healed-up Donald Veal.
Christina Kahrl covers baseball for ESPN.com. You can follow her on Twitter.
May, 21, 2011
5/21/11
12:00
PM ET
By
Christina Kahrl
| ESPN.com
Yes, this is another article about the sorry state of offense in 2011. Scoring is down a fifth of a run per team from 2010, a "year of the pitcher." It's down four-tenths of a run from 2009, six-tenths of a run if you want to reach back to 2006. We've also heard about how power is a big part of this "problem," as MLB-wide isolated power is down 20-25 points from 2006. But we're not talking about something else that seems to have gone missing: leadoff hitters who are quality table-setters.
[+] Enlarge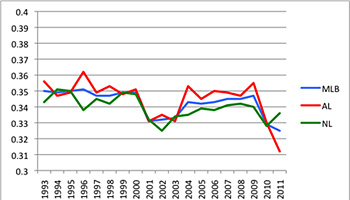 Courtesy of Baseball-Reference.comOn-base percentages for leadoff men.
We'll get into the data up front and then start seeing if we can parse what it might mean. First, there's the simple fact that OBPs for leadoff hitters are down. Last year's MLB-wide leadoff man OBP of .329 was the lowest we've seen in a full season since 1982, when it was also .329. It hadn't been lower than .329 since 1978, when the leadoff OBP was .323. From 1993-2010, the American League's leadoff OBP of .330 was its worst, the NL's .328 its second-worst. Keep in mind, leadoff OBP didn't disappear in a puff of PED ban enforcement. As the first chart reflects, leadoff OBPs weren't just stable after 2006,
they went up
. The AL's 2009 leadoff OBP of .355 was its highest since 1996. On-base percentage for leadoff men was back up where it had been in the offensive onslaught of the late '90s… until last year.
So, a low-water mark was set in 2010, the worst leadoff OBP in 32 seasons … until this spring's action. In 2011, leadoff hitters have managed to get on base at a .325 clip. It's especially bad in the American League, where leadoff men were eking out a .312 OBP through Thursday's action. More than a quarter of the way in, we're still waiting for both leagues to flip the ignition, but without any ignitors, let alone the original Paul Molitor, how is that supposed to happen?
[+] Enlarge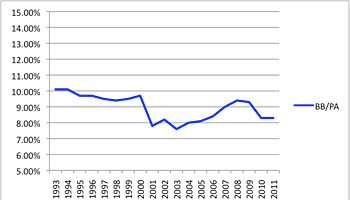 Courtesy of Baseball-Reference.comBase on balls percentages for leadoff men.
Naturally, the first question to ask is
why?
Looking at walk rates for leadoff hitters in the second table, we've obviously lost some of what we took for granted -- hitters aren't managing that walk once every 10 times up, a pace you might once have accepted as the basic standard. We're not at the bottom of a trough, but the rate is back down where things were earlier in the Aughties, and that's sub-good.
Some of that is a matter of the selection of leadoff likelies available to their teams:
Jacoby Ellsbury
is not a big-time walking man, for example, and wishing he was won't make it so, but it doesn't make him ineffective. However, in a league and time where Rickey Henderson is still retired, finding people who can draw ball four hasn't exactly been easy, which is probably why
Juan Pierre
or even
Scott Podsednik
keep getting opportunities. Some of it can also be institutional -- last year, the Rays came up with a perfectly functional creative adaptation, moving
John Jaso
and
B.J. Upton
into and out of the role as Joe Maddon played matchups. But this year they got carried away with the
Sam Fuld
phenomenon, only to learn what they already knew from his projections, which is that for a leadoff hitter he makes a heck of a defensive replacement.
Admittedly, when we think about leadoff hitters, it's easy to stick with happier memories, of the guys who are or were truly great at it: Rickey and Tim Raines in the '80s for example, or Ichiro for the past decade. You can take things down a notch and think fondly of
Ray Durham
or Tony Phillips, or from the current generation of players get sentimental about guys like
Brian Roberts
and
Chone Figgins
. And from any of these guys, you generally knew what to expect: OBPs that were .350 or higher, plenty of walks, and stolen-base totals in the 20-50 range.
But even then, there were always the other guys, the way the other half lived with their leadoff options, which pulled leadoff OBPs down around .333 year after year. If you were around in 1981, you had a rare opportunity to see one of the worst leadoff hitters of all time in action, achieving what would be, even by his standards, a career lowlight. Alfredo Griffin posted a .236 OBP leading off for the Blue Jays for the bulk of a season that was blighted by a strike. It's a mark for single-season leadoff putrescence that hasn't been underwhelmed in the 30 years since.
We can get into origin myths if you like, and ask where the great leadoff men came from and now, where they went, and whether or not we're bereft of truly elite leadoff men in this particular generation of players -- beyond admirable dinosaurs like Ichiro, of course. I wonder if we aren't just stuck in the
Michael Bourn
generation. That might not seem entirely fair to Bourn, because he's one of the better leadoff hitters by today's standards. He has posted OBPs better than league average in 2009 and 2010, after all. He's off to a slow start this season, but at least he's reliably within spitting distance of walking once every ten times and he runs well. That might represent a new, lower standard of what will do, but perhaps this isn't a burden to be Bourn, but a reflection of a changed game. Bourn makes an appropriate symbol for a time when teams are getting used to living with less offense.
Christina Kahrl covers baseball for ESPN.com. You can follow her on Twitter.
January, 28, 2011
1/28/11
1:54
PM ET
A little
lesson in humility
from Mike Scioscia's Tragic Illness:
After Scott Podsednik came to the Dodgers from Kansas City in late July, he hit an underwhelming .262/.313/.336 (79 OPS+) in 160 plate appearances with below-average defense and a net of only two stolen bases. That was all before September 9; he ended up missing most of the last month of the season due to plantar fasciitis.

Despite Podsednik's subpar performance as a Dodger and the fact that he'll be 35 in March, the club picked up their half of a $2m (plus $300k in incentives) mutual option in November. At the time, Ned Colletti seemed to leave the door open for substantial playing time for Podsednik should he return ...

--snip--

Fortunately for us all, Podsednik declined his option, and the fact that I still say that after three months of watching the Dodgers try and fail to fill that LF hole should tell you all you need to know about my opinion of Podsednik. Presumably, Podsednik's thinking at the time was that he could do better than a one year, $2m deal, particularly since reports were that he and the Dodgers were still having conversations about his return even after declining the option.

--snip--

At this point, I think it's clear that Podsednik probably screwed up by declining his option ...
You think?
But let's save some of the blame for Podsednik's agent, who might have done his best to convince his client that $2 million is a lot of money (even after taxes!) but might not have. Agents are capable of misreading the market, too. Though I suspect that's significantly less common than players misreading their own values.
For the record, here are Podsednik's estimated values,
via FanGraphs
, over the past five seasons: $0;
negative
$200,000;
negative
$1.7 million; $8 million; $1.6 million.
Granted, Podsednik made a brilliant comeback in 2009, and for a few months in 2010 he was a useful player. He'll turn 35 this spring, though. Would you bet $2 million on him at this point?
Podsednik is the sort of player you invite to spring training if your outfield is thin. Depending on what happens in spring training, you might eventually ask him to head to Triple-A and hope for the best. What you don't do is offer him anything like $2 million. The Dodgers were foolish to pick up their half of the option, and lucky that Podsednik declined. They shouldn't have any problem finding another outfielder who's cheaper, better, or both.
July, 6, 2009
7/06/09
6:52
PM ET
A few selections from the
new (and improved!) mailbag
...
Jason, in Atlanta:
Rob, you said in your chat Tuesday that Kotsay's not a good everyday 1B (with which I agree). However, why would Lowrie being around help? Would his offense be that much better than Kotsay's, or would a defensive arrangement of Youkilis at 1B and Lowrie at 3B be that much more preferable to Youkilis at 3B and Kotsay at 1B?
Why, yes I do. I believe that Lowrie -- a shortstop by trade -- might well play Gold Glove-quality defense at third base, and we know that Youkilis does play Gold Glove defense at first base. Throw in Pedroia at second, and the Red Sox might have the best defensive infield in the majors (even with
Julio Lugo
missing all kinds of stuff at shortstop). And even leaving all that aside, I believe that Lowrie, when (if?) healthy, is at least as good a hitter as Kotsay.
From Dom, in Chicago:
Rob -- where is the Scott Podsednik love? When my White Sox signed him, I have to admit I was less than enthused and thought "haven't we had enough of this experiment?". Given your opinion of him over the past several years, isn't it time to give him some props on what has been a great first half?
Well, we're talking about 57 games, at the conclusion of which Podsednik's exceeded his career on-base percentage and his career slugging percentage by 27 points apiece. Is that really something worth big props? Particularly considering that he's still a corner outfielder with league-average hitting stats? Yes, Podsednik's been surprisingly useful to the White Sox, and he does deserve credit for that. But before we start trying to
make an All-Star out of him
, let's give him another month or two to find his level.
And speaking of All-Stars (or not) and finding levels ... From Greg, in New York City:
Hey Rob. In regards to your postulating in your chat today that Cain has been pretty lucky this year, is it just as likely (or even 1/3 as likely) that he was just rather unlucky his first few years? Maybe I'm just a disgruntled fantasy league ex-Cain owner, but it seems to me that the Ks were always there, but ERA and wins (the most luck-influenced pitching stat?) always fell short. Maybe three years is too long to be considered "unlucky" but from my (unscientific) observations, it seems like maybe this year it's just finally all coming together for him (skill AND some luck).
What Greg's suggesting, I think, is that Cain's ERA's over his first three full seasons were inflated by bad luck, while his ERA this season is the product of skill and perhaps a bit of bad luck. I hope the fundamental problem with this line of analysis is fairly obvious. If not, here's something else:
Cain's fielding-independent ERA's, 2006-2009: 3.96, 3.78, 3.91, 3.95
Cain's ERA's, 2006-2009: 4.15, 3.65, 3.76, 2.48
Another reader -- who I won't mention, because he seems like a reasonable enough sort and I don't want to embarrass him -- has argued (in the mailbag) that Cain has consistently outperformed his FIP. Really? Prior to this season, Cain's career ERA and his career FIP were highly consistent with one another, both season to season and career-wise. Aside from the seven starts in Cain's rookie season (2005), there was nothing at all odd about his performance until this season. And in case I haven't mentioned it already, this season is actually just half a season.
Give the numbers a bit more time. Usually they'll prove out.
April, 30, 2009
4/30/09
2:12
PM ET
Big news: the White Sox have solved their ongoing problem in center field! From
ESPNChicago.com
:
The White Sox will call up outfielder Scott Podsednik on Friday, according to Podsednik's agent, Ryan Gleichowski.

"He's thrilled. He's in great shape, feels great and is really looking forward to this opportunity," Gleichowski said.

A Sox spokesperson said there will be no roster move announced today.

Podsednik, 33, was a catalyst for the Sox's 2005 World Series championship team. The Sox signed him to a one-year minor-league deal on April 14.
Or maybe they haven't.
From FanHouse's Ed Price:
Outfielder Jerry Owens, who was 1-for-12 this season, was spotted packing his bags after Wednesday's game, so it seems like he will be designated for assignment.

Even though the White Sox are getting just a .284 slugging percentage (no homers) and .608 OPS from center field, installing Podsednik at the position could be a mistake.

"He's gone backwards, man," said a scout who recently watched Podsednik at Triple-A Charlotte. "He doesn't look good at all. I'd keep Jerry Owens over this Podsendnik. He's a below-average center fielder right now."

The scout said Podsednik -- whose best tool was always his speed -- ran from home to first base in 4.2-4.3 seconds, which is below-average for a lefty hitter, "and he's running as hard as he can."
Do you remember when Scott Podsednik was good? Let us hearken back to the yesteryear of 2003, when a fresh-faced kid came out of nowhere to bat .314, steal 43 bases, and finish second (to
Dontrelle Willis
, and ahead of
Brandon Webb
!) in National League Rookie of the Year balloting. OK, so he was 27 and he came from Tacoma (which isn't exactly nowhere). But still, it was a good story.
Six years is a long time when you start at 27. In the five seasons since 2003, Podsednik has conistently posted numbers that are highly consistent with his minor-league stats ... which were kept him from playing regularly in the majors until he was 27. Podsednik just doesn't have it anymore, and that's sort of assuming that he actually had it, once.
This is a good story too, though. Granted, not if you're a White Sox fan. But for an outside observer, it's utterly fascinating to watch the White Sox cycle through DeWayne Wise, Jerry Owens, and now Podsednik in their seemingly perpetual quest to find a center fielder who wouldn't be overmatched in a good Triple-A league.