SweetSpot:

Scott Richmond
June, 16, 2012
6/16/12
1:50
AM ET
By
Christina Kahrl
| ESPN.com
A little more than a week ago, things looked so very different for the
Toronto Blue Jays
.
Brandon Morrow
had just delivered
a complete-game shutout
of the White Sox in the Cell, and the Jays were 30-26. In the early going, they were a reasonable candidate within baseball's newly expanded wild-card picture.
And a big part of the reason why they deserved that consideration was a "no-name" rotation that had delivered more quality starts than all but two American League rivals, the
Los Angeles Angels
and the
Chicago White Sox
.
What a difference a week makes, because first they lost Morrow to an oblique injury on Monday, his next turn. On Wednesday,
Kyle Drabek
tore up his elbow and might need Tommy John surgery. And on Friday night, rookie
Drew Hutchison
had to leave his start early with his own dose of elbow trouble. Within the space of four ballgames, the Jays might have three of five starting pitchers on the disabled list.
Perhaps no team could withstand that sort of rotation wipeout, but at least the Jays still have
Ricky Romero
in working order -- for now. How good were these three starters?
Morrow: He'd delivered a league-leading three complete-game shutouts as well as eight quality starts in his first 12, striking out 22 percent of opposing batters while cutting his walks to a career low, below 8 percent. All of the expectations that Morrow's selection as the fifth overall pick of the 2006 draft looked like they were on the verge of being fulfilled as he began to earn ace status.

Drabek: As highly touted as Morrow back in the day, and another canny trade pickup by the Jays, Drabek has had to work his way past wildness on and off the field. He came into 2012 having to pitch for his job, no matter how rosy his former promise had been, but he looked like he'd come around after five quality starts in his first nine, posting a 3.27 ERA. Allowing 34 walks in those 52.1 IP reflected that location was still an issue, but you could hope he was getting back on track.

Hutchison: Ranked before the year as the organization's sixth-best prospect by Kevin Goldstein of Baseball Prospectus and ninth-best by Baseball America, Hutchison was pressed into action with just six starts above A-ball. The 21-year-old didn't lack the stuff or touch to make it, however, showing excellent touch on a fastball-slider-change mix. He'd cranked out quality starts against the Yankees, Orioles and Red Sox in recent weeks.
These three already have company to keep on the rehab trail, unfortunately enough: The perennially promising and reliably broken
Dustin McGowan
's on the DL as well, dealing with shoulder woes. Counting on McGowan hasn't been a good idea since 2007.
Pickings are slim as far as what else the Jays can do after losing three of their front five in such short order. If Hutchison joins Drabek on the "wait 'til next year" list, that's two slots to fill for the remainder of the year, as well as the month-plus of turns that will have to go to Morrow's replacement while he's out.
Brett Cecil
is slipping into Morrow's slot Sunday, and you can hope the young finesse lefty can recapture some of his former promise. Long reliever
Carlos Villanueva
might help, but his track record as a starter isn't great.
They don't really have a promising kid like Hutchison to turn to; Deck McGuire's getting drubbed in Double-A, leaving the cupboard relatively bare. You get into wondering what well-traveled
Jesse Chavez
or former rotation stalwart
Scott Richmond
have left. The borderline bid of convention just got rolled back into borderline bad ballclub possibilities. The sabermetric construction of "replacement level" is a handy fiction -- there's certainly no guarantee that the Jays will get replacement-level work from their available replacements.
The Jays probably don't get their fair share of sympathy or schadenfreude, which is a pity considering the remarkable job general manager Alex Anthopoulos has done. Whoever gets the call beyond Cecil, in the meantime the Jays still have Romero and farmhand
Henderson Alvarez
to rely upon. But that isn't what the Jays' slender hopes for contention were based on. If they're excused early, it's a shame, but in divisional races as tight as either East boasts, you can't afford this kind of misfortune.
PHOTO OF THE DAY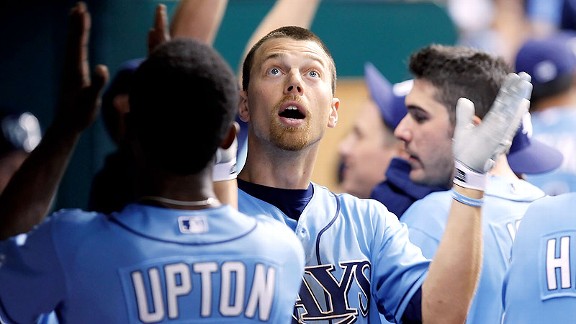 J. Meric/Getty ImagesBen Zobrist must still be looking for his home run to come down.
Christina Kahrl covers baseball for ESPN.com. You can follow her on Twitter.
February, 12, 2011
2/12/11
1:00
PM ET
By
Drew Fairservice
| ESPN.com
To call general manager Alex Anthopoulos a folk hero in Toronto does him a disservice. Sources tell me plans for a statue in his honor are already under way, a tribute to the Great Unloading (also known as the
Vernon Wells
trade). Despite not sniffing the playoffs in 18 years, an incredible amount of good will and buzz surrounds this
Toronto Blue Jays
team. The minor league system underwent a complete overhaul and the team hired a fleet of scouts. It is hard to argue the future isn't bright in Toronto.
[+] Enlarge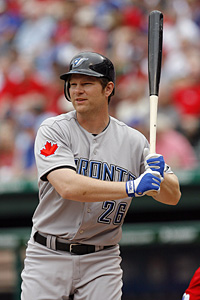 Tom Pennington/Getty ImagesThe Blue Jays are counting on a productive season from slugger Adam Lind.
Until we consider 2011, that is. The 2010 Blue Jays won a surprising 85 games, never competing seriously for a playoff spot but making a good show of themselves in the process. The young pitching staff excelled in the absence of
Roy Halladay
with
Ricky Romero
and
Brandon Morrow
jostling for the Opening Day starter role for years to come. Free-agent acquisitions
John Buck
and
Alex Gonzalez
provided best-case scenario contributions: huge power numbers for cheap before giving way to draft pick compensation (in Buck's case) and sell high/buy low trade opportunities (i.e. Gonzalez traded for
Yunel Escobar
.)
While the Jays brass keep their eyes firmly on the prize -- with 2012 pegged as the earliest possible season to make a playoff run -- the expectations of many fans jumped ahead of the intricate plan laid out by the brain trust. Fans clamber for big-name signings, hoping the elusive final piece falls into their collective lap.
For Blue Jays fans, the immediate future might be a little rockier than they expect. None of the losses suffered by the Blue Jays figure to torpedo the season. For the team to win 85 games again, far too many things must go right.
The rotation must stay healthy. While the No. 5 starter spot saw more than its share of pretenders; the top four Blue Jays hurlers toed the rubber at least 25 times apiece. A figure that would be higher had the team not shut down Morrow early in September. While replacing
Shaun Marcum
's 200 innings is tough, it won't be the first time this team filled a gaping rotation hole. Young
Kyle Drabek
has the makeup and stuff to slot into the rotation directly, but he, too, comes with innings limits.
Staying healthy is vital for every team, rebuilding or otherwise. The Jays racked up the third-most days spent on the disabled list in all of baseball,
according to Fangraphs research
. A closer look at those numbers reveals the true impact of these maladies wasn't quite so severe.
Dirk Hayhurst
,
Jesse Litsch
,
Scott Richmond
and
Dustin McGowan
spent much of or all of 2010 on the shelf. Only McGowan at his peak had an honest shot of making the rotation or any discernable impact.
The bullpen underwent a complete rebuild as well. A virtual parade of competent right-handed pitchers now lurk in the 'pen, hoping to scoop up whatever stray saves come their way. Losing versatile "setup" man
Scott Downs
is a huge blow for any team. Downs was long the team's best reliever and the man generally tasked with the highest-leveraged work.
Adam Lind
and
Aaron Hill
need to decide which season was a fluke: Was it 2009, when they powered the middle of the lineup, or their ugly 2010 seasons?
Jose Bautista
is not going to hit 54 home runs again, so the Jays need these two key players to produce runs in bunches. Maybe throw a walk in there for good measure.
The future is bright for the Blue Jays. Financial agility coupled with a renewed pipeline churning out major league-ready talent positions the Jays perfectly to make multiple runs at the playoffs. Be prepared for some growing pains in 2011.
Drew Fairservice writes the Blue Jays blog Ghostrunner on First. Follow him on Twitter.
July, 7, 2009
7/07/09
5:31
PM ET
David Pinto on tonight's
intriguing debut
:
Marc Rzepczynski makes his major league debut for the Blue Jays against James Shields and the Rays tonight. I thought he might challenge Javier Vazquez for highest scoring Scrabble name of all time, but falls short. Marc Rzepczynski scores 48 points, while Javier Vazquez is still champion at 53. Of course, if he changed the spelling to Mark Rzepczynzki, he would blow Javy out of the water.

Rzepczynski rose quickly, playing in the minors for less than two seasons. He couples a high strikeout rate with a ridiculously low home run rate, giving up five homers in 243 1/3 innings. That led to a 19-11 record with a 2.85 ERA combined A and AA.
Some years ago, I memorized the spelling of
Krzyzewski
, but
Rzepczynski
is going to be even tougher. Right now, I can imagine every copy editor in every Toronto sports department just
praying
that this guy doesn't stick in the majors.
He probably will, though. And Rzepczynski is just another reminder of how unpredictable young pitchers can be. Before this season, Baseball America ranked Rzepczynski as the Blue Jays' No. 9 prospect ... one slot ahead of Ricky Romero.
About Romero, BA wrote, "Romero still needs to show more consistency to reach his ceiling as a No. 3 or 4 starter."
About Rzepczynski, BA wrote, "The Blue Jays will have a better idea of what they have in Rzepczynski if he earns a fast promotion to Double-A in 2009."
In a dozen starts with the big club this season, Romero is 7-3 with a 2.96 ERA. It's not clear what his ceiling is.
Rzepczynski opened the season in Double-A before earning a fast promotion to Triple-A, where he struck out 16 hitters in two starts. And now he's arrived in the majors.
Oh, and what about rookie Scott Richmond, who's 6-5 with a 3.69 ERA? Baseball America ranked him No. 20 in the system.
Am I picking on Baseball America? Hardly. My friend John Sickels gave C+ grades to Romero and Rzepczynski, and a straight C to Richmond.
Meanwhile, four of Oakland's rookie starters got better grades (in John's book), and you probably know how they've fared this season (at least before last night). If the A's more highly regarded young pitchers were performing this season as well as the Blue Jays' young pitchers, the A's would be ... well, they might not be contending, exactly. But they wouldn't have the second-worst record in the league.
Anyway, getting back to Rzepczynski ... The home-run thing really is phenomenal, and he seems to somehow be getting better. As a first-year pro in 2007, he gave up two homers in 46 innings. Last year, pitching exclusively in the low-A Midwest League, he gave up two homers in 121 innings. And this year he's given up one homer in 77 Double-A innings, zero homers in 11 Triple-A innings.
Now, just watch: he'll give up a couple of bombs against the Rays tonight. Keep an eye on him, though. And keep an eye on J.P. Ricciardi. If Roy Halladay's really on the block, it's partly because the Jays might soon have more starting pitchers than they can use.