SweetSpot:

Scott Van Slyke
March, 22, 2014
Mar 22
7:54
AM ET
Welcome to baseball in Australia. MLB's opening series between the
Los Angeles Dodgers
and
Arizona Diamondbacks
at the ancient Sydney Cricket Ground, also known as
Zack Greinke
's least favorite international baseball venue.
It's the first game of the regular season, which seems reason enough to crawl out of bed at 4 a.m. to write a running diary.
Pregame
After a rain delay of nearly an hour, we get to the introductions of the players. Unfortunately, it appears the Diamondbacks' PA announcer is reading off the names instead of Crocodile Dundee. The Dodgers look as if they're lined up for a funeral instead of a baseball game as nobody smiles and only veteran pitcher
Jamey Wright
waves to the crowd. I wonder whether Greinke is up watching in Arizona (he didn't make the trip).
Although each team had to activate 25 players, the teams were allowed to exempt three players who will be eligible to be activated for openers back in the U.S. The Dodgers exempted Greinke,
Dan Haren
and
Brandon League
. And with
Matt Kemp
on the disabled list and
Carl Crawford
on the paternity list, the Dodgers' roster includes
Alex Guerrero
,
Chone Figgins
and
Mike Baxter
. Hold your excitement, Dodgers fans. Both teams decided to go with 12 pitchers and 13 position players, which means 10 relievers for two games. That seems a little excessive, but maybe understandable considering starters
Clayton Kershaw
and
Wade Miley
might not be quite ready to go deep into the game.
First inning
Miley, going with the full beard and long hair, coasts through a 1-2-3 inning, including striking out leadoff hitter
Yasiel Puig
on an 0-2 slider in the dirt. It will be interesting to see how pitchers attack Puig this season. He hit .409 on inside pitches in 2013, but Miley started him off with an inside fastball Puig took for a strike. The Dodgers' lineup includes ex-Met
Justin Turner
batting second. Your most expensive team in baseball, everyone!
[+] Enlarge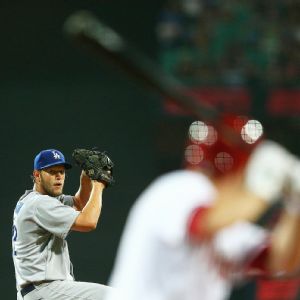 Cameron Spencer/Getty ImagesClayton Kershaw was brilliant in his first start of 2014, allowing one run in 6 2/3 innings.
Kershaw works out of a two-on jam, getting
Mark Trumbo
to ground out to shortstop on a 2-1 inside fastball. The Diamondbacks went
Paul Goldschmidt
-
Martin Prado
-Trumbo in the 3-4-5 spots, mildly interesting in that power-hitting Trumbo is hitting fifth behind Prado. Although Prado is hardly your conventional cleanup hitter, it makes sense to hit Trumbo fifth because of his low OBP.
Second inning
Adrian Gonzalez
walks on four pitches and then
Scott Van Slyke
crushes a pitch to deep left field that Trumbo climbs the fence in an attempt to haul in. Good effort … except the ball lands about six feet to his right and at the base of the fence. I mean, it isn't hard to tell Trumbo is really a first baseman the D-backs are force-feeding into left field. Van Slyke gets a double to move Gonzalez to third. After
Juan Uribe
strikes out, Gonzalez scores on
Andre Ethier
's grounder to second for the season's first run. I half expected a referee to come out and
do this
. (OK, that's Australian Rules Football, not cricket.)
Miley gets
A.J. Ellis
to fly out, so limiting the Dodgers to just one run after runners were at second and third with no outs is a positive. Of course, with Kershaw pitching and the Dodgers having a dynamite bullpen, one run might be all they need, especially when you factor in that the Australian national team just blanked the D-backs 5-0 in their final tuneup game.
Third inning
Kershaw struggled with his fastball command in his spring training appearances and allowed 15 runs in 14⅔ innings while giving up 20 hits and three home runs. He's a little sharper today, although he takes nine pitches to finally retire Miley and has 48 pitches through three innings, so he's not going to get a 94-pitch complete-game shutout on Opening Day the way he did a year ago.
Fourth inning
Scott Van Slyke, have a day! After just missing a home run in his first at-bat, he lines a 1-1 pitch just over the fence and just inside the right-field foul pole for a two-run homer. Van Slyke is in the lineup only because Kemp and Crawford aren't here, but his two hits do point out that Don Mattingly's outfield dilemma will -- or should -- actually go beyond just the Kemp/Crawford/Ethier playing time issue. Considering Crawford and Ethier can't really hit left-handers, you can make the argument that Van Slyke is the best option to start against lefties. We'll see how much playing time he gets when everyone is healthy.
As the MLB Network announcers (Matt Vasgersian and
John Smoltz
) discuss, another reason Kershaw is the best pitcher in baseball: Only nine stolen bases were attempted against him last year, and he picked off seven runners, second most in the National League. Oh, he also drove in 10 runs in 92 plate appearances.
Chris Owings
grounds out with a runner on first to end the inning. Kershaw is at 65 pitches, 41 strikes, with seven ground balls and three strikeouts. I think Dodgers fans can rest easy about those awful spring training numbers.
Fifth inning
Puig strikes out for the second time. Speaking of spring training struggles, Puig had hit .122 in Arizona, 5-for-41, with just one walk (although also with just five strikeouts). He did homer against an Australian league All-Star team Thursday.
Quick aside: The first Australian in the major leagues was a 19th-century second baseman named Joe Quinn, who played 17 seasons and collected 1,800 hits. Quinn was also the unfortunate player-manager for most of the season for the worst team in history, the 1899 Cleveland Spiders, a team that went 20-134 (12-104 under Quinn, including a 1-40 stretch to finish the season). Quinn's family moved to Iowa when he was about 10 years old, so many consider infielder Craig Shipley, who debuted in 1986 and played 11 seasons, the true Australian trailblazer in MLB. Here's a
profile of Quinn
, and here's a
bio on Shipley
, who works in the front office for the Diamondbacks.
Sixth inning
Well, Kershaw won't finish with a 0.00 ERA this season. Goldschmidt doubles to lead off the inning and scores on two groundouts to make the score 3-1.
Seventh inning
Will Harris
tosses two scoreless frames to keep the Diamondbacks close. Meanwhile, Kershaw comes out for the bottom of the seventh at 91 pitches. Can't imagine he'd go much above 100 this early on. Indeed, the TV cameras flash to
Chris Perez
and
J.P. Howell
warming up in the Dodgers' bullpen. With one out,
Gerardo Parra
reaches when Turner bobbles his slow chopper for an error, bringing up pinch hitter
Eric Chavez
. This isn't a great matchup for the D-backs, considering Chavez hasn't homered off a lefty since 2007, but I guess Kirk Gibson is hoping Chavez will get lucky and run into something. He doesn't; Kershaw quickly disposes of him in three pitches. That ends Kershaw's night at 102 pitches. Perez comes in and gets
A.J. Pollock
to fly out to right.
Eighth inning
With two outs, Gonzalez lifts a fly ball to left field that Trumbo "races" after and doesn't get to with a belly flop. Let's put it this way: At least the Diamondbacks are strong defensively in center and right with Pollock and Parra.
Brad Ziegler
gets out of the inning without any damage.
In the bottom half,
Brian Wilson
cruises through a 1-2-3 inning, striking out
Aaron Hill
and Prado. This Dodgers bullpen is going to be a dominant weapon.
Ninth inning
Puig, 0-for-4 with three strikeouts, swings against
J.J. Putz
, makes loud contact, drops his bat as if the ball is going far … and watches Pollock make the catch in reasonably deep right-center. The wind apparently knocked it down, but Puig is going to draw flak for acting as if he had hit one out.
Kenley Jansen
, who fanned 111 in 76⅔ innings last year, comes on for the save. He fans Trumbo on three pitches, Trumbo waving helplessly at an 0-2 high fastball.
Miguel Montero
fists a grounder to shortstop, but Owings walks on a 3-2 pitch that dips low, bringing up Parra as the tying run. But he taps back to the mound and the Dodgers have the first win of 2014.
I guess the script went pretty much as you would have expected: The best pitcher on the planet was very good, and what could be the best bullpen in the majors tossed 2⅓ hitless innings.
The best part: We have another game later today at 10 p.m. ET. You up for a doubleheader?
November, 4, 2012
11/04/12
10:30
PM ET
By
Javier Maymí
| ESPN.com
Freddy Galvis
, who last spring played his way onto the
Philadelphia Phillies
' Opening Day starting lineup, is off to an eye-opening start in Venezuela as he tries to come back from back surgery and his suspension for testing positive for performance-enhancing drugs.
In his first 19 games with the Zulia Aguilas, Galvis is hitting .342 with three homers and nine RBIs, a sign that he is recovered from his season-ending injury that kept him from returning from his 50-day suspension last August. Galvis hit just .226 for the Phillies in April and May as he filled in for the injured
Chase Utley
at second base.
Meanwhile, Dodgers outfield prospect
Scott Van Slyke
is finding his power stroke with the La Guaira Tiburones, hitting seven homers in his first 18 games. While that may be impressive, teammate
Darin Ruf
, a legitimate candidate for an outfield job with the Phillies after a 2012 season in which he hit 38 homers at Double-A Reading, has nine homers and 18 RBIs through 19 games with La Guaira.
Another Phillies prospect enjoying his winter in Venezuela is relief pitcher Justin Friend, who is 3-1 with a 1.80 ERA in 11 games for La Guaira thus far this season.
Gordon, Marte, Luna start hot in the Dominican
A slew of veteran Dominican players seeking to revive their careers, led by
Vladimir Guerrero
and
Miguel Tejada
, have flooded the Dominican Winter League this season, but it is the upstart youngsters who are thrilling the crowds.
Dee Gordon
,
Starling Marte
and
Hector Luna
are off to flying starts offensively while
Colorado Rockies
pitcher
Josh Outman
has been the surprise of the league, yielding just two runs in his first 15 innings as a starter with the Toros del Este in a rotation that also includes
Atlanta Braves
pitcher
Jairo Asencio
.
Luna, who played 28 games for the Phillies in 2012, is off to a 17-for-44 start with the Aguilas Cibaeñas while Gordon is batting .326 in his first three games with the Licey Tigres. After a disappointing season with the Dodgers, Gordon is trying to impress the club with a strong winter ball season.
Marte, who dazzled in his major league debut with the
Pittsburgh Pirates
this summer, made his debut with the defending champion Escogido Leones and went 5-for-13 in his first three games.
The league this year is also serving as a refresher course for some prospects who didn't perform as expected over the summer. Atlanta's
Tyler Pastornicky
, Colorado's
Charlie Blackmon
and Cincinnati's
Denis Phipps
were on opening day rosters and are looking to hone skills for spring training as they're projected to compete for major league roster spots.
Veteran hitters
Fernando Tatis
and
Timo Perez
have also returned while it is expected that
Manny Ramirez
will don the Aguilas Cibaeñas uniform this week as he seeks a return to the majors.
Cañizares leads Obregón's attack in Mexican Pacific League
Former Cuban national team member and Atlanta Braves prospect Barbaro Cañizares, who last winter set a new single-season home run record, is on pace to break his own record having belted seven through his first 19 games with the defending champion Ciudad Obregon Yaquis.
Cañizares, 32, had hoped his revamped power stroke earned him a spring training invite last winter but since it did not materialize, he played in the Mexican Summer League with the Oaxaca Guerreros, batting .348 with 28 homers and 103 RBIs in 107 games, primarily as a first baseman.
Meanwhile,
Marlon Byrd
, trying to salvage his career after getting released by the Red Sox in June, is off and running through 19 games with the Culiacán Tomateros. Byrd is hitting .386 with a 1.213 OPS while teammate
Cory Aldridge
is batting .338 with a league-leading 11 homers and 22 RBIs. Aldridge joined the Angels' Triple-A team in Salt Lake after starting the season in Mexico and was unproductive, hitting only .215 in 73 games.
Puerto Rican League getting ready for opening day
The Puerto Rican League, which last season was pared down to just four teams, will return to its six-team format when the season opens on Nov. 8.
The Santurce Cangrejeros, once an iconic franchise that saw legends Roberto Clemente, Willie Mays and Satchel Paige don its uniform, will return to play, even if general manager Carlos Baerga can't finalize negotiations to use San Juan's Hiram Bithorn Stadium as their home field.
Baerga told media that they have "different options," one of them being sharing a stadium with the Carolina Gigantes. The other team that will return is the Manati Atenienses, a franchise once owned by former major leaguer Jose Valentin. Santurce and Manati will join Carolina, Ponce, Arecibo and the defending champion Mayagüez Indios for this season.
April, 23, 2012
4/23/12
5:21
PM ET
Of course, it's much more
fun
to overanalyze everything that goes on in the first few weeks of a baseball season.
Albert Pujols
has lost it!
CC Sabathia
's velocity is down!
Matt Kemp
is going to have the greatest season of all time! The Red Sox are terrible!
OK, maybe the Red Sox are terrible.
In this vein, Bill Baer of Crashburn Alley has a piece on not overreacting to early season sample sizes.
He uses John Mayberry Jr. of the Phillies as an illustration
, but his point holds true for nearly all players off to a cold start (or, in reverse, a hot starts: It's a small number of plate appearances to get worked up over.
Here is an excellent graphic
that shows the 10 qualified players with the lowest OPS through April last season; as you can see, all performed much better the rest of the season.
So, it's early. No need to panic or overreact.
Right, Red Sox fans?
Other stuff to check out: