SweetSpot:

Sean Doolittle
February, 8, 2013
Feb 8
8:00
AM ET
2012 in review
Record: 94-68 (92-70 Pythagorean)
713 runs scored (8th in American League)
614 runs allowed (2nd in AL)
Big Offseason Moves
Traded
Cliff Pennington
and Yordy Cabrera to Arizona for
Chris Young
. Re-signed free agent
Bartolo Colon
. Signed Japanese shortstop
Hiroyuki Nakajima
. Acquired
John Jaso
in three-way deal that sent A.J. Cole to Washington. Traded
Chris Carter
,
Brad Peacock
and Max Stassi to Houston for
Jed Lowrie
and
Fernando Rodriguez
. Lost free agents
Brandon McCarthy
,
Stephen Drew
and
Jonny Gomes
.
More than anything, Billy Beane improved Oakland's athleticism and versatility. He lost two designated-hitter types in Carter and Gomes, but acquired an elite defensive center fielder in Young and picked up two infielders to go along with the return of
Scott Sizemore
(the team's best hitter in 2011 who missed all of 2012). Nakajima was a star player in Japan and since Lowrie's range at short is limited, the A's are counting on Nakajima to live up to his defensive reputation. The loss of McCarthy will hurt, but re-signing Colon helps maintain their rotation depth. For the tight-budgeted A's, a solid offseason that gives manager Bob Melvin multiple options around the diamond.
Position Players
As you can see from the projected lineup, there is a lot of unsettled aspect to Oakland's starting nine, but in a good way. Melvin will be able to mix and match and the depth gives the A's injury insurance.
But how
good
is the lineup? The A's set an all-time strikeout record last season and hit just .238. They did hit better with runners in scoring position -- .265 -- which is one reason they ranked eighth in runs despite finishing 12th in on-base percentage and ninth in slugging percentage. Three reasons to like Oakland's chances to score more runs this year, however: The second basemen hit .228 with five home runs; the third basemen had a .280 OBP, lowest in the AL; and the shortstops had a .272 OBP, again lowest in the AL.
And a fourth reason:
Yoenis Cespedes
surprised everyone by hitting .292/.356/.505. Very nice numbers. Those could be big numbers this year.
Pitching Staff
Either you believe in Oakland's young starters or you don't. I'm a believer. Remember that the best of the group might be
Brett Anderson
, and he made just seven starts in 2012 after returning from Tommy John surgery.
Jarrod Parker
,
Tom Milone
and
A.J. Griffin
enter their second seasons with playoff experience under their belts and Colon returns after his suspension for using performance-enhancing drugs.
Dan Straily
and
Travis Blackley
provide depth.
If we're going to nitpick, it's that it's not a big strikeout rotation. The A's ranked 10th in the AL strikeout rate among starting pitchers at 16.6 percent -- more than 5 percent less than Tampa Bay's 21.9 mark. But guess which staff tied for the lowest walk rate? The A's won't beat themselves and they pitch to their big home ballpark -- where Young,
Coco Crisp
and
Josh Reddick
have the speed to run down a lot of flyballs.
If you watched the A's down the stretch, you saw the hard-throwing trio of
Grant Balfour
,
Ryan Cook
and
Sean Doolittle
dominate the late innings. Those three combined for a 2.49 ERA over 195 innings; not bad for a minor free-agent signing, a throw-in in the
Trevor Cahill
trade and a guy playing first base in the minors in 2011. All told, opponents hit .206 off the Oakland pen, second-lowest in the league to the Rays' .205 mark. There's depth behind those three guys as well.
Good rotation. Good pen. Some will predict regression from this group, but I expect another solid season in which the A's once again rank among the AL leaders in fewest runs allowed.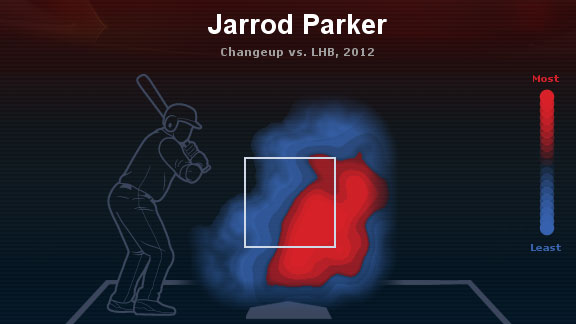 ESPN Stats & InformationJarrod Parker's 3.8 WAR ranked 10th among AL pitchers in 2012.
Heat Map to Watch
Beane acquired Parker from the Diamondbacks and the rookie right-hander showed why he was highly rated coming up through the Arizona system. His changeup made many left-handed hitters look foolish at the plate -- in 140 plate appearances ending with that pitch, they hit .163/.216/.194, with just three extra-base hits (two doubles, one triple). It's one of the best pitches in the game and the reason I expect Parker to have another solid season.
Overall Grade

Many won't believe in the A's simply because they were such a big surprise a year ago. But I'm trying to find reasons to expect a decline and am having trouble identifying them. OK, the offense was sort of one-dimensional last season; but the A's basically received nothing from three positions and they have likely upgrades at all three spots. I didn't even mention Jaso above; if he hits like he did with Seattle, he's another plus at the plate (though the Mariners clearly didn't like his defense behind the plate).
OK, maybe you don't believe in Reddick and Cespedes and
Brandon Moss
. I do. I think they return to the playoffs.
October, 10, 2012
10/10/12
12:35
AM ET
The Oakland A's didn't really know what to expect from
Brett Anderson
, who hadn't pitched in 20 days since suffering an oblique strain.
But here's the one thing about Anderson: He can roll out of bed and throw the ball over the plate. He returned from last summer's Tommy John surgery Aug. 21 and made six starts before the oblique injury. In those six starts, he walked just seven batters, displaying the control the 24-year-old had shown since reaching the big leagues at age 21.
Manager Bob Melvin was hoping to get five innings from Anderson on Tuesday. Anderson delivered six shutout frames, throwing 80 pitches and allowing just two hits. His final two pitches might have been his best: a 2-1 slider to
Miguel Cabrera
that broke sharply into the strike zone for a called strike, and then a 2-2 slider that dove down and in and on which Cabrera swung over the top.
Asked what his expectations were after Oakland's bullpen locked down the 2-0 win, Anderson said, "Just go out there and give us a chance to win," citing the performances of
Jarrod Parker
and
Tommy Milone
in the first two games of the series with the Tigers. "You couldn't really script it, but it worked out. ...
Coco [Crisp]
robbing the home run sort of set the tone. You can't say enough about the defense," he said.
On a day when we had two games and saw a combined total of 16 hits, pitching did rule the day. And instead of two games Wednesday, now we get four. Good for everyone (except maybe Reds and Tigers fans).
[+] Enlarge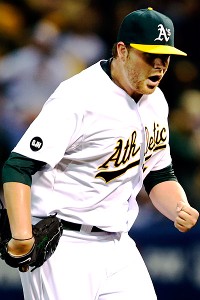 AP Photo/Marcio Jose SanchezIn his first start since September, left-hander Brett Anderson pitched six shutout innings.
A few other thoughts:
Crisp's second-inning robbery of Prince Fielder is one of the greatest postseason catches I can remember, right up there with Willie Mays, Kirby Puckett in the 1991 World Series, Devon White in the 1992 World Series and Endy Chavez in the 2006 National League Championship Series. Fielder got robbed again when Yoenis Cespedes made a diving catch of his liner in the seventh. When the ball was hit, it looked like a sure single and maybe a double in the gap; it hung up just long enough for Cespedes to appear from nowhere. Josh Donaldson also started a nice 5-4-3 double play off Omar Infante's hard smash to end the third.

I loved the way Melvin handled the seventh and eighth innings, first using Ryan Cook and then Sean Doolittle, even though he usually uses Doolittle and then Cook. He brought in Cook to face Fielder, when he could have either left in Anderson for one more batter, brought in Doolittle or brought in Jerry Blevins, who had been warming up in the sixth. I think he wanted to give Fielder a different look than a third shot at Anderson, so he brought in the hard-throwing Cook. That meant Cook would also face right-handers Delmon Young and Jhonny Peralta (who did single), and Melvin wouldn't waste Blevins for one batter. But it also meant Doolittle faced rookie Avisail Garcia and catcher Gerald Laird in the eighth. If Cook had pitched the eighth, Jim Leyland would have pinch hit lefty swingers Quintin Berry and Alex Avila, a better duo than Garcia and Laird.

It's going to be difficult for the Tigers to go all the way with Young batting fifth. Only Josh Hamilton swung at a higher percentage of pitches outside the strike zone among qualified batters this season. Yes, Young hit five home runs in last year's postseason. He also hit .133 in the American League Championship Series. He had 112 strikeouts and 20 walks this year. He is not good. As a No. 5 hitter for a team aspiring to win a title, he's a joke.

Strong outing by Anibal Sanchez. Seth Smith turned on an inside fastball for his fifth-inning home run to dead center, but the Tigers couldn't have asked for more than the 6.1 solid innings he gave them.

Cabrera singled with one out in the ninth, bringing up Fielder against Grant Balfour as the tying run. Balfour got a break on the first pitch, a fastball outside called a strike by plate ump Dana DeMuth. After a fastball outside, Balfour threw a tough 94 mph heater at the knees that Fielder took for strike two. Another fastball, this one at 95, and Fielder grounded into a 6-3 double play. Guess which team led the AL in double plays grounded into?

Max Scherzer versus A.J. Griffin in Game 4. Scherzer left a start Sept. 18 after two innings due to a sore shoulder and returned Sept. 23 but then didn't pitch again until Oct. 3, when he pitched four scoreless innings against the Royals. If he's healthy, he's certainly capable of dominating, after ranking second in the AL in strikeouts to his teammate Justin Verlander and posting a 2.69 ERA in the second half. Following a great run, Griffin struggled in three of his final four starts, with 26 hits and 15 runs in 17.1 innings. Look for a quick hook.
October, 7, 2012
10/07/12
4:45
PM ET
The last few innings won't exactly go down as textbook October baseball, but the
Detroit Tigers
will happily take the
5-4 walk-off win
over the A's, the 2-0 series lead and the plane ride to Oakland knowing they need to win only one of three games.
It was a game in which some of Detroit's little guys stepped up:
Omar Infante
had two key hits,
Don Kelly
delivered the winning sacrifice fly and backup shortstop
Danny Worth
made a nice play in the ninth.
In the end, the A's have nobody to blame but themselves.
Tommy Milone
, after looking like he wouldn't last past the third inning early on, settled down and allowed just one run over six innings. When the A's took a 2-1 lead in the seventh off
Doug Fister
, Bob Melvin had the game exactly where he wanted: The chance to hand the ball to his final three relievers with a lead.
Sean Doolittle
,
Ryan Cook
and
Grant Balfour
had been dominant down the stretch for the A's when they surged to win the division title. Check out their numbers:
Doolittle since Sept. 7: 15 IP, 8 H, 3 BB, 13 SO, 1.80 ERA, .154 AVG
Cook since Sept. 7: 15 IP, 8 H, 1 BB, 16 SO, 0.00 ERA, .154 AVG
Balfour since Sept. 14: 11 IP, 3 H, 1 BB, 14 SO, 0.00 ERA, .086 AVG
It's worth noting that Melvin pushed all three hard in the final week -- Cook and Balfour each appeared in the final five games and Doolittle the final four. None had appeared in more than three consecutive games all season prior to that. The A's had three days off since clinching and all three had excellent velocity, but you do wonder how much they have left in the tanks.
The key play came with Doolittle pitching in the seventh. After
Austin Jackson
and Infante singled,
Miguel Cabrera
hit a fly ball to somewhat shallow center field.
Coco Crisp
, playing in Saginaw, got a late jump and then tried to Willie Mays it, but dropped it, and two runs scored on the error. It wasn't that difficult of a play, even from where Crisp started. You can't make errors like that and win postseason games.
But the A's actually took the lead in the eighth when
Yoenis Cespedes
created a run all by himself, singling, stealing second and third and scoring on a wild pitch. When
Josh Reddick
then lofted a 3-2 changeup from
Joaquin Benoit
over the right-field fence to make it 4-3 (batters had previously hit .174 off Benoit's changeup, with 47 strikeouts and three walks), the A's once again looked good.
But in the bottom half,
Delmon Young
and
Jhonny Peralta
singled off Cook and
Andy Dirks
laid down a perfect sacrifice bunt. Pinch-hitter
Quintin Berry
struck out, but Cook then threw a pitch in the dirt, catcher
George Kottaras
made an unsuccessful backhand stab and pinch-runner Kelly scored the tying run.
In the ninth,
Al Alburquerque
relieved
Phil Coke
with two runners on and got Cespedes on a bouncer back to the mound to end the threat. Balfour, the hyper Australian, came on in the bottom of the ninth having retired the previous 26 batters he faced. But Infante singled to right with one out, Cabrera dumped a flare into center to send Infante to third, and after
Prince Fielder
was intentionally walked, Kelly lofted an 0-1 pitch to right, easily scoring the winner.
Despite the back-and-forth nature of the game, there weren't too many managerial moves to question. I'm not a fan of loading the bases since it forces the pitcher to throw strikes, but you can't argue with putting on a hitter such as Fielder to pitch to Kelly. Fielder did ground into 17 double plays, but Balfour is a fly-ball pitcher and Kelly was hitting .186 (although his strikeout rate of 17 percent isn't terrible). All things considered, you're much more likely to get a strikeout there than a double play with Fielder.
I did think Melvin missed a chance to get power-hitting
Chris Carter
in the game when Leyland brought in Coke to start the ninth to face Kottaras. Melvin instead pinch-hit his other catcher,
Derek Norris
, who struck out.
Melvin also chose not to sacrifice bunt with
Stephen Drew
in the third inning after the first two batters reached. I didn't have a problem with that. Even though the score was 0-0 at the time, Milone had been shaky, escaping a bases-loaded jam in the second, so Melvin was correct in thinking he should go for a big inning instead of one run. Drew struck out and the A's scored just one run, as the Tigers ended the threat when rookie
Avisail Garcia
gunned down Crisp at home plate with a perfect throw from right field.
So it's a huge win for the Tigers and a frustrating loss for the A's. The one clear advantage Oakland had going into the series was the bullpen, and now the 'pen has a mark on the wrong side of the ledger. The A's do head home, where they've won eight of nine, but even if they pull out the next two games, you know who is staring down at them for a possible Game 5:
Justin Verlander
.
October, 4, 2012
10/04/12
9:07
PM ET
With help from the blog network writers, here are reasons each team can win the World Series.
St. Louis Cardinals

1. A potent, balanced lineup. The Cardinals had the best on-base percentage in baseball, including four starters --
Matt Holliday
,
Jon Jay
,
David Freese
and
Yadier Molina
-- with a .370 OBP or better, and that doesn't even include two of their most dangerous sluggers,
Carlos Beltran
and
Allen Craig
.
2. Deep and solid starting rotation. Cardinals starters featured the second-best fielding-independent pitching in the majors, and
Chris Carpenter
has rejoined the staff just in time for the playoffs.
3. Playoff experience. If there's an advantage to be gained from experience, the Cardinals have it, with nearly three-quarters of their championship team returning to the tournament.
4. "The postseason is a crapshoot." As a wild-card team, the Cardinals proved this last year by beating a dominant regular-season team in the Phillies in a short series, then the powerful Rangers in the World Series.
5. They're saving their best ball for last -- again. As with the 2011 squad, the Cardinals are coming together at the right time. They won their last two series of the season against potential playoff foes Washington and Cincinnati and their regulars are generally healthy.
--Matt Philip, Fungoes.net
Atlanta Braves

The biggest thing the Braves need to do this postseason is hit left-handed pitching. For the year, they have an 85 wRC+ compared to the league average of 100 against left-handed pitching, the lowest of any of the playoff teams. If they win the play-in game against the Cardinals on Friday, they could face three left-handed starting pitchers in the first round in
Gio Gonzalez
,
Ross Detwiler
and
John Lannan
.
On the pitching front,
Kris Medlen
has taken the ace role of the staff, but the Braves will specifically need
Mike Minor
and
Tim Hudson
to perform at a high level to compete with the other National League teams. Defensively the Braves have been stellar, so the key for all of their starters will be to avoid free passes and long balls. They do not have an overpowering or star-filled staff as other rotations do, meaning their starters will need to rely on command and pitch sequencing to perform well against upper-tier offenses.
If the Braves get solid pitching performances from Medlen and Minor, and manage to scrape enough runs across against left-handed starters and relievers, they should be able to advance through the playoffs and potentially win their first World Series since 1995.
--Ben Duronio, Capitol Avenue Club
Cincinnati Reds

Here are five reasons that there will be a celebration in Fountain Square the first weekend in November:
1. The bullpen. This is the Reds' most obvious advantage. Their bullpen ERA ranks first in baseball at 2.65. How deep is this bullpen? One of these pitchers probably isn't going to make the postseason roster:
Logan Ondrusek
(3.46 ERA),
Alfredo Simon
(2.66) or
J.J. Hoover
(2.05).
2.
Jay Bruce
. The Reds' right fielder is one of the streakiest hitters in the game. If he gets hot, the Reds will be tough to beat. Bruce was twice named National League Player of the Week this year. In those two weeks, Bruce hit .488 AVG/.542 OBP/1.186 SLG (1.728 OPS). If Bruce gets on a hot streak like that, he could carry the Reds to the 11 wins they need.
3. The defense. Defensive metrics are flaky, but when you look at all of them, you start to learn something. The Reds rank near the top of almost every leaderboard. Seven of their eight starters are plus defenders, and three-quarters of the infielders have Gold Gloves on their shelves.
4.
Ryan Hanigan
. One of the things I'm most excited about this postseason is the broader baseball world discovering Ryan Hanigan. He does a lot well. His .365 OBP is better than any Red but
Joey Votto
. He walked more than he struck out. He threw out 48.5 percent of would-be base stealers -- the best in baseball -- and his handling of the pitching staff has the Reds' coaching staff speaking about him in hushed tones.
5. Luck, or something like it. The Reds outperformed their Pythagorean W-L by 7 games. Since Sept. 1, they have an 8-3 record in one-run games. This could mean they're due for a reversion to the mean. I like to think it means they're destined to win the Series.
--Chris Garber, Redleg Nation
Washington Nationals

1. The one-two punch of Gio Gonzalez and
Jordan Zimmermann
. Few teams could lose a starter like
Stephen Strasburg
and still claim that starting pitching is a strength, but the Nats can. Cy Young candidate Gonzalez leads the NL in strikeouts per 9 innings and is second in hits per 9. Zimmermann rarely allows a walk, and has an ERA under 3.00. I'd match Gonzalez and him up with any team's one-two.
2. The infield defense. Each position is manned by someone you could argue is one of the majors' top 10 fielders at his spot. The staff throws a lot of ground balls. Put them together and you get a lot of outs.
3. The re-emergence of
Drew Storen
.
Tyler Clippard
had been manning the closer role effectively but has recently looked very shaky. No matter. Storen returned to the 'pen and has been dominant, allowing just one run in his past 16 appearances. He'll be closing games going forward.
4. The offense with no holes. While there is no individual superstar, six of the Nats' eight regulars had an OPS+ between 112 and 128 for the season. A seventh,
Danny Espinosa
, would have been right there as well if not for a hideous April. The weak link is
Kurt Suzuki
-- and he hit over .300 in September.
5. Davey Johnson. Outside of
Jayson Werth
, this team has little postseason experience, but this is the fourth team Davey has led to the playoffs, and he's won five postseason series. You have to expect that he can guide this team through the highs and lows of October baseball.
--Harper Gordek, Nats Baseball
San Francisco Giants

1.
Buster Posey
. His second half was off-the-charts awesome, hitting .385/.456/.646. He was the best hitter in the majors after the All-Star break -- even better than
Miguel Cabrera
.
2. The rest of the Giants' offense. Even though they ranked last in the NL in home runs in the second half, they still managed to rank second in runs per game.
Marco Scutaro
proved to be a huge acquisition, hitting .362 with the Giants.
3.
Matt Cain
. Remember his dominant postseason performance in 2010? In three starts, he allowed just one unearned run. This time around he's the Giants' No. 1 guy.
4.
Sergio Romo
. The Giants rode
Brian Wilson
a lot in 2010, but this time they'll have Romo, who could be just as dominant closing games. He allowed just 37 hits and 10 walks in 55.1 innings while striking out 63. He was equally crushing against lefties (.491 OPS allowed) and righties (.537).
5. Bruce Bochy. He's considered by many to be the best manager in the game. If a series comes down to in-game tactics, most evaluators would rate Bochy superior to Dusty Baker, Fredi Gonzalez and Mike Matheny.
--David Schoenfield
Baltimore Orioles

1. No. 1 -- and, you could certainly argue Nos. 2-5 as well -- is the bullpen. The O's went 73-0 when leading after the seventh inning. As relievers,
Tommy Hunter
is touching 100 mph and
Brian Matusz
has struck out 19 batters in 13 innings. Then there's
Troy Patton
(2.43 ERA),
Pedro Strop
(2.44),
Darren O'Day
(2.28) and
Jim Johnson
(2.49, 51 saves) to finish things out. While it might not be the best bullpen ever -- or even the best bullpen in the league this year -- it may have been the most "effective" 'pen in history, as noted by its record-setting (record-obliterating, really) +14 win probability added. Maybe 16 consecutive extra-inning wins and a 29-9 record in one-run games (the best since the 1800s) is partially a fluke, but having a quality bullpen certainly doesn't hurt in keeping that going.
2. Buck Showalter. Aside from bullpen management that's been so effective, Buck seems to just make all the right moves, putting guys in positions to succeed and making in-game decisions that seem to work even when they probably shouldn't. Sac bunt? You get the run you need. Hit and run? Batted ball goes right to where the second baseman was. Bring in
Chris Davis
to pitch? Two shutout innings, a pair of strikeouts (including
Adrian Gonzalez
!), and a win. Judging managers is tricky, but it would be mighty hard to argue that Buck isn't a net plus.
3. A surging offense. Overall, the O's were a little below average, but since the beginning of September they've actually been one of the league's better hitting teams (with an AL-best 50 home runs). It's mostly been the Davis show recently (.320/.397/.660, 10 home runs), but
Matt Wieters
(.296/.389/.541),
Adam Jones
(.295/.343/.504) and
Nate McLouth
(!) (.280/.355/.456) haven't been slouches either.
4. An improved defense. The glove work was often sloppy early in the year, all around the diamond, but not so much lately (largely since
Manny Machado
was called up). Machado is a shortstop (with the range that implies) playing third base, and adjusting both well and quickly to it.
J.J. Hardy
is one of the game's better shortstops. Whoever is playing second is decent (
Robert Andino
or
Ryan Flaherty
).
Mark Reynolds
may have found a home at first base, even if he's not a Gold Glover there (yet). The O's fielding (via FanGraphs) for the first four months: -20 runs. Fielding since: +0.
5. Orioles magic. Even if you count the O's as underdogs in each playoff series -- and really, you probably should -- they still have a 3-5 percent chance of winning it all (those chances double if they knock off Texas, by the way).
--Daniel Moroz, Camden Depot
Texas Rangers

1. An obvious on-paper advantage in the wild-card game.
Yu Darvish
has been dominant down the stretch with a 2.13 ERA and just 10 walks over his final seven starts. He's a strikeout pitcher against a lineup that strikes out a lot. Meanwhile,
Joe Saunders
is 0-6 with a 9.38 ERA in six career starts in Arlington.
2. Big-game experience.
Matt Harrison
had a terrific season, and having started a Game 7 of the World Series won't be fazed by the postseason.
Derek Holland
has had an inconsistent season but, as he showed in the World Series last year, is certainly capable of huge performances.
Ryan Dempster
also has playoff experience with the Cubs.
3. Defense. The infield defense with
Adrian Beltre
,
Elvis Andrus
and
Ian Kinsler
is arguably the best in baseball and was a key component to the Rangers' World Series run a year ago.
4.
Josh Hamilton
. If these are his final days with the Rangers, you get the feeling he'll be focused to go out with a bang, especially after his disastrous game in the regular-season finale. After his hot start, Hamilton recovered from his slump in June and July to hit 14 home runs over the final two months.
5. One game equals momentum. OK, the series sweep in Oakland was a disaster, but all it takes is one win over Baltimore and the Rangers can forget what happened down the stretch. Do that and this team is still the scary opponent everyone figured it was a few days ago.
--David Schoenfield
Oakland Athletics

1. Sometimes a very good overall team matches up poorly against a playoff opponent. As far as lefty-righty goes, the A's won't have that issue. General manager Billy Beane gave manager Bob Melvin the pieces to construct platoons, including at first base (
Brandon Moss
/
Chris Carter
), designated hitter (
Seth Smith
/
Jonny Gomes
) and catcher (
Derek Norris
/
George Kottaras
). Further, the top two everyday hitters,
Josh Reddick
and
Yoenis Cespedes
, bat from opposite sides of the plate, and leadoff man
Coco Crisp
, a switch-hitter, has very similar career splits from both sides of the plate.
2. The top three relievers,
Grant Balfour
,
Ryan Cook
and
Sean Doolittle
, have pitched remarkably well. All three bring gas. Cook can struggle with his command and Doolittle might hit a rookie wall any minute, but Balfour's 3.01 FIP is the highest of the group.
3. The A's are third in baseball in runs scored after the All-Star break. Ahead of the Yankees. Ahead of the Rangers. Well ahead of the Tigers. The current roster has been legitimately excellent on offense.
4. Defensive efficiency is a very simple metric: It is the rate at which a team turns balls in play into outs. It doesn't account for everything, but it does measure the core skill of a team's run-prevention unit. The A's are third in baseball in this number. Either the pitching staff doesn't give up hard-hit balls, the defense catches everything in sight, or both. Regardless of the why, the what is indisputable: Hits don't happen against the A's.
5. By record, the Tigers are the worst squad in the playoffs, yet the A's, the No. 2 AL team, play them in the first round because of the structure of playoff seeding. It likely isn't a huge advantage (the A's did just sweep Texas, after all), but every little bit counts on the way to a trophy.
--Jason Wojciechowski, Beaneball
Detroit Tigers

1. Miguel Cabrera. MVP or not, the Triple Crown speaks for itself. He is the best pure hitter in baseball and, unlike last year, is healthy heading into the postseason.
2.
Prince Fielder
was the American League's only .300/.400/.500 hitter, and he's not even the best player on his own team. He isn't completely helpless against LOOGYs either, posting an OPS of .808 against left-handed pitchers this season.
3.
Justin Verlander
, who has been just as good as he was in 2011. If Mother Nature cooperates this year, he will put a serious dent in that career 5.57 postseason ERA.
4. The rest of the rotation. With
Doug Fister
finally healthy,
Max Scherzer
's breakout second half, and the acquisition of
Anibal Sanchez
, the Tigers have the best playoff rotation in the big leagues. The four starters (Verlander included) combined for a 2.27 ERA in September and October.
5. Jim Leyland. The Tigers' skipper has been ridiculed by the fan base for most of the year for the team's lackluster performance, most of which was a mirage created by its early struggles. He has had his finger on this team's pulse all season and deserves credit for managing the outrageous expectations for a team with more flaws than people realized. Now he has the Tigers playing their best baseball heading into October and is the biggest reason why they could be parading down Woodward Avenue in early November.
--Rob Rogacki, Walkoff Woodward
New York Yankees

1. The rotation. This looks like the strongest playoff rotation the Yankees have had in years, even better than 2009, when Joe Girardi rode three starters (
CC Sabathia
,
Andy Pettitte
,
A.J. Burnett
) to the World Series title. Sabathia has battled a sore elbow but looked good down the stretch, including eight-inning efforts in his final two starts. Pettitte is 40 years old but still looks like Andy Pettitte.
Hiroki Kuroda
had a quietly excellent season, finishing eighth in the AL in ERA and 10th in OBP allowed among starters.
Phil Hughes
is a solid No. 4.
2. Home-field advantage. While this generally isn't a big factor in baseball, the Yankees' power comes into play with the short porch at Yankee Stadium. Earning the No. 1 seed was probably more important to the Yankees than any other team.
3.
Robinson Cano
. He's locked in right now, going 24-for-39 in his final nine games, all multihit games. Don't be surprised if he has a monster postseason.
4. Lineup depth and versatility. In this age of bullpen matchups, the Yankees are difficult to match up with. They can run out a lineup that goes right-left-right-left-switch-switch-left-left/right-right. You'd better have a deep bullpen to beat this team in the late innings.
5. Health. While
Mark Teixeira
may not be 100 percent, at least he's back in the lineup, meaning the Yankees finally have all their position players available (even
Brett Gardner
may make the postseason roster as a pinch runner/defensive replacement). They've been dinged up all season, but Sabathia and Pettitte should be strong. The only question: The Yankees haven't won a World Series without
Mariano Rivera
since 1978.
--David Schoenfield
September, 25, 2012
9/25/12
11:59
PM ET
One year ago -- 368 days to be exact --
Freddie Freeman
batted in the bottom of the 13th inning with one out and grounded a 3-2 pitch from the Phillies'
David Herndon
to first base.
John Mayberry Jr.
started a 3-6-3 double play and the Braves' season was over in a 4-3 defeat, the final gut-punch in a horrific final month that saw Atlanta go 9-18 in September and lose its final five games to miss the playoffs by one win.
So maybe it was fitting that Freeman was the player who launched the Braves into the 2012 postseason, hitting a dramatic game-winning two-run home run in the bottom of the ninth on Tuesday night, an arching blast over the 400-foot sign in dead center that gave Atlanta a
4-3 win
over Miami.
Maybe it was fitting that
Craig Kimbrel
, the closer who blew a ninth-inning lead in that 162nd game a year ago, pitched a scoreless ninth to pick up the win.
It certainly was fitting that
Chipper Jones
, who went 0-for-5 with three strikeouts in the 2011 finale, started the rally with a leadoff double. Old man Chipper, still stinging line drives all over the place.
And needless to say, it was no surprise that
Kris Medlen
, the Braves' good-luck charm, started the game. He didn't get the decision and even proved human -- allowing three runs! -- but the Braves have now won 22 consecutive games he's started, going back to 2010, tying the all-time mark with Whitey Ford's Yankees and Carl Hubbell's Giants.
"We are shooting for the stars," Jones said after the game. "It makes it all worth it. I'm happier for these guys because they worked hard."
What did we learn on this evening? That maybe the Braves should start Medlen in the wild-card game ... and Game 1 of the Division Series ... and Game 2 ... and ... OK, we learned that Braves fan can finally breathe. No collapse this year. And we learned that Medlen is still the hottest pitcher in the game -- 7 innings, 5 hits, no walks, 8 strikeouts -- and continues to give Atlanta ace-level performance.
Here are a few other things we learned:
Anibal Sanchez puts the pressure on the White Sox
Sanchez delivered one of the dominant outings of the season with his fifth career shutout, a
10-strikeout, 3-hit, 105-pitch
gem. His Game Score of 90 was just the fourth of 90-plus by a Tigers starter since 2010 (some guy named Verlander had the other three) and just the 17th such start in the majors in 2012. More importantly, it moved the Tigers into a first-place tie with the White Sox, who
had lost earlier
in the day, their sixth loss in seven games.
Is it panic time in Chicago? Robin Ventura announced that he'll start
Hector Santiago
on Wednesday, pushing
Jake Peavy
back to start the series opener against the Rays on Thursday. Peavy hasn't been the dominant pitcher in the second half (4.20 ERA) that he was the first three months, so maybe an extra day of rest is a smart move, especially since he got roughed up in his previous start. Still, the sinking Sox turn to a rookie making just his third major league start. Things are starting to look gloomy in ChiTown.
David Price might have locked up the Cy Young Award
Umm, remember the
Tampa Bay Rays
? The Little Team That Could before the Orioles and A's became the Little Teams That Could. They were declared dead after getting swept in Baltimore, losing two of three to the Yankees and then two to the Red Sox, but here are they are, winners of six in a row after Price struck out a season-high 13 in a
5-2 complete-game win
over Boston. Price improved to 19-5 and leads the American League with his 2.56 ERA.
The Rays are hitting .346 over this six-game stretch and trimmed another game off their deficit to the wild-card-leading Orioles after they were
blanked by the Blue Jays
. Is this right time to remind Orioles fans that the Rays and O's finish the season with a three-game series in Tampa? Not that right time? I mean, the Orioles -- after all this, after finally earning respect -- they're not going to blow it, are they?
Johnny Cueto had an important outing for the Reds
You don't want to read
too
much into mini-slumps this time of year, but the Reds' ace had been a little shaky his past few outings. Cueto quelled concerns with seven terrific innings (7 IP, 5 H, 2 R, 0 BB, 5 SO) to
beat the Brewers
for his 19th win -- the first Reds pitcher to win that many since Danny Jackson in 1988 and first right-hander since Jack Billingham in 1974. More good news for the Reds:
Aroldis Chapman
also pitched his second game since his 12-day layoff and threw 10 fastballs in a 1-2-3 inning -- 100, 100, 99, 98, 98, 98, 97, 97, 96 and 95.
Don't be alarmed by another Nationals loss
The Nationals are now 4-7 over their past 11 games. Davey Johnson has said he's more concerned with resting players than beating out the Reds for the top seed in the National League. Should Nationals fans be worried about this little slump? Not really. Late-season hot streaks or cold streaks are overrated. I looked at the World Series champs since 1996 and looked at how they played during the entire season, over the final month (September or September/October) and over the final 10 games.
Season: .586 winning percentage
Final month: .575 winning percentage
Final 10 games: .587 winning percentage
This is why you shouldn't pay much attention to what happens down the stretch. World Series winners haven't been any "hotter" down the stretch than they've played all season. Mixed in those World Series winners are the 2006 Cardinals (12-17 the final month, 3-7 in their final 10 games); the 2002 Angels (4-6 their final 10); the 2000 Yankees (13-18 and 2-8); and the 1997 Marlins (12-15 and 3-7). Yes, the past four World Series winners went a combined .667 the final month, but that doesn't tell which other "hot" teams didn't win the World Series. Plus, the Nationals are still 13-10 in September. They're fine.
Brandon Moss might have saved the A's season with a spectacular catch
The situation: bottom of the seventh, bases loaded, two out,
Sean Doolittle
versus
Elvis Andrus
.
Then Moss does this
.
Jorge Coutares is Dominican, right?
No? What, he's Greek? His name is spelled
George Kottaras
?
He just won a big game for the A's?
Have they even invented sticks and balls in Greece yet?
Angels tie record with 20 strikeouts in nine-inning game
Zack Greinke
fanned 13 in five innings against the Mariners but had to leave after throwing 110 pitches.
Ernesto Frieri
struck out
John Jaso
for the final out in a
5-4 victory
. Amazingly, the Mariners tied only their own club record. The Angels remain just two games behind the A's. If Oakland goes 3-5 over its final eight games, the Angels have to go 6-2 to pass them. Good news for the A's: The Mariners send King Felix to the mound on Wednesday ... which means he won't start against the A's over the weekend, making his final start Monday against the Angels.
PHOTO OF THE DAY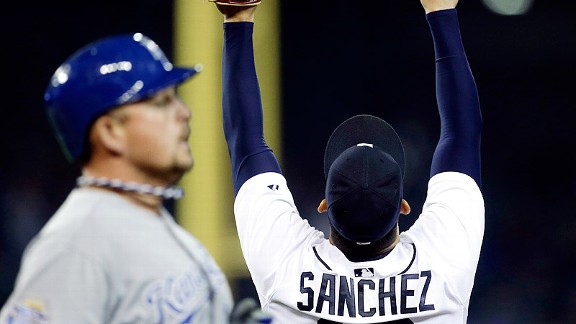 AP Photo/Paul SancyaJust ask Anibal Sanchez: 'Tis the season for more than a little
rational
exuberance.
February, 6, 2012
2/06/12
12:30
PM ET
By
Christina Kahrl
| ESPN.com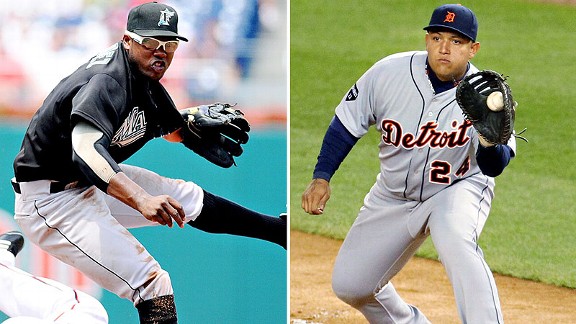 US PresswireHanley Ramirez, left, and Miguel Cabrera will be making high-profile position switches this spring.
Now that we're waiting for these last few days to pass before pitchers and catchers report, it's worth remembering that beyond the usual camp fights and reps as players get into regular-season shape, we'll also see a few players challenged as they never have been: challenged to change positions.
Every club has different motivations for attempting this sort of thing: immediate need, making room for a major free agent or fulfilling a long-term plan for a younger player. What are the 10 most interesting attempted position switches to watch this spring?
1. Miguel Cabrera, Tigers, from 1B to 3B:
Cabrera's bulk might seem like a major stumbling block to his making a jump to the hot corner now that
Prince Fielder
is manning first base. Although Cabrera started at the hot corner for the Marlins, he was a regular there in only two full seasons, 2006 and 2007; Baseball Info Solutions graded his defense 27 runs below average across those two seasons.
Tigers skipper Jim Leyland has plenty of experience with making the best of a bad situation at the hot corner. He tolerated Bobby Bonilla's fielding at third base for the '97 Marlins despite long exposure to Bonilla's bad hands and scattershot arm as a Pirate back in the '80s, for example. But fundamentally, can Cabrera do it? That seems like a stretch, but over a full season, he might not have to. The Tigers can rotate him or Fielder to DH now and again, and Cabrera also has plenty of experience in left field -- another position where the Tigers don't have to play any one guy regularly.
With Leyland in the dugout, it's worth keeping in mind that no manager in baseball today is more aggressive when it comes to using defensive replacements -- even if Cabrera acquits himself better than expected, don't be surprised if
Brandon Inge
keeps busy as a frequently used substitute.
2. Hanley Ramirez, Marlins, from SS to 3B:
Another move made to make room for a free agent. The immediate expectation is that an athletic shortstop like HanRam should be more than capable of jumping to third base. Shortstop is supposed to be harder, after all, so the expectation is that Ramirez might go from a questionable glove at short to a defensive asset at third.
However, it's worth remembering that not all of these moves turn out well. As Michael Humphreys documents in his excellent "Wizardry: Baseball's All-Time Greatest Fielders Revealed,"
Chipper Jones
was an example of a former shortstop with tremendous athletic ability moved to third, only to deliver initially awful results in his first several seasons. Humphreys goes on to point out that
Alex Rodriguez
hasn't become a great or even a good third baseman since starting out as a competent shortstop, and if your memory goes back to the '70s and '80s, neither did Toby Harrah.
So Ramirez's value at third base is no sure thing, and how well he adapts will be a matter of hard work in camp.
3. Neftali Feliz, Rangers, from closer to starter:
We've been through this before, as Feliz was prepped to start for the Rangers last spring only to wind up back in the bullpen. This time around, with veteran closer
Joe Nathan
in the fold, the transition should stick. Feliz has consulted with Pedro Martinez on the nature of the challenge of moving to the rotation -- a move Pedro had to make when the Dodgers distrusted his ability to withstand the workload of starting.
In Feliz's case -- unlike Pedro's -- his size or stature has never been a stumbling block, and he's always had the broad assortment of plus stuff you'd associate with a top starter. Between the plus changeup he added in 2008 and the power breaking stuff he hasn't had to use as often out of the 'pen, he'll do more than keep people guessing. Because he'll be entering his age-24 season, the Rangers will be sure to monitor his workload, but every other light is green on this project.
4. Daniel Bard, Red Sox, from reliever to starter:
If Feliz's transition is part of a grand design, Bard's seems more a matter of immediate need. However, it's worth remembering that Bard started out as a starting pitcher prospect and a first-round selection. He didn't really turn the corner with the slider that now complements his 97 mph fastball until he moved to the 'pen in the minors. Will he be able to throw it as effectively a second or third time through a big league lineup? His changeup might wind up becoming the key off-speed pitch in his arsenal that gets him all the way through 90-100 pitches and into the sixth inning.
5. Mark Trumbo, Angels, from 1B to 3B:
This hasn't gotten nearly the same kind of attention that Cabrera's has in even less time, but that's because Trumbo's success is not a critical component to the Angels' plans the way Cabrera's is to the Tigers. General manager Jerry Dipoto is adamant that, after he recovers from a stress fracture in his foot, Trumbo's move off first base to make way for
Albert Pujols
won't be to one position but to a superutility role, playing all four corners and DH as Mike Scioscia tries to find ways to squeeze
Bobby Abreu
,
Vernon Wells
,
Kendrys Morales
and Trumbo into the lineup when there are just two lineup slots they can have to themselves.
Even if Trumbo's healthy, there's the question of whether he can really make the jump to third. He's never played there in the minors, let alone the majors, and he was better known as a top pitcher in high school when the Angels drafted him. As experiments go, this seems desperate and might not survive to see the light of Opening Day.
6. Chris Sale, White Sox, from reliever to starter:
This move is more like Feliz's shift to the rotation than Bard's, because it was anticipated from the day the White Sox drafted him in 2010 that he had the stuff to eventually start. But his arm was good enough to make the majors in a relief role just weeks after his selection. With
Mark Buehrle
's defection via free agency, a slot has opened up, so the Sox can proceed with what they've always wanted from Sale: a southpaw tower of power capable of pumping pure gas from the mound. Although 2012 hasn't been a season to look forward to on Chicago's South Side, watching Sale every fifth day should be something people pay to see.
7. Jayson Werth, Nationals, from RF to CF:
This isn't guaranteed to happen, but it's a very likely outcome should top prospect
Bryce Harper
somehow wind up making the team as the starting right fielder. The argument over whether Harper will be ready is one major hurdle, but whether Werth would be able to handle center field over a full season is another.
In baseball history, only two men as tall as Werth's 6-foot-5 have
ever
played anything close to every day as a center fielder:
Alex Rios
of the White Sox over the past two years and the Phillies' Von Hayes for big chunks of 1984 and 1985. Werth's listed weight, 220, is heavier than either Rios' now or Hayes' then -- he's simply a much bigger guy.
Drew Stubbs
is another big man in center -- he's 6-foot-4, but also almost 20 pounds lighter. The Braves' Dale Murphy was famously big for center, but at 6-4 and a listed weight of 210, he was also smaller than Werth.
If Harper makes a case to the Nats to play on Opening Day, could Werth really handle the pounding of racing gap to gap over a full season? If you have your doubts, you're not alone, especially in light of GM Mike Rizzo's recent decision to bring back
Rick Ankiel
(although on a minor league deal).
8. Jim Thome, Phillies, DH to 1B:
As Jayson Stark
pointed out last month
, Thome's challenge in moving back to playing a position might be remarkable, but he won't be the only famous forty-something to have spent time at first base. But because he's played all of four games at first base in the past six seasons, concerns about his durability given his extensive track record for injury -- including two DL stints last season -- come to the fore.
However, even with the initial expectation that Thome will be little more than a Sunday starter and regular pinch hitter, you've got the open question about how much playing time in left
John Mayberry Jr.
might have to log, as well as the dubious proposition that
Ty Wigginton
will hit enough to handle the spot. Given the uncertainty about his lineup, Phillies skipper Charlie Manuel might well be tempted to take a few chances with Thome.
9. Daniel Murphy, Mets, utility to 2B:
It remains to be seen how serious the Mets are about attempting to return Murphy to the keystone after he was knocked out with knee injuries -- while playing second base, no less. He has
never
been able to handle second base as a regular at any level as a pro, having played just 19 games there in the minors. This is a lot like what the team went through with Keith Miller more than 20 years ago. Even with the "Hal McRae rule" to protect second basemen, a basic level of agility is required at second base -- to protect yourself and to move around the bag effectively -- and there's reason to doubt Murphy has it after injuries to both knees, if he ever had it in the first place.
10. Sean Doolittle, Athletics, 1B to pitcher:
Speaking of knee injuries, bum wheels essentially ruined Doolittle's shot to stick as a position player. The former supplementary first-rounder from the 2007 draft was a two-way star at Virginia in college. Now the A's are trying to recoup some value from their investment by putting that arm to good use on the mound. He made an initial effort on the mound last season, throwing an inning in rookie ball. You can never know how these things will turn out, but
Sergio Santos
is the most recent example of a strong-armed player enjoying an overnight success with a move to the mound; A's fans might have at least this one small chance to daydream.
Christina Kahrl covers baseball for ESPN.com. You can follow her on Twitter.