January, 14, 2013
1/14/13
1:16
PM ET
The World Baseball Classic provisional rosters will be announced later this week and news is starting to slip out on who Joe Torre will be naming to the roster.
Giancarlo Stanton
has committed to playing for Team USA, but
Mike Trout
will not
, instead sticking to a full spring training with the Angels. That's certainly understandable in Trout's case, since he battled an illness last spring that caused him to lose 20 pounds and begin the season in Triple-A.
Other players who have committed
include
R.A. Dickey
,
Andy Pettitte
,
Craig Kimbrel
,
Jimmy Rollins
,
Shane Victorino
and
Mark Teixeira
.
In a perfect world where every player wants to play, who should be on the Team USA roster? Since the World Baseball Classic is to a large degree a marketing vehicle for the sport, you want a mix of the best players in the game and young stars. In the cases of Trout and Stanton, they would be easy inclusions: They're young and already among the game's elite players.
Here's my 30-man roster:
Catcher -- Buster Posey, Matt Wieters, Joe Mauer
Pretty easy choices here, especially with
Brian McCann
coming off a bad year and offseason shoulder surgery. One of the interesting story lines for 2013: Does Wieters have any offensive growth left in his game? After back-to-back years hitting .262 and .249 with 22 and 23 home runs, he may have maxed out his power, but if he can learn to hit for a little more average against right-handed pitchers (.223 in 2012) and improve his batting line to something like .280/.360/.500, then he's one of the most valuable players in the game, not just one of the most valuable catchers.
First Base -- Prince Fielder, Anthony Rizzo
Is first base the weakest position in the majors right now?
Joey Votto
missed 50 games and was still easily the most valuable first baseman in the majors. Prince is the obvious No. 1 choice but with guys like
Adrian Gonzalez
and Teixeira having down years, let's promote and up-and-coming star like Rizzo. Plus, it gives us a Cub.
Second Base -- Ben Zobrist, Dustin Pedroia
The switch-hitting, slick-fielding Zobrist would be the starter with Pedroia coming off the bench or playing against a left-hander. You can make cases for
Aaron Hill
(terrific season for Arizona) or the always reliable
Brandon Phillips
.
Third Base -- David Wright, Chase Headley
There's a lot of depth at third base in the majors right now, but not all of it is U.S.-born players. Wright and Headley were the two best in the majors in 2012 -- yes, arguably better than Miguel Cabera. On the road, Headley had more home runs and a higher OPS than Cabrera.
Shortstop -- Ian Desmond, Jimmy Rollins
With
Troy Tulowitzki
and
Derek Jeter
returning from injuries, it's an easy call to give our roster slots to Desmond and Rollins, who ranked 1-2 in FanGraphs WAR among all shortstops in 2012 (not counting Zobrist, who started there the last month and a half, but will move back to second with the acquisition of
Yunel Escobar
). Desmond will have to prove his power burst is for real -- from eight home runs to 25 -- but I'm a believer.
Outfield: Ryan Braun, Mike Trout, Giancarlo Stanton, Andrew McCutchen, Bryce Harper, Jason Heyward, Austin Jackson
A good mix of MVP candidates (Braun, Trout, McCutchen) and future MVP candidates. The tough choice for Torre: Who do you start? An outfield of Braun in left, Trout in center and Stanton in right gives you three right-handed batters, so maybe you mix in Harper or Heyward against a right-hander.
Starting Pitchers: Justin Verlander, Clayton Kershaw, David Price, R.A. Dickey, Matt Cain
You don't see many starting pitchers on the World Baseball Classic rosters, in part since they're limited by pitch counts and there aren't that many games to play anyway. But we'll pick five. Verlander and Kershaw are clearly the top two pitchers in baseball right now, as both could have easily picked up their second consecutive Cy Young Awards in 2012. Price and Dickey are the reigning Cy Young champions and are the type of players you want to expose in this kind of event. There are many defensible choices for the fifth spot but Cain gets my nod as the leader of the staff for the World Series champs and the kind of guy you want starting a big game.
Relief Pitchers: Craig Kimbrel, Jonathan Papelbon, Sergio Romo, David Hernandez, Kris Medlen, Jake McGee, Sean Marshall, Charlie Furbush
For the bullpen, we're not too worried about just looking at the saves leaders. We want dominant arms in the pen but also the ability to match up late in games if needed. Kimbrel is obviously our closer -- and hopefully Torre will use him for more than three outs if needed, especially with a one-run lead! Papelbon had a couple big blown saves for the Phillies but had a dominant 92/18 strikeout/walk ratio. I'm not sure he's our top setup guy, however. That role may fall to Romo and his death-to-righties slider and the underrated Hernandez, who fanned 98 in 68.1 innings for the Diamondbacks.
Medlen has to be on our team after his dominant transition to the rotation last year -- 0.97 ERA in 12 games as a starter. Are you kidding? With his experience pitching in relief he can be our long guy. And then I went with three left-handers. Tampa Bay's McGee finally had the season long expected of him with his power arsenal. He had a 73/11 SO/BB ratio in 55.1 innings, but he's not just lefty killer as right-handers hit a .098 against him. Marshall has long been one of the best against lefties and Furbush is the new Marshall; with his fastball/slider combo, lefties hit just .147 off him, with just three doubles and no home runs in 75 at-bats.
That's my team. Who would be on yours?
October, 9, 2012
10/09/12
9:54
PM ET
That was one of the more entertaining games of the postseason, a classic pitching duel of sorts, with some interesting strategic decisions and some missed opportunities. The
Cincinnati Reds
will be kicking themselves for not taking advantage of one of the best-pitched games in Reds postseason history and the
San Francisco Giants
will be wondering how they're still alive in a game where they got three hits in 10 innings and struck out 16 times. For the rest of us, we'll get more baseball!
Some thoughts on the Giants'
2-1 victory
:
As dominant as Aroldis Chapman was in the ninth inning, getting two strikeouts while throwing just 15 pitches, I was a little surprised he didn't come back out for the 10th inning. Chapman pitched more than one inning eight times this season, but only twice after becoming the closer, a 1.2-inning save May 27 and a four-out save Aug. 10. Factoring in the shoulder fatigue that sidelined Chapman for 11 days in September, maybe Reds manager Dusty Baker is wary about using Chapman for more than an inning. The trouble is it's a big drop-off from Chapman to Jonathan Broxton. Of course, it's a big drop from Chapman to just about any reliever not named Craig Kimbrel.

As is, despite giving up two singles to start the inning, Broxton would have escaped the 10th if not for shoddy Reds defense. After he struck out Brandon Belt and Xavier Nady, Ryan Hanigan's passed ball allowed the runners to move up and then Scott Rolen mishandled Joaquin Arias' chopper to third base. The sloppy defense in this postseason continues. Giants manager Bruce Bochy made a couple interesting choices that inning: He let Belt swing away with two on and no out. I would say most managers would have bunted there about 99 percent of the time. I didn't mind the call. Belt has never had a sacrifice bunt in his brief career and he was the Giants' best chance to deliver a hit. Bochy then let pitcher Sergio Romo hit with runners at first and second. Again, I liked the call. Romo is the Giants' best reliever; Bochy had used the other relievers you might want to use. Plus, Bochy had used up his bench; only backup catcher Hector Sanchez was left.

Xavier Nady and Xavier Paul. Discuss. Or not. Man, these two benches are horrible.

Keith Law and Eric Karabell talked about an interesting point on the Baseball Today podcast today, wondering if the Yankees aren't better off moving up Robinson Cano in the order. He hit cleanup on Monday, and was left in the on-deck circle as Alex Rodriguez made the final out. Keith's point is that batting lineups don't matter all that much, but one obvious benefit of stacking your best hitters at the top is you may get them one more plate appearance. That's the problem with the Reds batting Zack Cozart and his .288 OBP second. He made the final out, leaving Joey Votto on deck.

Not to bury Homer Bailey's awesome start. You can see why he pitched a no-hitter two starts ago as he took a no-hitter to two outs in the sixth (although the Giants had scored on a hit-by-pitch, walk and two sacrifices). The walk to No. 8 Brandon Crawford proved especially painful and kudos to pitcher Ryan Vogelsong for a good bunt and Angel Pagan for delivering the sac fly. Considering Bailey had thrown just 88 pitches, you can argue that Baker took him out too early. I can't fault Baker for handing the game to the best bullpen in baseball, but the Giants couldn't touch Bailey on this night.

Bailey's game score of 80 was the fourth highest in Reds postseason history, behind Hod Eller's 89 in Game 5 of the 1919 World Series against a team that wasn't trying to win (9 IP, 3 H, 0 R, 1 BB, 9 SO) and Ross Grimsley's 84 in Game 4 of the 1972 NLCS (9 IP, 2 H, 1 R, 1 BB, 5 SO). Jose Rijo's win to clinch the sweep of the A's in the 1990 World Series (8.1 IP, 2 H, 1 R, 3 BB, 9 SO) scores a 91. And, yes, this was just an excuse to mention Hod Eller.

Brandon Phillips' hustle effort in the first inning when he got thrown out at third base is one of those plays described as a "baserunning error" if you don't make it but "heads-up baseball" if you do. The argument against trying to get the extra base is that with zero outs there is a little reward if you do make it (you're already in scoring position) but a huge penalty if you get caught. As it turned out, Vogelsong labored through a 30-pitch inning and Phillips' hustle cost the Reds a potential big inning.

Vogelsong did a nice job of settling down after that inning. He walked Votto and Ryan Ludwick in the third, but got Jay Bruce on a fly to left. Bruce swung at the first pitch, which isn't necessarily the worst idea if he thinks a pitcher is going to groove something after two walks. Bochy hit for Vogelsong leading off the sixth, again not a bad idea considering the circumstances. Vogelsong had thrown 95 pitches, the Reds had Votto and Bruce due up the next inning and the Giants were still hitless at the time. It was the one opportunity Bochy knew he could use Aubrey Huff against a right-hander, without the possibility of the Reds bringing in Sean Marshall or Chapman. Huff just isn't a big weapon right now.

As I write this, the Reds haven't announced their Game 4 starter. It could be Johnny Cueto, but that seems unlikely. It could be Mat Latos, three days after throwing 57 pitches in Game 1. It could be Mike Leake, but to activate him they'd have to replace Cueto, which would make him ineligible for the National League Championship Series, should the Reds advance. If they go with Latos, that would likely mean starting Bronson Arroyo on three days' rest in a potential Game 5. No easy calls here, but I'd probably go Latos and Arroyo, and rely on the deepest bullpen in the league. The Giants counter with Barry Zito -- and you know Bochy will have a quick hook. The Reds had a .770 OPS against left-handers compared to .710 versus righties, so if Zito struggles early don't be surprised to see Tim Lincecum again in relief. Should be a good chess match yet again.
June, 14, 2012
6/14/12
10:45
PM ET
With the announcement that
Joe Torre will manage Team USA
in the 2013 World Baseball Classic, let's have a little fun and project who could form the 28-man squad in March.
Before we get to my suggested roster, a few notes and thoughts:
1. Rules require a minimum of 13 pitchers.
2. In reality, some of these guys won't want to play. The 2009 U.S. squad included
John Grabow
,
Matt Lindstrom
,
Brad Ziegler
and
Chris Iannetta
.
3. Like in 2009, we'll go heavy on relief pitchers. That squad included only four starting pitchers. One, that's all you need; and, two, teams don't want starters breaking up their normal spring training routine by pitching in relief in the WBC.
4. We want a balanced lineup. You don't want an entire lineup of right-handed batters.
5. I like the idea of going with younger players when possible. They're going to be enthusiastic about playing and it's good promotion for the sport to get new stars out there.
So here we go ...
Catchers: Buster Posey, Joe Mauer
Two positives here. One bats right-handed, one bats left-handed. Both can also play first base if needed. In case you've forgotten about Mauer, he has a .406 on-base percentage entering Thursday's game. This team will have plenty of power, so I'd prefer Mauer's on-base skills over the power of
Matt Wieters
or
Brian McCann
.
First base: Eric Hosmer, Prince Fielder
Yes, Hosmer is off to a slow start, but he's going to hit. I love the idea of putting him on the big stage, something he doesn't get to do playing for the Royals. Fielder gives us a left-handed power bat and we'll use him as our designated hitter in the tournament if he's not playing first base.
Second base: Dustin Pedroia, Ben Zobrist
Pedroia played on the 2009 squad and we'll be loyal to past participants whenever possible. Plus, he's the kind of high-energy guy you want for this kind of tournament. Zobrist gets the nod over
Ian Kinsler
for his positional flexibility. Like
Mark DeRosa
in 2009, he'll serve as our super utility guy and provides value as a switch-hitter and can run for Fielder if needed.
Third base: Evan Longoria, David Wright
Two more veterans from the 2009 we'll welcome back. Good sticks and good gloves.
Shortstop: Troy Tulowitzki
Derek Jeter
played on the first two WBC squads, but it's time to make room for Tulo.
Outfield: Ryan Braun, Matt Kemp, Josh Hamilton, Mike Trout, Andrew McCutchen, Bryce Harper
It pains me to leave
Giancarlo Stanton
off the team, but we need to get another left-handed batter on the team, so we'll give Harper the final spot. Besides having the talent worthy of deserving consideration, Trout and Harper fill our young stars requirement and have the ability to play all three outfield positions. And they won't complain if they're not in the starting lineup every game.
Here's how I'd play the lineups in a championship game:
versus right-hander
LF Braun
C Mauer
RF Hamilton
CF Kemp
DH Fielder
3B Longoria
SS Tulowitzki
1B Hosmer
2B Pedroia
You gotta love the idea of Ryan Braun hitting leadoff!
versus left-hander
CF McCutchen
3B Wright
LF Braun
RF Kemp
DH Hamilton
1B Fielder
C Posey
SS Tulowitzki
2B Pedroia
Wright starts over Longoria with his supreme on-base skills versus lefties and we'll move McCutchen into the lineup for Hosmer. Posey replaces Mauer. I don't think you want to pitch a lefty against this squad.
Starting pitchers: Justin Verlander, Clayton Kershaw, Matt Cain, Stephen Strasburg, Chris Sale
OK, there's probably no way the Nationals let Strasburg pitch, but we can dream, can't we? So many choices here, of course, with guys such as
Cole Hamels
,
Jered Weaver
,
Cliff Lee
and others. Kershaw and Sale give us two left-handers and Sale could also pitch out of the bullpen as a long guy if needed. Verlander is the guy we want starting the championship game, but Cain wouldn't be a bad option either. Remember his 2010 postseason run? One unearned run in three starts.
Bullpen: Craig Kimbrel, Jonathan Papelbon, Joe Nathan, Vinnie Pestano, Jim Johnson, Joel Hanrahan, Sean Marshall, Sean Burnett
Since there are limitations on the number of pitches that starting pitchers can throw, you need a lot of relievers on the staff. Nathan (2006) and Hanrahan (2009) are veterans of previous WBC squads, and by the way Nathan looks as dominant as ever, with a 31/2 strikeout/walk ratio. Pestano destroys right-handers -- .115 in 2011, .136 in 2012; he's an easy selection to the squad. Marshall and Burnett are the two lefty killers, but they're good enough to get right-handed batters as well. Johnson is a valuable asset since he can go two innings in case we get into an extra innings situation. He gets the final spot over the underrated
Sergio Romo
.
That's our 28 guys. What do you think? The previous two U.S. squads both failed to reach the championship game. In 2006, after going 2-1 in the first round of pool play, they went 1-2 in the second round, losing 7-3 to South Korea and 2-1 to Mexico, failing to reach the semifinals. In 2009, they went 2-1 in each of the first rounds of pool play (losing both times to Venezuela) before losing 9-4 to Japan in the semis (
Roy Oswalt
got pounded).
And, as I'm sure you remember,
Daisuke Matsuzaka
was MVP of each of the first two World Baseball Classics.
PHOTO OF THE DAY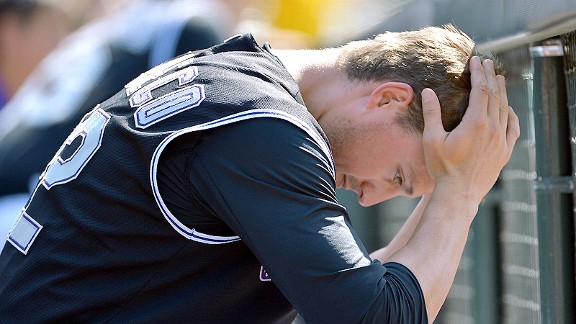 Doug Pensinger/Getty ImagesCan you tell that Jordan Pacheco and the Rockies have lost eight straight?
May, 24, 2012
5/24/12
11:55
PM ET
By
Jack Moore
| Special to ESPN.com
The Reds received a game-changing grand slam in the sixth inning to take a 5-2 lead against the Braves on Thursday night, leading to their
sixth consecutive victory
and their first sweep of the Braves since 1980. It wasn't superstar
Joey Votto
who provided the knockout punch, nor was it mainstays
Brandon Phillips
or
Jay Bruce
. The home run came off the bat of one of the Reds' many unheralded young players: 23-year-old rookie catcher
Devin Mesoraco
.
The blast also marked Cincinnati's 10th home run of the series, leading to 14 of its 16 runs in the series. Winning with home runs is nothing new for this Reds squad, not at Great American Ball Park and certainly not in the Joey Votto era. But Votto didn't hit a single homer in the series. Neither did Bruce. Phillips hit two. Instead of the three stalwarts on this Reds squad, it was the supporting cast leading the way: Mesoraco (1),
Drew Stubbs
(3),
Zack Cozart
(2),
Todd Frazier
(1) and
Mike Leake
(1).
[+] Enlarge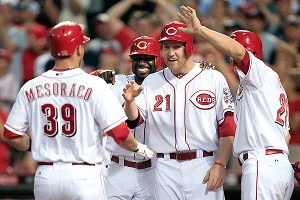 AP Photo/Al BehrmanDevin Mesoraco's grand slam in the sixth inning on Thursday put the Reds ahead for good.
Leake's homer backed up a quality start on Monday, and the other home runs backed up quality starts from
Mat Latos
(Tuesday),
Bronson Arroyo
(Wednesday) and
Homer Bailey
(Thursday). The Reds saw scoreless outings from five different relievers and saves converted by three. To accomplish this in any series is excellent; to do so against the second-highest-scoring team in the league in one of the best hitters' parks in all of baseball is another.
Depth and pitching have set this year's Reds squad apart from last year's version, a preseason favorite for the National League Central crown that was eventually lapped by both the Brewers and Cardinals. The 2011 season saw a 156 OPS+ from Votto and 119 OPS+ marks from both Phillips and Bruce. No other full-time starters came close; only part-time players
Chris Heisey
(113),
Ramon Hernandez
(113) and
Miguel Cairo
(101) even mustered an above average mark.
This season has seen the likes of
Paul Janish
,
Edgar Renteria
and
Jonny Gomes
excised in favor of Cozart (.727 OPS) and Frazier (.887). It has seen Stubbs come to life after three horrible series to open the year -- he owns a .266/.324/.430 line since April 17 to go with his typical fantastic defense. It's seen
Ryan Hanigan
pick up his game as well, with a .794 OPS in 27 games as the starting catcher.
Johnny Cueto
owns a phenomenal 2.22 ERA over 33 starts dating back to May 2011, but it was the other four Cincinnati starters who held down the Braves this week. Latos started out cold, but has a 2.35 ERA and 30 strikeouts in 23 innings in May. Arroyo has a 121 ERA+ after allowing a near-record 46 home runs last season, owning an absurd 44-to-8 strikeout-to-walk ratio in his first 58.2 innings. Bailey and Leake have had their rough spots, but they fit well in the back of the Reds' rotation -- a tough job with half of their starts coming in the bandbox in Cincinnati.
The bullpen has established itself as one of the league's best. Regardless of what one thinks
Aroldis Chapman
's role should be, it is undeniable that he is the league's best reliever. In the four-game sweep of the Braves, he pitched two more scoreless innings. Chapman fronts a bullpen full of talented pitchers:
Jose Arredondo
,
Logan Ondrusek
and
Alfredo Simon
all own ERA+ marks of 137 or higher.
Sean Marshall
shouldn't be counted out either despite a rough start -- he was one of the best relievers in baseball over the past two seasons.
The Reds currently sit atop the NL Central, with a half-game lead over the Cardinals. As usual, Votto, Phillips, Cueto and Bruce lead the way. But if the Reds maintain their current success and carry it through to a playoff run, it will be because this year they didn't have to do it all themselves.
May, 23, 2012
5/23/12
1:47
PM ET
My special co-host for Wednesday's
Baseball Today podcast

was ESPN writer and former GM Jim Bowden, and let's just say neither of us held back in what was an entertaining, honest and lively show.
1. The Red Sox are apparently cool with
Adrian Gonzalez
playing right field, but for how long? How easy will it be for the team to trade
Kevin Youkilis
? And should the Red Sox and Phillies be sellers?
2. Jim shares his thoughts on his players that will be traded before July 31, leading with a former Cy Young winner plying his trade for a team that can't afford him.
3. Ah, here's a topic we never get to: closers. Jim and I debate the human effect for fellows like
Aroldis Chapman
and
Sean Marshall
.
4. When Tampa's Joe Maddon makes unconventional decisions, we praise him. Is that fair? What if a manager not known for his good moves would have led
Carlos Pena
off?
5. Finally, we look at Wednesday's schedule, which includes
Cole Hamels
versus
Bryce Harper
. The Nationals are clearly getting the last laugh on their I-95 rivals.
So download and listen to a fun Baseball Today podcast, because it's boring when everyone agrees. And on this show, that just wasn't the case!
May, 22, 2012
5/22/12
12:33
AM ET
For a few brief moments on Monday night, it appeared the
Cincinnati Reds
would slide past the
St. Louis Cardinals
into first place in the NL Central. The Reds had defeated the Braves 4-1 behind a brilliant effort from
Mike Leake
and four solo home runs. The Padres were leading the Cardinals late in their game, until
Tyler Greene
's two-run homer in the eighth lifted the Cards to a 4-3 victory.
Still ... half a game. Half a game. Cardinals fans have to be wondering how this happened.
Considering the hot starts many of the Cardinals jumped out to --
Rafael Furcal
,
Jon Jay
,
Carlos Beltran
and three-fifths of the rotation in
Kyle Lohse
,
Lance Lynn
and
Jake Westbrook
-- the Cardinals can only look back and wonder why they're not five or six games in front of the Reds. After all, St. Louis' run differential is +58; Cincinnati's is only +3.
I'd call it an opportunity squandered, because now the Reds are breathing down their necks and they're probably here to stay. Hey, there has to be at least two good teams in the NL Central, right?
With all the talk about who should be closing in Cincinnati, the biggest issue with the pitching staff has been Leake. He entered winless in seven starts -- at 0-5, he joined
Chris Volstad
and
Francisco Liriano
as the only pitchers without a win and at least five decisions -- but wasn't just reeling from a lack of run support. He'd allowed at least three runs each start, had a 6.21 ERA, a .309 batting average allowed and just 21 strikeouts in 37.2 innings.
Leake walked
Martin Prado
with one out in the first but struck out
Freddie Freeman
and
Dan Uggla
. In the second,
Juan Francisco
homered, but Leake then retired 14 in a row before Uggla doubled in the seventh. He finished with eight innings, just those two hits and six K's. For Leake, his biggest issue before Monday night had been an ineffective changeup, usually a good pitch for him. In 2010-2011, opponents hit .252 off his changeup but they were hitting .529 in at-bats ending with a changeup in 2012.
He appeared to compensate by throwing more cutters against the Braves -- 28 out of 98, the second-most he's thrown in a start this season. Of course, it helped that he was ahead of hitters much of the night, throwing just two pitches on three-ball counts; in his previous three starts, he'd thrown 31 pitches with three balls. Pitching is easier when you don't have to groove a pitch to avoid a walk.
Leake also sparked the Cincinnati offense in the fourth inning, when he homered off his friend
Mike Minor
(Minor was the seventh pick in the 2009 draft, Leake the eighth, and the two were teammates on Team USA).
Zack Cozart
and
Drew Stubbs
followed with home runs to give the Reds back-to-back-to-back blasts. While it was Leake's first career blast, he's a legitimate threat at the plate with a .271 career average.
The four solo shots do highlight a big problem with the Reds' offense, however. Outside of
Joey Votto
this lineup is completely hacktastic -- working the count is not exactly a disease that has spread from Votto to everyone else. Even with Votto's MLB-leading 40 walks, the Reds rank just 11th in the NL in free passes, and despite playing in a hitter-friendly home park, their .697 team OPS is tied for 10th in the league. After Votto,
Jay Bruce
is second on the team with 12 walks -- quadruple that total and you have a guy on pace for 48. Home run boys Cozart and Stubbs can flip the occasional long ball, but they've combined for just 22 walks and 86 strikeouts.
Brandon Phillips
has just eight walks. Votto gets walked a lot because he often comes up with nobody on base. (Memo to Dusty Baker: Try moving Bruce
in front
of Votto. Just consider it, please.)
Somewhere, Joe Morgan cringes.
When the Reds won the NL Central in 2010, they led the NL in runs scored. That team led the NL with 188 home runs and a .272 average while ranking ninth in walks. This offense doesn't show signs of matching the firepower of that lineup, not with Votto, Bruce and catcher
Ryan Hanigan
the only three sporting an OBP over .300.
That means the Reds are going to be in a lot of low-scoring games, which means the bullpen will prove key, especially since Leake's outing was only the 12th in 41 games where the Reds' starter has gone at least seven innings.
Which, inevitably, gets us back to Baker and how he handles the relief crew. It's certainly interesting that in the two days since
Aroldis Chapman
was "named" the team's closer that exiled closer
Sean Marshall
picked up the two most important outs.
On Sunday, with the Reds leading the Yankees 3-2 and a runner on with no outs in the eighth, Marshall retired
Robinson Cano
. Chapman came on for the easy save and faced the bottom of the Yankees lineup after the Reds had extended their lead to 5-2.
On Monday, with Chapman unavailable after pitching four times in five days, Marshall again delivered after
Jose Arredondo
walked Uggla and
Brian McCann
with two outs in the ninth. Brought on to face
Jason Heyward
, Marshall fell behind with a slider, threw two of his big-breaking curveballs for a called strike and a swinging strike, saw Heyward foul off another curve, threw a fastball down low, and then got Heyward to fly to right on another curve.
For all the consternation over who gets the capital C designation, it shouldn't really matter. Marshall is a very good reliever. Chapman has been a great one. Arredondo and
Logan Ondrusek
are solid right-handers and rookie
J.J. Hoover
has looked impressive. What Baker should avoid doing is getting trapped into saving Chapman for the ninth inning only -- which means fewer innings and fewer moments with the game on the line. Chapman is the guy you want in there when you need a big strikeout with runners on base in the eighth inning. Marshall, Arrendodo and Ondrusek can close out the three-run leads. Use Chapman and his bullpen mates wisely, and the Reds can stay in this race even with a mediocre offense.
As for the Cardinals, that hot start is a thing of the past. The injuries are mounting and that run differential has gone to waste. We're a quarter of the way into the season and we have a race.
Considering these two teams have some strong dislike for each other going back a couple years, it should be a fun summer in Central Land.
PHOTO OF THE DAY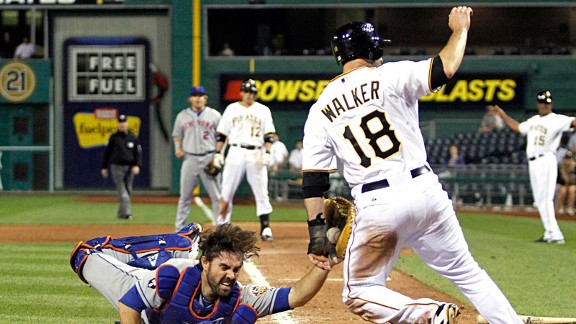 Justin K. Aller/Getty ImagesSometimes things just pass you by... like Neil Walker leaving Mike Nickeas in the dust.
May, 21, 2012
5/21/12
2:43
PM ET
Eric Karabell and Mark Simon gathered for Monday's
Baseball Today podcast
. Here's what went down:
1.
Justin Verlander
's near no-no and
Max Scherzer
's 15-strikeout game topped the weekend's pitching performances. Who else had great games?
2.
Aroldis Chapman
named Reds closer, but does this move really make Cincinnati any better?
3.
Lance Berkman
is heading to the DL, so it's time to talk about
Matt Adams
.
4. Power rankings!
5. Ridiculous question of the week!
All that and more, including a look ahead to Monday's game. King Felix versus
Yu Darvish
!
May, 21, 2012
5/21/12
10:58
AM ET
First base: Ninth-inning heat.
Sean Marshall
actually hadn't pitched that poorly for the Reds, not with 22 strikeouts and three walks in 14.2 innings. But he'd allowed 22 hits thanks to an unlucky .488 BABIP, so Dusty Baker made the move:
Aroldis Chapman
is in as the team's closer. He picked up his first save of 2012, closing out the Reds' 5-2 victory over the Yankees. I don't have any major issues with the move, but let's see how Baker handles Chapman. Will he extend him past one inning on occasion? (Four of his previous relief outings had been two innings.) The problem with making your best reliever your designated closer can be seen in Sunday's usage. Leading 3-2 in the eighth, Baker used Marshall and
Logan Ondrusek
. Leading 5-2 in the ninth, Baker used Chapman. The biggest out of the game was Marshall retiring
Robinson Cano
with a runner on and no outs in the eighth, while Chapman faced the bottom of the lineup. So while Chapman will get the saves, this move probably has little bearing on the Reds' W-L record.
Second base: Empty seats in Cleveland.
The Indians are in first place but last in the majors in attendance, averaging 15,873 per game. Indians closer
Chris Perez
isn't happy about it. "It's just a slap in the face when you're in first place and last in attendance," he said. "Last. Not 25th or 26th. Last." Team president Mark Shapiro was left attempting to cover Perez's tracks, but I don't think what Perez said was unfair. He was being honest. Yes, the weather has been tough so far, but the Indians aren't a bad team and were decent in 2011. It is sad to see all the empty seats, however. From 1995 to 2001, the Indians ranked first, second or third in the AL in attendance as the team made the playoffs six times in seven years. But in 2003, when the team fell to 68-94, attendance quickly plummeted to 12th in the AL and hasn't recovered. Even in 2007, when Cleveland tied for the major league lead with 96 wins, the team ranked just ninth in AL attendance. Yes, the
local economy may not be as strong
at it was in the late '90s, although Cleveland has
survived the downturn
better than many cities. The fans left in 2003 and just haven't returned.
Third base: Interleague's opening weekend.
The American League holds a slight edge through the first group of interleague series, going 24-18 thanks to sweeps by the White Sox and Mariners over the Cubs and Rockies. Interleague play returns on June 8. The AL's 131-121 advantage in 2011 was the closest the NL had been since 2004, when the AL held a 127-125 edge, but it was also the third straight year the NL had narrowed the gap.
Tweet of the day.
Detroit's
Max Scherzer
struck out 15 Pirates
, most in the majors this season. All 15 K's were swinging and he did it in only seven innings. (The Pirates, by the way, struck out 41 times in the three-game series against the Tigers.)
Max Scherzer became just the 2nd AL pitcher ever to K 15 batters while pitching no more than 7 IP. The other? Mike Mussinaon 9/24/2000.

— Rany Jazayerli (@jazayerli) May 20, 2012
April, 27, 2012
4/27/12
10:50
AM ET
First base: Carl Crawford out, Red Sox on a roll.
On a day where sources indicated
the Red Sox left fielder will miss another three months
(a timetable Crawford denied), Boston pounded out 12 hits and 10 runs in roughing up
Philip Humber
for its fourth straight victory. Suddenly, that lineup
is
looking imposing, as only the Rangers have scored more runs. Even without Crawford, without
Jacoby Ellsbury,
and with
Kevin Youkilis
still struggling, the Red Sox are hitting .293/.346/.490. But Youkilis went 3-for-4 Thursday, including his second home run.
David Ortiz
is still hitting over .400, and
Jarrod Saltalamacchia
is slugging .587. This team won't be going away so quietly.
Second base: Marshall law broken.
Big win for the Giants as
Angel Pagan
hit a go-ahead three-run homer in the ninth inning off Reds closer
Sean Marshall
. Pagan homered off a curveball, and you can't fault Marshall for throwing the pitch: Pagan hadn't homered off a curveball the past four seasons, and had one extra-base hit off a curve all last season. And for members of the
Brandon Belt
fan club: He went 2-for-4 and is now hitting .273, although he did strike out twice.
Third base: Tigers release Brandon Inge.
I guess the Tigers needed somebody to blame after getting swept by the Mariners at home. Inge was 2-for-20 this season and after hitting .197 last season, the leash was short on the 34-year-old veteran. I suppose some team could give him a shot as a utility guy, but it's also possible Inge's 12-year-career -- all with the Tigers -- is over. He came up as a catcher and played for those miserable 2002 and 2003 clubs that lost 106 and 119 games, respectively. He moved to third base and became a terrific defensive third baseman, even making the All-Star team in 2009.
Home plate: Tweet of the day.
Humber wasn't quite as good in his first start since his perfect game.
Philip Humber allowed 9 runs vs #RedSox, the most by a pitcher in his 1st start after perfect game, from #Elias (Catfish Hunter allowed 8).

— ESPN Stats & Info (@ESPNStatsInfo) April 27, 2012
September, 2, 2011
9/02/11
10:00
AM ET
By
Christina Kahrl
| ESPN.com
So who are the real firemen? You know who leads the majors in saves, but ninth-inning save opportunities aren't distributed especially equally. And in the age of Eck-style three-out saves, it isn't like the guys getting saves are the ones charged with putting fires out with the game on the line. They're fulfilling the job of protecting ninth-inning leads, and they get the glory stat and the big-time money for their troubles. Not that there's anything wrong with that, but the ninth inning isn't often the point in time when a game's outcome hangs in the balance.
Instead, let's take a look at the guys who have made the biggest impact on outcomes because of the situations they get thrown into, which often involves handing off that lead to the closer. Using what Baseball-Reference.com refers to as "High Leverage" situations, who are the non-closers who have been put into the most key situations this season? Here's the list of the guys with the highest number of High Leverage games without notching 20 or more saves. For good measure, let's toss in innings pitched, games, their average leverage index (aLI), their tally of Holds + Saves and their total save situations (rarely in the ninth inning), their inherited runners, inherited runners who scored (IS), and the percentage of inherited runners who scored (IS%):
As much as we've already gotten to hear about Venters this season, it's worth noting that he and Adams have come into more high-leverage situations than anybody in the game today, even after you include the closers. It's also nice to see O'Flaherty show up, because Spuds has to live with being the third wheel in the Braves' outstanding late-game trio, and not everyone gives him his due. The Cubs' Marshall makes an appearance as a pitcher very similar to Venters, in that he's earned a rubber-armed reputation while killing people with sinkers. And as former starting pitchers, they're not the sort of southpaw set-up men who get chased by the first sign of a right-handed bat in the on-deck circle.
In Clippard and Veras, you get a pair of mid-game workhorses on non-contenders. More so than the others here, they're also relievers who rank high among those who've had to pitch with the most runners on base. The MLB average for inherited runners scoring is 29 percent, and Clippard's 19 percent clip puts him among the most effective at stranding other people's problems. For the curious, the man with the mixed fortune of pitching with the most inherited baserunners has been
Jason Motte
with 56, but he's also allowed a slightly worse-than-average 32 percent to score. Beyond Motte are a gaggle of situational guys: lefties
Bill Bray
of the Reds and
Tim Byrdak
of the Mets, plus submariner
Brad Ziegler
.
Which leaves Mike Adams, who's interesting in that he's almost the antithesis of a mid-game fireman: He almost never gets put into situations with men on. Instead, he's entrusted with eighth-inning leads that are save opportunities -- they just don't happen to lead to him notching many saves. Between San Diego and Texas this year, Adams has been handed 28 eighth-inning leads of three runs or fewer, and appeared in 16 eighth-inning ties. Between an injury-marred career that argues against him being asked to pitch multiple innings and a long delivery that makes him a poor choice to pitch with runners aboard, but leave him alone in this sort of role and he'll strike out a man an inning and pitch his own innings. As set-up heroes go, he's fairly unusual, but handled carefully, he's an asset who belongs on this sort of list.
Christina Kahrl covers baseball for ESPN.com. You can follow her on Twitter.
March, 9, 2011
3/09/11
11:51
AM ET
By
Charlie Saponara
| ESPN.com
There was a buzz heading into spring training that reigning AL Rookie of the Year
Neftali Feliz
would be stretched out and given a chance to make the Rangers' starting rotation. After only a couple weeks of "stretching out" his arm, Feliz is ready to go back to the bullpen where he feels more comfortable. This is both good and bad for the Rangers. Good because Feliz is more likely to be effective in a short role and bad because their rotation has some major question marks.
Feliz showed us last season just how dominant he could be out of the pen. He posted a 2.73 ERA and a 2.96 FIP while striking out 71 batters in 69.1 innings and walking only 18. He held opposing hitters to a very low 15 percent line drive rate while inducing the opposition to pop-up weakly to the infield on almost 17 percent of his balls in play (seventh best IFFB percent by a reliever in baseball, minimum 50 innings pitched).
[+] Enlarge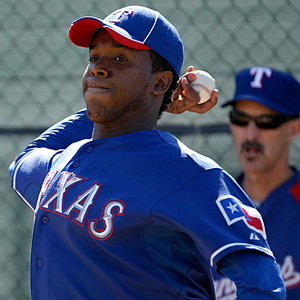 AP Photo/Charlie RiedelIt appears Neftali Feliz is going to stay in the Rangers' bullpen for the time being.
However, despite the 40 saves, the low ERA and the 71 strikeouts to 18 walks, Feliz produced only 1.7 fWAR. That fWAR was lower than those of
Sean Marshall
and
Matt Thornton
, who racked up nine saves between them in 2010. As you can see, saves themselves are really not that valuable. As a matter of fact, Feliz's own teammate,
Darren Oliver
, produced 1.5 fWAR in 7.2 fewer innings.
Clearly, if Feliz could translate his bullpen success into the starting rotation, his value would be much higher. That, however, was going to be a tall order.
We've already established that Feliz was dominant in a one (sometimes two) inning(s) role, but what would happen if he had to throw more innings and go through an entire lineup several times?
In 2009, Feliz was at Triple-A being groomed as a starting pitcher, but the need arose for some help in the Texas bullpen. Feliz was converted to a reliever, and by August he was in the big leagues. Feliz has always had electric stuff, however -- just as many see
Aroldis Chapman
now -- Feliz lacked the command and control of an ace-level starter. As he reached the upper levels of minor league ball, that lack of refinement began to show as he posted a combined 3.9 BB/9 in Double- and Triple-A between 2008 and 2009. His control improved in 2009, but in large part due to his move to the bullpen after 13 Triple-A starts.
As a starter, Feliz would likely see a rise in walk rate, but the real issue is how his changeup would play in that role.
Feliz threw 1,072 pitches last season, 34 of which were changeups (this varies a bit based on what pitch f/x you chose, but the point remains). His change was also the least effective of his pitches, generating swings and misses only 8 percent of the time compared to his fastball and slider/curve, which produced whiff rates of around or more than 13 percent. If Feliz cannot develop his change, he may struggle as he tries to go deeper into games. A two-pitch pitcher can work in one-inning efforts, but as pitchers tend to lose their velocity and bite in extended innings, their effectiveness wears off -- not to mention that opposing hitters will have many more looks at all of his pitches.
This is not to say that Neftali Feliz can't become a very valuable starting pitcher someday, but he clearly needs more work in that role before taking such a big step. The Rangers, however, want to contend once again in 2011 and feel that the pieces to their rotation are more than solid. I may have some disagreements there.
C.J. Wilson
, the Rangers' opening day starter, posted the 20th worst K/BB rate in baseball last season (minimum 150 IP) and his BABIP against was the 14th lowest in baseball. With a little less randomness (luck) in 2011, his results could very easily be a lot worse. And is no one concerned with the fact that he threw 131.1 more innings than his previous big-league career high (which was out of the pen in 2009)?
While I do like
Colby Lewis
to put up another solid season, it is going to be hard to count on
Tommy Hunter
and his K/9 of around five to win 13 games and post a sub 4.00 ERA again. Also, counting on a pitcher (
Brandon Webb
) who has missed almost two full seasons to come back and be his former self is hopeful at best. Derrek Holland has a chance to step up and be a big piece of the rotation, but overall there isn't as much depth as fans might think based on what happened in 2010.
Neftali Feliz has the stuff to be a shut-down pitcher in short-inning situations; there is little doubt about that. But apparently he doubts his role as a starter and rightfully so. However, by not at least trying to pitch in the rotation, he is ultimately less valuable to the Rangers in the long run. Bullpen arms come and go, but starting pitching can carry a team to glory. Just ask the Rangers themselves, who lost to the Giants and their shut-down starting rotation in the 2010 World Series.
Charlie Saponara writes for the SweetSpot Red Sox blog at Fire Brand of the American League as well as FantasyBaseball365.com and ProjectProspect.com. You can follow him on Twitter.
March, 27, 2010
3/27/10
1:09
AM ET
Hey, somebody has to care about
this stuff
, right?
Chicago Cubs manager Lou Piniella announced his rotation Friday to begin the 2010 season, and as expected, Tom Gorzelanny and Carlos Silva will fill out the starting spots.

--snip--

Jeff Samardzija and Sean Marshall will go to the bullpen as long relievers or potential starters in case of injury.

"The thing I'm happiest about is we sent nobody to the minor leagues," Piniella said. "They went from the rotation to the bullpen.

"Remember, when we set this competition up, we didn't know [Angel] Guzman would be out for a whole year and [Jeff] Gray would be hurt."

Piniella said Samardzija was hoping for a starting spot.

"He was a little disappointed," Piniella said. "He thought he had pitched well enough in spring training to stay in the rotation. I agreed with him. But unfortunately, we only have two spots.

"And then remember, [Ted] Lilly is ahead of schedule. In three weeks from now, we're going to have to make a decision again. With that in mind, let's put Marshall and Samardizja in places where they can help our baseball team."

Perfect example of how unimportant the No. 5 starter -- as designated in late March -- can be (not that this stops me from obsessing over them). Sure, it's Silva and Gorzelanny ... but only until
Ted Lilly
's ready to take his turn.
Gorzelanny and Marshall are both 27. Tom's got a 4.78 ERA; Sean, 4.86. Tom's got a 1.55 strikeout-to-walk ratio; Sean, 1.79. Neither of them throws particularly hard, though Marshall's a bit more of a junkballer, specializing in a big curveball. Oddly, it's Gorzelanny who's shown the much larger platoon split, which does argue against his case as a starting pitcher.
My guess is that Marshall will get his chance to start, as he has in each of the last four seasons. But between Marshall and Gorzelanny and Silva, it's not likely that a pennant will be won or lost.
March, 17, 2010
3/17/10
4:56
PM ET
Sorry, I haven't been able to really follow any of today's breaking news, too busy trying to figure out who's going to be the Cubs' No. 5 starter this spring.
Carlos Silva
, anyone?
Silva, who has put himself in the driver's seat for a rotation spot, gave up just two singles and hit a batter, commanding three pitches and putting together his second consecutive strong outing after a miserable debut.

"You can't throw the ball better than he did today," said manager Lou Piniella, adding he was impressed with the way Silva threw the ball inside, changed speeds and changed eye levels on his pitches. "He's been working on some things with our pitching coach [Larry Rothschild], and they're starting to bear some fruit for him."

Between his mom and his pitching coach, Silva said he's feeling as close to that former 14-game winner as he has in years.
It's not exactly a spirited competition; the other candidates for the last rotation slot are
Tom Gorzelanny
,
Jeff Samardzija
, and
Sean Marshall
. Gorzelanny's got a 6.32 ERA over the last two seasons. Samardzija has done well as a starter in the minors, thrived as a reliever in the majors in 2008 but got knocked around in 2009. Marshall's good enough to start for some teams, but he's got a 4.86 ERA in 59 major league starts.
Meanwhile, the math seems simple for Carlos Silva. When he pitched for the Twins, Silva typically threw his fastball around 92 miles an hour. It wasn't a
great
fastball, but it was good enough because Silva essentially always knew exactly where it was going. When he pitched for the Twins, he still knew where it was going, but he lost a couple of miles an hour and so the hitters had time to figure out where it was going, too.
I think if Silva's back to throwing in the low 90s, he can be effective and might actually be the Cubs' best No. 5 starter, at least in the short term. If he's still throwin in the high 80s, though, I would choose Marshall or Samardzija.